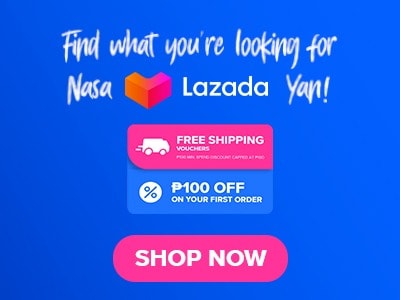 When we say Thai foods that means aromatic essences. Thai food has it all from spices to exotic flavors and very abundant texture. They say that you can't compare with Thai cuisine. Are you looking for a place that serves Thai cuisine for your cravings? You don't have to exert effort anymore since I found the perfect spot for you. This place offers Thai food at a very affordable price. Have you heard about Soi? If not then this may be the right article for you. The Soi menu offers a lot of interesting and delicious options for you without having to spend too much. In this article, we are going to get to know them more about the food that they offer and of course their prices. If you're already interested in this, let's go!
Below, you'll find the updated list of Soi menu prices.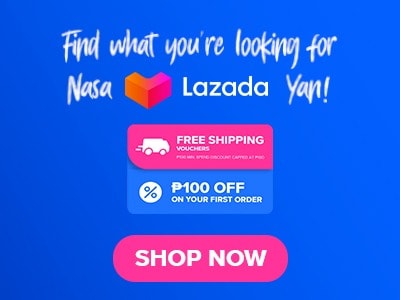 Menu
Price (PHP)

Appetizers

Tofu in tamarind sauce
168
Egg in tamarind sauce
168

Salads

Pomelo salad with chicken and shrimp
160
Mango salad
158

Soup

Tom yam talei
380

Noodles

Pad thai Shrimp
270
Pad thai chicken
250
Pad thai tofu
230
Pad see ew
200

Curries

Chicken in green curry
260
Beef massaman
380

Specialties

Pad kee mao
198
Chicken pandan
248
Stir fried garlic pork with shrimp paste
178
Squid with salted egg
288
Mu palo with rice
258

Grills

Chicken Salty w/ Cucumber Solod
238
Pork Sotay w/ Cucumber Solod
238
About Soi
Soi is a Thai restaurant that first opened their branch at Robinsons Manila in February 2010. This casual restaurant serves a variety of Thai food favorites. More than 70 Thai dishes can be found on their menu sample dishes are curry dishes, soup, salad, a variety of noodles, specialties, and many more. Every dish features a menu that is made with quality and fresh imported ingredients from Thailand. These ingredients are carefully selected for quality purposes and of course flavor. Lively and authentic service with a very authentic taste is what Soi is all about.
This place offers exotic Thai flavors and spices with of course abundant texture. Many say that Thai cuisine is something unique experience and that is what Soi delivers. Since Soi is already in the country you don't have to fly to Thailand to experience authentic Thai cuisine. This place already established a good reputation for serving Thai dishes which is why a lot of customers are coming back to experience great and authentic Thai cuisine.
Soi Menu Best Sellers
Here are samples of Soi best sellers that we all should try.
Fresh Spring Roll – The fresh spring roll version of Soi is something that you will truly enjoy if you're looking for a delicious spring roll. The serving of their spring rolls is quite big as well and won't leave you unsatisfied. Made with chicken, some carrots, vermicelli, cilantro, basil, and lettuce then wrapped in their rice paper rolls. The sauce that comes with this dish is also delicious and has a fresh tropical flavor, this one is a dish that you should try if you're not sure what to order since this is a safe choice. Also, their spring roll is a must-try.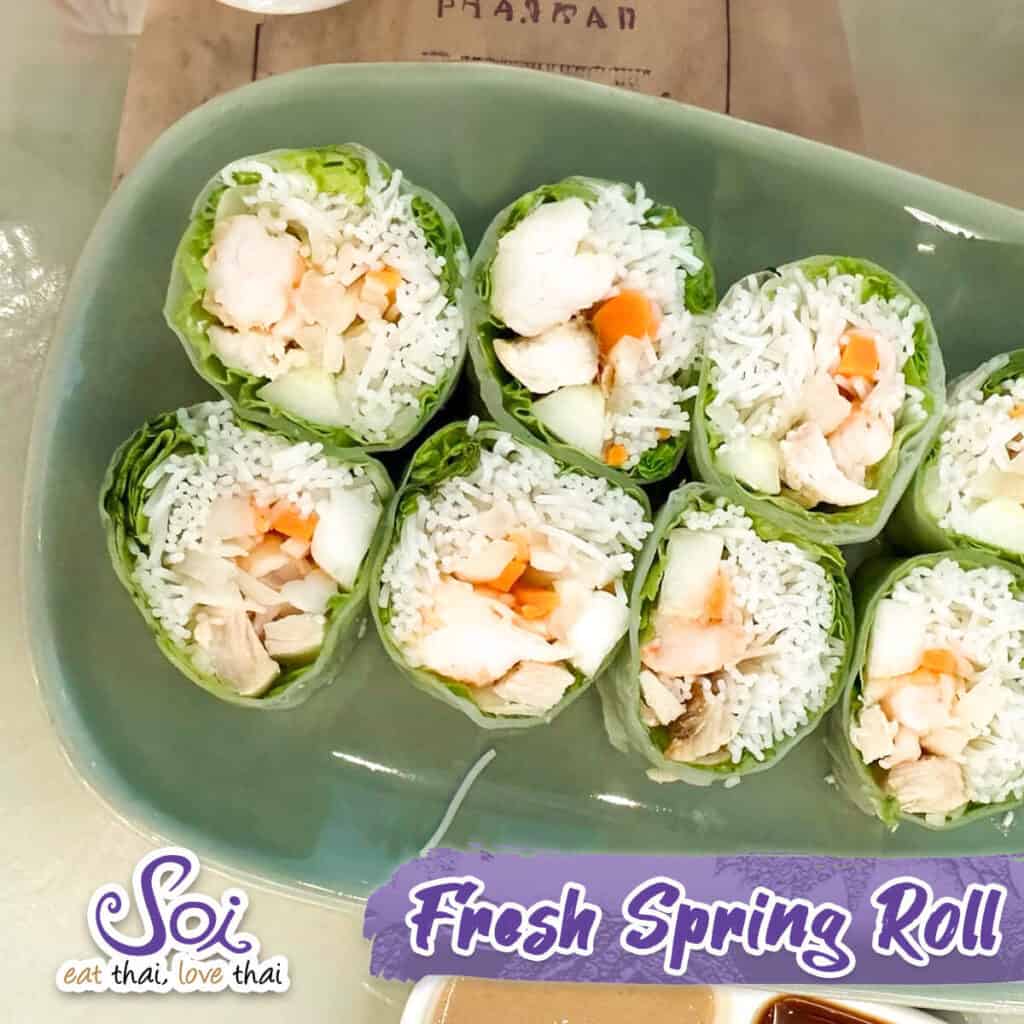 Chicken Satay – If you want to experience the Thai version of skewers whether it's pork or chicken then you should try their satay. The pork satay and Chicken Satay menu of Soi comes with some really good and delicious mamuang sauce, making their satay taste absolutely amazing, it is actually nutty with a lot of flavors from the sauce. The meat whether it's chicken or pork is really tender and flavorful even without the sauce perfect with any rice or as itself. Their chicken satay or pork satay is also a must-try since it tastes really authentic just like what you will have if you visit Thailand.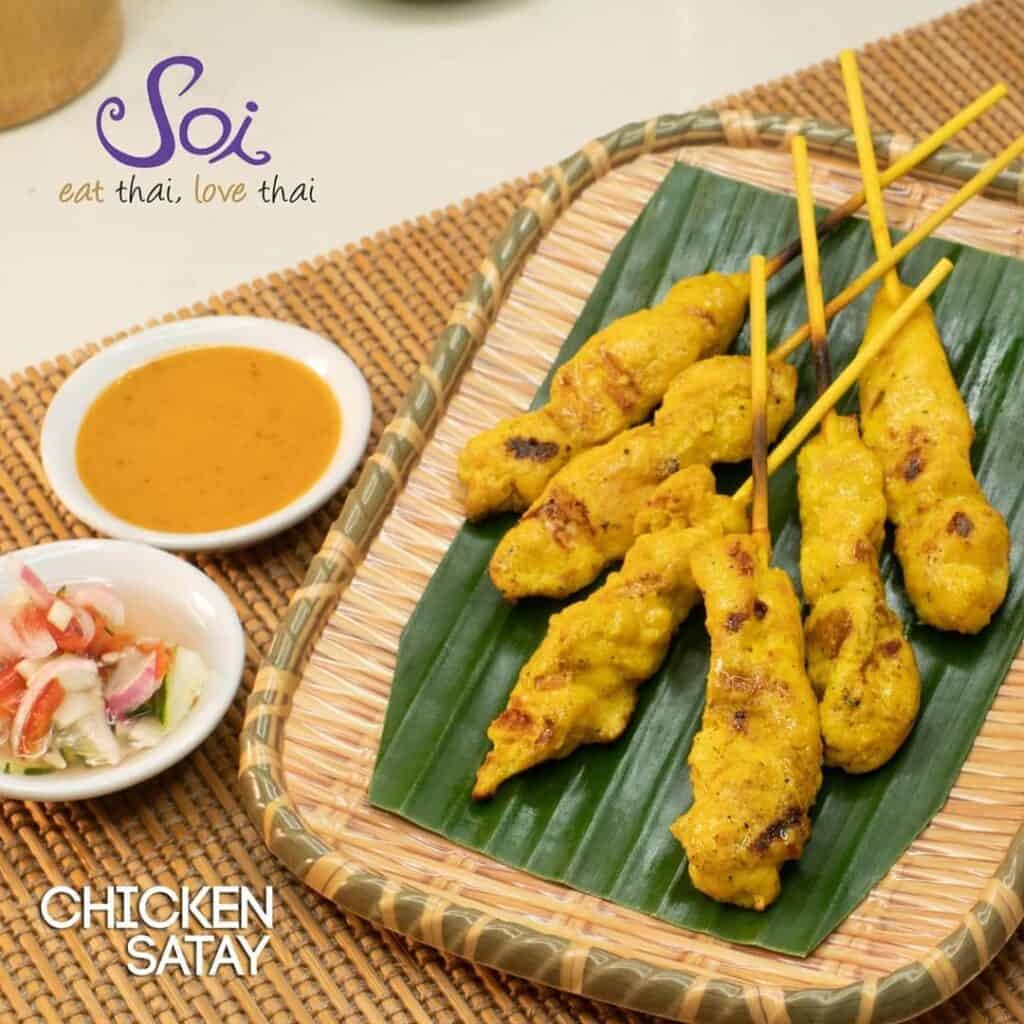 The Crispy Catfish with Mango Salad – This Soi menu is unique since catfish is not regularly served here in our country aside from Chinese restaurants and other exotic places that serve unique dishes. This dish comes with a boneless catfish which is good since we all know that catfish has a lot of bones then they fried it until golden in color.
It also comes with sliced green mangoes and vinegar sauce for an amazing Thai dish experience. To be honest, at first, I was a bit hesitant about this dish but after trying it for the first time I am quite impressed with how good it tastes. Their crispy catfish with mango salad is also a must-try.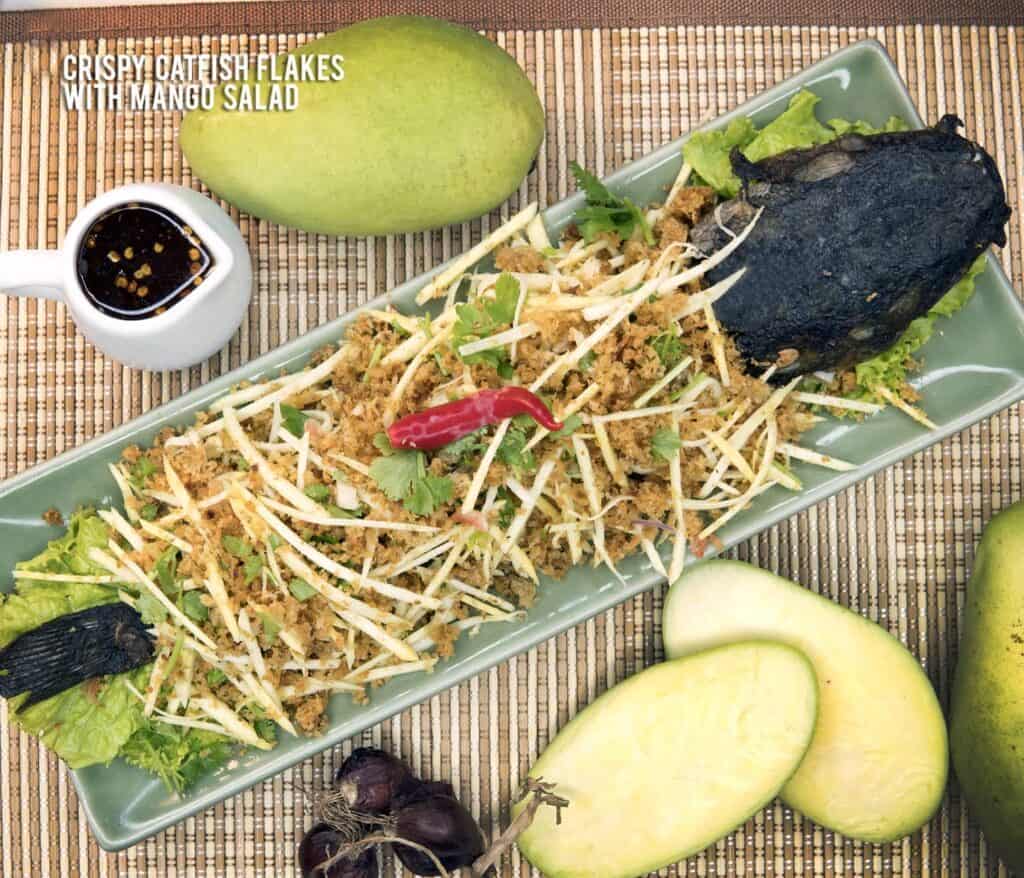 Sukhothai – Soi's Sukhothai is a soup dish that comes with rice, some slices of pork, vermicelli, pork balls, crushed peanuts, dried shrimp, and veggies. Their Sukhothai has a full flavor in each serving and is very tasty and filling. If the taste of this dish doesn't suit your tastebuds no worries since you can always add some condiments like dried chili powder, sugar, chili fish sauce, or red chili in vinegar. if you want to try soupy Thai food Sukhothai is the perfect option for you.. Their Sukhothai is also a must-try since this one is really good and has amazing flavors but I won't lie, I added red chili vinegar since I love spicy foods.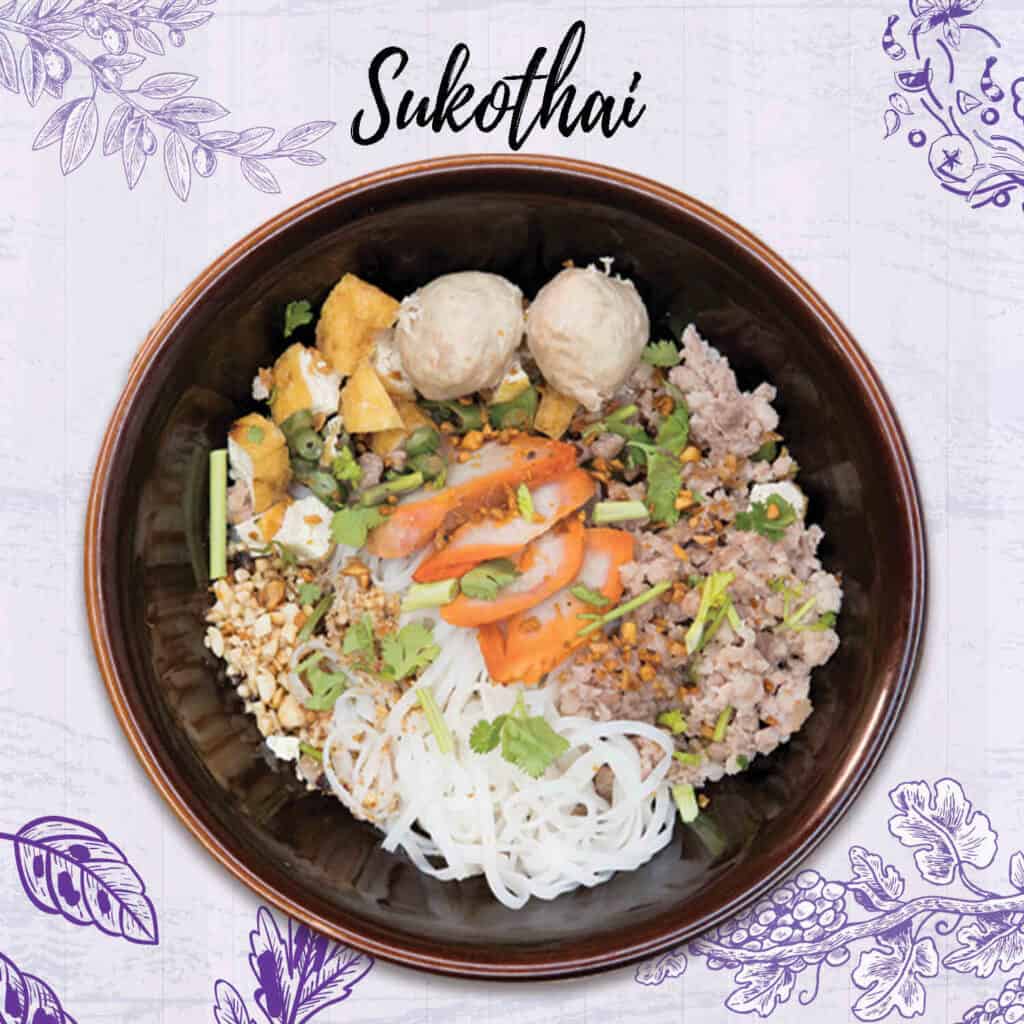 Seafood in Yellow Curry – Soi's seafood in yellow sauce is what you should order if you love seafood. This amazing dish includes cream dory, shrimp, squid, bell peppers, and onions then mixed with their own version of delicious Thai curry. If you like the taste of curry you'll definitely love this one. It is very meaty and overloaded with a generous amount of seafood perfect if you're trying to avoid red meat.
Soi Menu Delivery
Craving your favorite Thai dishes? Well, at Soi, satisfying those cravings just got a whole lot easier! You can simply hop onto platforms like Food Panda or Grab Food, and order all your favorite dishes for delivery. It's like bringing the Thai restaurant right to your doorstep!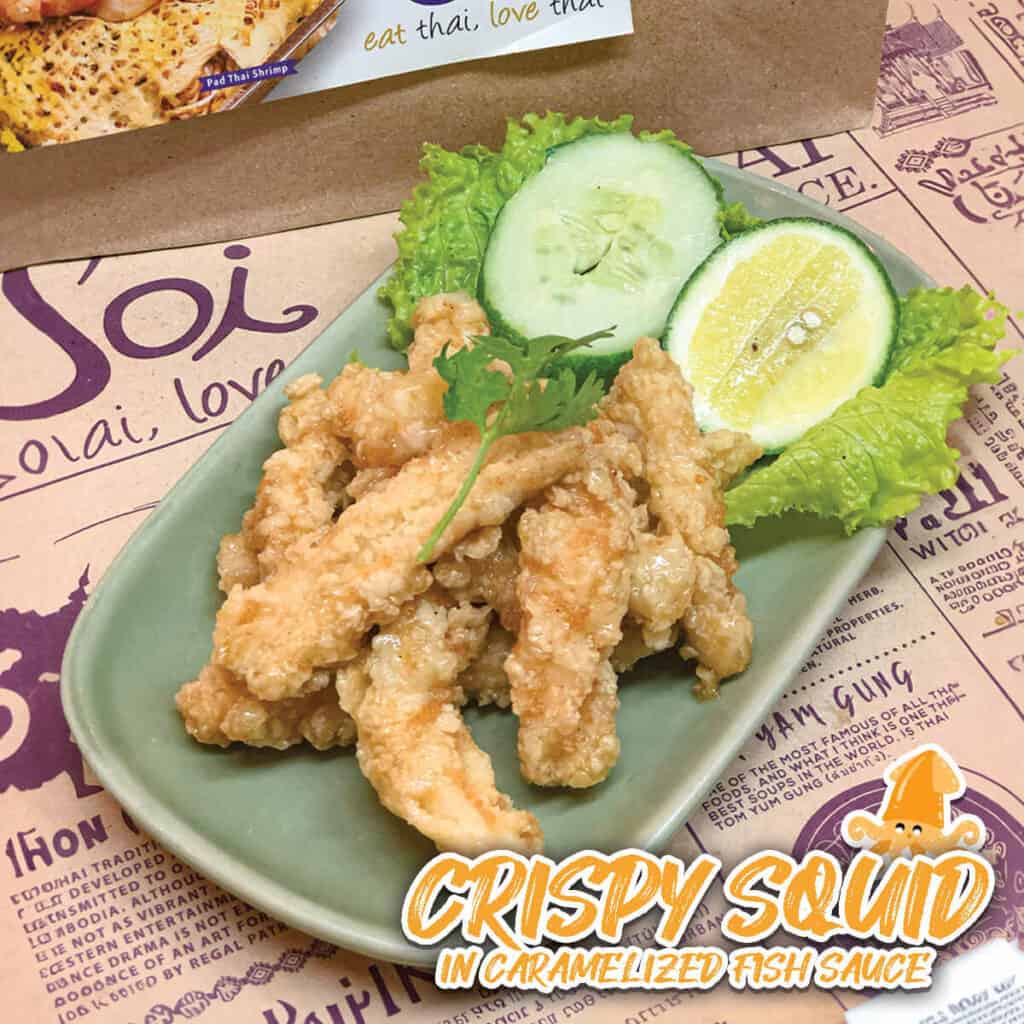 Social Media Pages
Your feed is on the brink of becoming a portal to Thailand's culinary magic! Let's journey together through the enchanting world of Thai cuisine, one mouthwatering post at a time. Start searching for them on their available social media channels and hit the follow or like button to keep you updated.
Facebook: https://www.facebook.com/SoiRestaurant
Instagram: https://www.instagram.com/soithairestaurant
Website: https://cabalengroup.ph/soi
FAQs
What kind of cuisine does Soi serve?
Soi serves authentic Thai cuisine.
Is Soi a halal-certified restaurant?
Unfortunately, Soi is not halal certified restaurant since it uses pork ingredients and serves pork dishes.
Where can we find soi restaurants?
Soi restaurant can be found in 4 locations. They have location in Adriatico Manila, SM MOA in pasay city, Ayala center Makati, SM North Edsa, BGC and Alabang town center.
What are the operating hours of Soi?
Soi's operating hours are from 10:00 in the morning until 9:00 in the evening.
Conclusion
We actually enjoyed dining in their place we ordered quite a lot to be honest and the food was amazing, especially the chicken pandan and their tom yum. The place is good but they can't accommodate large groups. The serving of food is fast their crews are nice as well. The Soi menu has a lot of different options to choose from plus their dishes are really good. Affordable prices while experiencing authentic flavors of Thai cuisine are what Soi delivers. The place is also clean and relaxing. Soi is an overall great experience with delicious and authentic Thai foods.