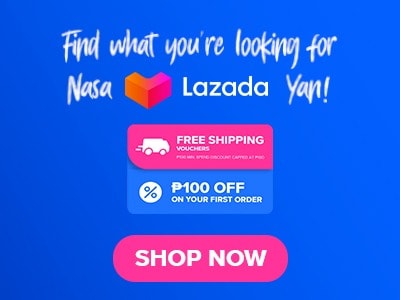 Thinking about trying the yummy restaurants in Binondo? No clue where to go? No worries! I've found the perfect spot for you. The Cafe Mezzanine serves up tasty and pocket-friendly Chinese dishes. It's super easy to find, just a short walk from Binondo church. Curious about today's topic? In this article, we'll explore Cafe Mezzanine, discussing their menu, prices, and top picks to give you all the info you need. Let's get started!
Menu Items
Price (PHP)

Special Soup

Soup #5
350
Duck Soup
220
Chinese Bulalo
290
Black Chicken Soup
260

Main Entree

Boneless Bangus
220
Chopsuey
190
Sweet & Sour Fish Fillet
240
Norwegian Pink Salmon
290
Beef Broccoli
240
Grilled Porkchop
240
Grilled Chicken
240
Beef Tenderloin
240
Beef Tendon
220

All Time Favorites

Asado W/ Adobo Egg
145
Kiampong
70
Gokong
195
Lechon Kawali
135
Pork Machang
95
Chicken Mushroom Machang
95
Adobo Egg
42
Special Kikiam
185
Special Tofu
70
Fried Meatballs
98
Chap Chai Soup
160
Fish Ball Soup
150
Pork Maki
160
Kamto Soup
160
Crunchy Meatball Soup
160
Special Camaron
200

Sandwiches

Ham & Egg
125
Paramedic Tuna Sandwich
140
Officer Bunker Beef Burger
200
Fire Chief Beef Burger
240
Rescue Me
140
Trainee Bunker Beef Burger
170
Firemen's Deck
210

Special Noodles

Braised Beef
195
Pork Asado
195
Special Wanton
195
Seafood Chami
210
Seafood Canton
210
Seafood Lomi
210
Hema Chami
195
Hema Canton
195
Hema Chamisua
210
Kung Pao Chicken
200
Beef Wanton
210
Miki Bihon
195
Bihon Guisado
195

Dimsum

Pork Dumpling
180
Pork & Shrimp Siomai
75
Asado Siopao
72
Bola Bola Siopao
72
Xiao Long Bao
180
Lava Pao
100
Radish Cake
110
Shrimp Dumpling
140

Family Platter

Crispy Chicken
430
Lechon Macau
460
Pork Asado With Egg
460
Pancit Canton
380
Miki Bihon
380
Yangchow Fried Rice
280
Kiampong
270
Sweet And Sour Fish Fillet
430
Salt And Pepper Spareribs
290
Homemade Premium Patatim
650

Side Orders

Salted Egg Shrimp
320
Fried Crispy Wanton
190
Spring Rolls
180
Camaron Rebusado
270
Oyster Cake
170
Steamed Rice
50
Garlic Rice
60
Pomfret Fish
350
180
About Cafe Mezzanine
Binondo is known for its delicious Chinese restaurants, one of the underrated restaurants in Binondo is Cafe Mezzanine, this place is also known as Volunteer Fireman's Coffee Shop because 100% of this restaurant's revenue from this place is donated to Binondo Paco Fire Search and Rescue Brigade which is a big help to the community. This place is located on the second floor of Eng Bee Tin of Binondo, one of the most famous pasalubong shops in Binondo Manila, their location is also within walking distance of the famous Binondo church. The restaurant is pretty small so whenever it's their busy hours a lot of people are already inside so it's great visiting them during their not-so-busy hours. This restaurant serves authentic and delicious Chinese dishes plus they also offer affordability prices that is why it's sulit visiting them.
Cafe Mezzanine Menu Best Sellers
Listed below are some of Cafe Mezzanine's best-selling items for your reference.
Xiao Long Bao – Cafe Mezzanine's version of Xiao Long Bao is actually a steamed bun that is filled with some really flavorful meat. you'll definitely love their version of Xiao Long Bao as it tastes really authentic. This one is juicy since there's a bit of soup inside the xiao long bao so every bite is a treat. If we're going to talk about the taste of their version of Xiao Long Bao it's definitely worth trying.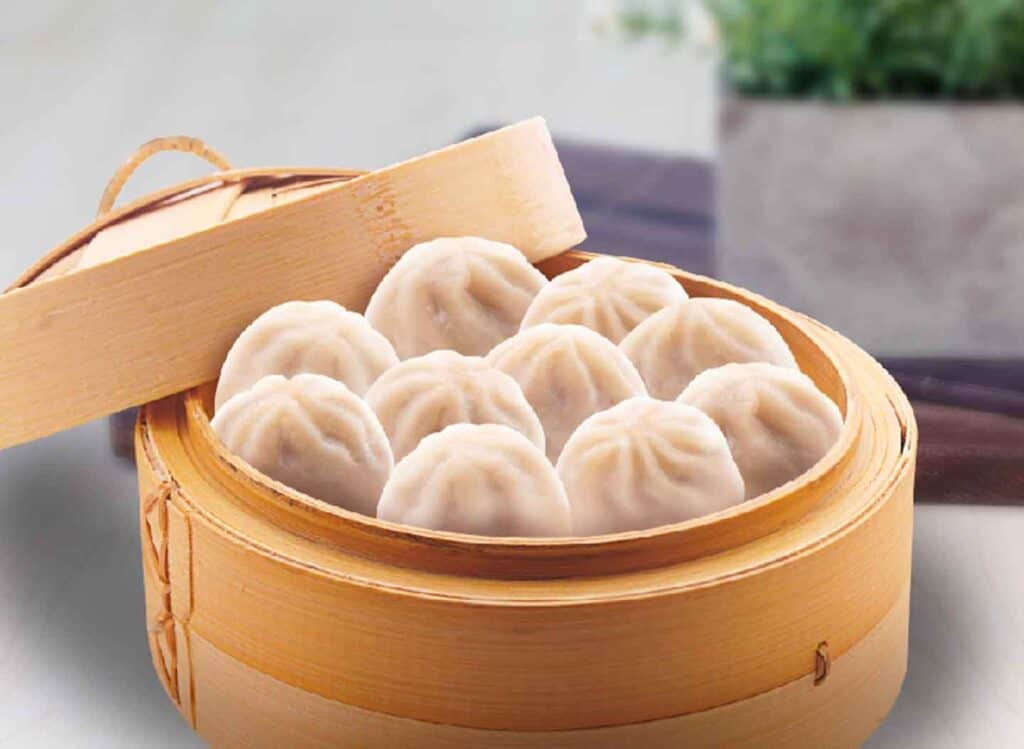 Chinese Yakisoba Kungpao Chicken Noodle – This one tastes really delicious and is certainly a must-try item on their menu. Chinese Yakisoba Kungpao Chicken Noodle is made with thin noodles that are drenched in a very flavorful sauce. Actually, this is one of the items that I really like since I like noodle dishes. This one is also perfect with Xiao Long Bao. It's meaty and full of great flavors that you've been looking for a noodle dish. This one has a combination of sweet and salty taste as well. A lot of customers loved this and I bet you'll love their Chinese Yakisoba Kungpao Chicken Noodle too.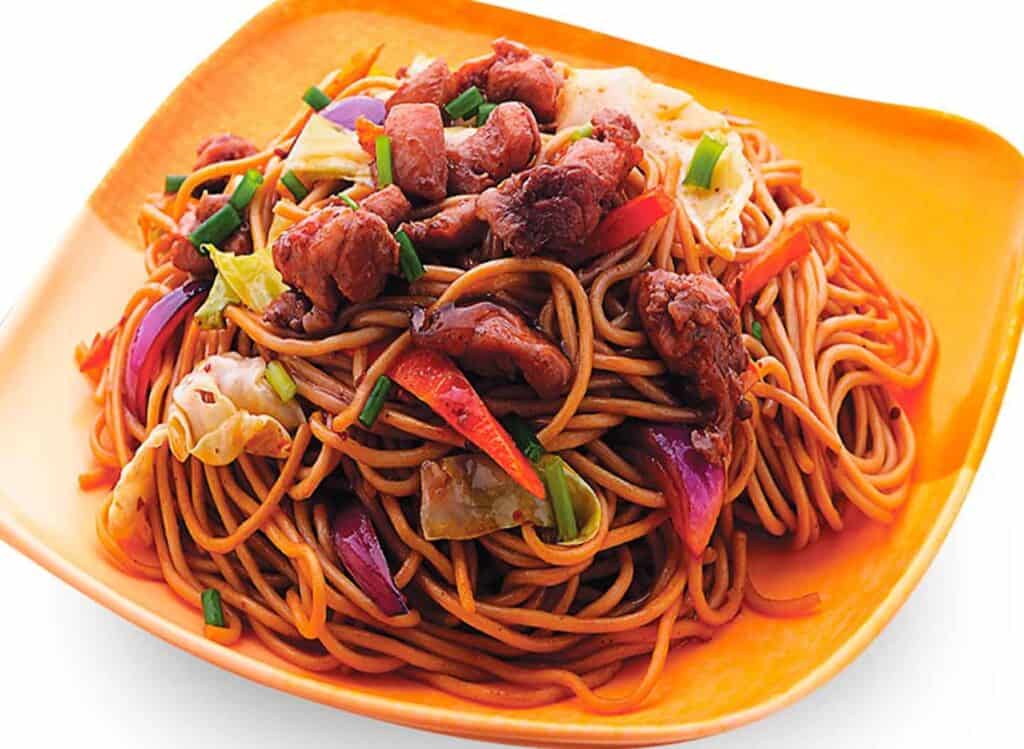 Beef Wanton Noodle Soup – Cafe Mezzanine's beef wanton noodle soup is really good and for sure will meet your expectations. The noodles are perfectly cooked and the broth tastes really good. The only complaint that I have with this dish is that the soup is not enough but still fine, if you're not a soup person then this would be perfect for you. The beef wanton noodle soup is one of the classic item in their restaurant, this is also one of their best sellers and a highly recommendable item to try on their menu.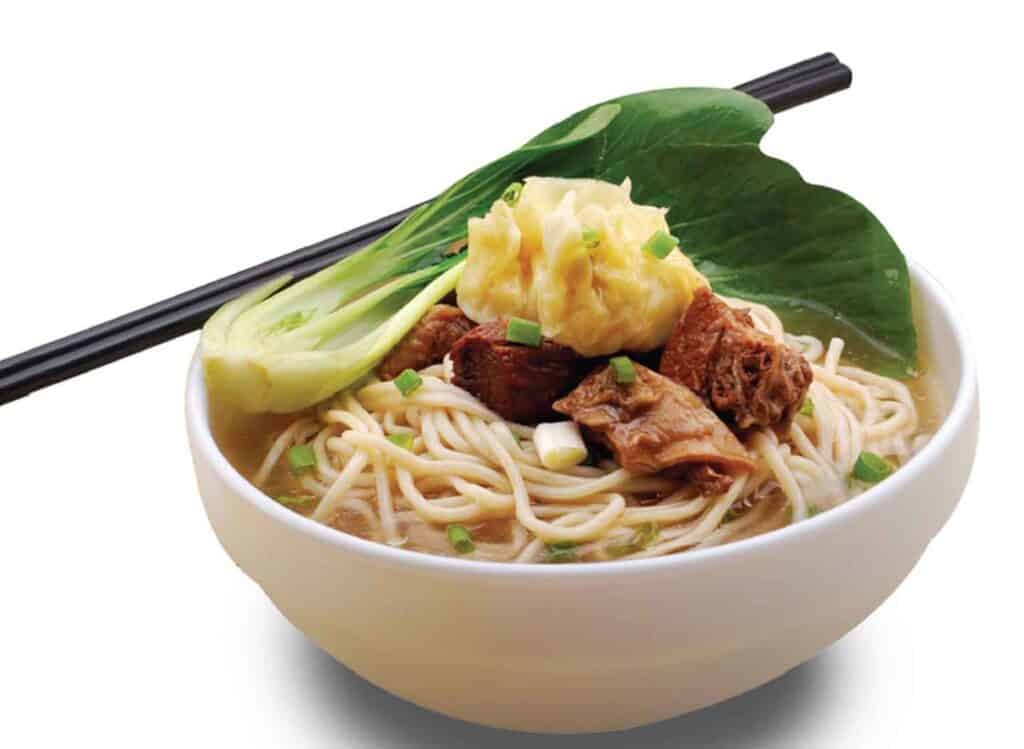 Grilled Chicken – Grilled chicken at Cafe Mezzanine is surprisingly good and the moment that they serve this item on our table all of my friends including me can't get enough of it. This one is tasty and delicious, the chicken is juicy and the flavor is absorbed by the chicken really well. This one is also saucy if you're expecting a usual grilled chicken this doesn't look like it but of course still good. This reminds me of adobo or soy chicken. This also goes very well with white rice.
Special Soup
Cafe Mezzanine offers a variety of delicious soups on its menu. They have 4 items to choose from. The first item is their soup no. 5 which is a flavorful soup that is made with cows' testicles and other parts. They also have duck soup, this one also tastes good, the duck is tender, and this is also good with rice. Aside from those they also have Chinese bulalo so if you're looking for a beefy soup this is the perfect item for you. Lastly, their black chicken soup, chinese people believes that this soup has a lot of nutrients that is good for the body also this soup is one of the most delicious soup that I have tried on their menu.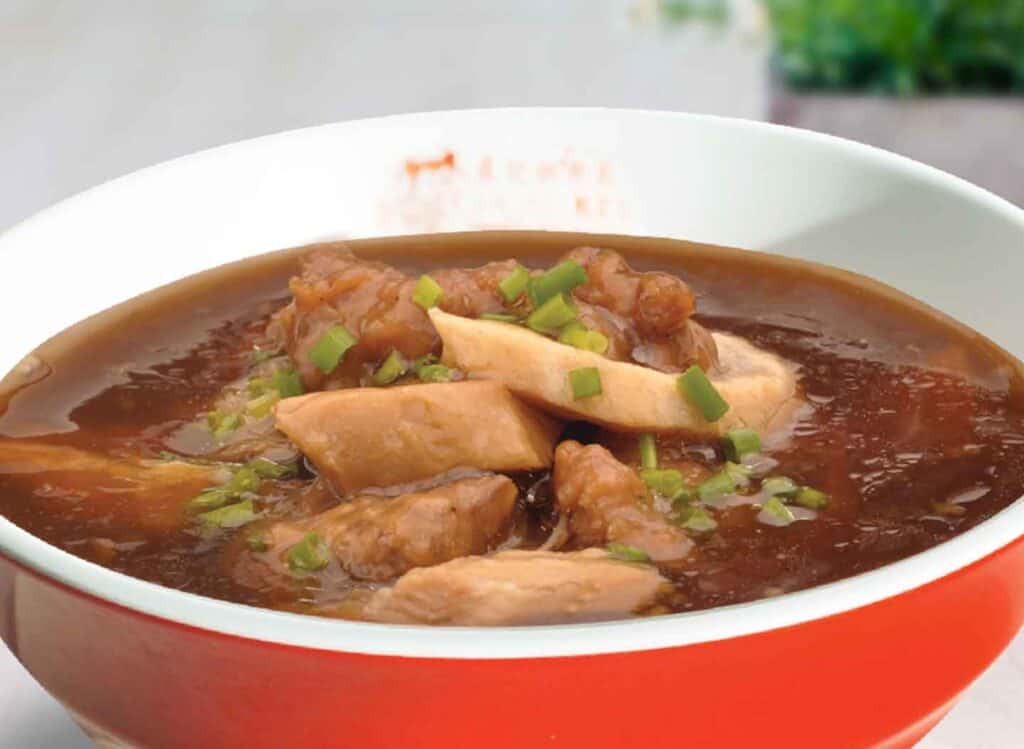 Dimsum
Cafe Mezzanine offers a variety of dim sums so if you're a fan of dim sum you'll be delighted to see their options on their dim sum menu. On this menu, they have pork dumplings and pork & shrimp siomai. These items are very meaty and delicious with or without the dipping sauce.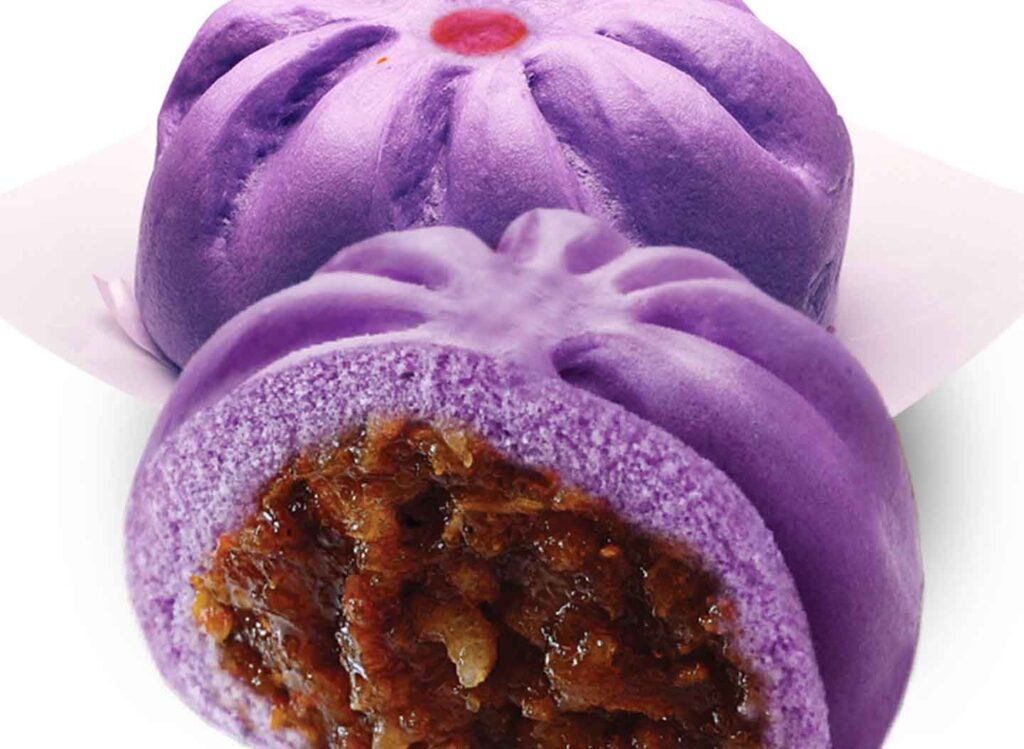 They also have asado siopao and bola bola siopao on this menu. Xiao Long Bao one of their best seller is also included on this menu, this one taste really good and is also a good option especially if you're looking for a good-tasting dim sum. Other items are lava pao, radish cake, and shrimp dumplings.
Cafe Mezzanine Delivery
Ordering your favorite food at the Cafe Mezzanine is easy simply by calling them directly at 09178289902 or (02)82888888 loc 230. You can also visit their website aside from those you can also use third-party delivery services that are available in your area. Such as Foodpanda, Grab, and Lalamove.
Social Media Pages
Want to stay up-to-date with Cafe Mezzanine's latest news, promotions, and mouthwatering menu offerings? Be sure to give them a follow on their social media pages today!
Facebook: https://www.facebook.com/CafeMezzanine
Website: http://www.cafemezzanine.com
FAQs 
How to contact Cafe Mezzanine? What is their contact number?
Cafe Mezzanine can be contacted through their landline number at (02)82419999
Where is the location of Cafe Mezzanine?
It is located at 650 Ongpin Street, Ongpin, Binondo, Manila. | Get directions
What are Cafe Mezzanine's business hours?
Cafe Mezzanine is open on Monday to Thursday from 9:00 a.m. to 10:00 p.m. and on Friday to Sunday from 7:00 until 10:00 p.m.
What kind of place or restaurant is Cafe Mezzanine?
It is a Filipino-Chinese Casual Dining restaurant and at the same time cafe. 
Cafe Mezzanine. Is this a halal-certified restaurant?
No. Cafe Mezzanine is a non-halal-certified restaurant that serves haram items with our Muslim friends like pork.
Conclusion
One of my favorite places to go. Cafe Mezzanine's menu offers a wide variety of mouthwatering and quality dishes that will surely satisfy your longing for Filipino and Chinese meals. This place offers comfort foods that I am proud to say are delicious. The place has a nice ambiance and is very customer friendly, their place is clean and the seats are comfortable too they also have a spacious place.
Their crews are also nice and very accommodating, one of the best customer service so far. They are fast and will make sure to serve you without compromising the taste of the product. Overall experience with this place was great. I highly recommend Cafe Mezzanine to every foodie out there who loves to try delicious Chinese-Filipino foods.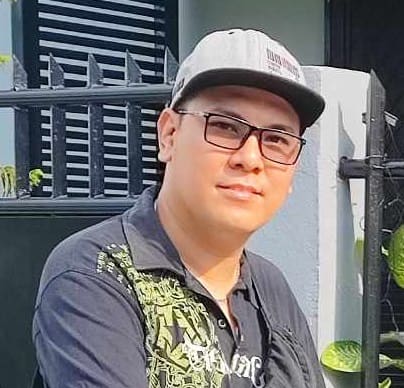 Hi! I'm Nivek Strife, the person who made MenuPH. I'm the one who added most of the popular menus you see on this website, and I really hope you enjoy them! Feel free to check them all out.
Growing up, I was surrounded by lots of tasty foods, like the classic Adobo and the sweet Leche Flan. That love for the many flavors of the Philippines is what got me excited about adding to MenuPH. When I learned how to make websites, I saw the need for a place to show off all the amazing Filipino dishes, and that's how MenuPH started.
MenuPH isn't just a website; it's like a fun journey into food. I've teamed up with famous chefs and found great places all over the Philippines to bring you a bunch of menus that show off the best of Filipino cuisine. Whether you're into the usual dishes or new twists, MenuPH is here to guide you through the rich world of Filipino flavors.
With MenuPH, my aim is to help local businesses, talk about good food choices, and make a group of friends who love food. No matter if you like fancy restaurants or street food, MenuPH has something for you. Come join me on this food adventure as we find great places, taste real flavors, and enjoy the unique food traditions that make the Philippines awesome.