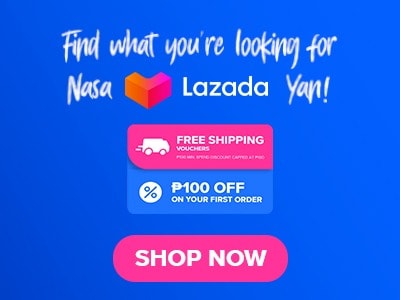 Taste the freshest flavor of the ocean like no other here at Harbor View Restaurant. A dining experience that allows you to immerse in the breathtaking waterfront giving you a panoramic beauty while enjoying your delightful platters. I am sure you are also dying to know about this restaurant so I won't take more minutes let us start with the menu and their price collection, and of course, our review on some of their foods.
Below, you'll find the updated list of Harbor View menu prices.
Menu Items
Price (PHP)

Starters

Nilasing no Hipon
240
Hotsi Patootsi
255
Tokwa't Baboy
225
Sizzling Pork Sisig
225
Calamares
235
Kilawin Tanigue
260
Oysters Rockefeller
230
Baked Mussels
200
Salmon Sashimi
280
Salmon Sashimi Special
320

Soup

Soup of the Day (Per Cup)
65
Seafood Soup
200
Tahong Soup
200
Clam Soup
200
Crab & Corn Soup
200
Beef Noodle Soup
180
Nilagang Baka
330
Sinigang na Baboy
280
Sinigang na Hipon
400
Sinigang na Salmon Belly
345
Sinigang na Boneless Bangus (Per 100g)
48
Beef Bulalo Soup
330

Seafoods

Live Shrimp (Per 100g)
165
Live Prawns (Per 100g)
195
Live Lapu-Lapu (Per 100g)
160
Live King Fish (Per 100g)
85
Live Catfish (Per 100g)
45
Boneless Bangus (Per 100g)
48
Fish & Chips
260
Fish Fillet w/ Tofu
270
Grilled Blue Marlin Steak
280
Tanigue Steak
265
Inihaw na Tuna Panga (Per 100g)
55
Sweet & Sour Fish Fillet
270
Breaded Fish Fillet
260
Inihaw na Pusit
190
Baby Squid Al Ajillo
200
Adobong Pusit
205

Crabs

Crab Sotanghon (Per 100g)
140
Spicy Crab (Per 100g)
140
Crab in Chili Sauce (Per 100g)
140
Steamed Crab (Per 100g)
140
Deep Fried Crab (Per 100g)
140
Crab Garlic (Per 100g)
140
Ginataang Alimango (Per 100g)
140

Prawns

Spicy Prawns
410
Prawns Garlic
410
Prawns w/ Chili sauce
425
Prawns Tempura
410
HV Prawns
410
Grilled Prawns with Lemon Butter Sauce
410

Beef

Brazilian Beef Barbecue
280
Beef Chap Chae
280
Bistek Pinoy
310
Kalderetang Baka
330
Kare-Kare
330
Rabo De Toro (Oxtail)
335

Pork

Baby Back Ribs (Serving Whole)
1,130
Baby Back Ribs (Serving Half)
580
Crispy Pata
575
Lechon Kawali
225
Sizzling Crispy Pork
235
Lumpiang Shanghai
220
Pork Barbecue
210
Pork Adobo
250

Chicken

Chicken Barbecue
220
Deep Fried Chicken (Serving Whole)
435
Deep Fried Chicken (Serving Half)
230
HV Roasted chicken (Serving Whole)
435
HV Roasted chicken (Serving Half)
230
Chicken Adobo
250
Sizzling Chicken in Gravy
250
Sizzling Chicken in Chili
250

Vegetables

Ginisang Ampalaya
235
Ampalaya con Carne
235
Chopsuey
235
Pinakbet
205
Kilawin Puso ng Saging
190
Mixed Vegetables
230
Steamed Broccoli w/ Garlic
205
Spinach w/ Garlic
140
Adobong Kangkong
140

Sweet Endings

Halo-halo (Serving Regular)
90
Halo-halo (Serving Special)
105
Mais con Yelo (Serving Regular)
75
Mais con Yelo (Serving Special)
90
Mixed Fresh Fruits
275
Fruit Salad
79
Leche Flan
75
About Harbor View
Harbor View is a renowned restaurant that is famous for its freshest dishes of the day. Their commitment to serving excellent cuisine with the highest precision and being prepared with a passion for cooking is what separates them from the various seafood restaurants we have at the Metro. You will surely have an unforgettable dining experience here at Harbor View where you indulge in visual feats while enjoying the food you ordered. They also have a variety of seafood delicacies that delightfully cater to all of your moods and cravings.
Harbor View Menu Best Seller
Whether it's for a date or family dining, these best-selling collections are top-notch in quality and outstanding textures. Make the best of your Harbor View experience with these best-sellers.
Grilled Blue Marlin Steak – Dive into the finest flavor of the sea with this thick and juicy Blue marlin steak. It immerses you in the perfectly grilled fish that shines in every bite.
Crispy Pata – An icon here at Harbor View where crispy and golden brown texture is guaranteed in every bite of their Crispy Pata. It has a very tender inside with all of the juiciness inside and the crispy exterior that is just so delightful.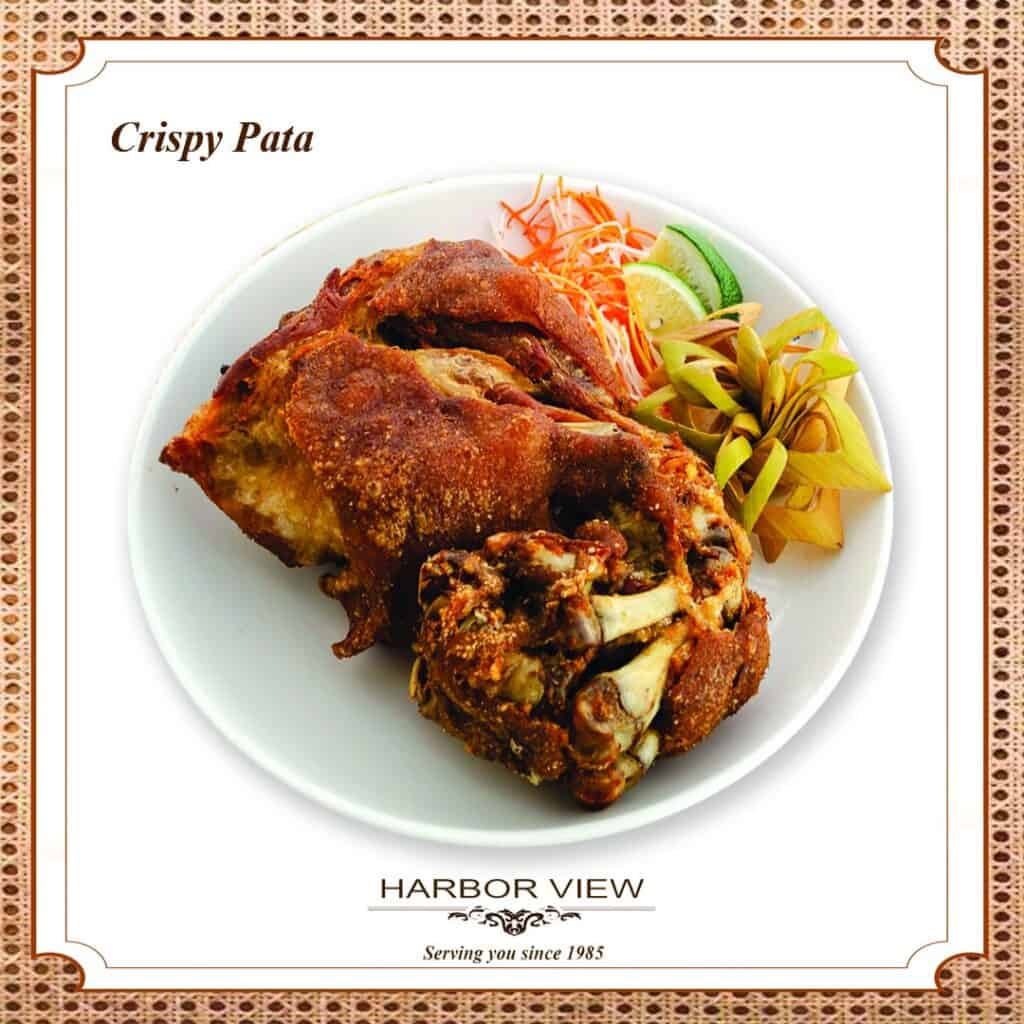 Sweet & Sour Fish Fillet – An iconic flavor will meet you in this perfect blend of Sweet & Sour Fish Fillet. It is finely coated with luscious sauce giving you a perfect symphony of flavors.
Brazilian Beef Barbecue – Next on the list is this Brazilian beef Barbeque. It is one of their beloved best sellers that takes you a joyful bite into the smokey perfectly grilled beef skewered that you don't want to miss.
Halo-halo – A classic and a dessert that never goes out of style is this Halo Halo. It is a mix of shaved ice that is elevated in various toppings such as sweet beans, fruits, jellies, and more. It has a very creamy flavor with the final touch of ice cream on top of it.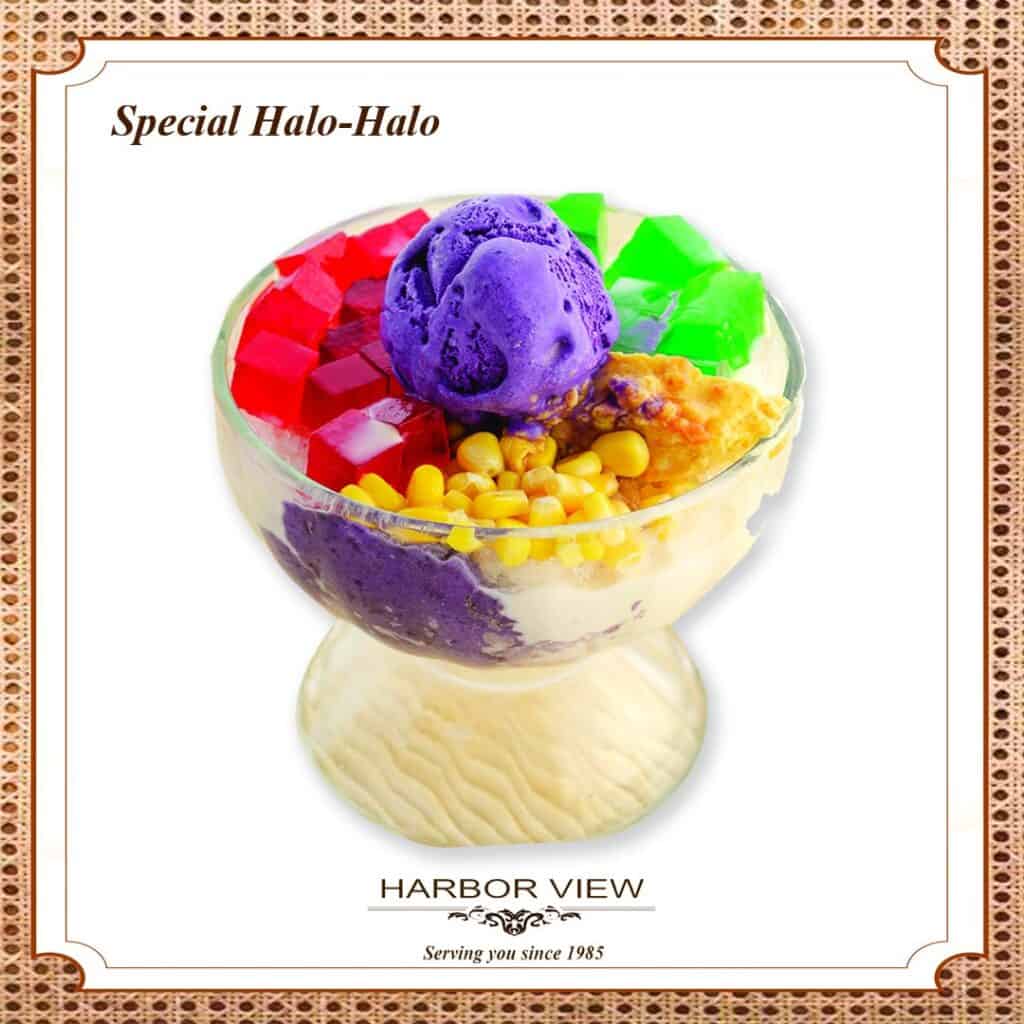 Seafoods
Savor the joyful bites of the sea with these seafood collections menu of Harbor View that allows you to transcend into the safe haven of seafood paradise.
Fish Fillet w/ Tofu – Starting with this harmonious favorite Fish Fillet with Tofu that allows you to indulge in the creamy tofu which is delightfully bathed with a savory sauce.
Fish & Chips – Another classic is this Fish & Chips. It features a crispy dish with battered and fried fish in golden perfection. It is very enticing and makes it more special with crisp on the side.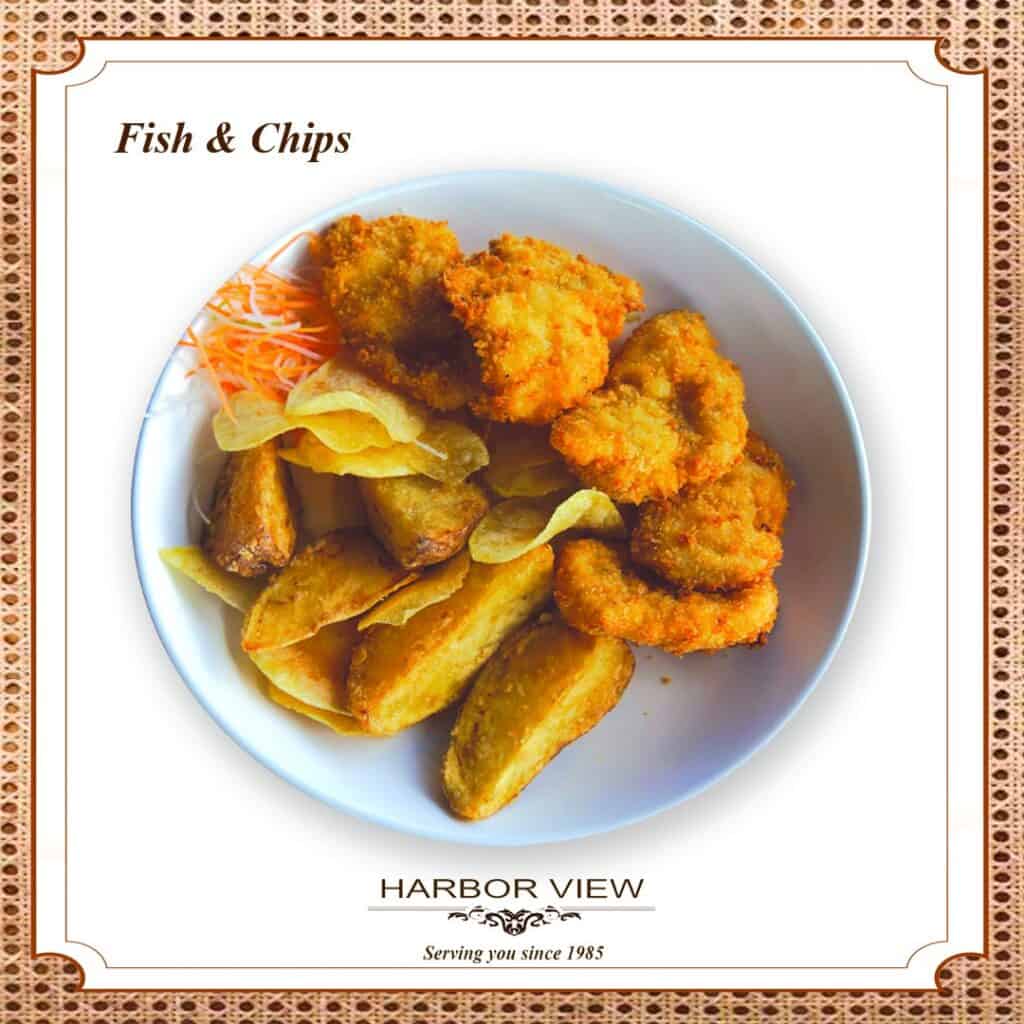 Tanigue Steak – Experience the sophistication here at their Tanigue Steak which features a grilled mackerel perfect for every seafood lover who wants to indulge in the smokiness of this grilled fish.
Inihaw na Pusit – For the Squid enthusiast! You can enjoy this succulent and perfectly grilled squid that is marinated in various mixtures embracing all of its natural flavors.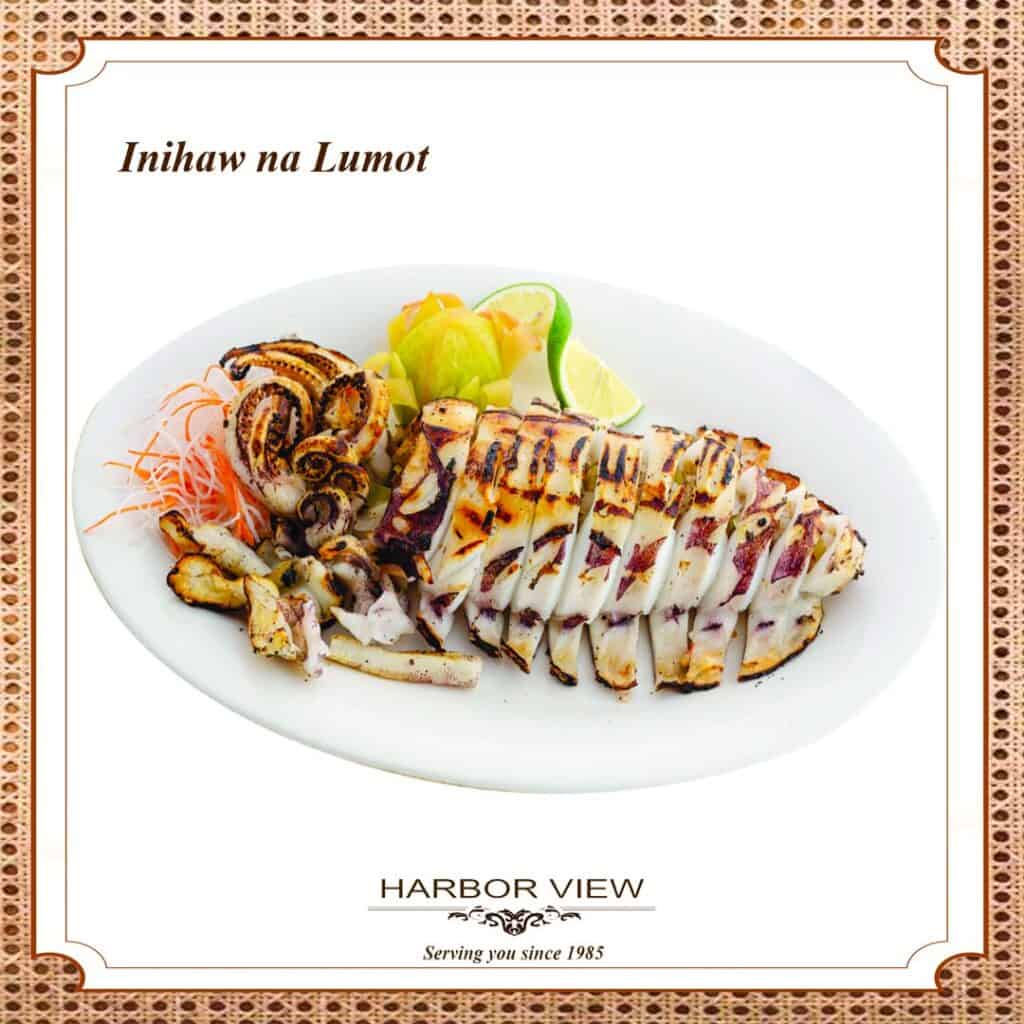 Beef
Take that beefiness to another level with their iconic collection of Beef menu, they are not only great at serving varieties of Seafood delights but they are famous for a variety of meat entrees and this collection is one living evidence of that.
Bistek Pinoy – Another spot for the classics. enjoy this Filipino favorite Bistek Pinoy which features thinly sliced beef that is perfectly marinated in soy sauce and citrus calamansi.
Kare-Kare – Take your joyful bites in a more elevated style here at their flavorful Kare-Kare. It features a rich peanut sauce that allows you to indulge in a medley of vegetables and flavorful slices of beef with it.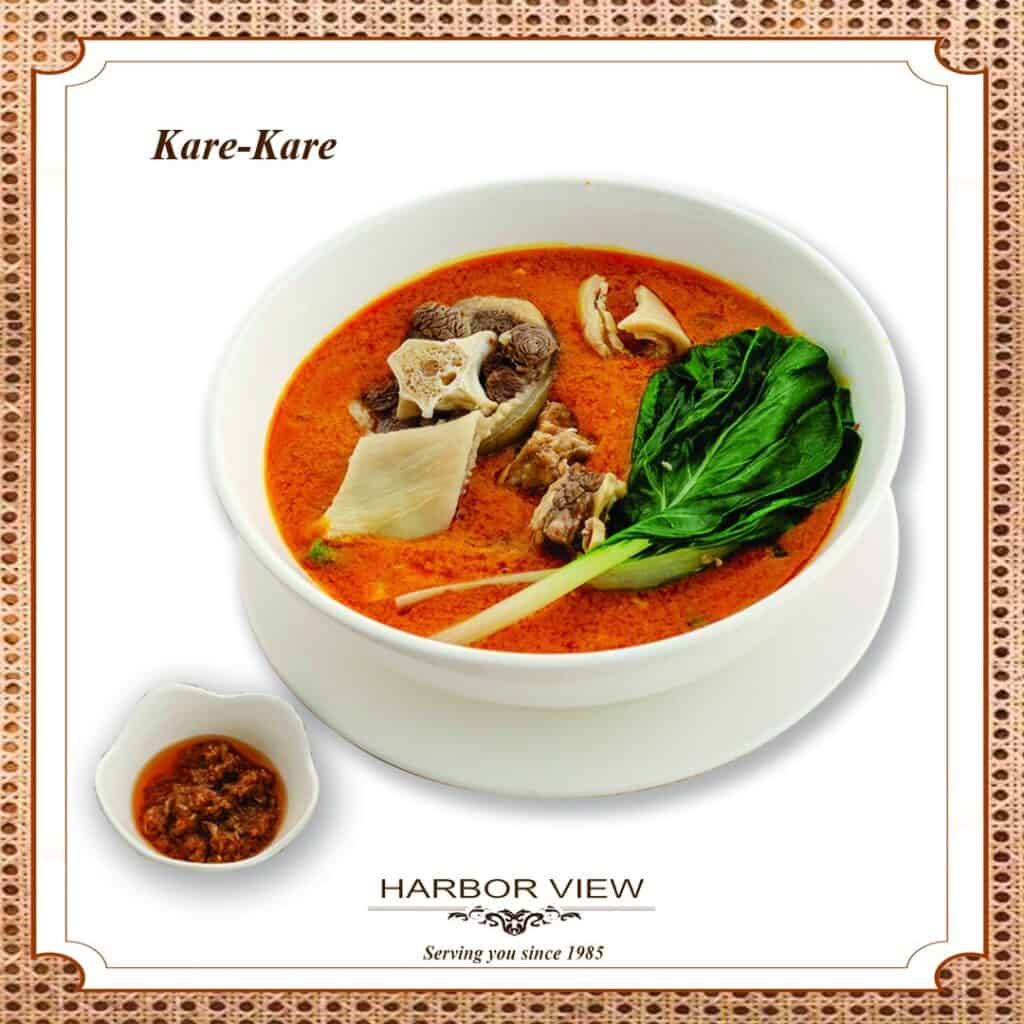 Beef Chap Chae – A tantalizing experience is what this dish is about. It features a beef slice that is stir-fried and soaked in various mixtures of soy sauce, sesame oil, and a medley of vegetables.
Kalderetang Baka – This famous beef stew is made with a special twist of hinting spice. It features tomatoes and blends of spices that create a bold and flavorful taste.
Harbor View Menu Delivery
Harbor View's greatest pride is the opportunity to enjoy delightful food with the waterfront panoramic beauty of the bay. Which defeats the purpose if you are just going to ask for food delivery. That is why I fully recommend that you take a flavorful visit to their store because they do not offer any food delivery service for their customers. I am sure that you will be delighted and it will be one of your unforgettable dining experiences.
Social Media Page
Enjoy and drool while scrolling through the scrumptious meals featured in their posts if you start to support their social media pages. Get firsthand about the latest news, discounts, and affordable deals if you have followed and liked their pages.
Facebook: https://www.facebook.com/harborviewrestaurantmanila
FAQs
What type of cuisine does Harbor View offer?
Harbor View allows you to enjoy your meal in front of the panoramic beauty of the sea. They offer a variety of seafood, pork, beef, chicken, and vegetable entries that you will definitely love.
What is Harbor View known for?
It is famous for its locations and its iconic collections of Seafood entrees that are definitely one of the must-tries in the entire menu collection.
What are the operating hours of Harbor View?
Harbor View operates from 11 AM until 10 PM.
Where is the Harbor View located in the Philippines?
You can visit them at South Dr, Ermita, Manila, 1000 Metro Manila, and experience the finest flavors of the sea.
Conclusion
In conclusion, Harbor View is a safe haven for everyone who wants to indulge in the beauty of the seas. It is a restaurant that emphasizes art and flavor. It is not just a typical seafood restaurant that you can cross the metro because Harbor View allows you to enjoy an immersive experience where you can enjoy your meal that is delightfully complemented by breathtaking waterfront views. From their famous Grilled Blue Marlin Steak to their iconic Brazilian Beef Barbeque, this restaurant is a home of diversity and culinary excellence. I love how they did not only focus on seafood entrees but varieties of meats that enable people to enjoy a wide range of textures and flavors. It was definitely a wonderful and refreshing experience I would gladly visit again!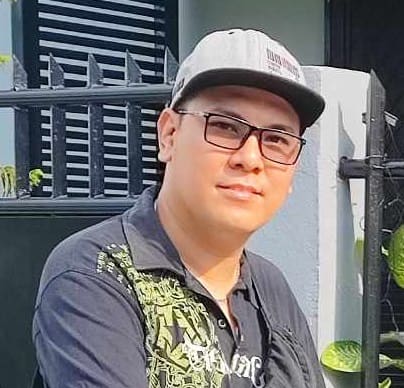 Hi! I'm Nivek Strife, the person who made MenuPH. I'm the one who added most of the popular menus you see on this website, and I really hope you enjoy them! Feel free to check them all out.
Growing up, I was surrounded by lots of tasty foods, like the classic Adobo and the sweet Leche Flan. That love for the many flavors of the Philippines is what got me excited about adding to MenuPH. When I learned how to make websites, I saw the need for a place to show off all the amazing Filipino dishes, and that's how MenuPH started.
MenuPH isn't just a website; it's like a fun journey into food. I've teamed up with famous chefs and found great places all over the Philippines to bring you a bunch of menus that show off the best of Filipino cuisine. Whether you're into the usual dishes or new twists, MenuPH is here to guide you through the rich world of Filipino flavors.
With MenuPH, my aim is to help local businesses, talk about good food choices, and make a group of friends who love food. No matter if you like fancy restaurants or street food, MenuPH has something for you. Come join me on this food adventure as we find great places, taste real flavors, and enjoy the unique food traditions that make the Philippines awesome.