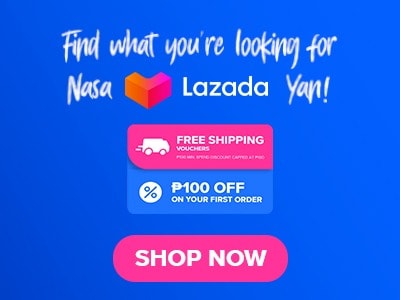 Craving some Korean goodness without breaking the bank? No problem—I've got the perfect spot for you, especially if you're in Sta Rosa City, Laguna. Ever heard of Chew & Chill? If not, and you're curious, give me a few minutes, and we'll chat about them. Chew & Chill's menu is filled with yummy and budget-friendly Korean dishes. Plus, if you're feeling adventurous, they've got Chinese-inspired pasta dishes. In this write-up, we'll check out their menu and, of course, their prices so you can get a good sense of what they offer. Let's dive in and get to know them better. Ready? Let's go!
Below, you'll find the updated list of Chew & Chill menu prices.
Menu Items
Price (PHP)

Asian Rice Meals

Beef Bulgogi (With Kimchi Rice & Egg)
99
Beef Bulgogi (With Kimchi Rice)
90
Spicy Pork Bulgogi (With Plain Rice)
90
Spicy Pork Bulgogi (With Kimchi Rice)
95
Korean Fried Chicken (With Plain Rice)
90

Asian Rice Meals

Charlie Chan (Solo)
90
Charlie Chan (Sharing)
180
Charlie Chan (Bilao Mini/Large)
610/850

Ala Carte

Beef Bulgogi In Tub (250g)
190
Spicy Pork Bulgogi In Tub (250g)
190
Kimchi
90

Drinks

Coke
16
Royal
16
Mountain Dew
16

Add Ons

Extra Garlic Rice
15
Extra Kimchi Rice
20
Extra Plain Rice
12
Extra Egg
12
Extra Kimchi
10
About Chew & Chill
Chew & Chill is a restaurant that serves Korean and Chinese fusion meals that will surely satisfy your hunger and cravings. This place has a limited menu however they perfected the taste of their products so even though their menu is limited you can guarantee that the item that you will order is delicious. Chew & Chill is located in Golden City, Santa Rosa City of Laguna. Chew & Chill is accepting delivery orders, pick-up orders and meet up.
There are a lot of customers that are noticing how great their foods are that's why they become famous over time and though this place is just new in the market they already gained regulars. Chew & Chill also serves very affordable food items it's really sulit visiting them since your 500 will really go a long way for sure. Chew & Chill is also open for resellers and partnerships from other locations which is near their place. For more information, you may contact them through their Facebook page.
Chew & Chill Menu Best Sellers
Here are sample best-selling items of Chew & Chill for your additional reference.
Charlie Chan – The Charlie Chan version of Chew & Chill is made with spaghetti noodles that are cooked stir fry style, it has chicken chunks, sliced mushrooms, and peanuts. This pasta dish has a blend of salty, sweet, and a little spicy flavor. This tastes really good plus the combination of flavors really goes well with each other making this pasta dish so good. Charlie Chan is also great with any sandwich.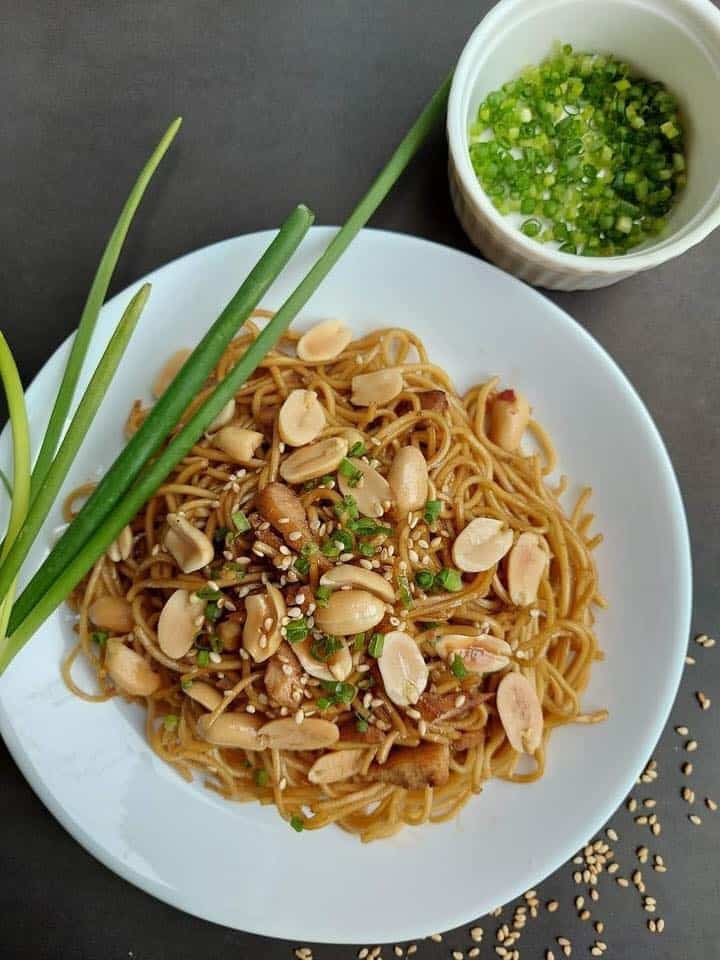 Chew & Chill's version of Charlie Chan has al dente noodles and savory thick but not too much sauce. The flavor of peanuts made this dish more delicious plus chicken chinks are highly visible as well making their charlie chan meaty and saucy at the same time. I highly recommend you guys to try this as this is included in their most popular products.
Beef Bulgogi with Kimchi Rice and Fried Eggs – This one is s complete meal. The beef bulgogi is cooked by marinating it in sesame oil, soy sauce, sugar, pepper, and other ingredients for several hours to make the meat absorb all the flavors. It has a savory salty and sweet flavor. Partnered with kimchi rice which is a type of fried rice mixed with slices of kimchi, the kimchi rice is flavorful enough plus the fried egg that they cooked over easily also added flavor to this item.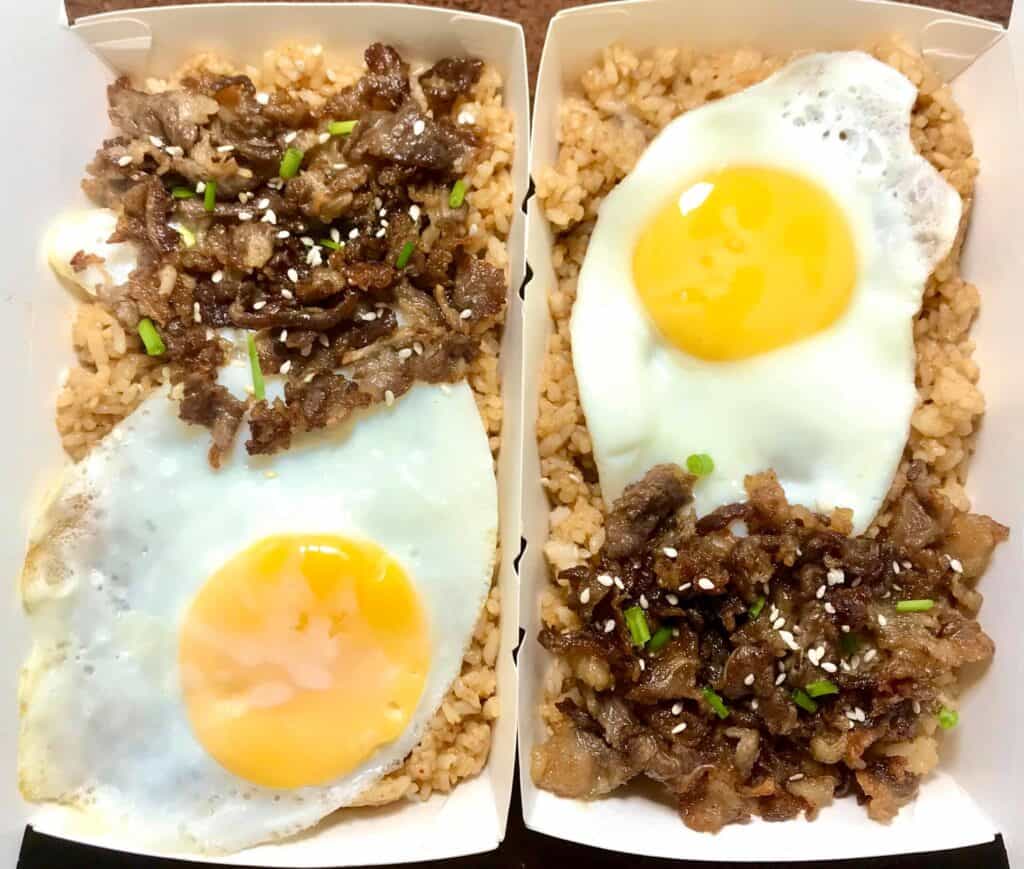 Beef bulgogi with kimchi rice and fried egg is also included on Chew & Chill's most ordered item on their menu. This one tastes amazingly delicious and will surely be loved by everybody.
Spicy Pork Bulgogi with Kimchi Rice – Spicy pork bulgogi with kimchi rice version of Chew & Chill is also one of their must-try items. Just like the beef bulgogi, their pork bulgogi is marinated for hours in soy sauce, sugar, sesame oil, pepper, and some spicy ingredients giving this version a kick in every bite. Not too spicy for those who really love spicy foods like me.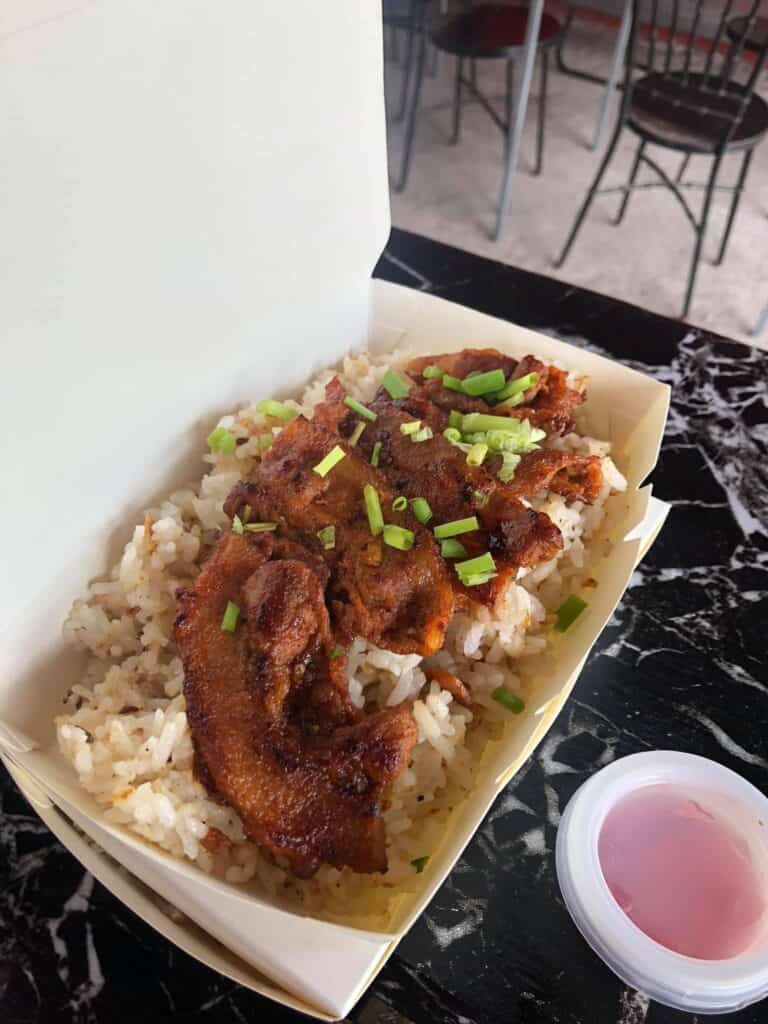 In addition, it is also served with kimchi rice which is the perfect combination for this spicy pork bulgogi. The meat on this dish is soft and very flavorful while the kimchi rice has that umami flavor in every bite. Try it yourself and enjoy a slightly spicy pork bulgogi that will surely satisfy your Korean food cravings.
Korean Fried Chicken with Plain Rice – The Korean fried chicken version of Chew & Chill is crispy outside and juicy inside. We all know that Korean fried chicken is one of the best fried chicken and Chew & Chill gives justice to this information. The fried chicken tastes really good with or without anything, perfect with the plain rice that is also served with this one. A meal that will surely fill you up and satisfy your hunger.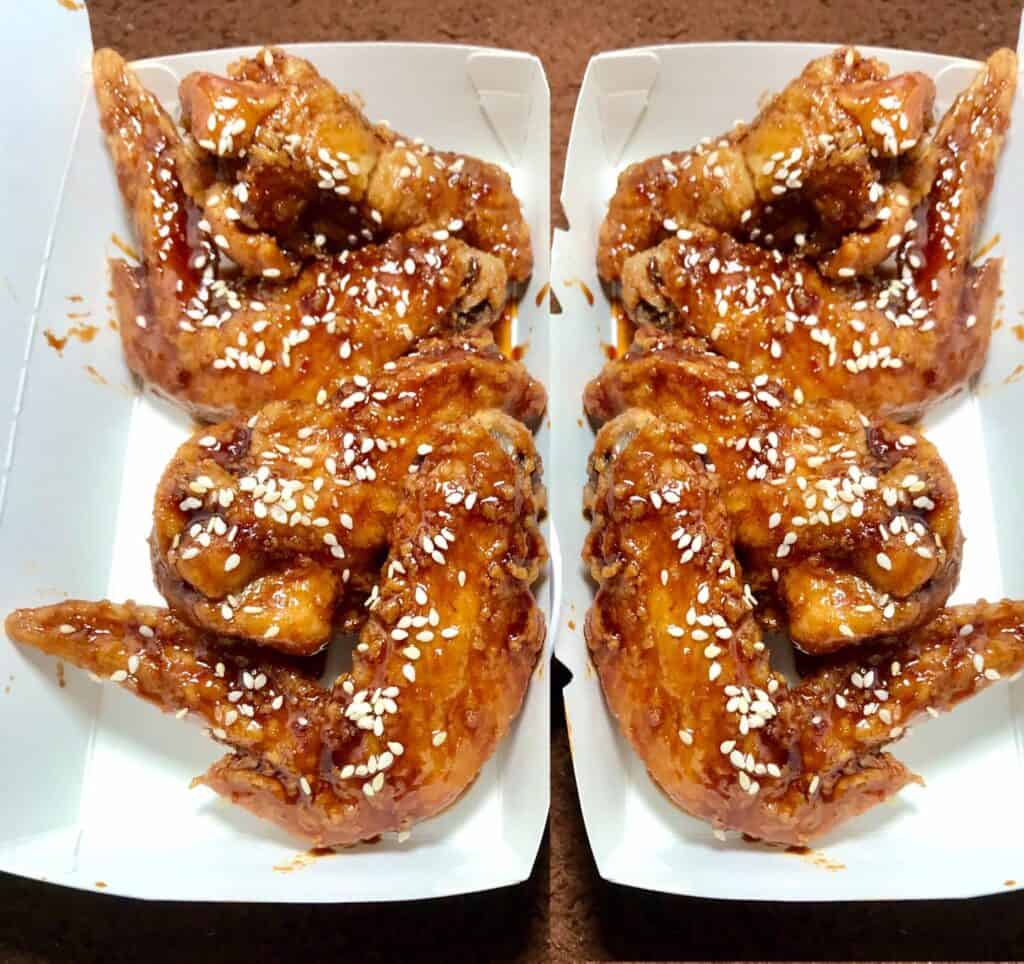 Ala Carte
The Ala carte menu of Chew & Chill has 2 items. The first one is their beef bulgogi in the tub. This one is 250g already and also great for sharing but if you love it that much I won't judge you if you'll finish it by yourself. Another item on this menu is their spicy pork bulgogi in tub, this one is also 250g per serving and highly recommended for those who love spicy foods. Though this one is not that spicy it still has a kick in every bite.
Add Ons
The add-on menu of Chew & Chill has 5 items. The first one is their extra garlic rice this one is perfect if you're a heavy eater and you really want to satisfy your hunger. They also have extra kimchi rice and extra plain rice for other options of rice. Aside from those they also have extra eggs, one is not enough for you, and lastly, their extra kimchi if you love kimchi and their serving is not enough or bitin for you.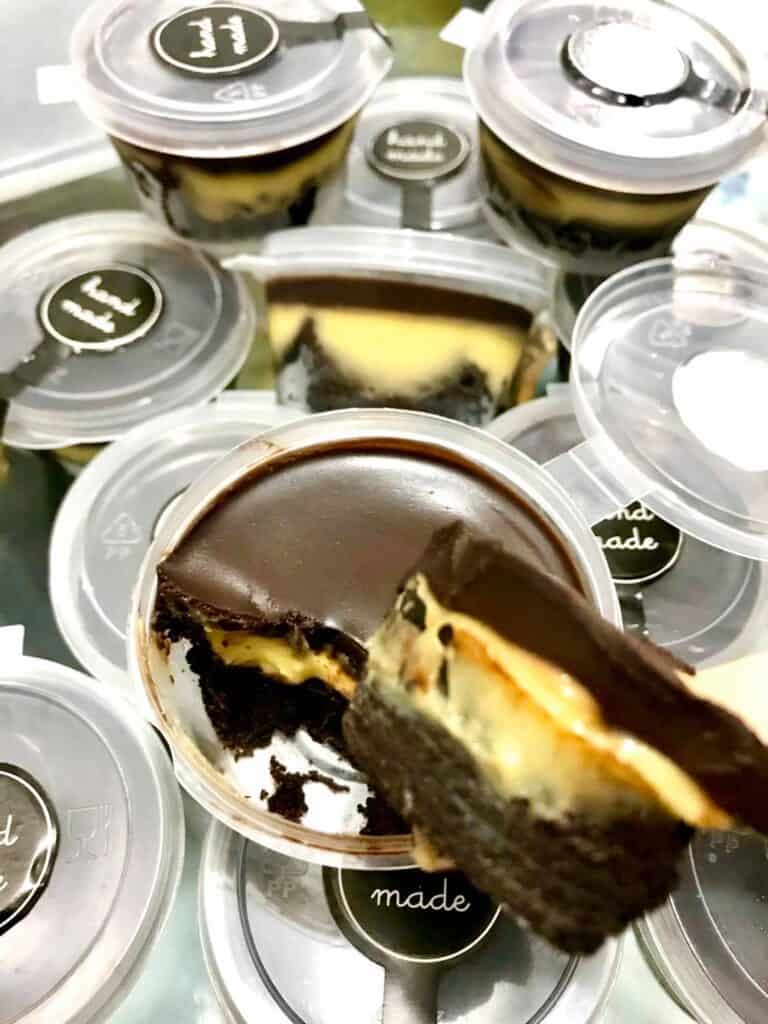 Chew & Chill Menu Delivery
Chew & Chill offers delivery service, as well as pick up and meet up. So if you're craving something good ordering from them is as easy as ABC. All you have to do is contact them through their Facebook page. Aside from that you can also use your local food delivery service for hassle-free transactions.
Social Media Pages
To stay updated on their latest offerings and promotions, be sure to follow their social media pages and you'll gain exclusive access to mouthwatering food photos that will make your stomach growl.
Facebook: http://facebook.com/Chew-Chill
FAQs
Where is the location of Chew & Chill?
Chew & Chill is located at Block 21 lot 19 Golden City, Santa Rosa Laguna.
Does Chew & Chill have a social media page?
Yes. Chew & Chill does have a social media page such as Facebook. Please see the link above,
Is Chew & Chill halal-certified?
No. According to their menu, Chew & Chill offers pork dishes that are not suitable or haram to our Muslim friends.
Does Chew & Chill accept delivery orders?
Yes. Chew & Chill accepts delivery orders, pick up, and meet up for your convenience.
What are the payment options that are available at Chew & Chill?
Chew & Chill accepts cash as a payment method for their dine-in, delivery, and meet-up orders.
Conclusion
Great place to order delicious and mouthwatering food items especially if you love Korean foods or Asian-inspired dishes. Chew & Chill offers limited meals but with great flavor and taste. Their Charlie Chan is one example of their must-try products. The food items that they serve are also very affordable. The great thing about this place is that they are hands-on with their delivery orders and even accept meet-ups. The place is clean and cozy and has an inviting atmosphere. Highly recommended especially for those who love Korean foods and want to explore new tastes.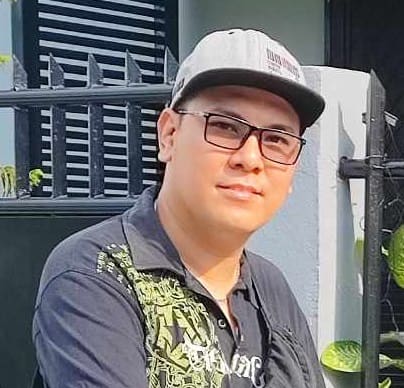 Hi! I'm Nivek Strife, the person who made MenuPH. I'm the one who added most of the popular menus you see on this website, and I really hope you enjoy them! Feel free to check them all out.
Growing up, I was surrounded by lots of tasty foods, like the classic Adobo and the sweet Leche Flan. That love for the many flavors of the Philippines is what got me excited about adding to MenuPH. When I learned how to make websites, I saw the need for a place to show off all the amazing Filipino dishes, and that's how MenuPH started.
MenuPH isn't just a website; it's like a fun journey into food. I've teamed up with famous chefs and found great places all over the Philippines to bring you a bunch of menus that show off the best of Filipino cuisine. Whether you're into the usual dishes or new twists, MenuPH is here to guide you through the rich world of Filipino flavors.
With MenuPH, my aim is to help local businesses, talk about good food choices, and make a group of friends who love food. No matter if you like fancy restaurants or street food, MenuPH has something for you. Come join me on this food adventure as we find great places, taste real flavors, and enjoy the unique food traditions that make the Philippines awesome.