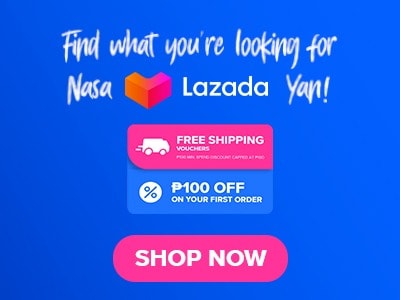 Savory, Comfort, and Light, are some of the best characteristics of a quality mami we always look forward to indulging. Well, I might have the perfect mami that perfectly suits those characteristics. Introducing Masuki! A perfect destination for your favorite Mami in which they take great pride. Let's savor the meaty goodness that will bring extra comfort to your day, here are their updated menu collections for you you indulge in.
Menu Items
Price (PHP)

Ala Carte

Lechon Macau
150
Eggrolls
110
Masuki's Chicken Curry
150
Lemon Chicken
120
Add On: Haponica White Steamed Rice
40

Mami

Original Mami (Regular)
150
Original Mami (Special)
160
Chicken Mami (Regular)
150
Chicken Mami (Special)
160
Asado Mami (Regular)
150
Asado Mami (Special)
160
Beef Mami (Regular)
205
Beef Mami (Special)
220
Beef Asado (Regular)
215
Beef Asado (Special)
230
Beef Chicken (Regular)
215
Beef Chicken (Special)
230
Beef Wanton (Regular)
215
Beef Wanton (Special)
230
Wonton Mami (Regular)
190
Wonton Mami (Special)
200
Wonton Chicken (Regular)
205
Wonton Chicken (Special)
220
Wonton Asado (Regular)
205
Wonton Asado (Special)
220
Wonton Asado Chicken (Regular)
210
Wonton Asado Chicken (Special)
225
Beef Asado Wonton (Regular)
235
Beef Asado Wonton (Special)
245
Beef Chicken Wonton (Regular)
235
Beef Chicken Wonton (Special)
245
Beef Chicken Asado (Regular)
235
Beef Chicken Asado (Special)
245
Beef Wonton Chicken Asado (Regular)
260
Beef Wonton Chicken Asado (Special)
275

Dim Sum

Asado Siopao (Regular)
60
Asado Siopao (Special)
95
Bola-Bola Siopao (Regular)
65
Pork Siomai (Per pc)
35
Wonton Plate
190
Beef Brisket Plate
220
Asado Plate
170
Chicken Plate
160
Asado Chicken Plate
170

Beverages

Coke Regular
60
Coke Light
60
Coke Zero
60
Royal Orange
60
Royal Grapes
60
Sarsi Regular
60
Sprite
60
Mineral Water
40
About Masuki
Masuki is one of the famous casual restaurants at Binondo Philippines that takes great pride in its famous mami which has been well-loved among Filipinos since then. Another thing to love about this restaurant is that even though they specialize in Mami, they also ventured into other Chinese delicacies such as their appetizing collections of Dim Sum and Joyful Ala Carte.
Masuki Menu Best Seller
Let me take you on another flavorful mami journey with these best-selling dishes at Masuki.
Origami Mami – Take a comforting sip of this whimsical dish that highlights the creativity of both Japanese and Filipino cuisine served in a bowl of Mami. It has broth, and vegetables, and is high in protein.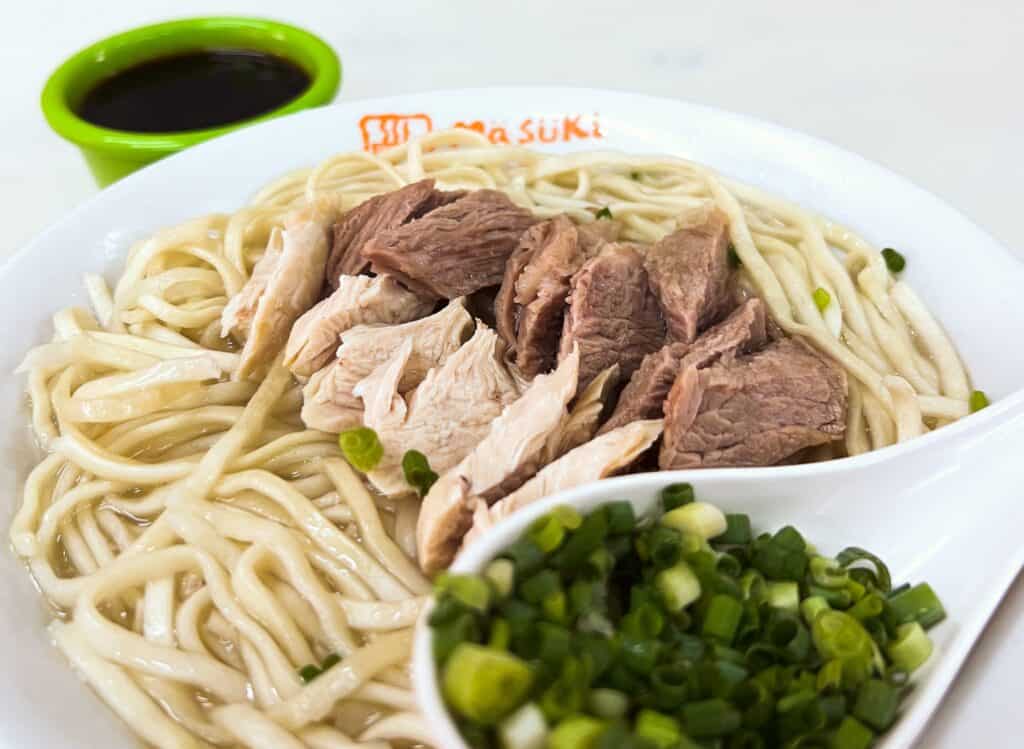 Beef Asado – A warming delight served in this famous Beef Asado that offers a tender beef slice that is intricately stewed in a sweet and savory sauce. It highlights its beef along with various vegetables added to it.
Chicken Mami – This chicken noodle soup is famous for its comforting delight that highlights a sift and flavorful chicken that has a delightful level of chewiness and it gives you a cloudy appearance you will surely love.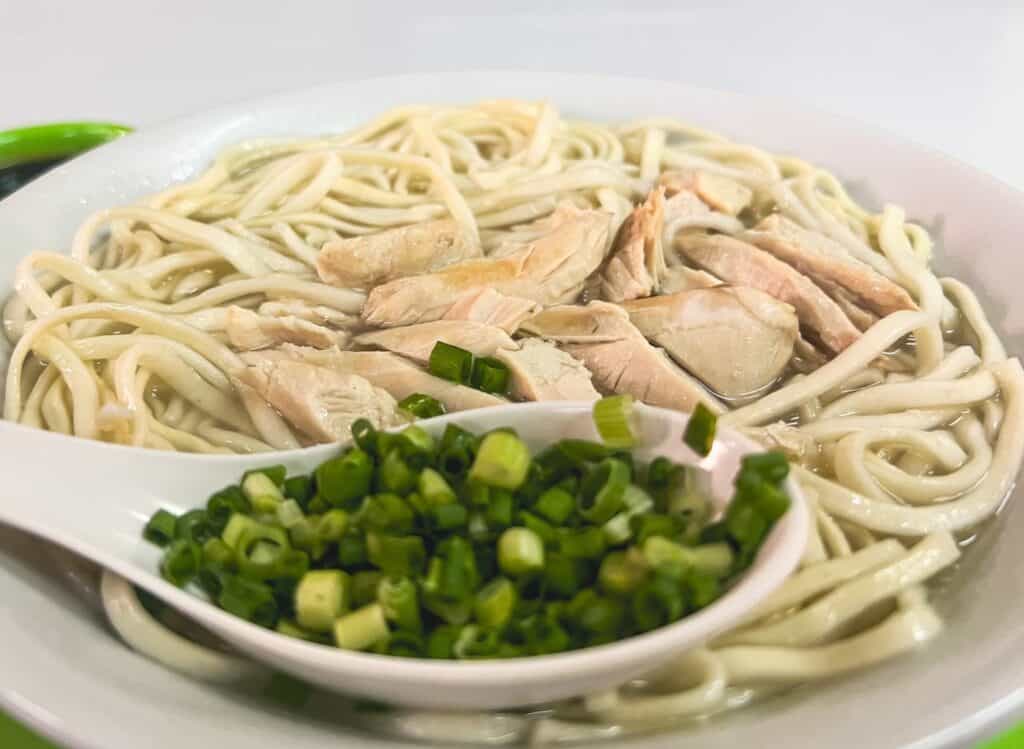 Asado Mami – A classic Filipino in a playful innovation with mami. This noodle soup features a rich and flavorful broth highlighting a tender chunk of savory meat and egg noodles.
Beef Wanton – A classic take to your favorite Chinese wonton on a flavorful beef and savory broth noodle soup. It offers a very rich savory sp with its flavorful wanton that is made out of ground pork with various seasonings.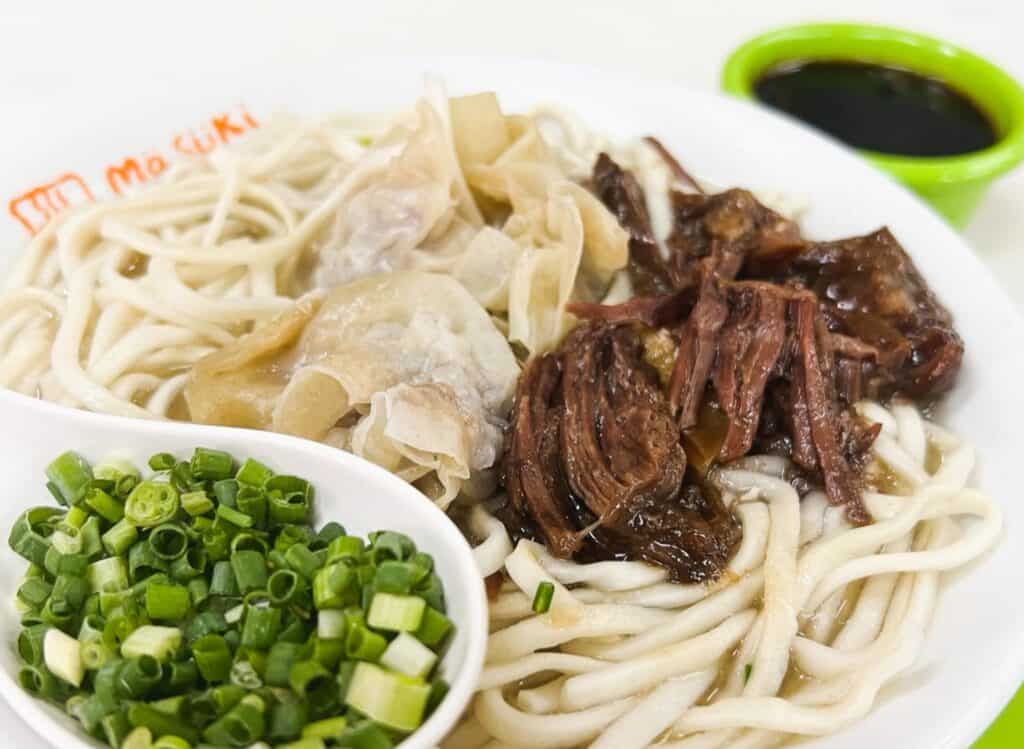 Ala Carte
Are you up for an extra gastronomic journey today? Here I showcase Masuki Ala Carte menu collections that highlight flavorful textures and great depths on your plate.
Egg Rolls – A satisfying crunch awaits you in this egg roll that is made out of a mixture of braised veggies with ground pork wrapped on a lumpia wrapper and fried to perfection. It is served with a dipping sauce for an extra enticing experience.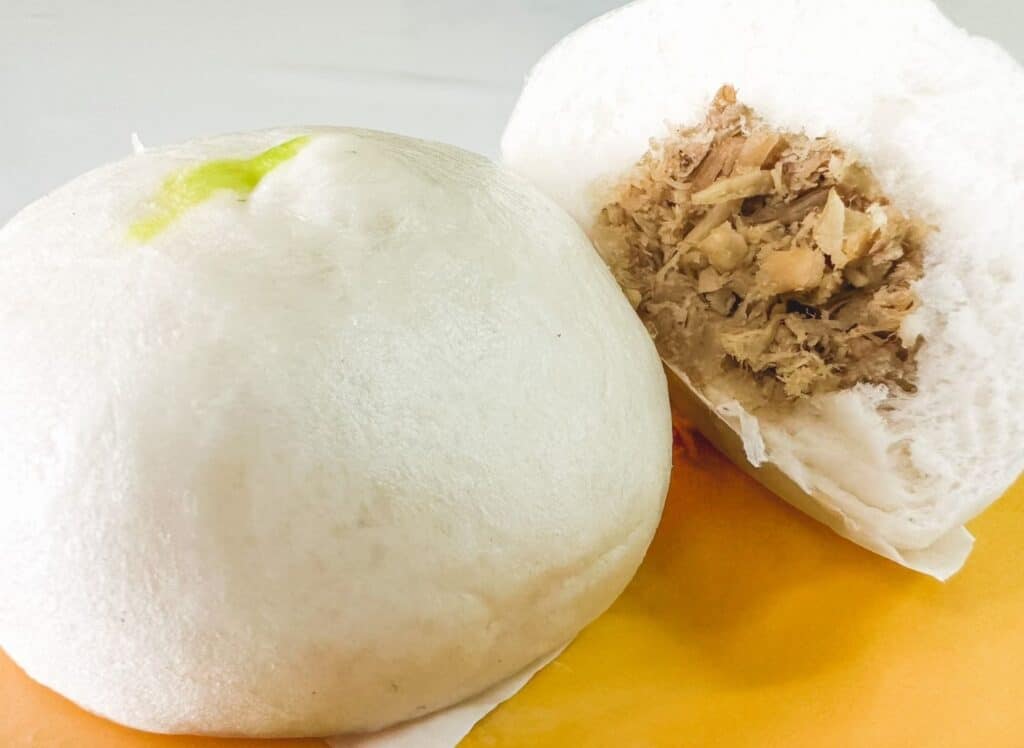 Lechon Macau – A dish is a delectable pork dish that is famous for its crispy skin and tender meat texture. The meat is braised and deep fried until it reaches the desired crunch you need in this Lechon Macau.
Masuki's Chicken Curry -This chicken curry dish is a very comforting hearty dish that highlights rich-flavor chicken on a curry sauce giving you a rich and aromatic kick to your plate.
Lemon Chicken – A famous dish known for its zestiness and tangy flavor that highlights a chicken fillet that is carefully marinated with lemon sauce giving you a hint of zesty with a golden crispy texture.
Dim Sum
Indulge in this appetizing collection of Dim Sum menu of Masuki perfectly pairs with your favorite Mami. Savor the meaty goodness you won't soon forget with these collections.
Asado Siopao – Treat yourself to this famous Asado Siopao is filled with savory and sweetmeat filling that highlights pork that is carefully marinated with soy sauce, oyster sauce sugar, and garlic.
Bola-Bola Siopao – This Filipino steamed bun is filled with ground pork and various mixtures shaken with meatballs. It features various seasonings and savory bites you will surely love.
Wonton Plate – A plate filled with wontons which is a Chinese dumpling that is filled with ground pork along with minced garlic, soy sauce, and ginger. It is perfect to pair with a dipping sauce to fully elevate the savory bite you are about to experience.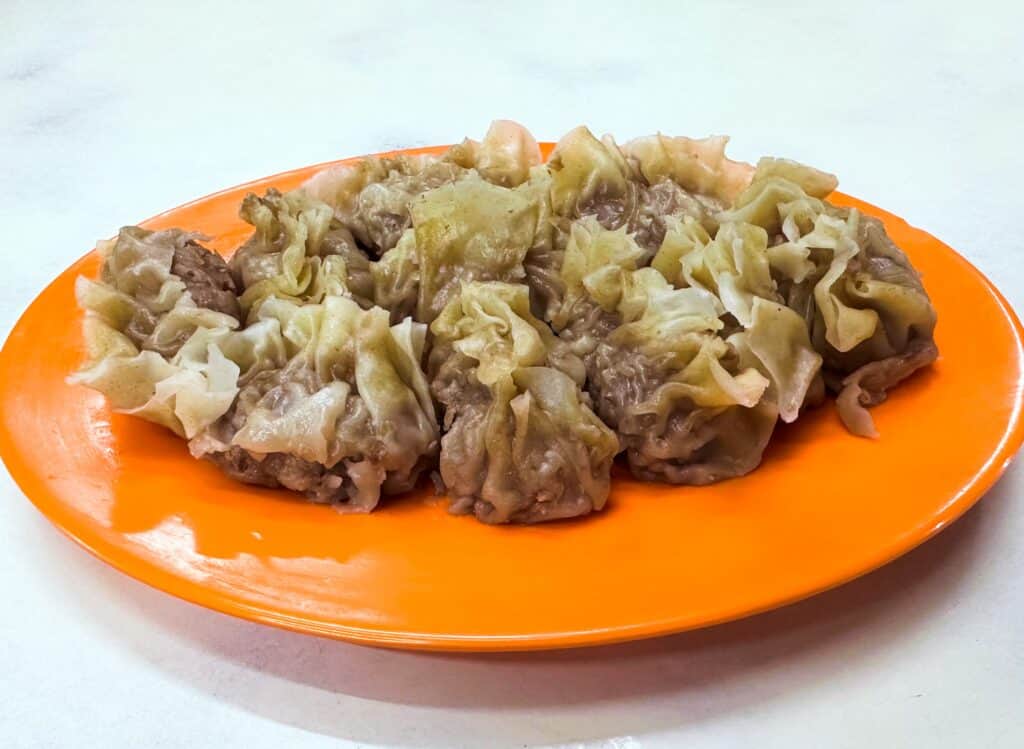 Pork Siomai – This Pork Siomai is widely popular in the Philippines and originated in China. It is a pork dumpling filled with perfectly seasoned ground pork along with the additional seasoning and vegetables carefully wrapped and steamed to utmost perfection
Masuki Menu Delivery
Are you craving for these flavorful mami specials from Masuki but you don't have the energy to get out of your bed and order it at the store? Well, worry no more because you can satisfy your mami cravings right from the utmost comfort of your home through online food delivery services such as FoodPanda Philippines which is available in selected areas as well as GrabFood Ph which is a very recommended option for long-distance places.
Masuki Social Media Pages
Join them in celebrating our love for authentic Chinese-Filipino flavors by following their pages. Expect exclusive offers, behind-the-scenes glimpses of our culinary magic, and a front-row seat to our time-tested recipes that have delighted generations.
Facebook: https://www.facebook.com/masuki1930
Instagram: https://www.instagram.com/masuki_mami
Frequently Asked Questions
What type of cuisine does Masuki offer?
Masuki is known for its famous Mami which is why it is known as a Mami House of the Metro. Aside from Mami they also offer Ala Carte and Dim Sum specials.
What is Masuki known for?
Masuki is widely known for its Mami specials and one of their famous Mami is Beef Asado Mami which features savorful tender beef slices that perfectly blend with the richness of the soup.
What are the operating hours of Masuki?
Masuki has no distinct operating hours since some stores are open from 7 AM until 10 PM and other branches are operating from 10 AM until 9 PM.
Can I order for take out or delivery?
Yes, Masuki offers dining services, Take-out, and even delivery services for their third-party delivery partners.
Conclusion
In conclusion, Masuki is definitely one of the wonders of the Philippines's mami restaurant. Not trying to exaggerate but they do offer an incredible quality of mami that is packed with rich flavors and quality toppings. I love how you can partner your mami with various dim sum delicacies which elevate your mami experience to the next level. Their Ala Carte collection also deserves a phrase for having to offer great diversity and options for people who are not in the mood for Mami. It would surely be one of my favorite places for my mami cravings and will surely recommend it.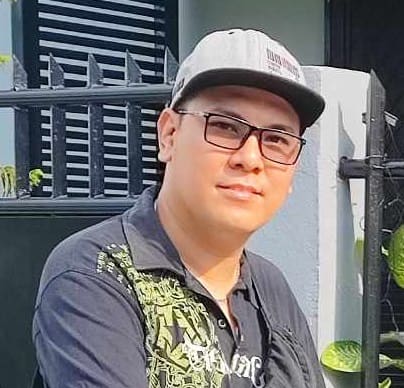 Hi! I'm Nivek Strife, the person who made MenuPH. I'm the one who added most of the popular menus you see on this website, and I really hope you enjoy them! Feel free to check them all out.
Growing up, I was surrounded by lots of tasty foods, like the classic Adobo and the sweet Leche Flan. That love for the many flavors of the Philippines is what got me excited about adding to MenuPH. When I learned how to make websites, I saw the need for a place to show off all the amazing Filipino dishes, and that's how MenuPH started.
MenuPH isn't just a website; it's like a fun journey into food. I've teamed up with famous chefs and found great places all over the Philippines to bring you a bunch of menus that show off the best of Filipino cuisine. Whether you're into the usual dishes or new twists, MenuPH is here to guide you through the rich world of Filipino flavors.
With MenuPH, my aim is to help local businesses, talk about good food choices, and make a group of friends who love food. No matter if you like fancy restaurants or street food, MenuPH has something for you. Come join me on this food adventure as we find great places, taste real flavors, and enjoy the unique food traditions that make the Philippines awesome.