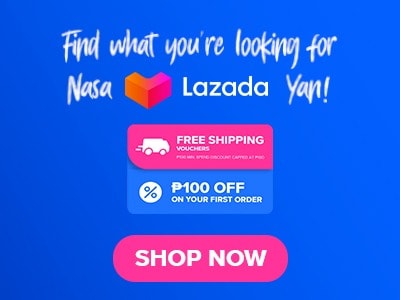 A lot of people love seafood since it can be enjoyed in different delicious ways. But have you heard about a restaurant that offers the most affordable and quality seafood that you can find in the market these days? Im talking about Choobi Choobi, a restaurant that has a lot to offer if we are going to talk about affordability and quality seafood. Choobi Choobi's menu might surprise you since on it you will find a lot of choices. Interesting right? As of now, I am certain that I already caught your interest, so stay with me here in this article because we are going to dive a little deeper into this restaurant's menu, their prices to offer, and something about how this restaurant started. Without further ado, let's start!
Below, you'll find the updated list of Choobi Choobi menu prices.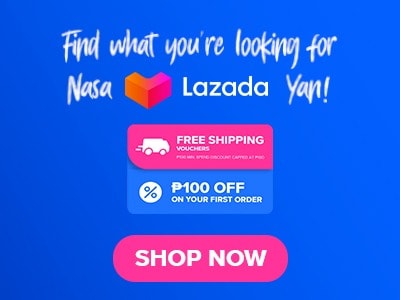 Menu Items
Price (PHP)

Singapore specials

Hawkers spicy wings
230
Salted egg calamari
205
Udang lada hitam
395

Hongkong specials

Golden pompano
75/100g
Salt and pepper shrimp with garlic overload
425
Spicy clams with oyster sauce
225

Kick start

Guso kinilaw
95
Kinilaw na hipon
210
Pork sisig
185
Patrick star's baked scallops
190
Chicharon bulaklak
160
Dinuguan
95
Gambas
180
Manga't bagoong
90

Super soups

Tinilang manok bisdak
220
Tinola/sinigang na hipon
220
Utan monggos
185
Utan bisaya
170
Tinola/sinigang na isda
220
Really beefy
265
Sabaw sa halaan
200
Tinola/sinigang na baboy
220
Mixed seafood soup
220

License to grill

Grilled pompano
75/100g
Stuffed grilled squid
265
Grilled squid in gata
265
Belly dancer
175
Pork barbecue
25
Sinugbang pasayan
365
Sizzling boneless bangus
195
Atay - batikolon sa manok
25
Grilled saang
20
Lechon manok bisaya
350

Fry Fry the batter fry

Choobi pata
565
Lola pepang's fried manok
350
Stan's fried black pepper shrimp
395
Krispy kalamari
185
Lechon kawali
195
Shrimp tempura
205
Fried chicken wings
230

Saucing saucy

Callos
165
Balbacua
240
Kare kare
275
Spicy clams with oyster sauce
225

Rice and noodles

Plain rice
45 unli
Garlic rice
40
Salted fish rice platter
185
Choobi fried rice special
185
Pansit canton
150
Sotanghon guisado
170
Bam-i
170

Tanny's garden

Veggie tempura
165
Green & mean pinakbet
165
Cha tao miao
190
Choobi chopsuey
190
Bicol express
165
About Choobi Choobi
Stan Tanchan is the owner and founder of this amazing restaurant. Choobi Choobi first opened its doors to customers in 2013. It is the owner's first restaurant venture, and because his family owns one of the largest seafood farms in the Philippines, not to mention that they produce export-quality seafood, he has such easy access to seafood. This casual dining restaurant attracts a lot of customers, especially seafood lovers.
The inspiration for this restaurant is his grandfather's love of food and the recipes that he inherited from his family. The name of the restaurant, Choobi Choobi, is actually a Chinese phrase that means very satisfied after eating. As of today, they already have branches in Cebu, Bacolod, Ilo-ilo, Davao, and finally, after a long wait, Manila.
Choobi Choobi Menu Best Seller
We started by interviewing some of their service personnel to get an idea about what their top-selling food item is. Here is the list of their best sellers.
Shrimp in a Bag – This amazing dish is made with a whole pound of shrimp that they served in a plastic bag to lock in the freshness of the seafood that they cooked in different ways. Their shrimp in a bag is actually available in five different delicious sauces, including spicy gata, butter garlic, choobang sauce (I highly recommend this one), sauteed in garlic, and their salted egg shrimp in a bag, which they cook Singaporean style. The chunks of salted egg with the shrimp are visible on the sauce; this is really good, and though all flavors are really delicious, this is my favorite. The shrimp in this dish are really fresh.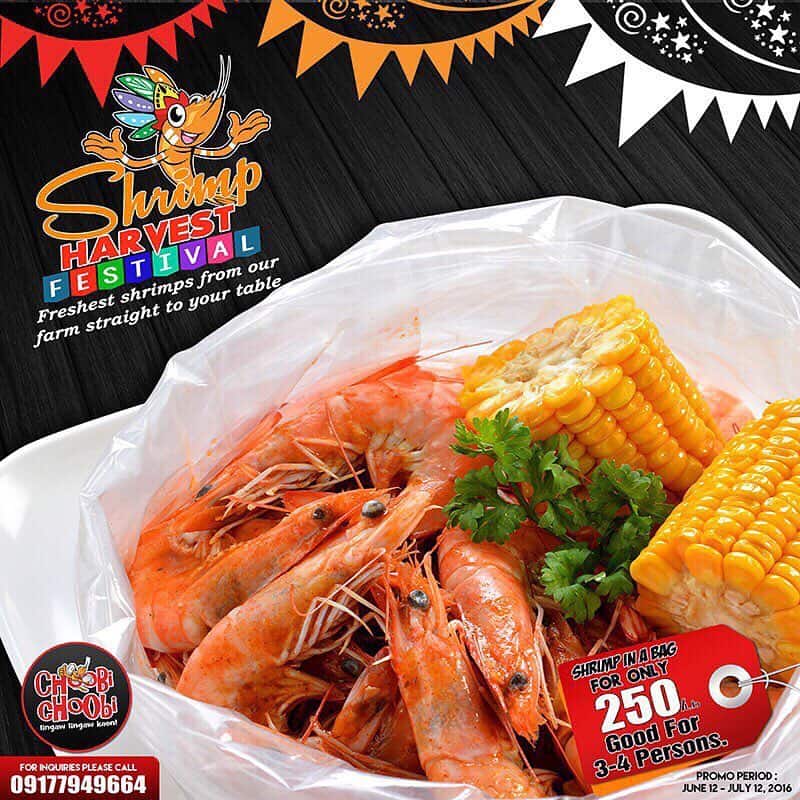 Barkada seafood bag – This is the right choice for you if you are going with family and friends. Their barkada seafood bag comes with a mix of seafood like mussels, shrimp, and baby lobsters; it also has corn and chorizo. They also served this dish with choobang sauce. The sauce has a very light cajun flavor that is really flavorful and blends well with all the seafood that is inside the Barkada seafood bag.
Stan's fried black pepper shrimp – This is a must-try menu from Choobi Choobi. Their stan's fried black pepper shrimp is made with fresh shrimp that they cooked in the owner's special herbs, flavoring, and butter. What makes this dish special is that the shrimp is so crunchy that you can actually eat the entire shrimp without removing the skin; there's no need to peel. I highly recommend this one for those who are too lazy to peel the skin of their own shrimp.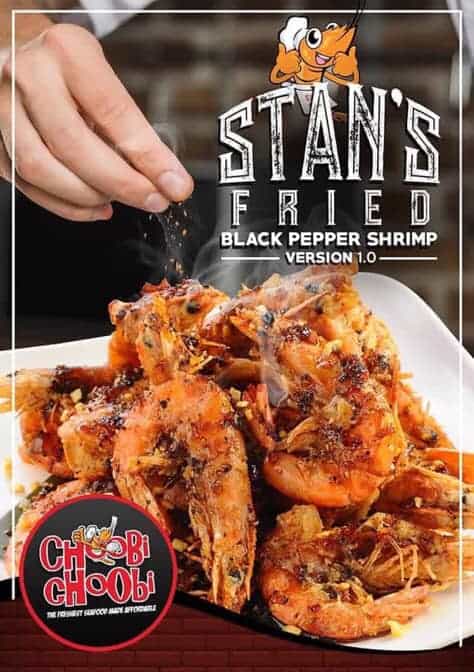 Grilled Pompano – Choobi Choobi's version of grilled pompano, is one of the most requested food items on their menu. Made with seasoned pompano fish before grilling. I can actually taste the calamansi and smoky flavor on the fish, and the meat is not overcooked either. Their grilled pompano also doesn't need any dipping sauce since it's already good by itself.
Choobi pata – Choobi Choobi's version of pata, is really tender on the outside and crispy on the inside. This is actually one of the best crispy patas that I've tried so far, and surprisingly, this one isn't too oily. Their pata is also affordable and great for pulutan or beer matches. Also perfectly paired with rice or any vegetable dish.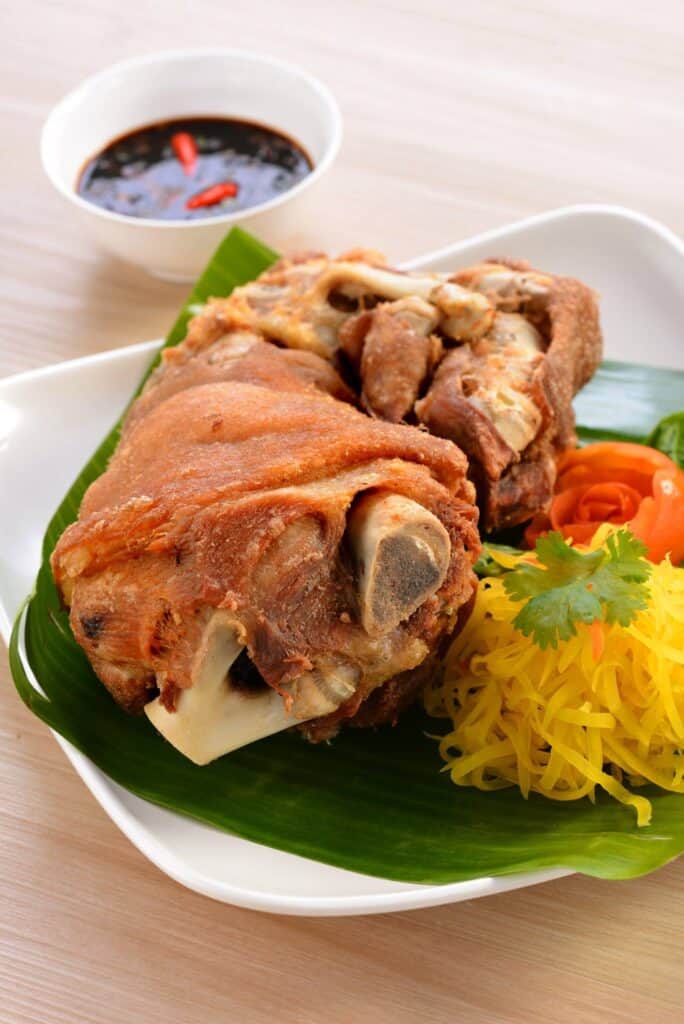 Pork barbecue – One of the most popular Filipino dishes is pork barbecue, and Choobi Choobi's version of pork barbecue is just perfect. Made with pork meat marinated with a lot of spices and condiments, then grilled until cooked. The meat is very tender and juicy as well. The strong smoked flavor is what makes a special and delicious dish. They also serve this with barbecue sauce.
License to Grill
The License To Grill menu at Choobi Choobi consists of dishes that they cook through grilling. They have 10 dishes on their license-to-grill menu. The first fish is their grilled pompano, followed by their stuffed grilled squid and grilled squid in gata. A belly dancer is also included on their license-to-grill menu, together with pork bbq and sinugbang pasayan. They also have lechon manok bisaya way, grilled saang, atay batikolon sa manok, and sizzling boneless bangus.
Fry, Fry the Batter, Fry
On this menu, they serve fried dishes. The fry menu has seven choices. First on the list is Choobi Patq. Next is Lola Pepang's fried manok. Stan's fried black pepper shrimp is also included in their fry from the batter menu, which is also included in our best-seller list. You can also try their Krispy Calamari or Shrimp Tempura, Lechon Kawali, and fried chicken wings.
Singapore Specials
Singapore specials are also included on the Choobi Choobi menu. They have three dishes on the list. First are their Hawkers spicy wings. Next is their salted egg calamari, and lastly, udang lata hitam.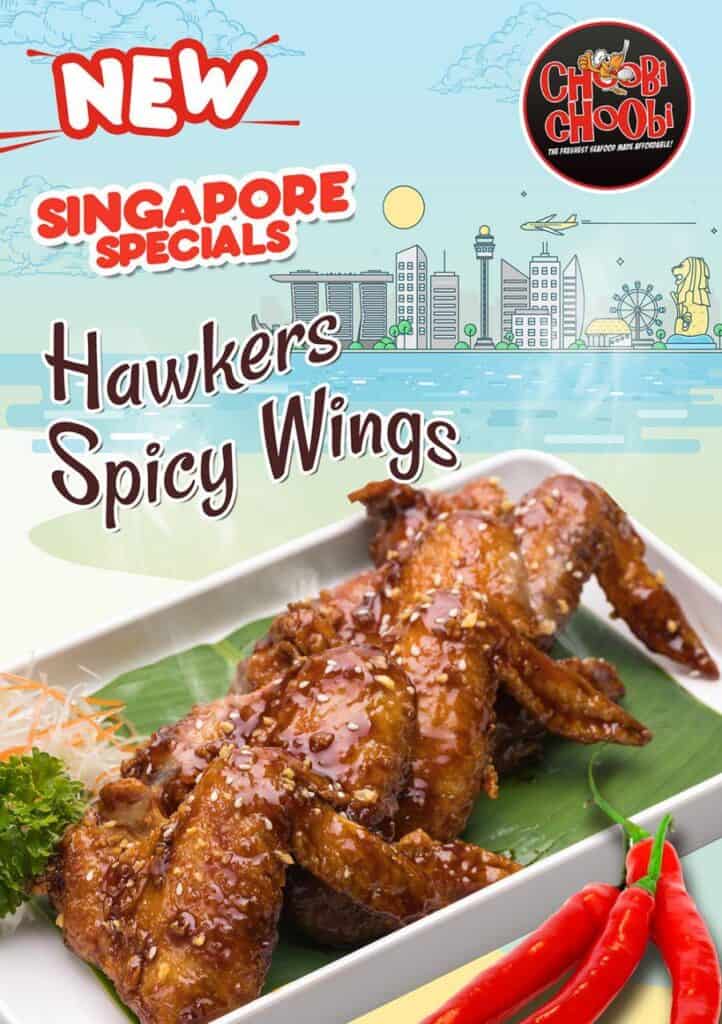 Hongkong Specials 
Choobi Choobi also offers Hong Kong specials. They have three dishes to choose from on this menu. The first dish is the golden pompano. Next is their salt and pepper shrimp with garlic overload, and lastly, spicy clams with oyster sauce.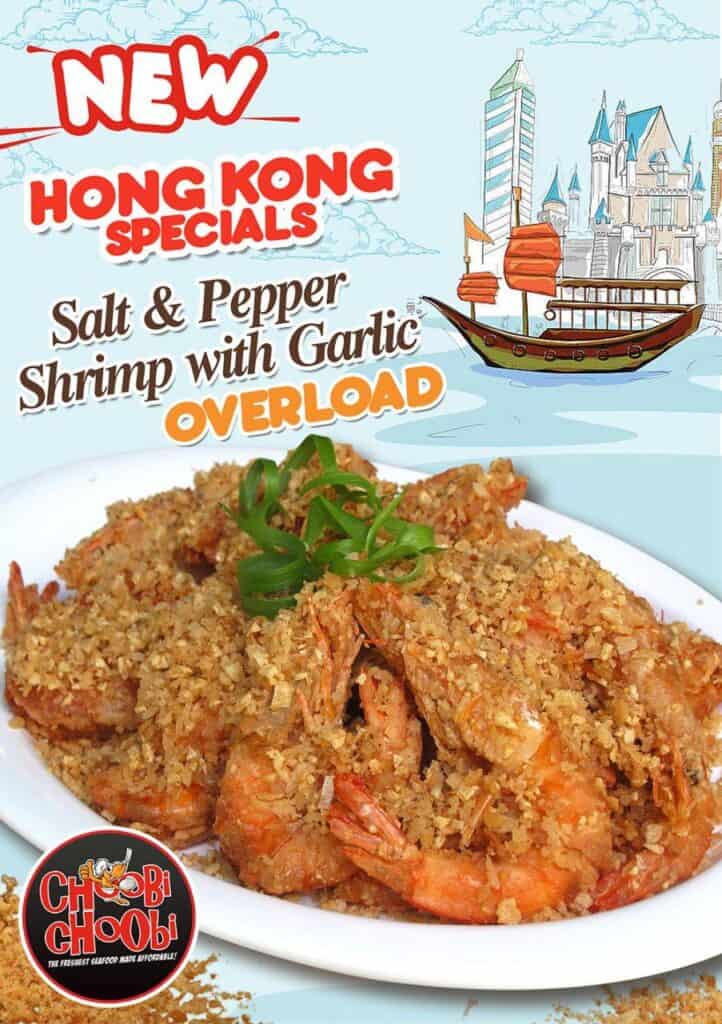 Choobi Choobi Menu Delivery
For those who are living in Cebu, ordering your favorite food at Choobi Choobi is made easy simply by calling these numbers:
Cebu City: 0917 5622585
Mandaue City: (917) 3293684
Talisay City: 09175601490
Mactan Island: 09175614890
You can also use those third-party delivery services that are available in your location, like Food Panda or Grab Foods, as long as your area is serviceable by the said courier.
Social Media Pages
Follow their social media pages to stay up-to-date on their latest menu offerings, promotions, and events. You can also check out photos and reviews from other satisfied customers and get a sneak peek of what to expect when you visit their restaurant.
Facebook: https://facebook.com/ChoobiChoobi/
Instagram: https://instagram.com/choobichoobi/
Conclusion
The restaurant has nothing extraordinary to offer; it's just a plain restaurant, but their foods are amazing, and I am not exaggerating. Choobi Choobi's menu has a lot to offer, especially when it comes to seafood, and the great news is they are the most affordable restaurant to get your favorite seafood. Good cooking and also good quality food. Their service crews are also fast; in fairness, our orders arrive in just 15 minutes. The crews are also friendly and polite, and they are well-trained. Their restaurant is very spacious and comfortable as well. They only serve the freshest seafood every time. Highly recommended place to satisfy your seafood cravings.