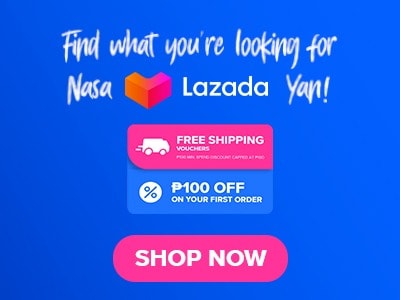 From a modest booth in Baclaran to more than 20 locations in Manila, Lydia's Lechon Menu has been providing the best-tasting charcoal-roasted lechon for more than 50 years. Serving renowned Filipino food has helped Lydia's Lechon build a following of devoted consumers and expand its client base for many years. Since then, Lydia's Lechon has evolved from being the centerpiece of every celebration to a go-to dish that is ideal for every meal. In order to bring enjoyment into everyone's daily lives, Lydia's Lechon wants to touch all generations and become a way of life in the Philippines.
Below, you'll find the updated list of Lydia's Lechon menu prices.
Menu Items
Price (PHP)

Pampagana

Chicharon Bulaklak
220
Chicharon Bituka
175
Chicharon Laman
245
Chicharon Balat
135

Gulay Atbp.

Classic Pinakbet
215
Chopsuey
215
Ginataang Sigarillas
215
Laing
215
Fresh Lumpia
70

Pinoy Classic Bowls

Lechon Toppings Bowl
179
Lechon Paksiw Bowl
179
Lechon Sisig Bowi
179
Bopis Bowl
179
Pork Dinuguan Bowl
179

Meryenda

Pancit con Lechon Regular (150g)
235
Pancit con Lechon Medium (225g)
450

Mga Inumin

Soda in Can
75
Bottled Water
40

Party Trays

Seafood Paella Tray
3750
Lechon Paksiw Tray
1900
Pork Dinuguan Tray
1900
Pancit con Lechon Tray
1950
Bopis Tray
1700
Pork BBQ Tray
950
Fresh Lumpia Tray
900

Lechon Espesyal

1 Kilo Lechon
1350
1/2 Kilo Lechon
650
1/4 Kilo Lechon
325
Lechon Paksiw
295
Lechon Sisig
265
Lechon Sinigang
395
Lechon-In-A-Box (2kls)
2600
Lechon-In-A-Box Mini (1.5kls)
1950
Lechon-In-A-Box at Pancit
1950

Meaty Espesyal

Bopis
225
Kare-kare Classic
295
Pork Dinuguan
295
Bicol Express
295
Pork BBG Large (per pc.)
95

Lechon Quick Meals with Rice

Lechon + Lechon Paksiw
270
Lechon + Dinuguan
270
Lechon + Kare-kare
270
Lechon + Sisig
270
Lechon + Bopis
270
Lechon + Pinakbet
250
Lechon + Laing
250
Lechon + Chopsuey
250

Kanin

Plain Rice
40
Half Rice
20

Lydia's Family Boxes

Family Box A
1200
Family Box B
1300
Family Box C
1400
Family Box D
1400
About Lydia's Lechon
Most modern entrepreneurs learned their business acumen at respected business schools. Lydia, the store's creator, and owner is the exception. She started her business education at the age of seven. She skipped school every Wednesday in the 1950s to sell items on the street. She went back to her clever business idea of roasting and selling pigs after realizing that selling items made by others was no longer enough to feed her family of four. She would also prepare the internal parts of the meat into regional specialties like dinuguan to give variation to her lechons.
The couple had to wait twenty years before deciding to upgrade from a stall to a full-fledged restaurant, which was established along Roxas Boulevard. Their first, and maybe most significant, break occurred at that time. Such expansion, however, would not have been feasible if it weren't for the assistance of another rags-to-riches entrepreneur and mall mogul, Henry Sy.
In 1986, a well-known hotel ordered delivery of 10 entire lechons every day after being pleased by their product. Every Sunday, the creator of SM Malls would lunch at Lydia's restaurant. The polite businessman invited her to join him in the discussion. It didn't take Sy long to give her the option to operate a shop in one of his shopping centers.
Lydia's Lechon Menu Best Seller
Fresh Lumpia – The most popular form of contemporary lumpiang ubod is lumpiang sariwa fresh lumpia. It is prepared by julienning carrots and heart of palm into thin strips. Furthermore, one lumpia is substantial enough to be a meal by itself and is generally eaten without rice because of its fibrous structure. People with diabetes and dieters will both gain a lot from it.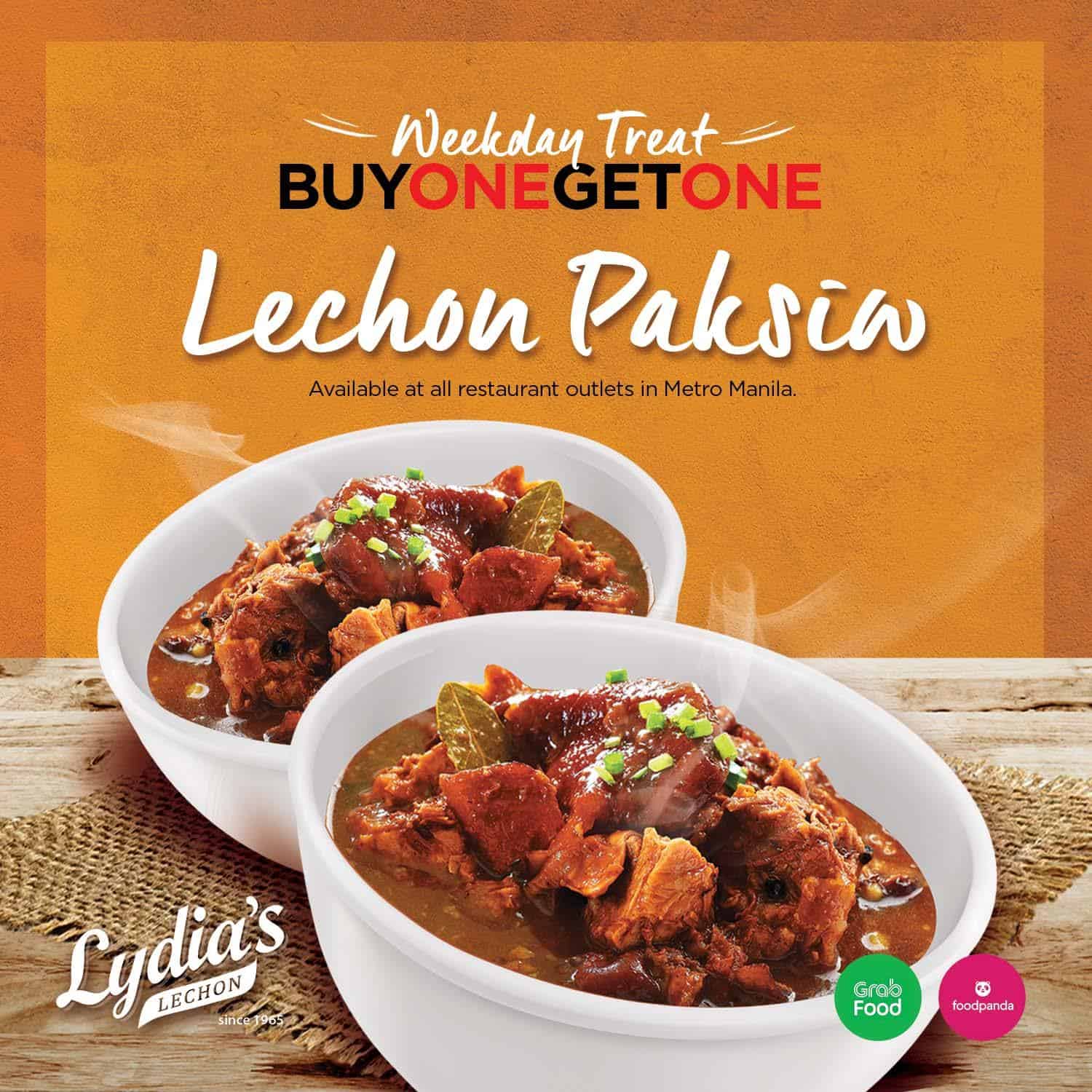 Lechon Paksiw – Paksiw na Lechon is a dish made with stewed roast pork chops. With steamed rice, it's a delectable meal from Lydia's Lechon menu that has the ideal balance of sweet and sour. A great way to utilize leftover lechon.
Classic Pinakbet – To prepare pinakbet, a mixture of vegetables is sautéed in fish or shrimp sauce. The term pinakbet, which means to shrivel or shrink in Ilokano, is the source of the name.
Chiharon Bulaklak – The word bulaklak, which means "flowers" in Tagalog, is a fitting name for the dish since, when fried, the intestines coil up into crisps that resemble flowers. Chicharon Bulaklak is a Filipino cuisine made comprised of crispy hog intestines that have been deep-fried in oil or swine fat and consumed as appetizers or beer food.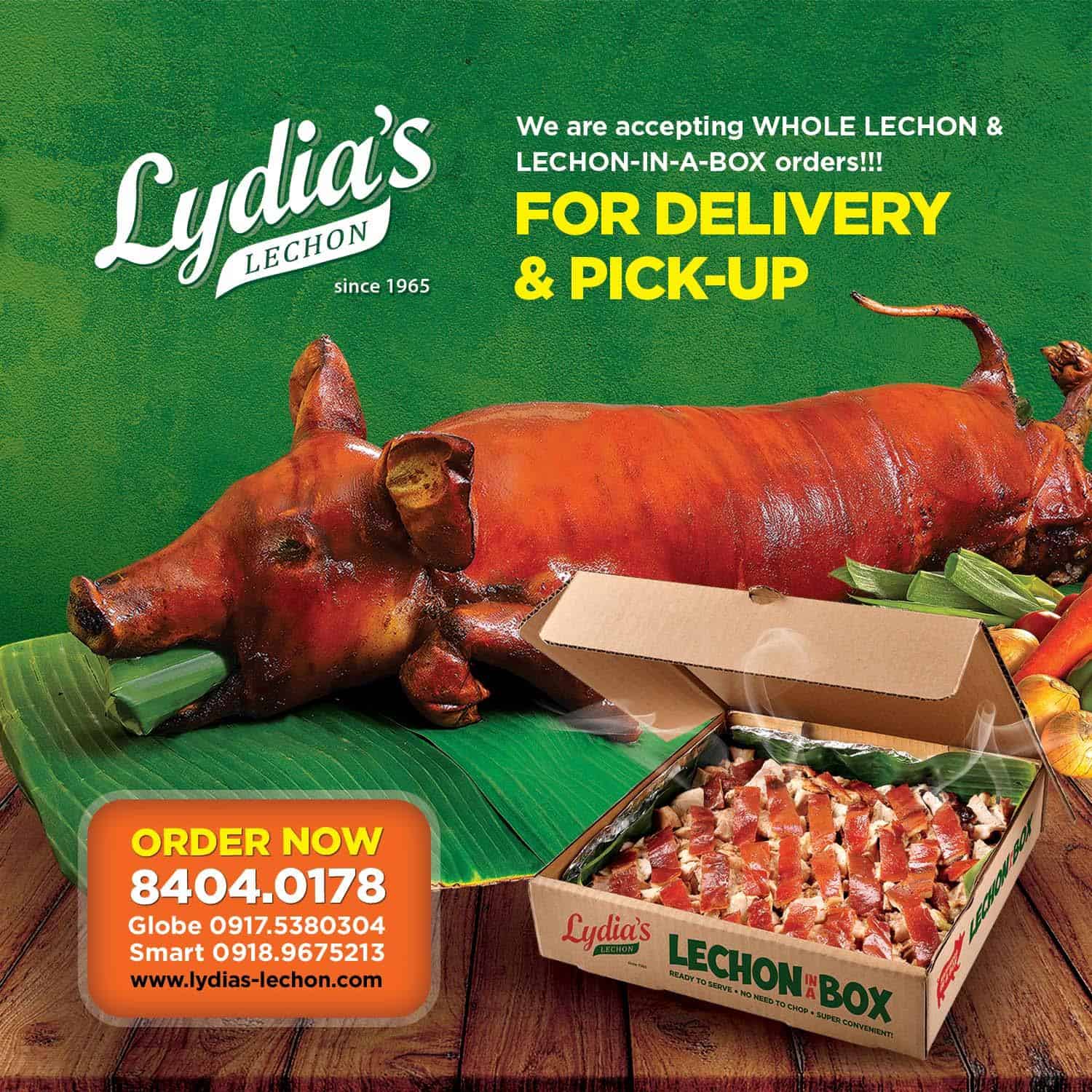 Lechon – The most delectable aspect of lechon baboy is its crunchy skin; with its reddish-brown hue, you can't deny that it will definitely taste wonderful on the palate. People enjoy chewing the crispiness first before they start to eat the meat. What makes this Lydia's Lechon menu is a special dish that tastes all native and organic pigs. They are then packed with a variety of herbs and flavored before it is roasted.
Lydia's Lechon Bento Meal
Their Bento Meal menu consists of three different items. Here are the three of them: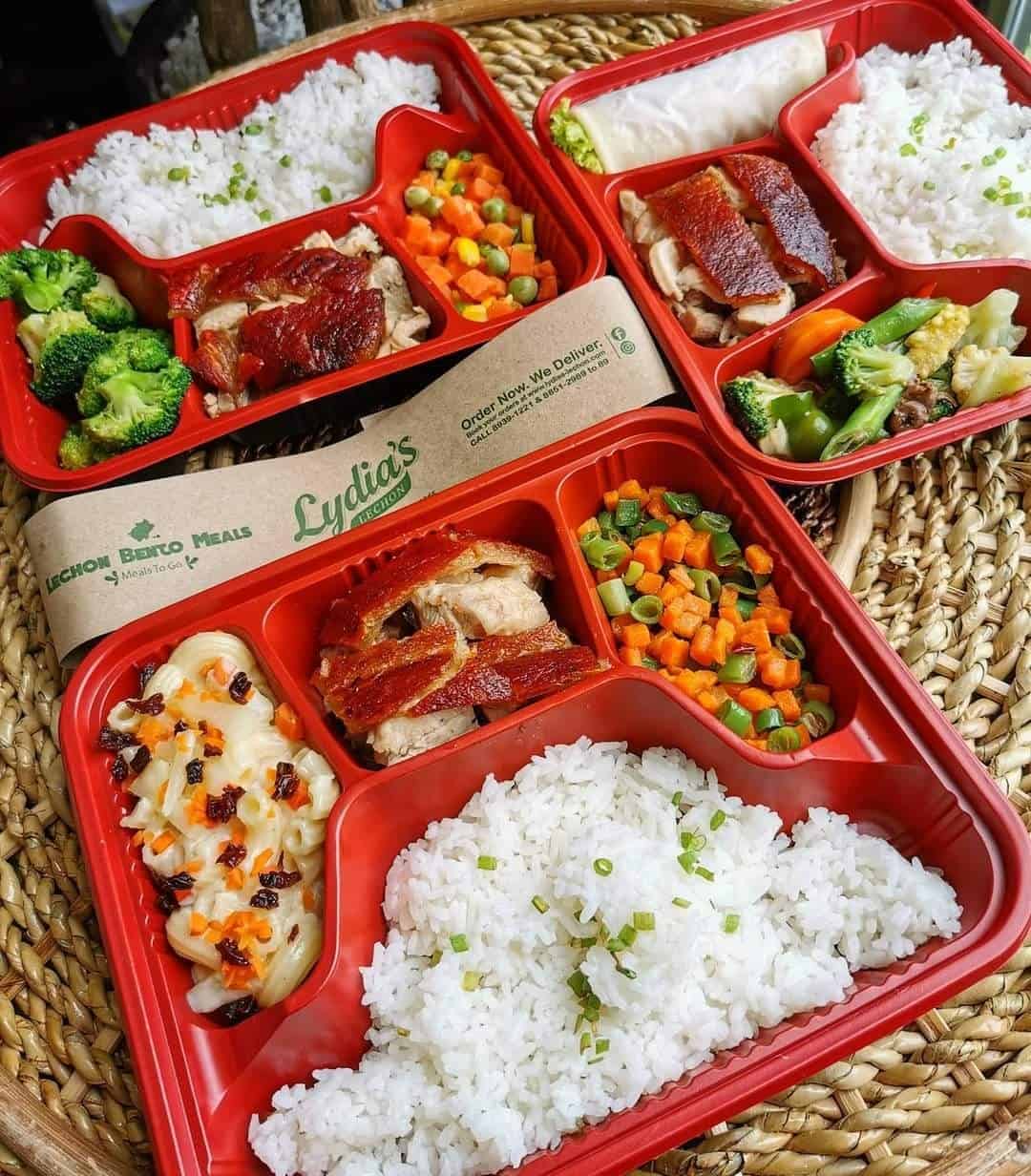 Bento Box A – Consists of Lechon, a choice of Pinakbet, Fresh Lumpia or Chopsuey
Bento Box B – It consists of Lechon, a choice of Sisig, Pinakbet or Chopsuey
Bento Box C – Made of Pork BBQ, Pinakbet or Chopsuey
Most of the items included in the Bento Meals are already mentioned in their best sellers. This is a great style of menu item for a person who can taste most of their delicious meals in one order. This is also fantastic for those who wish to taste delectable foods but cannot consume a lot.
Lydia's Lechon Belly
It tastes robust, salty, and meaty. Due to the thick layer of fat that runs over the top, pork belly has an especially rich flavor when consumed whole. Because of its rich umami after being cured and smoked, bacon is very enticing. Similar to the loin, the pig belly's flesh has a moderate flavor. The coating of fat that degrades and envelops the flesh gives it its rich, decadent flavor. As a result, to balance the richness of recipes including pork belly, bright, fresh elements like citrus, fresh herbs, scallions, lettuce, and cucumber are frequently included.
Lydia's Lechon Menu Delivery
Most of the time, Filipinos would want to eat Lechon in the comfort of their homes. It could be celebrating an important family event and tasting a delicious lechon would surely complete the celebration. There is no hassle to find someone who makes lechon for you can always order via delivery from Lydia's Lechon. They even offer free delivery if you order a Lechon in A Box. Here are their delivery details
Foodpanda
Contact no.: 939-1221 and 939-4665 (Quezon City); 851-2987 to 89 (Baclaran)
Talk to Lydia's Lechon Philippines Staff
If you need to contact them for your comments, and suggestions, you can always talk to them by reaching out to their social media pages. Otherwise, you can also, check their website for updates.
Website: https://www.lydias-lechon.com/
Facebook: https://www.facebook.com/lydiaslechonrestaurant/
Instagram: https://www.instagram.com/lydiaslechon/
Twitter: https://twitter.com/lydiaslechon/
FAQs
How much is Lydia's Lechon in a box?
Lydia's Lechon in a box is another menu item that the restaurant offers. The items on this menu would start from two thousand and fifty pesos (2,050 PHP) to three thousand pesos (3,000 PHP).
How much is a kilo of Lydia's Lechon?
The experience of this restaurant would not be complete if you do not try a kilo of their lechon. Lydia's one kilo of lechon would cost you one thousand five hundred pesos (1,500 PHP). This is a reasonable price for this delicious menu item.
Who owns Lydia's Lechon?
One of the industry's forerunners in the neighborhood is Lydia's Lechon. It began in 1965 as a little storefront near the Baclaran Church and has now expanded to include 10 restaurants and 16 other shops around Metro Manila. With the aid of a Php 500 investment, Lydia de Roca, the creator of the renowned Lydia's Lechon, went from nothing to everything.
Conclusion
With locations across Metro Manila's casual dining restaurants and mall-based foodcourts, Lydia's Lechon Menu has grown from its humble beginnings as a booth next to the Our Lady of Sorrows Church to become one of the nation's largest lechon eateries. The company owes its success to Ms. Lydia and Benigno de Roca, whose perseverance, commitment, and everlasting trust in God produced the Lydia's Lechon we have all come to know and love. As the go-to lechon house and restaurant in Luzon, they improve the lives of our employees and communities while giving Everyday Happiness to their stakeholders and consumers.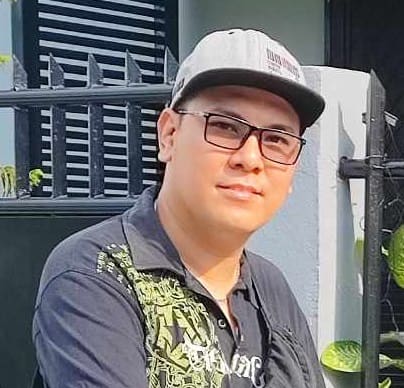 Hi! I'm Nivek Strife, the person who made MenuPH. I'm the one who added most of the popular menus you see on this website, and I really hope you enjoy them! Feel free to check them all out.
Growing up, I was surrounded by lots of tasty foods, like the classic Adobo and the sweet Leche Flan. That love for the many flavors of the Philippines is what got me excited about adding to MenuPH. When I learned how to make websites, I saw the need for a place to show off all the amazing Filipino dishes, and that's how MenuPH started.
MenuPH isn't just a website; it's like a fun journey into food. I've teamed up with famous chefs and found great places all over the Philippines to bring you a bunch of menus that show off the best of Filipino cuisine. Whether you're into the usual dishes or new twists, MenuPH is here to guide you through the rich world of Filipino flavors.
With MenuPH, my aim is to help local businesses, talk about good food choices, and make a group of friends who love food. No matter if you like fancy restaurants or street food, MenuPH has something for you. Come join me on this food adventure as we find great places, taste real flavors, and enjoy the unique food traditions that make the Philippines awesome.