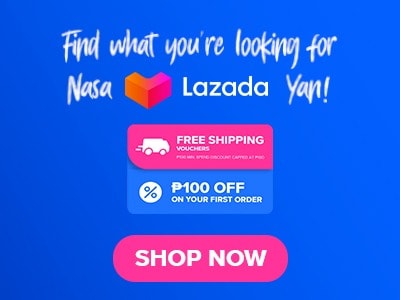 Are you Tired of the same old burger on the market and looking for something different? Searching for budget-friendly fast food items with premium quality beef patties and fries, signature recipes, and a family-friendly dining experience? Let's talk about Burger King! The second-largest fast-food hamburger chain in the world. Burger King is one of the popular fast-food restaurants for you to try. Now, let's talk about the Burger King menu, the original home of whoppers.
Below, you'll find the updated list of Burger King menu prices.
Menu item
Price (PHP)

Original Flame Grilled Whopper

Original flamed grilled whopper meal
189
Original flame grilled whopper solo
159
Add cheese
20
Original flamed grilled whopper jr. meal
119
Original flame grilled whopper jr. solo
69
Add cheese
15

King Specials

Bacon king meal
245
Bacon king meal jr.
175
BBQ Bacon king meal
245
BBQ Bacon king meal jr.
175
Quarter pound king meal
199
Mushroom Swiss king meal
245
Mushroom Swiss king jr. meal
175
Pepperoni Bacon whopper meal
239
Pepperoni Bacon whopper jr. meal
169

Cheeseburger

Flame grilled cheeseburger meal
119
Flame grilled cheeseburger solo
69
Double cheeseburger meal
175
Double cheeseburger solo
145
BBQ Bacon cheeseburger meal
159
BBQ Bacon cheeseburger solo
129

Cheese Whopper

4 Cheese Whopper Meal
214
4 Cheese Whopper Solo
185
4 Cheese Whopper jr. Meal
155
4 Cheese Whopper jr. Solo
99

Plant Based Whopper

Plant Based whopper meal
205
Plant based whopper solo
175
Plant based whopper jr. meal
145
Plant based whopper jr. solo meal
89

X-Tra Long Chicken

X-Tra Long Chicken Meal
150
X-Tra Long Chicken Solo
99
Add Cheese
20
X-Tra Long Chicken jr. meal
99
X-Tra Long Chicken jr. Solo
59
Add Cheese
15

Value Range

Flame grilled Hamburger Meal
109
Flame grilled Hamburger Solo
64
Flame grilled BBQ Burger Meal
109
Flame grilled BBQ Burger Solo
64
4-pc chicken Nuggets (with fries or rice) meal
105
4-pc chicken Nuggets solo
65

Chicken Meals

X-tra long chicken with rice meal
105
X-tra long chicken with rice jr.meal
69
Tender crunchy fried chicken 2pc meal
195
Tender crunchy fried chicken 1pc meal
135

King Feast

Original King Feast (Good for 2)
269
Cheesy King Feast (Good for 2)
319
Original King Feast (Good for 4)
519

Ultimate Sidekicks

Thick cut fries small
39
Thick cut fries medium
59
Thick cut fries large
79
Onion rings small
39
Onion rings medium
59
Onion rings large
79
Chicken Nuggets 4pc
65
Chicken Nuggets 6pc
95
Chicken Nuggets 10pc
155

Creamy Sundae

Sundae
39
Oreo Sundae
49
Espresso Sundae
49
About Burger King
Burger King is American fast food that specializes in burgers. Their company was founded in 1953 with the original name insta-burger king and afterward change its name to burger king. Their headquarters is in Miami Florida. As time flies the company changed ownership four times. The company nowadays has new owners. And as of 2018 they already have 17,796 locations Globally and counting That's the reason why they are the second the world's biggest burger chain and the fifth-largest fast-food chain worldwide.
What is Burger King Famous for?
Burger King is known for its whopper burger. This burger contains flame-grilled juicy beef burger patty, lettuce, pickles, tomatoes, and onion on their sesame bun and is seasoned with their special sauce that consists of mayonnaise and ketchup. This burger is for big appetite burger lovers out there. What made this burger different from other brands is that it is flamed grilled and not fried.
Do you want to take dessert after eating a delicious burger from Burger King? How about ice cream from DQ Blizzard?
Best Burgers on Burger King Menu
Here is the list of best burgers from the Burger King menu.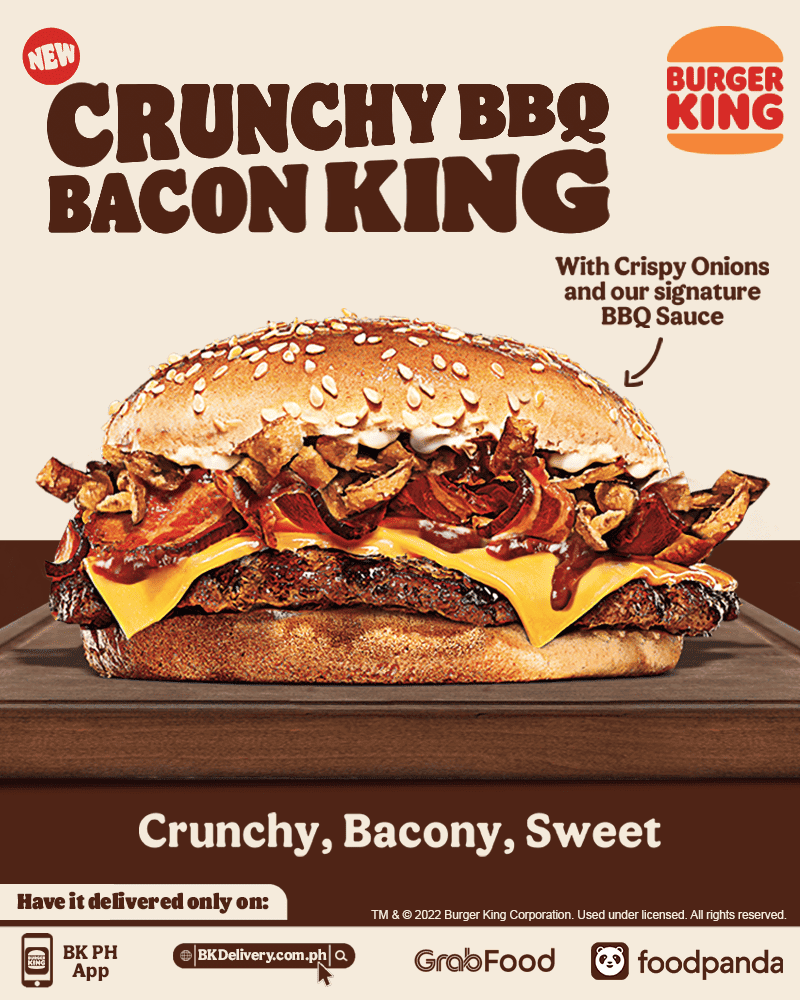 Burger King Whopper – This is their signature burger. Very recommended for big appetites. Consists of a flame-grilled burger patty with fresh tomatoes, fresh lettuce, creamy mayonnaise, and ketchup all assembled in a soft bun topped with potato fries. A yum in every bite!
Bacon Cheese Burger – It consists of smoked bacon with melted cheese and yellow sauce assembled in a bun with pickles. This is available in small medium and large sizes.
Ham Burger – If you want something simple and lighter than usual this is the best choice for you. Consists of the flame-grilled beef patty in a sesame bun with sliced pickles and ketchup.
Rodeo Burger – If you are not a fan of eating messy burgers this burger got your back. Consists of a flame-grilled beef patty perfectly made with cheese smoky barbecue sauce and onion rings
Burger King's Secret Menu
The first on their secret menu is the suicide burger, sounds scary right but this is absolutely delicious and heavy, this burger has 4 burger patties and is loaded with bacon and cheese. They also have veggie whopper and mustard whopper on their secret menu.
Rodeo burger is not a secret menu at all since you can get it in any burger king store though it is not listed on their menu so it is still counted as secret right? They also have frings on their secret menu. This is for people who can't decide whether they want fries or onion rings so why not just have them both.
BLT club and ham and cheese are also on the Burger King secret menu as well and this is my personal favorite. All of these items are absolutely delicious and a must-try. Now when you go to a burger king store try ordering this secret menu for a different experience and for sure your cravings will be satisfied and you will leave full.
Group Meals
Burger King's menu has a King feast which is good for 2-4 people. You have two options to order. Good for 2 or good for 4. This offer is good for family or barkada meals.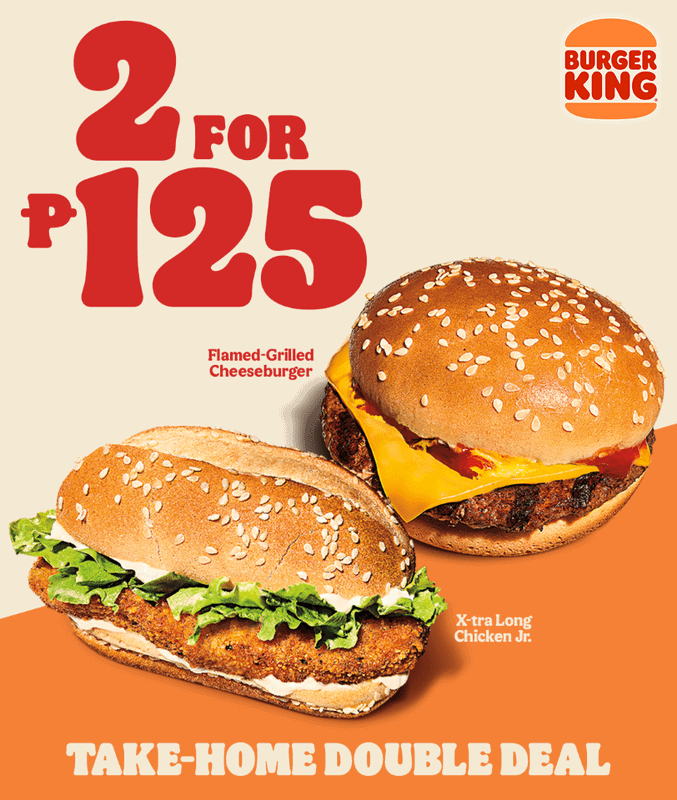 Option 1 – Good for 2 Persons
On their original king feast good for 2 you will get 1 flamed grilled cheeseburger, 1 whopper jr. 1 regular fries, 1 onion ring, chicken nuggets 4 pieces, and 2 of their 12oz drinks for the price of 269php.
Option 2 – Good for 4 Persons
On their original king feast good for 4 you will get 2 flamed grilled cheeseburgers, 2 whoppers jr., 2 regular onion rings, 2 regular fries, chicken nuggets 10 pieces, and 2 regular 12oz drinks for only 519php.
Burger King Menu Delivery
You can now get your hands on burger king's delicious burgers if you don't have time to get outside or you're simply craving their burger. Thanks to the Burger King delivery option. All of the items that are available in their store are also available thru delivery.
All you have to do to order is to dial their delivery number or simply by sending a message on their Facebook page. You can also order from other food delivery services like Food Panda and Grab Foods.
Hotline number: 667-7171
Grab Food: https://food.grab.com/ph/en/
Food Panda: https://www.foodpanda.ph/
Talk to Burger King Philippines Staff
If you wish to speak with their customer service representative you can dial their hotline number at (866) 394-2493 they are very much open to concerns and suggestions.
Open Monday thru Friday from 9 am-5 pm or you can submit your concerns to any of the following:
Website: https://www.burgerkingdelivery.com.ph/
Facebook Page: https://www.facebook.com/burgerkingph/
Instagram: https://www.instagram.com/burgerkingph/
Twitter: https://twitter.com/burgerkingph/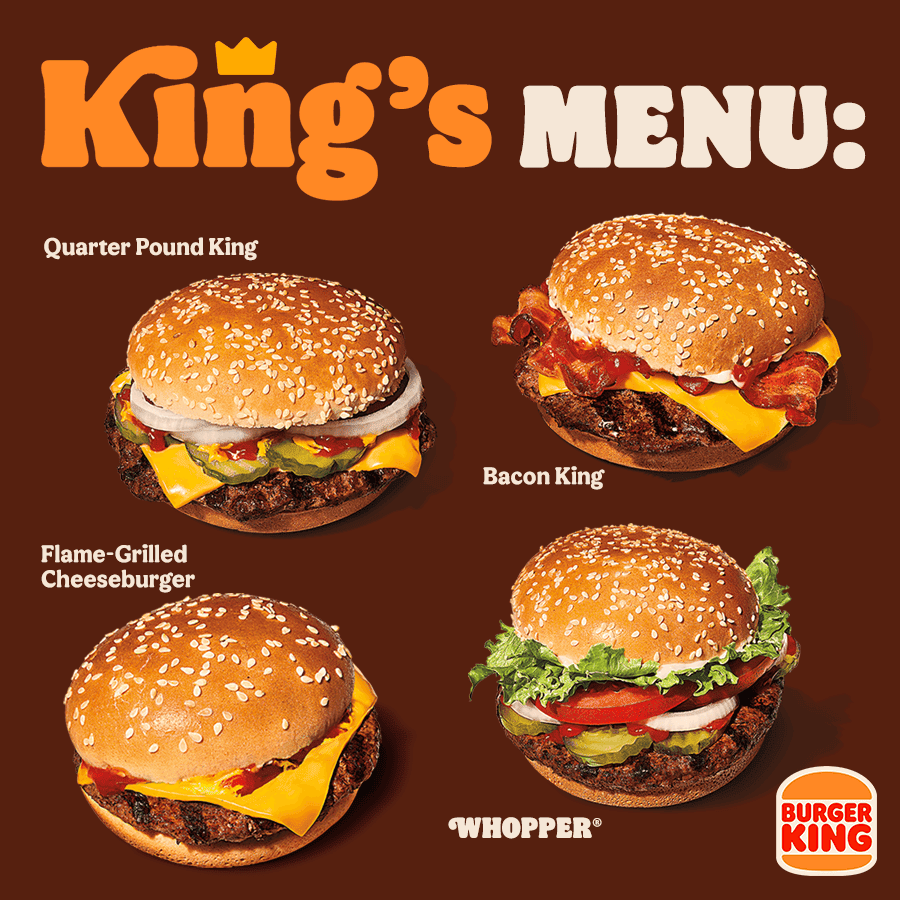 Conclusion
After tackling all of the information that we have to know about this burger brand all I can say is this fast-food chain is one of the best fast-food chains that offers a great-tasting burger experience. The Burger King menu such as the flamed grilled burger is one of the reasons why they are different from other brands and also their beef patty is bigger, juicier, and protein-packed. Their fries as well is different than other brands as it has a unique texture that is not dry.
The onion rings are recommended for people who are already tired of fries for a change, the chicken nuggets aren't that great as it is just your typical nuggets but believe me its delicious as well and fun to eat. Their menu is very affordable as well and they have so much to offer. Overall a great experience for fast food lovers out there who loves juicy burgers. Perfect for big appetites and barkada/family quick eat-out. Definitely a thumbs up.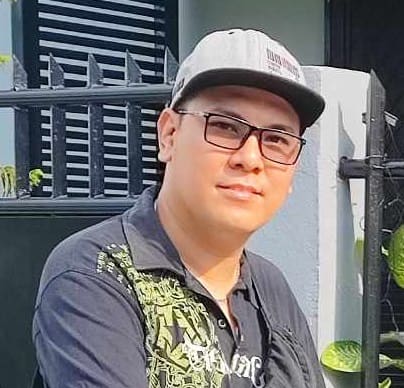 Hi! I'm Nivek Strife, the person who made MenuPH. I'm the one who added most of the popular menus you see on this website, and I really hope you enjoy them! Feel free to check them all out.
Growing up, I was surrounded by lots of tasty foods, like the classic Adobo and the sweet Leche Flan. That love for the many flavors of the Philippines is what got me excited about adding to MenuPH. When I learned how to make websites, I saw the need for a place to show off all the amazing Filipino dishes, and that's how MenuPH started.
MenuPH isn't just a website; it's like a fun journey into food. I've teamed up with famous chefs and found great places all over the Philippines to bring you a bunch of menus that show off the best of Filipino cuisine. Whether you're into the usual dishes or new twists, MenuPH is here to guide you through the rich world of Filipino flavors.
With MenuPH, my aim is to help local businesses, talk about good food choices, and make a group of friends who love food. No matter if you like fancy restaurants or street food, MenuPH has something for you. Come join me on this food adventure as we find great places, taste real flavors, and enjoy the unique food traditions that make the Philippines awesome.