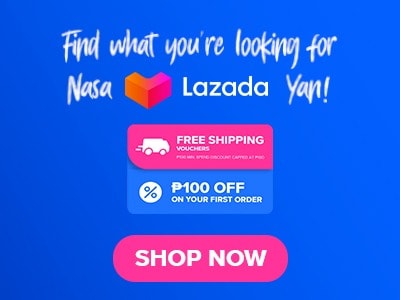 Hey there, food explorer! You've gotta hear about Bacolod Chk-N-BBQ House – they make seriously amazing Filipino dishes on their menu that will totally blow your taste buds away! You know Chicken Inasal? Well, they've got it cooked in different yummy parts like paa, atay, isol, and baticolon. But wait, there's even more awesomeness! They've got these special Filipino foods like sinigang, miki bihon, kare-kare, and lechon kawali on their menu. And guess what? There's also ginataang kalabasa, gising-gising, tokwa't baboy, chicken bopis, and ensaladang manga. It's like a feast of flavors that'll make you say "delicious" after every bite. They're like food wizards – they cook everything just right. So, if you're ready for a super yummy meal and a dining adventure you won't forget, Bacolod Chk-N-BBQ House is the place to be. It's like a taste party that you'll remember for a long, long time!
Below, you'll find the updated list of Bacolod Chk-N-BBQ House menu prices.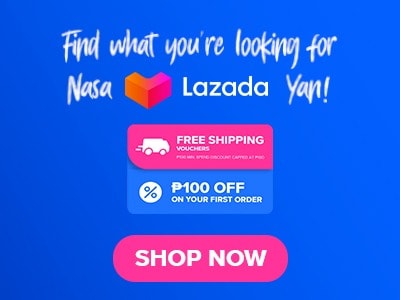 Menu Items
Price (PHP)

Inasal

Atay
62
Baticolon
62
Isol
68
Paa
150
Pork Liempo
175

Soup

Sinigang na Baboy
285
Sinigang na Bangus (Boneless)
250
Sinigang na Hipon
300

Side Dishes

Kare-Kare
320
Lechon Kawali
295
Mixed Seafoods
270
Miki Bihon Guisado (Big)
270
Ginataang Kalabasa
200
Tokwa't Baboy
175
Gising-gising
175
Chicken Bopis
175
Beef with Ampalaya
170
Adobong Kangkong
145
Ensaladang Mangga
135
Chicken Skin
145

Rice

Garlic Rice
55

Sizzling

Pork Sisig
205
Chicken Sisig
190
Boneless Bangus
170
Sizzling Chili Wings
205
Sizzling Pusit
235

Drinks

Softdrinks (in can)
70
Pineapple (in can)
80
Mineral Water
40
About Bacolod Chk-N-BBQ House
In 2004, an enterprising couple opened the first branch of Bacolod Chk-N-BBQ House in Pasig City. Their skills, background, and experience in the food industry inspire them to build this restaurant, and today, it has different branches in the Philippines and other parts of the world. It offers franchising opportunities to those who want an affordable investment with a fast ROI.
Bacolod Chk-N-BBQ House Menu Inasal 
Inasal is one of the iconic cuisines of Bacolod, Philippines, where different ingredients are used in marinating and basting meat. These inasal dishes of Bacolod Chk-N-BBQ House are well-loved for their distinctive taste and aroma.
Paa – It is the most popular cuisine of this restaurant as it is their specialty. This chicken leg is juicy, tender, and flavorful, which is why people of all ages love it. The annatto oil or achuete applied to this dish gives a distinctive flavor and a yellowish color that makes it unique.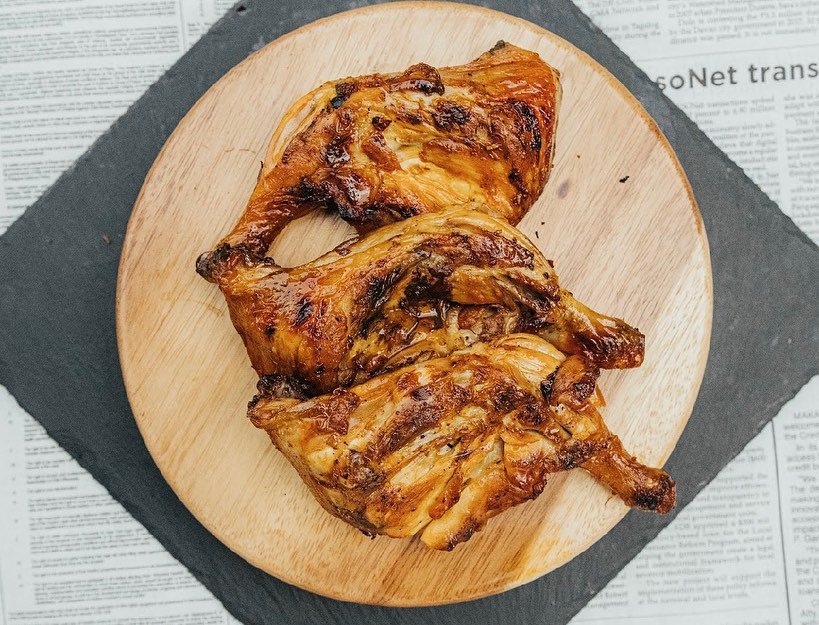 Baticolon – Baticolon is made of chicken gizzard marinated in a unique blend of local spices. It is grilled expertly on hot charcoal until it achieves the desired taste and texture. This cuisine is served on plates where fresh banana leaves are lined, giving it a pleasing presentation.
Isol – Isol is a local term for chicken tail with a delicious taste and can be enjoyed as an appetizer, snack, viand, or paired with alcoholic beverages. The smoky flavor of this inasal adds an appetizing taste, making it more gratifying.
Pork Liempo – This is an all-time favorite cuisine of Filipinos where pork belly is coated with a luscious marinade that gives a glossy appearance and rich flavor. This meat menu of Bacolod Chk-n-BBQ House is well-loved for its juicy flavor, tenderness, and fattiness that satisfies each bite.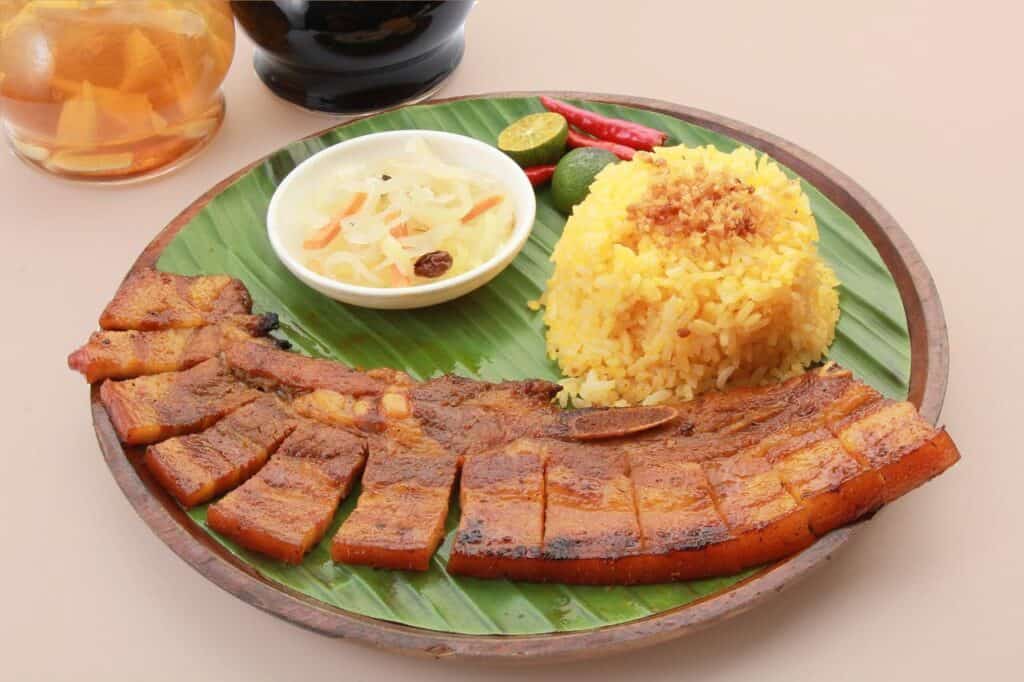 Sizzling
The sizzling dishes served by Bacolod Chk-N-BBQ House menu consist of pork sisig, chicken sisig, bangus, pusit, and chili wings. These cuisines are pleasing to the senses as they are eye-catching, have an appetizing aroma, and a mouthwatering sizzling sound. 
Pork Sisig – It is a traditional Filipino cuisine and the original sisig recipe, consists of pig parts such as face and ears. This Kapampangan delicacy has a wonderful medley of spicy, savory, and tangy flavors that goes well with the juiciness of pork.
Chicken Sisig – Chicken sisig is one of the adaptations of the classic sisig recipe, perfect for those who prefer chicken over pork. It is made with minced chicken meat and liver cooked in the restaurant's choice of aromatics, seasonings, and spices.
Boneless Bangus – Bangus is commonly served in different Filipino restaurants as the crowd loves its delicious taste that stimulates their appetite. The fried bangus served by this restaurant is fried and seasoned expertly until it becomes crispy, aromatic, and flavorsome.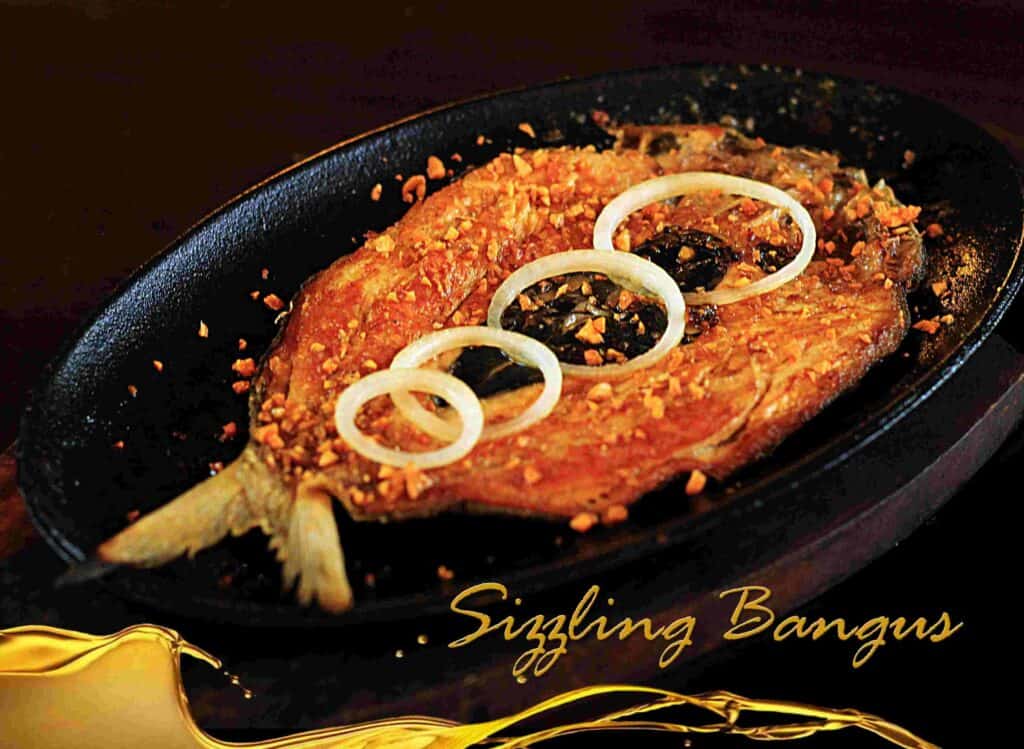 Sizzling Chili Wings – Enjoy the goodness and unique taste of these chicken wings served by Bacolod Chk-N-BBQ House. Each bite of these chicken wings is satisfying as it is seasoned evenly and generously with a unique sauce, making you crave more.
Sizzling Pusit – The mesmerizing presentation and mouthwatering aroma of this cuisine are characteristics that will entice you to try it. It is best to pour it over rice when you consume it as a viand, so the rice will absorb its delicious taste, giving you an exciting meal. This dish can also be enjoyed as "pulutan" or paired with beer as its taste goes well with it.
Side Dishes
The side menu served by Bacolod Chk-N-BBQ House consist of traditional cuisines from different regions of the Philippines. It includes seafood, miki bihon, kare-kare, lechon kawali, tokwa't baboy, ginataang kalabasa, gising-gising, chicken bopis, and many more. 
Adobong Kangkong – This is a staple cuisine commonly served in Filipino homes as it is easy to prepare, made with simple ingredients, has a yummy taste, and is healthy. The adobong kangkong of this restaurant is made with kangkong leaves and ground meat simmered in vinegar, soy sauce, and other special ingredients.
Ginataang Kalabasa – Ginataan or coconut milk is a special ingredient that imparts a refreshing and comforting goodness to this vegetable dish. This cuisine consists of soft squash, string beans, meat, eggplant, ampalaya, and other seasonings and spices. It is a dish everyone will enjoy as it has sweet, savory, warm, and nutty flavors.
Gising Gising – It is known for its spicy flavor that is sure to wake up your senses, that is why it is called gising-gising. This recipe is also called ginataang sigarilyas or winged beans, which originates from Pampanga and Nueva Ecija. The spiciness and creaminess of this cuisine match perfectly, resulting in a mouthwatering dish.
Kare Kare – The hearty, rich, nutty, and thick peanut sauce of this stew makes it surprisingly good. This is commonly served on different occasions as the crowd loves its satisfying taste and aroma.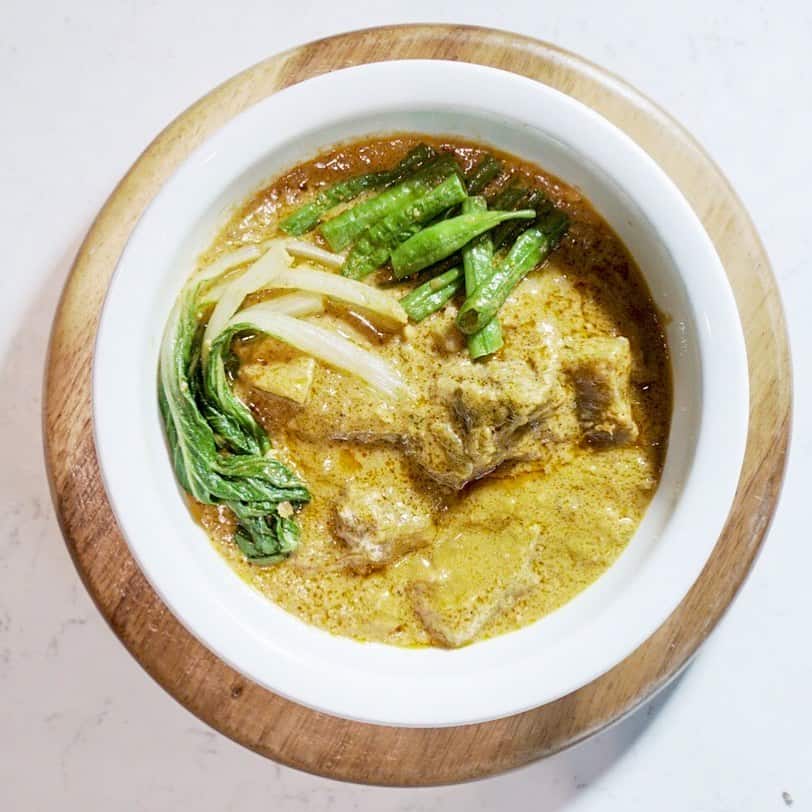 Miki Bihon Guisado – Miki Bihon is made of egg and rice noodles stir-fried with vegetables and seasonings. This comfort food can be enjoyed any time of the day as it is filling and packed with delicious flavors.
Soup
Bacolod Chk-N-BBQ House serves heartwarming sinigang soups loved for their delicious sour flavor. It offers sinigang na hipon, baboy, and bangus that can go perfectly with rice. This restaurant's sinigang na hipon and bangus are perfect for those who love seafood cuisines. The freshness of vegetables, the rich flavor of pork and seafood, and the yummy taste of these soups give customers a gratifying meal.
Bacolod Chk-N-BBQ House Menu Delivery
The inasal and traditional Filipino cuisines of Bacolod Chk-N-BBQ House are available for dining, take-out, pick-up, and delivery. For deliveries, you can place your order at Foodpanda, shop at SM Malls online, or contact the nearest branch to your location to arrange your orders.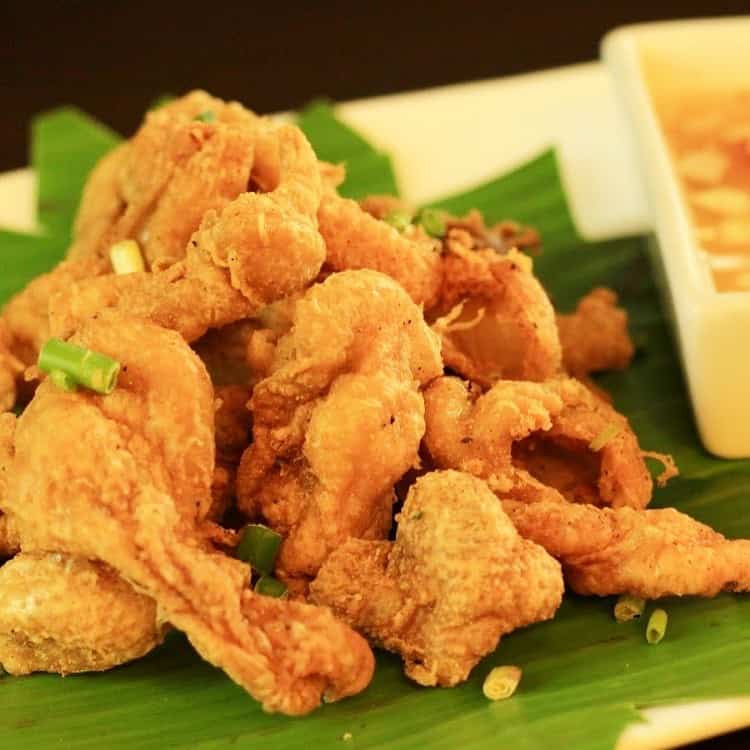 Social Media Pages
If you're curious about Bacolod Chk-n-BBQ House and want to stay in the loop with all their cool stuff, here's a nifty trick: follow them on their social media! It's like making friends with your favorite food place online. By doing this, you'll be the first to know about their newest updates. And guess what? They might even share special deals and contests that you won't want to miss. So don't wait – start following them on social media right now. You'll find the links below, and trust me, it's like joining a secret club of awesome food fans!
Facebook: https://www.facebook.com/bacolodchicken/
Instagram: https://www.instagram.com/bacolodchickenbbq/
Twitter: https://twitter.com/bacolod_chk
Website: https://www.bacolodchickenbbq.com/branches
FAQs
Where is Bacolod Chk-N-BBQ House located?
The branches of Bacolod Chk-N-BBQ House Philippines are located in the following areas:
Pasig City (Unit 341, Level 3, Ayala Malls Feliz, Marcos Highway corner JP Rizal extension, Pasig City).
Laguna (CrossTown Mall Barangay Pulo, Sta. Cruz, Sta. Rosa, Laguna).
Marikina City (53 Gil Fernando Avenue, New Marikina Subsdivision, Barangasy San Roque, Marikina City).
Muntinlupa (Lot 1-E Naga Road, Bo. Pulang Lupa, Las Piñas City, Muntinlupa).
Muntinlupa (Ground Level, Festival Supermall, Corporate Avenue corner Civic Drive, Filinvest Corp City, Alabang, Muntinlupa).
Paranaque (Unit 7A, Santana Grove, Dr. A. Santos corner Soreena Avenue, Sucat, Paranaque).
Pasay City (Unit 34/35 North Arcade, SM Mall of Asia, JW Diokno Blvd, Pasay City).
Rizal (Ground Floor, Al Fresco Area, Robinsons Place Antipolo, Sumulong Highway, Antipolo City, Rizal).
Zamboanga City (404 Veterans Avenue, Zamboanga City, Philippines).
What are the signature dishes at Bacolod Chk-N-BBQ House?
Chicken inasal, such as atay, baticolon, isol, and paa, are the signature dishes of Bacolod Chk-N-BBQ House.
Is Bacolod Chk-N-BBQ House a dine-in restaurant or a takeout joint?
Bacolod Chk-N-BBQ House is a dine-in restaurant that also offers take-out, pick-up, and delivery services.
Does Bacolod Chk-N-BBQ House accept reservations?
Bacolod Chk-N-BBQ House does not accept reservations.
Conclusion
The Bacolod Chk-N-BBQ House menu comprises Chicken Inasal and other classic Filipino dishes. Aside from offering authentic Chicken Inasal from Bacolod, it also provides friendly and warm Bacolod-type hospitality service to its customers, giving them a great experience. This restaurant continuously innovates technology and develops operations to serve its patrons with great-tasting food and top-notch customer service.