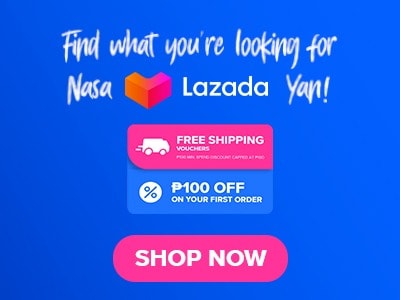 The Philippines is a home filled with the richness of avocado which is why there is no doubt that Filipinos love making creative fusions and desserts with this flavorful creamy fruit. Hello sweet tooths! Today is for you to discover this delightful shop that offers a flavorful fusion of your favorite avocado that gives the utmost comfort to your day. Introducing Avocadoria and its menu collection filled with absolute sweet sensation.
Below, you'll find the updated list of Avocadoria menu prices.
Menu Items
Price (PHP)

Ice Cream

Avocado Lover
145
Avocado Senyorita
125
Avocado Inipit
80
Avocado Dream
105

Ice Cream Cakes

Dark Mocha Avocado Praline Cake
790
Dark Mocha Avocado Praline Cake Petite
350
Avocado Sansrival
760
Avocado Sansrival Petite
340
Avocado Ice Cream Cheesecake Petite
310

Light Snacks

Nachos Beef Guacamole
275
About Avocadoria
Avocadoria specializes in various heavenly delights that feature a delightful blend of their decadent dessert with avocado as the main core ingredient. You will surely have a delightful adventure as you take a flavorful journey through their iconic and house specialties, Keto Ice Cream, cakes, Snarival, Shakes and so many goodies that are waiting for you to be indulged here at Avocadoria.
Avocadoria Menu Best Seller
Take a refreshing voyage as we savor the refreshing style of your favorite avocado. get ready for a twist of your favorite desserts soaring to great heights of avocado.
Avocado Lover – Treat yourself with this signature take on Avocado desserts that features boba and other powdered cookies along with various toppings that highlight the sweet sensation of this Signature dessert of Avocadoria that is topped with avocado bits flaky almonds, flax seeds, chia
Avocado Coconut Keto Milkshakes – Calling the people on a keto diet! Save yourself from the temptation no more because this Avocadoria menu offers you a sugar-free and low-carb dessert that features creamy avocado milkshakes that are topped with avocado bits along with flaky almonds, flax seeds, chia, and finally coconut milk.
Avocado Shake Mango – Never miss the mango goodness of this refreshing shake that highlights the rich flavor of mango with 5 varieties of toppings you can choose from. you choose either Mango, Avocado, Chico, Guyabano, or Jackfruit. This is actually one of my favorites and something that I would order repeatedly without having the "sawa" or "umay' feeling.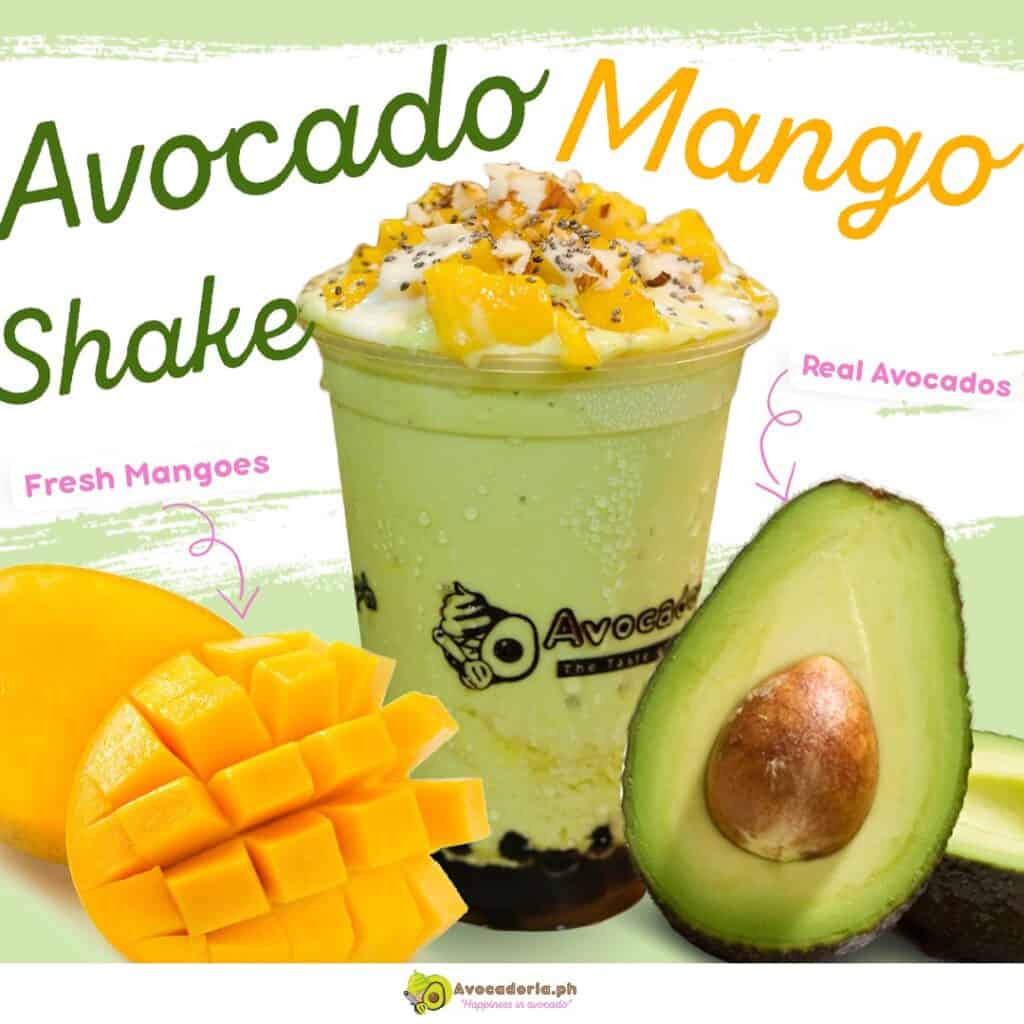 Avocado Ice Cream Cheesecake – Take the smooth and light feeling this avocado ice cream cheesecake provides in every bite. It highlights cream cheese with an absolute creamy avocado ice cream wonderfully topped with white chocolate gourmet and a final touch of chopped nuts.
Avocado Sansrival – The creaminess you don't want to miss is here for you with the layers of avocado buttercream filled with rich and creamy flavors and an authentic meringue with the finishing touch of chopped pistachio and crunch of almond and avocado ice cream.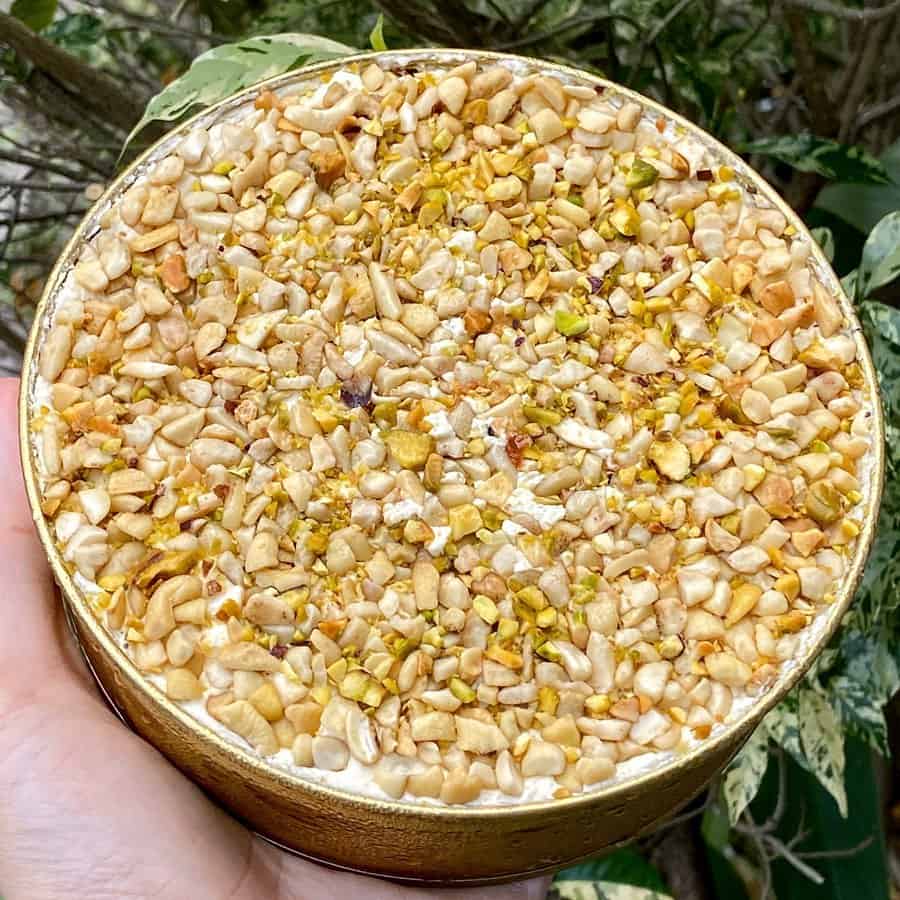 Avocado Dark Chocolate Shake – This Avocado Dark Chocolate Shake takes great pride in this flavorful fusion of avocado and the high level of richness of the dark chocolate blended on it. One of the highly recommended shakes in their collection.
Avocado Keto Ice Cream – I am sure you will enjoy a refreshing delight in every bite of this menu from Avocadoria. It features a subtle touch of plain and delightful ketogenic avocado making a flavorful ice cream. It is perfect for people who are on a ketogenic diet because it is 100% low-carb and sugar-free.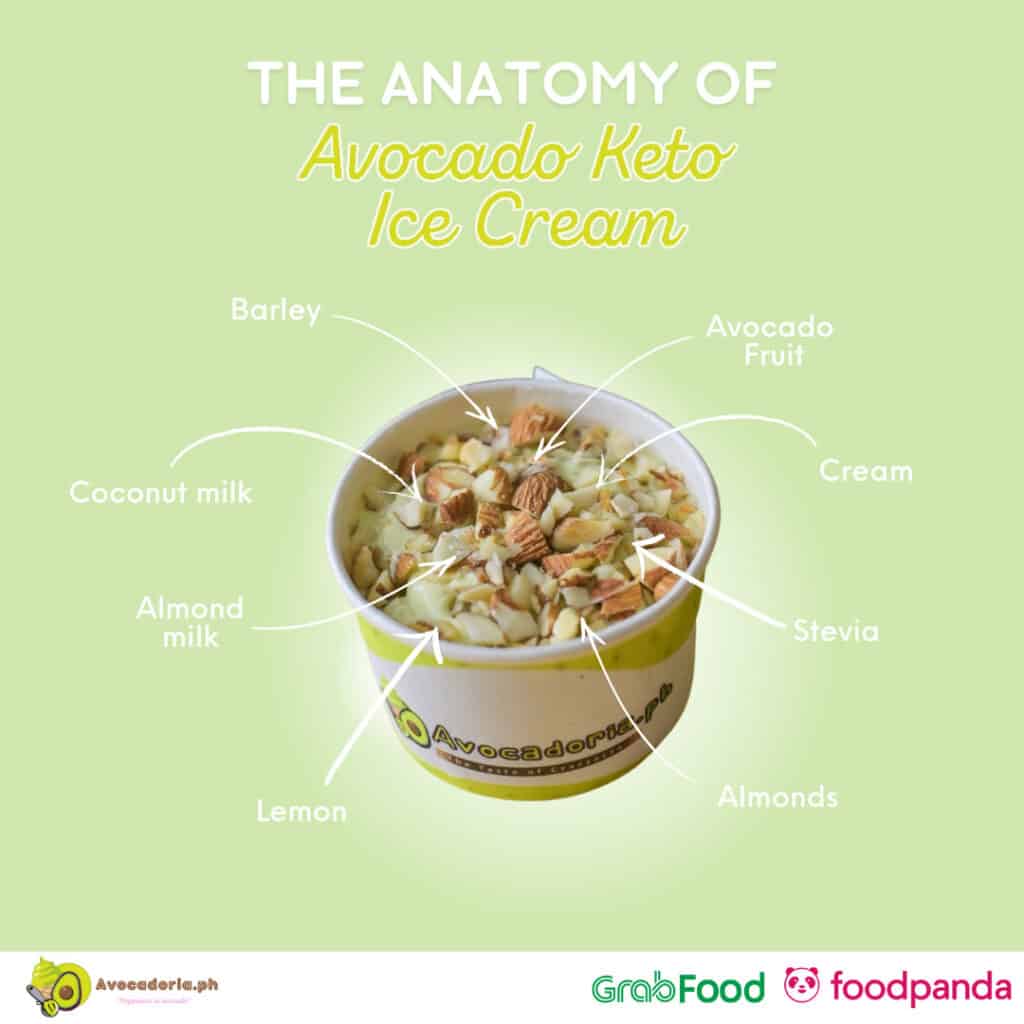 Avocadoria Menu Delivery
Do you want to have a delightful day or weekend in a flavorful sip and bite of this avocado ria's heavenly collection? Well, chill because you can now enjoy your favorite avocado shakes and ice cream in the utmost comfort of your home. You can now order online through the FoodPanda Delivery service or GrabFood Ph for long-distance delivery areas. Just download their app and search Avocadoria to see the nearest available branch of Avocadoria in your area.
Avocadoria Social Media Pages
By joining their avocado-loving community, you'll unlock a treasure trove of mouthwatering avo-inspiration, exclusive discounts, and behind-the-scenes peeks into their avo-licious creations.
Facebook: https://www.facebook.com/AvocadoriaPH.Official
Instagram: https://www.instagram.com/avocadoriaph.official
TikTok: https://www.tiktok.com/@avocadoria.phofficial
Twitter: https://twitter.com/avocadoria_bgc
Website: https://avocadoria.com.ph/contact-us
Frequently Asked Questions 
What type of cuisine does Avocadoria offer?
Avocadoria offers a flavorful collection of avocado-based desserts, shakes, and ice cream that highlights a healthier way to satisfy your sweet cravings.
What is Avocadoria known for?
Avocadoria is known for its Avocado Lover and Avocado Milkshakes as well as its Keto Avocado Ice cream.
What are the operating hours of Avocadoria?
Avocadoira Branches have no distinctive operating hours because most of the stores are located inside the Malls which technically correspond to the certain store hours of every mall they are located. However, most of them here in the Philippines operate from 9 AM until 10 PM which is an allotted time for you to visit the nearest Avocadoria Branch in your area.
Where is Avocadoria located in the Philippines?
If you are planning to visit a branch of Avocadoria but don't know are the branches located in the Philippines, you can refer to this link which directs you to their official website that entails the location of every Avocadoria branch in the Philippines. Link here: https://avocadoria.com.ph/branches/
Who is the owner of Avocadoria?
The founder of this famous business is Chef Czarian Jagto Sevilla. A well-known chef who specializes in creative desserts and decadent goodies with a flavorful touch of innovation.
Conclusion
Avocadoria is indeed a flavorful idea to savor different styles and different ways of your favorite Avocado. I love how they venture their ideas and expand them in a more creative way by providing us with a well-thought-of menu collection that features a perfect blend of toppings and milkshakes that certainly hits the sweet spot. Embracing the preferences of Gen Z and Millennials, this shop is a true crowd-pleaser. The menu of Avocadoria is a delightful journey through the world of avocados, a must-try for all avocado lovers. However, one can't help but imagine the possibilities if they were to expand their innovative ideas even further. A suggestion for the daring minds at Avocadoria—how about venturing into the realm of Avocado cakes? This bold move could add an exciting touch to an already impressive lineup. Be risky, be adventurous—I'm confident they would pull it off brilliantly. Thank you, Avocadoria, for the avocado-filled delights. I'll surely be back for more. See you next time!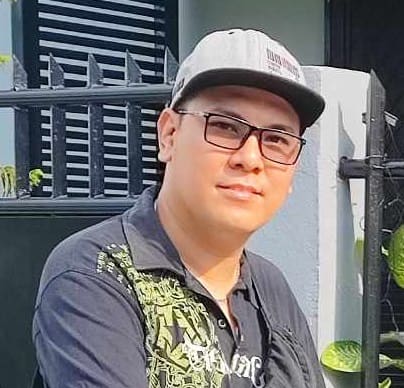 Hi! I'm Nivek Strife, the person who made MenuPH. I'm the one who added most of the popular menus you see on this website, and I really hope you enjoy them! Feel free to check them all out.
Growing up, I was surrounded by lots of tasty foods, like the classic Adobo and the sweet Leche Flan. That love for the many flavors of the Philippines is what got me excited about adding to MenuPH. When I learned how to make websites, I saw the need for a place to show off all the amazing Filipino dishes, and that's how MenuPH started.
MenuPH isn't just a website; it's like a fun journey into food. I've teamed up with famous chefs and found great places all over the Philippines to bring you a bunch of menus that show off the best of Filipino cuisine. Whether you're into the usual dishes or new twists, MenuPH is here to guide you through the rich world of Filipino flavors.
With MenuPH, my aim is to help local businesses, talk about good food choices, and make a group of friends who love food. No matter if you like fancy restaurants or street food, MenuPH has something for you. Come join me on this food adventure as we find great places, taste real flavors, and enjoy the unique food traditions that make the Philippines awesome.