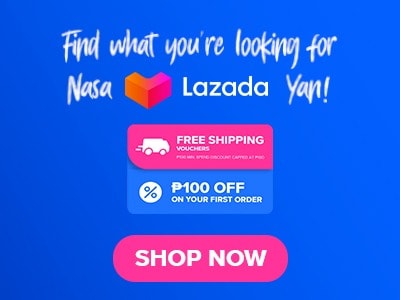 A restaurant that has mastered the art of wagyu beef is what we are going to talk about today. Join me in this fiery adventure as we discover the heart of culinary excellence here at Wagyu Studio. They offer a gastronomic experience in every dish they offer. From the melt-in-the-mouth wagyu steaks to their special collection of sando and noodles & rice. This restaurant has very diverse options that will perfectly fit every mood you have for your day. Let us stop this too much chit-chat and let us now discover their menu collections.
Below, you'll find the updated list of Wagyu Studio menu prices.
Menu Items
Price (PHP)

Starters

Edamame
200
Nikumiso
500
Gyoza
500
Yukke
700
Steak Sando
2500

Lunch Meals

The Noodle
700
Curry Rice
1000
Gyudon
1000
Burger Steak
1000
Garlic Rice
2000
Steak Don
3000

Fresh from Japan

Fruits Tomato
1000
Oyster from Kobe (per piece)
500/pc
Uni Spoon
2000
Toro Sashimi
3000

Starters

Edamame
300
Q
300
Moyashi
300
Tako Kimuchi
500
Green Salad
500
Uni Cream Croquette
500
Jerky
700
Mushroom Papillotte
800
Nikumiso
800
Gyoza
1000
Lumpia
1000
Yukke
1200
Kobe Sashimi
2000
Kaluga Queen Nugget (per piece)
1000
Kaluga Queen Nugget (per 50g)
8000

Sando

Steak Sando
4000
Pastrami Sando
4500
Châteaubriand Sando
10000

Noodles & Rice

The Noodle
1000
Gyudon
1800
Burger Steak Rice
1800
Garlic Rice
3500
Steak Don
5000
KCN
800
Gohan (Steamed Rice)
150

Yakiniku

Mix
2500
Lean
2000
Semi Fatty
2500
Fatty
3000
Kill The Grill
3000
Zabuton
3500
W/S Sukiyaki
2000
Extra (Additional egg yolk)
50

Steak

Sirloin
Ribeye Roll
Tenderloin
Châteaubriand
Dry Aged Beef

Steak Sauce

Sansho Soy Sauce
150
Garlic Soy Sauce
100
Radish Ponzu
100
Wasabi Mustard
150
Pickled Wasabi
150

Soups

Kombucha
150
Bulalo
700

Dessert

Nama Matcha Chocolate
350
Hokkaido Milk Soft Serve
500
Mochi Ice Cream
500
Musk Melon
1500
About Wagyu Studio
Wagyu Studio is your next perfect destination for your beefy cravings from their wagyu beef to the various succulent slices of beef entrees, you will surely never run out of options here at Wagyu Beef. Aside from Wagyu's they also offer an exquisite collection of gourmet sides and dishes that are accompanied by your steaks to fully elevate your Wagyu Studio experience.
Wagyu Studio Menu Best Seller
Get that flaming-in-flavor dream experience come true with these best-selling dishes from Wagyu Studio. It highlights various cuisines and emphasizes their steaks which they take great pride in.
Steak Sando – Indulge in this culinary creation from Wagyu Studio features a Succulent steak in a flavourful sandwich. It is fully breaded and delightfully kissed with a wasabi sauce.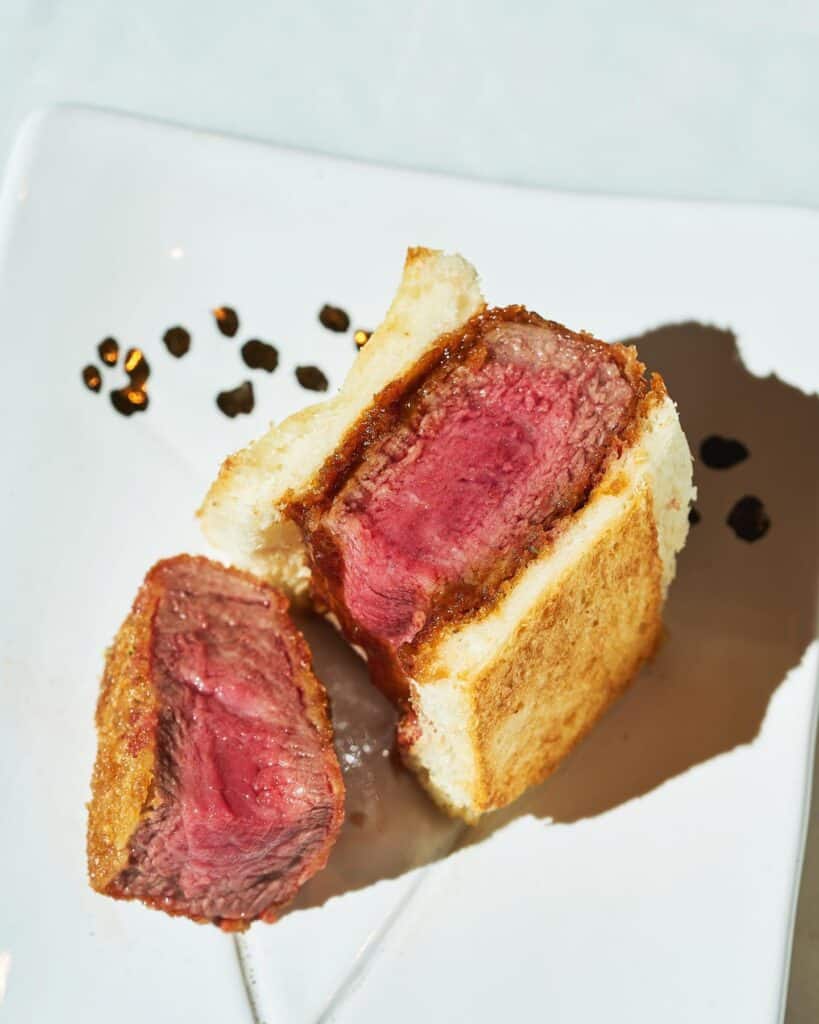 Pastrami Sand – This Pastrami Sand is fully elevated with the added richness of cheddar cheese that is so mouthwatering and perfect for people who love the take on classics.
Burger Steak Rice – Experience the comforting flavor this burger steak rice offers from the luscious gravy to the perfectly fried eggs that are added to this meal.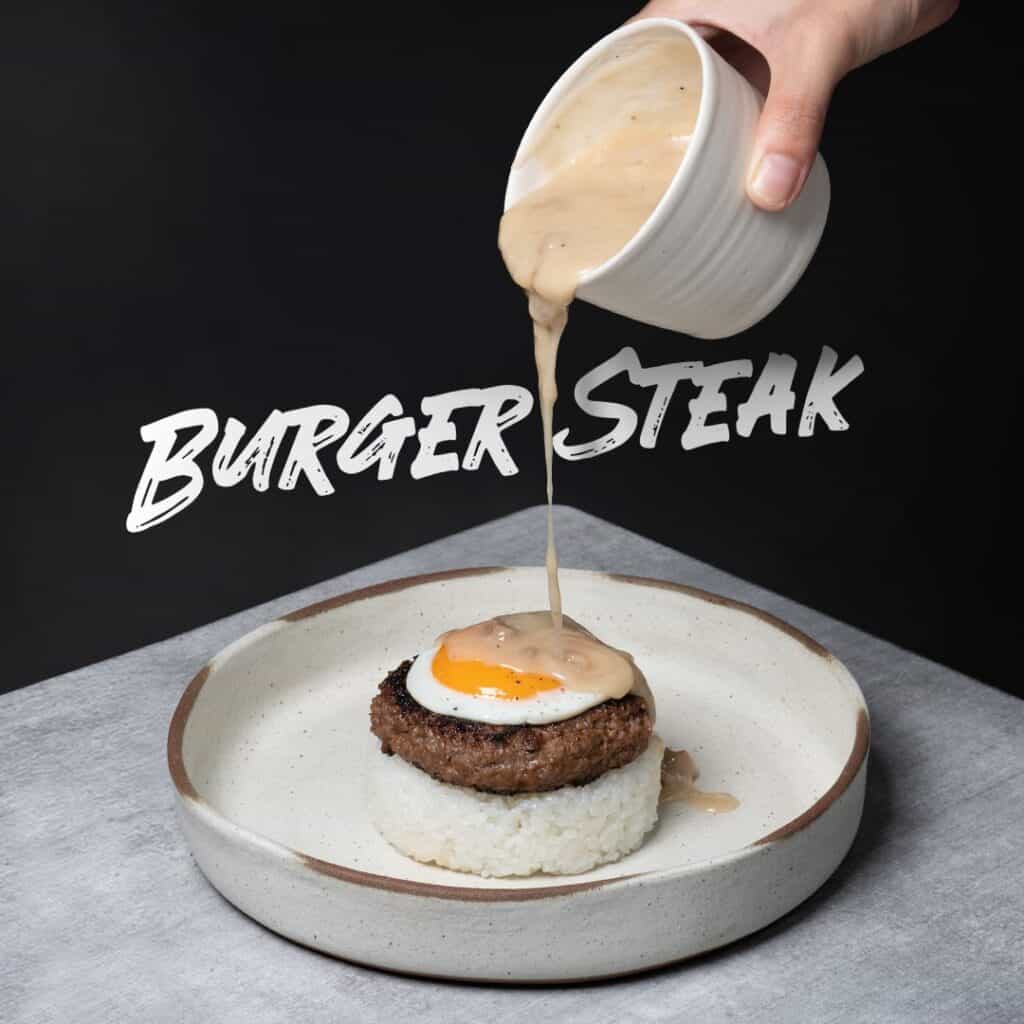 Ribeye Roll – Unleash the flavorful goodness you will only experience here at Wagyu studio with this ribeye that features a delightful combination of premium quality ribeye.
Noodles & Rice
Prepare your tummy because what we have here is a blown fulfilling menu of Wagyu Studio that will definitely give you the rest to boost your day.
The Noodle – Staringt with these Chilled ramen noodles that offer you a refreshing and delightful slurp of their meaty and flavorful noodles. It is definitely worth a try, a dish that will never disappoint.
Steak Don – Indulge in this sumptuous steak don that features succulent and tender slices of beef that allow you to experience a hard-to-forget moment.
Gyudon – Enjoy this bowl filled with your favorite classic gyudon that features savory beef with the sweetness of the onion and delightful luscious sauce.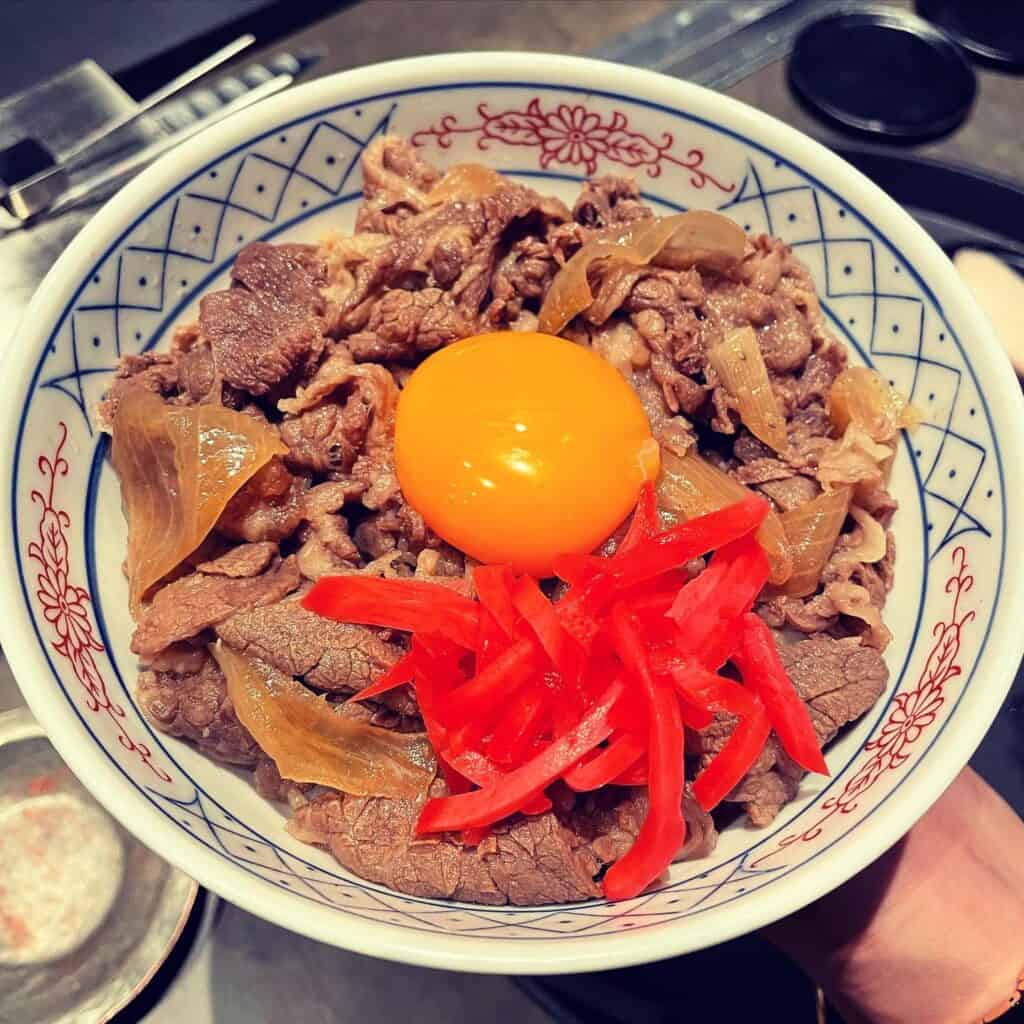 Garlic Rice – Wagyu's Studio's version of Garlic Rice is blazing in aroma with their cast-iron grilled-to-perfection garlic rice which is an ideal rice to partner with their steak collection and even with this rice and noodle menu.
Steak
Choose your fighter with this array of premium cuts of beef which highlights a different perspective of flavor and beefy goodness. Note: please always check the availability of these dishes upon ordering.
Sirloin – Starting this with their iconic Sirloin that is considered a classic favorite. It celebrated beefy goodness and robust taste along with a perfect balance of marbling texture and tenderness.
Tenderloin – This tenderloin offers you the finest cut of true beef that is exceptional from its leanest and tenderness. It has a very delicate texture with a hint of buttery kick.
Chateaubriand – This Chateaubriand menu is definitely the epitome of luxury from the Wagyu Studio, it offers you a tender texture and succulent slices that add a great depth to the flavor.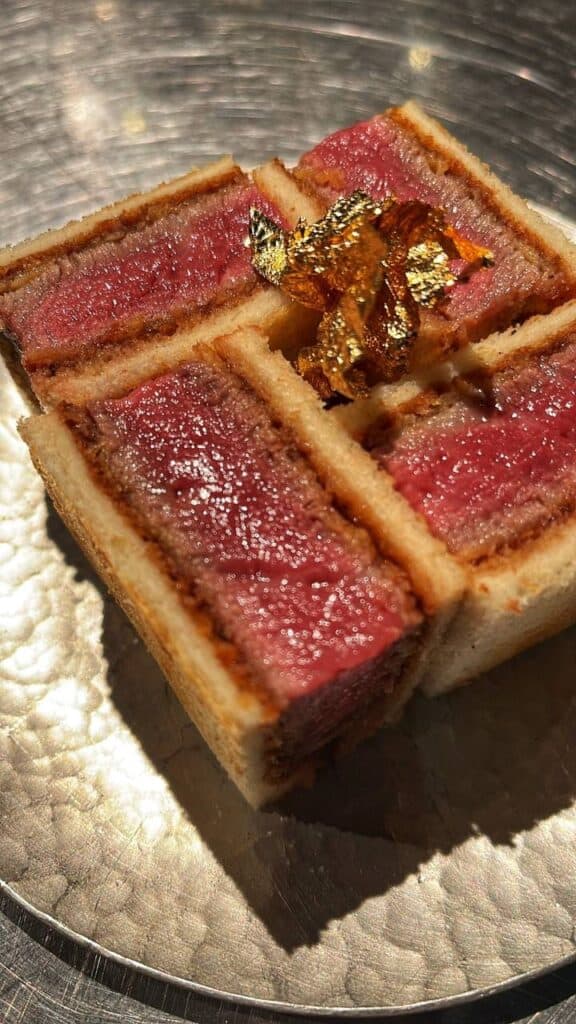 Dry Aged Beef – A carefully aged beef is here to serve you the finest flavor resulting in a perfect masterpiece of Wagyu Studio. It has a very concentrated taste that has surely locked in due to its proper aging.
Wagyu Studio Menu Delivery
Wagyu Studio doesn't offer any available delivery service right now and I think we can take it as an opportunity to experience the finest flavor of beef in the utmost comfort of their returns. Leverage that experience to its maximum potential by diving into the finest and premium cuts of beef you will only have here at Wagyu Studio. Treat yourself to something good here at Wagyu Studio.
Wagyu Studio's Social Media
Pages
Their social media pages are a gallery of visual delight, showcasing the epitome of culinary artistry. Prepare to be mesmerized by the beauty of the dishes even before they grace your palate.
Facebook: https://www.facebook.com/wagyustudio
Instagram: https://www.instagram.com/wagyustudio
TikTok: https://www.tiktok.com/@wagyustudio
Website: https://www.wagyustudio.com
Youtube: https://www.youtube.com/@wagyustudio
Frequently Asked Questions in Wagyu Studio
What type of cuisine does the Wagyu Studio offer?
Wagyu Studio specializes in various collections of beef entrees such as their Steak Collection and Yakiniku Collections.
What is the Wagyu Studio known for?
Wagyu Studio is known for its steaks along with other entrees they offer such as its Sando, Noodle, and rice options.
What are the operating hours of Wagyu Studio?
Here are the operating hours of Wagyu Studio depending on the day and meal they serve.
Friday & Saturday:

Lunch: 12:00 PM – 2:00 PM
Dinner: 6:00 PM – 9:00 PM

Sunday:

Lunch: 12:00 PM – 2:00 PM
Dinner: 6:00 PM – 10:30 PM

Monday: Closed
Tuesday to Thursday:

Lunch: 12:00 PM – 2:00 PM
Dinner: 6:00 PM – 9:00 PM
Where is the Wagyu Studio located in the Philippines?
If you want to make your beefy experience dream come true you can visit them here at G/F The Finance Centre 26th Street BGC, Taguig, 1630 Metro Manila.
Conclusion
In conclusion, one thing that I realized here at Wagyu Studio is that this isn't just a regular steakhouse you often see in the city. It is the home of a culinary haven. It takes your experience into a whole new world with its masterpieces and specials. They're very committed to serving you the finest cuts of beef which is their way to create a very unforgettable dining experience. Whether you are a connoisseur of fine beef or if you are into luxurious cuts of beef, Wagyu Studio has a table to offer for you.
Aside from that, their creative collections of Steak Sando are definitely something to commend as well as their burger steak rice. Their exquisite atmosphere adds great depth to your food and experience which is why I am fully recommending this restaurant for your next beefy adventure.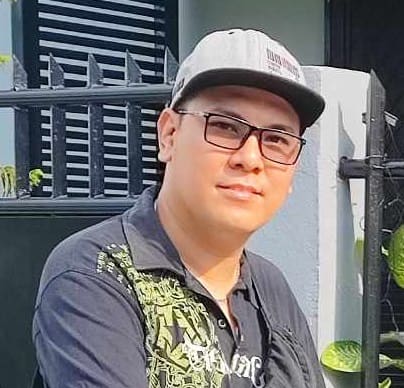 Hi! I'm Nivek Strife, the person who made MenuPH. I'm the one who added most of the popular menus you see on this website, and I really hope you enjoy them! Feel free to check them all out.
Growing up, I was surrounded by lots of tasty foods, like the classic Adobo and the sweet Leche Flan. That love for the many flavors of the Philippines is what got me excited about adding to MenuPH. When I learned how to make websites, I saw the need for a place to show off all the amazing Filipino dishes, and that's how MenuPH started.
MenuPH isn't just a website; it's like a fun journey into food. I've teamed up with famous chefs and found great places all over the Philippines to bring you a bunch of menus that show off the best of Filipino cuisine. Whether you're into the usual dishes or new twists, MenuPH is here to guide you through the rich world of Filipino flavors.
With MenuPH, my aim is to help local businesses, talk about good food choices, and make a group of friends who love food. No matter if you like fancy restaurants or street food, MenuPH has something for you. Come join me on this food adventure as we find great places, taste real flavors, and enjoy the unique food traditions that make the Philippines awesome.