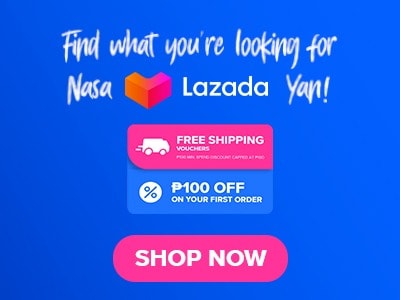 If you are craving a delicious and authentic katsu dish, then Ball Katsu is the place that you should go to. This restaurant's menu offers a wide selection of katsu dishes which is a popular Japanese comfort food that consists of a breaded, deep-fried pork cutlet. Ball Katsu specializes in serving breaded and deep-fried meats, such as pork, chicken, and seafood, prepared to perfection with a crispy exterior and tender interior. Each of the katsu dishes they serve is accompanied by a variety of sauces and sides providing customers with a unique and satisfying Japanese dining experience.
Below, you'll find the updated list of Ball Katsu menu prices.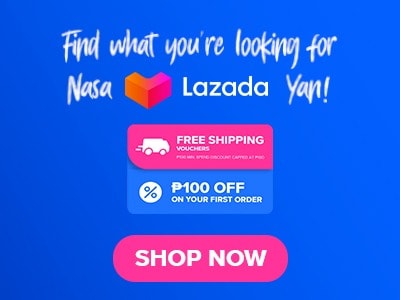 Menu Items
Price (PHP)

Main Dish

Ball Katsu
164
Ball Katsu (5 Pieces)
769
Cheese Ball Katsu
186
Cheese Ball Katsu (5 Pieces)
879

Burgers

Teriyaki Burger
186
Tartar Burger
186
Salsa Burger
186

Rice Bowls

Rice Bowl
208
Rice Bowl with Cheese Ball
230
Curry Rice
274
Curry Rice with Cheese Ball
296

Sides

Extra Rice
28
Special Sauce
22
Cheese Sauce
22
Teriyaki Sauce
22
Tartar Sauce
22
Salsa Sauce
22
Chili Sauce
22

Drinks

Bottled Water
28
Coke
66
Coke Zero
66
Sprite
66
Royal
66
About Ball Katsu
Ball Katsu is a food establishment in the Philippines located at SM Megamall, EDSA, corner Doña Julia Vargas Ave, Ortigas Center, Mandaluyong, 1550 Metro Manila. This restaurant specializes in serving various types of katsu dishes, a popular Japanese dish consisting of breaded and deep-fried meat that is served with a savory sauce and accompanied by rice, shredded cabbage, and other side dishes. At Ball Katsu, customers can choose from a wide range of katsu options, including pork, chicken, and seafood varieties to make their dining experience more enjoyable and satisfying.
Ball Katsu Menu Best Seller
This menu is composed of Ball Katsu's most popular items that are offered from both their online and physical stores.
Rice Bowl – This menu item is a simple and satisfying dish that features a generous serving of perfectly cooked Japanese rice that is topped with delicious meatballs. It is both a filling and comforting option that would pair well with Ball Katsu's katsu dishes and will surely satisfy your cravings.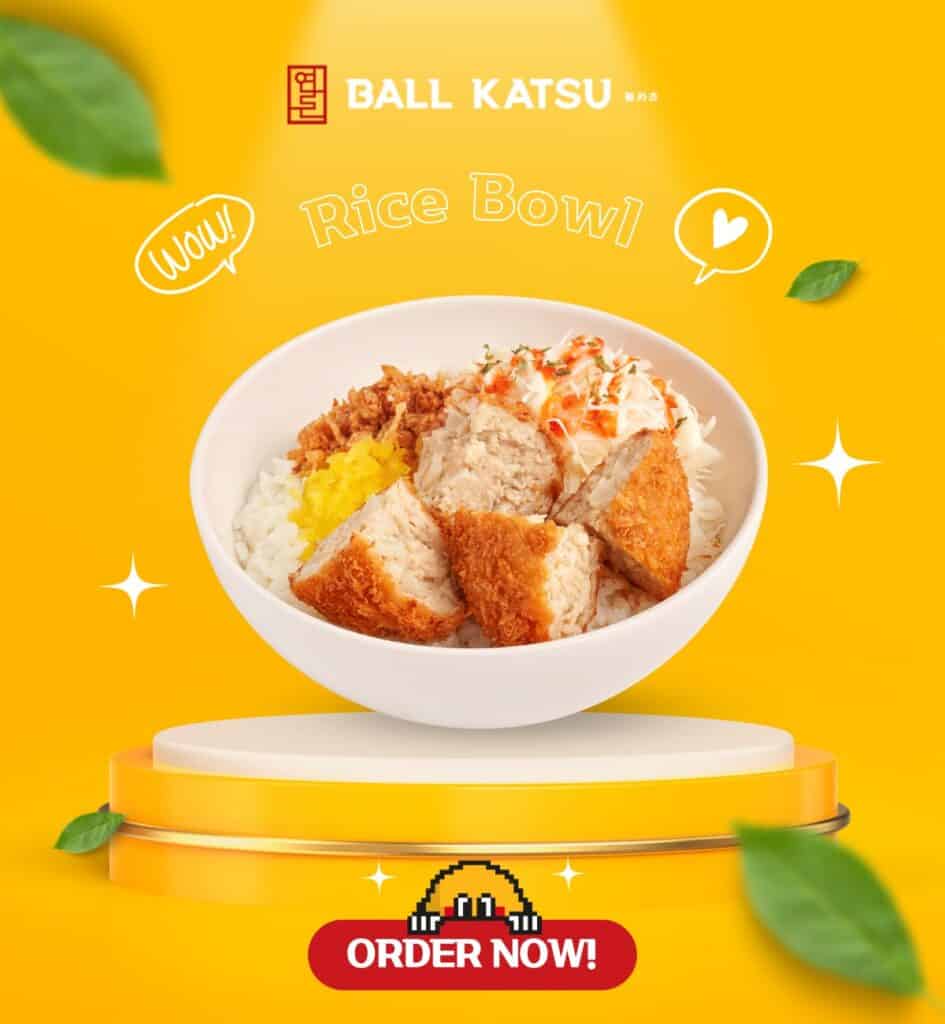 Rice Bowl with Cheese Ball – The addition of cheese balls to this menu of Ball Katsu takes it to a whole new level. The creamy and gooey cheese inside the meatballs adds an extra layer of flavor and richness, making it a delightful treat for cheese lovers that visit.
Curry Rice – Curry rice is known to be a classic Japanese curry dish that pairs well with the katsu dishes that Ball Katsu offers. The rich and flavorful curry sauce complements the crispy katsu dishes which creates a comforting and delicious combination.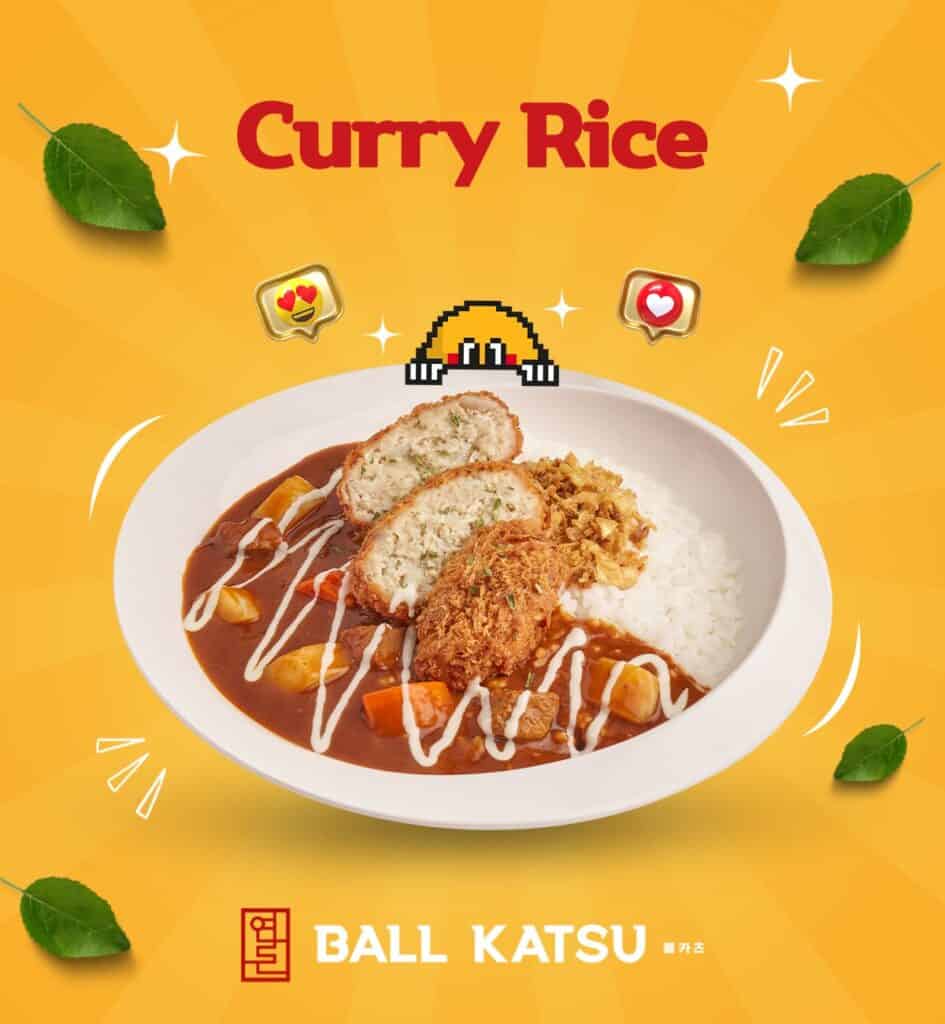 Curry Rice with Cheese Ball – For a much more enjoyable and satisfying meal experience, this dish adds a cheeseball to the curry rice to provide customers with a more unique and enjoyable dish that is sure to satisfy them. This fusion of flavors is a must-try for those looking for a unique and tasty experience at Ball Katsu.
Special Sauce – This sauce is unique and is considered to be a signature item from Ball Katsu. It is specially created to complement the katsu dishes and enhance their taste. This sauce is offered to serve as a secret ingredient that would add an extra layer of flavor and enjoyment to your meal.
Main Dish
This menu is made up of delicious and filling main dishes from Ball Katsu that would make customers want to come back for more.
Ball Katsu – This is considered to be Ball Katsu's signature item. It features perfectly fried meatballs that are crispy on the outside and juicy on the inside which makes for a delicious treat that can be enjoyed on their own or paired with rice, curry, or Ball Katsu's sauces.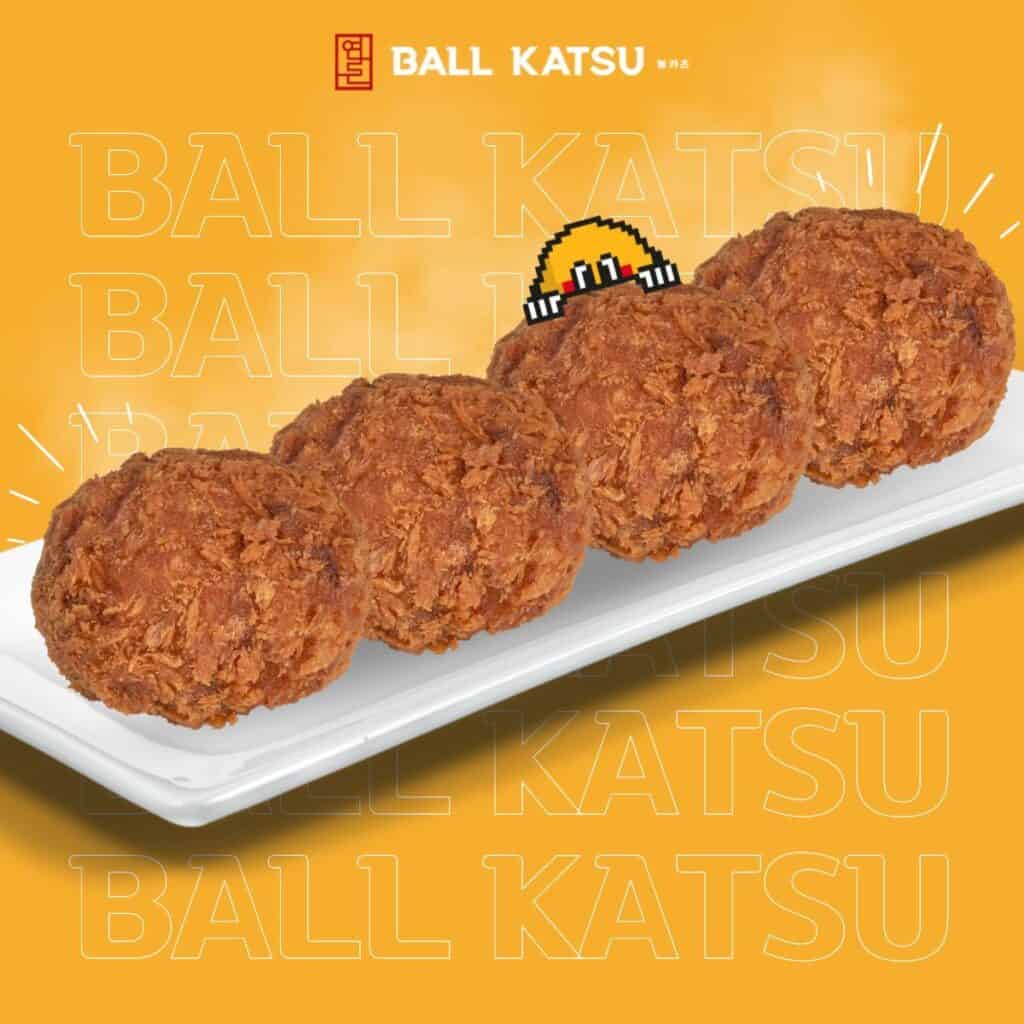 Cheese Ball Katsu – This menu item takes the classic meatball to a whole new level by adding a gooey and creamy cheese filling which gives their signature dishes a burst of flavor that could be felt with every bite.
Cheese Ball Katsu (5 Pieces) – This option offers a set of five Cheese Ball Katsu making it perfect for sharing with friends or family. It's an excellent choice for those who want to enjoy more of the delicious cheese-filled meatballs that Ball Katsu offers.
Burgers
This menu is made up of different burger options that burger lovers aren't able to resist!
Teriyaki Burger – This is a mouthwatering option for those that crave a burger with a twist. It features a juicy meatball coated in flavorful teriyaki sauce and served with fresh toppings in a soft bun, offering a fusion of Japanese and Western flavors.
Tartar Burger – This burger option takes the unique burger to a whole new level by adding a simple yet very noticeable twist. The meatball is paired with tangy and creamy tartar sauce, creating a delightful contrast of flavors that will surely please your taste buds.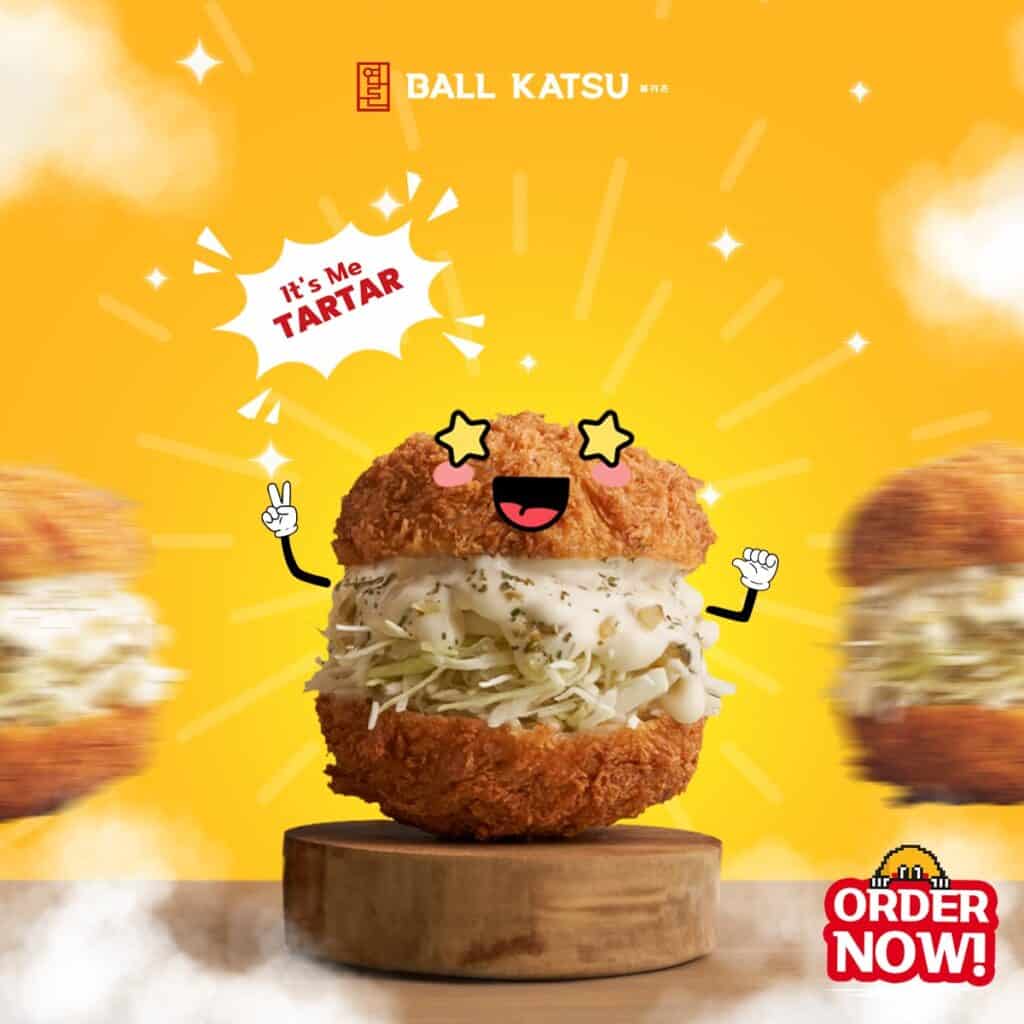 Salsa Burger – This burger is an excellent choice for those who enjoy a bit of spice to their burgers. The meatball is complemented by zesty and flavorful salsa sauce which adds a nice kick of heat and freshness to the dish.
Rice Bowls
This menu offers a range of rice bowl options that would make for a great pairing with the katsu dishes that Ball Katsu offers. Each rice bowl on this menu enhances the unique flavors of Ball Katsu's dishes resulting in a satisfying and filling meal.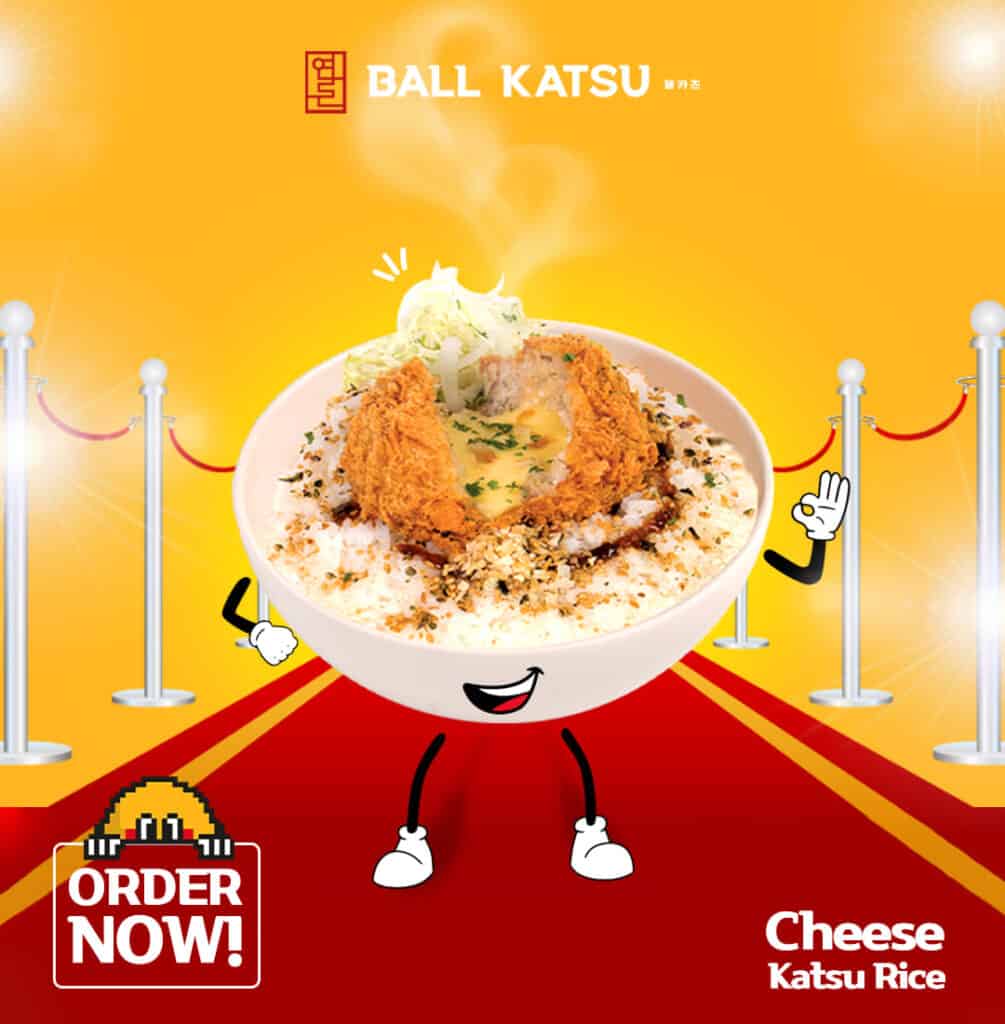 Sides
This menu offers a variety of side dishes that perfectly complement Ball Katsu's katsu dishes and rice bowl offerings. Whether you are wanting a savory dipping sauce, a classic burger, or a fusion-inspired option, this menu would add an extra layer of satisfaction to your dining experience at Ball Katsu.
Ball Katsu Menu Delivery
Ball Katsu has an awesome menu that they can bring right to your door! You can look through all the tasty stuff they offer and pick your favorites, all without leaving your home sweet home. How? Well, they team up with delivery helpers like FoodPanda and GrabFood. So, when hunger strikes and you're in your cozy spot, you know who to call – Ball Katsu and their delivery magic!
Social Media Pages
Follow Ball Katsu's sizzling social media pages to join the Katsu craze and embark on a tasty adventure like never before! Stay in the loop with their exciting giveaways, limited-time promotions, and exclusive deals that will leave your taste buds dancing with joy!
Facebook: https://www.facebook.com/BallKatsu
TikTok: https://www.tiktok.com/@ballkatsuphilippines
FAQs
What types of balls are commonly used in Ball Katsu?
In Ball Katsu, the common types of balls used are meatballs made from pork, chicken, or seafood.
How is Ball Katsu made?
Ball Katsu is made by mixing the ingredients together, including the meat, seasonings, and sometimes other flavorings like vegetables or herbs, and then shaped into small, bite-sized balls.
What sauces are served with Ball Katsu?
Customers can choose from a wide variety of sauces for their Ball Katsu, these include Special Sauce, Cheese Sauce, Teriyaki Sauce, Tartar Sauce, Salsa Sauce, and Chili Sauce.
Can I customize the fillings in Ball Katsu?
Unfortunately, you won't be able to customize the fillings of the katsu dishes at Ball Katsu. However, you can always style your dish up with different varieties of toppings that they offer.
Is Ball Katsu spicy?
Ball Katsu's spice levels depend on the sauce that you go with, there are spicy Ball Katsu and there are also non-spicy options.
Conclusion
Ball Katsu is a must-visit restaurant for all katsu lovers in the Philippines. Their menu features an array of delicious and authentic Japanese breaded and deep-fried meats. Each katsu dish that Ball Katsu serves is carefully prepared and cooked with their chef's expertise to ensure a crispy and juicy texture that will satisfy their customers. In addition, the accompaniments that Ball Katsu offers add an extra layer of flavor and excitement to each dish of their dishes making sure that their customers have a wonderful and memorable dining experience.