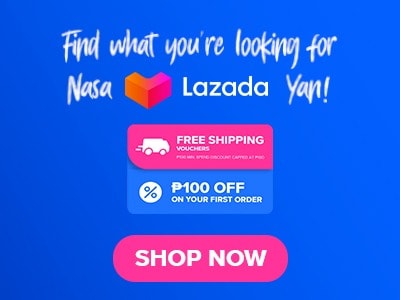 The Taters menu is composed of items that will improve your entertainment experience! Every item on their menu will literally add a flavor to your movie or party activities. Their menu varies from chips to sandwiches and burgers. A typical snack that every Filipino would love! Aside from the high quality and delicious taste, all of the items on their menu are popular for their affordable price.
Below, you'll find the updated list of Taters menu prices.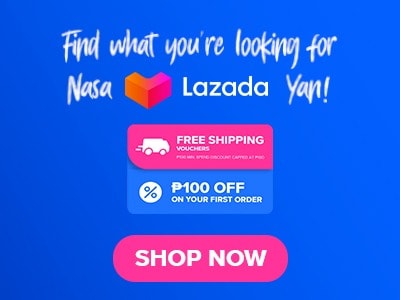 Menu Items
Price (PHP)

Entertainment Snacks

Superpop
60
Tortilla Chips
50
House Fries
65
Tofu Chips
70
Chik-A Chips
100
Tater chips
65
Ultimate cornachos
65
Muchers
80
Onion rings
95
Fish n Chips
95

Sandwich

Classic Churkey Hotdog
95
Coney Island Churkey Hotdog
110
Fish Fillet Burger
115
Churkey burger
125
Classic Beef Hotdog
105
Coney Island Beef Hotdog
120
Tuna Mushroom Burger
130

Takeout Packs

Family Pack
270
Party Pack
370
Popping Gift Set A
210
Poppin Gift Set B
315
Crunchy Gift Set
420
All Star Gift Set A
420
All Star Gift Set B
525
Pop and Crunch Gift Set
315
Healthy Gift Set
660
About Taters
Taters is a Filipino-American snack bar that leads the market in entertainment snacks and currently has 26 branches that are scattered throughout the Philippines. The majority of their locations—a total of 15 branches— are in Manila, with the remainder spread across different regions of Luzon, Visayas, and Mindanao. Taters Snack Bar aims to provide Filipinos with affordable and tasty entertainment snacks.
Taters Menu Best Seller
This consists of one of the most delicious and surely the most popular items on Taters' menu.
House Fries – Home fries are seasoned potatoes that have been parboiled before being pan-fried to the ideal level of crispy potato perfection. Home fries' origins are rather unclear; however, the name may have developed to distinguish these cubed potatoes from french fries. They are frequently prepared with other vegetables and served with sausage, bacon, and eggs.
Churkey Burger – Churkey Burger is a mixture of turkey and fatty chicken meat. The patty, which is made from lean chicken and turkey meat, is grilled and served with the diner's choice of toppings on a whole sesame bun. The Tater's "churkey" patties are not, and never have been, imported, rather, they are an original recipe!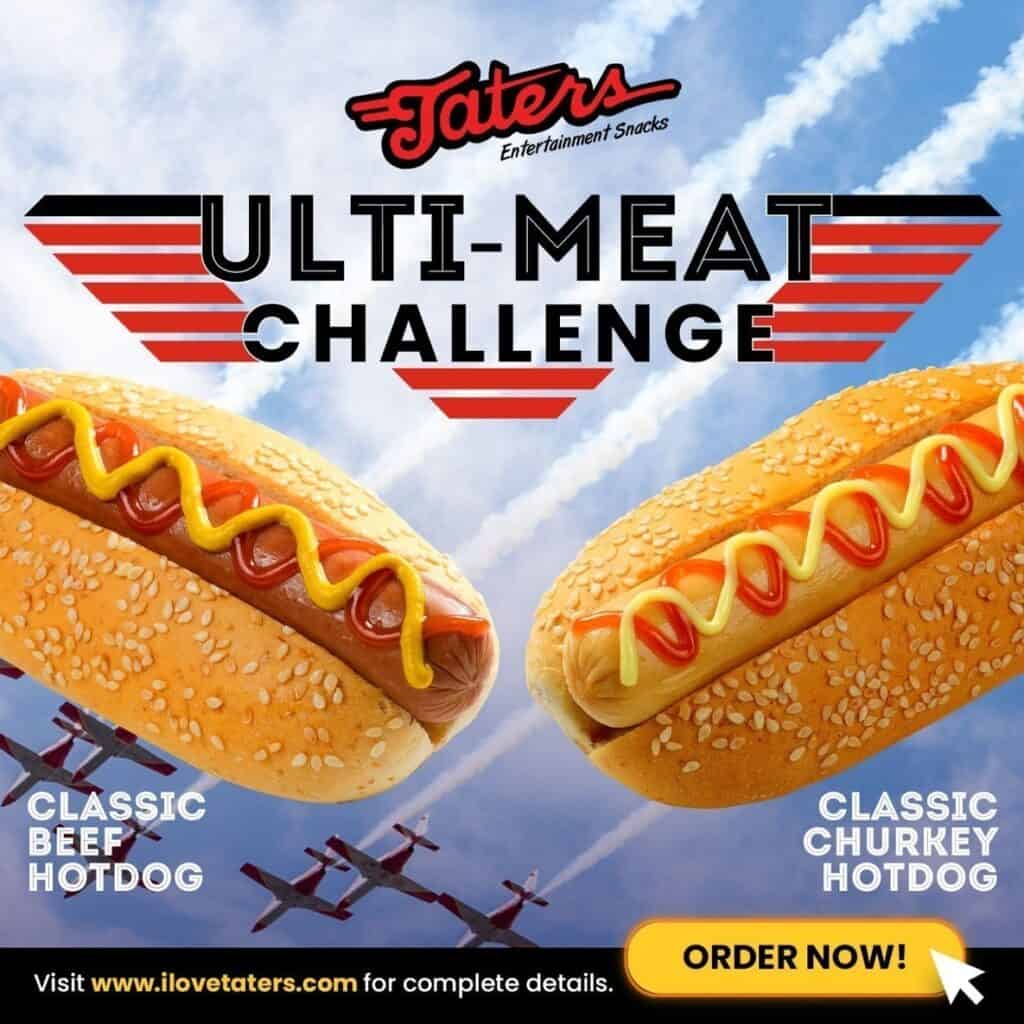 Classic Beef Hotdog – It is a grilled or steamed beef hotdog placed in a bun that has been partially cut and topped with mustard, ketchup, relish, tomato sauce, and cheese.
Coney Island Beef Hotdog – A hotdog in a bun with a flavorful meat sauce and perhaps other toppings is known as a "Coney Island hotdog." It is a classic wiener and hotdog bun combo. The only difference that separates a Coney Island beef hotdog from a regular hotdog is the meaty chili sauce that is on top of it. Its sauce is made from ground meat and tomato paste, which have been effectively combined with many varieties of spices.
Entertainment Snacks
The items on this menu are composed of Taters' special tasty and crunchy snacks.
Tortilla Chips – Corn tortillas are used to make tortilla chips, which are then sliced into triangles and are either fried or baked. Tortilla chips are typically made of yellow corn. However, they can also be made of white, blue, or red corn. While certain tortilla chips may be seasoned with a variety of flavors, most tortilla chips meant for dipping are merely mildly salted.
House Fries – House fries are seasoned potatoes that have been parboiled before being pan-fried to the ideal level of crispy potato perfection. They are served with other vegetables and frozen products.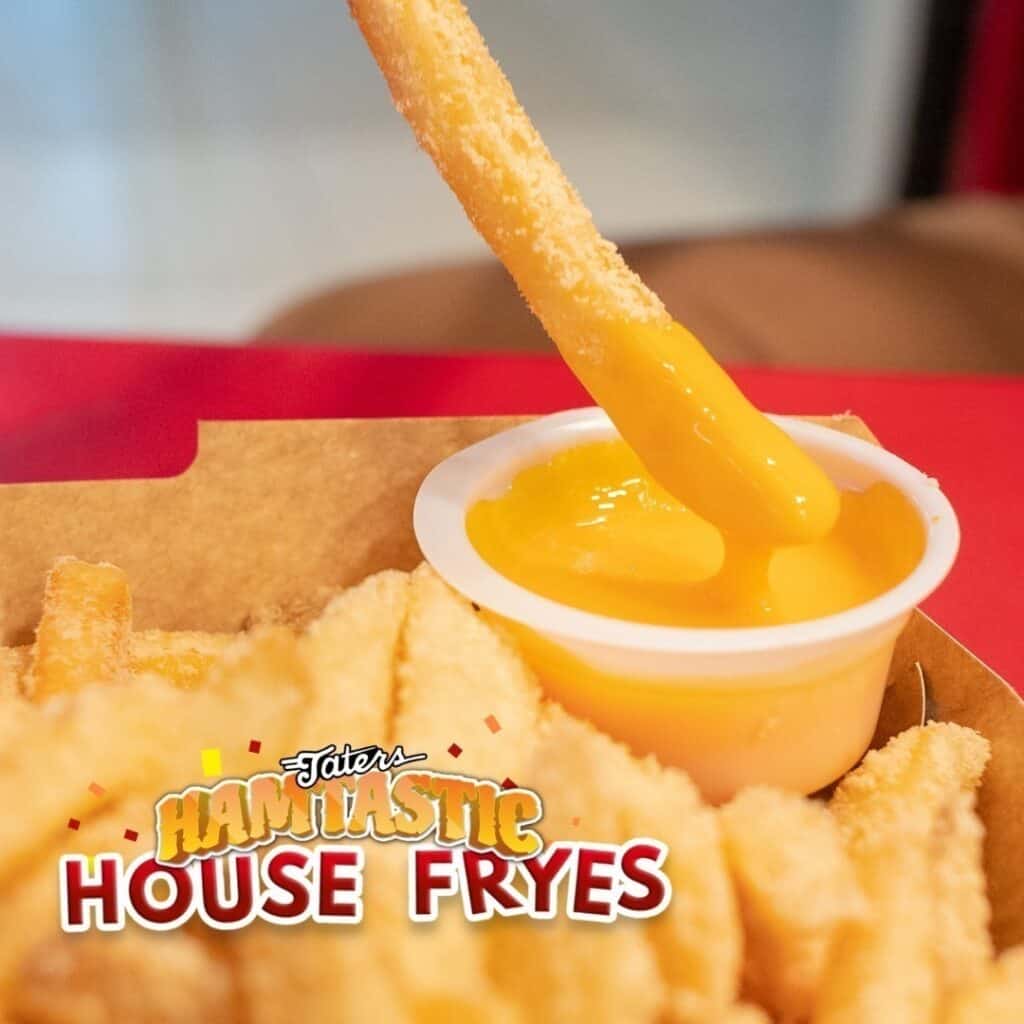 Fish n Chips – The traditional British Isles' dish "fish and chips" consists of French fries with battered and deep-fried fish, which is usually cod or haddock.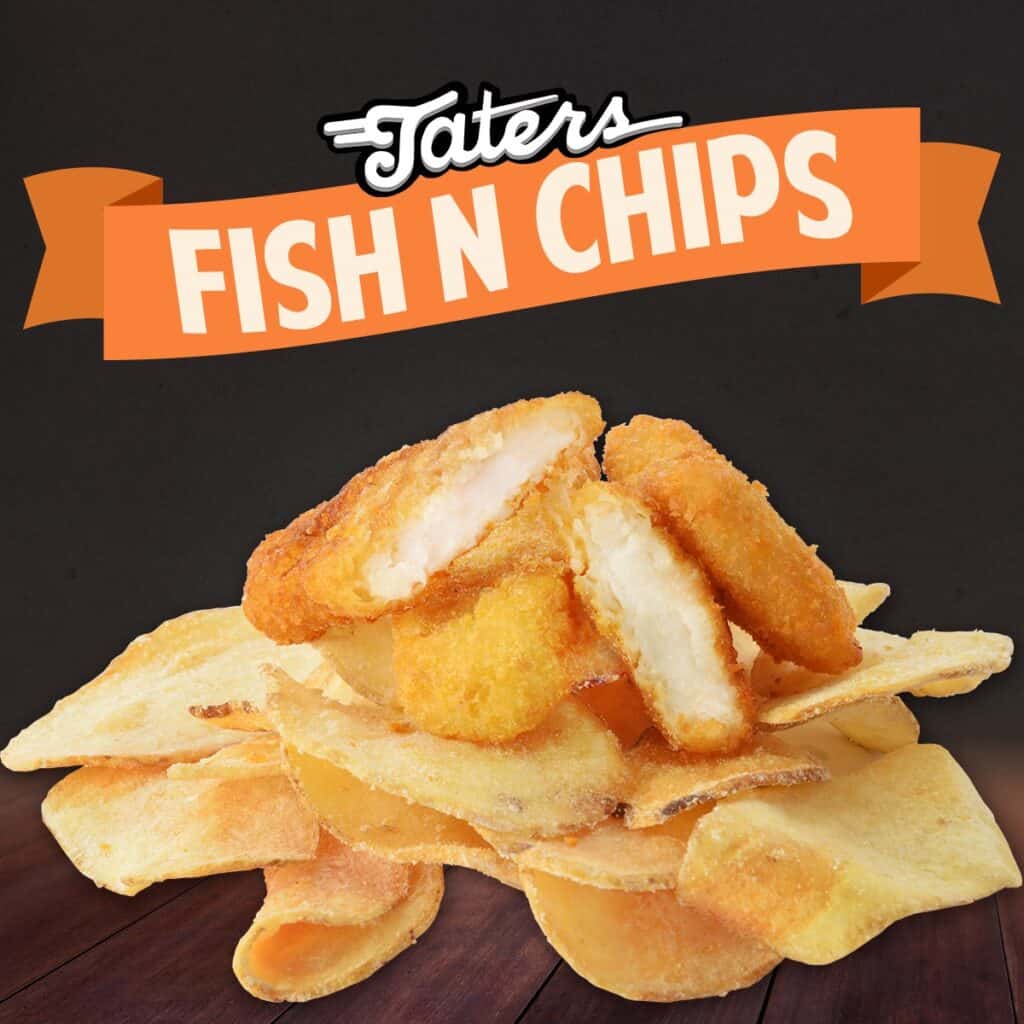 Onion Rings – These snacks can be added as burger toppings or can be directly consumed as an appetizer. They are prepared to not just appear crispy but to be tender on the inside. The tastiest and crunchy onion rings are those that are seasoned to perfection!
Sandwiches
Feeling hungry after a movie? Grab Taters' special, tasty, and fulfilling sandwiches on the go!
Classic Churkey Hotdog – The best are already classics! This classic menu from the Taters will make your snack time savory and fun!
Coney Island Churkey Hotdog – A unique, guilt-free, and ready-to-cook chicken and turkey hotdog combination that will undoubtedly make your day extra special!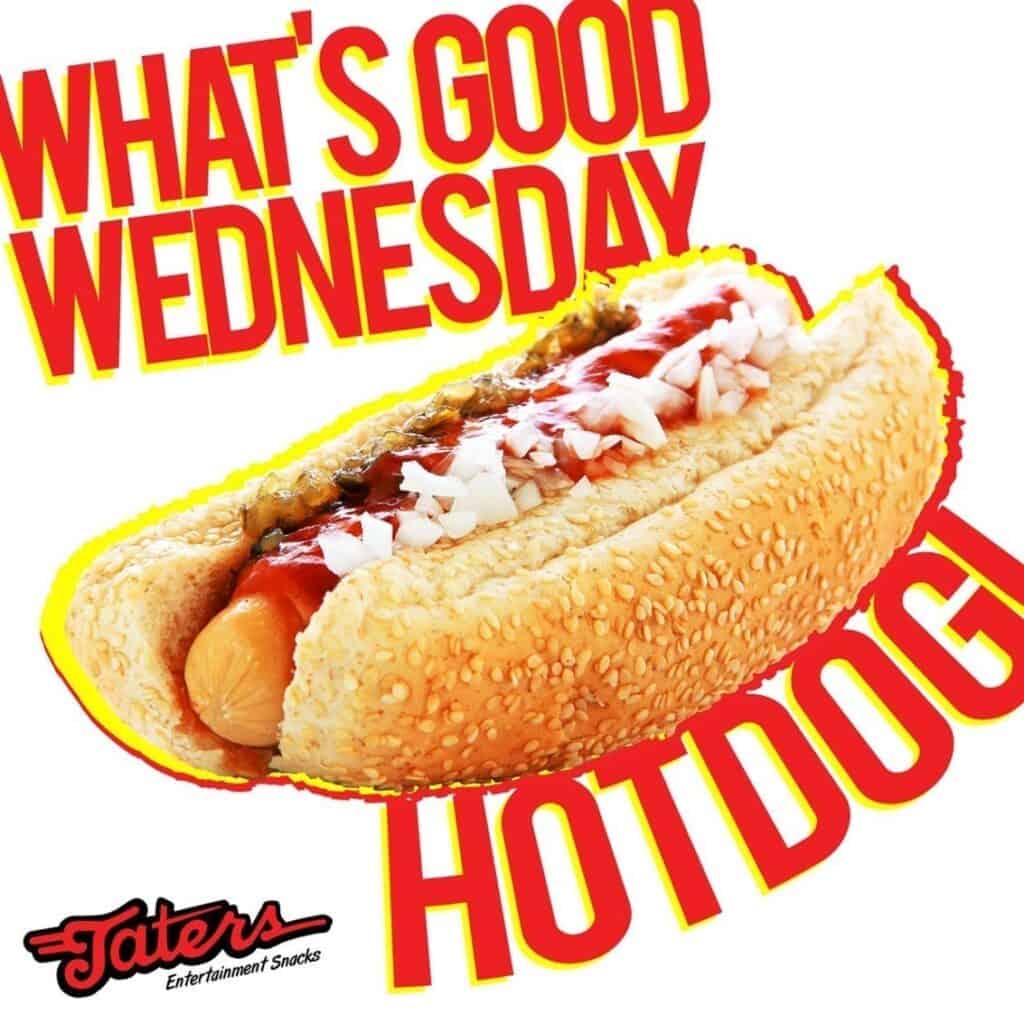 Fish Fillet Burger – A crispy fish filet patty, melty American cheese, and creamy McDonald's tartar sauce are the main ingredients in the Taters fish sandwich recipe, which is served on a soft, steamed bun.
Tuna Mushroom Burger – This burger tastes exactly like a real tuna burger since it is loaded with vegetables and seasonings. Whether you eat meat or not, you will absolutely love this burger!
Takeout Packs
It doesn't feel good when you are the one who is enjoying your crunchy and tasty Taters snacks! Grab Taters gift sets to allow your friends and family at home to experience the crunchy and tasty experience of eating them. Taters help friends and family enhance their bonding experience at home, whether they're chatting or watching movies together!
Taters gift/takeout packs set menu includes:
Family Pack contains Family Pack Superpop which is good for 3 to 4 people Party Pack contains Family Pack Superpop which is good for 6 to 8 people Poppin Gift Set A contains 3 pcs of Mini Pack Superpop.
Poppin Gift Set B which contains 2 pcs Family Pack Superpop Crunchy Gift Set which contains 3 pcs of Tall Pack Tortilla Chips.
All-Star Gift Set A which contains 1 pc Min Pack Superpop + 1 pc Tall Pack tortilla Superpop + 1 pc tall Pack Tofu Chips.
All-Star Gift Set B which has 1 pc Family Pack Superpop + 1 pc Tall Pack Tortilla Chips + 1 pc tall Pack Tofu Chips.
Pop and Crunch Gift Set which contains 1 pc Family Pack Superpop + 1 pc Tall Pack Tortilla Chips.
Healthy Gift Set that contains 3 pcs of Tall Pack Tofu Chips.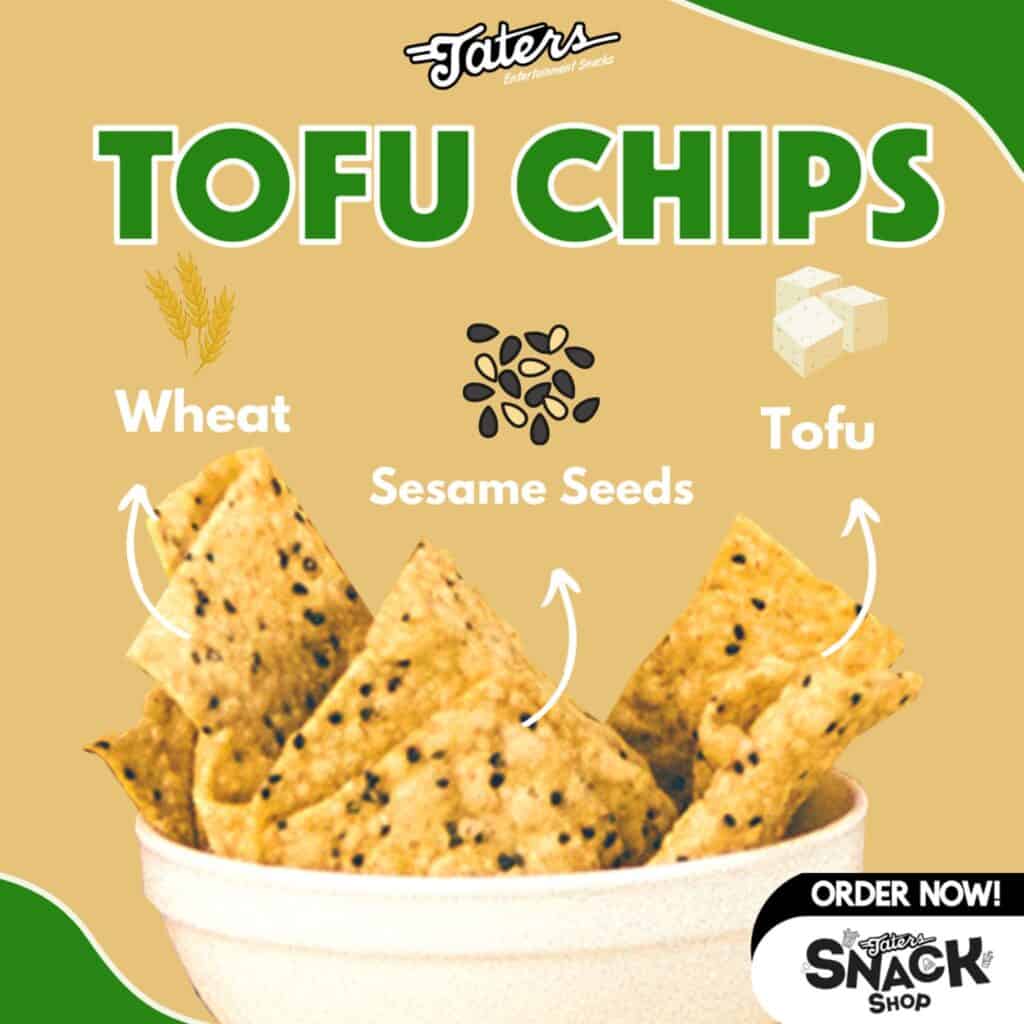 Taters Menu Delivery
Taters snack bar also provides delivery services for all of the items on their menu! Taters Snackbar's patrons can download the PICKAROO, GrabFood, or FoodPanda app and find "Taters" to immediately browse their menu. For more questions and information about orders and deliveries, you can visit their social media pages and their official websites.
Social Media Pages
Get updated with the latest news about Taters by following them through social media pages. They are very active in posting their news and you might get discount codes or sales by browsing through their pages. Links are provided below to redirect you quickly.
Facebook: https://www.facebook.com/ilovetaters.ph/
Instagram: https://www.instagram.com/ilovetaters.ph/
Twitter: https://twitter.com/ilovetatersph
Website: https://www.ilovetaters.com/
Conclusion
Every single item on Taters' menu has always been the go-to choice of Filipinos every time they go to cinemas and such. Movie dates are not complete without Taters' snacks, as they have always been the Filipinos' consistent partners when catching a movie. And their snacks are not the only thing that they offer, they also provide their customers with delicious and fulfilling sandwiches or burgers at a very affordable price!