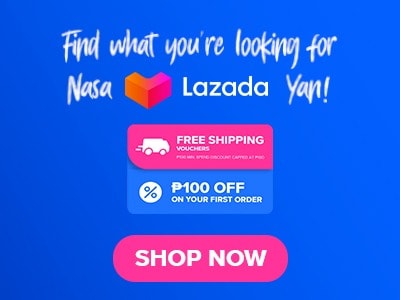 The Seoul Train menu features authentic and traditional Korean dishes. It offers wagyu, meat platters, aged meats, premium grill, soups, noodles, sashimi & nigiri, makizushi, rice meals, and snacks. Fried dishes, ala carte, beef, and other meats. The finest ingredients are used in each dish to make them delicious. The restaurant provides smokeless charcoal grills for grilling meat that takes away the smokey scent. It also serves a variety of beverages that complements well with these Korean cuisines. There is also a -Lunchbox Jr., that comes with a Korean dish, rice, and two side dishes.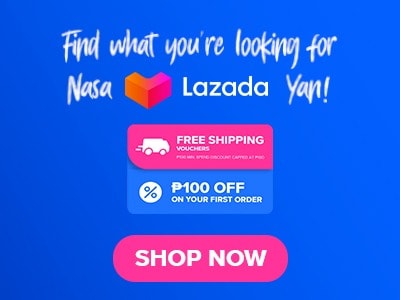 Menu Items
Price (PHP)

Wagyu

Wagyu Makikarubi (220g)
3600
Wagyu Ranichi (220g)
3800
Wagyu Chateaubriand (220g)
6800

Meat Platters

King's Platter (Wagyu Chateaubriand, 28-Day Dry Aged Ribeye, Yangnyeom Galbi)
8880
Queen's Platter (Wagyu Chateaubriand, 28-Day Dry Aged Ribeye, Yangnyeom Galbi)
7880
Prince's Platter (Wagyu Ranichi, Super Prime, Ggotsal)
6280
Princess' Platter (Wagyu Makikarubi, Prime, Yangnyeom Galbi)
5380
People's Platter (Choice, Buchaesal, Ggotsal)
2880
Special Ssamjang Sauce
100

Aged Meats

28-Day Dry Aged Ribeye (320g)
2880
28-Day Dry Aged Striploin (320g)
2580

Premium Grill

Super Prime (320g)
2680
Prime (320g)
2240
Choice (320g)
1880

Soups

Galbitang
480
Samgyetang
880
Gamjatang (Not Spicy)
400
Sundubu Jjigae
400
Kimchi Godeungeo-Tongjorim Jjigae
400
Yukgaejang
400
Kimchi Jjigae
350
Doenjang Jjigae
350
Naejangtang
400

Noodles

Jjajangmyeon
400
Japchae
350
Mul Naengmyeon
350
Bibim Naengmyeon
350
Ramyeon (Mild or Spicy)
220

Sashimi and Nigiri

Chirashi Don
480
Maguro Sashimi
320
Shake Sashimi
360
Hamachi Sashimi
580
Maguro Nigiri
180
Shake Nigiri
220
Hamachi Nigiri
280

Makizushi

Saku Saku Crunchy Unagi Maki
380
Kimbap
220
California Maki
290
Spicy Maguro Maki
350
Vegetarian Maki
290

Rice

Wagyu Bokkeumbap
350
Dolsot Bibimbap
350
Kimchi Bokkeumbap
300
Yakiniku Jyu
300
Tempura Jyu
350
Garlic Rice
80
Plain Rice
70

Snacks

Tteokbokki
320
*Add Cheese
50
*Add Noodles
25
Creamy Tteokbokki
350
*Add Cheese
50
*Add Noodles
25
Wagyu Gyoza
400
Agedashi Tofu
150
Dubu Jeon
240
Gyeran Jjim
220

Fried Dishes

Chicken Karaage
320
Ganjangmaneul Chicken
380
Maeoon Chicken
380
Tangerine Chicken
380
Ebi Tempura (5pcs)
480
Haemul Pajeon
400
Godeungeo Gui
350

A La Carte

Beef Bulgogi
450
Galbijjim
550
Chicken Teppanyaki
400
Ojingeo Bokkeum
400
Jeyuk Bokkeum
450
Dakbal
250
Kangkong Bokkeum
240
Yasai Itame
280
Creamy Vegetables
280

Beef

Yangnyeom Galbi (240g)
995
Saeng Galbi (240g)
1180
Ggotsal (120g)
980
Galbisal (120g)
650
Buchaesal (120g)
680
L.A. Galbi (240g)
1080
Woo Samgyeop (120g)
450

Other Meats

Dwaeji Galbi (250g)
400
Moksal (200g)
350
Samgyeopsal (150g)
360
Dak Gui (200g)
350
Bul Dak Gui (200g)
370
Bul Samgyeopsal (150g)
380
Ssamjang Samgyeopsal (150g)
380
Roast Lamb (120g)
580
Makchang (150g)
600

K-Lunchbox Jr.

Yangnyeom Galbi
780
L.A. Galbi
680
Beef Bulgogi
550
Samgyepsal
350
Ssamjang Samgyeopsal
370
Bul Samgyeopsal (150g)
370
Dak Gui (200g)
350
Bul Dak Gui (200g)
370

Drinks

Orange Shake
250
Guyabano Shake
250
Mango Shake
250
Pineapple Shake
250
Chocolate Milkshake
280
Strawberry Milkshake
280

Sftdrinks

Coke Regular
85
Coke Zero
85
Sprite
85
Royal
85
Mountain Dew
85
Mug Rootbeer
85

Other Shakes

Dalandan Shake
250
Kiwi Shake
250
Grape Shake
250

Others

Seoul Train Iced Tea
120
Seoul Train Slushee
120
Citron Tea (Hot or Cold)
120
ILLY Coffee (Dark, Medium Roast) (Espresso)
120
ILLY Coffee (Dark, Medium Roast) (Double Espresso)
165
ILLY Coffee (Dark, Medium Roast) (Americano)
120
Hot Tea (Barley)
80
Hot Tea (Jasmine)
80
Bottled Water
70
BAR LIST

Korean Alcoholic Drinks

Makgeolli (Peach)
350
Soju
220
Add On: Yakult
30

Whiskey

JW Black (Shot)
250
JW Black (Bottle)
4000
JW Black (Shot)
380
JW Black (Bottle)
5600
JW Gold (Shot)
350
JW Gold (Bottle)
5000
JW Platinum (Shot)
400
JW Platinum (Bottle)
6000
JW Blue (Shot)
1100
JW Blue (Bottle)
17500
Bulleit (Shot)
350
Bulleit (Bottle)
5000
Jack Daniel's (Shot)
280
Jack Daniel's (Bottle)
4500
Chivas 12 (Shot)
250
Chivas 12 (Bottle)
3600
Maker's Mark
200

Single Malt

Singleton of Glen Ord 12 Yrs (Shot)
330
Singleton of Glen Ord 12 Yrs (Bottle)
5000
Singleton of Glen Ord 15 Yrs (Bottle)
10500
Singleton of Glen Ord 18 Yrs (Bottle)
14500
Lagavulin 16 Yrs (Shot)
700
Lagavulin 16 Yrs (Bottle)
11000
Dalwhinnie (Shot)
500
Dalwhinnie (Bottle)
8000
Macallan 12 Yrs (Shot)
700
Macallan 12 Yrs (Bottle)
11000
Oban 14 Yrs (Shot)
550
Oban 14 Yrs (Bottle)
8500
Laphroaig 10 (Shot)
450
Laphroaig 10 (Bottle)
7000
Glenlivet 12 (Shot)
350
Glenlivet 12 (Bottle)
5500
Talisker 10 (Shot)
550
Talisker 10 (Bottle)
8500
Dalmore (Shot)
400
Dalmore (Bottle)
8500
Macallan 18 (Bottle)
45000

Japanese Whiskey

Suntory Yamazaki Nas (Shot)
1000
Suntory Yamazaki Nas (Bottle)
14500
Suntory Yamazaki 12 Yrs (Shot)
1700
Suntory Yamazaki 12 Yrs (Bottle)
25000
Suntory Yamazaki 18 Yrs (Bottle)
75000
Suntory Yamazaki LTD Ed 2016 (Bottle)
32000
Suntory Hibiki Harmony (Shot)
900
Suntory Hibiki Harmony (Bottle)
13200
Suntory Hibiki 12 Yrs (Shot)
1400
Suntory Hibiki 12 Yrs (Bottle)
20000
Suntory Hibiki 17 Yrs (Shot)
2000
Suntory Hibiki 17 Yrs (Bottle)
28000
Suntory Hibiki 21 Yrs (Bottle)
60000
Nikka All Malt
8000
Nikka Taketsuru 17 Yrs (Shot)
1400
Nikka Taketsuru 17 Yrs (Bottle)
20000

Champagne

Moet & Chandon
7500
Veuve Clicquot
8000
Dom Perignon
19500

Beer/h2>

San Mig Light
80
San Miguel Pale Pilsen
75
Asahi
120

Gin

Bombay Sapphire (Shot)
180
Bombay Sapphire (Bottle)
2500
Tanqueray (Shot)
200
Tanqueray (Bottle)
2800
Hendrick's (Shot)
400
Hendrick's (Bottle)
5500

Vodka

Ketel One (Shot)
230
Ketel One (Bottle)
3500
Belvedere (Shot)
280
Belvedere (Bottle)
4000
Ciroc (Shot)
350
Ciroc (Bottle)
4500

Tequila

Patron Silver (Shot)
300
Patron Silver (Bottle)
4500
Patron XO (Shot)
220
Patron XO (Bottle)
3200
Patron Añejo (Shot)
450
Patron Añejo (Bottle)
6500
Tequila Rose (Shot)
200
Tequila Rose (Bottle)
2800

Rum

Bacardi Blanca (Shot)
120
Bacardi Blanca (Bottle)
1600
Bacardi 151 (Shot)
200
Bacardi 151 (Bottle)
3000
Don Papa (Shot)
280
Don Papa (Bottle)
4000

Wine

Red Wine
Ask waiter for price
White Wine
Ask waiter for price
About Seoul Train
Seoul Train is a Korean restaurant founded by couples Happy Sy-Go and Vernon Go. Their love for grilled dishes and travel inspired them to build this Korean restaurant. The concept of this restaurant is like a train as they aim to give their customers a one-of-a-kind Korean food and music experience. Unlike other Korean restaurants, it does not offer unlimited sets but it serves a wide array of high-quality and delicious dishes. 
Seoul Train Menu Best Seller
These are the best-selling Korean dishes of Seoul Train that are loved for the delicious flavor and comfort that they bring.
Donjang Jjigae – It is made up of tofu, beef stew, and bean soup. This is available in mild and spicy so you can choose your preferred flavor that will spice up your taste buds.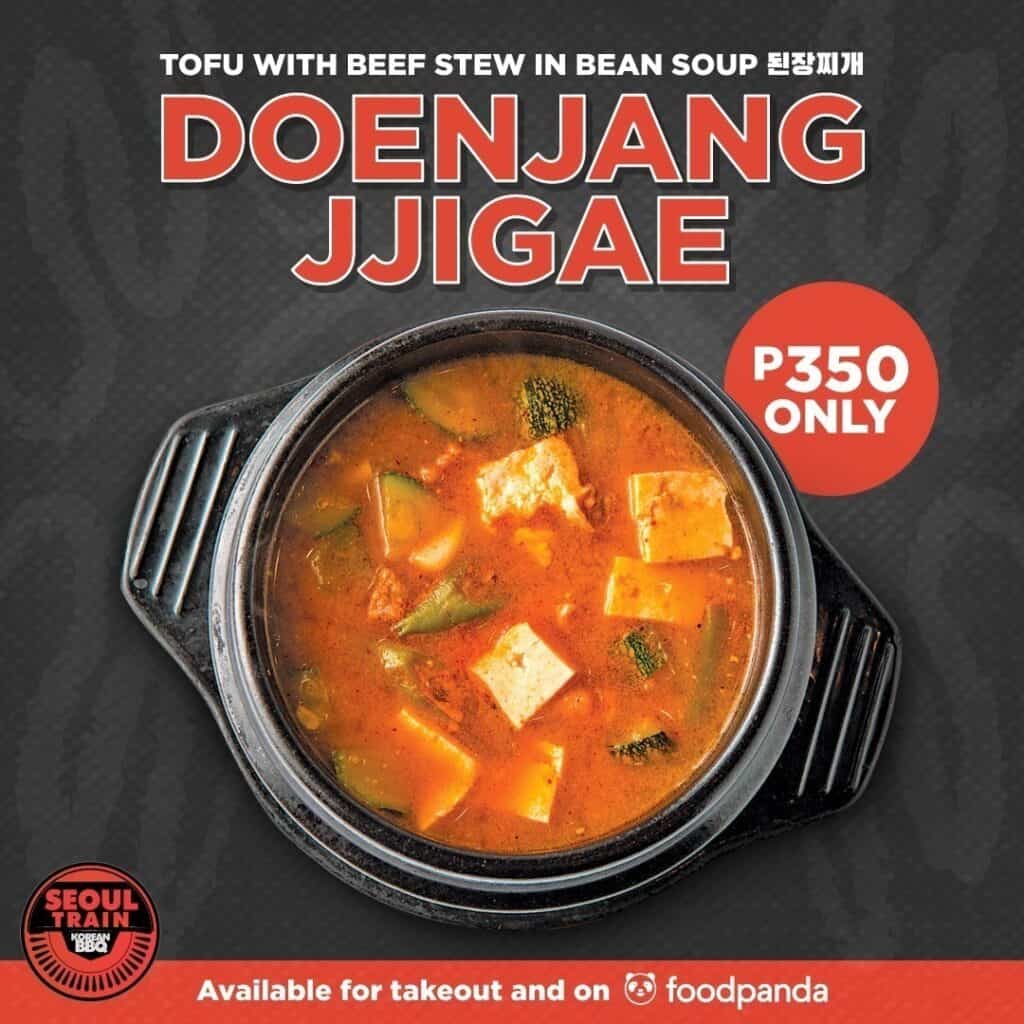 Dolsot Bibimbap – This house favorite meal is made up of rice with mixed toppings such as egg and shredded vegetables. It is served in a stone pot making it more presentable and appetizing.
Kimchi Jjigae – This Seoul Train menu is a spicy and tangy soup made with kimchi, pork, and other special ingredients. It is also served with rice. This classic and popular Korean stew will bring you comfort and warmth in every bite. 
Haemul Pajeon – Experience the fresh and succulent flavors of Korea with this pancake made with seafood and green onion. This well-known Korean side dish has surprising goodness that will satisfy your cravings.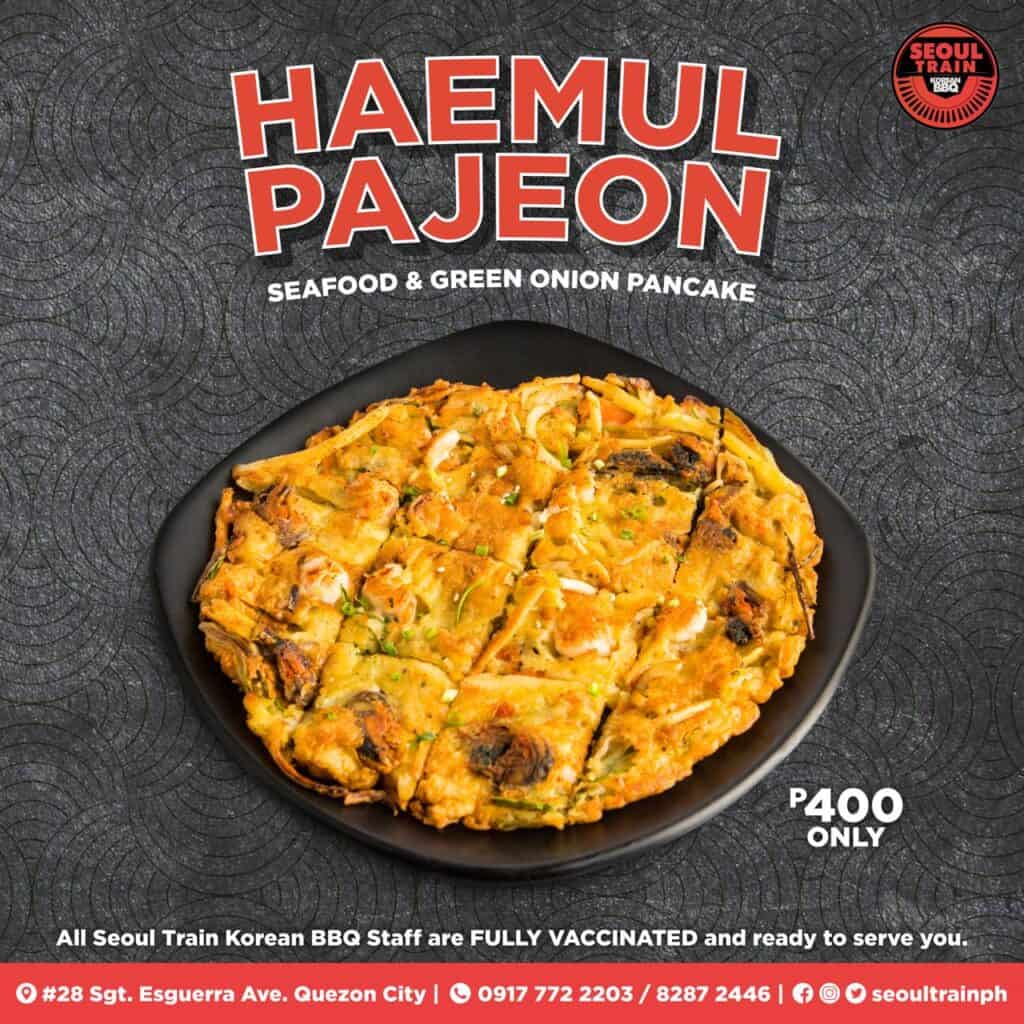 Galbijjim – It is a popular dish in Korea that is commonly prepared for different occasions or holidays. This is a succulent soup where beef short ribs are marinated in a special sauce and cooked with special ingredients.
Seoul Train Soup Menu
These heart-warming soups of Seoul Train are made with the finest ingredients that are cooked until it becomes flavorful.
Sundubu Jjigae – Spicy and tender tofu is cooked with pork soup, egg, and special ingredients. The comforting goodness of this traditional Korean dish makes it perfect during cold weather.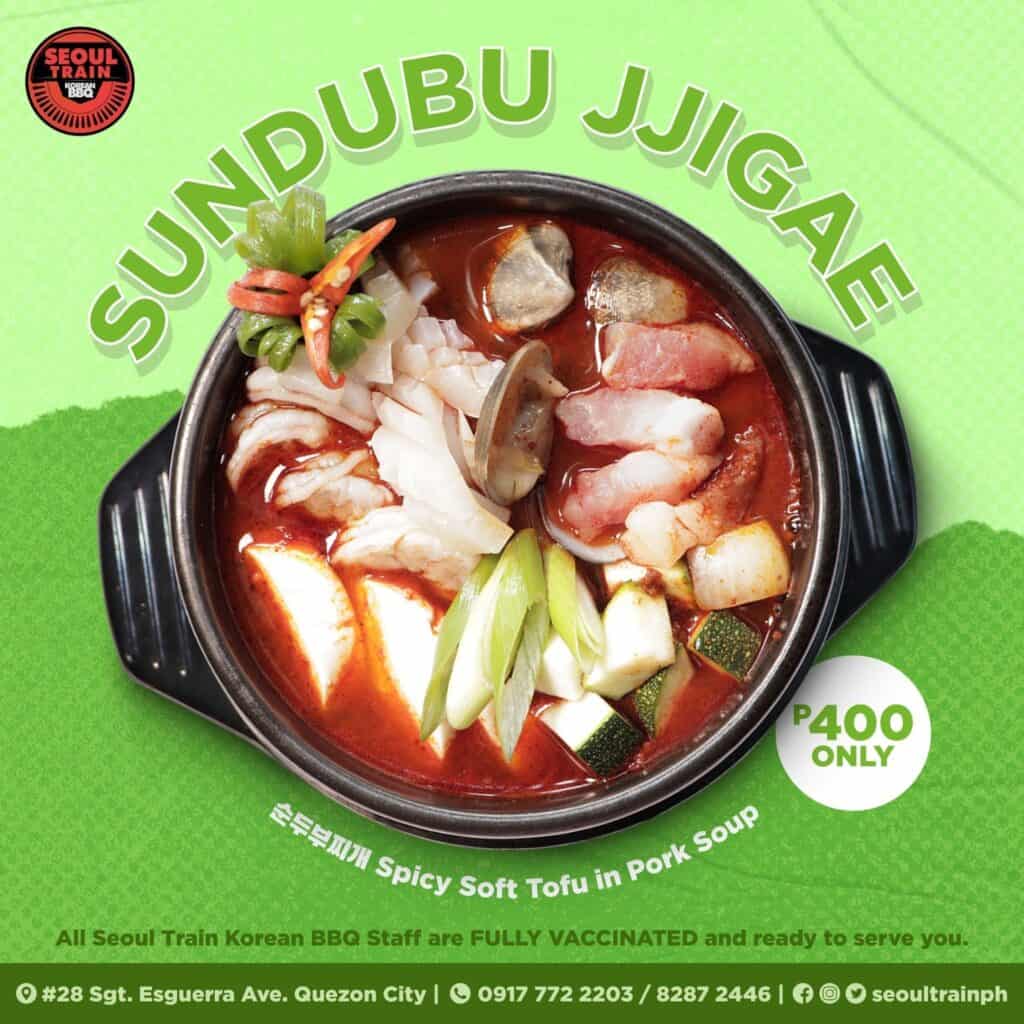 Samgyetang – This Korean dish is made with whole rice stuffed chicken soup in ginseng broth. It is a perfect dish that you can prepare for different gatherings as its flavor will delight the taste buds of your loved ones.
Galbitang – It is a delectable soup made with glass noodles and beef short ribs. The goodness of beef, the texture of noodles, and the other ingredients that are cooked with it complement well together making it delicious.
Gamjatang – An ideal dish for those who are not fans of spicy flavors. This hearty soup consists of pork bone and potatoes. It is a soup that you can pair with a bowl of rice for a satisfying meal.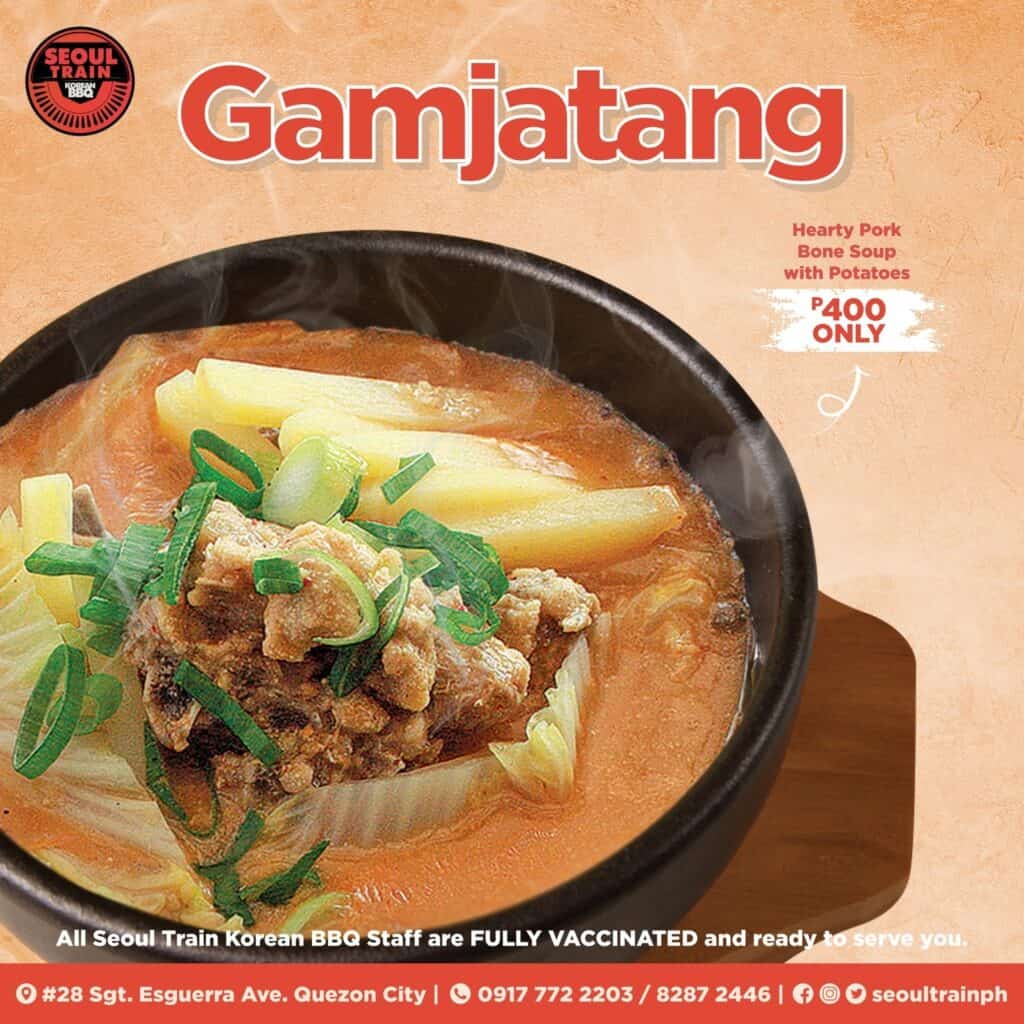 Naejangtang – This is a scrumptious and spicy soup made with beef tripe and intestine that will stimulate your taste buds.
Meats
Seoul Train serves Aged Meats, which are prepared using the aging process, and Premium Grill, which consists of USDA Beef from Wisconsin that has different levels of marbling.
Super Prime – This menu from the Seoul Train is the highest USDA cut that they offered. It is regarded as one of the best steaks as it is made with super prime USDA Cut with a level 5 marbling. 
Prime – A rare cut of beef that passes strict policies and guidelines as only 2% of cattle raised in the United States receive this prime distinction.
Choice – It is a high-quality steak that has a level 3 marbling. It may not have a high level of marbling, but it is still a great choice for steak.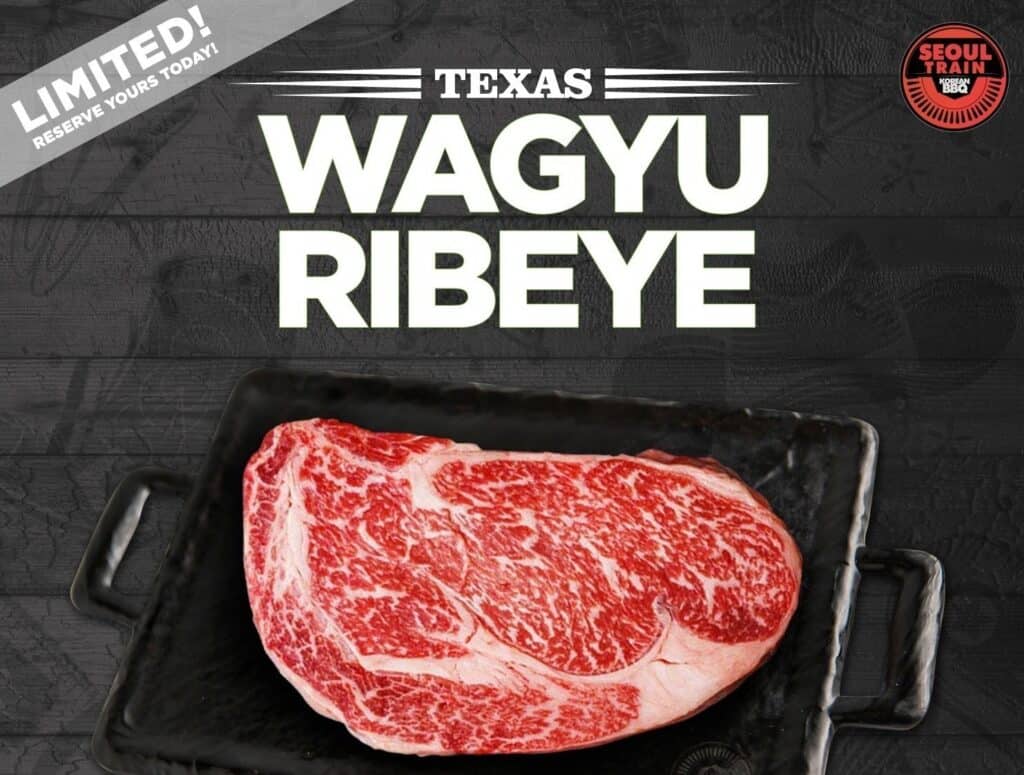 28-Day Dry-Aged Ribeye – Ribeye is widely known as the most flavorful beef part. This is a top-quality ribeye that has a perfect balance of flavor, fattiness, and tenderness. The ribeye of Seoul Train is dry-aged for 28 days to make it succulent.
28-Day Dry Aged Striploin – This striploin cut is frequently compared to ribeye. It features tender meat and level 3 marbling.
Other Grilled Item
The other meats or grilled items of Seoul Train consists of Dwaeji Galbi, Moksal, Samgyeopsal, Dak Gui, Bul Dak Gui, Bul Samgyeopsal, Ssamjang Samgyeopsal, Roast Lamb, and Makchang. These are all made from fresh meat products to serve you delicious, tender, and flavorful dishes. It comes with lettuce, spring onion salad, garlic, chili, and four kinds of side dishes. The flavors and texture of meats and the other dishes that come with them are perfectly combined making them enticing and appetizing.
Noodle
Noodles are one of the notable dishes in Korea as it has a distinctive flavor. The noodle menu that Seoul Train offers includes Jjajangmyeon, Japchae, Mul Naengmyeon, Bibim Naengmyeon, and Ramyeon. These noodles have become the go-to meal of its customers as it is convenient to eat and packed with savory flavors.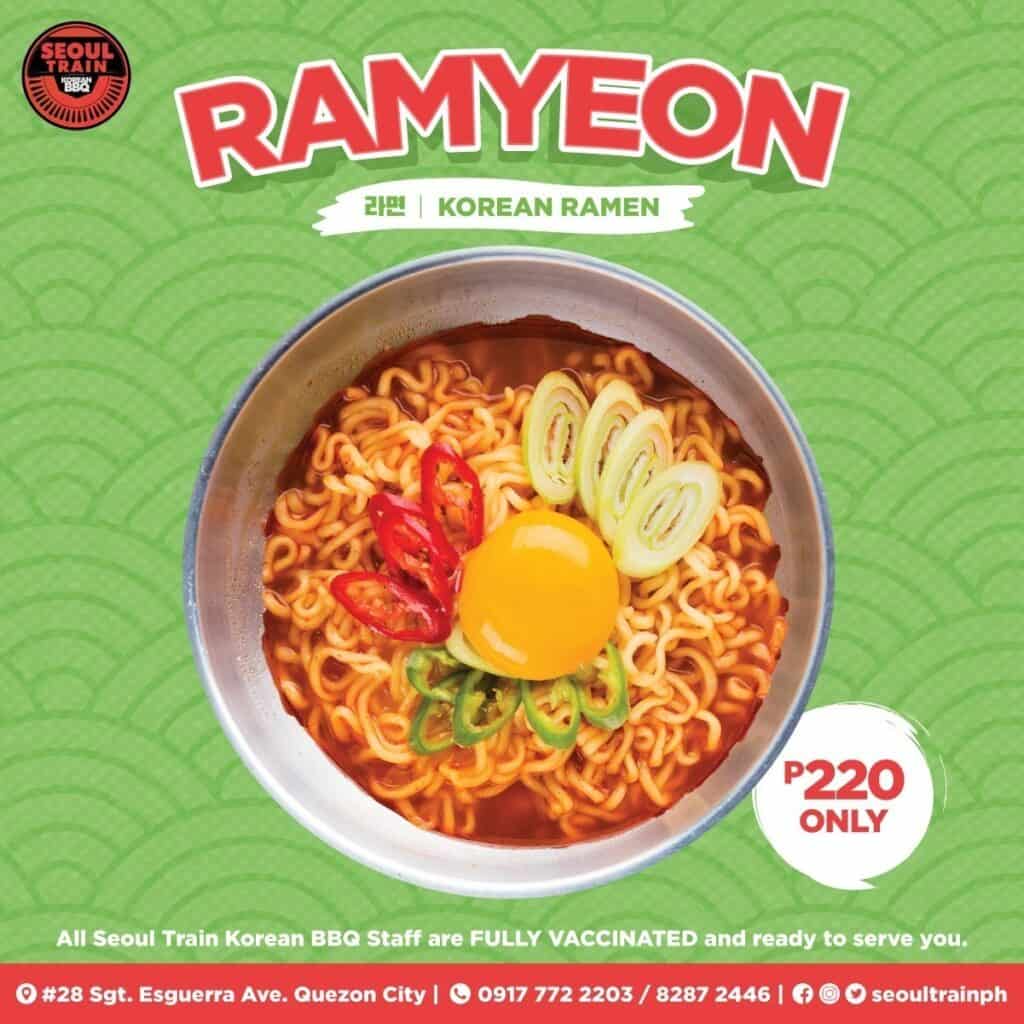 Fried Dishes
The fried dishes of this Korean restaurant consist of chicken and seafood items. The chicken cuisines that it offers are Karaage, Ganjangmaneul, Maeoon, and Tangerine. The seafood dishes that it provides are Ebi Tempura, Haemul Pajeon, and Godeungeo Gui. These delectable fried items are loved for their versatility as they can be enjoyed on their own or with other dishes.
Other Dishes
The other dishes offered by Seoul Train are composed of Sashimi and Nigiri, Makizushi, Beef, and Snacks. It also offers A La Carte meals that consist of Beef Bulgogi, Galbijim, Chicken Teppanyaki, Ojingeo Bokkeum, Jeyuk Bokkeum, Dakbal, Kangkong Bokkeum, Yasai Itame, and Creamy Vegetables. These wide arrays of dishes will make your Korean dining experience more satisfying.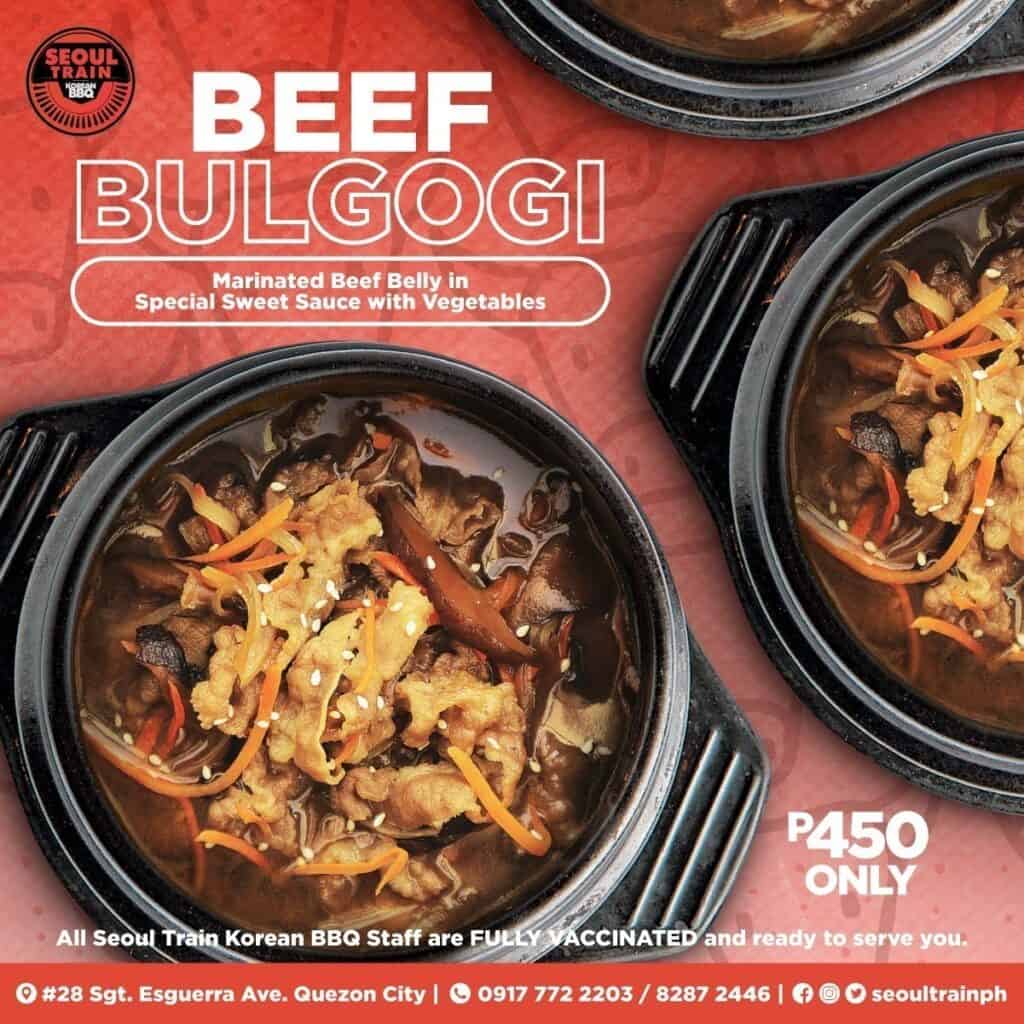 Seoul Train Menu Delivery
You can order your favorite Korean food from Seoul Train and have it delivered straight to your home. They offer authentic and delicious dishes that you can order through GrabFood and FoodPanda. If you prefer, you can also message their official Facebook page or visit minimall.ph to place your order.
Social Media Pages
To stay updated on the latest promos and offerings from Seoul Train, it's best to subscribe to their social media pages. By doing so, you won't miss out on any important news about them. From time to time, they also post updates about discounts and other special deals. By subscribing to their pages, you'll be able to see these updates right away and take advantage of the benefits they offer. Their official social media pages, can be found below:
Facebook: https://facebook.com/seoultrainph/
Instagram:https://www.instagram.com/seoultrainph/
Twitter: https://twitter.com/seoultrainph/
Conclusion
The Seoul Train menu will give you the ultimate Korean experience as its interior design, cozy ambiance, and authentic dishes will make you feel like you are in a train station in Korea. It has been a favorite place of Korean food fanatics as it serves top-quality cuisines and has a picture-perfect environment. This restaurant will make you come back for more with its excellent service.