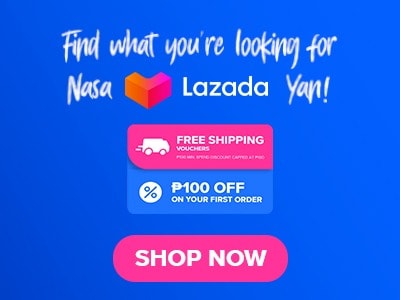 "I will always have a crust on you!" I think it might be a pizza lover's line every time they have pizza in their hand. It is true because pizza is one of the favorite snacks of all time. When you are with your friends, you want to bond and do things together like traveling, watching movies, or even food tripping, and pizza is always there. So let's find out! I highly recommend what I discovered as a restaurant that may satisfy your appetite. It's Domino's Pizza! Try to taste their pizza which is perfect for the cravings you're chasing with your loved ones. The various flavors will always be ready to serve, and you can fulfill your cravings without rules, without the exact time you can eat pizza. Now, without further ado, let us discuss the Domino's Pizza menu and more.
Below, you'll find the updated list of Domino's Pizza menu prices.
Menu Items
Price (PHP)

Classic

Cheese Mania (SOLO)
139
Cheese Mania (REG)
265
Cheese Mania (FAM)
505
Ham & Cheese (SOLO)
139
Ham & Cheese (REG)
265
Ham & Cheese (FAM)
505
Pepperoni (SOLO)
139
Pepperoni (REG)
265
Pepperoni (FAM)
505
Hawaiian (SOLO)
139
Hawaiian (REG)
265
Hawaiian (FAM)
505

Domino's Finest

Five Cheese Pizza (REG)
375
Five Cheese Pizza (FAM)
575
Spinach & Feta (REG)
375
Spinach & Feta (FAM)
575
Pacific Veggie (REG)
375
Pacific Veggie (FAM)
575
Dominos Deluxe (REG)
379
Dominos Deluxe (FAM)
579
Ultimate Pepperoni (REG)
379
Ultimate Pepperoni (FAM)
579
Aloha Pizza (REG)
379
Aloha Pizza (FAM)
579

Specialty

Potato Bacon (REG)
425
Potato Bacon (FAM)
635
White Bacon (REG)
425
White Bacon (FAM)
635
Extravaganzza (REG)
429
Extravaganzza (FAM)
639
Meatzza (REG)
429
Meatzza (FAM)
639
Memphis BBQ Chicken (REG)
429
Memphis BBQ Chicken (FAM)
639
American Bacon Cheeseburger (REG)
425
American Bacon Cheeseburger (FAM)
639

Sides

Italian Sausage (Solo)
89
Italian Sausage (Regular)
140
Classic with Dip (Regular)
115
Spinach & Feta (Regular)
129
Garlic Parmesan with Dip (Regular)
139

Pasta

Italian Sausage Marinara (Regular)
239
Chicken Carbonara (Regular)
239
Cheesy Baked Macaroni (Regular)
239

Chicken

Chicken Kickers with Dip (Regular)
269
Baked Wings (Regular)
319
Chick'n Wedges with Dip (Regular)
339

Desserts

Marbled Cookie Brownie (2pcs)
55
Marbled Cookie Brownie (6pcs)
139
Choco Lava (1pc)
75
Choco Lava (2pcs)
139
With Dip
129
Apple Crumble
189

Drinks

Domino's Battled Water
35
Minute Maid Fresh
35
Real Leaf Green Tea
55
Solo in Can
59
Soda 1.5L
119
What is Domino's Pizza?
The day December 9, 1960, was the date Dominos Pizza was established: in Ypsilanti, Michigan, USA. By the two brothers James and Tom Monaghan. The pizzeria's first name is DomNicks, which came from the name of the owner Dominick DeVarti in later years changed to Dominos Pizza, suggested by their delivery staff named Jim Kennedy. And Tom liked the idea and renamed it officially.
Because they were determined to start a business, they owed $900 to the Post Office Credit Union and used the $500 to buy the store from Dominick DeVarti. And that was the birth of their first store in Michigan. After a year, James sold half of their shares to Tom to buy a Volkswagen Beetle car and decided to formally separate from his brother Tom.
The year goes by, with the continuous success of the pizzeria as a sole proprietor of the company., Tom established additional two stores to serve more of the demand in Michigan. They also opened their first franchise in 1967, and 11 years after, their store expanded to 200 stores. As the owner of a well-established company, Tom Monaghan already fulfilled his duty and decided to end his journey as the owner after 38 years.
Tom sold about 93% of the company to Bain Capital Inc. under the name of Dave Brandon, CEO. Dominos entered the international market in the year 1983. The company opened its first store in Winnipeg, Manitoba, Canada. Because of the rapid growth of their stores, they also established stores across European and Asian countries. By 1995, the company had opened its 1,000th store internationally and expanded the number of stores by almost 8,200 by September 2006.
That totaled $1.4 billion in gross income. All the hardships have succeeded, and the company has continued growing throughout the years. At present, Dominos Pizza began trading common stocks on the New York Stock Exchange under the ticker symbol DPZ.
Domino's Pizza Best Seller Philippines
Nowadays, Filipino love to eat healthy snacks, especially when they crave their favorite food. But it might be more special if it is prepared all in one. You heard it right! Domino's Pizza has a lot of varieties on their menus that you can check in their restaurant and online delivery menu. It has nine flavors that stand out in all variations of options on its menu in Filipino taste. Let's check it out and see what is the best!
The Philly Steak Pizza – It is the most requested pizza that stands out in everyone's taste. With loaded tender cheese steak, tomatoes, spinach, and a combination of three types of cheese such as mozzarella, provolone, and American, to achieve its perfection. The cheesy and meaty flavor of this makes the pizza more irresistible in every slice. This Domino's Pizza menu is highly recommended.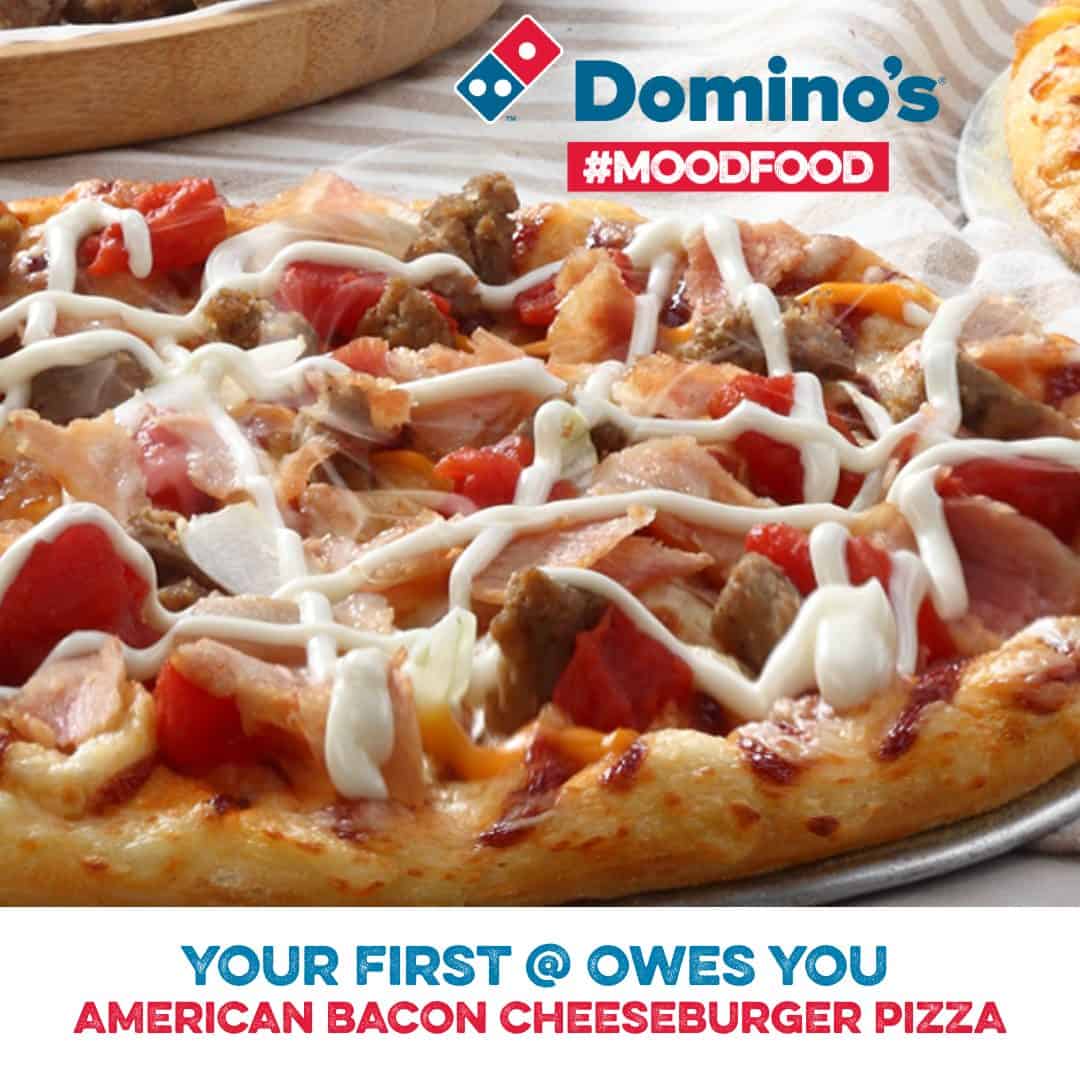 Dominos Cheeseburger Pizza – Hard of choosing between beef or chicken? Cheeseburger or pizza? Loving these two different things maybe was difficult. But Dominos made it easy and enjoyable by creating cheeseburgers and pizza in one. A simple ingredient yet flavorsome, with ground beef, diced tomatoes and onions, provolone, and cheddar cheese sauced up with signature ketchup-mustard sauce. Now everyone will enjoy the two-in-one cheeseburger pizza, so bring it on!
Buffalo Chicken Pizza – A combination of a grilled chicken breast, onions, provolone, cheddar cheese, and hot sauce. Domino's Buffalo Chicken Pizza uses premium grilled chicken doused with the right amount of traditional buffalo sauce that has some sour flavor and spicy aftertaste. This pizza is perfect for you if you are a Buffalo Wings lover. It is well loved because it is like an all-in-one dish. If you have never tasted buffalo chicken pizza, you better try it now.
Extravaganzza – It is a perfect combination of pepperoni, Italian sausage, ham, beef, onions, green peppers, mushroom, and black olives topped with extra mozzarella cheese. That will be loved and enjoyed by all Filipinos out there in every slice.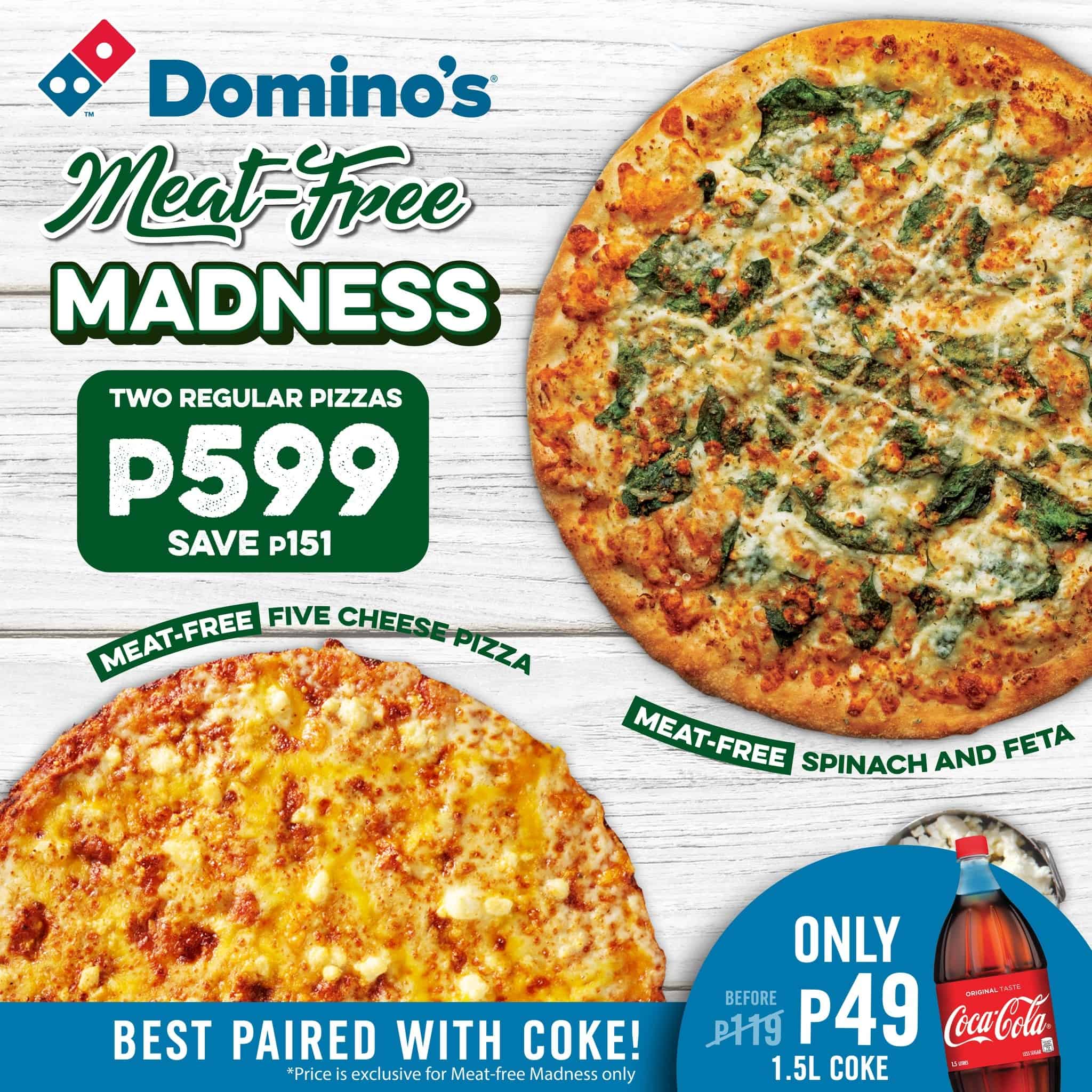 Pacific Veggie Pizza – Everyone loves to eat healthy snacks. If you are a vegetarian, then this pizza is best for you. But it might be more special if it is prepared all in one. You heard it right! Dominos Pizza has it all! With all-vegetable pizza loaded with fresh tomatoes, onions, olives, feta, mushrooms, spinach, and roasted red peppers t classified with provolone and mozzarella cheese to make it more flavorful. So you will enjoy the taste of a healthy snack in every slice.
Memphis BBQ Chicken Pizza – If you want to try chicken bbq style food with a twist. You better try BBQ chicken pizza from Dominos. They made it more convenient for people by bringing the Memphis chicken bbq taste into your snack habit. Every box of this pizza is loaded with tender grilled chicken, onions, and mozzarella cheese rounded up with BBQ sauce. They also added provolone and cheddar cheese to make it crisper in every bite.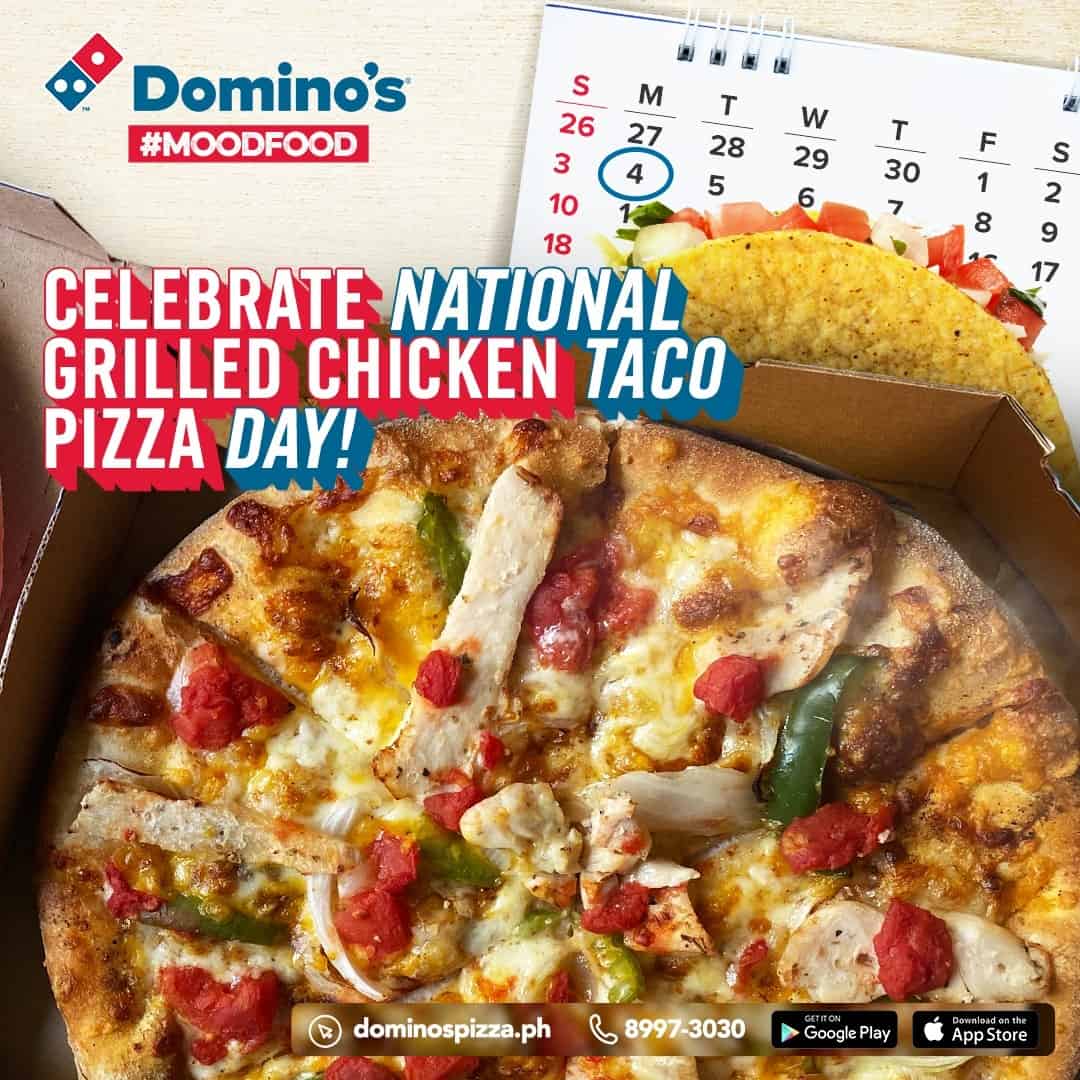 Chicken Taco Pizza – Tacos are everywhere. You can see them all over the world with a creative way of food preparation on it. One of these is a pizza way. Taco pizza became famous for its spicy flavor of grilled chicken topped with diced onion and tomatoes added up with three kinds of cheese; Cheddar, provolone, and white American cheese spread out generously to give a balanced taste to every slice of pizza.
Spinach and Feta Pizza – This Domino's Pizza menu is a combination of spinach, parmesan, onions, and feta mix. All dived together into a creamy Alfredo sauce to perfect fusion for a great-tasting pizza experience. Maybe you are wondering what experience is like? You better go to a store or order it now.
Cali Chicken Bacon Ranch – You probably love this kind of a treat because of its cheesy taste of provolone added up with grilled chicken and bacon for a glance of meat just right for you.
Domino's Famous Pizza Menu
Pepperoni pizza is still the most famous American pizza, the delightfulness of this flavorful favorite from Dominos. With its pizza sauce, mozzarella cheese, and pepperoni. It gives some salty and a little bit of spicy taste in your mouth. Many people seek to taste this pizza menu.
Domino's Pizza Menu Delivery Online
Online delivery is the best option for a hassle-free right now. There is a lot of online delivery you can check out there to avail your hunger for delicious foods. You can order your favorite dish without going to their physical restaurant. Just look at their respective delivery options. In 2016, Dominos Pizza Philippines started an online delivery or ordering platform. And this is their homepage website dominospizza.ph.
Dominos Pizza delivery has a lot of variations you can choose from in their delivery menu. They can bring pizzas, pasta, chicken, wings, bread, sides, desserts, and beverages. They also offer Hand-tossed and Thin crust pizzas with different varieties of their toppings. They also have a lot of promos they offer that you can avail of, like voucher discounts, special occasions promo, buy 1 take 1, free delivery, and many more. They are putting this to value for their customers, and I'm sure you will enjoy and love it. Online delivery is more fun, especially when having a lot of promos!
Social Media Pages
You can always keep in touch with Domino's Pizza by visiting their social media pages. You will get updates on their latest promos, a new variety of flavors, and services wherever you are. And you feel free to discuss how you appreciate the foods and services they offer. They have many social media platforms you can check such as:
Facebook: https://www.facebook.com/Dominos/
Instagram: https://www.instagram.com/dominosph/
Twitter: https://twitter.com/dominosph
YouTube: https://www.youtube.com/channel/UCUuBtMBZnmj4LRapO5zEQDw
Just click any of the links mentioned above, and you will go directly to their social media account.
Conclusion
Nobody can resist the delicious taste of Domino's Pizza menu. You would keep going back when you start eating this kind of treat. Dominos Pizza is perfect for all occasions with your friends, family, or loved ones. They also offer a variety of food other than their best-selling pizzas for the customers to be able to enjoy more of their products during every store visit. Dominos Pizza was never tired of making our pizza cravings more delightful and enjoyable.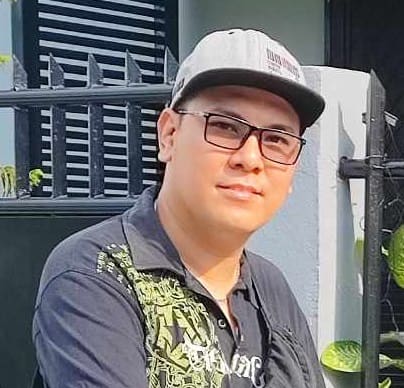 Hi! I'm Nivek Strife, the person who made MenuPH. I'm the one who added most of the popular menus you see on this website, and I really hope you enjoy them! Feel free to check them all out.
Growing up, I was surrounded by lots of tasty foods, like the classic Adobo and the sweet Leche Flan. That love for the many flavors of the Philippines is what got me excited about adding to MenuPH. When I learned how to make websites, I saw the need for a place to show off all the amazing Filipino dishes, and that's how MenuPH started.
MenuPH isn't just a website; it's like a fun journey into food. I've teamed up with famous chefs and found great places all over the Philippines to bring you a bunch of menus that show off the best of Filipino cuisine. Whether you're into the usual dishes or new twists, MenuPH is here to guide you through the rich world of Filipino flavors.
With MenuPH, my aim is to help local businesses, talk about good food choices, and make a group of friends who love food. No matter if you like fancy restaurants or street food, MenuPH has something for you. Come join me on this food adventure as we find great places, taste real flavors, and enjoy the unique food traditions that make the Philippines awesome.