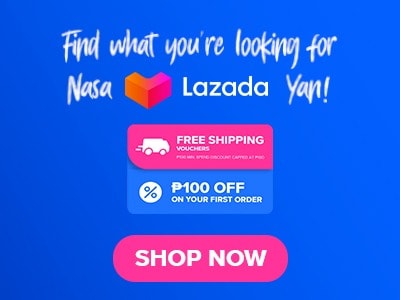 The food that is on the Monster Wings menu is all about giving every family that dines in their establishments crispy, tender, and flavorful chicken wings. They ensure that every serving they take corresponds to their diners' palates by providing them with a variety of flavors to choose from. The different flavors that they provide allow their guests to explore new flavors and discover a new favorite. On top of this, Monster Wings emphasizes the importance of the freshness and quality of its ingredients to provide its guests with the best dining experience possible.
Below, you'll find the updated list of Monster Wings menu prices.
Menu Items
Price (PHP)

Bilao

Garlic Parmesan
799
Honey BBQ
799
Texan BBQ
799
Soy Honey
799
Lemon Garlic
799
Sweet and Spicy
799
Hoisin
799
Teriyaki
799
Adobo
799
Buffalo Wings
799

Duo Wings

Texan BBQ
75
Soy Honey
75
Lemon Garlic
75
Sweet and Spicy
75
Hoisin
75
Teriyaki
75
Adobo
75
Buffalo Wings
75
Sweet and Spicy
75

Trio Wings

Texan BBQ
99
Soy Honey
99
Lemon Garlic
99
Sweet and Spicy
99
Hoisin
99
Teriyaki
99
Adobo
99
Buffalo Wings
99
Sweet and Spicy
99

Wings to Share

6 pcs
179
12 pcs
349
18 pcs
519

Extras

Rice
15
Ranch Dip
15
Blue Lemonade
15
Red Iced Tea
15
About Monster Wings
The founders of Food Negosyo, which is now known as Monster Wings, started their business in December 2014 with the goal of assisting Filipinos in starting their own businesses and developing high-quality franchise businesses at extremely affordable prices. At Monster Wings, each aspect is significant. They take everything seriously, with eagerness and flexibility, from the quality of their ingredients to above-average marketing strategies for their franchises.
Trio Wings
Trio wings are one of the two menus that Monster Wings offers. This meal consists of three chicken wings, whose flavor depends on what the customers want, and one cup of rice. There are a total of ten flavors that the customers can choose from for their chicken wings, and all of them are bound to be tasty, delectable, and filling!
Duo Wings
This meal is composed of two pieces of chicken wings and rice. Customers can choose between the ten flavors that Monster Wings offers. Duo Wings is the best saver meal you can get! Aside from the flavor and quality of their wings, they are also budget-friendly and filling.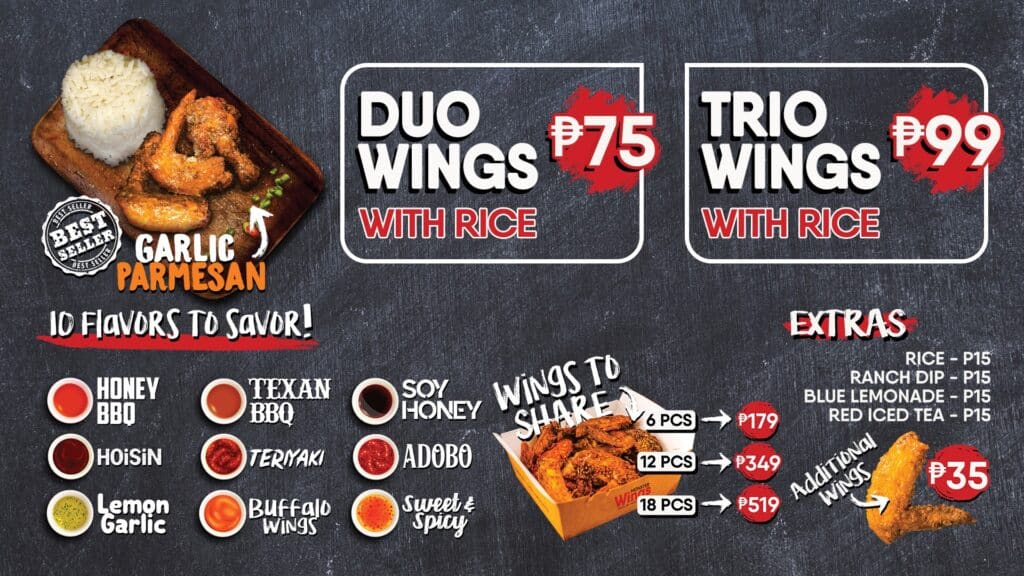 Monster Wings Menu 10 Flavors to Savor
Garlic Parmesan – For those who are constantly on the run, Garlic Parmesan Chicken Wings are a tasty meal idea for you. You deserve a respite while savoring a delicious dinner after a long day of work. The good news is that Monster Wings menu offers this delicious chicken wing flavor for a very affordable price.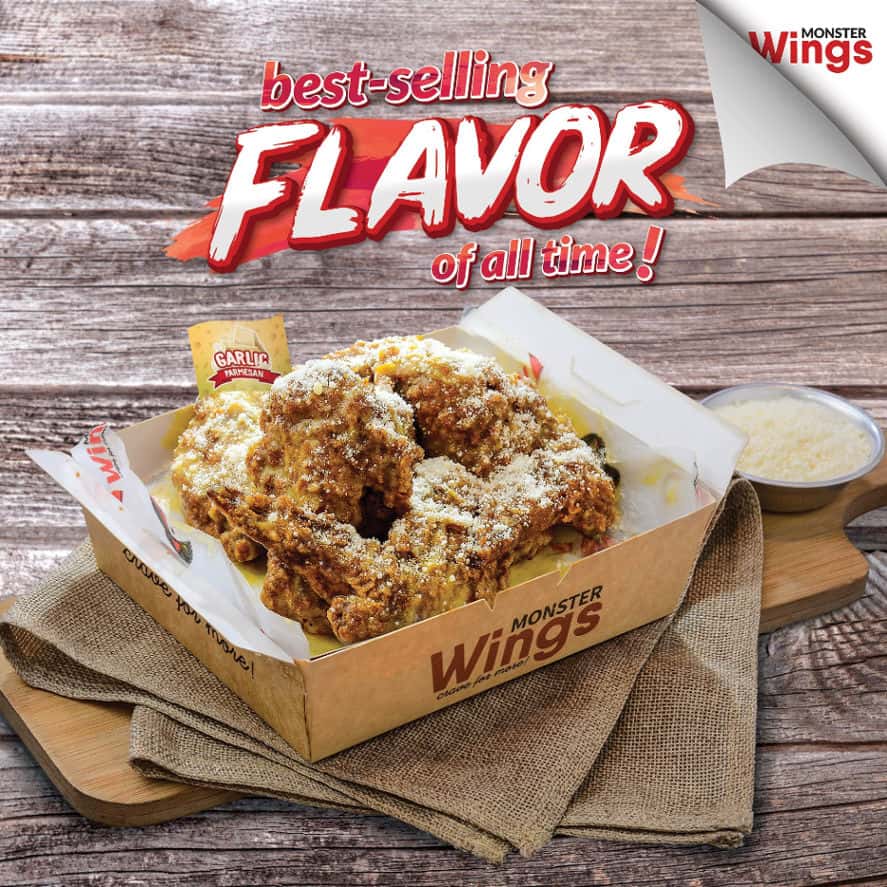 Honey BBQ – These soft, flavorful, and juicy honey BBQ chicken wings are delicious. The Honey BBQ sauce with a hint of sweetness gives these wings a ton of flavor. Just the right amount of stickiness is present in them. They are thrown in the best honey barbecue sauce after being dusted with a mixture of spices and baked till crisp.
Texan BBQ – The smoky spice mixture gives these Texas BBQ chicken wings a perfect balance of sweet and savory flavors. Monster Wings' Texan BBQ is marinated for two hours before cooking. These wings are great for lunch since they have a hint of chili without being too hot.
Soy Honey – The balanced taste of the salty taste of soy sauce and the sweetness of honey will make you fall in love with this sauce. It tastes like your hometown taste of grilled barbecue.
Lemon Garlic – The all-time favorite chicken wing recipe from Monster Wings menu. The wings are pan-fried before being finished in the oven. The cooked wings are then tossed in a hot, buttery lemon sauce to give their flavor a slight boost, and the result is unbelievably wonderful!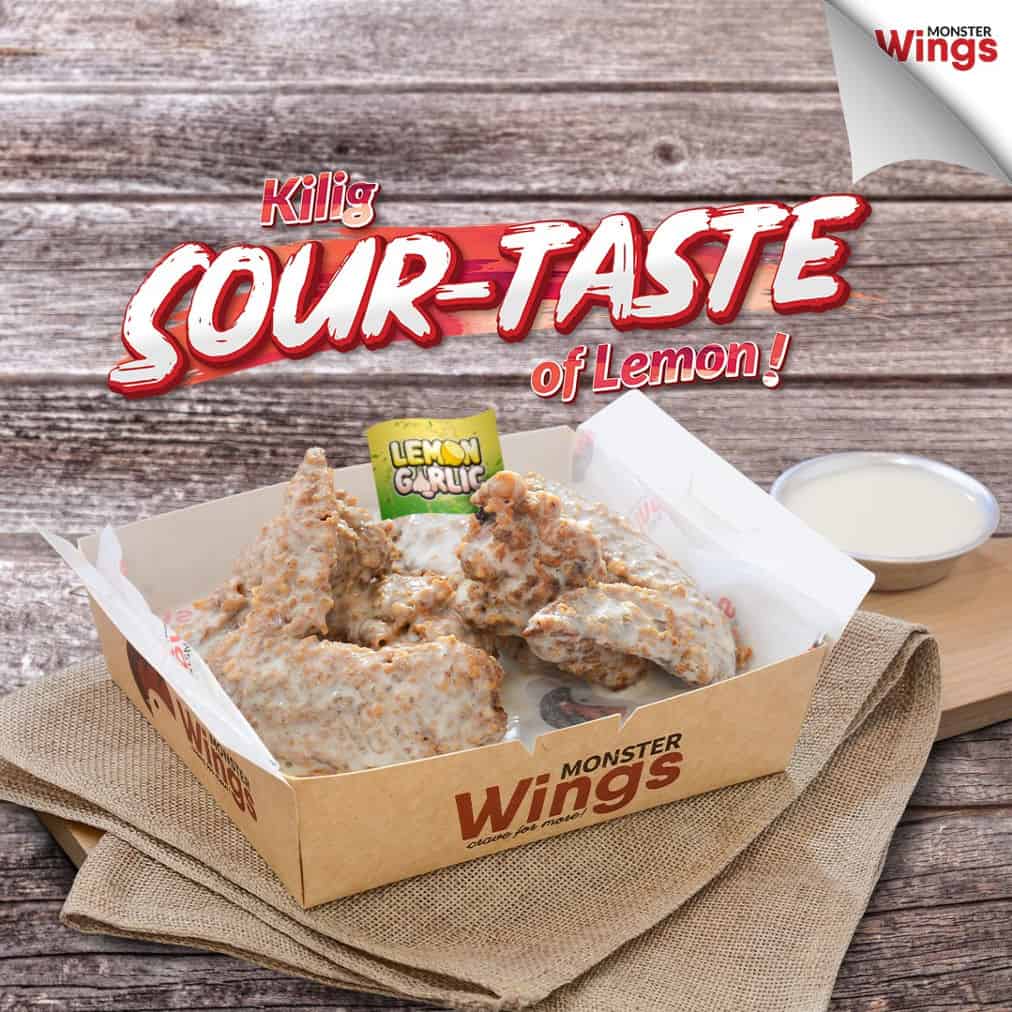 Sweet and Spicy – The most delectable sweet and spicy chicken is coated in a sweet, sticky, and spicy sauce that makes it perfectly crispy. These Monster Wings treat is a spicy, sweet, and mouth-watering sticky chicken meal that will make you drool! It tastes fantastic served with rice and a vegetable as a side dish or as a main course.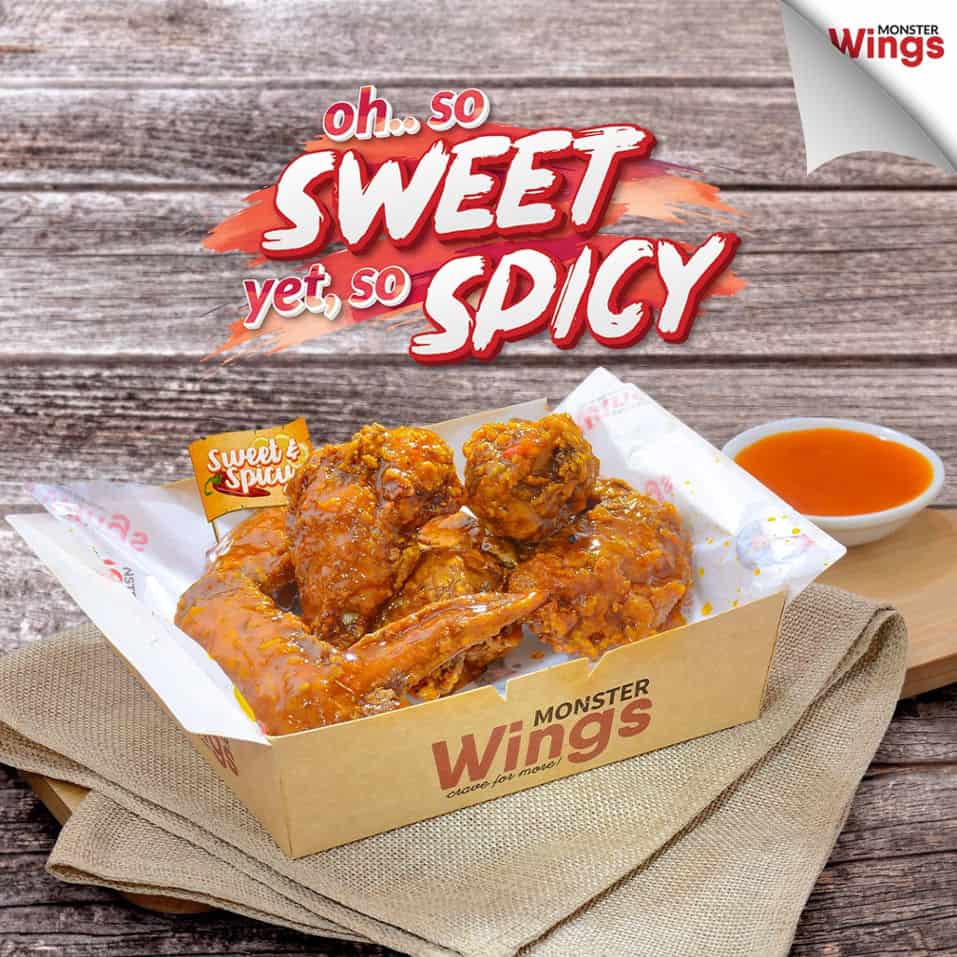 Hoisin – This incredibly simple Monster Wings menu is topped with a delectable Hoisin sauce glaze. Hoisin chicken wings quickly became a staple dish because they are so flavorful and full of excellent Cantonese flavor. Nothing beats a stir-fry meal that is bursting with Asian flavor!
Teriyaki – These oven-baked or deep-fried sticky teriyaki chicken wings from Monster Wings are then coated in a sticky and sweet teriyaki sauce. They are properly fried until crispy and golden brown, then coated with a finger-licking good teriyaki chicken sauce.
Adobo – This chicken wing dish is similar to chicken adobo, but with an added twist. Adobo-style braised chicken wings are delicious when they are cooked in a marinade of vinegar, soy sauce, and a lot of spices. The chutney-like sweet and sour flavor of the homemade banana ketchup, a classic Filipino condiment, pairs really well with these delectable wings!
Buffalo Wings – Monster Wing's buffalo wings are an American-inspired food that is made with unbreaded chicken wing parts that are deep-fried until cooked. It is typically dipped or coated in a sauce that is made of melted butter, pepper, spicy sauce, and vinegar.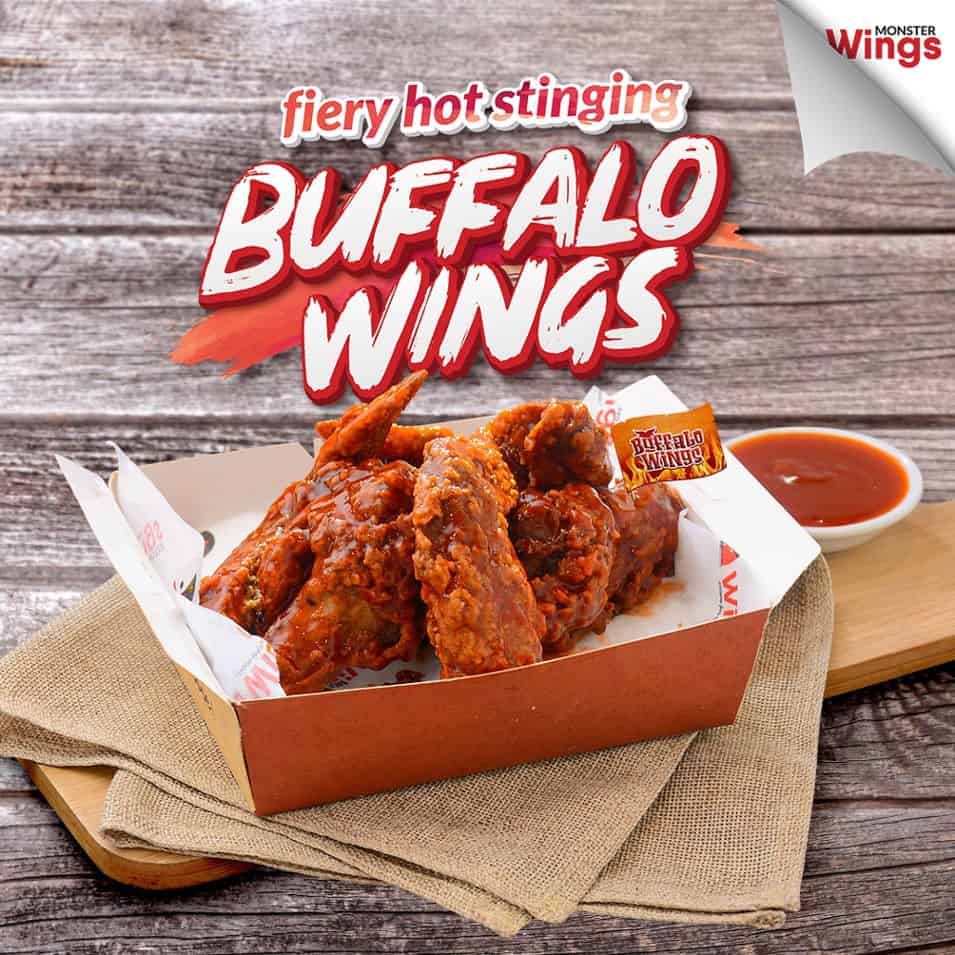 Wings to Share
Wings to share is a chicken dish that is composed of multiple chicken wings. The quantity of chicken wings on the order you want varies according to price. You can select from any of the ten varieties of flavors that Monster Wings offers when you order their Wings to Share menu. The best part of it is that each order will provide you with the opportunity to try different tastes and find new favorites!
Monster Wings Menu Delivery
Monster Wings now provides delivery services for all of its customers. Ordering your favorite crispy and delicious chicken wings is now easier with the help of the FoodPanda and GrabFood applications. While you wait for your favorite chicken wings, sit comfortably on your sofa and watch your favorite show. To know more about their menu delivery and delivery services, send them a message through their social media pages.
Social Media Pages
Monster Wings have several social media pages that you can choose from to get the latest update about their restaurant. They are also open for franchises if you want to start a business. The links are provided below:
Facebook: https://www.facebook.com/MonsterWingsPh/
Instagram: https://www.instagram.com/monsterwingsph/
Twitter: https://twitter.com/themonsterwings
Website: https://www.franchise.monsterwingsph.com/
Conclusion
Every flavor that Monster Wings has on their menu is an automatic favorite once you've gotten a taste of it. Although each flavor has a unique taste of its own, they all share the same deliciousness and aroma. Apart from the flavors, the size of their dish is very large for its price. The food that Monster Wings serves is very affordable, and you're surely going to get your money's worth, be it on the dining experience, the new flavors that you will taste, or the fulfillment after your meal. So, if you're in the mood for some chicken wings, Monster Wings is the place to go.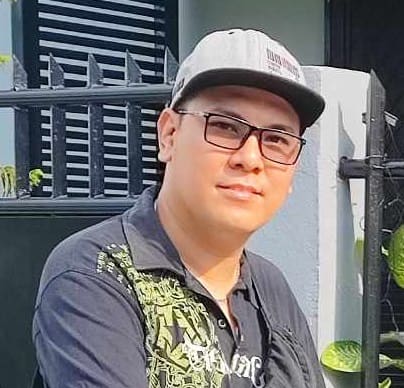 Hi! I'm Nivek Strife, the person who made MenuPH. I'm the one who added most of the popular menus you see on this website, and I really hope you enjoy them! Feel free to check them all out.
Growing up, I was surrounded by lots of tasty foods, like the classic Adobo and the sweet Leche Flan. That love for the many flavors of the Philippines is what got me excited about adding to MenuPH. When I learned how to make websites, I saw the need for a place to show off all the amazing Filipino dishes, and that's how MenuPH started.
MenuPH isn't just a website; it's like a fun journey into food. I've teamed up with famous chefs and found great places all over the Philippines to bring you a bunch of menus that show off the best of Filipino cuisine. Whether you're into the usual dishes or new twists, MenuPH is here to guide you through the rich world of Filipino flavors.
With MenuPH, my aim is to help local businesses, talk about good food choices, and make a group of friends who love food. No matter if you like fancy restaurants or street food, MenuPH has something for you. Come join me on this food adventure as we find great places, taste real flavors, and enjoy the unique food traditions that make the Philippines awesome.