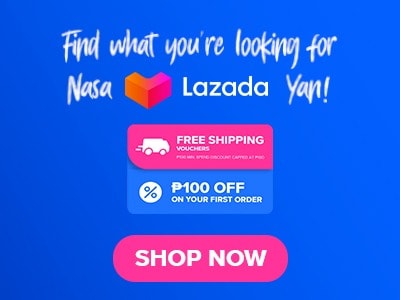 The Project Pizza Hub menu features premium and restaurant-quality pizzas. It offers classic pizzas such as pepperoni, Hawaiian, six cheese, ham & bacon, and pizza overload comprising beef, ham, and bacon varieties. Its tagline, "A Taste of Perfection in Every Bite," showcases that its pizzas are made with quality ingredients and prepared expertly. This pizza chain also provides silog meals and other food items to give customers a great dining experience. 
Below, you'll find the updated list of Project Pizza Hub menu prices.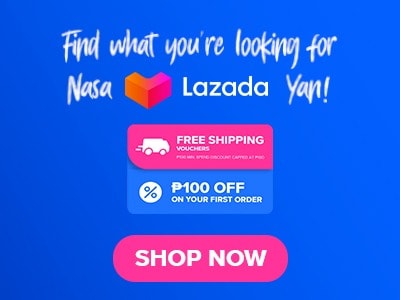 Menu Items
Price (PHP)

Classic Pizza

Ham & Bacon
280
Hawaiian
280
Pepperoni
280
Six Cheese
280
*Add Cheese
10
*Add Cheese Stick
10
*Add Pineapple
10

Pizza Overload

Beefy & Cheesy
300
*Add More Beef
20
Cheesy Bacon
300
Cheesy Ham
300
Chicken Alfredo
300

Silog's

Chicken
135
Hungarian
119
Liempo
135
Longsilog
95
Tapsilog
115
Tocilog
135

Hot Potato Menu

Hot Potato (Medium)
65
Hot Potato (Large)
100
Hot Potato (Jumbo)
145
Hot Potato (Giant)
215
Hot Potato (Monster)
265

Other Food Menu

Buttered Corn
150
Sisig
200

Other Beverages

Coke (Sakto)
20
Coke (Mismo)
28
Coke (1.5 Liter)
100
Royal
100
Sprite
100
About Project Pizza Hub
Project Pizza Hub is one of the brands managed by Swiss Philippines Corporation, a company that manufactures and offers franchises for pizza, frozen goods, milk tea, and fries. Each pizza it offers is crafted creatively to ensure that each bite will be gratifying. Aside from offering great-tasting pizzas, it offers a franchise program at an affordable price to provide business opportunities to Filipinos.
Project Pizza Hub Menu Classic
The classic pizza offered by this chain includes Ham & Bacon, Hawaiian, Pepperoni, and Six Cheese. These pizzas are familiar to the crowd's palate as they are commonly served in different pizza houses around the world.
Ham & Bacon – It is a delicious pizza with ham, bacon, cheese, mushrooms, and a special sauce. The sweet, buttery, and salty flavors of bacon and the savory and rich taste of ham make this pizza highly palatable. This is an excellent choice if you want both bacon and ham toppings in your pizza.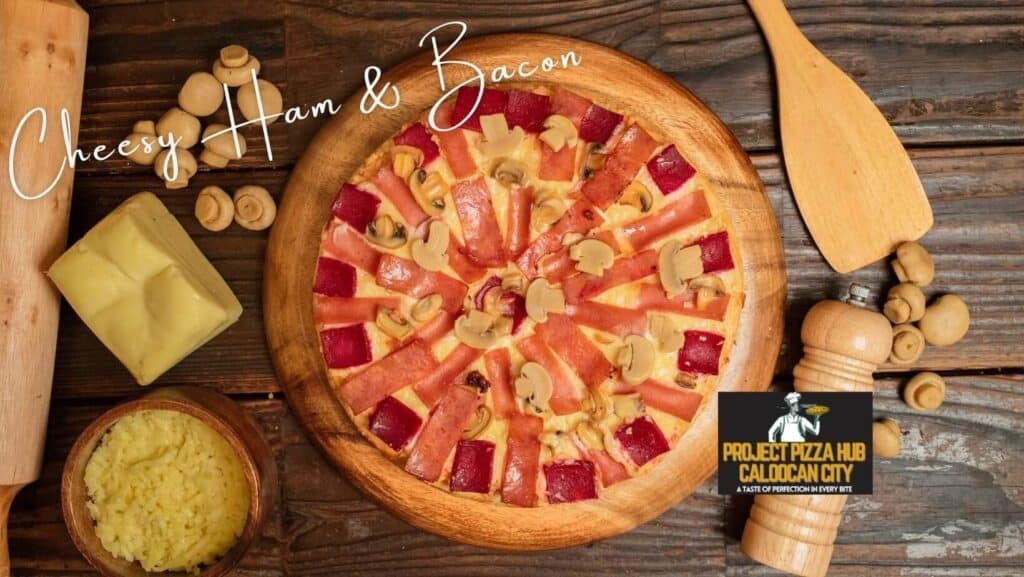 Hawaiian – This is a great pizza menu of Project Pizza Hub that is best for those who love Hawaiian and cheese, as it is topped generously with pineapples and cheese. The other toppings that give this pizza additional flavors are bell pepper and the restaurant's special sauce. You can add more cheese and pineapple chunks to make it extra flavorful and refreshing.
Pepperoni – Pepperoni is the special ingredient of this pizza, loved for its spicy, salty, and tangy flavors, chewy texture, and smoky notes. This pizza has triple pepperoni, cheese, green bell pepper, and a special red sauce. The toppings of this pizza are layered artistically, making it visually appealing.
Six Cheese – It is a simple pizza packed with rich, creamy, and cheesy flavors as six different kinds of cheese are generously spread on its top. The cheesiness of this pizza complements well with the taste of this shop's unique red sauce, satisfying each bite.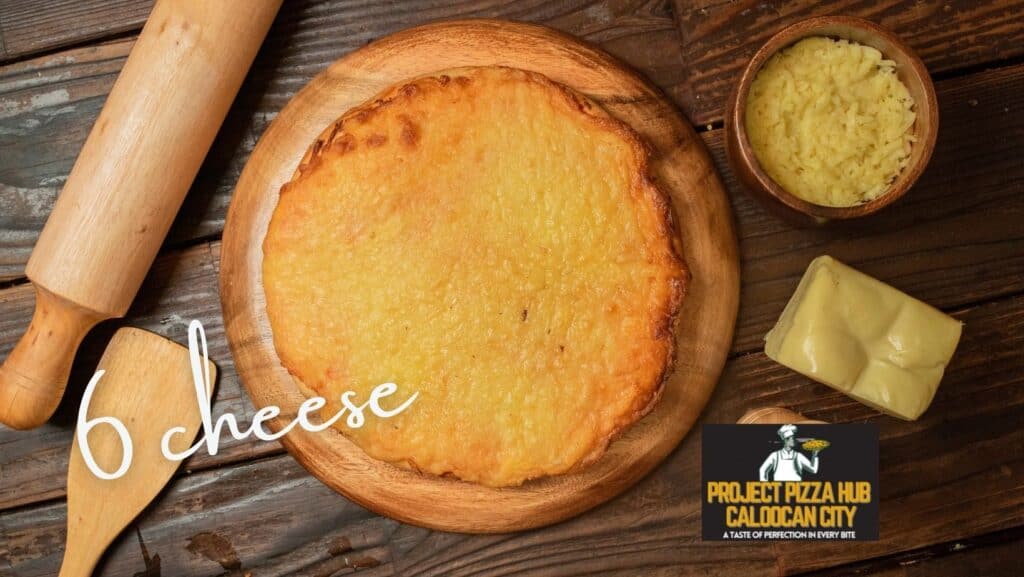 Pizza Overload
The Pizza Overload served by this hub consists of beef, bacon, and ham with generous toppings and cheesy goodness. Each bite of these pizzas is gratifying as they are luscious, creamy, and bursting with cheese flavors.
Beefy & Cheesy – This is one of the popular items on Project Pizza Hub's menu, as patrons love its taste, aroma, and texture. It comprises six cheeses, mushrooms, onions, fresh red bell pepper, and ground beef. To make it more filling and gratifying, you can upgrade it by adding more beef toppings.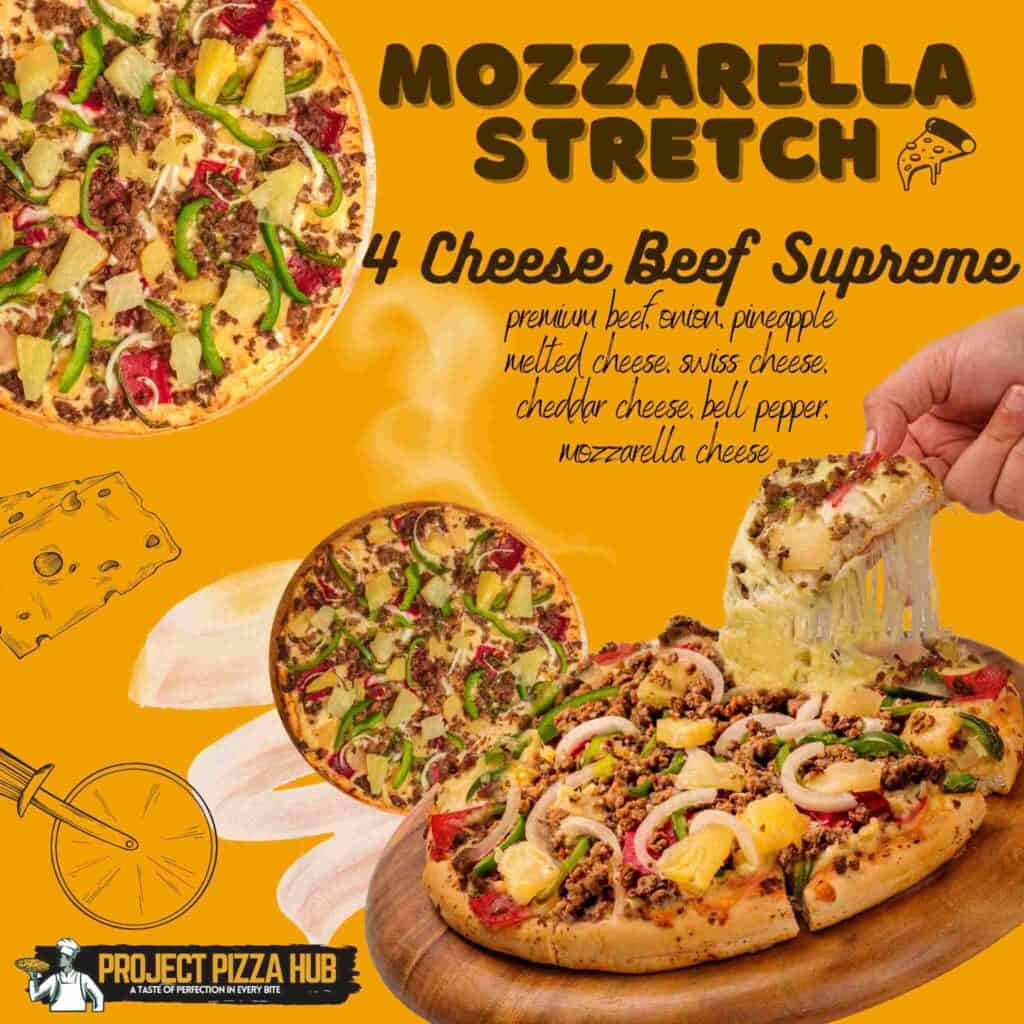 Cheesy Bacon – If you love cheese and bacon, this pizza is the perfect one that will satisfy your cravings. The oozy melted cheese, red bell pepper, onion, and delicious bacon topped on it are combined perfectly, making it mouthwatering.
Cheesy Ham – Ham and cheese are the two ingredients commonly used as pizza toppings, which is why people are familiar with its taste. This Cheesy Ham pizza is flavorsome as it comes with ham, cheese, slices of green bell pepper, and a unique sauce layered expertly. The flavors and textures of the ingredients in this pizza blend perfectly, resulting in a scrumptious treat.
Silog
Silog is a popular Filipino meal combination where sinangag or fried rice and egg are paired with a special dish. The silog menu offered by Project Pizza Hub consists of Chicken, Hungarian Hotdog, Liempo, Longganisa, Tapsilog, and Tocilog served with two cups of special garlic rice and fried egg. 
Chicken – The chicken served in this meal has a juicy and crunchy texture and a satisfying taste. This is one of the comfort foods loved by people of all ages as its goodness stimulates appetite, making them enjoy their meals.
Hungarian – It comes with delicious Hungarian hotdogs with a savory flavor and distinctive taste. This meal is good for sharing, especially if you want a lighter meal, as it comes with two special garlic rice and two pieces of hotdogs.
Liempo – This grilled pork belly is a popular Filipino cuisine that is simple yet delicious and satisfying. The meat absorbs perfectly the flavor of seasoning and spices, making each bite full of flavor and surprisingly good.
Longsilog – Longganisa is one of the traditional breakfast viands with garlicky, salty, and mildly sweet flavors. This is an irresistible and enticing viand with a fragrant smell and unique flavor profile.
Tapsilog – Tapsilog is the most famous silog meal in the Philippines, commonly served in different restaurants. The tapa served by this restaurant is made of beef marinated in a unique blend of spices and ingredients until it absorbs the flavor and achieves the perfect consistency.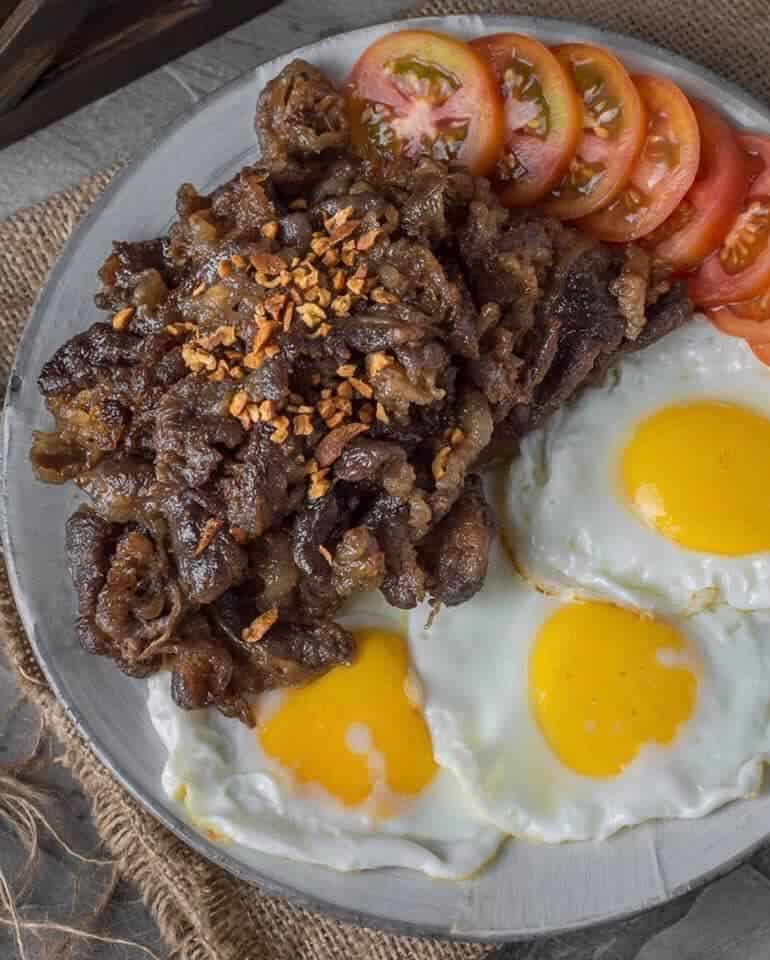 Tocilog – Tocino is a cured pork with a tender texture, sweet taste, and appetizing aroma that are pleasing to the senses. It has a vibrant red color and glossy appearance that makes it eye-catching.
Project Pizza Hub Menu Delivery
Have your favorite pizzas and meals from Project Pizza Hub delivered right to your doorstep through Foodpanda, Ordermo.ph, and Lalamove. You can also contact the branches near your location or on their official social media sites to arrange your orders.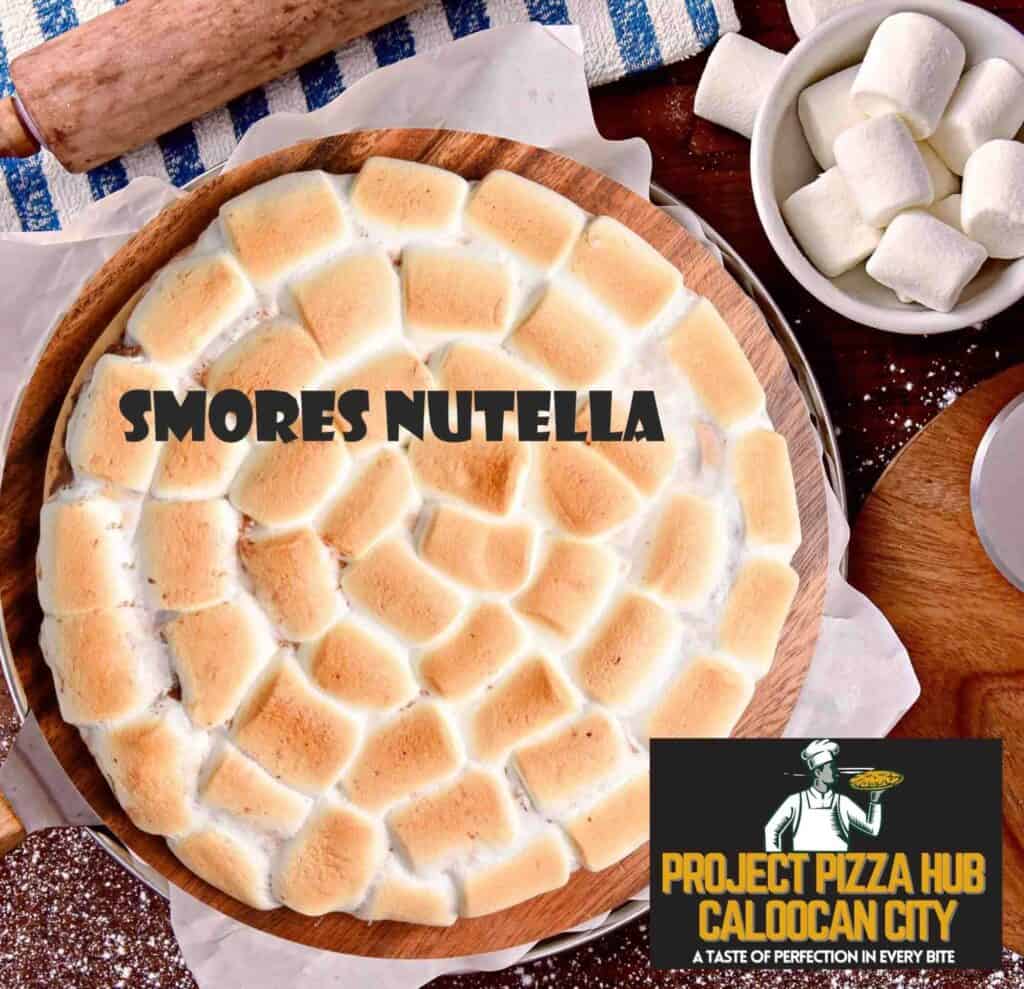 Social Media Pages
Stay connected with their lively social media pages to stay updated and join the exciting pizza movement. Whether you're into timeless favorites or craving the thrill of inventive pizza creations that completely change the game, we're here to make your taste buds dance with delight and fulfill your every pizza desire.
Facebook: https://www.facebook.com/projectpizzahubphilippines
Instagram: https://www.instagram.com/projectpizzahub
TikTok: https://www.tiktok.com/@projectpizzahubph
FAQs
Who is behind Project Pizza Hub?
The Swiss Philippines Corporation is the company behind Project Pizza Hub.
What makes Project Pizza Hub different from other pizza places in the Philippines?
The premium and restaurant-quality pizzas and the affordable franchise program are the things that make Project Pizza Hub different from other pizza places in the Philippines.
What types of pizzas will be available at Project Pizza Hub?
The types of pizzas available at Project Pizza Hub are Hawaiian, Ham & Bacon, Six Cheese, Pepperoni, Cheesy Bacon, Cheesy Ham, and Beefy & Cheesy.
Can I franchise a Project Pizza Hub restaurant?
Yes, you can franchise a Project Pizza Hub restaurant.
Conclusion
The Project Pizza Hub is known for its flavorsome and quality pizzas. Its menu are perfect for all kinds of events and gatherings, and they will surely be loved by your guests and loved ones as they are packed with surprising goodness. The franchise program of this pizza hub is a great business opportunity for those who want to start a business, as its budget-friendly and has a fast return on investment.