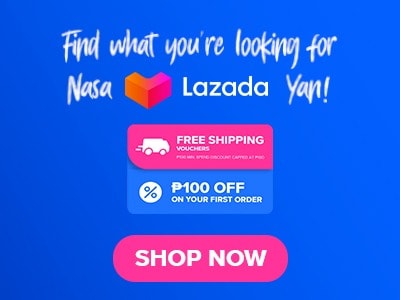 There are so many tea shops that in the Philippines that offer delicious-tasting beverages, but no other place serves their tea offerings with such creativity and imagination. The Doodletea menu has a wide selection of beverages to suit different tastes with a focus on quality ingredients and imaginative flavors. Their teas and drinks range from refreshing fruit teas to creamy milk teas and herbal infusions to make sure that every customer could find something that will suit his/her preference. Each drink is made using thorough preparations until the tiny details just to ensure that each of the beverages that they offer are visually appealing and flavorful as well.
Below, you'll find the updated list of Doodletea menu prices.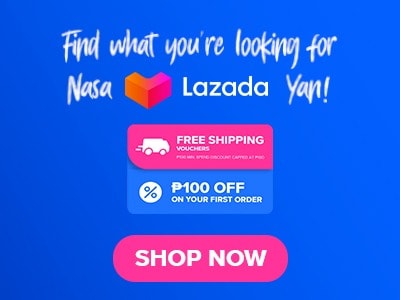 Menu Items
Price (PHP)

Assam Milk Tea

Jasmine Milk Tea
99
Oolong Milk Tea
99
Caramel Milk Tea
99

Doodle Overload

Assam Milk Tea + Boba Pearl + Egg Pudding
120
Assam Milk Tea + Boba Pearl + Ice Cream
120
Jasmine Milk Tea + Boba Pearl + Egg Pudding
120
Ice Choco + Boba Pearl + Egg Pudding
120
Oolong Tea + Boba Pearl + coconut Jelly
120
Yakult Red Tea + Aloe Vera + Coconut Jelly
120
Caramel Red Tea Latte + Boba Pearl and Egg Pudding
120
Honey Lemon Juice + Boba Pear and Coconut Jelly
120

Tea

ASsam Red Tea
99
Jasmine Green Tea
99
Oolong Tea
99
Lemon Green Tea
99
Honey Green Tea
99
Yakult Green Tea
99
Yakult Red Tea
99
Apple Green Tea
99
Apply Lychee Green Tea
99

Others

Ice Choco
99
Muscovado
99
Strawberry Cheesecake
99
Strawberry and Ice Cream
99
Chocolate Cream Cheese
99

Juices

Lemon Juice
99
Calamansi Juice
99
Calamansi Lemon Juice
99
Yakult Lemon Juice
99
Honey Lemon Juice
99

Latte

Assam Latte
99
Jasmine Latte
99
Oolong Latte
99
Caramel Latte
99

Best Match

Assam Milk Tea + Boba Pearl
110
Ice Choco + Ice Cream
110
Jasmine Milk Tea + Boba Pearl
110
Jasmine Green Tea + Aloe Vera
110
Assam Milk Tea + Red Bean
110
Jasmine Milk Tea + Egg Pudding
110
Jasmin Milk Tea + Coconut Jelly
110
Oolong Tea + Boba Pearl
110
Assam Latte + Boba Pearl
110
Yakult Red Tea + Aloe Vera
110
Oolong Latte + Egg Pudding
110
Caramel Red Latte and Boba Pearl
110
About Doodletea
Doodletea is a tea shop in the Philippines that offers a wide selection of tea-based beverages paired with its creative and artistic-themed establishment. The menu at Doodletea features a different variety of flavor options for their tea which includes classic ones like black tea and green tea. As well as those that have unique twists. Customers can enjoy refreshing fruit teas, creamy milk teas, and flavorful herbal teas, all prepared with high-quality ingredients. Doodletea also offers customizable options, allowing customers to adjust the sweetness and toppings of their drinks to their liking.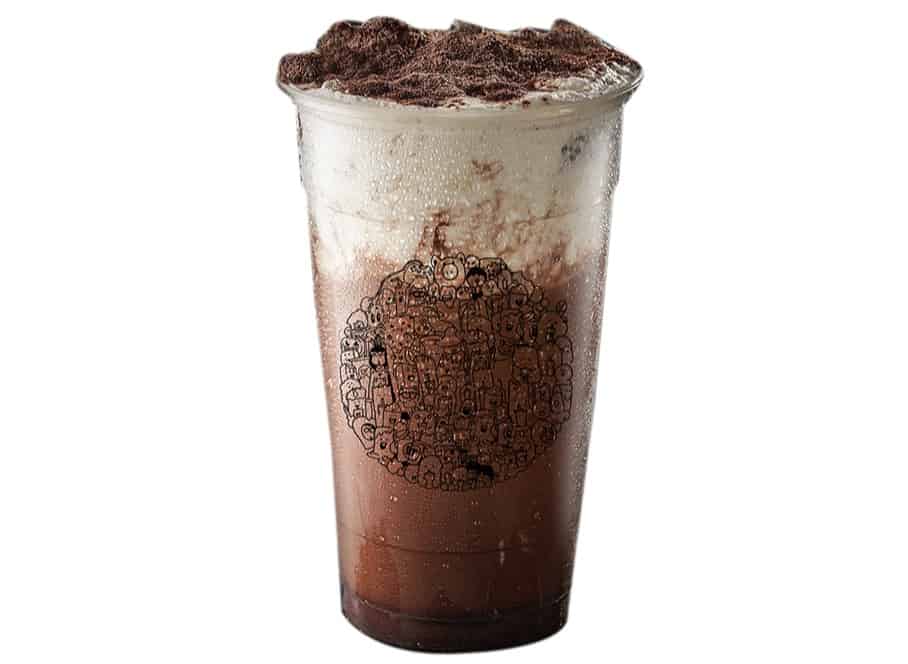 Doodletea Menu Best Seller
This menu is composed of beverages that are mostly ordered by regulars at Doodletea.
Jasmine Milk Tea – The Jasmine Milk Tea from Doodletea has a delightful blend of fragrant jasmine tea and creamy milk. The floral notes of jasmine perfectly complement the smoothness of the milk, creating a harmonious and soothing beverage.
Oolong Tea – This is a classic tea that is made from carefully selected oolong tea leaves that gives it a rich and robust flavor profile with a pleasant hint of natural sweetness. It is a great option for those who appreciate the depth and complexity of oolong tea.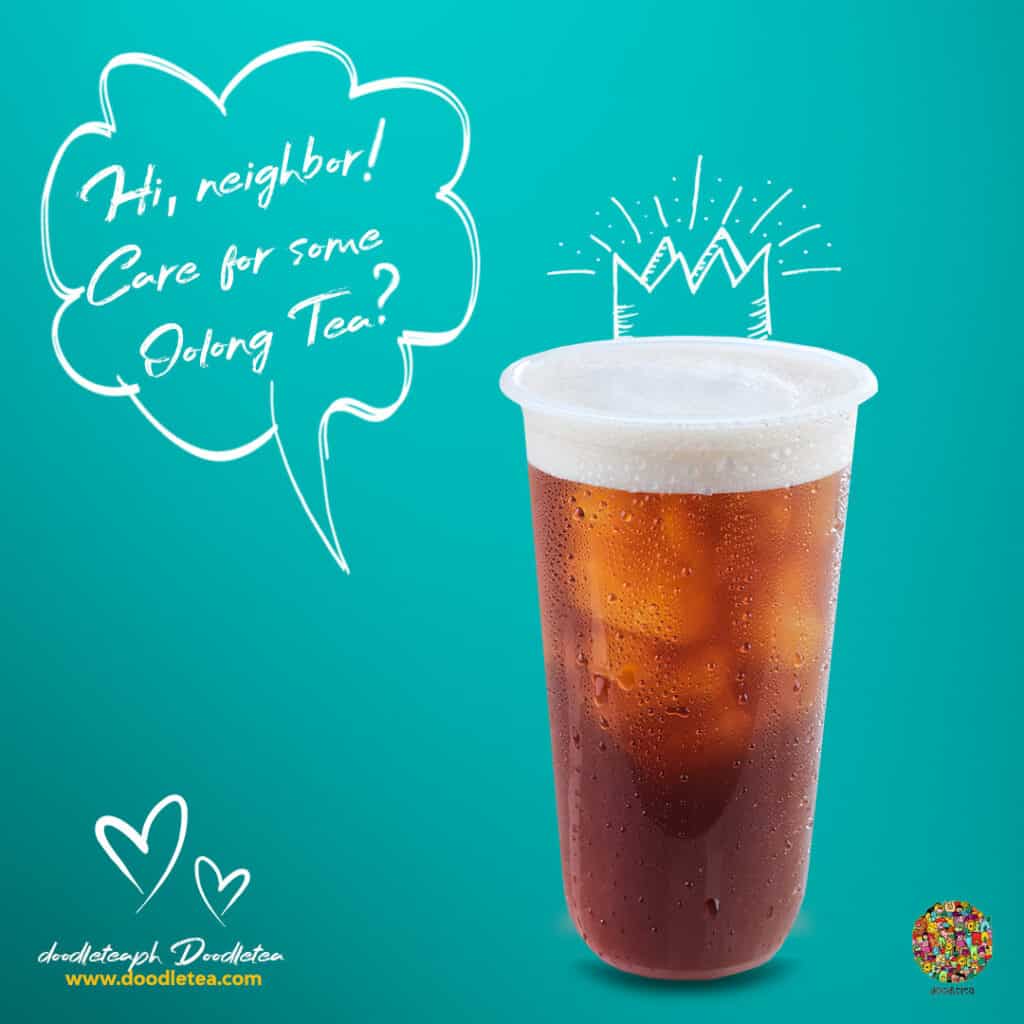 Lemon Green Tea – This tea is ideal for customers that are looking forward to having a refreshing drink at Doodletea with tangy flavors. The combination of zesty lemon and green tea in this beverage creates a revitalizing beverage that is both invigorating and will surely quench your shirts.
Yakult Red Tea – The Yakult Red Tea is a unique and flavorful drink that combines the probiotic goodness of Yakult with the distinct taste of red tea. This tea offers a perfect balance of sweet and tart flavors which results in a refreshing drink with a probiotic benefit.
Apple Green Tea – This beverage is a delightful blend of green tea and the natural flavor of apple that offers guests a subtle sweetness and a hint of fruity aroma, making it a refreshing choice for those who enjoy a touch of fruitiness in their tea.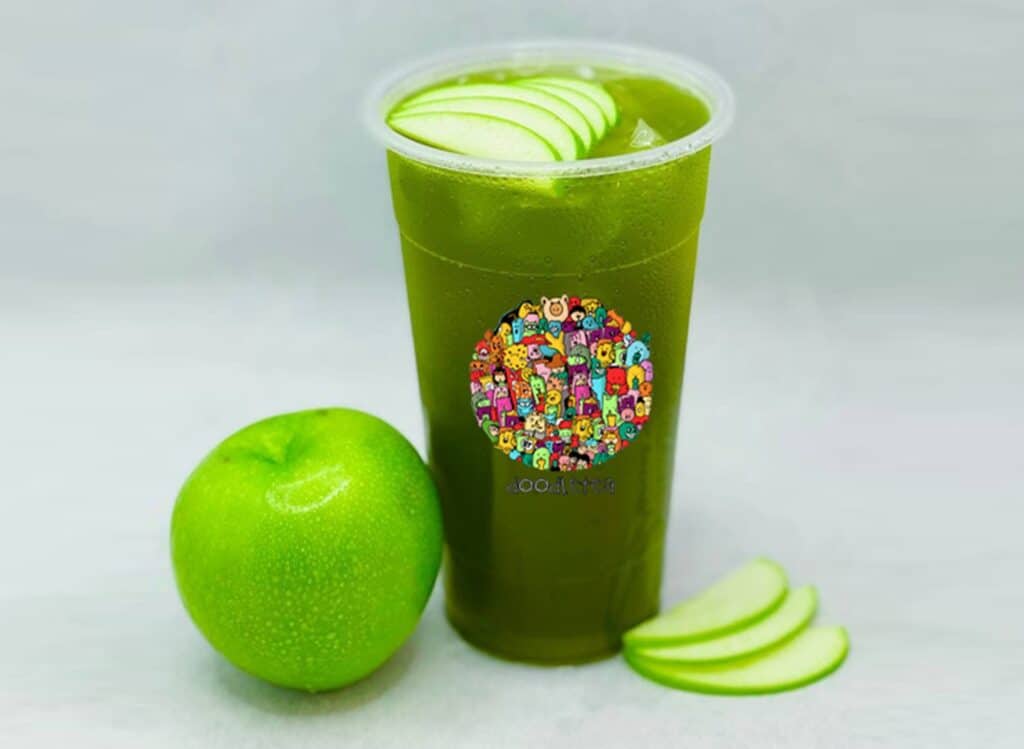 Doodle Overload
This menu from Doodletea is made up of specially blended beverages overloaded with different ingredients making each one of them unique and exciting.
Yakult Red Tea + Aloe Vera + Coconut Jelly – This unique combination at Doodletea brings together the tangy and probiotic-rich Yakult, the refreshing texture of aloe vera, and the chewy goodness of coconut jelly. This beverage provides a slightly sweet and tangy base, while the aloe vera adds a cooling and soothing element. Together, these ingredients create a refreshing and enjoyable beverage with a mix of flavors and textures.
Caramel Red Tea Latte + Boba Pearl and Egg Pudding – This beverage is a great choice if you are looking for something unique with a smooth and creamy texture. The combination of rich caramel flavor, creamy latte, chewy boba pearls, and silky egg pudding creates a luxurious and satisfying drink.
Honey Lemon Juice + Boba Pear and Coconut Jelly – This beverage could be a fantastic choice for those that are looking for a refreshing and fruity option. The tangy and citrusy flavor of the honey lemon juice is balanced with a hint of sweetness from the honey. And in addition, the boba pearls and coconut jelly add a fun and chewy element to the drink, enhancing the overall texture and enjoyment.
Doodletea Best Match Menu
This menu is made up of a selection of beverages that are paired with another ingredient to create a unique and more exciting treat.
Ice Choco + Ice Cream – This beverage combines the indulgent flavors of chocolate with the creamy goodness of ice cream which makes it perfect for those that are looking for a rich and chocolatey treat. Ice Choco + Ice Cream provides a smooth and velvety chocolate base, while the addition of ice cream adds a luscious and creamy texture.
Yakult Red Tea + Aloe Vera – The tangy and probiotic-rich Yakult added to this beverage blends perfectly with the natural sweetness of the red tea. The addition of aloe vera provides a cooling and hydrating element, making it a great choice for quenching your thirst on a hot day.
Oolong Latte + Egg Pudding – The oolong tea is transformed into a creamy and luscious latte, offering a velvety texture and a subtle hint of sweetness. The addition of silky egg pudding adds a delightful contrast in texture and enhances the overall richness of the drink making it a comforting and satisfying choice for tea lovers that visit.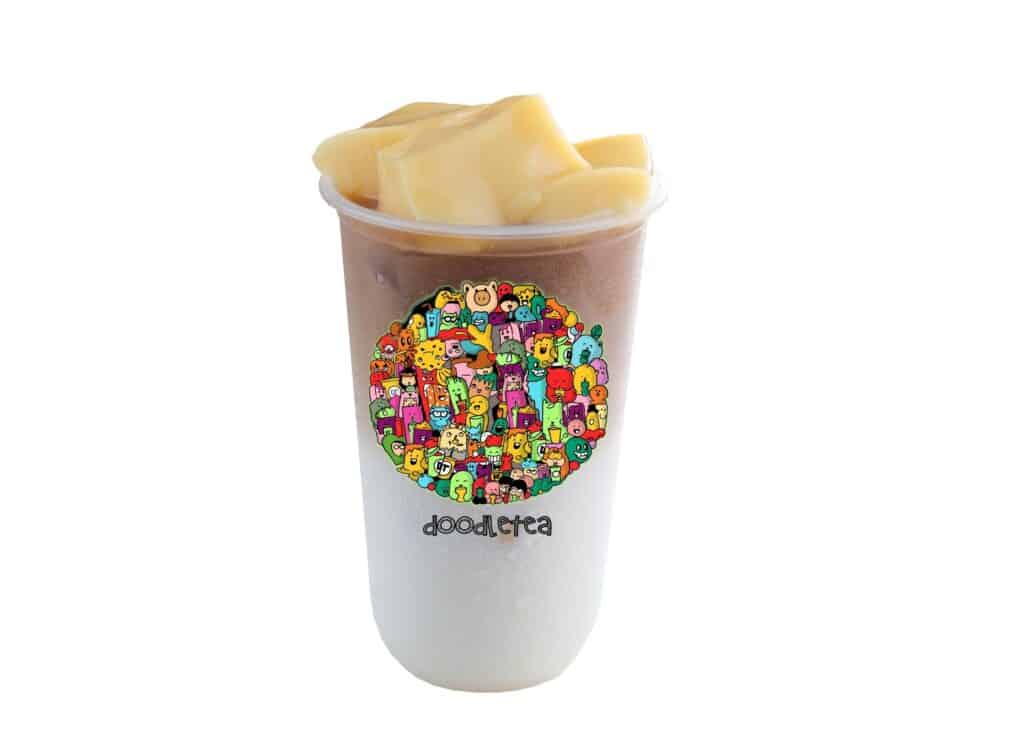 Milk Tea
This menu offers a variety of tea options, each with its own unique flavors and characteristics. It consists of items that range from milk teas with floral notes of jasmine tea, or a milk tea with a complex profile of oolong tea to the invigorating combination of lemon and green tea.
Tea
The Doodletea menu presents an enticing selection of tea flavors that cater to every visitor's unique preferences. From the bold richness of Assam Red Tea to the delicate allure of Jasmine Green Tea, the menu offers a delightful range that promises something special for everyone.
Explore beyond the ordinary with Oolong Tea, experience the zesty refreshment of Lemon Green Tea, or indulge in the sweet harmony of Honey Green Tea. Their menu also introduces the innovative blend of Yakult with both Green Tea and Red Tea options. For those seeking a fruity twist, the Apple Green Tea and Apple Lychee Green Tea await your taste buds. No matter your tea inclination – be it floral, citrusy, or creatively distinctive – The Doodletea ensures a satisfying and flavorful journey for all tea lovers.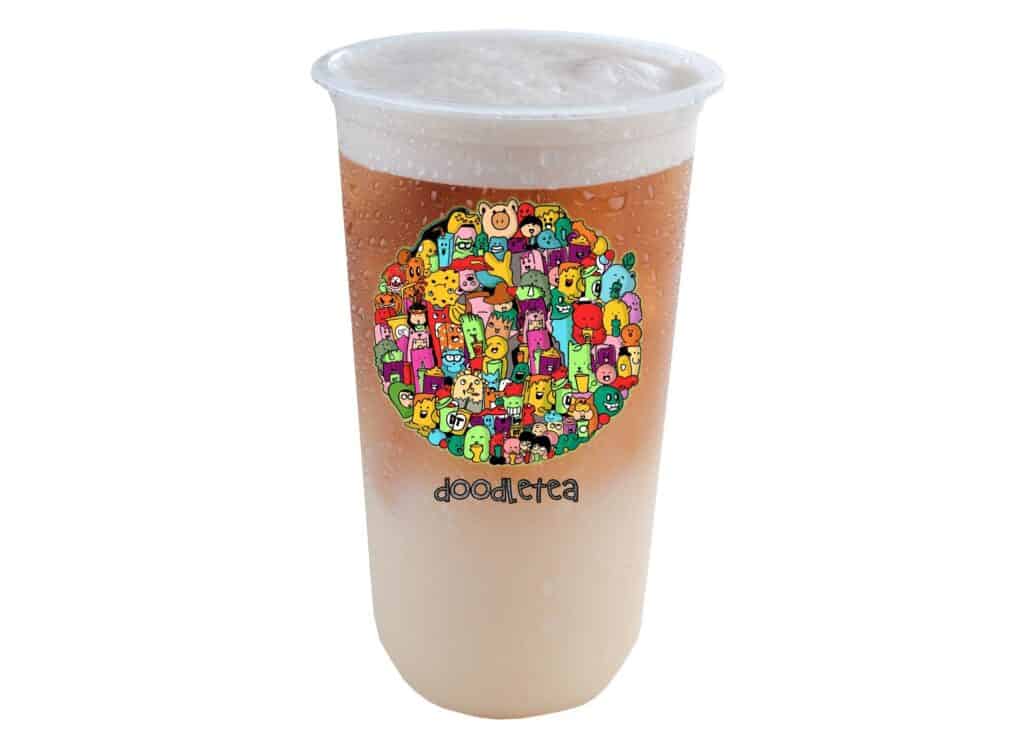 Doodletea Menu Delivery
Unlock a world of deliciousness with Doodletea's menu delivery – your gateway to a sip of happiness at your fingertips. Thanks to trusty delivery partners, you can now explore Doodletea's delightful drink lineup and quench your thirst for flavor without leaving your cozy nook. Whether you're in the mood for a soothing sip or an energizing blend, this delivery option ensures your cravings are met with convenience and taste. So, say hello to sippable joy with a few clicks and treat yourself to Doodletea's liquid delights, right when you need them most.
Social Media Pages
Jump into a whirlwind of taste and creativity by hopping on their lively social media train. It's not just about tea; it's a playground where flavors and art mingle in a dance of delight. Imagine every cup as a blank canvas inviting you to doodle your heart out while savoring each sip. Your tea break isn't just a pause; it's a gateway to a world of imagination and expression. So, join the fun, sip your brew, and let your inner artist run wild – because your tea journey is about to become a masterpiece of flavor and creativity!
Facebook: https://www.facebook.com/doodleteaph/
Instagram: https://www.instagram.com/doodletea2020/
Website: https://doodletea.com/contact-us/
FAQs
Where can I find Doodletea outlets or stores?
You can visit Doodletea in Doña Soledad, Parañaque City.
What makes Doodletea 's beverages different from other tea shops?
What sets Doodletea apart from other tea shops is its unique and artistic approach to beverage presentation.
Are there options for customizing the sweetness and ice level in the drinks?
Yes, customers have the freedom to customize their orders like their sweetness or ice levels.
Does Doodletea have any signature or must-try drinks on their menu?
Yes, they have several signature drinks that are highly recommended and considered must-try options like their Doodletea milk tea and fruit tea.
Does Doodletea offer loyalty or rewards programs for regular customers?
Sometimes, they provide loyalty programs and rewards to keep their customers especially the regulars coming back for more.
Conclusion
In conclusion, Doodletea is a fantastic destination for tea lovers in the Philippines especially those that are looking for a delightful beverage experience. Its menu is filled with a variety of tea-based drinks, including fruit teas, milk teas, and herbal infusions to make sure that it can satisfy every palate. The attention to detail and creativity in their drink creations make each visit to Doodletea a unique and enjoyable experience. So, whether you're in the mood for fruit tea or milk tea, Doodletea is definitely the place to visit!