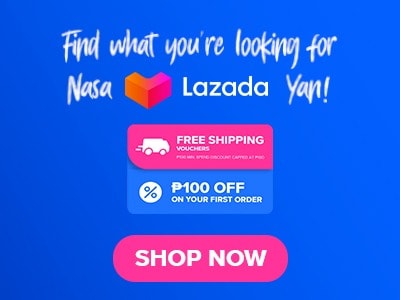 Are you a samgyupsal lover and you want to find a good samgyupsal place? Look no more since I already found the perfect place for you. This place offers premium quality meats that are really good especially if you're going to cook it the samgyupsal way. Have you heard about a place called Premiere The Samgyupsal? If not and you love samgyupsal, then this is the perfect article for you. Premier The Samgyupsal menu offers a wide variety of choices for your samgyupsal needs and cravings that's why I want to recommend this place. In this article that we have today, we are going to get to know this place's offerings, their prices per item or bundle, and of course something about their establishment. Ready? If yes then let's go!
Below, you'll find the updated list of Premier The Samgyupsal menu prices.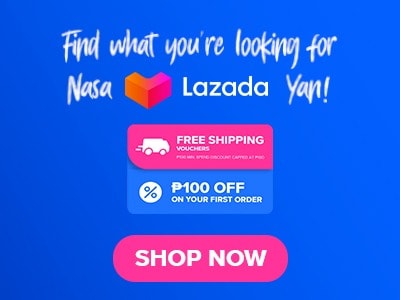 Menu Items
Price (PHP)

Premier Unli

Unli pork and chicken
560
Unli mix
650
Unli shabu shabu
650

Packages

Beef package 5 pax
1800
Pork and chicken package 10 pax
2300
Pork and beef package 10 pax
2500
About Premier The Samgyupsal
They really give justice to their name since Premier The Samgyupsal offers high-quality samgyupsal meat that everyone will surely enjoy. They offer unlimix of pork, beef, and chicken at a very affordable cost. Premier The Samgyupsal also offers an A la carte menu which is food items outside the unlimited menu option. One great thing about this place is they actually have a lot of side dishes that come with their unlimited or a la carte offerings and seafood soup.
The quality of their meat is something that you will surely notice since normally other samgyupsal places will offer you the typical meat quality. However, in Premier The Samgyupsal the meats are truly premiere. Premier The Samgyupsal also comes with other dishes like woosamgyup, dwaeji galbi, and their fresh and savory moksal. If everything is still not enough for your tastebuds no worries since their sauces and dips are also delicious, those are perfect with their samgyupsal. They also have cheese dip that is quite popular with their customers.
Premiere The Samgyupsal Menu
Unlimited BBQ Pork and Chicken – Premier The Samgyupsal offers unlimited BBQ pork and chicken that is available for lunch and dinner though the price is a bit higher at dinner time. Unlimited pork options include samgyupsal or a plain thick pork belly this one is really popular. They also have moksal which is plain pork shoulder while the yangnyeom dwaeji is another version of moksal since this one is already marinated.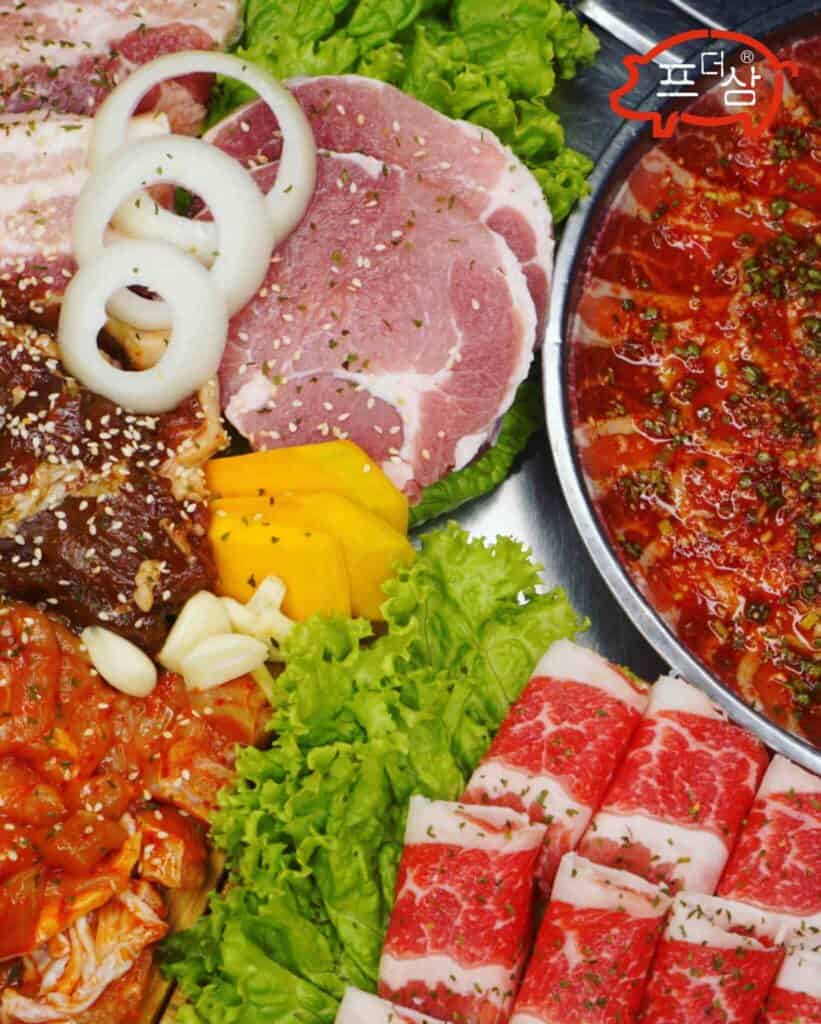 They also have daepe this one is the thin slice of pork belly that you can also see on hot pots. They also have marinated pork which is made with a thin sliced pork belly. Aside from those their chicken option has spicy chicken which is a chicken thigh that is also marinated and of course, their soy chicken this one is also marinated with soy teriyaki and is really delicious. Please remember that their unlimited options come with 15 side dishes that are also good.
Unlimix – Unlimix offering of Premier The Samgyupsal is actually their best seller, this one offers unlimited pork, chicken, and beef. This one is also available for lunch and dinner and just like the unlimited BBQ pork and chicken the price on dinner time is also slightly different. Their unlimix has all the meat options that they have, for the beef they have what they call woosamgyup which is a USDA thin slice beef. They also have marinated beef which is my favorite, to be honest, and of course, their bulgogi which is quite popular nowadays. This one is a Korean-style marinated beef.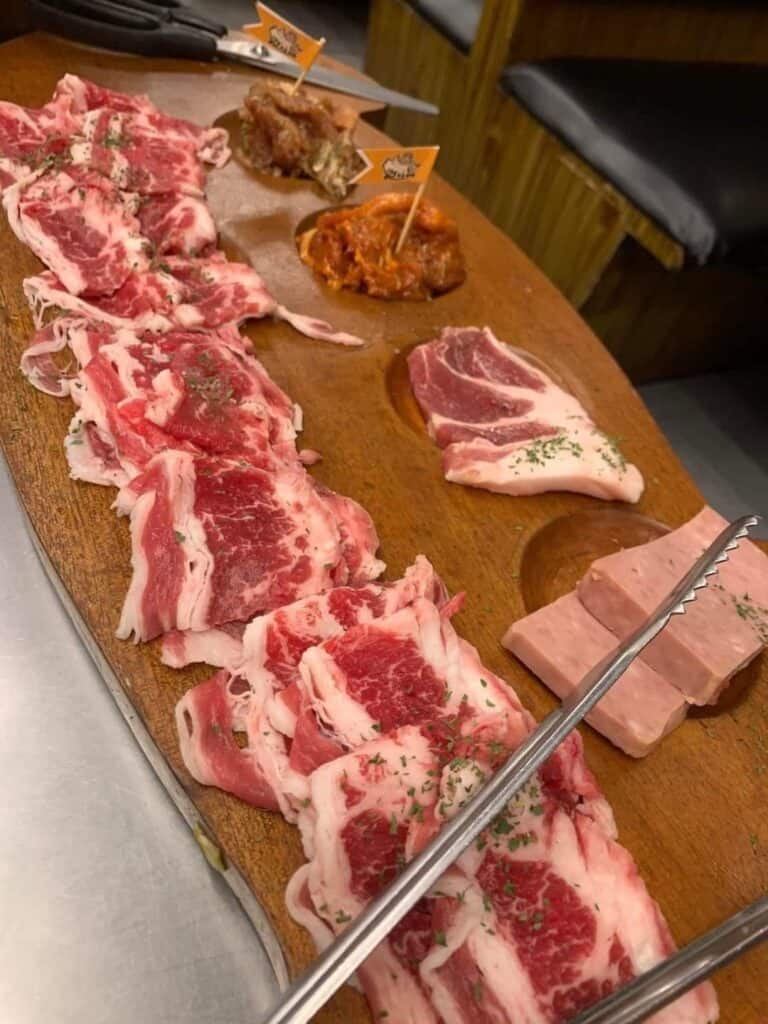 On the pork options they have marinated pork, daepe which is the thin slice pork belly, moksal the plain pork shoulder yangnyeom dwaeji which is the marinated option of the pork shoulder, and of course their samgyupsal. On the other hand, their Chicken option has soy chicken which is marinated in teriyaki soy sauce, and spicy chicken which is my friend's favorite, this one is marinated chicken thigh in a spicy sauce. Their unlimix also includes 15 side dishes to choose from.
Unlimited Shabu-Shabu – Shabu shabu is also a perfect comfort food and Premier The Samgyupsal also offers unlimited shabu shabu menu to fill your hunger. Their shabu shabu is a complete set of meat and seafood it also has sotanghon noodles and kani plus the vegetables. Their unlimited shabu shabu's broth is loaded with flavors that you will surely enjoy. Perfect for rainy weather or if you're just not into barbecue and you want a great soup.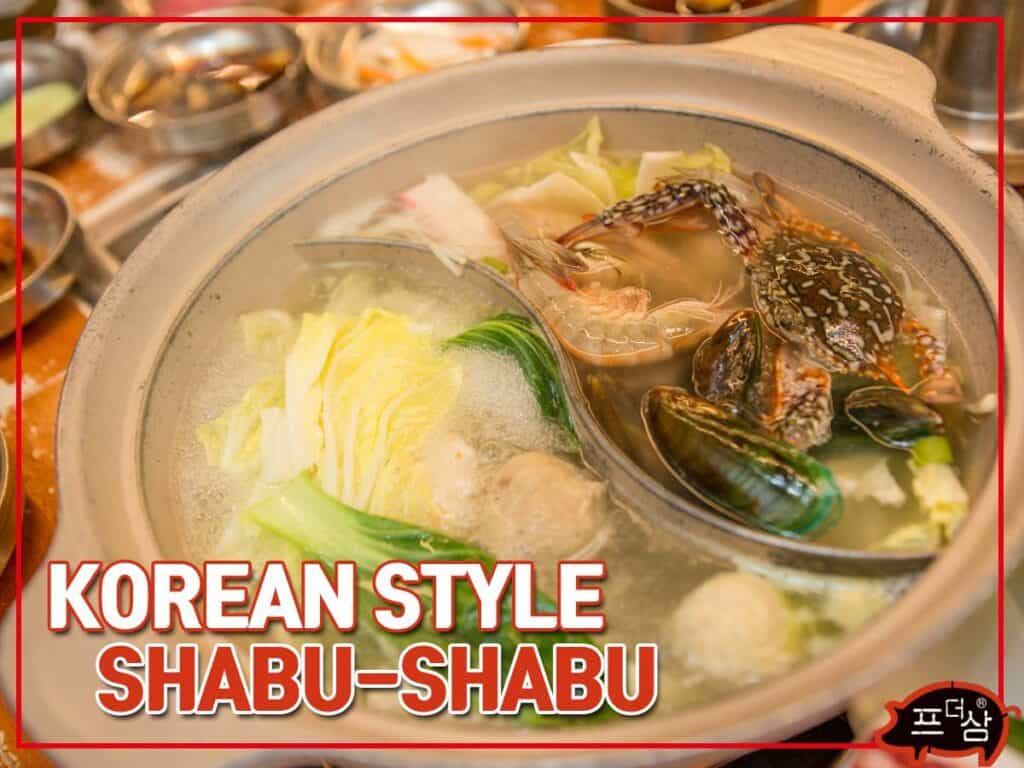 Soft Tofu Stew – Soft tofu and stew is a separate order and since I saw this on their menu I ordered one as well. The soft tofu stew has a generous serving of vegetables, clams, and mussels it is also served with raw egg on top making this so appealing. A bit sweeter than I expected but really good. This is a great choice especially if you love Korean dishes.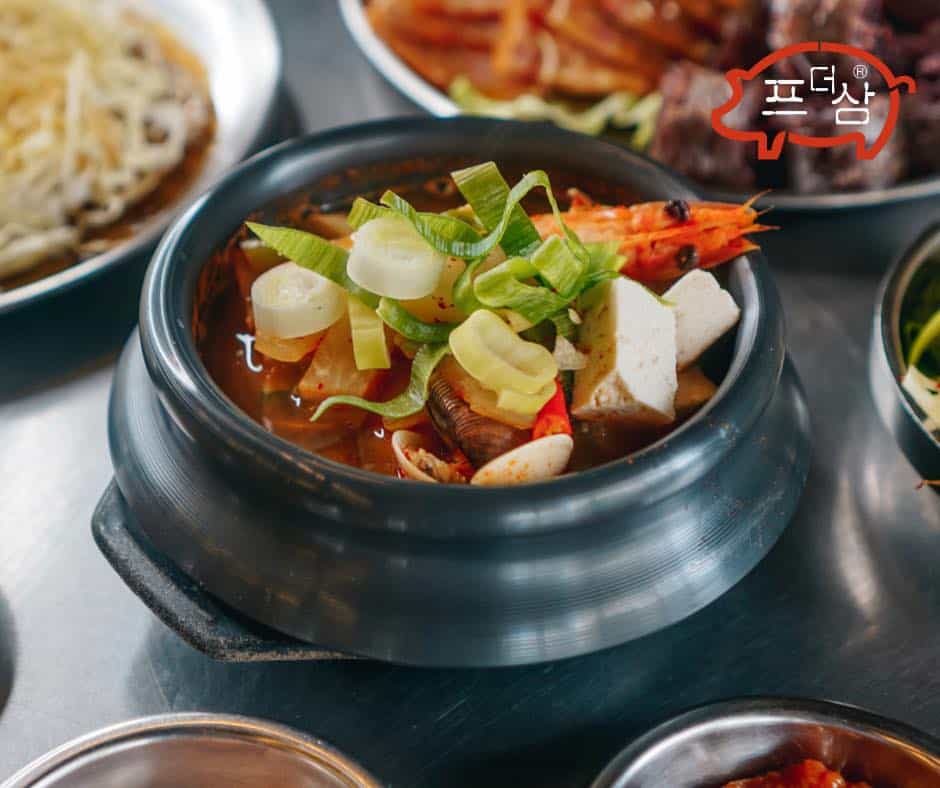 Premium Meat/Steak – Aside from the unlimited offerings Premier The Samgyupsal also offers high-grade meats such as wagyu anchangsal, AUS marbled beef sirloin, and many more. Their premium meats and steak are also a good choice especially if you are exploring their food. Great for meat lovers.
Premier The Samgyupsal Menu Delivery
Premier The Samgyupsal is offering no charge of delivery in certain locations but areas not serviceable via Grab or Lalamove are not included it can be possible with an extra delivery charge. All you have to do is to contact them through Facebook Messenger.
Social Media Pages
If you've had a great dining experience at Premier The Samgyupsal, consider writing a review on their social media pages or review sites. This can help attract more customers to their restaurant and show your support for their business.
Facebook: https://www.facebook.com/premierthesamgyupsal
Instagram: https://www.instagram.com/pthesamgyupsal
TikTok: https://www.tiktok.com/@premier.samgyupsal.cebu
Twitter: https://twitter.com/PtheSamMakati
FAQs
Where is Premier The Samgyupsal located?
Premier The Samgyupsal has branches around the metro so it is not hard to find them. They have in Mabini Street Manila, Makati, Avenida, BGC, Tomas Morato, Sm North, Marikina and Parañaque.
What are the operating hours of Premier The Samgyupsal?
Some branches of Premier The Samgyupsal are open from 11 AM until 12 AM and others are open 24 hours a day.
Are they halal-certified?
No. Premier The Samgyupsal is not halal certified.
Is there available parking at Premier The Samgyupsal?
Yes, they actually have an available parking space for those customers with cars.
Do I need a reservation at Premier The Samgyupsal?
No need for reservations. Walk-in customers are allowed but if you're going on busy hours like lunch you can also contact them.
Conclusion
Overall I had a great experience at Premier The Samgyupsal. Their customer service is excellent plus the foods that they offer are really good. Premier The Samgyupsal menu has a lot of choices whether you like the unlimited offerings or the solo order dishes everything is really delicious. The place is okay it looks really good and is also comfortable, they have clean tables and large enough space to make you feel relaxed. Dining here is really sulit so it's really recommended for a group of people whether you're with your barkada or family. This is my personal recommendation for all the foodies out there who love to try premium kinds of meats. They are one of the better Samgyupsal restaurants that I've been to and for sure you'll love this place too.