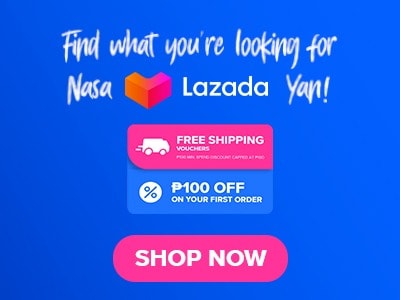 Meat Plus Cafe is a place where you can take your time off, relax, and enjoy a wide range of meat items that will surely make you come back for more. Meat Plus Cafe's menu is composed of a wide selection of American-style dishes that focuses on high-quality meats, especially steaks and burgers. Its offerings range from premium cuts of beef that are served with tasty sauces and sides to delicious burgers and other meat-centric dishes. Meat Plus Cafe aims to satisfy the cravings of meat lovers and provide a warm and welcoming dining experience for all its guests.
Below, you'll find the updated list of Meat Plus Cafe menu prices.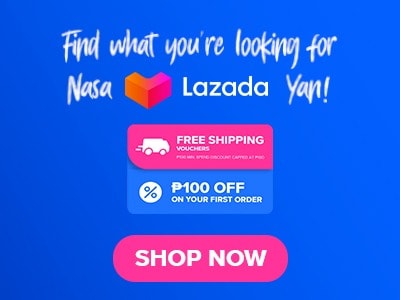 Menu Items
Price (PHP)

Soup

Wild Mushroom
135
Clam Chowder
155
Pumpkin Soup
115
Soup of the Day
70

Salads

Caesar's
180
Garden
175
Macaroni
85
Potato
85

Choose Your Own Steak

Choose Your Own Steak
135

U.S. Steak Meals

Topsirloin
370
New York
435
RibEye
515

Sandwiches

Hamburger
195
Cheeseburger
135
Sea Burger
150

Pasta

Spaghetti with Meatballs
190
Spaghetti Carbonara
235
Lasagna
270

A La Carte

Salpicao
305
Tenderloin Steak
340
US Roastbeef
405
US Angus Tapa
325
US BBQ Shortribs
485
Porkchops
270
Baby Back Ribs
350
Oven Roasted Beef Belly
285
Hamburger Steak
245
Grilled Chicken
225
Salmon Steak
375
Breaded Fish Fillet
260

Combo Meals

Cheeseburger with Fries
235
Meat Plus Burger with Fries
215
Hamburger with Fries
270
Burger Steak with Soup & Rice
215
Grilled Chicken Steak with Soup & Rice
295
Oven-Roasted Beef Belly with Soup & Rice
245
BBQ Pork Ribs with Soup & Java Rice
335
Boneless Fried Chicken with Rice, Soup & Drink
330
Boneless Fried Chicken with Spaghetti & Drink
240
Served with Soda or Iced Tea
200

Side Dishes

The Bomb
95
Potato Skin
75
French Fries
70
Mashed Potato
65
Coleslaw
60
Mixed Veg
55
Corn Kernel
50
Steamed Rice
35
Garlic Rice
55
Java Rice
55

Dessert

Apple Pie
155
Banana Fritters
170
Rum Cake
110
Apple Walnut
145
Carrot Cake
105
Banana Walnut
90
Fruit Salad
105
Choco Cake
145

Coffee

Espresso
60
Cappuccino
80
Cafe Latte
80
Cafe Americano
70
Cafe Mocha
85

Coffee Desserts

Vanilla
120
Mocha
125
Rocky Road
125
Cookie Crumble
125
About Meat Plus Cafe
Meat Plus Cafe is a popular restaurant in the Philippines that is popular with both locals and tourists due to its delicious and hearty American-style dishes, especially its high-quality steaks and burgers. The cafe was established in 1981 and has been serving mouthwatering comfort food to locals and tourists alike for decades. The best thing about this cafe is that guests can choose from a selection of premium cuts of beef, cooked to perfection and served with flavorful sauces and side dishes to fit their palates and be able to enjoy a comforting and satisfying meal.
Meat Plus Cafe Menu Best Sellers
This menu is filled with a wide variety of meat dishes that are mostly ordered by visiting customers at Meat Plus Cafe.
Hamburger – The hamburger from Meat Plus Cafe offers its customers a classic and satisfying experience. With a juicy beef patty grilled to perfection and a soft bun, the burger also comes with fresh vegetables and condiments, providing a delightful combination of flavors and textures.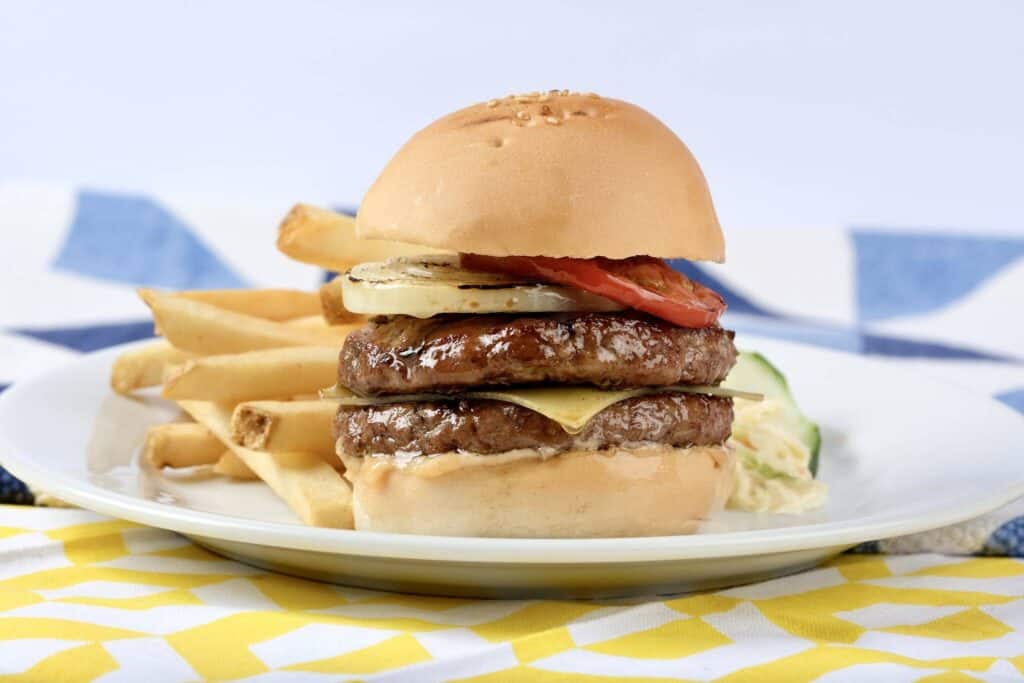 Spaghetti with Meatballs – This classic Italian dish is sure to please pasta lovers as it is made with spaghetti cooked al dente, and meatballs that are both flavorful and tender. To give the dish a more comforting feel and make it more satisfying, it is topped with a rich tomato sauce, grated cheese, and fresh herbs.
Tenderloin Steak – This steak is a prime cut known for its tenderness and subtle flavor that is cooked perfectly to showcase the natural taste of high-quality beef. It is then served with the customer's choice of sides, such as mashed potatoes or garden salad, making for a great option for steak lovers.
Porkchops – These pork chops from Meat Plus Cafe are juicy, tender, and seasoned to perfection. They are grilled to achieve a juicy and tender texture that pairs well with flavorful sauces and a variety of side dishes making it a hearty and satisfying meal.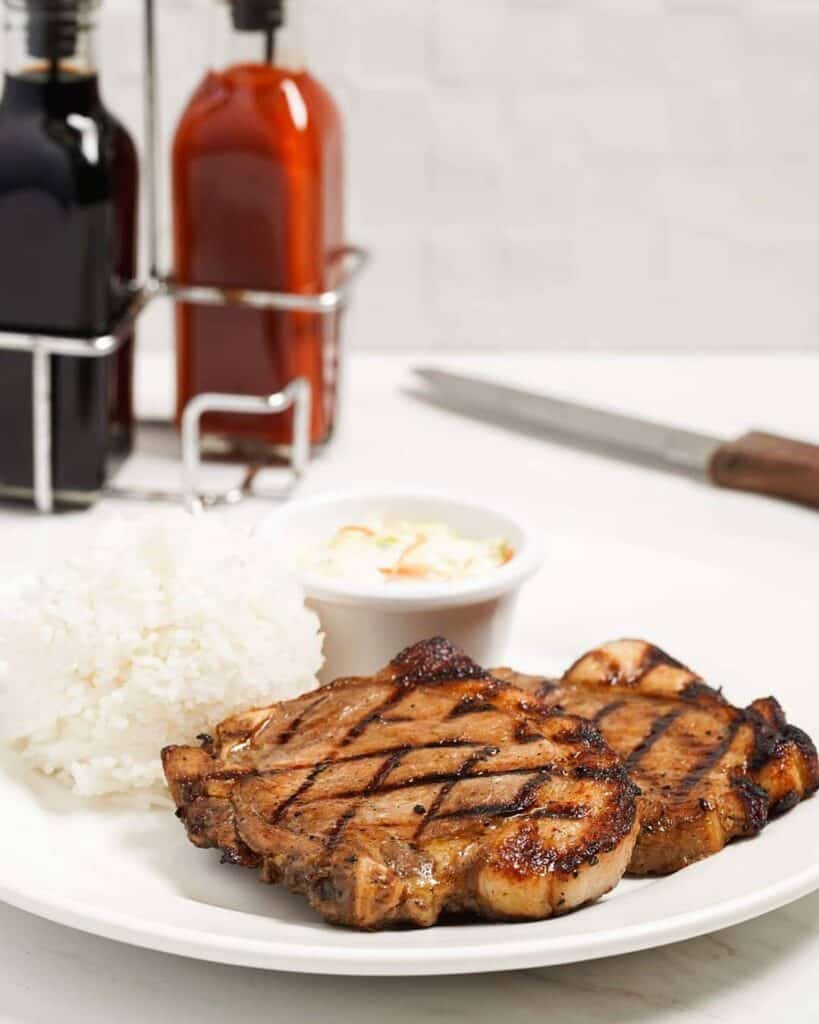 Baby Back Ribs – It is an item at Meat Plus Cafe that is a must-try for barbecue lovers. The ribs are slow-cooked and glazed with a savory barbecue sauce making them more tender and flavorful. The ribs are then served with coleslaw and a choice of sides which makes it more of a delightful treat for anyone looking for a memorable barbecue experience.
U.S. Steak Meals
Get ready to be amazed by a menu packed with fancy and mouthwatering steak meals that will make your taste buds dance with joy! These dishes are not only super tasty but also incredibly satisfying.
Topsirloin – This steak menu of Meat Plus Cafe is a tender and flavorful cut known for its rich marbling and juicy texture and is grilled to the customer's preferred doneness. It pairs wonderfully with a choice of sides, such as mashed potatoes, garlic rice, or steamed vegetables.
New York – It boasts a balanced combination of tenderness and bold flavor, making it a versatile option for any customer at Meat Plus Cafe. The New York steak at Meat Plus Cafe is expertly cooked to bring out its savory essence, making it a delightful treat for meat lovers that come to visit.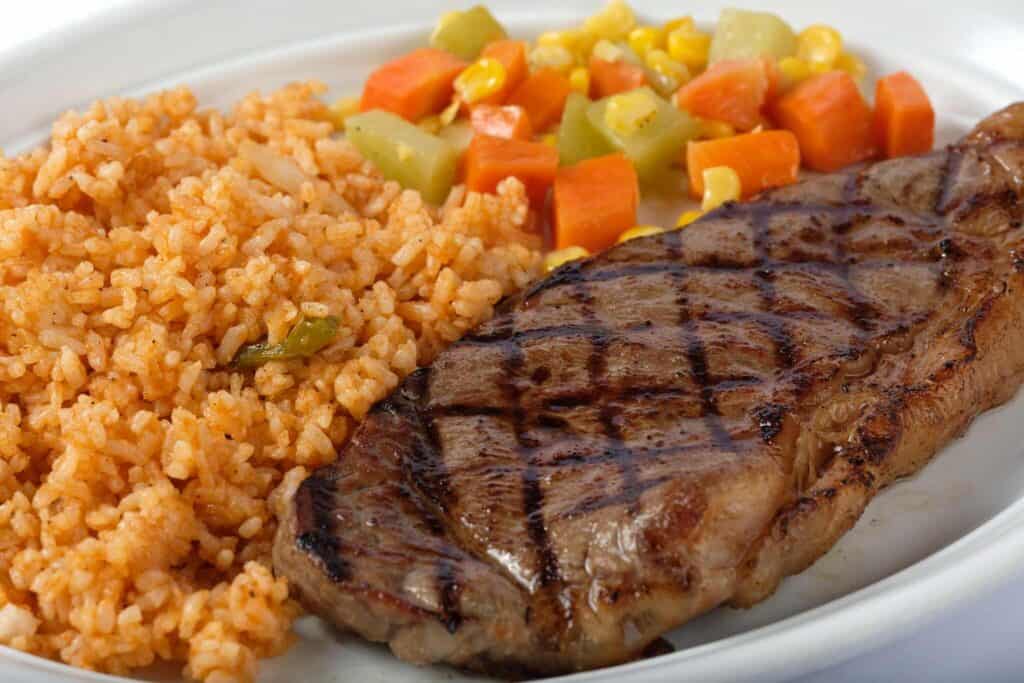 Ribeye – This steak is recognized for its remarkable marbling that enhances its tenderness and taste. It is then cooked to perfection giving it a burst with juicy flavors, and a melt-in-your-mouth texture that is sure to leave a lasting impression to many custoemrs
A La Carte
In this menu, you'll discover dishes that are perfect for enjoying by themselves or alongside the amazing meat offerings at Meat Plus Cafe. Whether you want a full meal or a tasty sidekick, these single-ordered delights have got you covered!
Salpicao – Salpicao is a Filipino dish made with tender beef cubes sautéed in garlic, soy sauce, and Worcestershire sauce that is typically served with garlic rice or plain steamed rice, while the flavorful beef is marinated beforehand to enhance its taste.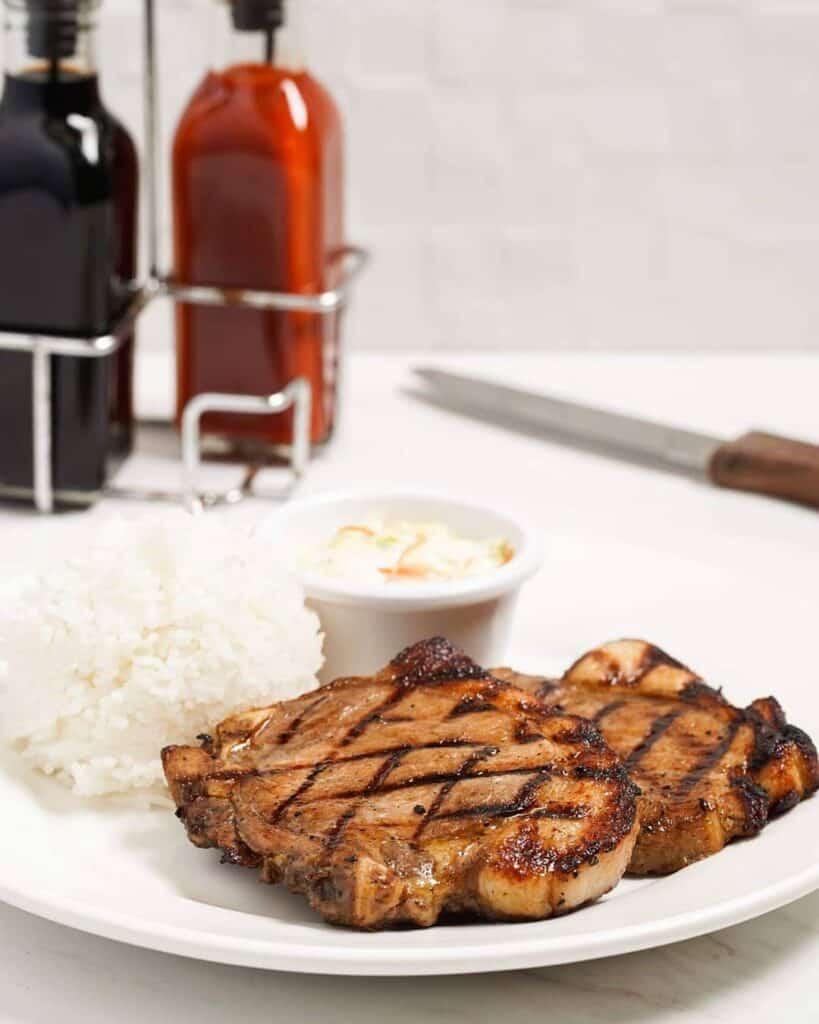 Salmon Steak – It features a thick cut of salmon fillet that is seasoned and grilled to perfection. This Meat Plus Cafe menu is known for its rich and buttery flavor, and it pairs wonderfully with various side dishes, such as roasted vegetables or a fresh garden salad.
Hamburger Steak – This dish is a hearty and comforting item that features a large, seasoned ground beef patty grilled or pan-fried until perfectly cooked. It is served with gravy and can be accompanied by side dishes like mashed potatoes or buttered corn and carrots.
Combo Meals
Step into a world of deliciousness with this menu of Meat Plus Cafe! It's like a collection of wonderful dishes that will satisfy your hunger and make your mealtime extra special. From the classic and tasty Cheeseburger with Fries to the bold and hearty Meat Plus Burger with Fries, every bite is a burst of flavor.
If you're in the mood for something simple, the Hamburger with Fries is a great choice. Or if you're looking for comfort, the Burger Steak with Soup & Rice is sure to warm your heart. For those who love chicken, the Grilled Chicken Steak with Soup & Rice is a mouthwatering option. The Oven-Roasted Beef Belly with Soup & Rice offers a rich and savory experience that you won't want to miss.
And for a finger-licking adventure, the BBQ Pork Ribs with Soup & Java Rice is a treat. If you're after a complete meal, the Boneless Fried Chicken with Rice, Soup & Drink has you covered. For a twist, try the Boneless Fried Chicken with Spaghetti & Drink – it's a delightful surprise. And don't forget to sip on a refreshing Soda or Iced Tea as you enjoy these scrumptious dishes.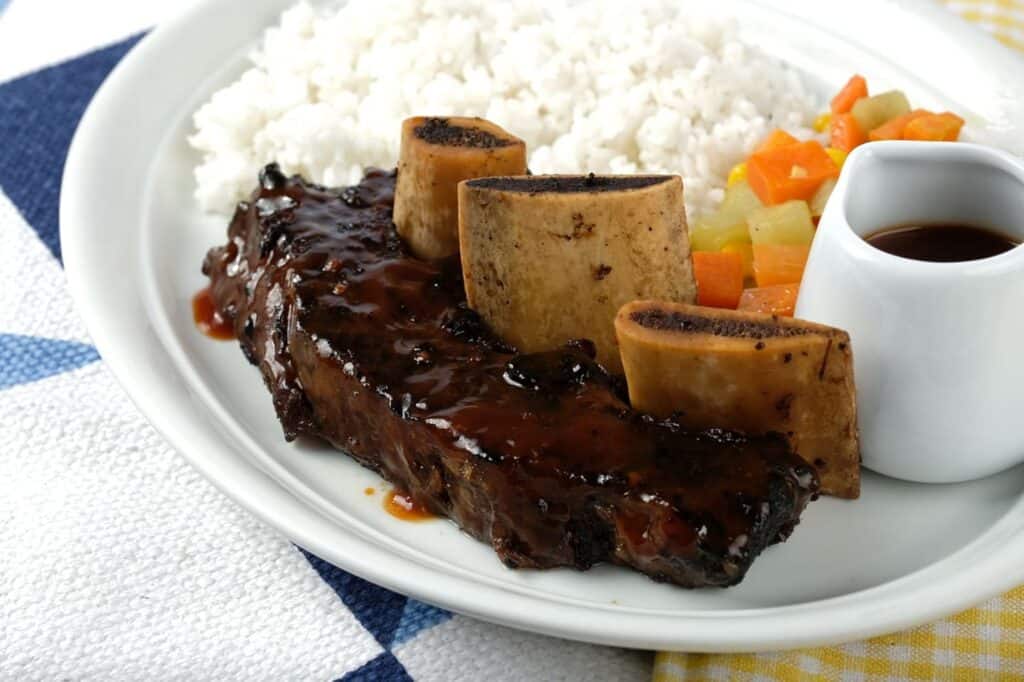 Coffee
When you step into Meat Plus Cafe, you're in for a treat because they've got a fantastic coffee menu that's just waiting to be sipped! Trust me, I've already tried these drinks myself and they're a fantastic match for the hearty meals!
Espresso – If you're into bold and rich flavors, the Espresso is a real treat. It's like a powerful coffee shot that wakes up your taste buds in the best way.
Cappuccino – For those who love creamy and frothy textures, the Cappuccino is a winner. The blend of espresso, steamed milk, and a sprinkle of chocolate on top makes every sip pure joy.
Cafe Latte – If smooth and milky is your style, the Cafe Latte is your go-to. The coffee is beautifully balanced with milk, creating a comforting and relaxing experience.
Cafe Americano – Need something simple and satisfying? The Cafe Americano is perfect. It's like a classic black coffee that's smooth and easygoing.
Cafe Mocha – Now, if you're a fan of chocolate and coffee, the Cafe Mocha is a dream come true. It's like a cozy hug with the rich taste of both worlds.
Meat Plus Cafe Menu Delivery
Craving something delicious from Meat Plus Cafe but don't want to leave your comfy home? No worries! They've got a fantastic way for you to get your favorite dishes delivered right to your doorstep. Just use FoodPanda, and you'll have a tasty meal without even stepping outside. Your cravings, satisfied and easy-peasy!
Social Media Pages
Get ready for a taste adventure that's like music for your mouth! When you explore their page, you'll uncover the amazing world of meat magic. Follow the Meat Plus Cafe social media and start a journey that's all about celebrating the greatness of meat in every delicious bite.
Facebook: https://www.facebook.com/MeatPlusCafe/
Instagram: https://www.instagram.com/meatplus_cafe
TikTok: https://www.tiktok.com/@meatpluscafe
Website: https://www.meatplusgroup.com/contactus
FAQs
Where is Meat Plus Cafe located?
Meat Plus Cafe has branches in Zambales and Pampanga.
What types of meat dishes does Meat Plus Cafe offer?
Meat Plus Cafe offers a variety of meat dishes like steaks, burgers, grilled meat items, roasted beef, and even meat platters.
Does Meat Plus Cafe source its meat from local suppliers?
Meat Plus Cafe does source its ingredients from local suppliers.
Is there a kids' menu available at Meat Plus Cafe?
Yes, Meat Plus Cafe provides a variety of kids' meals in any of their branches.
Are there any special promotions or happy hour deals at Meat Plus Cafe?
Yes, Meat Plus Cafe has different promotions to always keep their customers feel satisfied.
Conclusion
Meat Plus Cafe is a go-to place for anyone that is looking for delicious American-style dishes, especially steaks, and burgers. With its premium cuts of beef to other meat-centric dishes, Meat Plus Cafe aims to satisfy the cravings of every meat lover and provide them with a warm and welcoming place to enjoy their orders. So if you're looking for a place to satisfy your cravings for meat dishes and have a great and memorable meal experience , Meat Plus Cafe is the perfect destination.