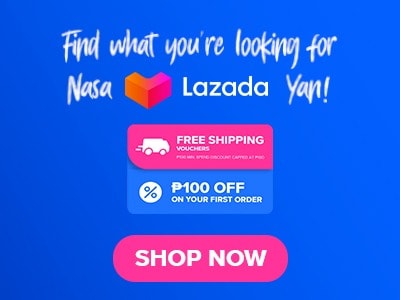 Welcome to Cafe Voi La, a place where flavors and cultures are combined in order to create a captivating and addicting dish making for memories that last a lifetime. It has a menu that fuses a diverse range of cuisines, inspired by global flavors and brought to life with a creative twist. Cafe Voi La's menu embraces the adventure of cooking which translates to having a range of dishes and options that cater to various preferences and palates. It is a place where tradition meets innovation, and where every visit promises to be a memorable exploration of flavors from around the world.
Below, you'll find the updated list of Cafe Voi La menu prices.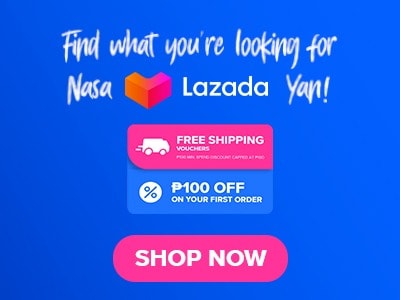 Menu Items
Price (PHP)

All Day Breakfast

Eggs Benedict
435
Salmon Benedict
485
Garlic Longganisa
435
Garlic Beef Tapa
570
Daing na Bangus
435
Arroz Ala Cubana
505
Corned Beef Hash
435
Chicken Pork Adobo
435

Pancakes

Sausage
475
Blueberry
375
Peanut Butter
300
Strawberry
375
Bacon
452
French Toast Brioche

Appetizers

Shrimp Rolls
570
Thai Vegetable Spring Rolls
355
Fresh Vietnamese Spring Rolls
435
Fried Vietnamese Spring Rolls
435
Trio of Spring Rolls
395
Special Senator's Salad
525
Thai Pomelo Salad
525
Asian Salad
395
Caesar Salad
435
Green Papaya Salad
435
Crispy Catfish Salad
435

Soup and Noodles

Squash Soup
245
Potato Leek Soup
245
Tom Yum Koong
545
Tom Yam Tao Huu and Tofu Soup
280
Tom Kha Gai
325
Hoi An Pho
655
Bun Cha
655
Pad Thai
675
Khao Soi
655
Malaysian Style Stir Fried Noodles
545

Filipino Classic

Baka na Bulalo
765
Bistek Tagalog
545
Kalderetang Baka
655
Pork Knuckles
1295
Beef Shank Pochero
1350

The Main Event - House Specialties

Pork Satay
545
Beef Satay
595
Satay Sampler
765
Café Voi La Kare-Kare
720
Home Style Chicken Pork Adobo
495
Cafe Voi La Curry
635
Signature Curry
365
Seafood Curry
710
Chicken Curry
545
Vegetable Curry
415

The Main Event - Chicken

Chicken Wrapped in Pandan Leaves
695
Thai Fried Chicken Wings
650
Chicken Chuletas
595
US Grilled Chicken Leg Quarter
765
The Main Event - Pork
Vietnamese Grilled "Iberico" Porkchop
650
Lemon Grass Barbecue Grilled Porkchop
595
Massaman Back Ribs
765
Pork Spare Ribs
595
Pork Crackling
710
Pork Chuletas
595

The Main Event - Beef

Onion Scallion Beef
545
Spanish Callos
795
Fish & Seafood
655
Fish & Chips
495
Grilled Norwegian Salmon
725
Fillet of Lapu Lapu Muniere
625
Crispy Tamarind Prawns
655
Cereal Butter Prawns
655
Blackened Stir-Fried Squid
435
Golden Fragrant Clams
435

Steak

US Prime Ribeye Steak
3759
Porter House
2995
T-Bone Steak
2995
US Prime Tomahawk
610
US Sirloin Steak
2295
Steak Frites
1295
Fillet Mignon
1595
Chateaubriand
2995
Certified US Angus Chef's Choice Ribeye
2950

Pasta

Penne Carbonara
505
Vongole Manila Clams
505
Spaghetti Puttanesca
505
Fettuccine Al Pesto
505
Spaghetti Bolognese
505
Truffle Alfredo Pasta
505

Sandwiches

Clubhouse Sandwich
425
Ham & Cheese Sandwich
425
Bacon, Lettuce & Tomato Sandwich
425
Grilled Cheese Sandwich
280
Chicken Sandwich
355
Tuna Melt Sandwich
355

Brick Oven Pizza

Cafe Voi La Special
595
Margherita Pizza
495
Meat Lovers
595
Seafood Lovers
555
Aloha Mia Surprise Pizza
555
Cheesy Pizza
595
Garlic Pizza
555
Vegetable Delight
495

Assorted Vegetable

Special Rice
495
Nasi Goreng
545
Bagoong Rice
470
Paella Madrilèna
595
Paella Seafood
695
Turmeric Rice
275
Jasmine Rice
100
Jasmine Garlic Rice
125

Vegetable and Sides

Vegetable curry
415
Eggplant & Shallots Casserole
435
Stir Fry Morning Glory
295
Bok Choi
325
Home Made French Fries
115
Mashed Potatoes
95
Grilled Corn on a Cob
295
Fried Plantains with Cinnamon & Sugar
295

Desserts

Black Sticky Rice with Mango
225
Banofee
120
Mango Float
225
Chocolate Mousse
190
Crème Brulee
190
Gulamelaka
225
Special Thai Halo Halo
320
Banana Split
320
Mango Jubilee ala Mode
295
About Cafe Voi La
Cafe Voi La is a restaurant that embraces a diverse and creative approach to dining, offering a fusion of flavors that were inspired by different cuisines. With a focus on delivering a memorable and satisfying dining experience, Cafe Voi La has created a menu that combines traditional favorites with innovative twists giving guests a chance to experience dishes that transcend borders. So whether you are seeking comfort food classics or daring to try new combinations, Cafe Voi La promises a journey of taste that leaves a lasting impression.
Cafe Voi La Menu Best Seller
Each dish on this menu tells a story of the exploration of diverse tastes and expertise of Cafe Voi La's chefs, ensuring a memorable and satisfying dining experience.
Garlic Beef Tapa – Tender slices of beef are marinated to perfection, infusing them with an excellent balance of savory and slightly sweet flavors. The addition of garlic takes this dish to new heights, imparting a rich and aromatic essence that perfectly complements the succulent beef.
Daing na Bangus – The marinated and sun-dried milkfish, known as bangus, boasts a nice combination of tanginess and smokiness that tantalizes the palate. With its crispy exterior and moist, flavorful flesh, this dish provides a satisfying and authentic experience reminiscent of traditional Filipino home cooking.
Chicken Pork Adobo – This Filipino classic menu of Cafe Voi La is a harmonious blend of chicken and pork that were simmered to perfection in a rich and savory adobo sauce. The flavors are deeply infused into the meats, resulting in a dish that is both hearty and soul-satisfying.
Thai Vegetable Spring Rolls – Delicately wrapped in rice paper, these rolls are generously filled with an assortment of crisp vegetables that provide a nice and satisfying crunch. The accompanying dipping sauce adds a zesty and tangy element that enhances the overall experience.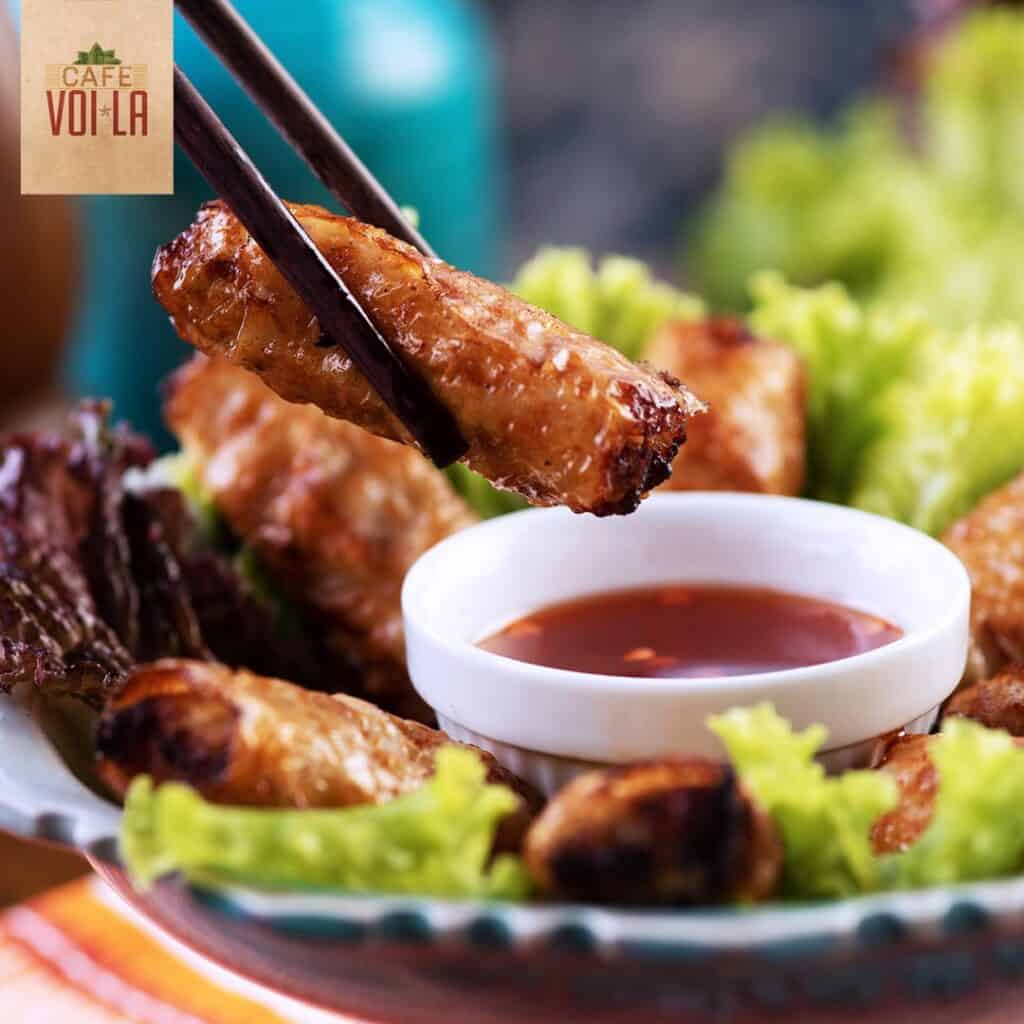 Thai Fried Chicken Wings – These chicken wings are expertly fried to achieve the perfect balance between crispy skin and tender meat. The seasoning is a harmonious blend of sweet, spicy, and savory notes, creating a taste profile that's both complex and utterly satisfying.
Cafe Voi La Filipino Classic Menu
The Filipino Classic menu of this Cafe has a variety of dishes that are able to transport diners to the heart of Filipino kitchens, where generations of flavors are preserved and celebrated with every forkful.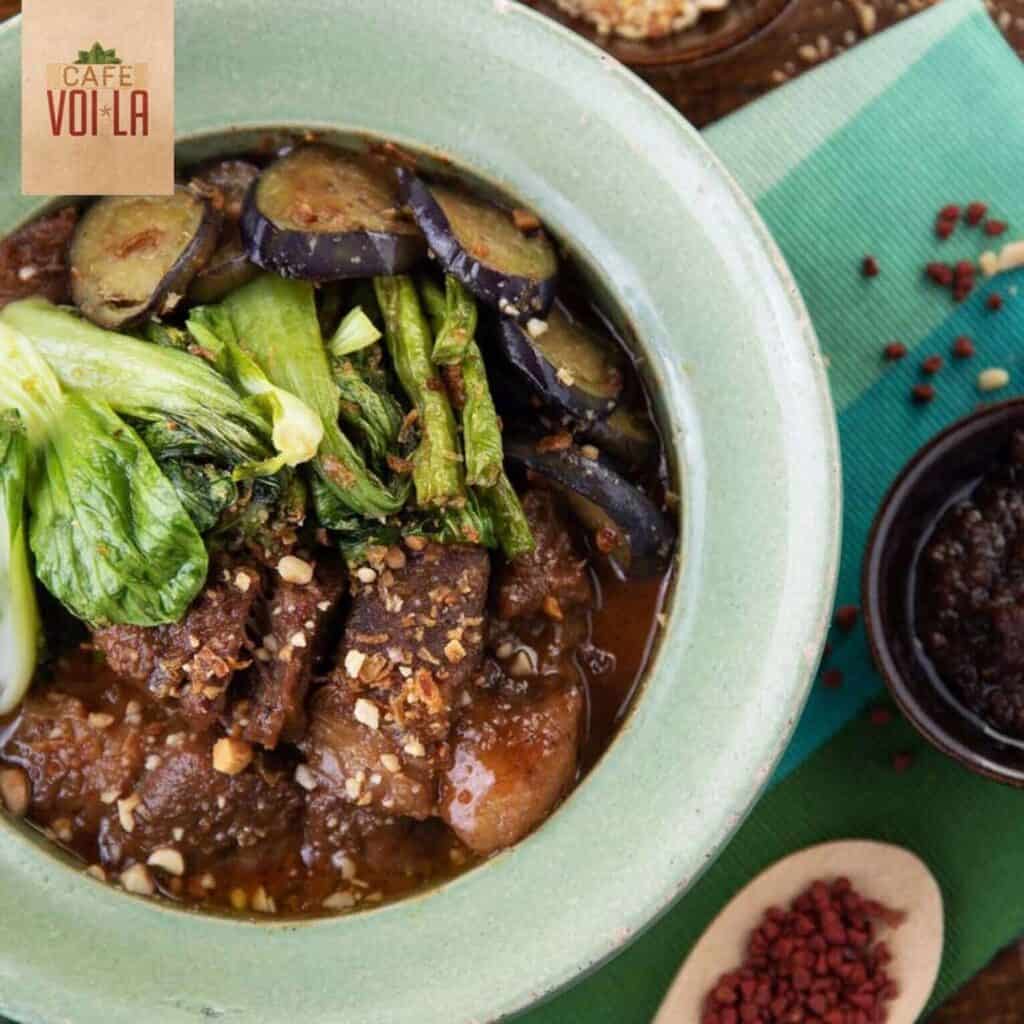 Baka na Bulalo – A simmering bowl of tender beef shank, bone marrow, and vegetables, this dish is a celebration of flavors that have stood the test of time. The rich and flavorful broth is infused with the essence of slow-cooked beef, creating a soul-warming experience that soothes the senses and satisfies the appetite.
Bistek Tagalog – Thinly sliced beef is marinated in a delectable blend of soy sauce, calamansi, and spices before being pan-fried to perfection resulting in a tender and flavorful meat that is elevated by the savory marinade.
Kalderetang Baka – These tender chunks of beef are stewed in a rich tomato-based sauce, imbued with the warmth of spices and the depth of flavors that come from careful cooking. The addition of vegetables and sometimes liver adds complexity and texture to the dish, resulting in a medley of tastes that is both hearty and satisfying.
The Main Event – House Specialties
Cafe Voila's main event menu is considered to be their specialty items which is a testament to their commitment to delivering diverse and delicious flavors that cater to a range of culinary preferences.
Pork Satay – This Cafe Voi La menu is made with tender pork skewers that are marinated in a medley of spices and herbs, infusing them with a burst of flavor that dances on your taste buds, and then grilled to perfection giving each satay a smoky char that adds depth to the tender meat.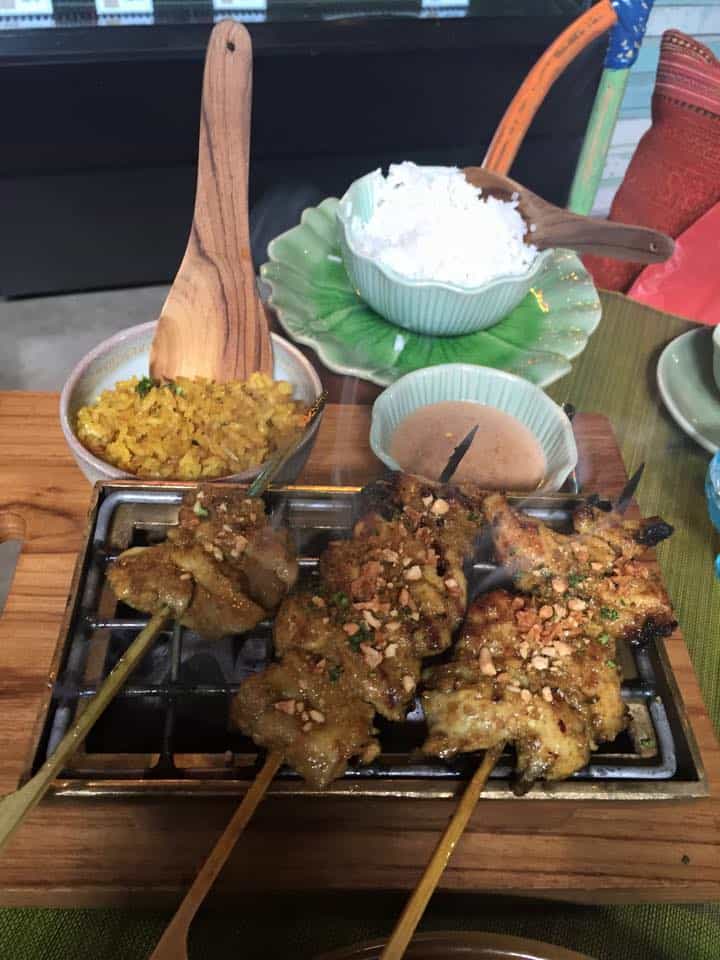 Home Style Chicken Pork Adobo – It is a classic dish that captures the essence of home-cooked meals, where tender chicken and tender pork are marinated and braised in a harmonious blend of soy sauce, vinegar, garlic, and spices, resulting in flavors that meld together to create a masterpiece.
Chicken Curry – Made with tender chicken pieces that are simmered in a rich and fragrant curry sauce composed of a fusion of spices, coconut milk, and other harmonious ingredients. The result is a dish that's both comforting and exotic, with the creaminess of the coconut milk beautifully balancing the warmth of the spices.
All Day Breakfast
From classic favorites to inventive creations, each dish that makes up this menu offers a comforting and satisfying start to your day. The Cafe Voi La breakfast menu caters to a range of preferences, from those seeking hearty breakfast classics like eggs, bacon, and toast, to those with a taste for more adventurous morning offerings.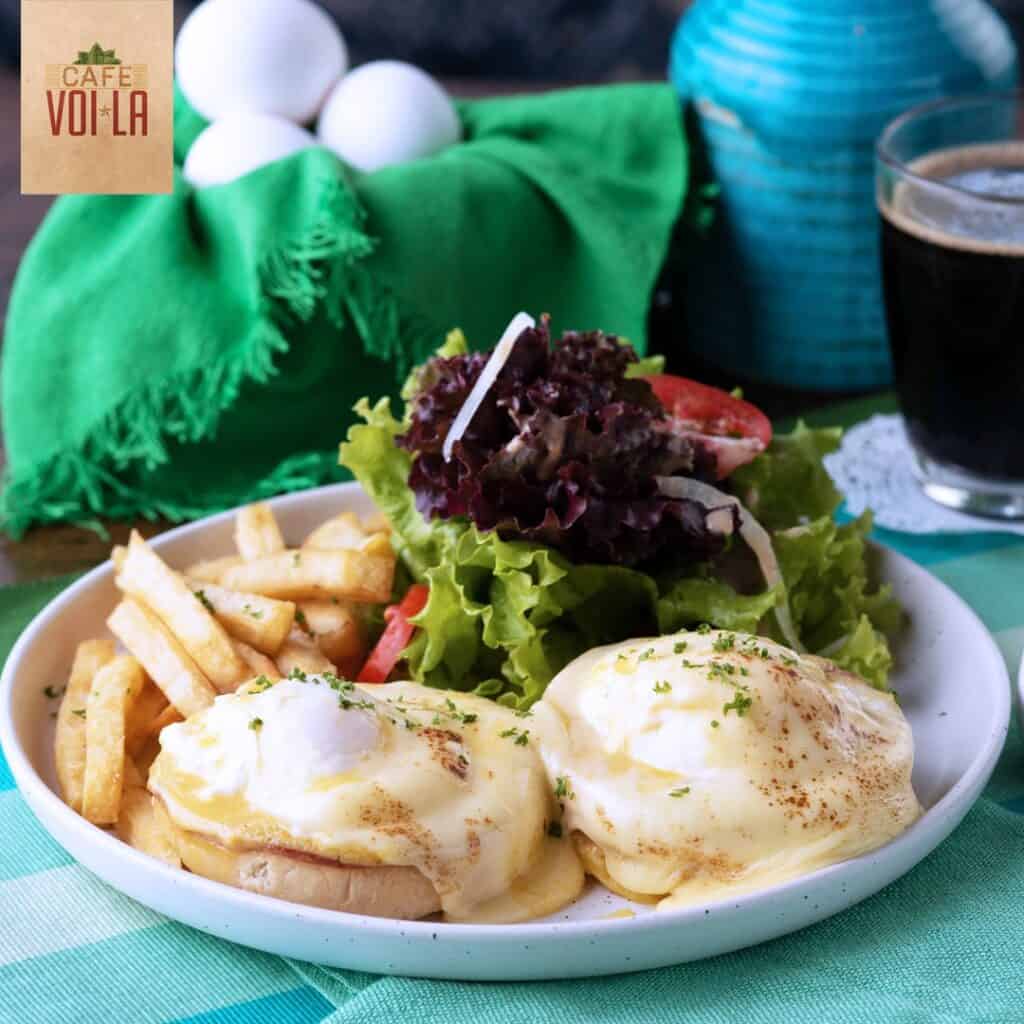 Soup and Noodles
Cafe Voi La's Soup and Noodles menu is the ideal item to order for those that are seeking warmth and comfort in a bowl. Whether you're delighting in the intricate flavors of rich ramen, savoring the familiarity of a classic chicken noodle soup, or exploring the depths of Asian-inspired broths, the menu allows you to experience all of them.
Pasta
With an imaginative twist on Italy's culinary legacy, this selection pays homage to the nation's rich flavors while infusing a unique character that defines the restaurant. Here, the craft of pasta-making becomes a canvas for reinvention, uniting global tastes in delightful harmony. Sample the creamy delight of Penne Carbonara, transporting you to Italy's heart, or relish the coastal allure of Vongole Manila Clams. Revel in the robust tang of Spaghetti Puttanesca or indulge in the aromatic symphony of Fettuccine Al Pesto. Dive into the comfort of Spaghetti Bolognese, and elevate your senses with Truffle Alfredo Pasta. This collection is a fusion of tradition and innovation, where the essence of diverse cuisines unites under one roof.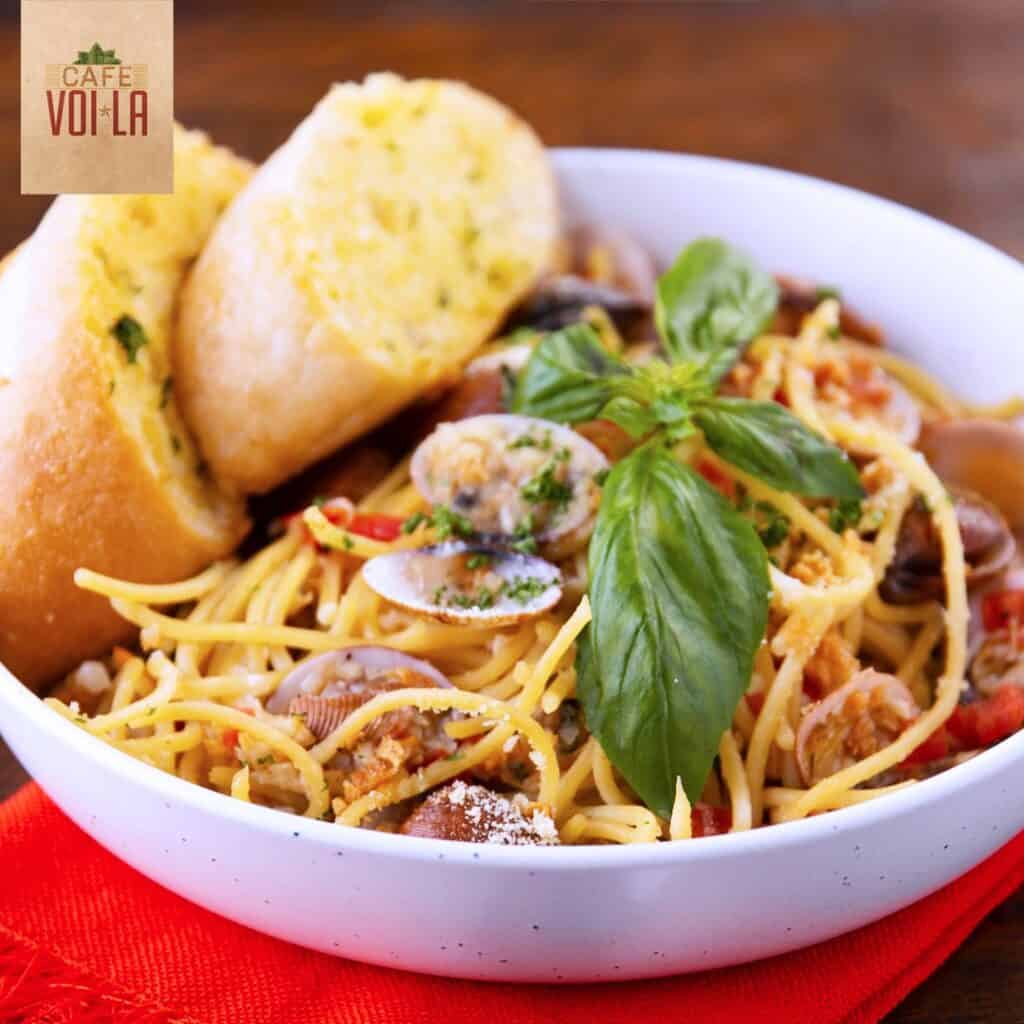 Cafe Voi La Menu Delivery
Cafe Voi La provides a delivery service in order to make sure that its offerings are accessible to its regular customers and those that still haven't discovered this cafe yet. This allows them to order from anywhere and anytime they want with the help of food delivery applications like FoodPanda.
Social Media Pages
They invite you to join their community on social media, where we share glimpses of their gastronomic creations and the stories behind them. Your support not only fuels their passion but also allows you to be a part of their culinary adventures. Connect with them today and be inspired by the artistry that is Cafe Voi La.
Facebook: https://www.facebook.com/CafeVoiLa1
Instagram: https://www.instagram.com/cafevoilaofficial
FAQs
What is Cafe Voi La?
Cafe Voi La is a popular cafe in Cavite that offers a wide array of dishes inspired by multiple cuisines around the world.
Where are the locations of Cafe Voi La?
You can visit Cafe Voi La in Tagaytay, Cavite.
What types of dishes do they serve at Cafe Voi La?
They provide visitors with dishes that are inspired by different cuisines, like those in Thailand and in the Philippines.
Are there any special promotions for frequent customers?
Yes, Cafe Voi La does provide its patrons with special promotions like rewards and discounts.
What are some popular dishes on the menu at Cafe Voi La?
Some of the most popular dishes at Cafe Voi La are Garlic Beef Tapa, Chicken Pork Adobo, and Thai Vegetable Spring Rolls.
Conclusion
Cafe Voi La stands as a vibrant restaurant that allows its customers to be able to indulge in a world of diverse and inventive flavors. From the comforting embrace of its All Day Breakfast offerings to the soul-soothing goodness of its soups and noodles, and the harmonious fusion of flavors in its pasta creations, Cafe Voi La showcases love and passion in serving customers with different varieties of delicious dishes.