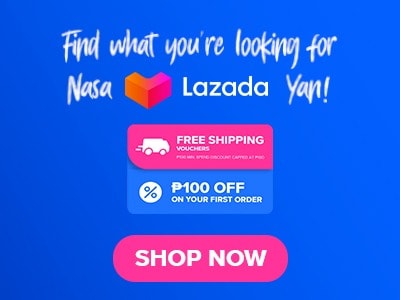 Looking for a Japanese restaurant with a twist? Did I get an idea, why not recommend a place that not only offers Japanese cuisine but also Peruvian cuisine and Japanese-Peruvian fusion dishes? Sounds interesting right? Nikkei Nama Bar is a place that offers a lot of different delicious dishes which yes Japanese Peruvian cuisine. If you are interested in our topic for today we are going to get to know this place more and we will take a closer look at their menu and best sellers, and of course, the prices of the foods that they are offering so that if after this article and it happens that I actually convinced you on trying this place at least you'll have an idea about the place. Let's start!
Below, you'll find the updated list of Nikkei Nama Bar menu prices.
Menu Items
Price (PHP)

Traditional Japanese Sashimi

Uni
350
Salmon
300
Maguro
300
Snapper
300
Tamago
180
Prawn
300

Traditional Japanese Nigiri

Salmon
220
Maguro
220
Prawn
220
Salmon Skin
150
Snapper
150
Unagi
220

Traditional Japanese Makis

Maguro
180
Salmon
180
Tamago
140
Salmon Skin
140

Traditional Japanese Chirashi Sushi

Chirashi Sushi
795

Traditional Japanese Chirashi Bara

Chirashi Bara
595

Nikkei Cuisine - Small Plates

Kakiage Tempura
265
Agedashi Tofu
220
Truffled Edamame
300
Spicy Fried Cashews
265
Flamed Edamame
300
Kurobuta Gyoza
380
Calamares With Potato Strips
450
Chipirones Fritos
520

Nikkei Cuisine - Sushi Rolls (5pcs/10pcs)

Tuna Mango Roll
220/430
Miso Salmon Roll
220/430
Smoked Salmon Roll
210
Spicy Tuna Roll
210/415
Tataki Roll
335/660
Panko
300/595
Ceviche Roll
300/595
Futomaki
300/595
Unagi Asparagus Roll
335/660
Soft Shell Crab Roll
300/595

Nikkei Cuisine - Mains

Saba Shioyaki
695
Salmon Teriyaki
595
Fideo Saltado
595
Lomo Saltado
595
Tempura Moriawase
475
Kakiage Bao
265
Char Siu Bao (Chifa Bao)
340

From Our Robata Grill

Chicken Yakitori Platter
480
Chicken Yakitori
220
Chicken Teriyaki
475
Gyu Anticucho
595
Pollo Anticucho
265
Iberico Pork Ribs
550
Unagi Kabayaki
680
Ikayaki (Grilled Squid)
595

Nama Bowls

Pollo Saltado Donburi
380
Salmon Belly Bowl
475
Blackened Salmon Bowl
660
Seared Skirt Steak Bowl
795
Unagi Don
620
Ikayaki (Grilled Squid) Bowl
595
Buta Bowl
475

Nikkei Cuisine - Ceviche

Classic
420
Nikkei Ceviche
380
Ceviche Mixto
475

Bento

Tempura Bento
595
Teriyaki Bento
520
Sushi Bento
595
Salmon (Shake) Bento
595
Maguro Bento
550
Iberico Bento
595
Peruvian Robata Bento
595
Saba Bento
595
Chicken Yakitori Bento
550

Nikkei Cuisine - Extras

Gohan
95
Chahan
220

Nikkei Cuisine - Desserts

House-Made Ice Cream Combination
350
House-Made Ice Cream Ginger
110
House-Made Ice Cream Wasabi
110
House-Made Ice Cream Sesame
110
House-Made Ice Cream Matcha
180
Tres Leches
350

Beverages - Coffee

Syphon (16oz/20oz)
180/250
Drip Pour Over 12oz
165
18 Hr Cold Process Iced Coffee 16oz
150

Iced Espresso Beverages

Iced Salted Caramel Latte
220
Iced Peruvian Mocha
220
Iced Latte
220
Iced Vanilla Latte
220

Beverages - Specialty Drinks

Strawberry Basil Lemonade
160
Mr. Ozaki
160
Nikkei Mojito
160
Okinawa Lady
140

Beverages - Iced Teas

Passion Berry Black
125
Organic Nikkei Green
125
Passion Fruit Tisane
125
Bergamot Black Iced Tea
125

Beverages - Loose Leaf

Japan Sencha Tea
145
Rooibos Bourbon
145
Japan Coconut Ginger Green
145
Eve's Rose Petals Herbal Tea
145
Organic Lavender Earl Grey
145
Passion Fruit Tisane
145
Lemon Chamomile
145

Beverages - Other Items

San Pellegrino
220
Evian Mineral Water
135
Perrier
180
Coke Regular, Coke Light, Coke Zero, Sprite
80

Craft Cocktails

Machu Picchu
250
Shugroni
295
Sleepless In Shinjuku
295
Gone Geisha
295
Sake Sangria
295
Spicy Sake Martin
295
Norito
295
Ruby Sake Soda
295
Olmeca Mojito
350
Umeshu Sour
495
Ume Old Fashioned
495
Shiso Elderflower Gimlet
495
007 Martini
495
Tokyo Mule
395

Japeritif

Umeshu Spritz
495
Aperol Spritz
395

Beer

Sapporo
220
Heineken
165
Corona
220
Tiger Crystal Light
150
Tiger Black
150
Draft Beer - Sapporo
180
Stella Artois
180

Whisky

Shin
250
Mars Iwai Blend
350
Chita Suntory Whisky
680
Nikka Premium Blend 12
750
Nikka Taketsuru 21
2700
Hibiki Harmony
995
Hakushu
795
Nikka Yoichi 15
1850

Whisky - Single Malt

Kavalan Solist Sherry Cask
720
Macallan 12
680

Spirits - Vodka

Tito's Handmade
210
Beldevere
250
Beluga Noble Russian Vodka
450
Stolichnaya
170

Spirits - Gin

Hendricks
300
Bombay Sapphire
160
St George Botanivore
450
Roku Gin
350
Monkey 47
650
Beefeater
180

Spirits - Brandy

Pisco Porton
495

Spirits - Cognac

Hennessy Vs
250

Spirits - Tequila

Patron Silver
360
Jose Cuervo
180
Olmeca
180

Spirits - Rum

Sailor Jerry
150
Pyrat Xo Reserve Rum
350
Don Papa 7yrs
260
Havana Club 3 Yrs
120

Spirits - Whiskey

Monkey Shoulder
320
Johnnie Walker Gold
350
Glenmorangie 10
350
Bulleit Bourbon
300
Jack Daniels
180
Jameson
250

Spirits - Liqueurs

Bailey's Irish Cream
180
Kahlua
150
Cointreau
250
Chase Elderflower
350
Yamazaki Umeshu
400

Sake List

Ozeki Karatamba (Hyogo)
650/2500
Hakushika Ginjo Namachozo
850
Gekkeikan Nigori (Kyoto)
950
Gekkeikan Horin Junmaidaiginjo (Kyoto)
1625
Den En Barley Gold Label Shochu
200/1895
Kubota Junmaidaiginjo
1200
Kubota Senjyu
850

White Wine

Soleca Reserva Sauvignon Blanc
250/1200
Vitral Reserva Chardonnay
1350
Brancott Estate Sauvignon Blanc
1350
Finca Las Moras Sauvignon Blanc
220/995
Matua Sauvignon Blanc
1200

Red Wine

Finca Las Moras Malbec
220/995
Campo Viejo Tempranillo
320/1350
Poggio Della Quercia Sangiovese Rubicone
995
Rothbury Estate Shiraz Cabernet
995
Vitral Reserva Syrah
1350
George Wyndham Bin 444 Cabernet Sauvignon
1350
George Wyndham Bin 888 Cabernet Merlot
1350
Pebble Lane Pinot Noir
1995
Terrazas Delos Andes Reserva Malbec
1995
Brancott Estate Pinot Noir
1995
Genesis Sauvignon Blanc
220/995
Genesis Sauvignon Blanc
220/995
Genesis Carmenere
220/995
About Nikkei Nama Bar
Peru is a place with a lot of dishes influenced by different cultures from different parts of the world, one of those is Japan. Nikkei Nama Bar is a place that serves Japanese-Peruvian fusion dishes and culinary cultures. Nikkei Nama Bar is located in Bonifacio Global City or BGC, they also have branches in Rada Street, Makati, and Ortigas.
They continue to introduce Peruvian Japanese dishes for those who love to explore their appetite. Nikkei actually has a diverse meaning, it's like what the Peruvians call Japanese migrants in their country. And since there are a lot of Japanese living in Peru they started to adapt the cooking style of the country and that's when the Japanese Peruvian cuisine was born. This Japanese Peruvian cuisine over the years has evolved and that's what Nikkei Nama Bar highlights.
Meanwhile, the word nama in nikkei nama means fresh representing the light ingredients that the restaurant uses. First opened their restaurant in 2018, Nikkei Nama Bar is trying their best to give new flavors to their patrons and they are only serving dishes that you can find on their specific branch.
Nikkei Nama Bar Menu Best Sellers
List below are some samples of Nikkei Nama Bar best selling items on their menu.
Iberico Pork Ribs – This one is a must-order, delicious! Iberico pork ribs are roasted in a charcoal oven giving them a smokey flavor. The pork ribs are actually marinated into a miso paste, oyster sauce, and hoisin, with okra and corn. The meat is really tender and easy to chew, it also has a sweet taste. One of the popular items on their menu.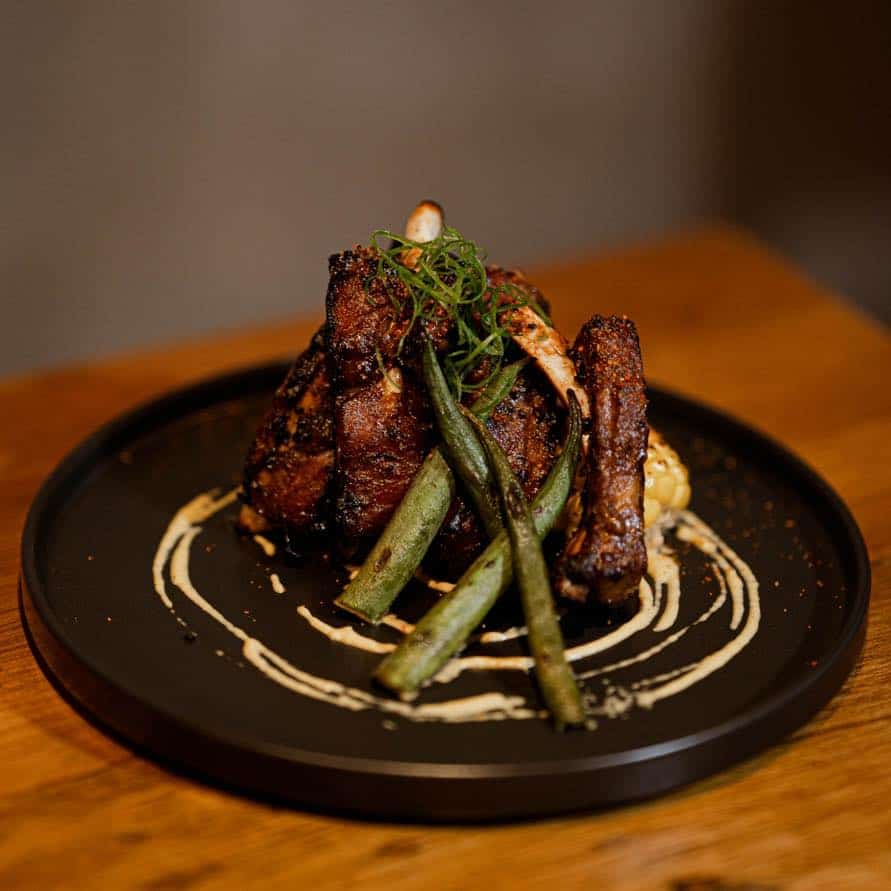 Blackened Salmon Bowl – Blackened salmon bowl is something that you shouldn't miss if you're planning on visiting Nikkei Nama Bar. This has salmon, peanuts, Tokyo slaw, Tamago, and nori tempura. The salmon is actually coated with togarashi and has a balanced savory with peppery flavor. This is perfect as a main course. So, if you are looking for something delicious this is the one that you are looking for.
Ceviche Mixto – Ceviche Mixto of Nikkei Nama Bar is made with generous crab meat, chili, cilantro, dalandan leche de tigre, onion, cherry tomato, peanuts, cancha, lettuce, and potato chips. This will surely catch the eye of those healthy eaters customers since this is way nutritious. This is also a Peruvian popular dish, so if you're a health consideration or just trying to eat healthy this one is for you.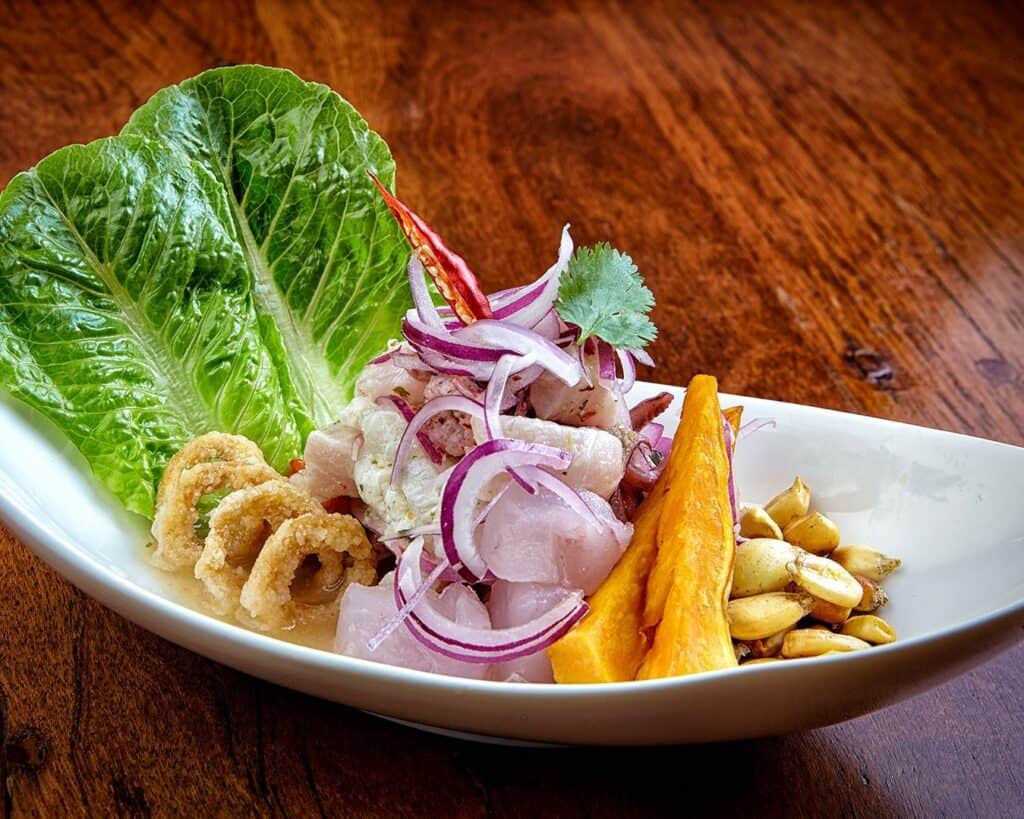 Soft Shell Crab Roll – The soft shell crab roll menu of Nikkei Nama Bar is a sushi dish that is made with soft shell crab tempura, sesame seeds, cucumber, and yuzu. This also has lightly torched mango on top for added flavor. This one tastes amazing and is a must-try if you don't want to miss out on something good.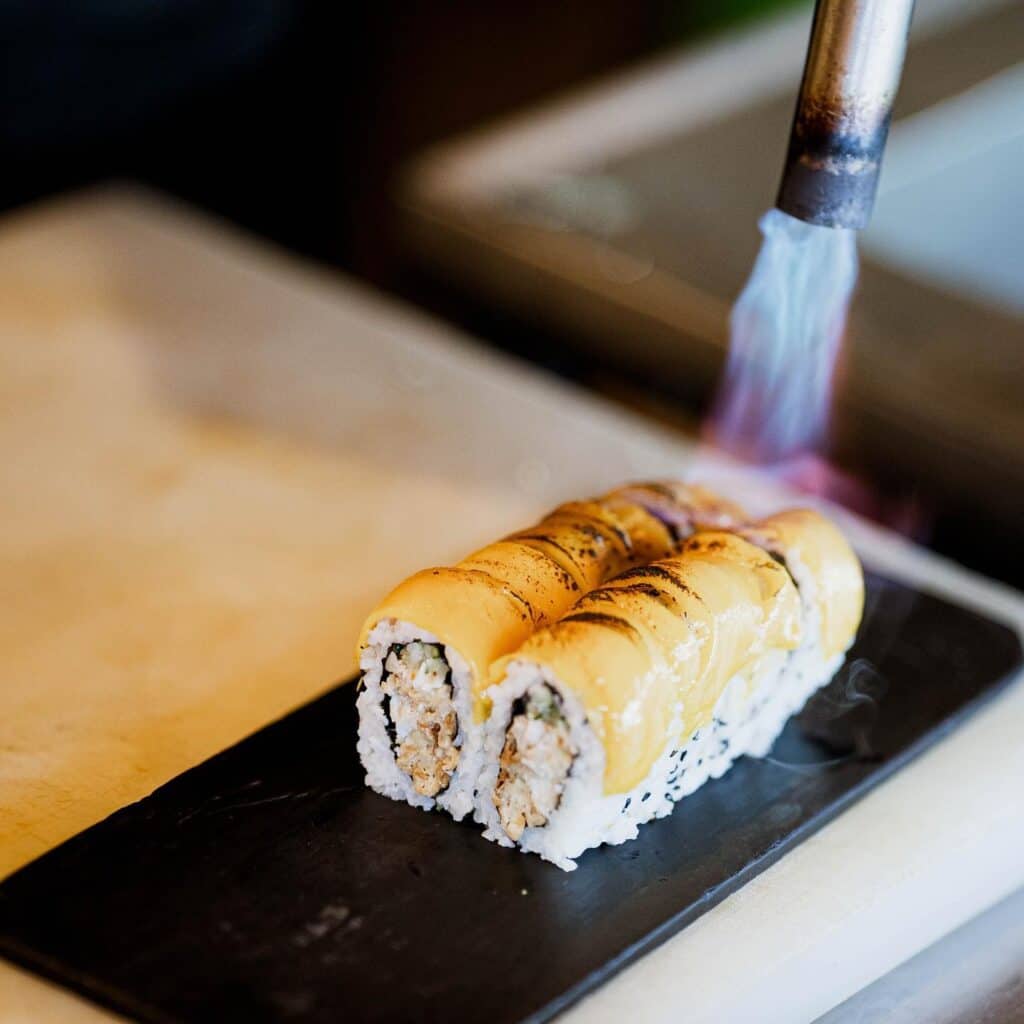 Iced Espresso Beverages
Just when you thought that Nikkei Nama Bar only serves Japanese cuisine and alcoholic beverages they also have iced espresso beverages. On this menu they have an Iced Salted Caramel Latte, this one is an Espresso mixed over their house caramel and some textured milk on top with a sprinkle of sea salt.
They also have Iced Peruvian Mocha, This is an Espresso with Peruvian dark chocolate and textured milk. They also have an Iced Latte, made with Espresso and textured milk then topped with foam. Lastly is their Iced Vanilla Latte, which is an Espresso poured over their house Madagascar Vanilla with textured milk and then topped with foam.
Nikkei Cuisine Ceviche
Nikkei Cuisine Ceviche menu offers 3 delicious items to choose from. The first one is their Classic, this one is actually made with Whitefish, Cilantro, rocoto, red onions, Canchita, and glazed sweet potatoes. They also have Nikkei Ceviche, a dish is tuna with red chili, tamarind leche de tigre, onion, cilantro, calamari, and glazed sweet potato. Lastly their Ceviche Mixto, this one is a mix of everything like leche de tigre, lettuce, whitefish, prawns, cilantro, squid, onion, chili, cancha, and glazed sweet potato.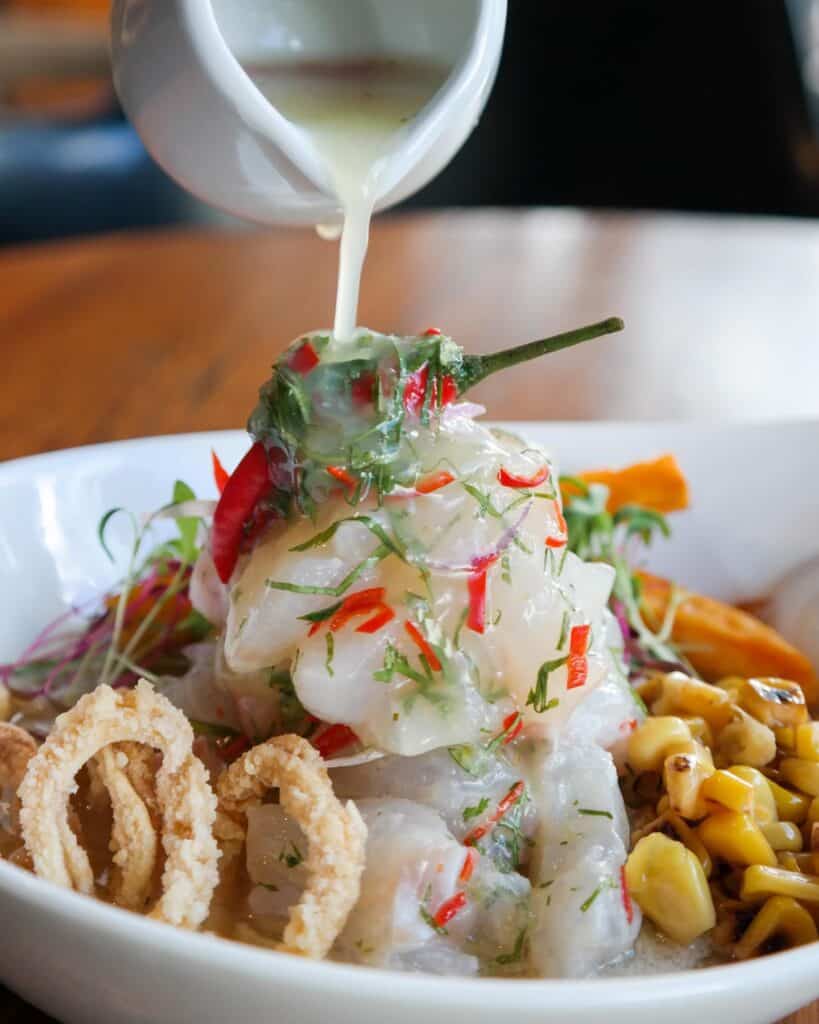 Nikkei Nama Bar Menu Delivery
Upon checking if you want to order your favorite Nikkei Nama Bar dishes you may order at Foodpanda, Grab, and Pickaroo. However, if you're location is not serviceable by those third-party channels you may call directly their branch for delivery.
Nikkei Nama Bar (BGC): 0966 533 7573
Nikkei Social Media Pages
Follow them on social media, and you'll unlock a gateway to exclusive delights, creative fusion, and unforgettable experiences. So, don't just follow; savor the flavors, savor the moments, and savor the journey with Nikkei Nama Bar!
Facebook: https://www.facebook.com/nikkeinama
Instagram: https://www.instagram.com/nikkei_nama_bar
Website: https://www.nikkei.com.ph
FAQs
Where is Nikkei Nama Bar located?
Nikkei Nama Bar is located at 2nd flor One Bonifacio High, 28th street BGC, Taguig.
What are Nikkei Nama Bar's contact numbers?
You may contact Nikkei Nama Bar at (02)77539212 or 09665337573
What are Nikkei Nama Bar's business hours?
Nikkei Nama Bar is open from 11:00 in the morning until 10:00 pm
Does Nikkei Nama Bar have social media pages?
Yes. Check out the links on the Social Media Pages section for Nikkei Nama Bar social media pages.
How many branches does Nikkei Nama Bar have?
Nikkei Nama Bar has 3 branches, one in Rockwell, another one in Legaspi village Makati, and lastly their Podium branch in Mandaluyong.
Conclusion
Great place to go if you're looking for a Japanese restaurant that offers Japanese cuisine and Nikkei which is a Peruvian dish with a big Japanese influence. Nikkei Nama Bar menu offers a wide selection of delicious and fusion dishes plus they also have alcoholic drinks to enjoy anytime. This place looks so good plus the ambience of their place is cozy and customer friendly. The crew is nice and fast, I honestly can't complain about them, such friendly people. Highly recommended for everyone who loves to discover delicious foods while enjoying a great night.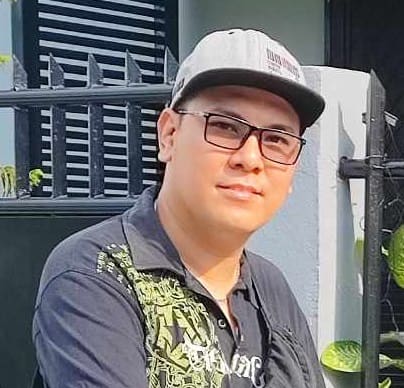 Hi! I'm Nivek Strife, the person who made MenuPH. I'm the one who added most of the popular menus you see on this website, and I really hope you enjoy them! Feel free to check them all out.
Growing up, I was surrounded by lots of tasty foods, like the classic Adobo and the sweet Leche Flan. That love for the many flavors of the Philippines is what got me excited about adding to MenuPH. When I learned how to make websites, I saw the need for a place to show off all the amazing Filipino dishes, and that's how MenuPH started.
MenuPH isn't just a website; it's like a fun journey into food. I've teamed up with famous chefs and found great places all over the Philippines to bring you a bunch of menus that show off the best of Filipino cuisine. Whether you're into the usual dishes or new twists, MenuPH is here to guide you through the rich world of Filipino flavors.
With MenuPH, my aim is to help local businesses, talk about good food choices, and make a group of friends who love food. No matter if you like fancy restaurants or street food, MenuPH has something for you. Come join me on this food adventure as we find great places, taste real flavors, and enjoy the unique food traditions that make the Philippines awesome.