Are you looking for a chicken dish that will satisfy your appetite? Every food lover has their own cravings for a specific food. They always look for a satisfying taste and a healthy yet affordable one at their table. So, many restaurants offer a wide variety of innovative food on their menu to make their customers really satisfied. So, what are you waiting for? Just invite your loved ones, family, or friends and try Peri Peri Chicken restaurant. Peri-Peri charcoal chicken and sauce bar have it all! They want you to taste their satisfying affordable dishes. Now, let's start exploring the list of the Peri Peri chicken menu and many more.
Below, you'll find the updated list of Peri-Peri Chicken menu prices.
Menu Items
Price (PHP)

Peri Pica Pica

Peri Peri Dynamite (Regular)
145
Peri Peri Dynamite (To Share)
340
Salted egg chispy chicken skin(spicy) (Regular)
145
Salted egg chispy chicken skin(spicy) (To Share)
340
Salted egg potatoes (Regular)
145
Salted egg potatoes (To Share)
340
Jalapeño Fries (Regular)
145
Jalapeño Fries (To Share)
340
Chicken poppers (Regular)
145
Chicken poppers (To Share)
340
Fish sticks(spicy) (Regular)
145
Fish sticks(spicy) (To Share)
340
Beef Taco (Regular)
145
Beef Taco (To Share)
340

Entradas

Mozarella Sticks(spicy)
230
Salsa and Cheese
210
Peri Nacho Bake (Regular)
245
Peri Nacho Bake (To Share)
450
Jalaporco
245

Rappa

Chicken
205
Beef
245
Fish
180

Peri Peri Charcoal Chicken

Half Chicken
410
Whole Chicken
775

Peri Peri Grilled Wings

Solo
360
To Share
1,200

Peri Peri Special Plates

Honey BBQ Chicken Fillet
365
Grilled Honey Pork Belly
385
Chicken and Pasta
365

Peri Peri Plates

Plate 1: Quarter Chicken w/ rice, 1 Side, Natas
330
Plate 2: Quarter Chicken w/ rice, 2 Sides, Natas
390
Plate 3: Half Chicken w/ rice, 1 Side, Natas
505
Plate 4: Half Chicken w/ rice, 2 Sides, Natas
565
Plate 5: Quarter Ribs w/ rice, 1 Side, Natas
520
Plate 6: Quarter Ribs w/ rice, 2 Sides, Natas
580
Plate 7: Chicken, Ribs, w/ rice, 1 Side, Natas
685

Sides

Rainbow Veggies
70
Buttered Corn on the Cob
70
Bacon Mac and Cheese
65
Mashed Potato
65
Corn and Carrots
65
Honey Glazed Marble Potato
65
Tortilla
65
Coleslaw
65

Peri Peri Natas

Peri Natas Classic 4pcs
170

Pasta

Creamy Seafood Pasta (Solo)
345
Creamy Seafood Pasta (To Share)
715
Chorizo Bolognese (Solo)
325
Chorizo Bolognese (To Share)
630
Shrimp Aglio Olio (Solo)
355
Shrimp Aglio Olio (To Share)
725
Carbonara (Solo)
325
Carbonara (To Share)
630
Pasta Tartufo (Solo)
385
Pasta Tartufo (To Share)
870

Healthy Eats

Plate 1: Quarter Charcoal Chicken, Classic Cheese Quesadilla, Side Salad
285
Plate 2: Quarter Charcoal Chicken, Fish or Chicken Rappa, Side Salad
295
Plate 3: Quarter Charcoal Chicken, Shrimp Aglio Olio, Side Salad
305

Extras

Java Rice
70
Steamed Rice
50
Garlic Breadsticks
40
Spanish Rice
80

Beverages

Mineral Water
65
1.5L Coke
130
1L House Blend Iced Tea
145
1L Cucumber Lemonade
155
1L Lime-ade
145
Coke in can
95
Royal in can
95
Coke Zero in can
95

Bottled Sauces

Peri Peri Harissa Exotica
185
Peri Peri Garlic Bre
185
Peri Peri Spiced Vinegar
185
Peri Peri Hoison Sesame
185
Peri Peri Mesquite BBQ
185
Peri Peri Chilli Peppa
185
Peri Peri Sweet Soy
185

Cater Trays

Java Rice
720
Classic Charcoal Chicken
2,900
Pasta Tartufo
2,400
Corn and Carrots
900
Chorizo Bolognese
1,500
About Peri-Peri Charcoal Chicken and Sauce Bar
Peri-Peri is a Portuguese term for Pepper-Pepper which means a very hot chili pepper sauce that originated in Portugal that was introduced in South Africa way back 15th century.
 For the past decades, many commercial food industries have continuously created an innovative ways of making this special sauce more flavorsome. Peri- Peri charcoal- grilled chicken and sauce bar restaurant was established in 2005 by entrepreneur Bryan C. Tiu.
His eagerness and perseverance opened up the gate for its success in business. At the early age of 18, he started to make his dream come true. Because of its rapid growth in the food industry, Peri-Peri charcoal-grilled chicken and sauce bar is recognized as the largest chicken restaurant chain in its category. He was also awarded as one of the Earnest young Entrepreneurs in 2005. 
Aside from that l, in the year 2015, Bryan Tiu opened their first-ever international branch located in Myanmar and they always plan to expand its multiple concepts in business. Bryan C. Tiu also founded the IFoods Group Inc. recognized for its international flavorsome food choices. Now, you probably saw the success of the IFood Group Inc.
Through the expanded branches locally and internationally that always cater to tasteful dishes for everyone. Peri Peri charcoal-grilled chicken and sauce bar offers a variety of tasteful chicken, pork barbeque ribs, and signature sauces that would surely satisfy every craving.
Looking for an alternative restaurant that has a signature chicken dish? Try the Kenny Rogers Roasters instead.
Peri-Peri Chicken Menu Best Seller
Peri Peri charcoal grilled chicken and sauce bar never failed to delight us through their flavorful mouth-watering smokey taste grilled chicken infused with different signature sauces. Peri Peri charcoal chicken is a classic grilled chicken marinated overnight to blend all the spices deep into the chicken to attain its delightful taste of perfection that would definitely enjoy by the whole family or even a group of friends. Whenever you visit the store you will definitely experience the flavorful taste of different sauces that matches your chicken such us:
Apachee'kn Mesquite BBQ – If you love to taste the western flavor, try this smoky bbq sauce. A mild and sweet-savory taste that will add up to your grilled chicken madness.
Tokyo Tori's Sweet Soy – This Peri Peri chicken menu has a simple sweet taste but will give you a more satisfactory effect inside your mouth in every dip with this sauce that will surely make you beg for more!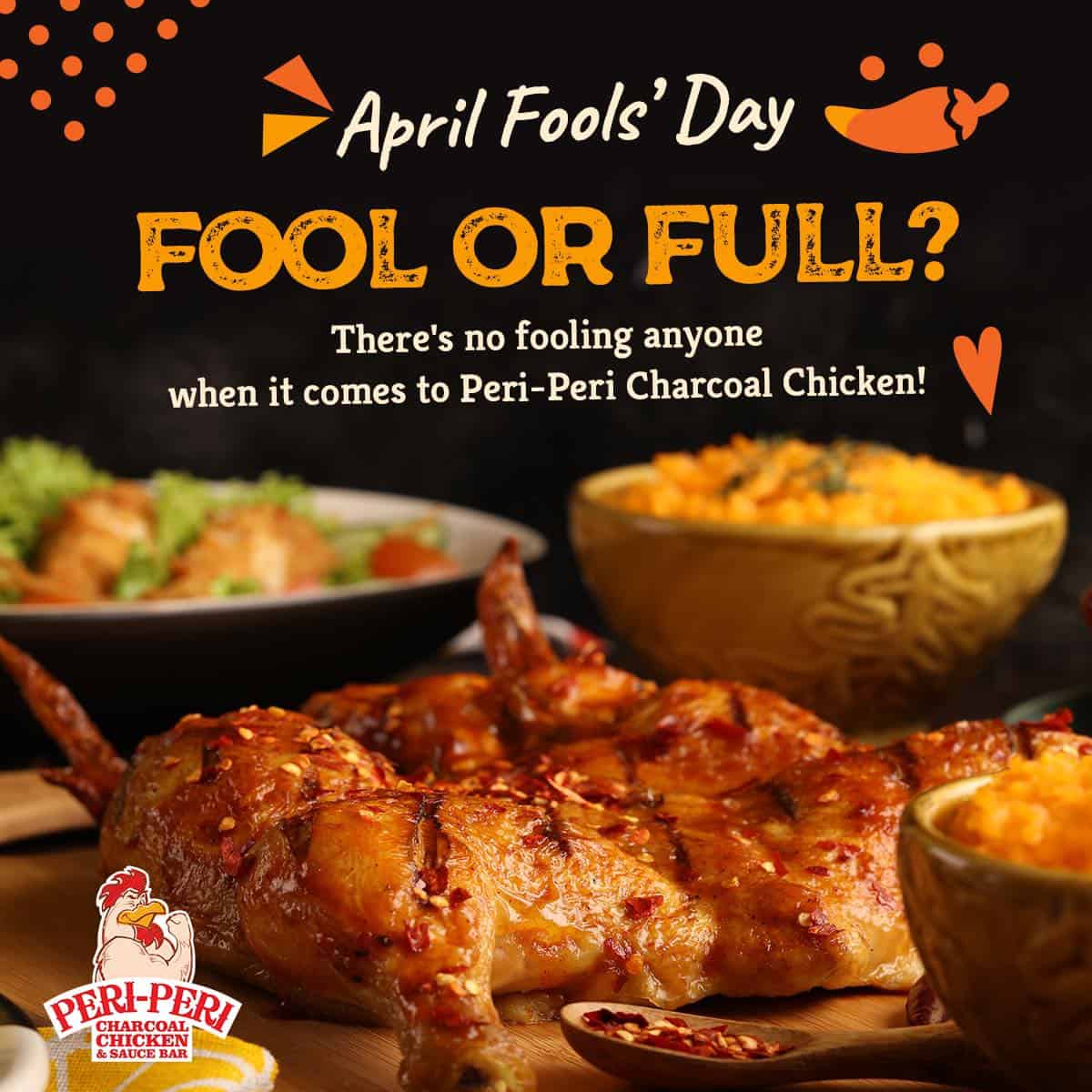 Count Cluckula's Garlic Brew – It is composed of garlic and other spices mixed and matched together to suspend its flavor. The bite of garlic in your mouth will spice up your dining experience.
Fowl-mouthed Chili Peppa' – A flavorful taste chili that would definitely make you say something inappropriate words because of its fiery, hot intense taste burst in your mouth.
Hen Dynasty's Hoisin Sesame – This menu is a combination of traditional spices masterly fermented to carry out a deep flavor of its own. A sauce popular in Chinese cooking brought here to experience the sweet, blistering flavor with a little bit of spice.
Ka Tuka's Honey Pinakurat – A Filipino spiced vinegar blend its perfection to bring out the flavorsome taste of spices and herbs mixed up. This sauce is commonly seen on every Filipino's dining table, the all-time favorite dipping sauce now added to your choices every time you dine.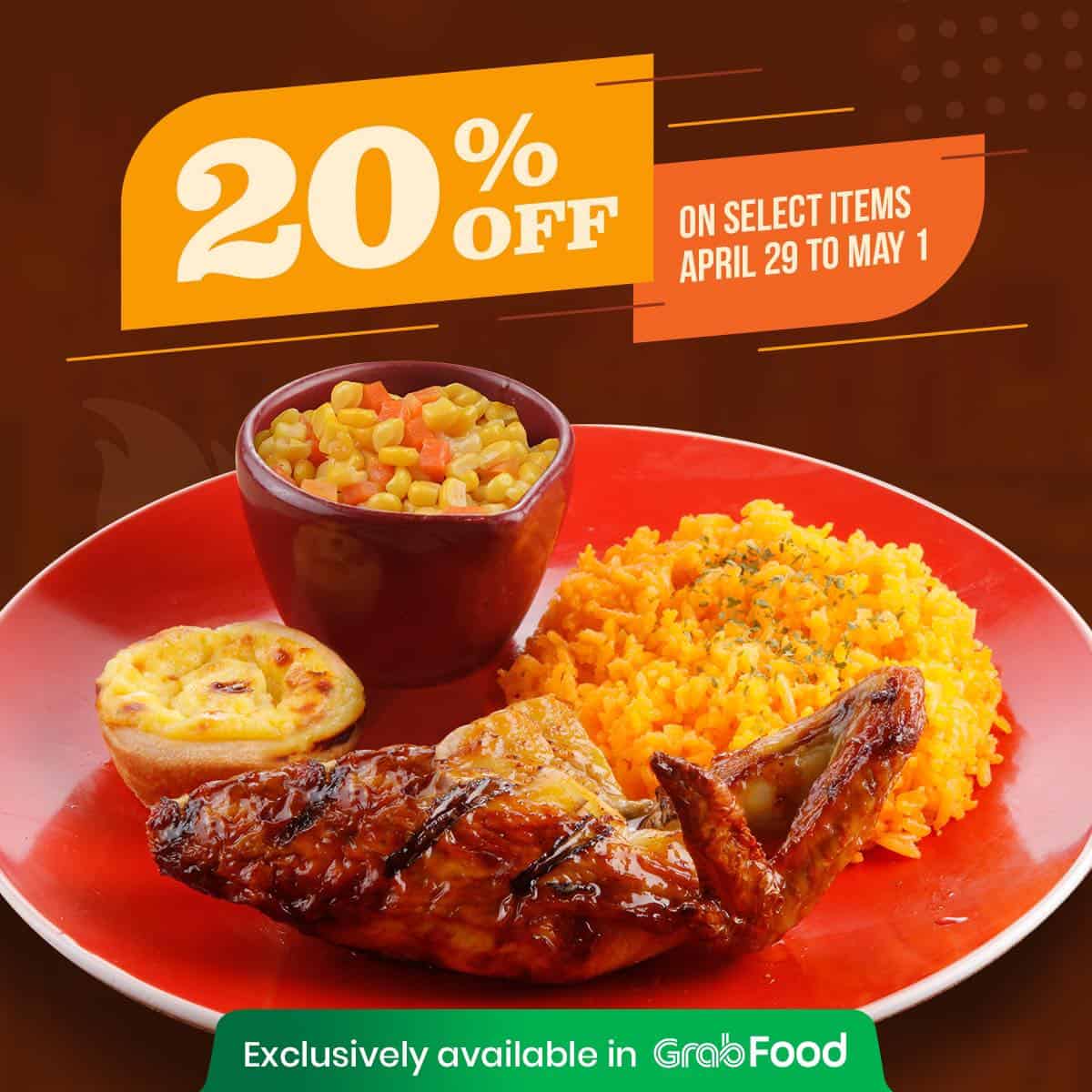 Sheik Chic's Harissa Exotica – An infusion of different spices strongly made for someone who seeks a challenging way of eating grilled chicken dipped in sauce. It is highly
Poulet Vous Cajun Remoulade – When you are looking for a smooth and mild taste of dip sauce, this might be one of your choices. A European native sauce is simply made to make every eating moment more exciting and appetizing.
Peri-Peri Chicken Plates
Customers can choose new improved dish combinations for a solo treat whose price ranges from P255 – P539. You can now really enjoy the tasteful meal all served with java rice and Natas at a fairly reasonable price.
Peri-Peri Pastas
Your favorite Peri duo is now in one plate! Your choice of Chorizo Bolognese or Carbonara with Quarter Chicken and Nata for only P285! Just add P30 to upgrade to premium pasta!
Peri-Peri Chicken Promos
Peri Peri charcoal grilled chicken and sauce bar always want to treat every customer and be satisfied with their food while giving them value for their money. They regularly offer promo that strategically changes for every circumstance. They are offering a welcome treat by availing of a Supercard Classic or Gold on your first visit to the store. You can enjoy freebies right after you availed of supercars such as selected free meals, discounts, and birthday treats. Also, the cards may earn points every time you purchase or order in any store dine in, carry out, and deliver. Customers have so much to enjoy because of the exciting promos they are offering.
Peri-Peri Chicken Menu Delivery
They have Peri-Peri Grilled Wings TO SHARE Bundle which is exclusively available in Grab Food and Pick.A.Roo for only P999, saving P776.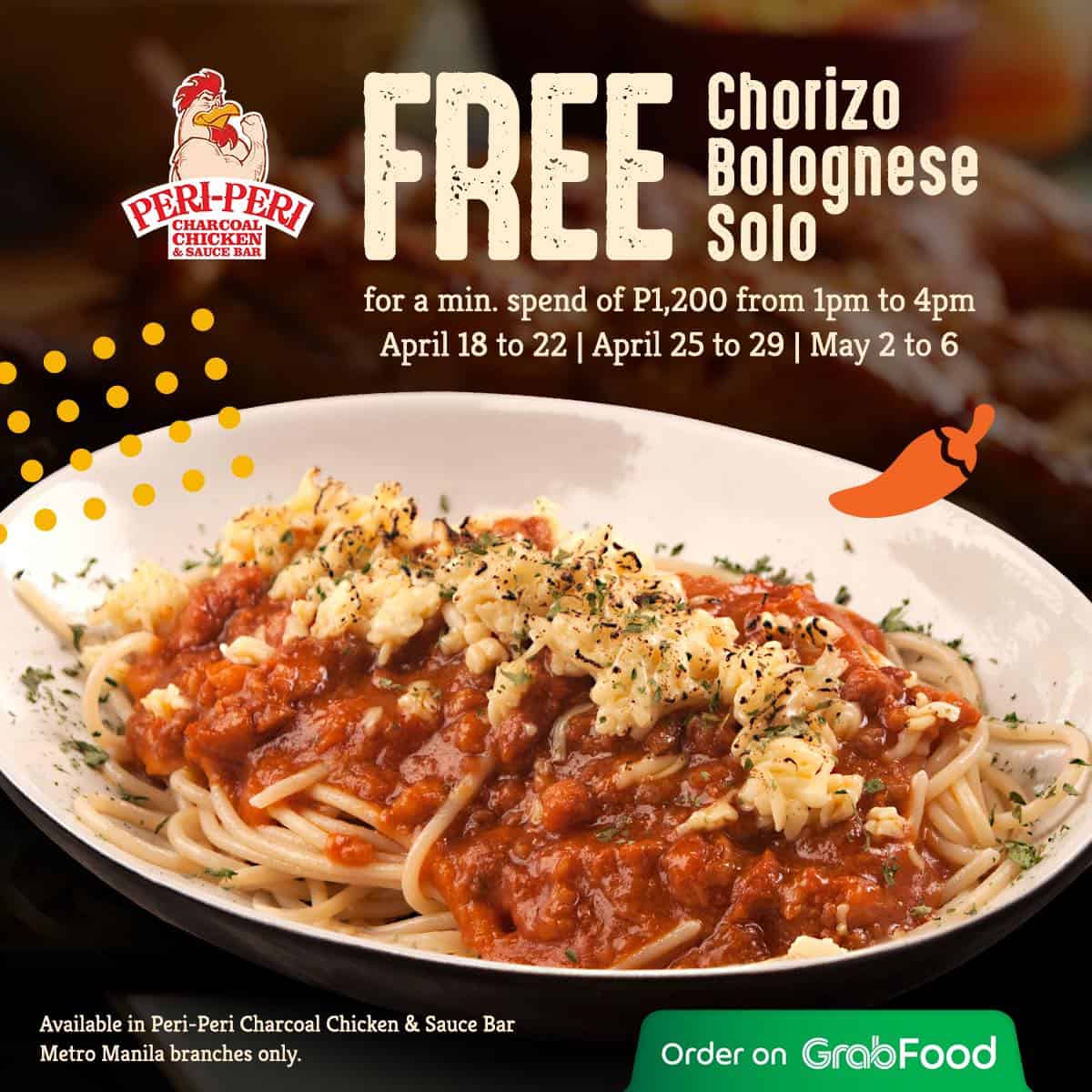 This menu includes:
4 Java Rice
2 Regular Coleslaw
2 Regular Corn and Carrots
1.5L Coke Classic or Coke Zero
1 SuperCard Classic.
There is no problem whenever you are craving Peri Peri Chicken dishes. You can have it right in front of your door through every food delivery service. Just DIAL PERI-PERI (7374-7374) delivery hotline or order online via https://www.periperichicken.ph/.
Social Media Platforms
Looking for their latest updates? Then you can contact them easily via their social media sites such as Viber, Facebook, and Instagram.
Facebook: https://www.facebook.com/peripericharcoalchicken/
Instagram: https://www.instagram.com/pericharcoalph/
Viber: This link
Peri Peri charcoal chicken is always available to serve you better.
Conclusion
In light of this information, Peri Peri Charcoal Chicken and Sauce Bar menu are definitely one of the best stops if you love chickens. Their chicken menu will make your mouth watery and crave more. Every time you visit and eat at their branch will surely satisfy your tastebuds because it is not just only a typical grilled chicken but also a dish infused with very flavorful spices of your choice. So don't forget to pass by their store whenever you are on a leisurely walk with your family or even friends. Thumbs up to them!