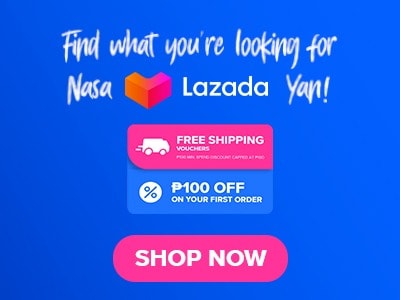 Pandan Asian Cafe's menu offers a variety of Asian dishes, from Filipino to Japanese and Korean to Thai dishes, this cafe has everything that every customer would want! Each section is made up of the classic and staple dishes of each cuisine, like adobo for the Filipino section, ramen for the Japanese section, bulgogi and bibimbap for the Korean section, and pad thai for the Thai section. This cafe is recommended for anyone who would like to try a variety of dishes from different cuisines.
Menu Items
Price (PHP)

Starter

Fresh Spring Rolls
265
Fried Shrimp Rolls
310
Chicken Satay with Peanut Sauce
320
Salt Pepper Squid
380
Shrimp Pomelo Salad
460

Soups

Seafood Laksa
490
Chicken Binakol
430

Noodles

Seafood Mee Goreng
420
Char Kuey Teow
420
Pad Thai
420

Poultry DIshes

Pandan Fried Chicken
460
Ayam Goreng
540
Orange Chicken
510
Hainanese Chicken
510
Chicken Inasal
490

Pork

Char Siu Pork
540
Lechon Macao
540
Crispy Pata
750
Pork Sisig
320

Beef

Beef Rendang
640
Stir-Fried Beef with Fried Basil
710
Kare Kare
710

Seafood

Salted Egg Prawns w/ Curry Leaves
750
Sambal Sotong
460
Sambal Ikan
860
Chili Prawns
750
Sweet & Sour Fish
710

Vegetables

Mixed Vegetables & Mushrooms
390
Kangkong Belachan
240
Fried Eggplant w/ Minced Meat
390
Braised Stuffed Tofu w/ Mushrooms
320
Kailan Oyster Sauce
280

Rice

Nasi Goreng
330
Bagoong Rice
330
Garlic Rice
60
Pandan Rice
50

Desserts

Maja Blanca
180
Mochi
180
Biko Halaya
240
Buco Crumble
290
Leche Flan
150
Buko Pandan
210

Cold Drinks

Classic Lemon Iced Tea
120
Cucumber Lemonade
170
Iced / Hot Coffee
130
Calamansi Juice
110
Iced / Hot Vietnamese Coffee
170
Cappuccino
130
Banana Shake
150
Mango Ripe / Green Shake
180
Pineapple Shake
160
Buko Shake
160
Mango Banana Shake
190
About Pandan Asian Cafe
Pandan Asian Cafe is a restaurant located in the Philippines that has a wide selection of Asian cuisines, including Filipino, Asian, Japanese, Korean, and Thai dishes. This cafe has several branches, all scattered strategically across Metro Manila, in places like Quezon City, Pasig, and Makati City. Pandan Asian Cafe is very famous for its cozy ambiance, affordable prices, and delicious food. Customers can choose to dine in or order through their delivery service via food delivery platforms or their own website.
Pandan Asian Cafe Menu Best Seller
This menu features Pandan Asian Cafe's best-selling dishes, not only for their taste but also for their affordable prices.
Pandan Fried Chicken – The pandan fried chicken dish is a must-try for anyone who loves fried chicken! While it is your typical fried chicken, the infused pandan leaf on the batter makes this fried chicken more fragrant than any other fried chicken dish that you have tasted! In addition, it has juicy and flavorful meat making it a crowd-pleaser for any customer.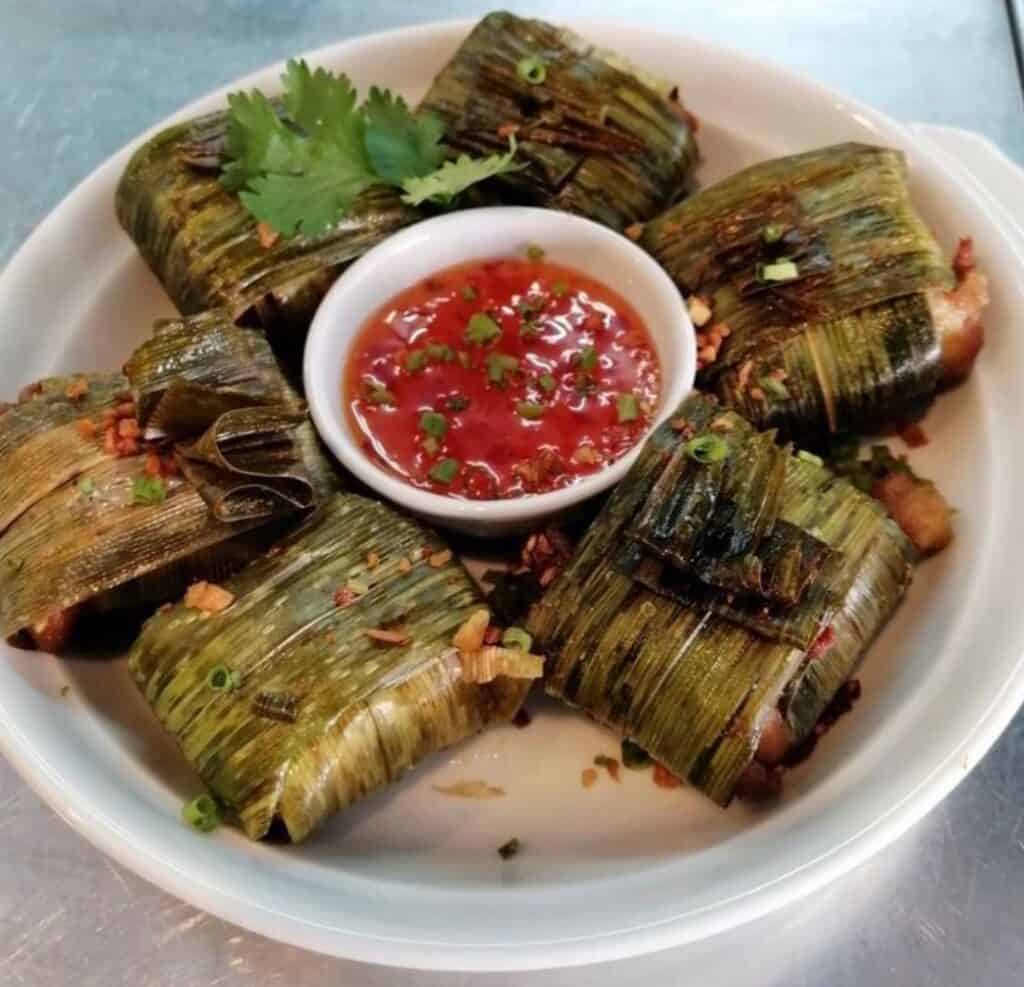 Fresh Spring Rolls – These spring rolls are a common starter dish at many Asian meals. These spring rolls are made up of fresh vegetables and herbs and wrapped in a rice paper wrapper. Some versions of these spring rolls include ingredients like chicken, pork, or tofu. This Pandan Asian Cafe menu has a crispy texture that makes it not only delicious but also fun to eat.
Salt Pepper Squid – This popular seafood dish is a must-have in many Asian meals. It is made up of battered squid that is seasoned with salt, pepper, and other spices, and then deep-fried to perfection! Served with a dipping sauce made from soy sauce, rice vinegar, and spices, this dish is so aromatic and mouth-watering that you just can't help yourself from trying it.
Starter
This menu is made up of different starter dishes that are a must-order for those guests who want to start off their meal with a blast!
Fried Shrimp Roll – This menu of Pandan Asian Cafe is filled with shrimp then wrapped in a rice paper wrapper and then deep-fried until the wrapper becomes crisp and golden brown in color. It is served with a sweet chili sauce making these rolls tastier and more satisfying.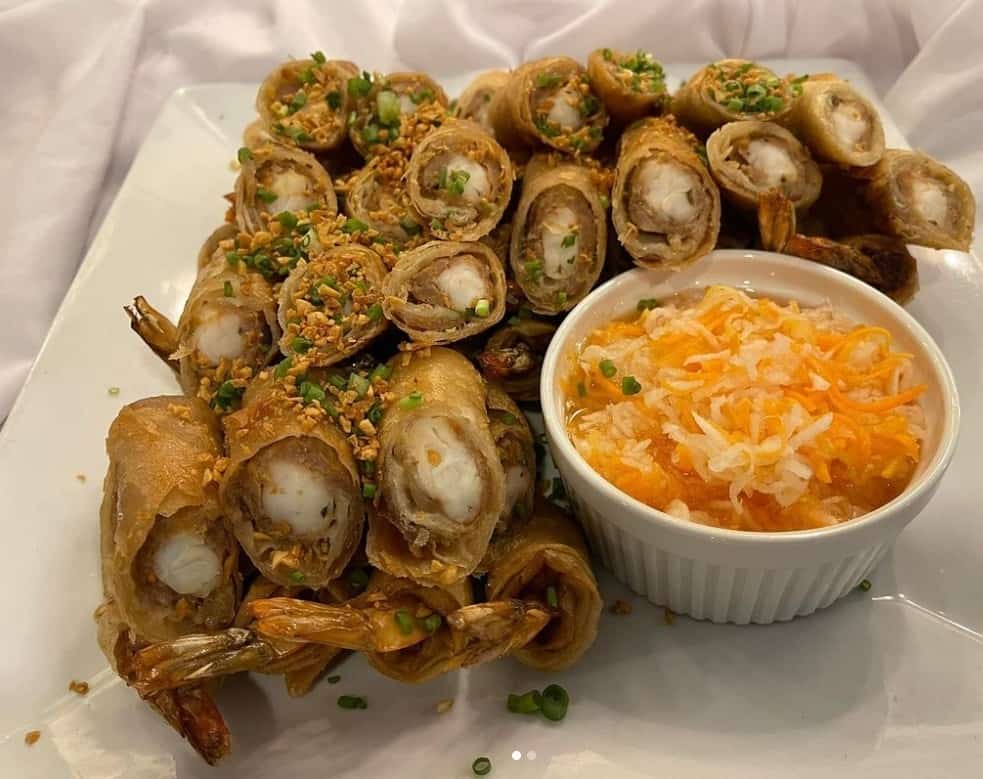 Chicken Satay with Peanut Sauce – This dish originated in Southeast Asia and Pandan Asian Cafe has added a slight twist to it making it unique and delicious at the same time. It is made up of marinated chicken meat that is grilled over charcoal and then served with a peanut sauce for a much creamier and more flavorful taste.
Shrimp Pomelo Salad – This is a refreshing and light salad that is popular in Thai cuisine. It is made up of shrimp, pomelo, and a different variety of herbs. To add a little bit of texture to the dish, roasted peanuts, and crispy shallots are added to it making it a great option for those who are looking for a lighter, healthier dish.
Poultry Dishes
This menu is made up of different poultry dishes each of which has its own unique flavors due to them coming from different cuisines.
Ayam Goreng – This is a traditional Indonesian chicken dish that features chicken meat that has been marinated in different spices and seasoning resulting in a chicken dish that is bursting with flavors!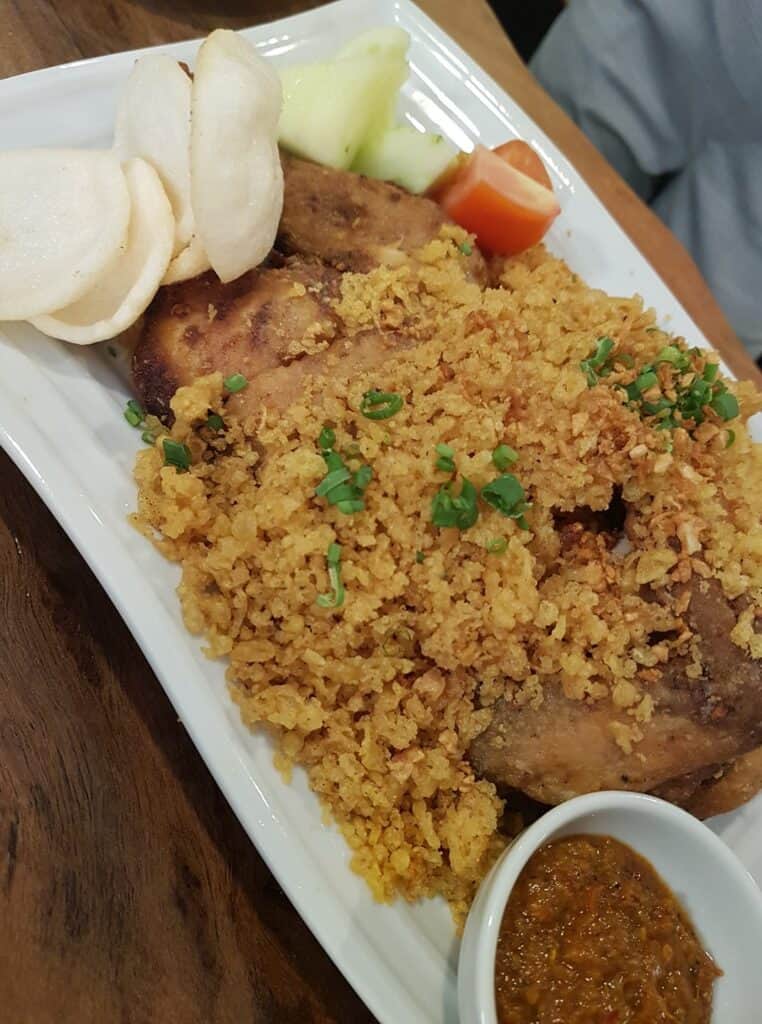 Orange Chicken – This chicken dish is a fusion of flavors that has a blend of sweet and savory notes. It features crispy fried chicken pieces that are tossed in a tangy orange sauce giving it a sweet and sour flavor.
Hainanese Chicken – This is a Singaporean chicken dish that features poached chicken that is seasoned with garlic, ginger, and other herbs and spices. It is served with fragrant rice and a chili sauce that is full of flavors making this dish a perfect item for those who prefer a lighter and healthier option.
Pandan Asian Cafe Pork Menu
This menu is made up of different pork dishes from different cuisines giving customers a wide variety of choices that fits their preferences.
Char Siu Pork – This dish is a popular Cantonese pork dish that features tender, juicy slices of roasted pork that have been marinated in a sweet sauce. The meat was perfectly cooked, with a slightly crispy exterior and a very juicy and tender interior.
Lechon Macau – This is a Filipino-style roasted pork belly dish that has a crispy outer texture but tender and juicy meat on the inside. The pork is first seasoned with different herbs and spices that give it a rich and savory flavor that is hard to resist.
Crispy Pata – This is a deep-fried pork leg that is also a very famous main or side dish in the Philippines. It is flavored with the garlic, salt, and pepper that are used to season this dish.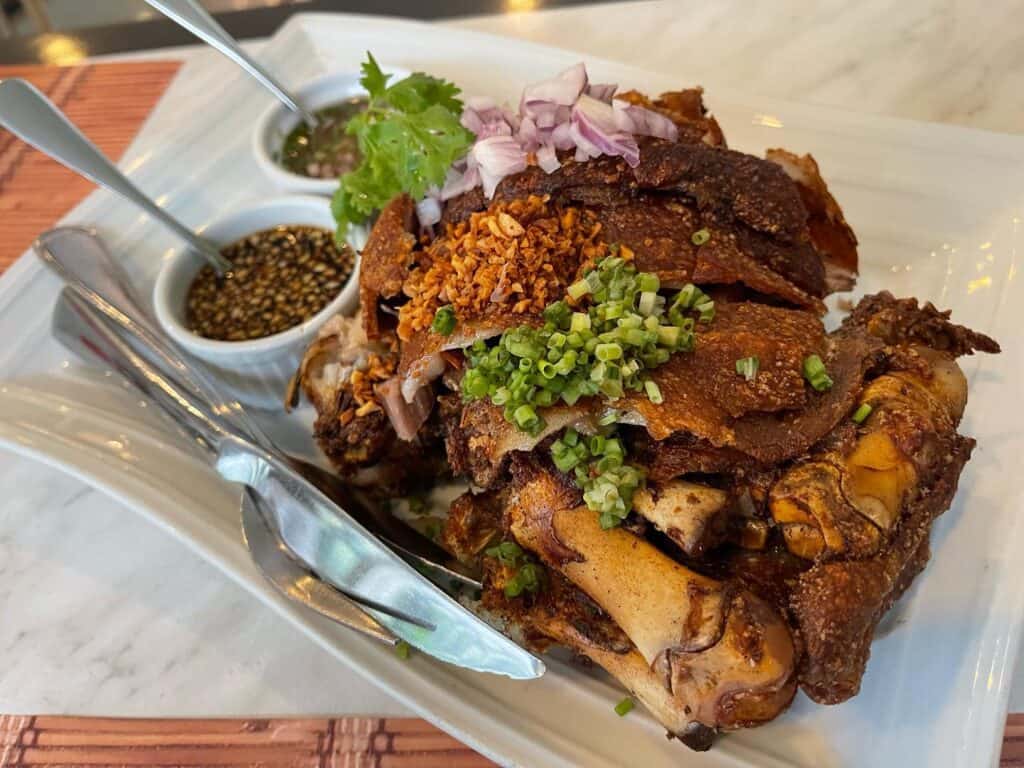 Beef
This menu consists of different beef dishes that come from different cuisines, providing customers with a variety of choices to choose from.
Beef Rendang – This is a very popular Indian dish that features beef that has been simmered in a blend of coconut milk and different spices, resulting in a tender and very flavorful dish with a rich and creamy taste. For Filipino seeking different culinary experiences, I highly recommend getting this menu of Pandan Asian Cafe and you won't be disappointed.
Stir-Fried Beef with Fried Basil – This is a Thai-inspired dish that features slices of tender beef that have been stir-fried with garlic, chili, and fresh basil. This dish has the perfect balance of sweetness and spiciness and is bursting with flavors!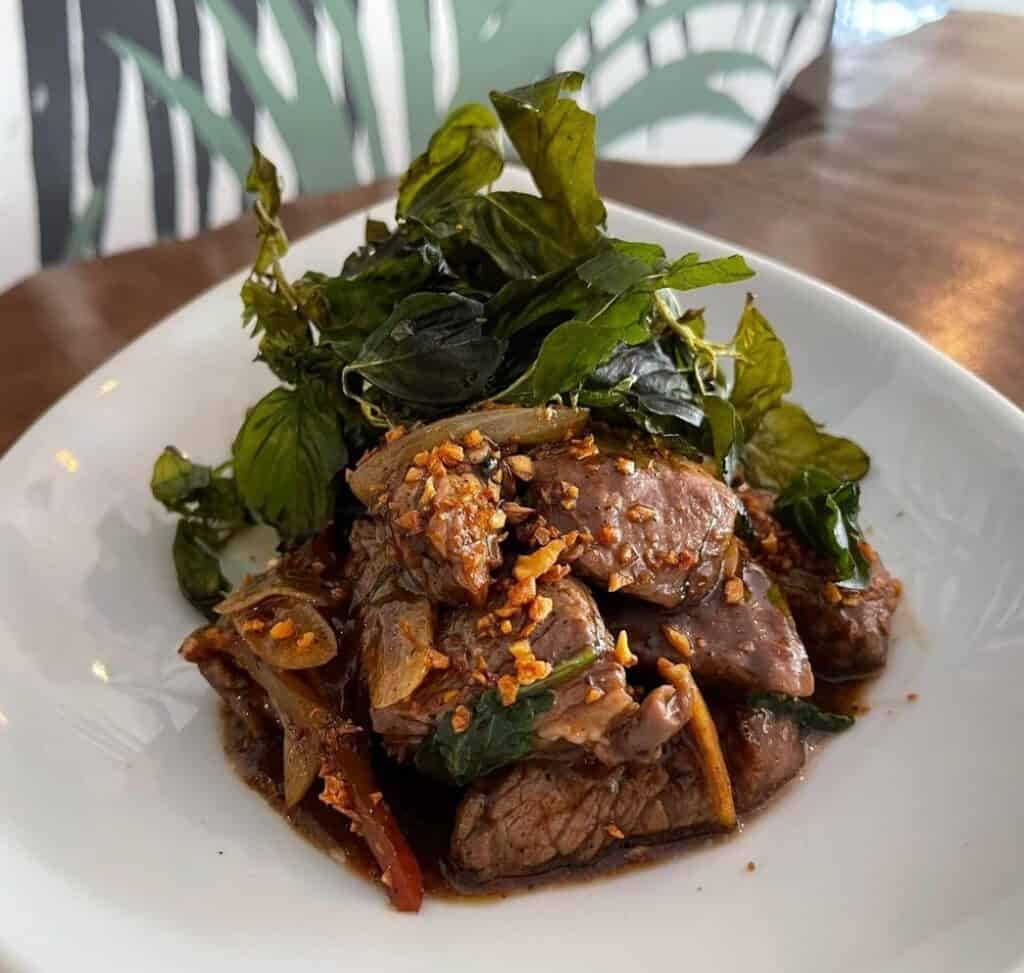 Kare Kare – A staple dish in Filipino cuisine, it features tender beef that is stewed in a peanut sauce with different vegetables such as eggplant, long beans, and bok choy. It is served with a shrimp paste on the side and a bowl of steamed rice on the other, which perfectly complement the tender beef.
Soups
This menu of Pandan Asian Cafe is made up of a variety of soup dishes from different cuisines, giving customers the freedom to choose the soup dishes that they are craving. Every soup dish on this menu is bound to warm and fill up the diner, giving them a complete and satisfying meal experience.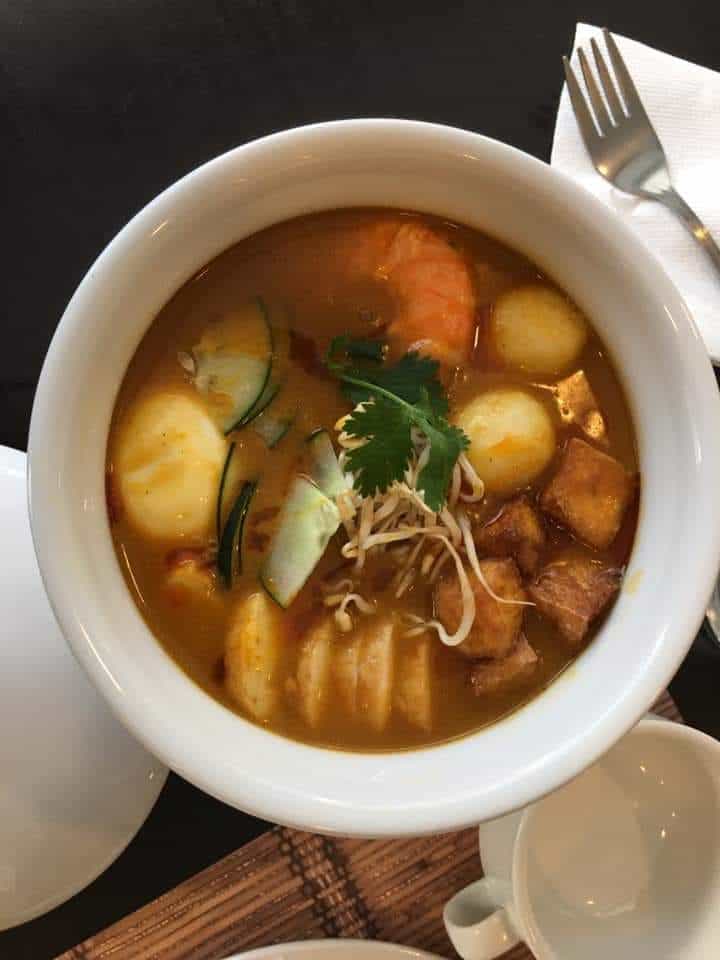 Noodles
This particular menu features a diverse range of noodle dishes hailing from different countries, each boasting rich, delectable flavors and substantial portions. We take pride in using only top-notch ingredients in the preparation of every dish, resulting in a fresh and gratifying meal that will leave you feeling satisfied. Our menu is perfect for those seeking a satisfying and enjoyable dining experience with high-quality and delicious dishes.
Pandan Asian Cafe Menu Delivery
Pandan Asian Cafe offers a convenient delivery service to cater to the busy schedules of its valued customers who are unable to visit the restaurant in person. With the option to place orders via the restaurant's dedicated hotline or through renowned third-party delivery platforms like GrabFood and FoodPanda, customers can enjoy the comfort of their homes while indulging in the restaurant's delectable Asian cuisine. The delivery service is an ideal choice for those seeking a hassle-free dining experience without compromising on the quality and taste of their food.
Social Media Pages
Don't miss out on their signature dishes like the Bagoong Rice, Laksa, and Beef Rendang. Plus, their cozy and stylish interior will make your dining experience even more enjoyable. Follow their social media pages to stay updated on their latest offerings and promos.
Facebook: https://facebook.com/pandanasiancafe/
Instagram: https://instagram.com/pandanasiancafe/
Conclusion
Pandan Asian Cafe's menu offers a wide selection of Asian cuisines, it features a mix of Filipino, Japanese, Korean, and Thai dishes, providing any customer with something that fits their cravings. In addition to the quality and diversity of the dishes, Pandan Asian Cafe's prices are also reasonable, making it a great value-for-money option. Overall, Pandan Asian Cafe's menu is well-executed and offers a satisfying dining experience for those seeking a taste of different Asian cuisines.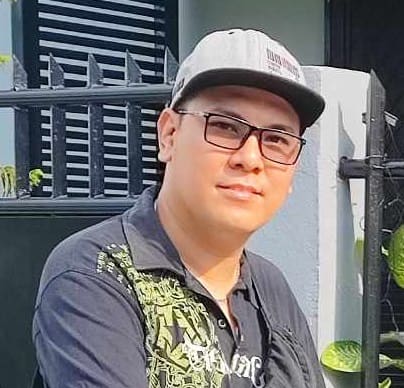 Hi! I'm Nivek Strife, the person who made MenuPH. I'm the one who added most of the popular menus you see on this website, and I really hope you enjoy them! Feel free to check them all out.
Growing up, I was surrounded by lots of tasty foods, like the classic Adobo and the sweet Leche Flan. That love for the many flavors of the Philippines is what got me excited about adding to MenuPH. When I learned how to make websites, I saw the need for a place to show off all the amazing Filipino dishes, and that's how MenuPH started.
MenuPH isn't just a website; it's like a fun journey into food. I've teamed up with famous chefs and found great places all over the Philippines to bring you a bunch of menus that show off the best of Filipino cuisine. Whether you're into the usual dishes or new twists, MenuPH is here to guide you through the rich world of Filipino flavors.
With MenuPH, my aim is to help local businesses, talk about good food choices, and make a group of friends who love food. No matter if you like fancy restaurants or street food, MenuPH has something for you. Come join me on this food adventure as we find great places, taste real flavors, and enjoy the unique food traditions that make the Philippines awesome.