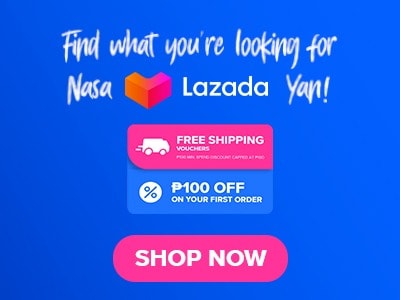 There are a lot of restaurants in the Philippines that can provide both locals and customers with unique and delicious food items for a memorable dining experience. One of these restaurants is the Mexican-inspired restaurant, Mexicali. Mexicali's menu features a variety of options to cater to different preferences, including vegetarian and vegan choices that range from sizzling fajitas and mouthwatering tacos to cheesy quesadillas and flavorful burritos. Mexicali also offers a selection of refreshing beverages, including Mexican-inspired cocktails and mocktails, to complement your meal.
Below, you'll find the updated list of Mexicali menu prices.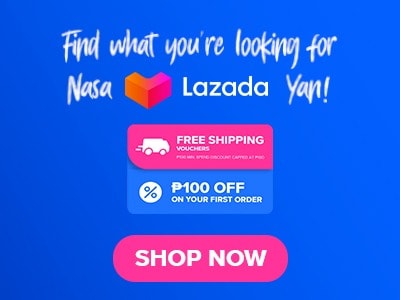 Menu Items
Price (PHP)

Street Tacos

Carne Asada Street Tacos
207
Carnitas Street Tacos
200
Pollo Asado Street Tacos
200
Grilled Vegetable Street Tacos
200
Mexican Ground Beef Street Taco
200
Soyrizo Street Tacos
232
San Francisco-Style Lean Pork Sisig
238
Baja California Fish Street Taco
244

Enchiladas

Beef Enchiladas
412
Chicken Enchiladas
449
Grilled Vegetables Enchiladas
368
3-Cheese Enchilada
512

Quesadilla

Carne Asada Quesadilla
399
Soyrizo Quesadilla
350
Carnitas Quesadilla
362
Pollo Asado Quesadilla
337
Cheese & Garlic Quesadilla
238
Mexican Ground Beef Quesadilla
310
Jalapeño & Cheese Quesadilla
249
Grilled Vegetables Quesadilla
335
Cheese Garlic & Onion Quesadilla
245

Other Good Stuff

Chili Con Carne ( Bowl )
512
French Fries
325
Potato Wedges
307
Mexicali Nachos - Solo
230
Mexicali Nachos - Sharing
503

Dinner Plates

Grilled Chicken Dinner
404
Arroz a La Cubana
367
Carnitas Rice Plate
467
Grilled Veggies, Beans, & Plantains Rice Plates
470
S.F. Style Pork Sisig & Eggs
354

Tacos

Crispy Shell
217
Mexican Ground Beef Tacos
217
Pollo Asado Tacos
279
Carne Asada Tacos
242
Carnitas Tacos
204
Grilled Vegetables Tacos
215
Soyrizo Tacos
215

Sandwiches

Latin Burger
325
Kickass Jalapeno Burger
344
Our Famous Chili Dog
313
Homemade Garden Burger
332

Chimichanga and Salads

Mexicali House Salad Full
168
Mexican Ground Beef Taco Salad
324
Grilled Chicken Taco Salad
324
Grilled Vegetables Taco Salad
274
Soyrizo Taco Salad
274
Pollo Asado Chimichanga
393
Carne Asada Chimichanga
455

Burritos

Mexican Ground Beef Burrito
324
Pollo Asado Burrito
349
Carnitas Burrito
373
Carne Asada Burrito
412
Grilled Vegetable Burrito
380
SoyrizoBurrito
383
S.F. Style Lean Pork Sisig Burrito
428
S.F. Style Lean Pork Sisig Burrito
428
S.F. Style Lean Pork Sisig Burrito
428
Baja California Fish Burrito
419
Baja California Fish Burrito
419
Baja California Fish Burrito
419

Vegan Menu

Vegan Vegetable Burrito
373
Vegan Soyrizo Burrito
377
Grilled Veggies, Beans & Plantains
483
Vegan Grilled Vegetable Quesadilla
419
Vegan Soyrizo Quesadilla
423
Vegan Cheese & Garlic Quesadilla
310
Vegan Cheese, Garlic & Onion Quesadilla
317
Jalapeno & Vegan Cheese Quesadilla
320
Vegan Tacos
253
Vegan Street Taco
213
Vegan Grilled Vegetable Enchilada
413
Vegan Nachos
207
Vegan Homemade Garden Burger
340
Vegan Salad
274

Side Orders

Cheese Sauce 30 Grams
53
Chopped Onion & Tomato
62
Chopped Onion
48
Colombian Beans
45
Egg
38
Enchilada Sauce
38
Extra Carne Asada
165
Extra Carnitas
115
Extra Ground Beef
78
Extra Pollo Asado
109
Extra Tortilla Chips
57
Tortilla Chips Pack
363
Extra Vegetables
113
Grated Cheese
38
Jalapeno
44
Mexican Rice - 160 G
85
Saba
34
Salsa Mayo
63
Salsa Verde- 30 G
25
Sour Cream - 30 G
44
Tomato Salsa - 30 G
44
Spicy Salsa - 30 G
44
Spicy Salsa - 60G
82
Taco Shell
35
Guacamole - 30 G
63
Guacamole - 50G
94
Tomato Salsa - 50G
63
Tortilla 5'' Corn
28
Tortilla 9'' Corn
44
Tortilla Large
83
Tortilla Medium
50

Combo Plates

Combo 3
429
Combo 4
540
Combo 5
573
Combo 6
585
Combo 7
640
Combo 8
735
Combo 9
624
About Mexicali
Mexicali is a Mexican-inspired restaurant chain located in the Philippines that aims to bring the flavors and spirit of Mexico to the Filipino dining scene. The menu at Mexicali is a celebration of Mexican cuisine, offering a wide range of dishes that showcase the bold flavors, spices, and ingredients of Mexican cooking. One of the highlights of dining at Mexicali is the interactive experience of customizing your own dishes which allows customers to choose from a variety of fillings, toppings, and sauces to personalize their tacos, burritos, and other Mexican favorites.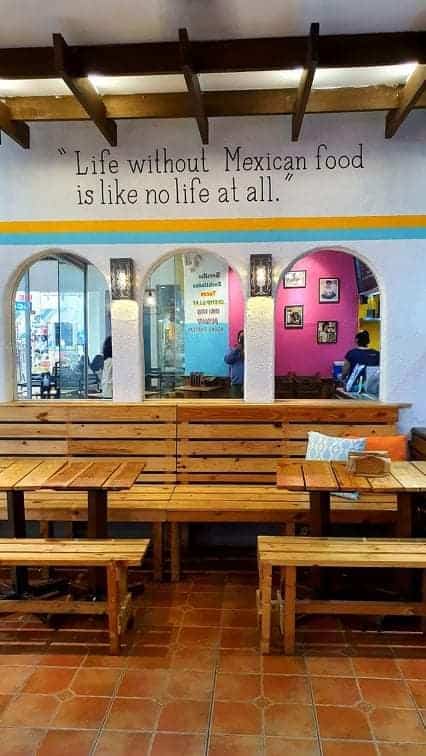 Best Foor on Mexicali Menu
This menu is composed of the most popular items of Mexicali, not only from their physical stores but their online shops as well.
Mexican Ground Beef Street Taco – The Mexican Ground Beef Street Taco at Mexicali is a delicious and satisfying choice that is made with flavorful ground beef seasoned with traditional Mexican spices. This taco is served on a soft corn tortilla that is topped with fresh ingredients to make this dish more flavorful.
San Francisco-Style Lean Pork Sisig – This flavorful and hearty dish features tender and juicy lean pork sisig, traditionally marinated and cooked to perfection, and is served sizzling hot with onions, chilies, and a squeeze of calamansi for a burst of citrusy flavor.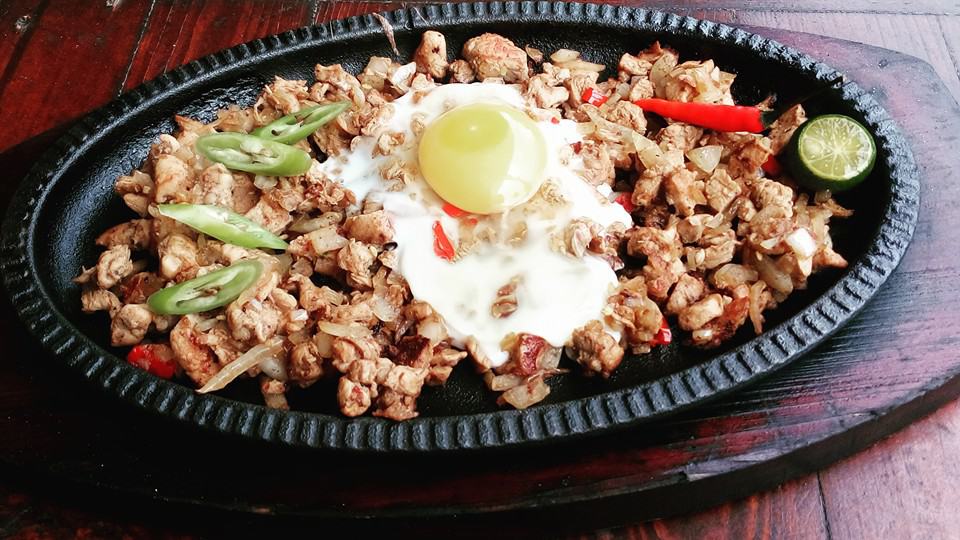 Beef Enchiladas – These enchiladas feature tender beef, seasoned to perfection and wrapped in soft corn tortillas. They are then smothered in a rich and flavorful enchilada sauce, topped with melted cheese, and baked to perfection resulting in a delightful combination of savory meat, tangy sauce, and melted cheese that will leave you craving more.
Chicken Enchiladas – This enchilada menu of Mexicali is made from tender and juicy chicken that is seasoned, shredded, and rolled in corn tortillas. These enchiladas are then bathed in a flavorful enchilada sauce and topped with melted cheese resulting in a comforting and satisfying dish that showcases the savory goodness of chicken.
Latin Burger – A burger menu that features a juicy beef patty cooked to perfection, topped with Latin-inspired flavors. The ingredients include things such as tangy salsa, creamy avocado, melted cheese, and crisp lettuce, all nestled within a soft bun.
Mexicali Menu Street Tacos
This menu is composed of a different selection of street tacos that bring the best flavors of Mexico to the Philippines.
Carne Asada Street Tacos – These tacos feature tender and flavorful grilled steak, sliced into bite-sized pieces, and then served on soft corn tortillas. The combination of perfectly seasoned meat and fresh toppings creates a delightful explosion of flavors in every bite, making the Carne Asada Street Tacos a beloved choice among taco lovers.
Carnitas Street Tacos -These tacos feature juicy, slow-cooked pork that is seasoned with aromatic spices. The meat is then shredded and served on soft corn tortillas, topped with diced onions, fresh cilantro, and a squeeze of lime resulting in a flavorful and tender taco experience that showcases the rich and savory flavors of traditional carnitas.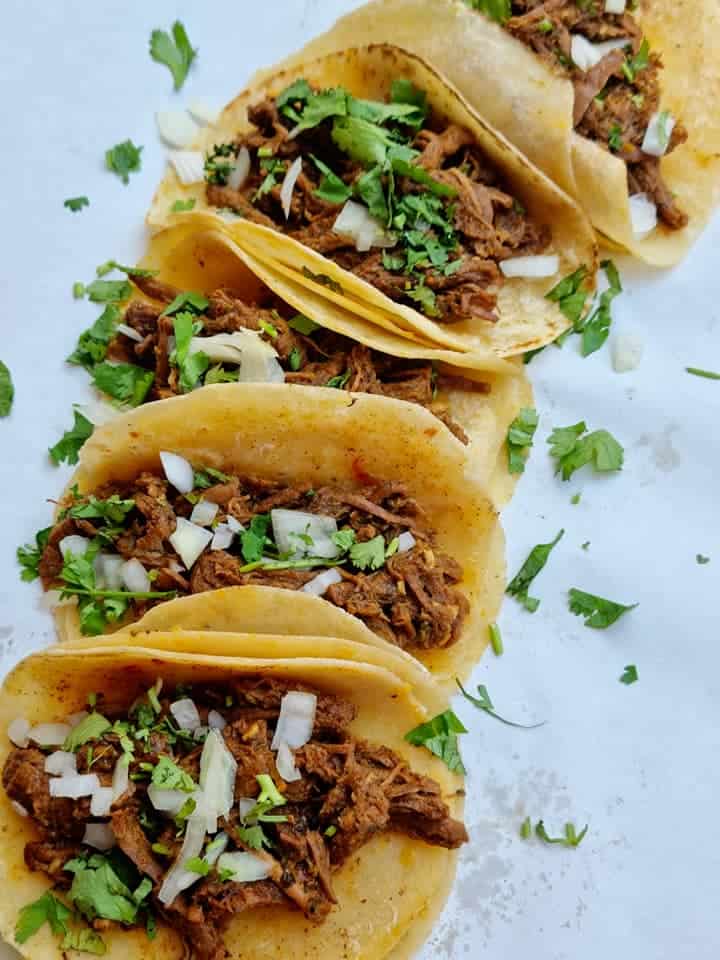 Pollo Asado Street Tacos –
special tacos are made with marinated and grilled chicken. That means the chicken has been soaked in delicious flavors and cooked on a grill until it's just right – juicy and tasty! They put this flavorful chicken on soft corn tortillas, which are like flat, round bread made from corn. It's a perfect match!
Mexicali Menu Quesadilla
This menu is filled with different quesadilla options that will make you crave more Mexican flavors.
Carne Asada Quesadilla – It features tender and seasoned grilled steak, sliced and placed between two flour tortillas with a generous amount of melted cheese. The combination of the savory carne asada and the melted cheese is a delightful marriage of flavors that will have you craving more.
Soyrizo Quesadilla – Mexicali's Soyrizo Quesadilla is a delicious option for vegetarians and those looking for a plant-based twist on the classic quesadilla. This quesadilla provides a satisfying and savory experience without compromising on taste.
Carnitas Quesadilla – This dish is made up of tender and slow-cooked pork that is used as the filling, along with a generous amount of melted cheese. The combination of the tender carnitas and the melty cheese inside a grilled tortilla creates a delightful contrast of textures and flavors that results in a satisfying and comforting quesadilla that will surely please your taste buds.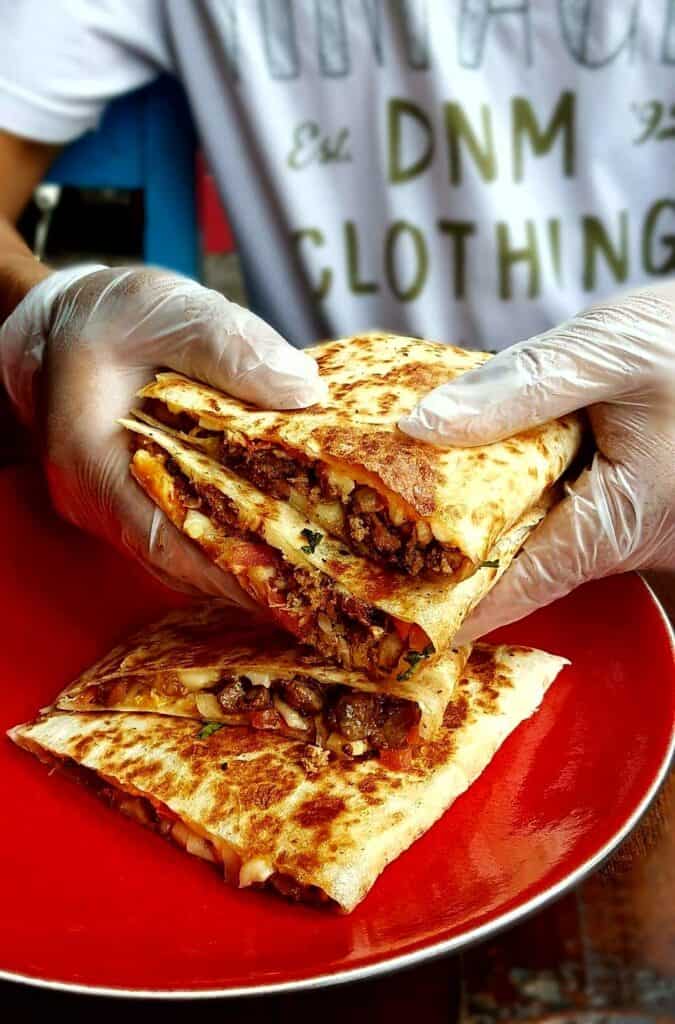 Tacos
These tacos are inspired by Mexican flavors, which means they taste just like the delicious foods you find in Mexico. Each taco is made with a lot of care, and the people who prepare them put a lot of effort into getting the flavors just right. When you take a bite, you'll experience a burst of different tastes that really show off the essence of Mexican cooking. It's like a little party of flavors in your mouth.
Burritos
This menu offers a delightful variety of flavorful burrito options that are sure to satisfy your cravings for Mexican cuisine. Packed with delicious fillings and wrapped in a warm tortilla, these burritos are a perfect choice for a satisfying and filling meal.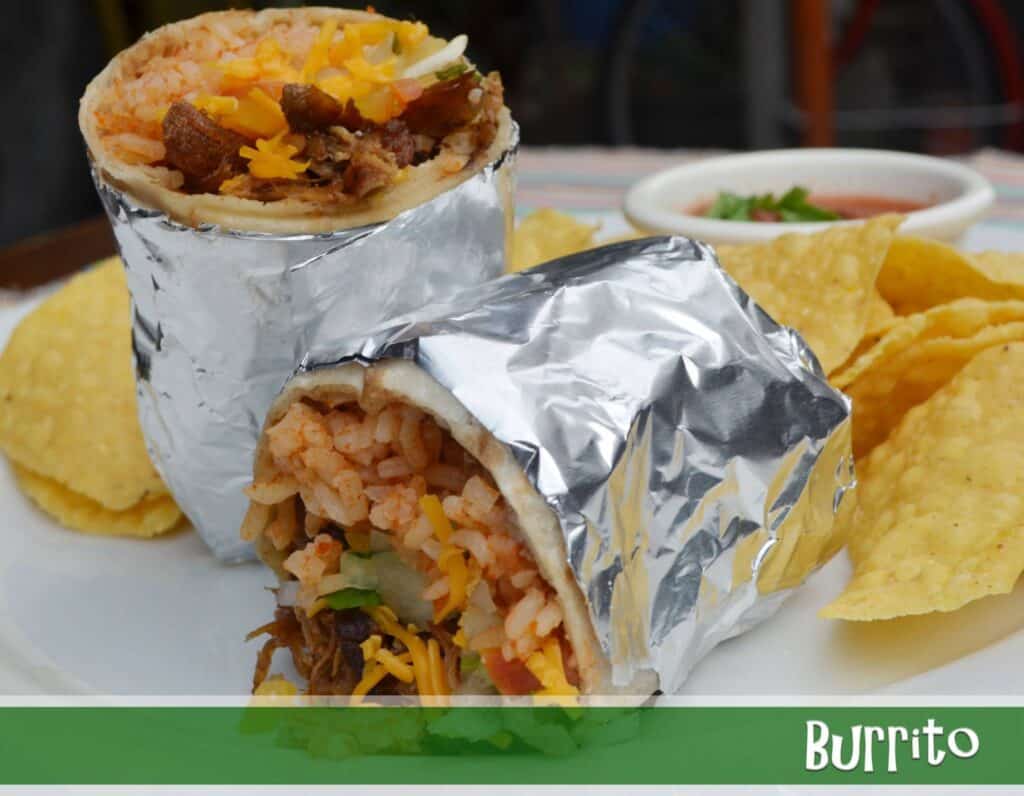 Mexicali Delivery
Mexicali has a menu delivery to make sure that their food offerings are accessible to pretty much every person in the surrounding area of their establishment. This provides customers with a convenient way to order Mexicali's delicious Mexican dishes even in the comfort of their homes through third-party delivery services like FoodPanda.
Social Media Pages
Stay in the know about new menu creations, exciting collaborations, and more. They love seeing your smiling faces! Share your Mexicali moments with them by tagging #MexicaliFiesta. They cherish every memory! Follow Mexicali on social media!
Facebook: https://www.facebook.com/mexicaliphilippines/
Instagram: https://www.instagram.com/mexicaliphilippines/
Email: [email protected]
FAQs
When did Mexicali Philippines first open its doors?
Mexicali opened its doors way back in February 1993.
What type of cuisine does Mexicali Philippines offer?
Mexicali Philippines offers Mexican cuisine and specializes in serving dishes that are inspired by the flavors, ingredients, and cooking techniques of Mexico.
Are there vegetarian or vegan options available at Mexicali Philippines?
Yes, Mexicali Philippines offers vegetarian and vegan options on its menu.
Does Mexicali Philippines accept reservations?
Mexicali operates on a walk-in basis, however, you can still contact them through their social media pages and try to ask for a reservation.
Can I order Mexicali Philippines for delivery or takeout?
Yes, Mexicali Philippines typically offers options for delivery and takeout.
Conclusion
Mexicali is a go-to destination for both locals and tourists that are looking for an authentic and flavorful Mexican dining experience in the Philippines. With its vibrant and diverse menu, Mexicali brings the vibrant spirit and bold flavors of Mexico to life from its sizzling fajitas and tantalizing tacos to cheesy quesadillas and satisfying burritos. So, whether you are a fan of Mexican dishes or are simply looking for new and unique dishes, Mexicali is a must-visit restaurant that could make you experience what Mexican flavors are all about.