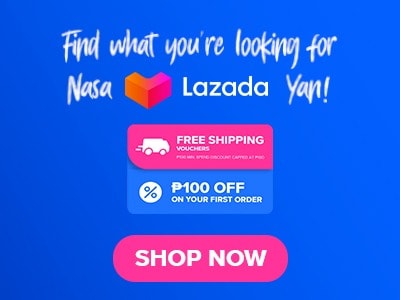 A lot of milk tea shops that are mushrooming all over the country offer authentic tea as they say but I have a great recommendation for you. They are offering Taiwanese milk tea and since I am quite familiar with the milk tea and drinks of Taiwan as I lived there for six years I can definitely recommend this one, the authenticity of their milk tea is very near to what I used to get in Taiwan when I was there. Tea 18 is the name of this milk tea brand, have you heard about them? Tea 18 menu offers a variety of drinks that will surely give you a nostalgic feeling especially if you have been to Taiwan and for those that don't have the time to travel this is your chance to enjoy Taiwan's famous Nai-Cha or milk tea. In this context, we are going to get to know the brand a little bit more, let's take a look at its menu and of course prices. Let's go!
Below, you'll find the updated list of Tea 18 menu prices.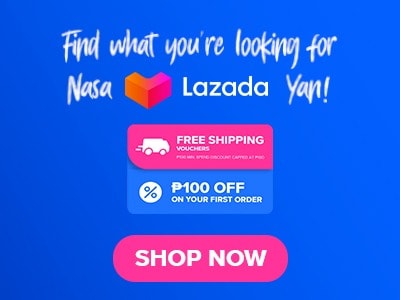 Menu Items
Price (PHP)

Premium Fresh Tea (M/L)

Tea18 Ruby Black Tea
130/140
Four Seasons Oolong Tea
80/90
Jasmine Green Tea
70/80
Black Tea
70/80
Earl Grey Tea
80/90
Honey Tea
100/110

House Special (M/L)

Salty Cream Tea
110/120
Milk Foam Tea
110/120
Iced Cafe Latte
110/120

Milk Tea (M/L)

Three Brothers Milk Tea
110/120
Taiwan Classic Milk Tea
100/110
Jasmine Milk Tea
100/110
Earl Grey Milk Tea
110/120
Chocolate Pudding Milk Tea
110/120
Honey Milk Tea
110/120
Taro Milk Tea
110/120
Okinawa Milk Tea
110/120

Fruit Tea (M/L)

Mango Oolong Tea
120/130
Mango Pineapple Green Tea
120/130
Passionfruit Pineapple Green Tea
120/130
Lemon Chia
120/130
Kumquat Lemon Tea
120/130
Grapefruit Tea W/ Aloe
120/130

Light Series (M/L)

Lemon Yakult Green Tea
110/120
Passionfruit Yakult Tea
110/120
Yakult Green Tea
110/120
Sour Plum Tea
110/120
Sour Peach Tea
110/120

Wintermelon Series (M/L)

Fresh Wintermelon Tea
100/110
Wintermelon Milk Tea
120/130
Wintermelon
120/130
Wintermelon Lemon Tea
110/120

Milkshake Series (M/L)

Taro Milkshake
120/130
Matcha Mikshake
120/130
Chocolate Milkshake
120/130
Strawberry Milkshake
120/130
Lychee Milkshake
120/130

Brown Sugar Series (M/L)

Brown Sugar Pearl Milk
120/130
Brown Sugar Pearl Milk Tea
120/130

Extra Options

Pearl
15
Salty Cream
30
Aiyu Jelly
10
Coconut Jelly
15
Coffee Jelly
15
Aloe
20
Pudding
10
Konnyaku Pearl
35
Chia Seeds
15
Grass Jelly
20
Fruit Jelly
20
Milk Foam
20
About Tea 18
Tea 18 is an establishment that serves authentic milk tea that they make according to Formosa also known as Taiwan tradition. Genuine, unique, and sweet that's how they describe their products. Tea 18 has branches in different parts of Asia just as China, Hongkong, Taiwan, and now the Philippines. They became famous for serving healthier milk teas by lessening the sugar content while the flavor is still there. One sip of their milk tea feels like you're transported to Taiwan for those who already tried authentic milk tea in Taiwan. You can still taste the strong flavor of the tea though their drinks are mostly creamy because of the milk.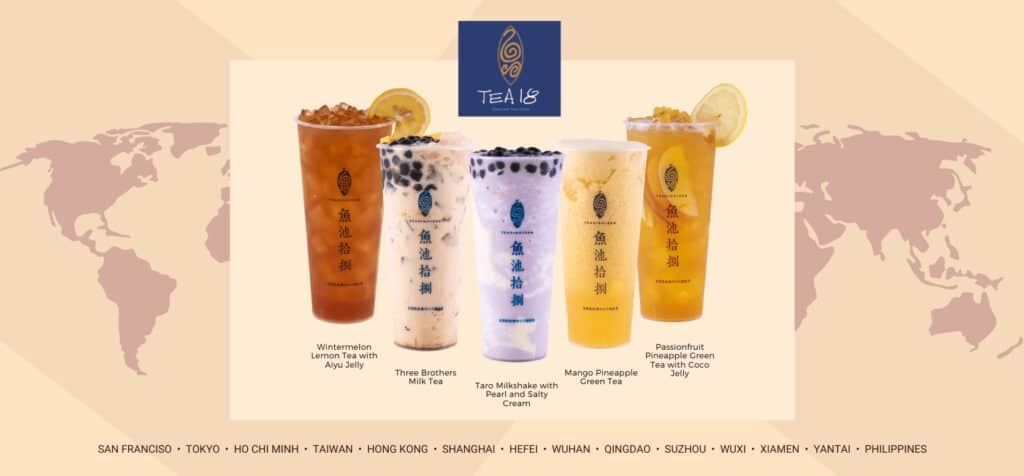 Upon entering their shop you'll see their counter and a graphic with their best sellers. There is also their menu above the counter but if you still can't see it they have a laminated menu that their crew will give to you. Tea 18 becomes popular with customers since people already tasted how good their milk teas and other products are and as of the moment, Tea 18 is still continuing to grow to serve as many customers.
Tea 18 Menu Best Sellers
Here are some samples of Tea 18's best-selling beverages.
Taiwan Classic Bubble Milk Tea – Tea 18's version of Taiwan classic bubble milk tea taste exactly what a bought in Taiwan years ago. It has a well-balanced and sweet and milky flavor with some delicious boba pearls. Though this drink is sweet, the sweetness is not overpowering since the flavor of the tea counteracts the creaminess and sweetness of boba flavors. Technically tea 18's version of Taiwan's classic bubble milk tea is a perfect copy of those in Taiwan. It's impressive and amazing at the same time and I can't figure out the difference between the authentic to Tea 18 products.
Taro Milk Tea – This is my favorite drink menu from the Tea 18 when I was still in Taiwan and ill be honest about this one, it really exceeded my expectations. Their taro milk tea is so good. It has a slightly nutty flavor plus creamy with a hint of vanilla in taste I just can't describe it properly but one thing is for sure this is so good. This is made from processed taro root milk and sweetener. This drink is great when sweet it reminds me of our ube halaya to be honest or I'm just imagining things lol. Taro milk tea is one of their best sellers I'm actually not surprised about that. Trust me this taste amazing!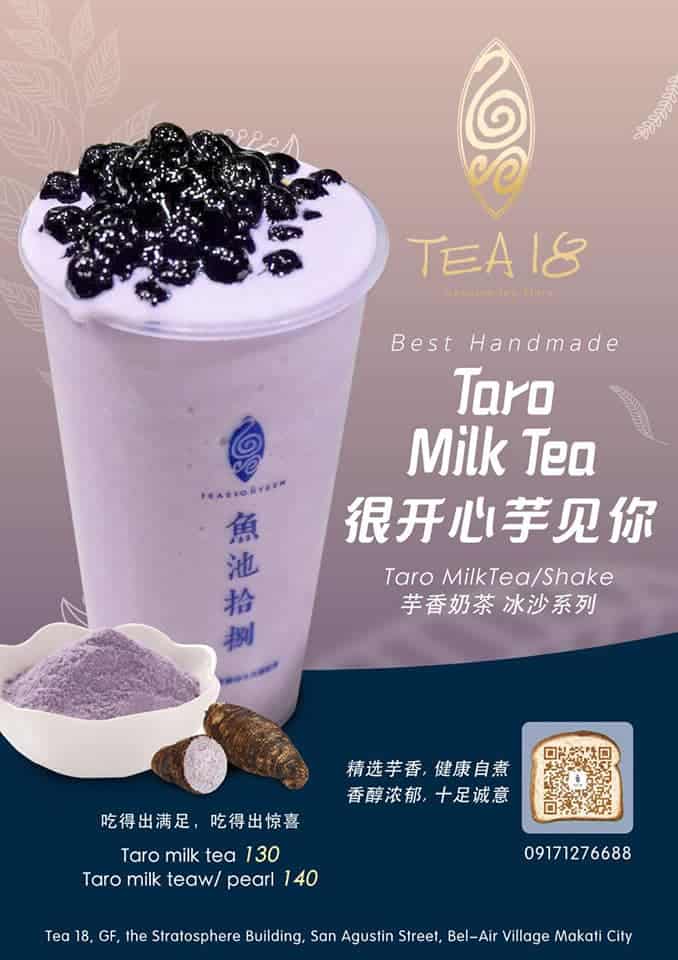 Passion Fruit and Pineapple Green Tea – If you're health conscious or just trying to take a break from milk teas this refreshing alternative is a great choice for you to still enjoy a good drink while considering the health factors of your drink. The taste has a little sourness it also has a strong green tea flavor but not overpowering the taste of the fruits. This healthy drink is also on their list of best-selling items and a must-try.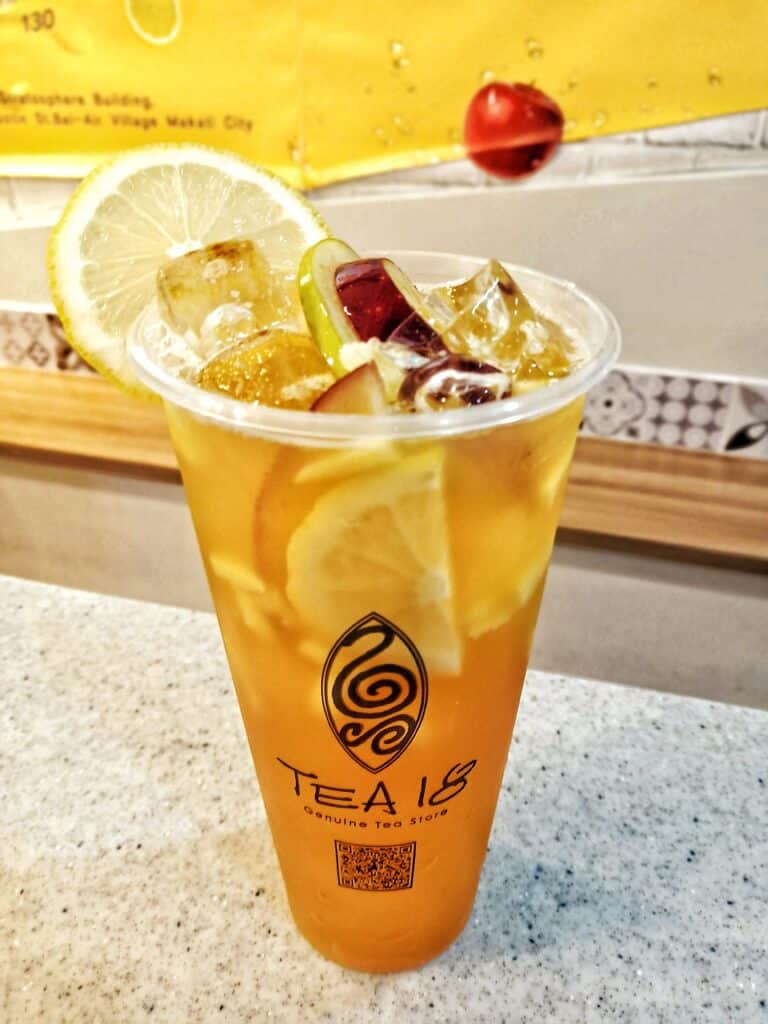 Raw Sugar Bubble Fresh Milk Tea – This one is sweet but in a healthier way. It has the creaminess and the strong taste of raw sugar that gives this drink a distinctive and addictive flavor. One of their best-selling drinks so you're sure this one is really good and Worthy to try.
Tea 18 Menu House Special
On their house special menu, they have 3 different choices of drinks that you can try. The first item on this menu is their salty cream tea you can buy this in medium or large. They also have milk foam tea this one is milkier than expected and also one of their must-try item. The last one is their iced cafe latte, their iced cafe latte is not too strong just right, and recommend for those who love iced coffee.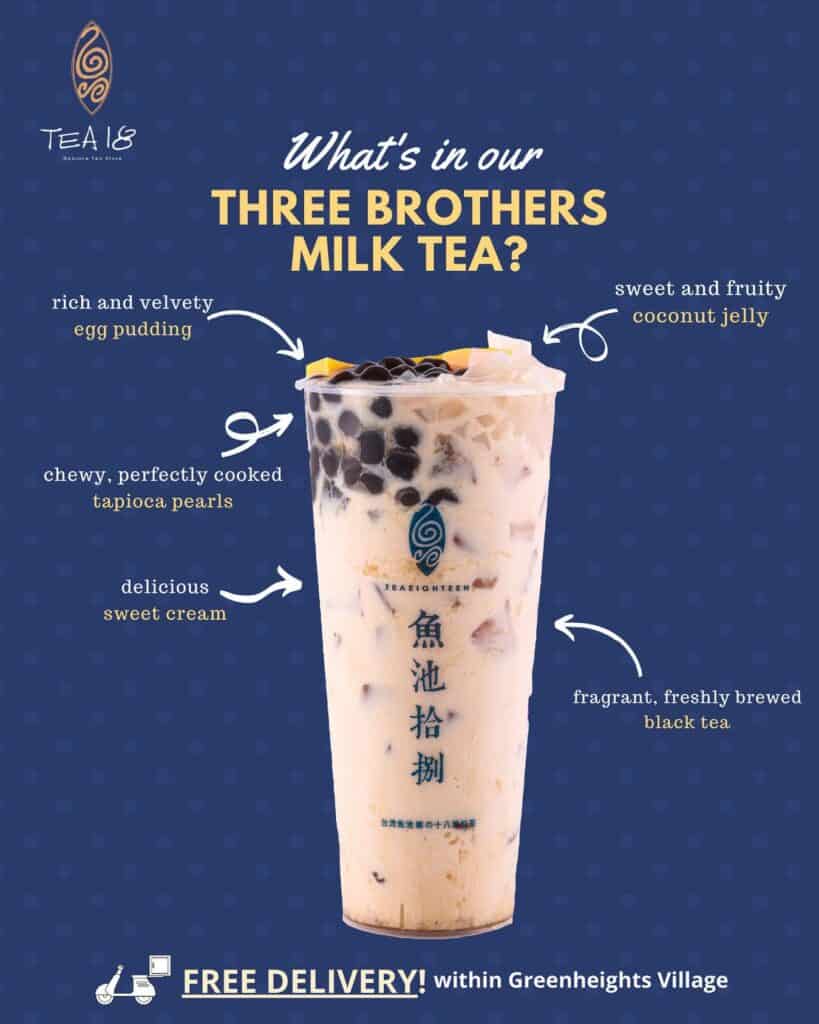 Fruit Tea Menu
The fruit tea menu of Tea 18 consists of 6 different fruit teas. They have mango oolong tea this one is really refreshing. Next is their mango pineapple green tea this one is also included in the top-selling item and is really good. They also have Passionfruit Pineapple Green Tea just like the previous 2 items which is very refreshing. Other items are lemon chia, kumquat lemon tea, and grapefruit tea with aloe.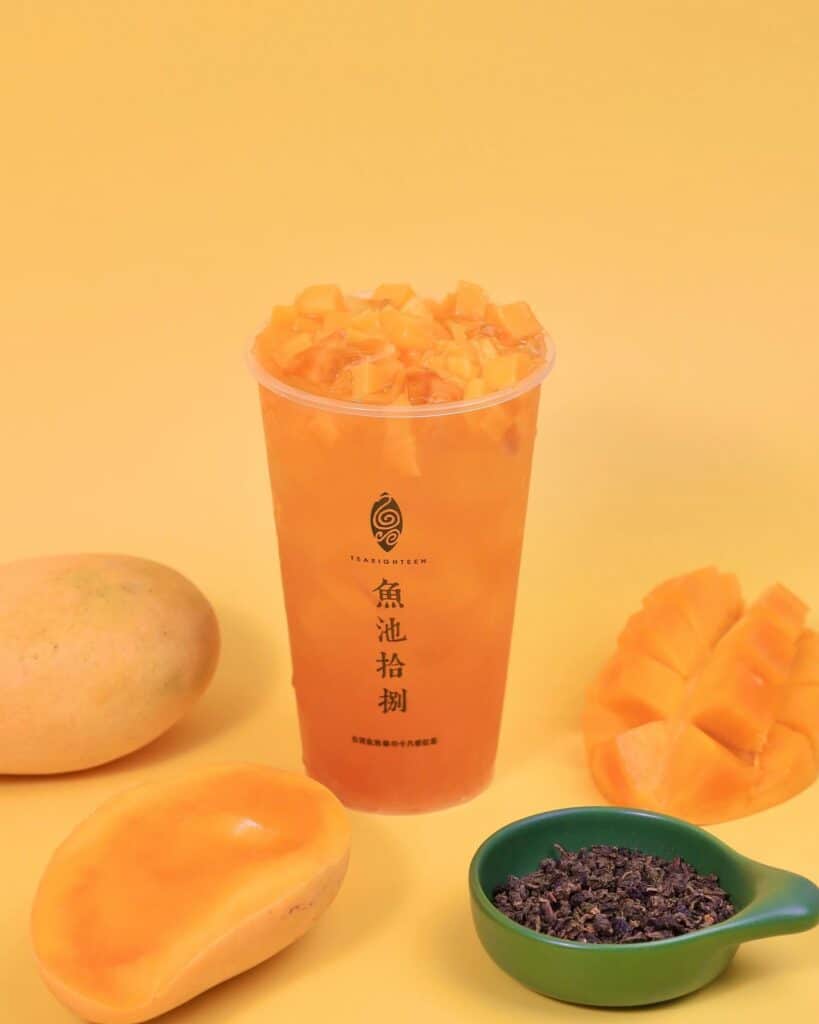 Tea 18 Menu Delivery
When you want to order from them, you can use popular food delivery apps like GrabFood or Foodpanda. It's super convenient and easy! Just browse their menu on the app, pick your favorite tea and snacks, and have it delivered right to your doorstep. No need to worry about going out to get your tea fix, it's all just a few taps away! So, if you're craving some delicious tea, don't hesitate to order from Tea 18 using GrabFood or Foodpanda.
Tea 18 Social Media Pages
Embrace the art of tea and unlock a world of delightful flavors by following our social media pages. Stay up-to-date with our latest tea releases, exclusive promotions, and exciting events that celebrate all things tea!
Facebook: https://www.facebook.com/tea18ph/
Instagram: https://www.instagram.com/tea18.ph/
FAQs
What kind of beverages does Tea 18 serve?
Tea 18 serves taiwan inspired milk tea and other beverages. They make their drinks the traditional Taiwanese way
Does Tea 18 have a delivery website?
Upon checking as of the moment they don't have their delivery website so ordering from them will be possible by using third-party delivery services.
How many best sellers do Tea 18 display on their counter?
They have 10 best-selling items displayed near the counter. Those are Taiwan classic bubble milk tea, passion fruit and pineapple green tea, panda QQ bubble milk tea, taro milk tea, winter melon lemon tea, milk foam with pure tea, raw sugar bubble fresh milk tea, honey green milk tea, pineapple oolong tea and ruby black tea.
Conclusion
There are a lot of hype milk tea places today and if you're looking for the original Taiwan bubble milk tea, then you should try Tea 18. It will make you taste the goodness of Taiwanese milk tea and reminisce if you've been there. Tea 18 menu has a lot of beverages to choose from whether it's milk tea or fruit tea and everything is so good. Customer-friendly staff and a great experience that's what Tea 18 offers.