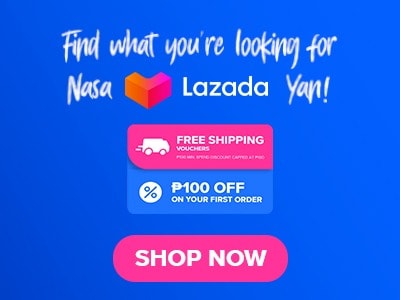 Filipinos always love to indulge in delicious food in a comfortable setting, this is why many restaurants have started to pay attention to their establishments. Dear Joe is one of these restaurants, they not only provide delicious comfort foods but also a comfortable and relaxing dining environment. Dear Joe's menu offers an exciting fusion of Filipino and international flavors, creating a unique dining experience for its customers. It features a wide range of dishes that are made to cater to different tastes and preferences to ensure that there will be something for everyone to enjoy.
Below, you'll find the updated list of Dear Joe menu prices.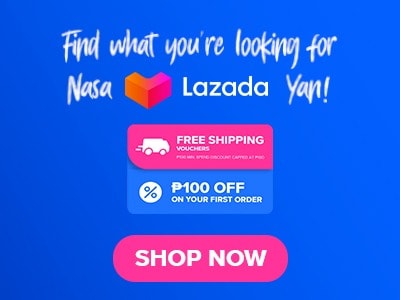 Menu Items
Price (PHP)

Appetizers

Truffle Potato Chips
265
Loaded Potato Chips
315
Chicken Fajita
260
Breakfast Chorizo & Potato
295
Tequila & Lime Shrimp Quesadilla
360
Carne Asada Quesadilla
315
Chicharones Con Adobo Quesadilla
295
Baked Spanish Sardines with Kesong Puti
275

Salads

Kimchi Lychee Salad
285
Honey Blue Cheese Salad
285
Chicken Taco Salad
315

Sloppy Joe

Creamy Chicken Toast
285
Truffle Grilled Cheese
285
Grilled Cheese Longanisa Sandwich
375
Roasted Beef Toast
325
Philly Cheesesteak Classic
325
Italian Sub
325

Entrees

Almond Crusted Fish & Shrimp
360
Crispy Pancetta Dijon
480
Korean Fried Chicken
470
Beef Bourguignon
415
Adobong Moderno
380
Shrimp Thermidor
445

Pastries

Chocolate Brioche Bread Pastry
130
Coffee Walnut Croissant Pastry
150
Cinnamon Danish Pastry
150
Ham & Cheese Pastry
155
Almond Pastry
165
Cheese Pastry
155
Carrot Loaf Pastry - Sliced
165
Banana Loaf Pastry - Sliced
165
Brownies with Walnuts Pastry
145
Brownies with Oreo Pastry
205
Blueberry Pastry
275
Vanilla Cronut Pastry
160

Breakfast

Smoked Salmon Omelette
340
Smoked Ham Omelette
310
Beef Tapa
395
Boneless Bangus
407
Garlic Longganisa
345

Pastas

Truffle Penne & Cheese Pasta
415
Carbonara Pasta
340
Creamy Pesto Pasta
335
Garlic Noodles with Cajun Shrimp Pasta
435
Beef & Mushroom Cannelloni Pasta
415

Pizzas

Sausage, Sundried & Pesto Pizza
415
Panchetta & Mushrooms Pizza
430
Duo Formaggio Prosciutto Pizza
395

Extras

Toast Bread
185
Truffle Dip
105
Plain Rice
95

Whole Cakes

Burnt Blueberry Cheesecake
2255
Lemon Blueberry Cake
255

Sliced Cakes

Chocolate Caramel Cake - Sliced
225
Pistachio Berry Cake - Sliced
345
Ube Cheesecake - Sliced
285
Burnt Blueberry Cheesecake - Sliced
285
Lemon Blueberry Cake - Sliced
325
Oreo Cheesecake - Sliced
375
Burnt Basque Cheesecake - Sliced
285

Espresso

Espresso
165

Hot Beverages

Hot Americano
190
Hot Latte
200
Hot Cappuccino
200
Hot Mocha
215
Hot White Mocha
225
Hot Hazelnut Latte
230
Hot Vietnamese Latte
240
Hot Chocolate
205
Hot Matcha Latte
225
Hot Tea
185

Iced Beverages

Iced Americano
205
Iced Latte
215
Iced Mocha
230
Iced White Mocha
240
Iced Hazelnut Latte
245
Iced Ca Phe Sua Da
255
Iced Chocolate
220
Iced Matcha Latte
240

Cold Brew Series

Black Cold Brew
230
White Cold Brew
230
Mint Cold Brew
230

Iced Blended Coffee Based

Hazelnut Frappe
240
Caramel Coffee Frappe
240
White Chocolate Mocha
240
Mint Mocha Frappe
250

Iced Blended Non-coffee Based

Strawberries & Cream
245
Walnut Brownie Frappe
240
Matcha Frappe
240

Iced Shaken Beverages

Floral Raspberry Kiwi Tea
235
Peach Lemon Yuzu Tea
245
Rose Strawberry Jasmine Tea
245

Brew Bars

Specialty Local Sagada
260
Specialty Local Benguet
260
Specialty International Ethiopia
260

Artisan Tea

HB Carnaval Tea
255
HB Chamomile
255
HB Relaxing Infusion
255
HB Silk Tea
255

One Fruit Shakes

Mango Fruit Shake
190
Watermelon Fruit Shake
190
Pineapple Fruit Shake
190
Melon Fruit Shake
190
Premium + Regular Fruit Shake
210

Fruit Smoothies

Orange + Pineapple + Kiwi + Peach
230
Watermelon + Melon + Banana
210
Pineapple + Orange + Cucumber
210
Strawberry + Almond
230

Sherbet

Kiwi Guacamole
210
Mango Caramel
210
Berry Strawberry
210
Two Berries
210
About Dear Joe
Dear Joe is a popular restaurant in the Philippines known for its cozy ambiance and delicious comfort foods. The restaurant aims to create a warm and welcoming atmosphere where guests can enjoy delicious meals with family and friends with its diverse menu that combines Filipino favorites with international flavors, providing a unique dining experience. The menu at Dear Joe features a variety of dishes that cater to different tastes and preferences and in addition to its savory offerings, Dear Joe also offers a selection of mouthwatering desserts and refreshing beverages.
Dear Joe Menu Best Seller
This menu is composed of the most popular and tastiest food items in Dear Joe's restaurant.
Crispy Pancetta Dijon – Dear Joe's Crispy Pancetta Dijon is a delicious dish that features crispy and savory pancetta that is served with a flavorful Dijon mustard sauce. The combination of the crispy pancetta and tangy mustard sauce creates a delicious harmony of flavors.
Carbonara Pasta – This pasta is a classic Italian dish with a Filipino twist that is cooked al dente and tossed in a creamy carbonara sauce made with eggs, cheese, and crispy bacon or pancetta. Dear Joe's carbonara pasta is a comforting and satisfying dish that showcases the rich and creamy flavors of traditional carbonara.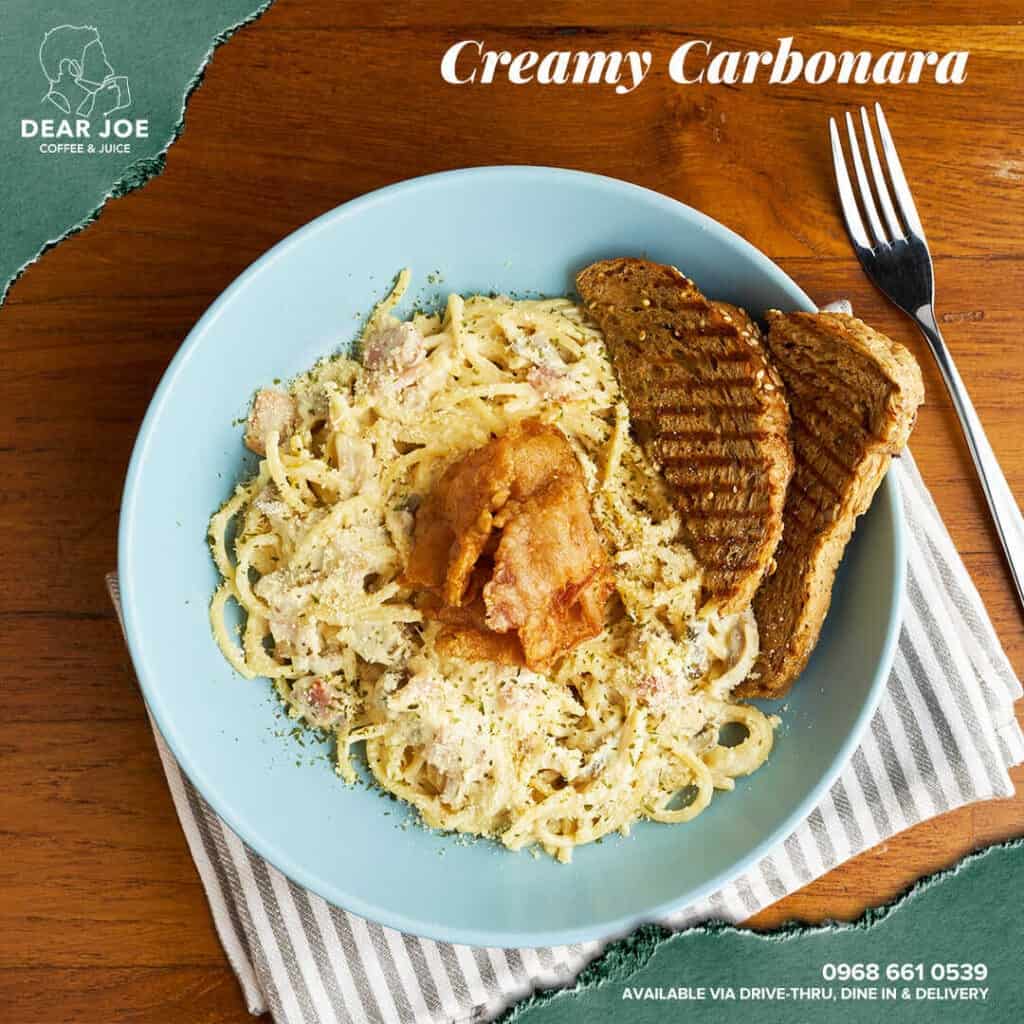 Sausage, Sundried & Pesto Pizza – The Sausage, Sundried & Pesto Pizza at Dear Joe is a delicious combination of flavors on a thin and crispy pizza crust. This pizza is topped with sausage, tangy sundried tomatoes, and aromatic pesto sauce and offers a delightful balance of tastes that will satisfy your cravings.
Korean Fried Chicken – Dear Joe's Korean Fried Chicken is a must-try dish for lovers of Korean cuisine. The chicken in this dish is fried to perfect crispiness and then coated with a sweet and spicy Korean sauce, resulting in a mouthwatering combination of flavors giving it a delicious balance of crunchy texture and bold Korean flavors.
Dear Joe Menu Appetizers
This menu is composed of many delicious and satisfying treats that stimulate the customers' appetites.
Truffle Potato Chips – These thin and crispy potato slices are seasoned with truffle oil, which gives them a distinct and luxurious flavor while the truffle aroma and earthy taste elevate the snack to a whole new level, making it a popular choice for those who appreciate the unique and indulgent flavors of truffles.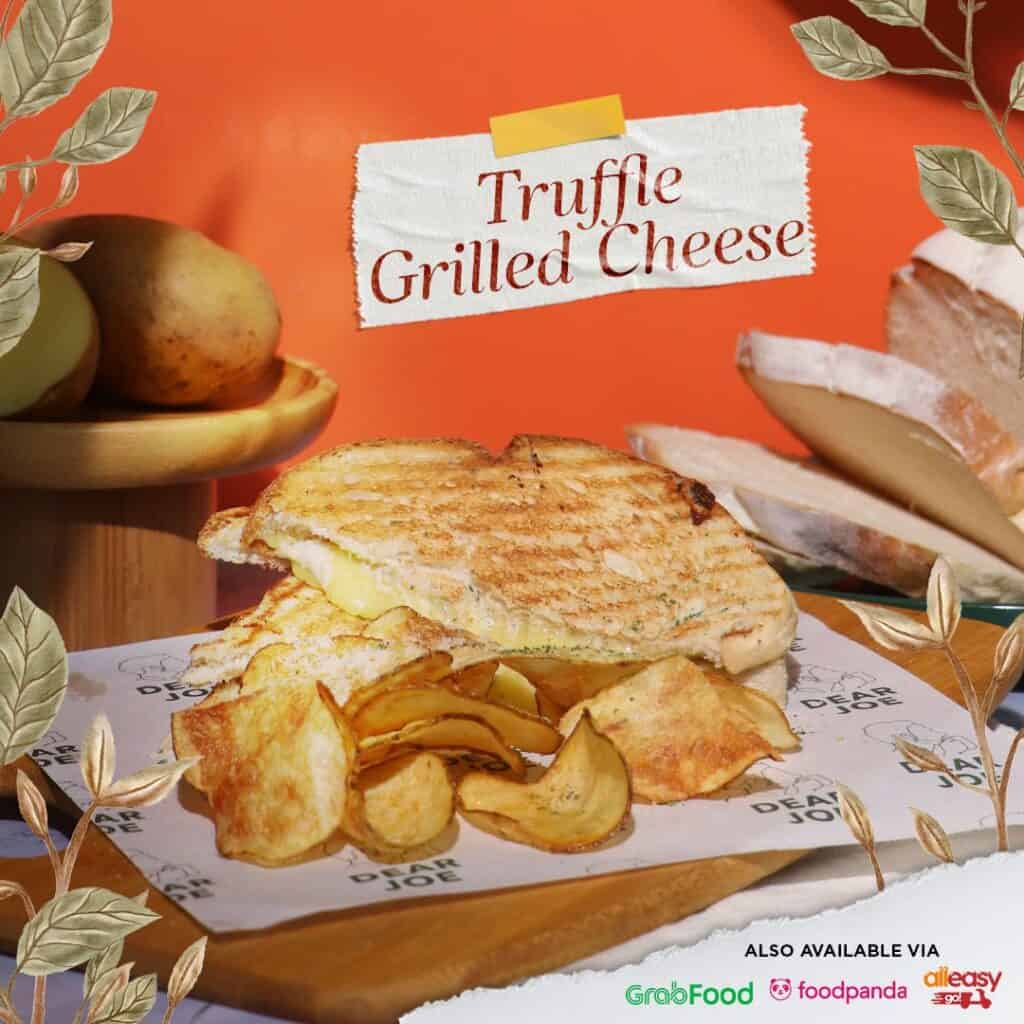 Loaded Potato Chips – These crispy potato chips are generously topped with a variety of flavorful toppings such as melted cheese, crispy bacon bits, tangy sour cream, and green onions. The combination of textures and flavors creates a mouthwatering treat that is perfect for sharing or enjoying on your own.
Chicken Fajita – This is a mouthwatering dish that features tender and juicy chicken strips marinated in flavorful spices and served with sauteed bell peppers and onions. It is served with warm tortillas, allowing you to build your own delicious fajitas with your preferred toppings such as sour cream, guacamole, and salsa.
Dear Joe Salad Menu
This menu is composed of a wide selection of salad items that complement Dear Joe's other food offerings.
Kimchi Lychee Salad – This salad combines the bold flavors of kimchi, a traditional Korean side dish made from fermented vegetables, with the sweetness of lychee fruit. The crisp and refreshing vegetables, along with the tender lychee fruit, create a flavorful and refreshing salad option that is both intriguing and delicious.
Honey Blue Cheese Salad – This salad on the other hand is a flavorful combination of fresh greens, tangy blue cheese crumbles, and a drizzle of sweet honey. The contrasting flavors of the creamy blue cheese and the sweetness of honey create a harmonious blend that enhances the overall taste of the salad.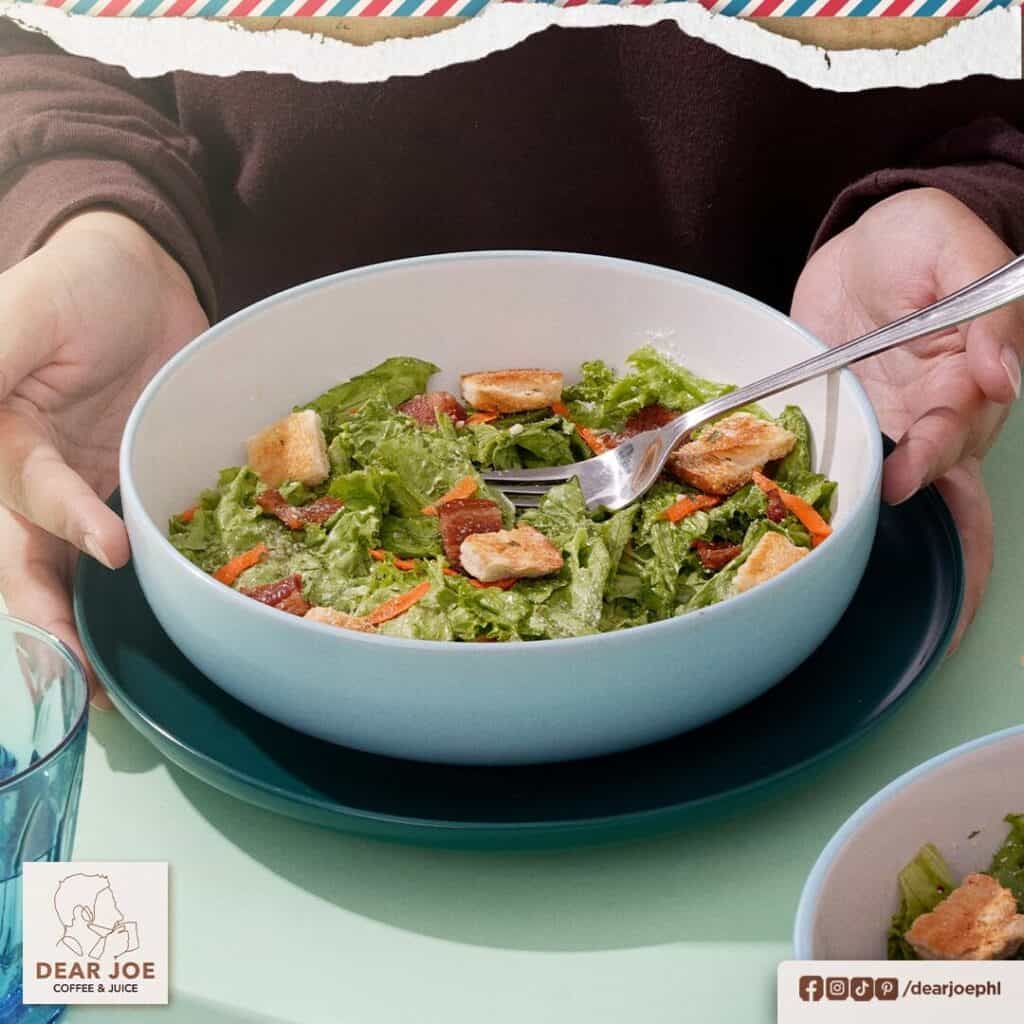 Chicken Taco Salad – Dear Joe's Chicken Taco Salad features a vibrant mix of fresh lettuce, juicy tomatoes, crunchy tortilla chips, and tender chicken seasoned with Mexican-inspired spices. This salad is topped with a zesty dressing and may include additional toppings such as shredded cheese, salsa, guacamole, and sour cream.
Sloppy Joe
Encompassing a diverse assortment of perfectly toasted items, this menu stands as a tribute to quick, quality dining at the Dear Joe restaurant. It features a selection of scrumptious treats, each prepared swiftly and expertly to suit the fast-paced lifestyle of the modern diner. Whether enjoyed within the inviting ambiance of the restaurant or conveniently taken away, these offerings ensure a satisfying, flavorful encounter that fits neatly into a busy schedule.
Entrees
This menu is made up of a different variety of main dishes that will surely satisfy the customers' cravings. It features different options to suit the customers' different tastes that range from savory meats to flavorful pasta options.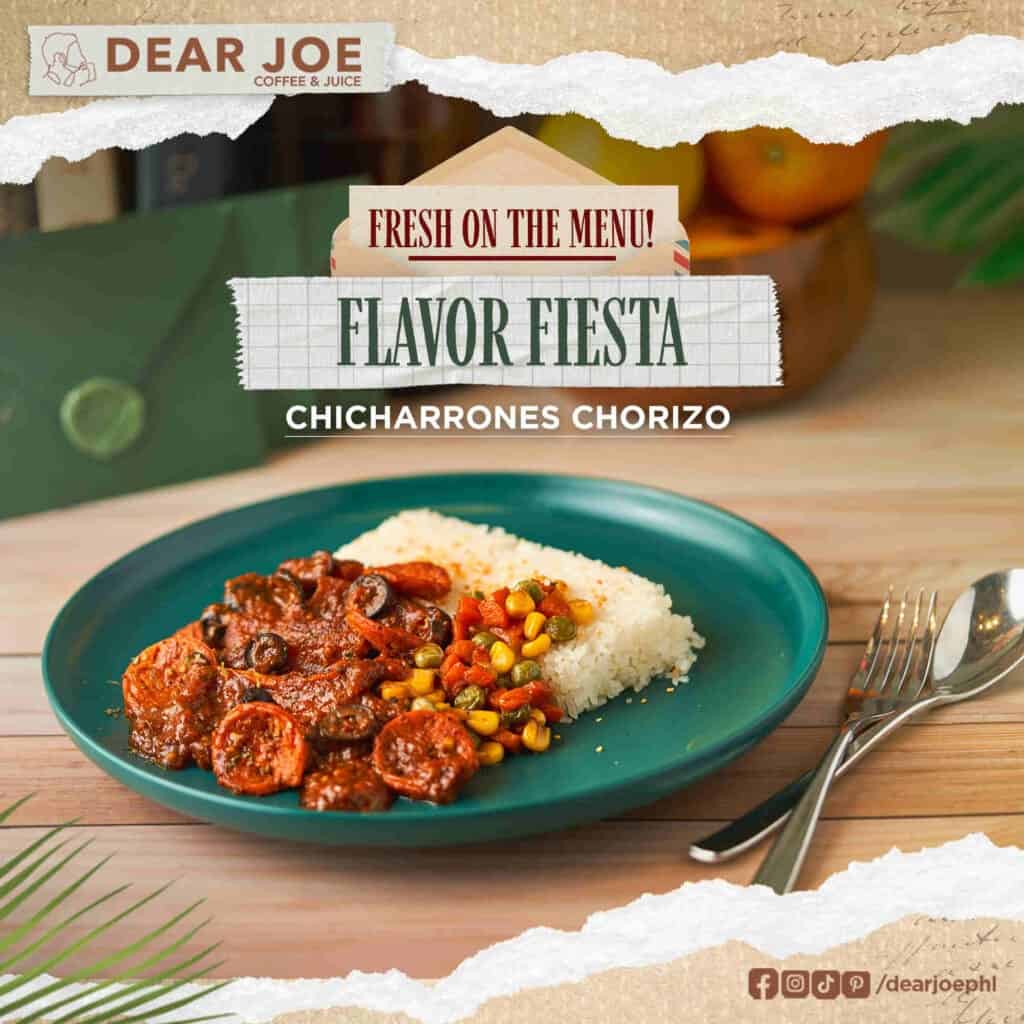 Pastries
Presenting a vast selection of pastry wonders, this menu is a dream come true for those with a penchant for sweetness. It extends a captivating palette of baked goods and desserts, each meticulously crafted with love and precision. Whether in search of a comforting familiar favorite or an exciting new treat, customers will find a myriad of options to satiate their sweet cravings, making this menu a veritable treasure trove of confectionery delights.
Dear Joe Menu Delivery
In a bid to extend the reach of their delightful food offerings, Dear Joe has implemented a dedicated menu delivery service. This customer-centric initiative allows patrons to explore and order from Dear Joe's diverse food items with just a few clicks, right from the coziness of their homes. By collaborating with reliable third-party delivery services, Dear Joe ensures that their aromatic and flavor-packed dishes are only a stone's throw away, making every meal a moment of sheer convenience and enjoyment.
Dear Joe Social Media Pages
At Dear Joe, we believe that every cup of coffee tells a story, from the beans we carefully select to the artful preparation by their skilled baristas. Share your love for Dear Joe by tagging them in your coffee moments, whether it's a cozy morning ritual or a special catch-up with friends. Follow their social media pages to join the community of coffee enthusiasts and stay updated on the latest brews, promotions, and events.
Facebook: https://www.facebook.com/dearjoephl
Instagram: https://www.instagram.com/dearjoephl/
Pinterest: https://www.pinterest.ph/dearjoephl/
TitTok: https://www.tiktok.com/@dearjoephl
FAQs
What is the specialty of Dear Joe Philippines?
The specialty of Dear Joe Philippines is its delicious selection of Filipino comfort food.
Where is Dear Joe Philippines located?
Dear Joe has multiple branches set up all around Metro Manila and nearby areas.
Does Dear Joe Philippines offer home delivery?
Yes, Dear Joe offers delivery services straight to its customers' homes.
Does Dear Joe Philippines have any ongoing promotions or discounts?
Any ongoing promotions of Dear Joe can be viewed on their own social media platforms and their physical stores.
Can I order Dear Joe Philippines food via Foodpanda?
Yes, you can definitely Dear Joe's food offerings through FoodPanda.
Conclusion
Dear Joe is one of the many restaurants in the Philippines, offering a unique and exciting combination of Filipino and international flavors. The restaurant is known for its use of fresh and locally sourced ingredients that translate to flavorful dishes that capture the essence of Pino's home-cooked meals. Dear Joe offers a diverse selection that is sure to please customers whether they're looking for comfort food or are just trying to explore new flavors. Overall, with delicious comfort foods combined with its warm and welcoming ambiance, Dear Joe provides a memorable dining experience for both locals and visitors alike.