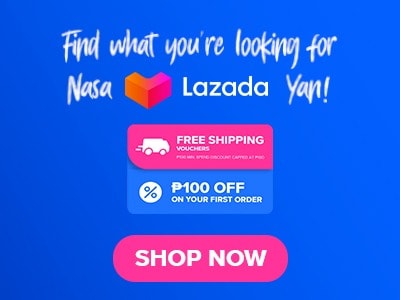 If you are looking for classic American cuisine with a unique rock 'n' roll twist in the Philippines, look no further than Hard Rock Cafe. Its menu features a wide variety of dishes that cater to different tastes and preferences ranging from mouthwatering burgers and sandwiches to flavorful ribs, and steaks. And to complement the delicious food, Hard Rock Cafe offers an extensive drink menu with various refreshing beverages like cocktails, specialty drinks, craft beers, and non-alcoholic options.
Below, you'll find the updated list of Hard Rock Cafe menu prices.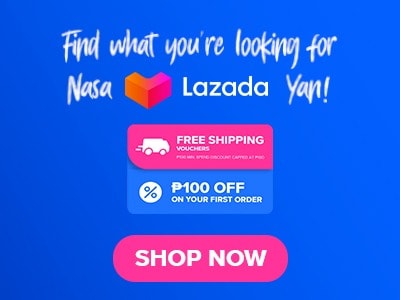 Menu Items
Price (PHP)

Jam Sessions

Southern Rock
355
Rockin' Fresh Rita
325
Tropical Margarita
325
Electric Blues
355
Rhythm and Rose Mule
355
Blackberry Sparkling Sangria
355
Ultimate Island Iced Tea
355
Espresso Martini
355

Signature Cocktails

Hurricane
295
Classic Caribbean Mojito
295
Sparkling Blue Hawaiian
325
Banana Berry Colada
355
Passion Fruit Mai Tai
355
Bahama Mama
295
Rock House Rum Punch
295

Starters and Shareables

Jumbo combo
1095
Classic Nachos
685
Spinach & Artichoke Dip
395
One Night in Bangkok Spicy Shrimp
495
Asian Spring Rolls
395
Wings
395
All-American Sliders
495
Whiskey Bacon Jam Sliders
495
Cheesy Beef Nachos
595
Potato Skins
575

Legendary Burgers

Original Legandary Burger
595
24-Karat Gold Leaf Steak Burger
995
BBQ Bacon Cheeseburger
595
The Big Cheese Burger
575
BBQ Pieneapple Veggie Burger
695

FlatBreads

Three-cheese and Tomato Flatbread
475
Pepperoni Flatbread
475
Margherita Flatbread
475
Four-cheese Flatbread
475
All-American Cheeseburger Flatbread
575
Meat Lovers Flatbread
575

Salads

Grilled Chicken Caesar Salad
375
California Cobb Salad
695
Steak Salad
695
Beet Salad
595
Specialty Entrees
Baby Back Ribs
895
USDA Ribeye Steak
1995
Famous Fajitas
695
Twisted Mac Chicken and Cheese
395
BBQ Combo
995
Grilled Norwgian Salmon
695
Tupelo Chicken Tenders
425
Barbecue chicken
595

Asian Favorites

Sizzling Sisig
475
Tokwat Baboy
395
Beef Hofan
395
Crispy Pork Belly
495

Local Specialties

Smashin Pork Chop
595
Naked Ziti
575
Crispy Fried Chicken
695

Fresh Pasta

Carbonara
595
Creamy Pesto
495
Spicy Vongole
495
Truffle Mushroom
595

Desserts

Hot Fudge Brownie
325
New York Cheesecake
395
Oreo Cheesecake
395
Ice Cream
60
About Hard Rock Cafe
Hard Rock Cafe is a popular international chain of themed restaurants known for its rock 'n' roll-inspired atmosphere, live music performances, and American-style cuisine. The first Hard Rock Cafe was established in London in 1971, and since then, it has become a global brand with numerous locations worldwide, including in the Philippines. Its menu offers a variety of classic American dishes with a twist like burgers, sandwiches, ribs, and steaks. Additionally, Hard Rock Cafe is also popular for its extensive menu of drinks which includes signature cocktails and a wide range of beers.
Hard Rock Cafe Menu Best Seller
This menu is made up of different dishes that are considered to be the most popular items at Hard Rock Cafe.
All-American Sliders – These mini burgers are a classic favorite, featuring juicy beef patties topped with melted cheese, pickles, and a tangy sauce. They are perfect for sharing or as a satisfying appetizer.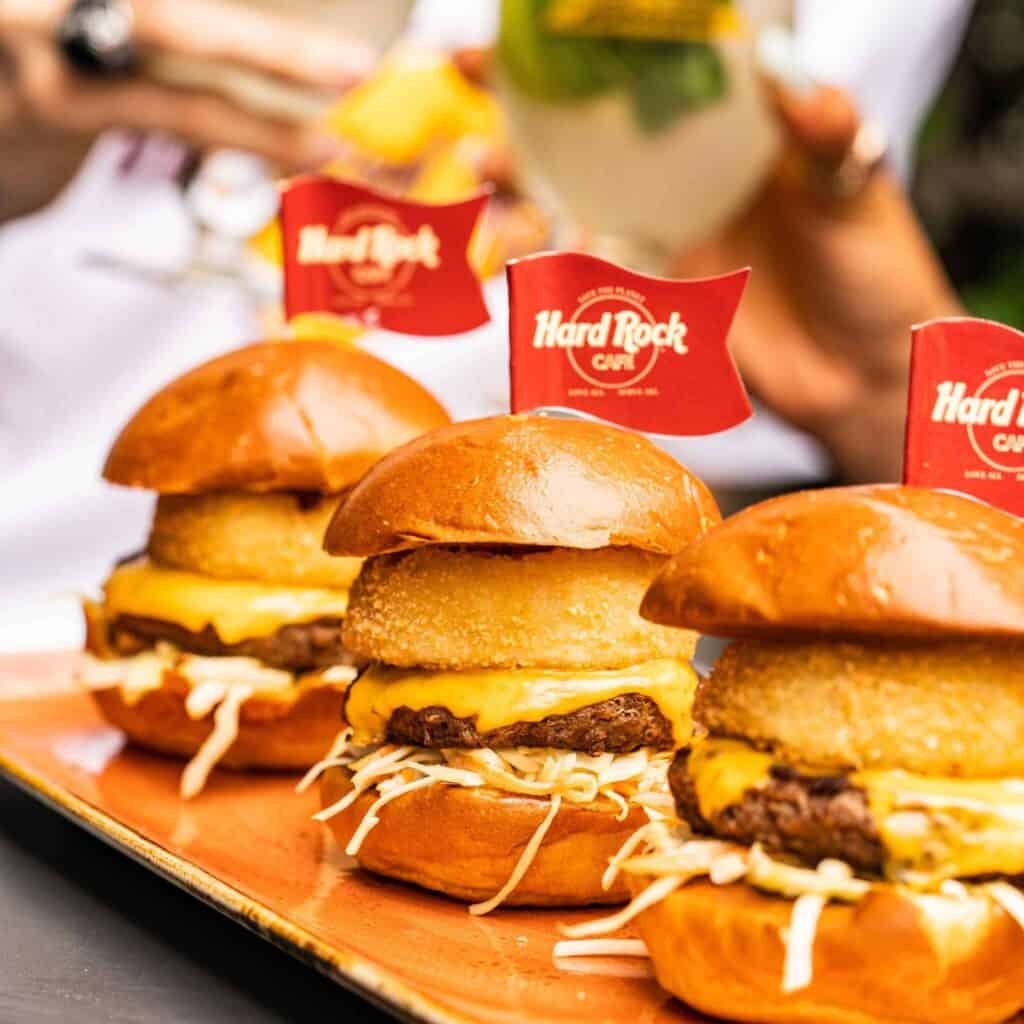 BBQ Bacon Cheeseburger – It is a mouthwatering burger packed with flavor, this option combines a juicy beef patty with crispy bacon, melted cheese, and a smoky barbecue sauce. It's a hearty choice for burger enthusiasts.
BBQ Pineapple Veggie Burger – This veggie burger offers a delicious blend of plant-based ingredients, including a flavorful patty made from vegetables and grains and then topped with barbecue sauce and grilled pineapple, offering a delightful combination of sweet and savory flavors.
Grilled Chicken Caesar Salad – This salad menu of Hard Rock Cafe features grilled chicken breast served over a bed of fresh romaine lettuce, tossed with creamy Caesar dressing, Parmesan cheese, and crunchy croutons making it the ideal choice for those that are looking for a lighter option on the menu that is both healthy and satisfying.
California Cobb Salad – This cobb salad showcases a mix of fresh greens topped with grilled chicken, avocado, crispy bacon, hard-boiled eggs, tomatoes, and blue cheese crumbles and is accompanied by a zesty dressing, offering a satisfying combination of textures and flavors.
Hard Rock Cafe Jam Sessions Menu
This menu is made up of a wide variety of beverages that is perfect for jamming sessions at Hard Rock Cafe.
Blackberry Sparkling Sangria – This refreshing and fruity beverage combines the flavors of blackberry, red wine, and citrus. It is topped with sparkling soda, adding a fizzy element to the drink making it a perfect choice for those looking for a vibrant and light cocktail option.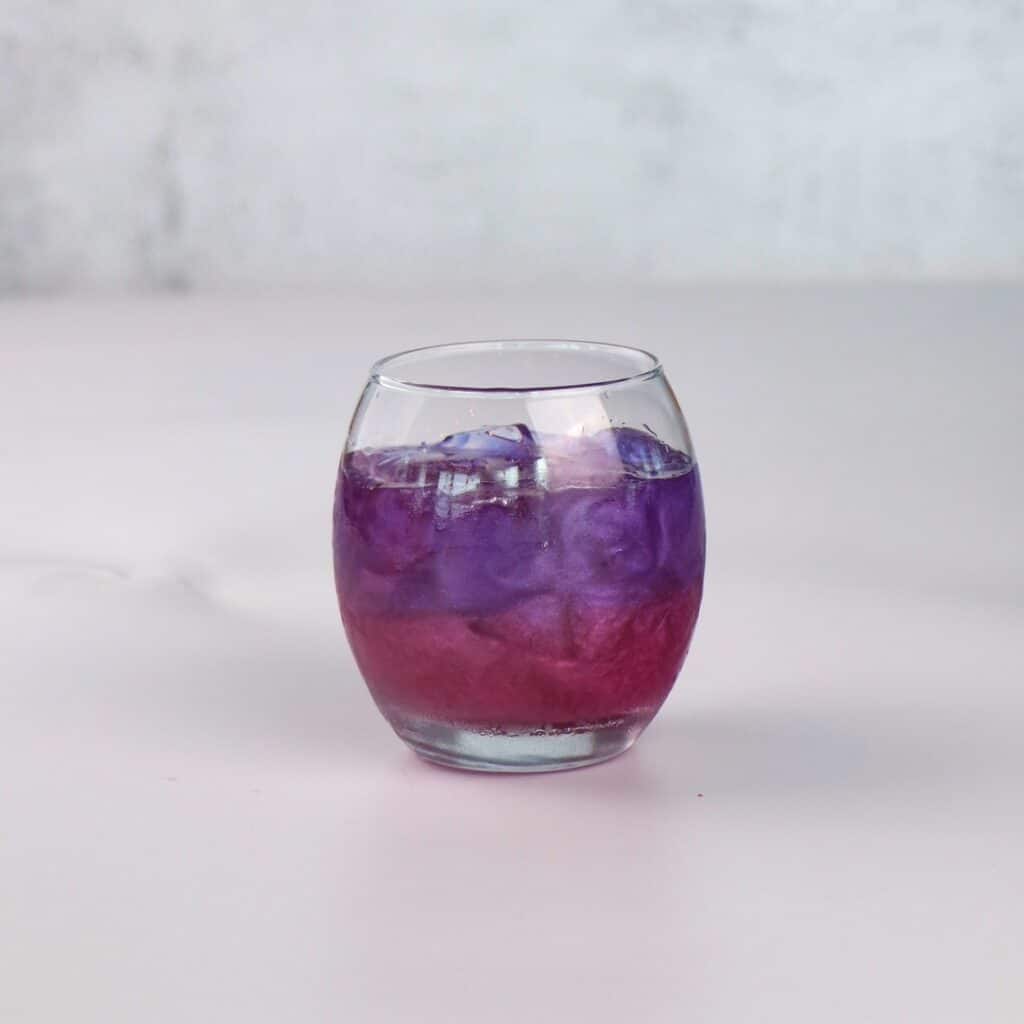 Ultimate Island Iced Tea – This tropical twist on the classic Long Island Iced Tea is a delightful blend of various spirits, including vodka, rum, gin, tequila, and triple sec. It is mixed with a splash of pineapple juice and topped with a cola float which makes it a bold and flavorful cocktail that packs a punch.
Espresso Martini – This cocktail combines freshly brewed espresso, vodka, coffee liqueur, and a touch of sweetness making this beverage an ideal choice for coffee lovers with an alcoholic kick. It delivers a rich and invigorating flavor profile, making it an ideal after-dinner drink or pick-me-up.
Starters and Shareables Menu
This menu is composed of a wide variety of starters and shareable food items that could make the perfect pair to their beverage options.
Cheesy Beef Nachos – These delicious nachos are topped with seasoned ground beef, melted cheese, diced tomatoes, jalapenos, and sour cream. The combination of savory beef, gooey cheese, and tangy toppings creates a flavorful and satisfying appetizer that is perfect for sharing.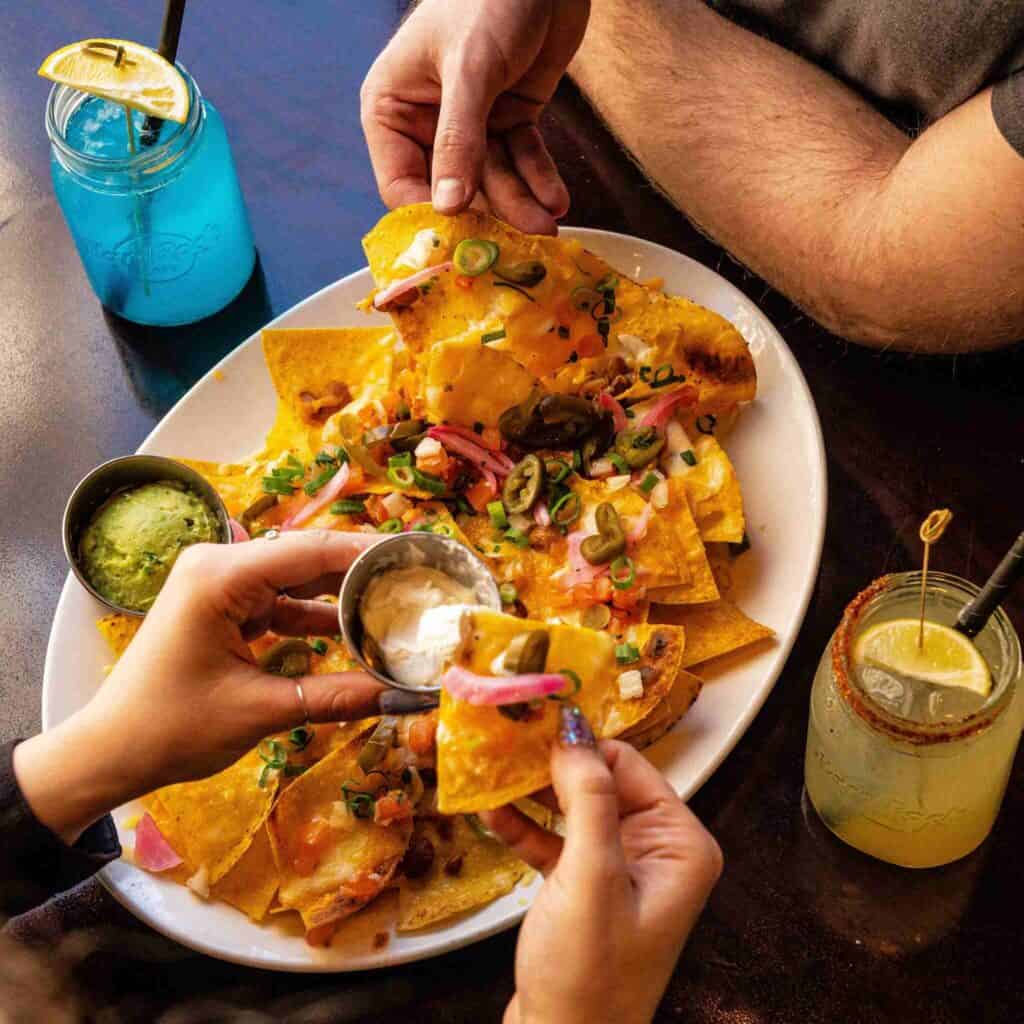 Asian Spring Rolls – A crispy spring rolls menu of Hard Rock Cafe that is filled with a savory mixture of vegetables and sometimes meat or seafood, rolled tightly and deep-fried to perfection. These spring rolls are further enhanced by the dipping sauce that is served with them, giving them new texture and flavors.
Spinach & Artichoke Dip – This creamy and cheesy dip is a classic crowd-pleaser is made with a blend of spinach, artichoke hearts, cream cheese, and various seasonings, and then served warm and accompanied by tortilla chips or toasted bread.
Hard Rock Cafe Legendary Burgers Menu
This menu is made up of mouthwatering burger options that are sure to satisfy anyone with their bold flavors and juicy patties. Each one of them is made with high-quality ingredients and is served with seasoned fries for a much more complete meal.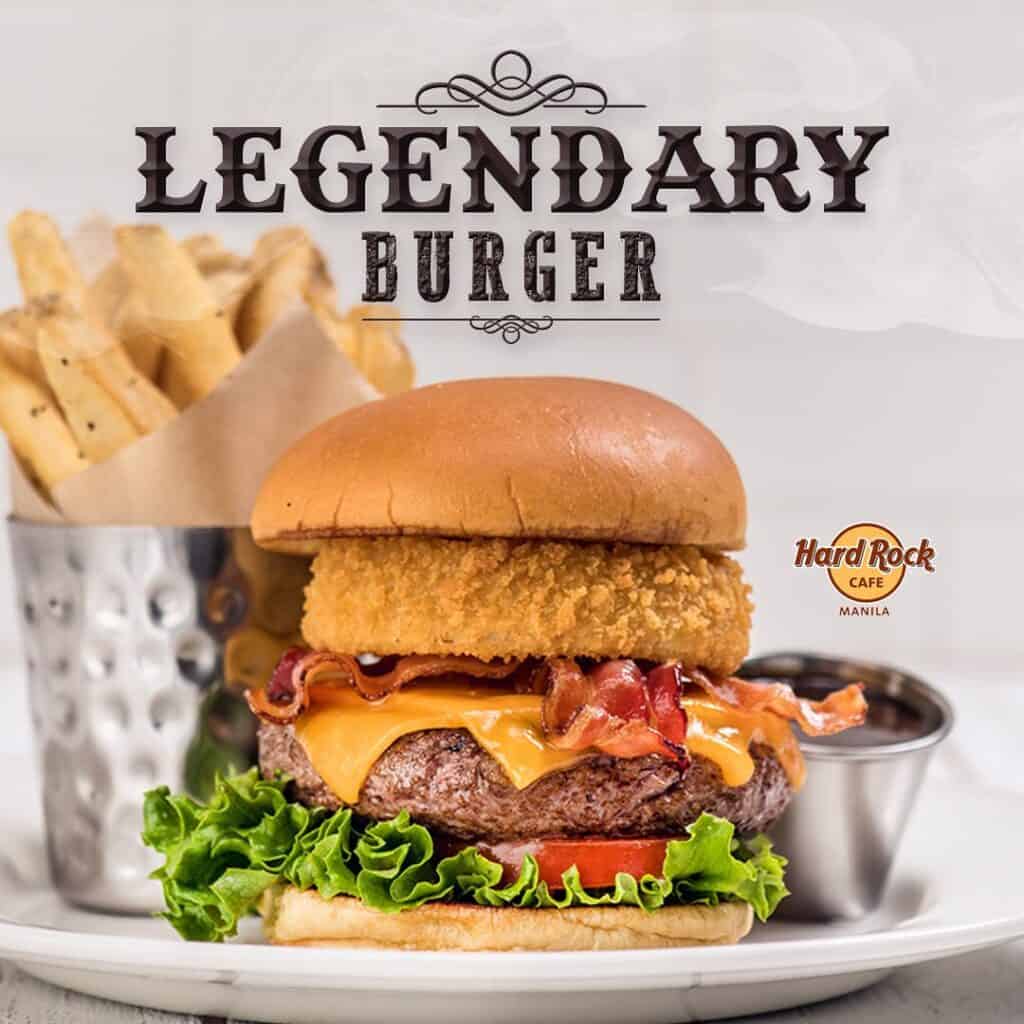 Specialty Entrees
At Hard Rock Cafe, you'll find a menu with lots of yummy and filling dishes. One of their famous highlights is the Legendary Burger, which is a must-try! But that's not all, they also have other tasty options like the Twisted Mac, Chicken & Cheese, and New York Strip Steak. So, whether you're craving a delicious burger or some other mouthwatering dish, you'll find something satisfying at Hard Rock Cafe!
Asian Favorites
In this menu, you'll discover a mix of Asian-inspired dishes with a rock 'n' roll twist. They have a lot of yummy food to choose from like Sizzling Sisig, Tokwa't Baboy, Beef Hofan, and many others! So, if you're in the mood for some delicious and unique Asian flavors with a touch of rock 'n' roll, this menu is the perfect choice for you! Enjoy the tasty dishes and the fun twist at the same time!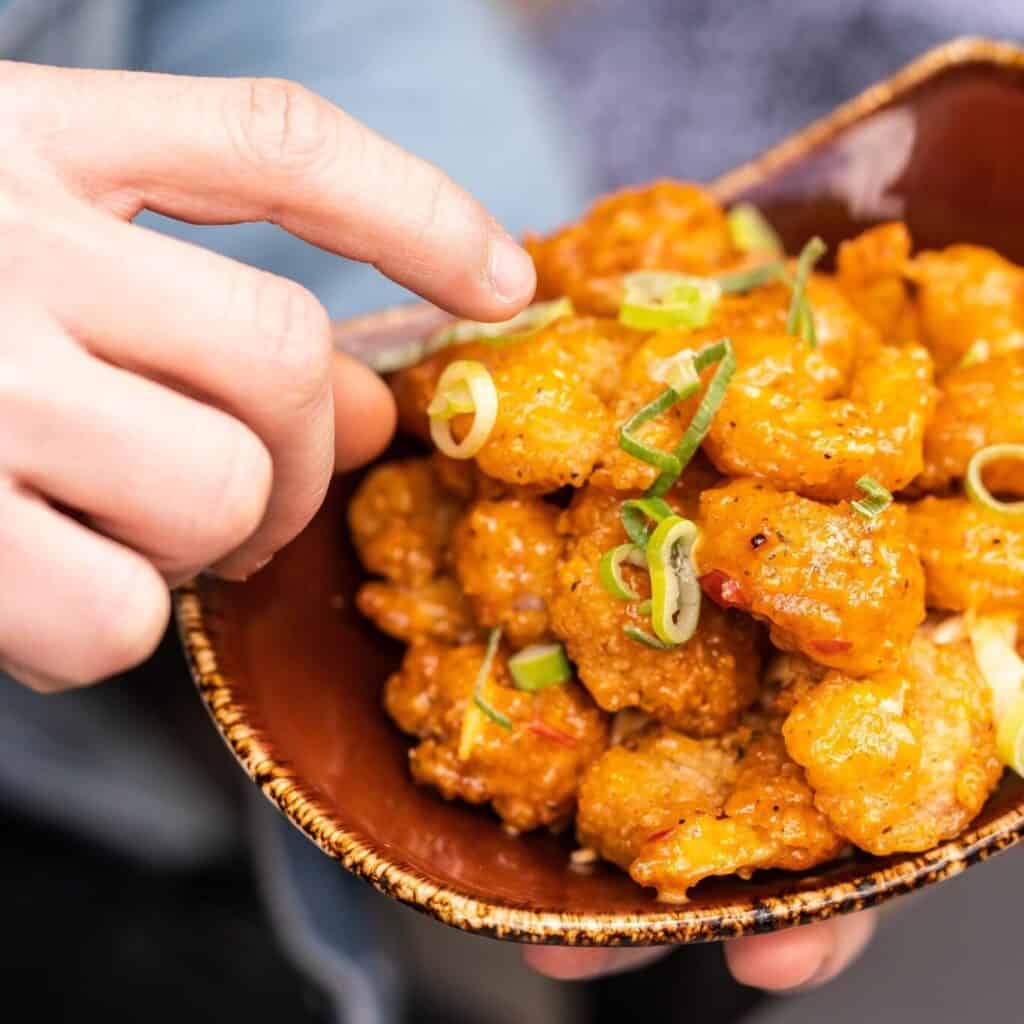 Hard Rock Cafe Menu Delivery
Hard Rock Cafe provides a menu delivery to make its offerings more accessible to more and more people in the Philippines. This also provides customers with a convenient ordering option as this can be accessed even in the comforts of their homes through third-party delivery services like FoodPanda and GrabFood.
Social Media Pages
Follow them on social media to join our global community of rock enthusiasts and stay tuned for the latest news, events, and exclusive offers. Share your #HardRockCafe moments and be a part of their vibrant community that celebrates the love of music and good times.
Facebook: https://www.facebook.com/hardrockcafemanila/
Instagram: https://www.instagram.com/hardrockcafemanila
Website: https://www.hardrockcafe.com/location/manila/
TripAdvisor: https://www.tripadvisor.com.ph/Hard_Rock_Cafe_Manila
FAQs
Where is Hard Rock Cafe located in the Philippines?
You can visit Hard Rock Cafe at Level 2, S Maison at Conrad, Manila, Seaside Boulevard, Manila, Philippines
What type of cuisine is served at Hard Rock Cafe Philippines?
Hard Rock Cafe Philippines serves classic American cuisine with a rock 'n' roll twist.
What kind of music events does Hard Rock Cafe Philippines host?
Hard Rock Cafe Philippines is known for hosting a variety of music events, showcasing both local and international talent.
Can I book Hard Rock Cafe Philippines for private events or parties?
Yes, Hard Rock Cafe Philippines offers the option to book their venue for private events and parties.
Conclusion
Hard Rock Cafe is not your typical restaurant but an iconic brand that has become synonymous with great food, rock music, and an electrifying atmosphere. This restaurant has a diverse menu of classic American dishes that can cater to everyone whether they're craving a juicy burger, tender ribs, or fresh salads. And aside from its food offerings, Hard Rock Cafe immerses guests in a rock 'n' roll experience with its music memorabilia, live performances, and vibrant ambiance making it a place where music lovers and food enthusiasts can come together to enjoy a one-of-a-kind dining experience.