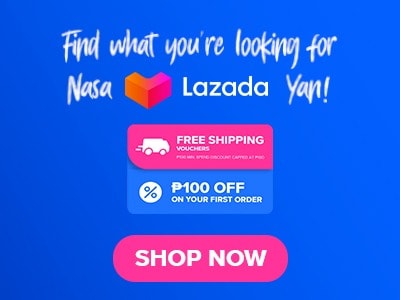 A lot of pizza parlors are mushrooming all over the country nowadays, every establishment offers great-tasting pizza however I bump into something that I think you might be interested in. Their pizza is actually pretty decent but without spending too much money and since their products are affordable I decided to make a write-up about them. Have you heard about FCJ PIZZA? This one is a simple pizza shop with great products. The FCJ PIZZA menu has loads of options for pizza flavors plus their pizza can be bought in solo, medium, large, and family sizes. Let's take a good look at their menu, their prices, and the products that they serve. Let's begin!
Below, you'll find the updated list of FCJ PIZZA menu prices.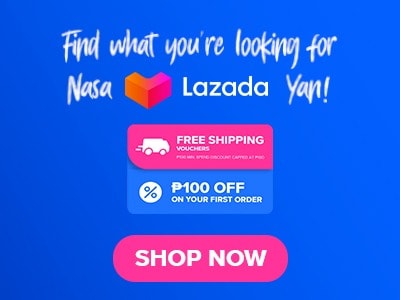 Menu Items
Price (PHP)

Pizza

Combination family
185
Combination large
145
Combonation medium
90
Combonation small
60
Combination solo
15
Half Combination Hawaiian family
185
Half Combination Hawaiian large
145
Half Combination Hawaiian medium
90
Half Combination Hawaiian Small
60
Half Combination Hawaiian Solo
15
Hawaiian Family
185
Hawaiian large
145
Hawaiian medium
190
Hawaiian Small
65
Hawaiian solo
15
Pepperoni family
185
Pepperoni large
145
Pepperoni medium
90
Pepperoni small
65
Pepperoni solo
15
About FCJ PIZZA
FCJ PIZZA is a store that offers delicious and affordable pizza for everyone. Fcj the establishment name stands for the business owners' initials, Fernando, Cristy, and Jhung thanks for their creative minds but it also stands for Fresh, Crispy, and Juicy Pizza that's what I'm thinking. The start of the business is not easy, but thanks to their hard work and dedication the customers discover how great their products are and since their pizzas are affordable a lot of their customers become their regulars. Now they have branches in Bulacan, Laguna, Pampanga, Tarlac, and Nueva Ecija however their main branch remains in Mabalacat Pampanga. FCJ PIZZA is also open for franchising. Their usual opening hours are from 9 in the morning until 9 in the evening.
FCJ PIZZA Menu Best Seller
Here are some of the most popular items of FCJ PIZZA.
Meat Lovers Pizza – FCJ PIZZA's version of meat lover's pizza is what I can recommend for those who love their pizza meaty and loaded. Loaded because this pizza is one hella loaded pizza and when they say meat lovers they are not joking. The crust is not too thick just right and the meat pieces are really flavorful.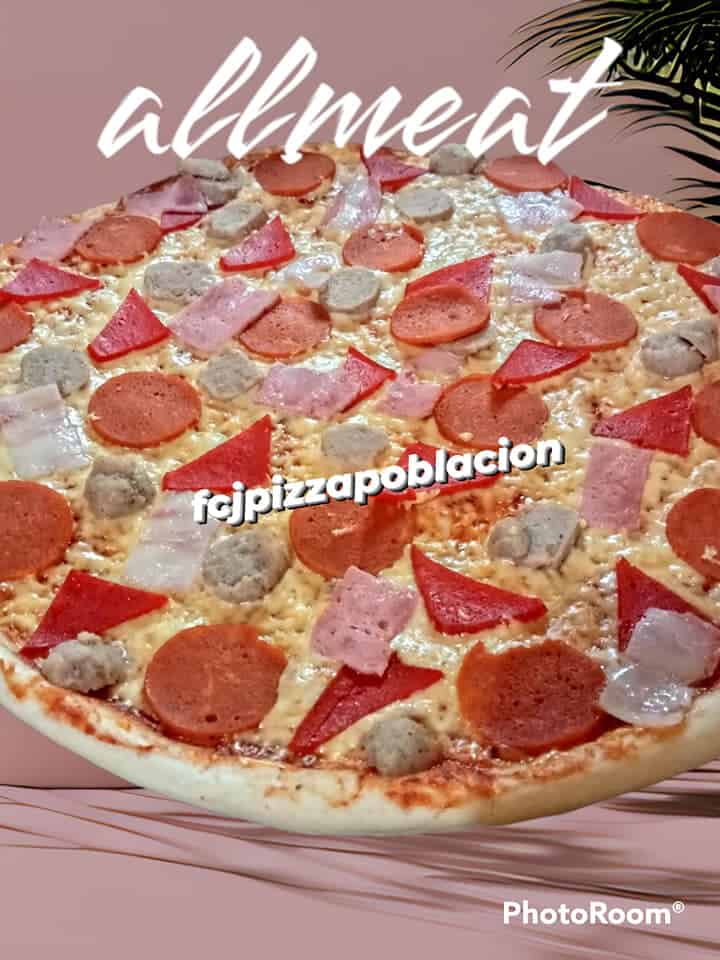 Meat-lover pizza is made with thin slices of meat, ham, and lots of cheese. One that I will definitely suggest that I know everyone that tries will surely agree with me. Deliciously good. You can buy this in solo, small, medium, large, and family sizes.
Plain Pepperoni Pizza – The Plain Pepperoni Pizza on the FCJ PIZZA menu is also good though for me it's a bit salty because of the pepperoni and I'm being biased here since I'm not a fan of pepperoni but overall it's good. Plain pepperoni pizza of FCJ is made with a thick but not too much crust plus slices of pepperoni and lots of cheese. Their Plain pepperoni pizza is one of their best sellers as well. You can also buy this in solo, small, medium, large, and family sizes.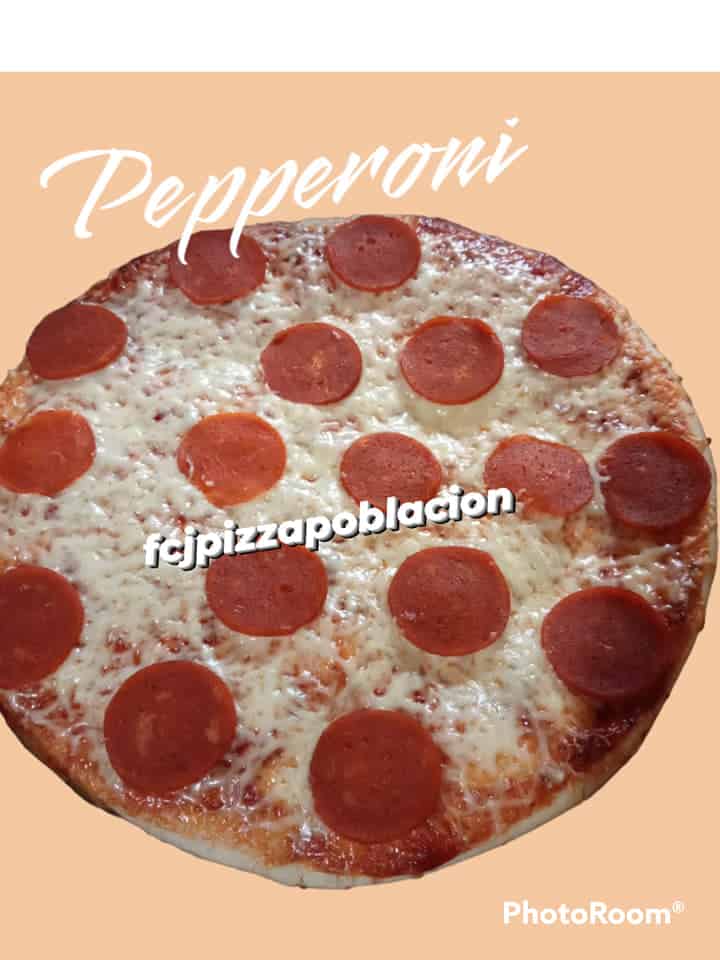 Combination pizza – The combination pizza of FCJ means it has the ingredients of pizza that you could think of. It has ham, pepperoni, bits of meat, onion, green bell pepper, and cheese. The crust is also thick which is okay since the toppings are already loaded. If you can't decide which one to order then you should go for their combination pizza, you can never go wrong with this one. Delicious and loaded will surely fulfill your cravings. Just like the previous two flavors You can buy this in solo, small, medium, large, and family sizes. 
Hawaiian Pizza – FCJ PIZZA's version of Hawaiian pizza menu is made with not so thick crust with pineapple bits, ham, and cheese for toppings. I'm not into pineapples on a pizza however a lot of customers love this one since Filipinos have a natural sweet tooth. One of their best-selling pizza is quite popular with their customers.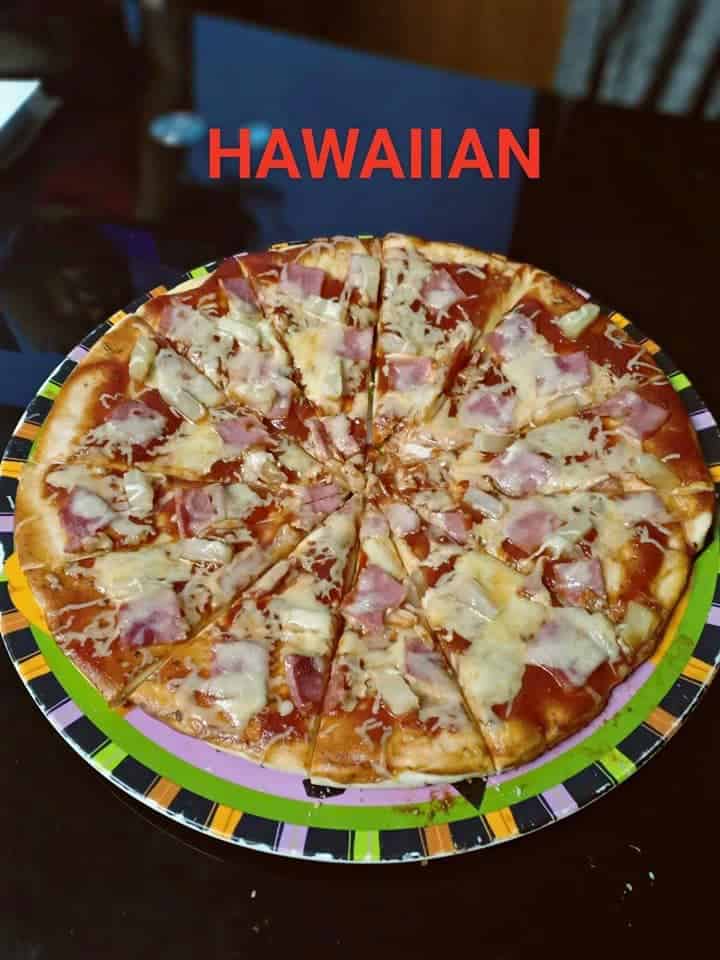 If you love to taste sweetness on a pizza this is what you should try. And though I'm not into Hawaiian pizza this is absolutely delicious. Also can buy this in solo, small, medium, large, and family sizes. Just like the previous items on top of the list, their Hawaiian pizza can be bought in solo, small, medium, large, and family sizes.
Half Hawaiian Half Combination – This pizza is what you should order if you can't decide what flavor you want or you simply want to get the best of both worlds. Half Hawaiian half combination pizza is a pizza with 2 flavors. First is the Hawaiian and the second flavor on the other side is combination pizza.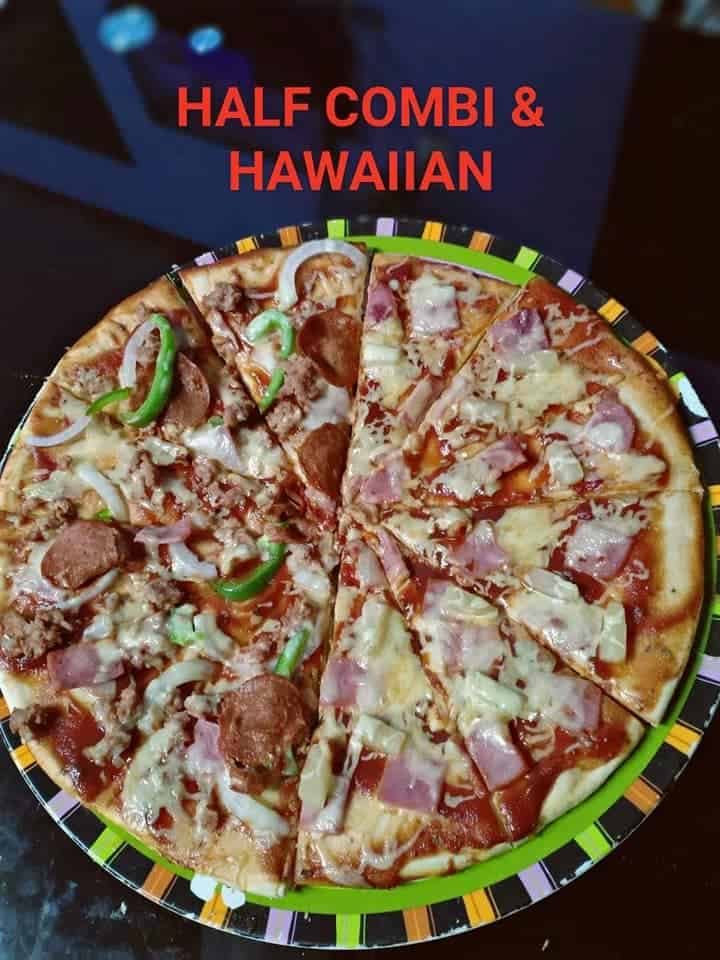 FCJ PIZZA Menu Delivery
You can order your favorite FCJ PIZZA in the comfort of your home simply by calling their branch that offers delivery or if possible you can just book your favorite food courier just like Foodpanda or grab foods. You can also go to this website https://mangan.ph/restaurants/preview/1191/fcj-pizza for your orders. 
FCJ PIZZA Social Media Pages
Join their pizza-loving social media pages and stay updated on the latest promotions, discounts, and exciting pizza creations. Share your pizza moments with #FCJPizza and let the world know why our pizzas are simply irresistible!
Facebook: https://www.facebook.com/TheFCJpizza/
Instagram: https://www.instagram.com/fcjpizzabaliwag
Website: https://fcj-pizza-main-office.business.site/#details
FAQs
Where is FCJ PIZZA and its headquarters?
FCJ PIZZA has a lot of branches mainly in the northern part of Luzon like Bulacan, Pampanga, and Tarlac however their headquarters remains in Mabalacat Pampanga.
What is FCJ PIZZA?
FCJ PIZZA is a pizza place that offers delicious and affordable pizza. Their pizza is sold in different sizes. Solo, Small, medium, large, and family sizes.
What is the signature pizza of FCJ PIZZA?
Based upon our research FCJ PIZZA's signature pizza is non-other than their combination pizza.
Is it halal-certified?
The answer is no. FCJ PIZZA uses pork products therefore this establishment is a non-halal certified place.
Conclusion
Affordable and delicious pizza. The FCJ PIZZA menu offers different pizza flavors however their pizza flavor options are limited only but for sure you'll find what you want on their menu in no time. FCJ PIZZA is not your average pizza place, this place will remain in your mind so whenever you're craving a pizza and know that their pizza is delicious and affordable tendency is you will buy again from them. I am not being biased here and this is just an honest opinion. Another addition is their service crew, they are mostly nice and I never encountered anyone rude, very approachable. Overall a very pleasant pizza experience.