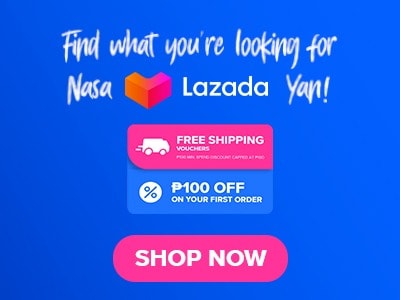 Japanese restaurants have been popping up across the country, many of them showcasing authentic Japanese cuisine while competing on pricing. However, have you found the right place to go offering delicious Japanese meals without spending too much? That's what I want to recommend so if you're looking for a place I have something here for you so look no more. Have you heard about a place named 102 Izakaya? Probably some of you do and for some who don't have the slightest idea about them then this is the right article for you. 102 Izakaya menu has a lot of delicious and mouthwatering options for you. This place offers a lot of Japanese dishes that will surely satisfy your Japanese food cravings plus as I said just a while ago they are actually cheaper than other places that I've been to. Let's get to know this place more and let's find out what they offer. Let's go! 
Below, you'll find the updated list of this Japanese restaurant's menu prices. 
Menu Items
Price (PHP)

Appetizers

Kani Salad
299
Chicken Karaage
265
Squid Karaage
368
Gyoza
202
Takoyaki
179
Yasai Itame
196
Cabbage Salad
167

Soup

Tonkatsu Curry Udon
368
Sukiyaki
478
Tori-Katsu Nabe
386
Gyuniku Udon
340
Tempura Udon
328

Maki/Sushi

Salmon Aburi Maki
380
Kani Crunch Maki
305
Crispy Shrimp Maki
322
L.A. Maki
265
102 Special Maki
518
Beef Bulgogi Maki
343
Spicy Salmon Maki
368
Maki Platter
804
Special Sushi Platter
1173

Noodles

Creamy Udon With Bacon & Mushroom
328
Creamy Udon With Seafood
363
Bacon Yakisoba
259

Steak

Wagyu Cubes
587
Ribeye Saikoro Steak
573
Beef Usuyaki
483
Beef Niniku
409

Mains

Buta Shogayaki
437
Buta Kakuni
518
Ebi Tempura
328
Agedashi Tofu
271
Grilled Salmon
420
Chicken Teriyaki
271
Pork Loin Katsu
317
Chicken Katsu
276
Chicken Katsu Curry
305

Rice Bowls

Chicken Teriyaki-Don
317
Tendon
340
Tori-Katsudon
328
Tori Cheezy-Don
317
Gyudon
345

Rice, Vegetables, Sides

Seafood Fried Rice
299
Chahan (Meat)
161
Chahan (Vegetable)
138
Yakimeshi
305
Kimchi Fried Rice With Bacon
271
Gohan (White Rice)
75
Miso Soup
75

Yakitori

Chicken Thigh
75
Chicken Liver
75
Chicken Skin
75
Chicken Ass
75
Pork Negima
90
Bacon & Quail Egg
90
Fish Tofu
69
Shiitake Mushroom
69
Yakitori Platter
458
About 102 Izakaya
102 Izakaya is a place that offers Japanese foods that you can find in the busy mall of Glorieta 1. You don't have to travel far to go to an authentic Japanese bar. Since they are so accessible any day of the week since they are at the mall, it's easy to come to their place. This place is great for barkada hangouts for a few drinks while enjoying their delicious yakitori, sushi, and other delicious options. At the Japanese town section of Glorieta you will find them, the rooftop is where they are located actually. In there, you can find a variety of restaurants that serve Japanese cuisine and it gives the ambiance that you're actually in Japan.
Their place looks like they came straight from Japan and just relocated here in our country in a flash, the theme and ambiance of their restaurant are colorful displaying Japanese pop culture that gives the vibe. They also offer al fresco dining for customers who want to stay at their outdoor roof deck. Truly this place is the epitome of a great Japanese restaurant serving high-quality food without compromising the taste of what they serve.
102 Izakaya Menu Best Sellers
Here are some samples of their best-selling dishes that everyone should try.
Special Sushi Platter – A special sushi platter is a great choice if you're going to visit 102 Izakaya in the group. This has a combination of delicious sushi which are: salmon sashimi, crispy shrimp maki, kani and tamago aburi sushi, and spicy salmon maki.
The serving is quite plenty, this is also great with their cocktails so you can enjoy the company of your friends while enjoying great and delicious sushi. This is also one of the top items on their menu and also a must-try.
Yakitori Platter – Yakitori Platter could be your new favorite just like me. This item is served with a selection of their yakitori favorites. Yakitori favorites include chicken liver, chicken skin, chicken thigh, and chicken ass. This is not actually the ass its the bump on the tail of the chicken, some quail eggs, bacon, shiitake mushrooms, fish tofu, and of course vegetables. This one is also recommended for sharing and is also a top-selling item on their menu.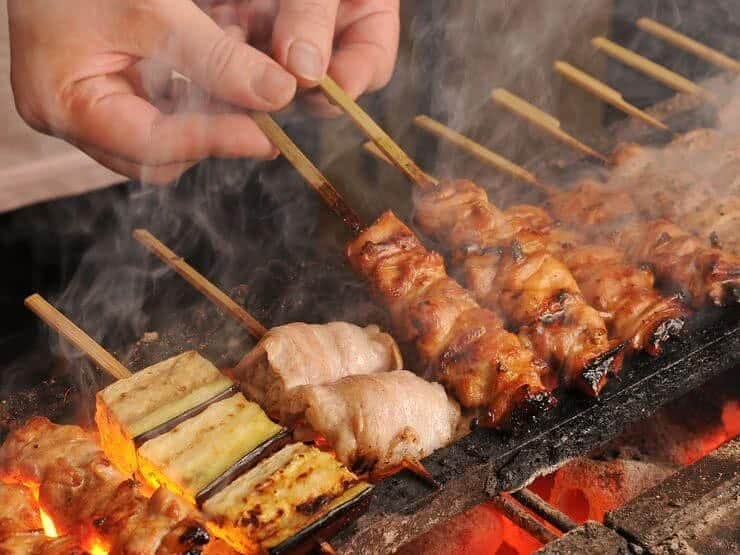 Chicken Karaage – Chicken Karaage menu of 102 Izayaka can actually ordered in different flavors, you can choose from spicy, classic, and soy honey. This item is perfect with any drinks that they offer even alcoholic beverages this is fine. Their chicken karaage not only looks so good but this is actually delicious.
I like how crispy the chicken is but not hard, it's still juicy on the inside. I like the spicy better since I love spicy food but of course your order should be upon your preference I'm just sharing my thoughts.!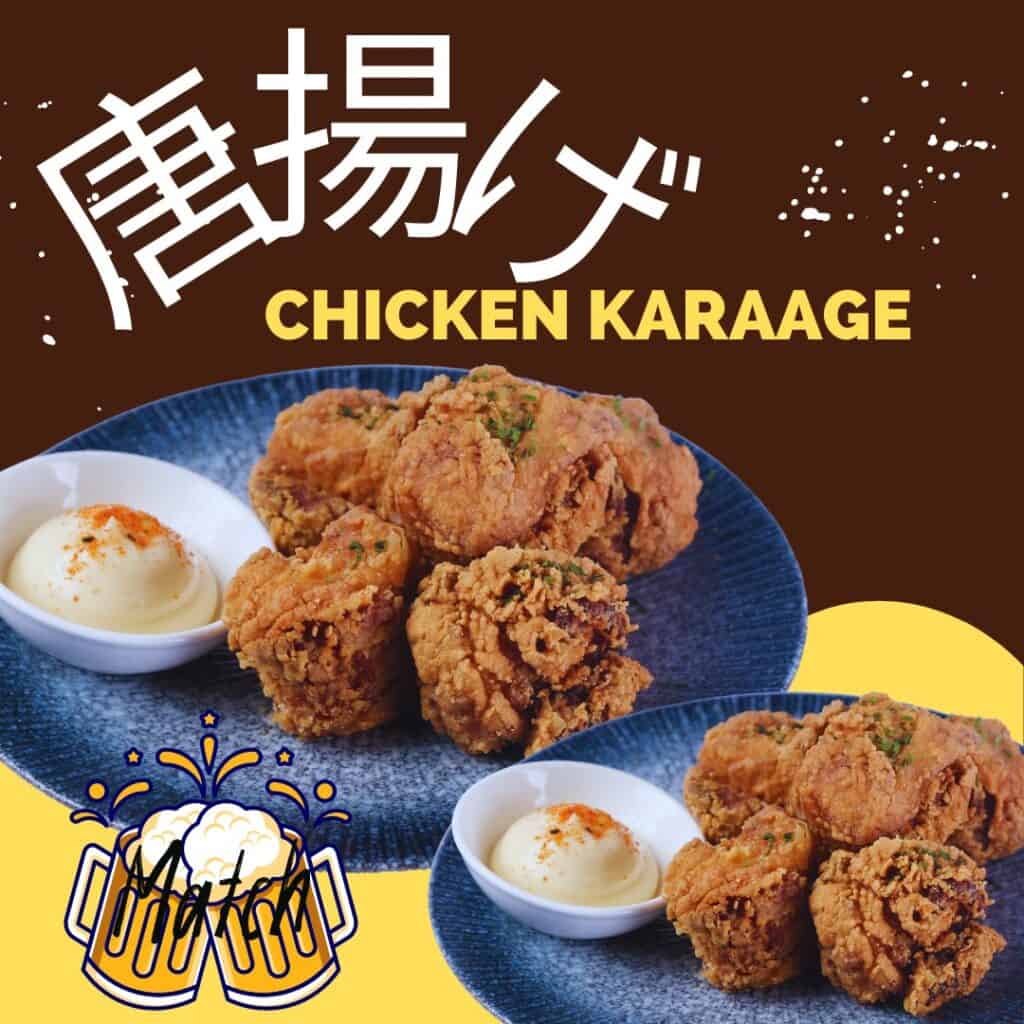 Beef Usuyaki – If it sounds new their beef usuyaki is actually a rolled beef that they stuffed with bacon and shiitake mushrooms then brushed with their steak sauce. This one is really good that I know to myself that I can finish the entire serving all by myself. If this is still not enough you can just add PHP 100 to make it a set. After upgrading they will include a serving of rice, salad, soup, and tea (hot/iced). This one is great with any drinks available as well.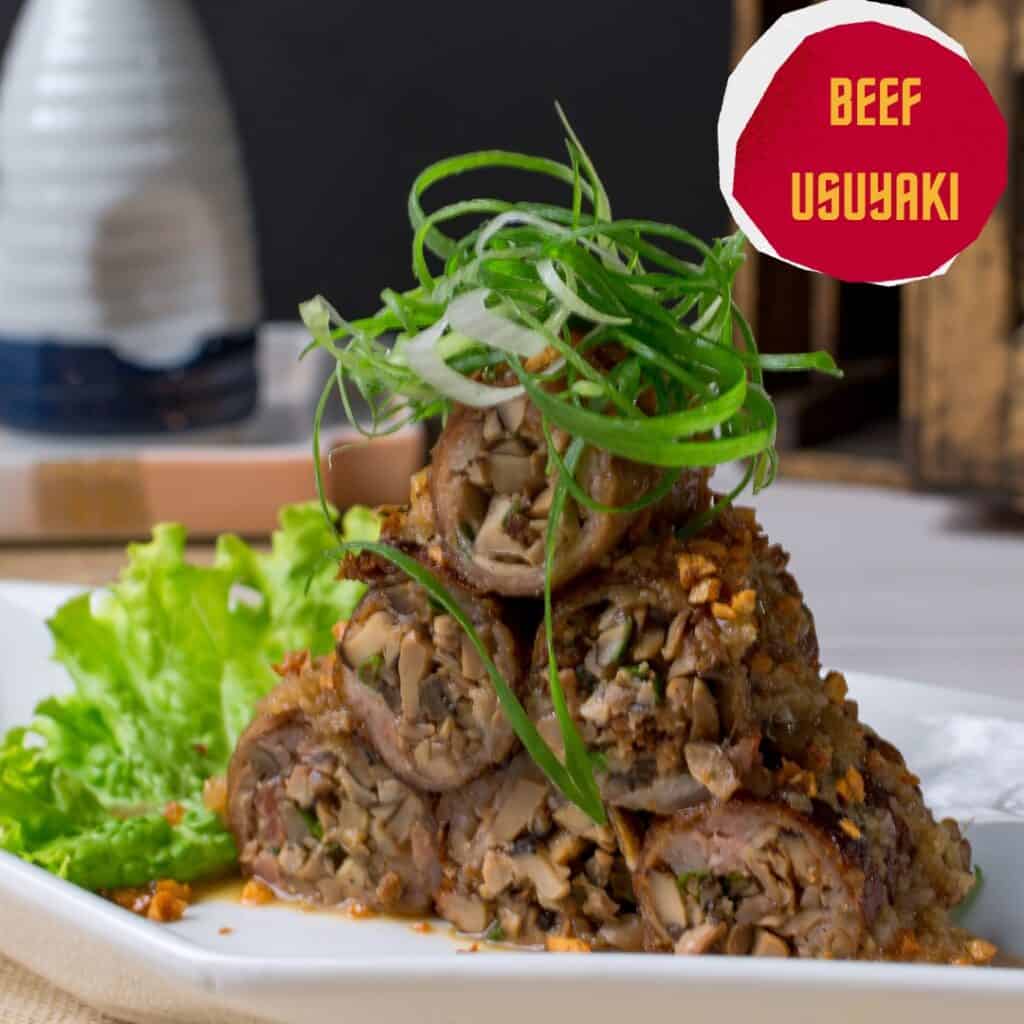 Noodles
102 Izakaya also offers noodle dishes, on their Noodles menu they actually have 3 delicious items to choose from, the first one is their Creamy Udon with Bacon & Mushrooms. This one is a Japanese-style carbonara with mushroom, bacon, katsubushi & egg yolk to thicken the sauce.
They also have Creamy Udon with Seafood, just like the previous item this is a Japanese-style carbonara but with seafood like squid, shrimp, crabstick, and nori. They also have Bacon Yakisoba Noodles, this one is a stir-fried soba noodles with vegetables and bacon.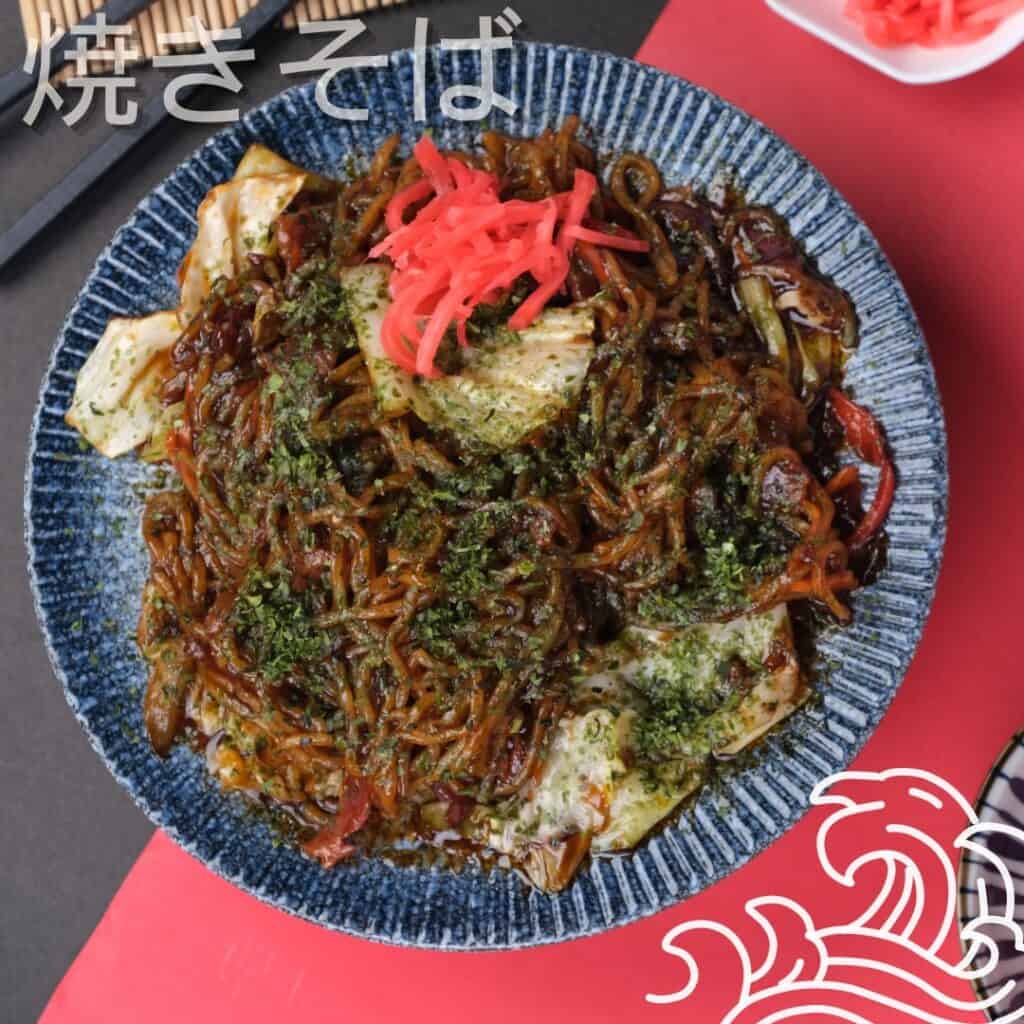 Steak
The steak menu of 102 Izakaya has 4 different items to choose from. The first one is their wagyu cubes. This one is served with salad on the side. They also have Ribeye Saikoro Steak, which is made from grass-fed cow. The rib eye steak is also served with fries. Beef sukiyaki is another great choice this one is included in their best sellers. This is basically rolled beef with mushrooms inside with sauce. And lastly is their Beef Niniku, which is a thin sliced Beef in soy sauce that they serve with stir-fried vegetables.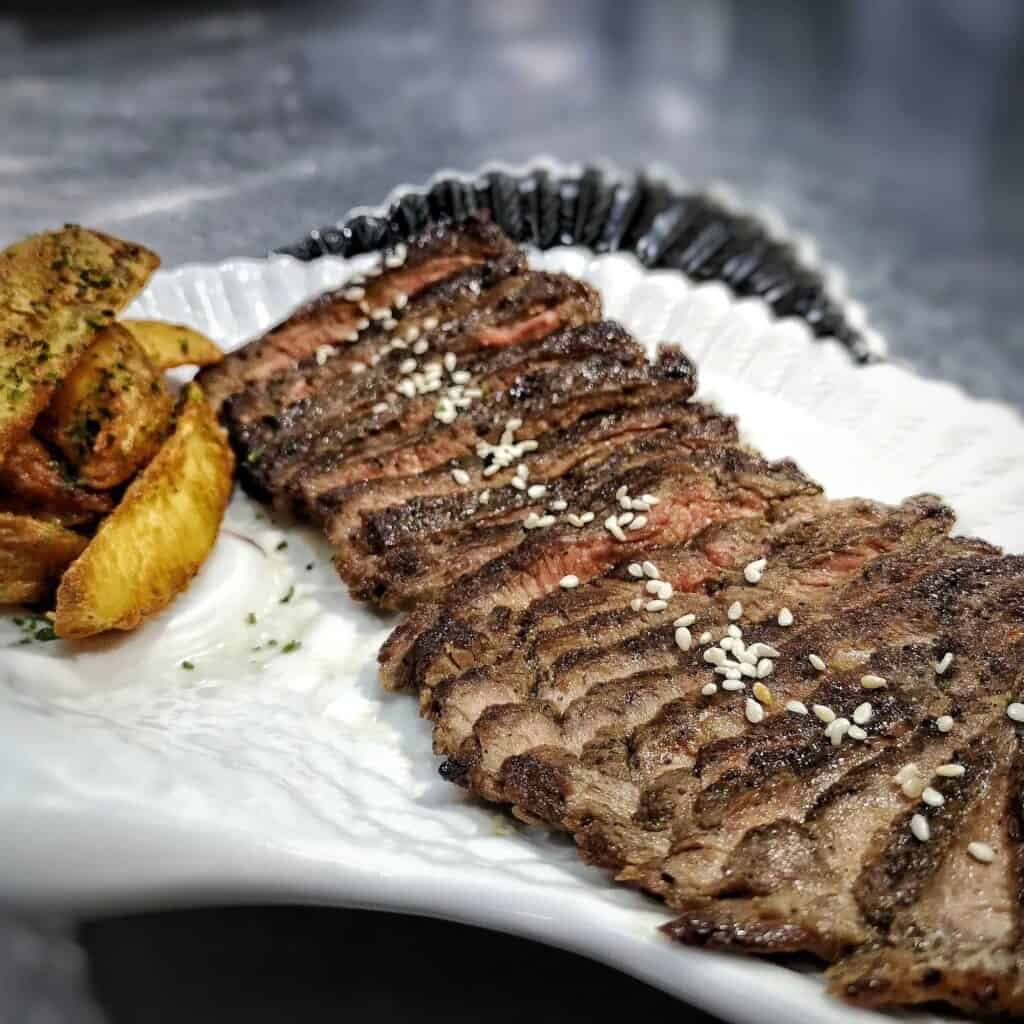 102 Izakaya Delivery
For delivery, you may call their number at (02)79437935 or +639563046739. You can also use Foodpanda if you want to order from them. However, not all locations are available for delivery. Make sure to ask first if they can deliver foods from your exact location.
Social Media Links
Follow and like their social media pages today, and you'll gain access to a world of sushi, ramen, and exclusive offers that will take your taste buds on a journey through Japan.
Facebook: https://www.facebook.com/102izakaya
Instagram: https://www.instagram.com/102izakaya
TikTok: https://www.tiktok.com/@102izakaya
Frequently Asked Questions (FAQs)
Where to find 102 Izakaya restaurant?
102 Izakaya is located in Japan Town, Top of the Glo, Glorieta 1, Ayala Center in Makati City.
What are 102 Izakaya business hours?
102 Izakaya is open from 11:00 am until 10:00 pm, 7 days a week.
What are the payment methods at 102 Izakaya?
This Japanese restaurant accepts payment through cash and major credit cards. 
102 Izakaya, Are they halal certified?
No. 102 Izakaya is a non-halal-certified restaurant since it serves alcoholic beverages and uses some ingredients that are haram for some customers.
Does 102 Izakaya offer a delivery service?
Yes. 102 Izakaya offers delivery service simply by calling them at (02)79437935
Conclusion
102 Izakaya is a great place to go with your barkada to relax after a tiring day at work. They also have great selections of mouthwatering dishes to choose from. 102 Izakaya menu has so much to offer not just foods but even cocktails. The place has a great and lively atmosphere too. Crews are nice too. Highly recommend that everyone visit and try to understand what I am talking about.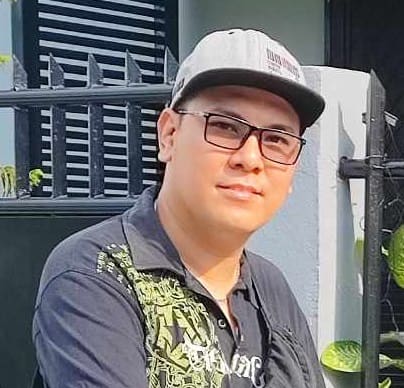 Hi! I'm Nivek Strife, the person who made MenuPH. I'm the one who added most of the popular menus you see on this website, and I really hope you enjoy them! Feel free to check them all out.
Growing up, I was surrounded by lots of tasty foods, like the classic Adobo and the sweet Leche Flan. That love for the many flavors of the Philippines is what got me excited about adding to MenuPH. When I learned how to make websites, I saw the need for a place to show off all the amazing Filipino dishes, and that's how MenuPH started.
MenuPH isn't just a website; it's like a fun journey into food. I've teamed up with famous chefs and found great places all over the Philippines to bring you a bunch of menus that show off the best of Filipino cuisine. Whether you're into the usual dishes or new twists, MenuPH is here to guide you through the rich world of Filipino flavors.
With MenuPH, my aim is to help local businesses, talk about good food choices, and make a group of friends who love food. No matter if you like fancy restaurants or street food, MenuPH has something for you. Come join me on this food adventure as we find great places, taste real flavors, and enjoy the unique food traditions that make the Philippines awesome.