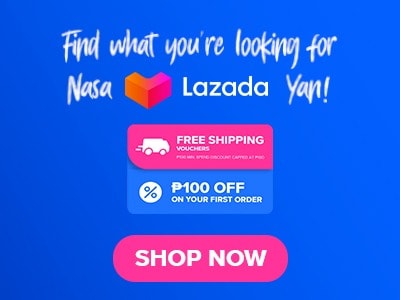 If you stroll the streets of the Philippines enough, you would see that there are many restaurants in the country that offer meat items as their signature dishes. However, one stands out from the rest due to its menu which offers a range of flavors and preparations, allowing guests to enjoy a memorable dining experience centered around their love for meat. Meat Depot offers a diverse menu that caters to meat lovers' cravings that focuses on high-quality meat products such as premium cuts of beef, pork, chicken, and seafood.
Below, you'll find the updated list of Meat Depot menu prices.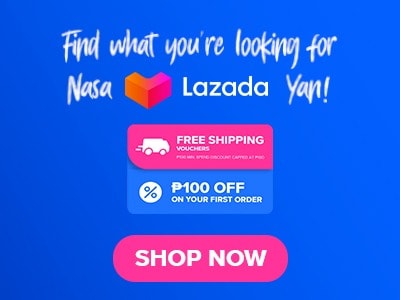 Menu Items
Price (PHP)

Angus Beef Steaks

Ribeye (Palo Duro Brand)
655
Ribeye (Four Star Brand)
1140
Tomahawk
2960
T-Bone
1360
Striploin
1050
Ribeye
1675
Porterhouse
1605
Tenderloin
1400
Prime Rib
2280

Christmas Ham

Glazed Ham
770
Smoked Ham
465

Merchandise

Meat Depot Eco Bag
35
Meat Depot Insulated Bag
350
Mushroom Gravy (Family Pack)
205
Spicy Pepper Gravy (Family Pack)
205
Mushroom Gravy (Family Pack)
203
Gravy Combo (Family Pack)
225
French Fries (Family Pack)
225

Cured Meats

Smoked Thick-Cut Bacon
395
Prime Beef Tapa
469
Beef Salpicao
373

Philippine Heirloom Longganisa

Lucban Longanisa
215
Batutay Longanisa
280
Vigan Longanisa
380
Alaminos Longanisa
270

Beef Cuts

Beef Sirloin (Tapa Slice)
450
Beef Kenchi Shin (Cubed)
405
Beef Brisket (Cubed)
340
Lean Ground Beef
250
Ground Beef
225
Mechado Cut
405
Bone Marrow
365
Breakfast Steak
455
Sliced Beef Sirloin
350
Cubed Beef Kenchi Shin
294
Ox Tripe (Cubed)
214
Caldereta Cut (Buto-Buto)
180
Cubed Beef Brisket
294
Caldereta Cut
220
Ox Tail (Buntot)
438
Ox Tongue (Lengua)
763

Pork Cuts

Sinigang Cut (Buto-Buto)
145
Pork Chop
235
Menudo Cut
235
Lean Ground Pork
180
Country Style
280
Baby Back Ribs
447
Adobo Cut
235
Pork Liver
280
Ground Pork
145
Liempo
170
Pork Ears
295
Pork Mask
112
Kasim
147
Pata Front (Sliced)
401
Pork Tenderloin
459

Marinated MD Favorites

Marinated Pork Chop
330
Marinated Liempo
375

Korean & Japanese Meats

Japanese Pork Tonkatsu
270
Korean Pork Moksal
270
Korean Pork Bulgogi
315
Japanese Beef Yakiniku
455
Korean Beef Woo Samgyeop
465
Japanese Beef Shabu Shabu
455
Korean Pork Samgyeopsal
360

Dine-At-Home Kits

DHK Aged Angus Ribeye Classic Steak
1750
DHK Lamb Steak
850
DHK Lamb Chops
895
DHK Lechon Kawali
895
DHK Baby Back Ribs (Full Rack)
1120
DHK Baby Back Ribs (Half Rack)
850
DHK Aged Angus Ribeye Tex-Mex Steak
1750
DHK Lechon Kawali
895

Aged Angus Steak

Angus Burger
620
Philly Steak
788
Angus Porterhouse
1333
Angus Prime Rib
1328
Angus Tomahawk
1808
Angus Tenderloin
1107
Angus T-Bone
1145
Angus Striploin
746
Angus Ribeye
1057

Wine

El Guardian Red
895
Maria del Mar Blanco Semi-Dulce
615
Maria del Mar Tinto Semi-Dulce
615
Canepa Novissimo Sauvignon
995
Cano Torro Tempranillo Garnacha
950
El Pugil Tempranillo Toro
950

Fish & Seafood

Real Crab Meat (Special)
2485
Pacific White Shrimp
950
Lobster (Whole)
441
Salmon Steak
1025

Crab Meat

Pier 717 Special Crab Meat
706
Pier 717 Jumbo Lump Crab Meat
1243
European Sausages
Cheesy Frank Sausage
258
Hungarian Sausage
258
Bacon & Cheese Sausage
258
Schublig Sausage
258
Country Sausage
294

Foie Gras

Foie Gras
890

Wagyu & Saikoro

A4 Wagyu Striploin
5230
A4 Wagyu Ribeye
6540
Wagyu A4 Striploin
4552
Saikoro Steak
1175

Beyond Meats

Beyond Burger
550
Beyond Sausage
730
Beyond Beef
1045

Duck

Premium Whole Pekin Duck
1276
Premium Pekin Duck Breast
1356
Premium Pekin Duck Legs
840
Premium Pekin Duck Meat
1420
Premium Rendered Duck Fat
1292
About Meat Depot
Meat Depot is a popular restaurant in the Philippines known for offering high-quality meat products and delicious grilled dishes that focuses on providing premium cuts of meat. Meat Depot's menu features a selection of different types of meats which includes beef, pork, chicken, and seafood. Meat Depot is committed to providing a great dining experience, with a cozy and welcoming ambiance and attentive service which makes it a go-to destination for meat enthusiasts seeking quality and flavor.
Meat Depot Menu Best Seller
This menu is composed of Meat Depot's most popular items that are ordered by most of their customers.
Breakfast Steak – This steak offers a juicy and succulent texture, complemented by its rich and savory flavors, and pairs well with eggs, rice, or other breakfast favorites, making it a satisfying and delicious option for a morning meal.
Pork Chop – These thick, juicy cuts of pork are seasoned and grilled to create a deliciously charred and flavorful exterior while maintaining a moist and tender interior. The Pork Chop is a versatile option that can be enjoyed on its own or paired with your favorite sides, making it a satisfying choice for a hearty and satisfying meal.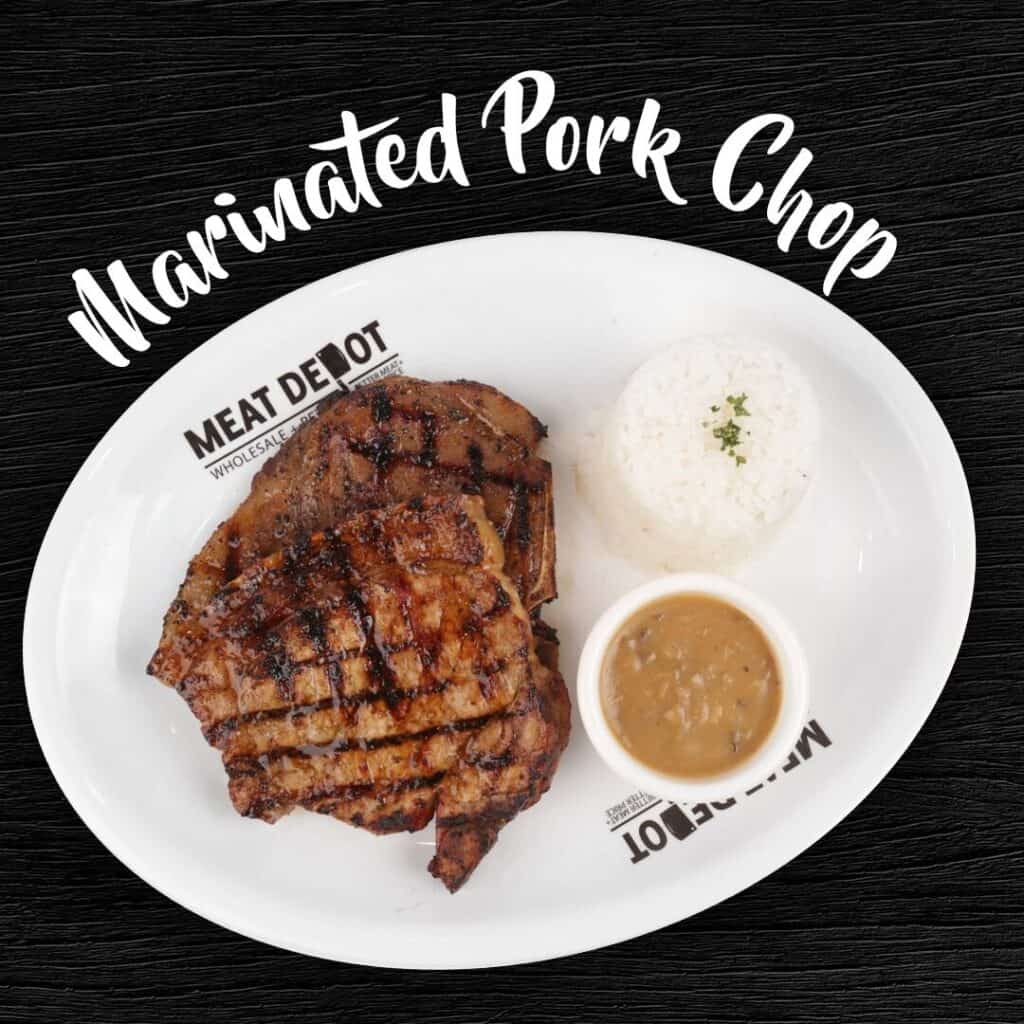 Korean Pork Bulgogi – This thinly sliced pork and marinated in a delicious blend of soy sauce, garlic, and other flavorful ingredients and is then grilled to perfection which results in a tender and juicy meat with a slight sweetness to it.
Japanese Beef Yakiniku – This menu of Meat Depot features thinly sliced beef that is marinated in a savory sauce and then grilled to perfection which results in a tender and flavorful beef dish with a slightly caramelized exterior.
Angus Prime Rib – This cut of beef is known for its exceptional tenderness and rich marbling, resulting in a melt-in-your-mouth experience. The rib is slow-roasted to perfection, allowing the flavors to develop and create a juicy and flavorful dining experience.
Meat Depot Menu Angus Beef Steaks
This menu is made up of a different variety of Angus beef steaks that are fresh and of high quality.
Tomahawk – This dramatic cut features a long bone that adds visual appeal to the dish. This steak is very popular for its marbling which can contribute to the richness and tenderness that it has.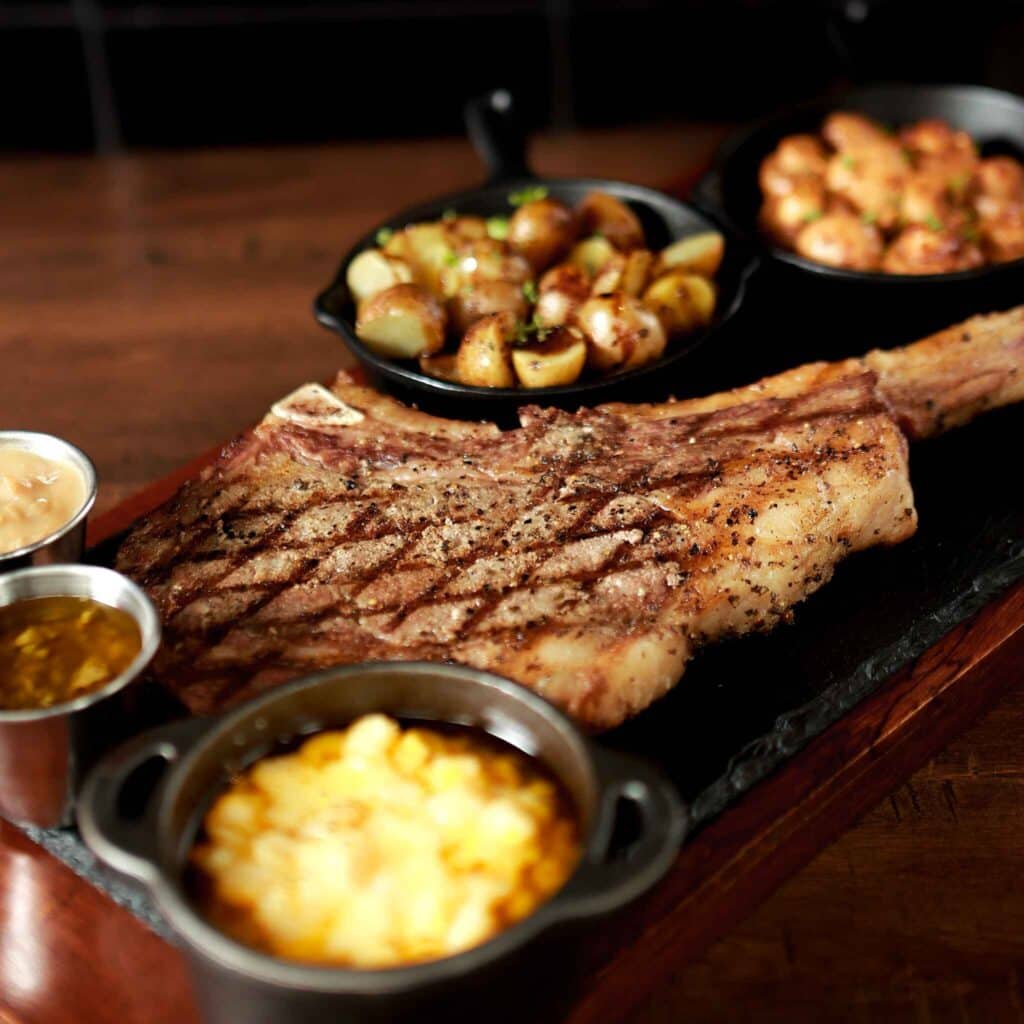 T-Bone – The T-Bone steak is a classic choice that Meat Depot offers with pride that features a T-shaped bone, with one side consisting of flavorful striploin and the other side containing a portion of tenderloin.
Striploin – The Striploin steak is a popular and versatile cut known for its balanced flavor and tenderness that showcases the natural flavors of beef. This cut is marbled with the perfect amount of fat which provides a juicy and flavorful dining experience to customers.
Cured Meats
This menu of Meat Depot is composed of different cured meat items that are both flavorful and affordable.
Smoked Thick-Cut Bacon – This bacon is carefully smoked to achieve a rich and smoky taste that enhances its natural savory flavors. The thick-cut slices provide a satisfying texture and allow the bacon to retain its juiciness during cooking.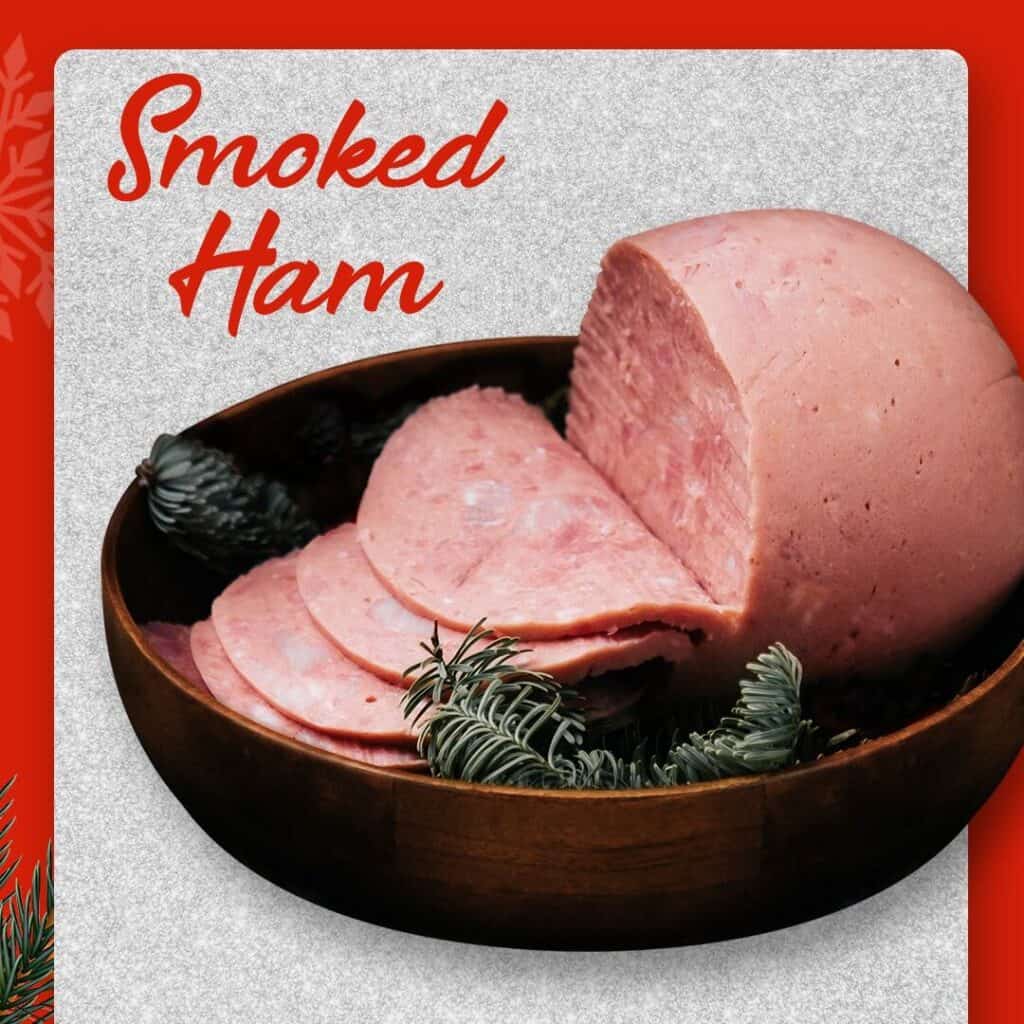 Prime Beef Tapa – This dish is a favorite breakfast dish of Filipinos that is made from thinly sliced beef that was marinated in a flavorful blend of soy sauce, vinegar, garlic, and various spices. This marination process allows the flavors to penetrate the beef, resulting in tender and savory meat.
Beef Salpicao – Meat Depot's Beef Salpicao is a mouthwatering dish that features tender beef cubes sauteed with garlic, soy sauce, and other seasonings. The beef is perfectly cooked which results in juicy and flavorful meat and is further enhanced by the aromatic garlic and savory sauce that comes with it.
Philippine Heirloom Longanisa Menu
The menu unfolds a variety of traditional and flavorful longanisa sausages that highlight the deep-rooted food traditions of the Philippines. Each type is characterized by its unique blend of spices and seasonings, crafting an array of distinctive flavors that can cater to diverse preferences. This assortment allows everyone to experience the rich, vibrant essence of Filipino food culture with each bite.
Pork Cuts
Featuring an expansive assortment, the Pork Cuts menu at Meat Depot boasts a choice selection of high-quality pork cuts, celebrated for their succulent tenderness, robust flavor, and versatile culinary applications. Each piece, meticulously curated and prepared, offers an unrivaled gastronomic experience in both taste and texture. This combination of qualities has made these cuts a consistent preference for many of their customers, establishing their standing as popular and highly sought-after items on the menu.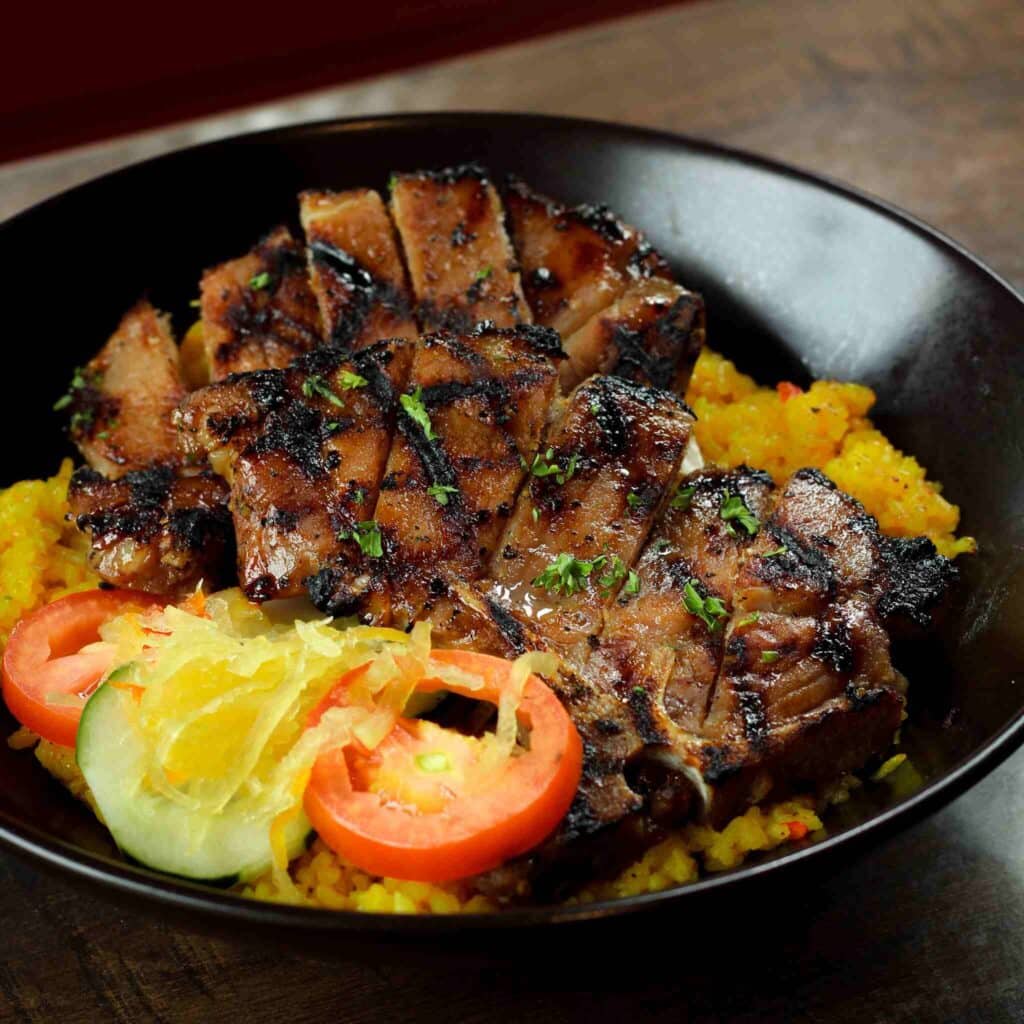 Meat Depot Menu Delivery
Fulfilling our mission to streamline the dining experience, Meat Depot now offers an enhanced menu delivery service to simplify our customers' ordering process. Through this innovative system, patrons can now access and order from our extensive range of Meat Depot's products via select reliable third-party delivery platforms, including the notable service, GrabFood. By introducing this, we've optimized convenience and accessibility, bringing the delectable flavors of Meat Depot to your doorstep with just a few effortless clicks.
Talk to Meat Depot PH Staff
Join them on social media and let us inspire your carnivorous cravings. Indulge in the best cuts, savor the flavors, and elevate your meat experience with Meat Depot. They have knowledgeable staff who is passionate about meat and is always ready to assist you in finding the perfect cut for your culinary adventures.
Facebook: https://www.facebook.com/meatdepotph
Instagram: https://www.instagram.com/meatdepotph/
Twitter: https://twitter.com/MeatDepotPH
TikTok: https://www.tiktok.com/@meatdepotph
Website: https://meatdepot.com.ph/pages/contact
FAQs
What is Meat Depot and what do they offer?
Can I order meat products for delivery from Meat Depot?
Yes, About Meat Depot does have a menu delivery so that customers can order from their homes.
What types of meats are available at Meat Depot?
Meat Depot offers a wide variety of meats such as meat, pork, chicken, and seafood to cater to every customer that comes to visit.
Can I purchase pre-packaged meats or request custom cuts at Meat Depot?
Yes, at Meat Depot, you have the option to purchase pre-packaged meats or request custom cuts according to your preference.
Does Meat Depot provide halal-certified meat options?
Meat Depot did not state whether or not the meat that they offer is halal-certified.
Conclusion
Meat Depot is a go-to destination for meat lovers in the Philippines, offering a diverse menu of high-quality meat dishes. The restaurant provides a satisfying dining experience for those craving delicious meat-based meals that range from juicy steaks to juicy ribs and flavorful burgers to grilled chicken. The restaurant's commitment to quality and taste reflects in each dish of their dish, as each one of them is expertly prepared by skilled and made using the freshest ingredients.