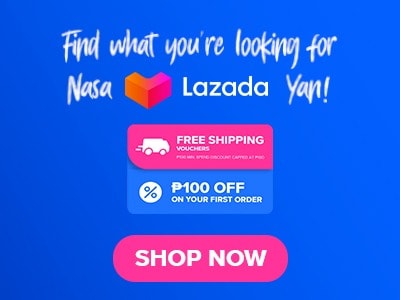 There's a new snack that captures my interest and I think will capture yours as well. It's Jamaican Patties. I actually saw it on PITX on the way home and was intrigued since that's kinda new to me. Have you seen one of their stalls? The Jamaican Patties menu has a lot to offer including delicious and healthy drinks and they are claiming on their slogan that they serve Jamaica's number one snack. Are you just like me somehow interested in this topic? I know you are so get ready and stay with me here in this one and let's get to know this establishment more. Let's go! 
Below, you'll find the updated list of Jamaican Patties menu prices.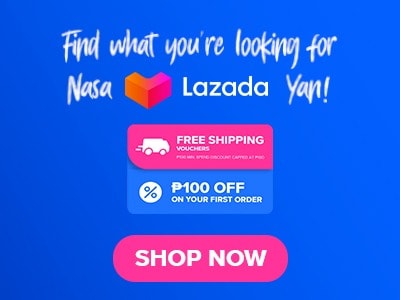 Menu Items
Price (PHP)

Freshly Baked Jamaican Pattie

Jamaican pattie de original beef
85
Jamaican pattie beef pinatubo
85
Jamaican Pattie beefy tomato
85
Jamaican Pattie Cheezy Beef Pinatubo
85
Jamaican Pattie Cheezy Beefy Tomato
85
Jamaican Pattie Cheezy Beef
85
Jamaican Pattie Chicken Stew
85
Jamaican Pattie Cheezy Tuna
85
Jamaican Pattie Spicy Tuna
85
Jamaican Pattie Beefy Mushroom
85

Frozen Jamaican Patties

Jamaican Pattie Frozen De Original beef box of 5
425
Jamaican Pattie Frozen Beef Pinatubo box of 5
425
Jamaican Pattie Frozen Cheezy Beef box of 5
425
Jamaican Pattie Frozen Cheezy Beef pinatubo box of 5
425
Jamaican Pattie Frozen Beefy mushroom box of 5
425
Jamaican Pattie Frozen Cheezy Tuna box of 5
425
Jamaican Pattie Frozen Chicken Stew box of 5
425
Jamaican Pattie Frozen Beefy Tomato box of 5
425
lamaican Pattie Frozen Cheezy Beefy box of 5
425
Jamaican Pattie Frozen Assorted flavors box of 5
425

Ready to Drink Juice

Fruitas Calamansi Juice 350ml
55
Fruitas Guyabano Juice 355ml
55
Fruitas Mango Passion Fruit Juice
55
Fruitas Four Seasons Juice 355ml
55
Fruitas Dalandan Juice 355ml
55

Fruitas Refreshments

Fruitas Coconut Juice 500ml
85
Fruitas Coconut Juice 1L
149
Fruitas Coco Milko 500ml
85
Fruitas Coco Milko 500ml
85
Coco Milko 1L
149
Fruitas Coco Pandan 500ml
85
Fruitas Coco Ube 500ml
85

Fresh Juice

Fruitas Fresh Apple Juice 500ml
89
Fruitas Fresh Calamansi Juice 500ml
89
Fruitas Fresh Guyabano Juice 500ml
89
Fruitas Fresh Ripe Mango Juice 500ml
89
Fruitas Fresh Watermelon Juice 500ml
89
About Jamaican Patties
Fruitas Holdings inc is what's behind de original Jamaican Patties. This company started in 2002 at SM Manila, they opened their very first branch of establishment which is Fruitas. This business expanded quickly and ventured into the French fry business and other great business ideas. As of 2017 Fruitas Holdings inc already have 800 stores around the country and has 20 brands on their portfolio like De Original Jamaican Patties Shop and Juice Bar, juice avenue, john lemon, buko loco, and many more. De Original Jamaican Patties serves Jamaican snacks that will surely satisfy your hunger without spending too much, they have great flavors to offer, and believe me, if you love our empanadas you'll surely love their Jamaican Patties. 
Jamaican Patties Menu Best Seller
We conducted some research to know their best-selling products. Here's the list.
De Original Beef – This one is the most classic on their menu this one is really good and it only proves that even without any ingredients like the cheese, mushrooms, tomato, or any other stuffings the beef that they stuffed inside their De Original Jamaican Patties Shop is already delicious and flavorful on its own. The beef is grounded but still very juicy and tender. De original beef has a thick filling too. This one is not spicy but I can taste a tiny bit of spiciness and I love that, it just adds to the flavor. De original beef is one of their best sellers and also a must-try.
Cheezy Beef – Cheezy beef is actually my personal favorite and I love how crispy it is on the outside but soft and filled with stuffings on the inside. This one has the right amount of cheese not too overpowering the beefy taste. The beef is really meaty and it is perfectly cooked until tender but still juicy and not overly cooked. The cheese honestly overpowered the tanginess of the beef, I also noticed that the beef flavor is very distinct and I can only taste it in Jamaican. The bread is also good, it is tasty and can be compared to a puff pastry. The texture overall is great.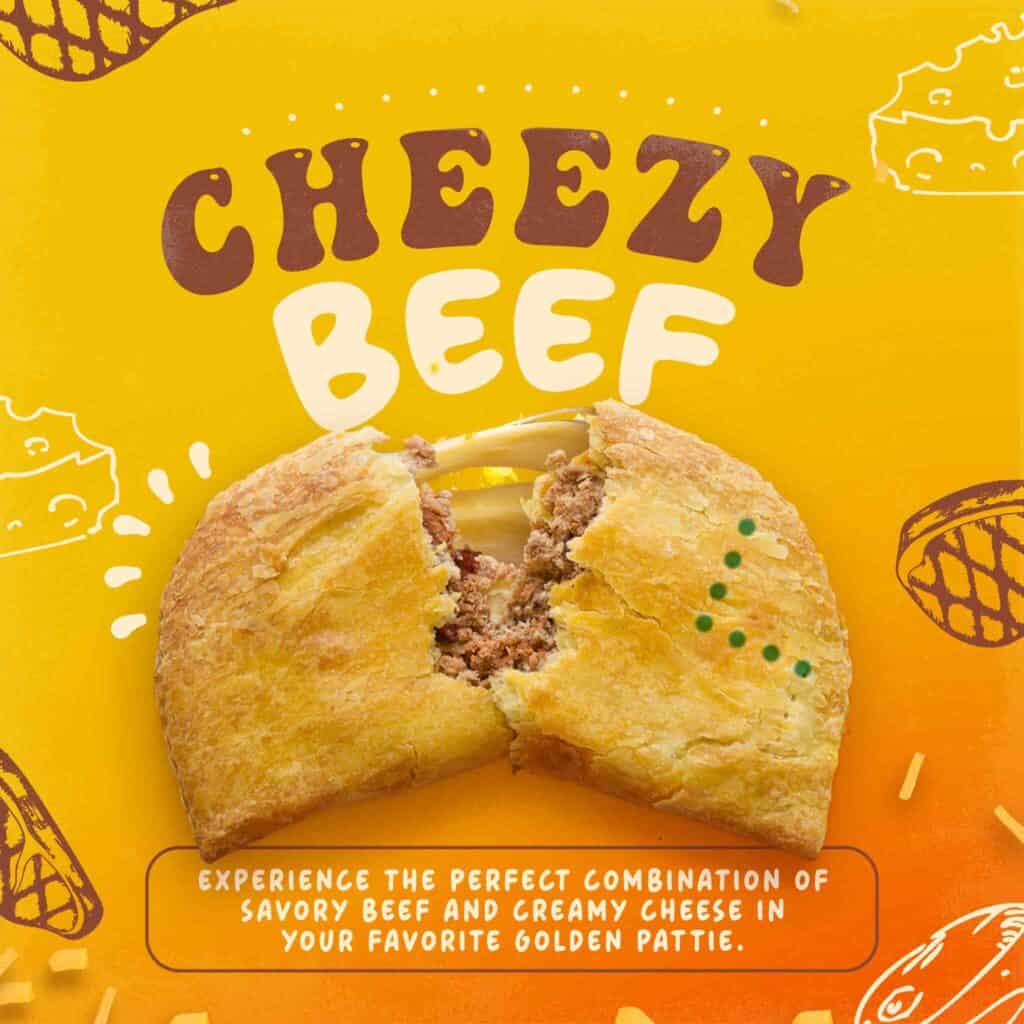 Cheezy Beefy Tomato – Jamaican Patties version of cheezy beefy tomato is just like the cheezy beef and the only difference is the tomato. The tomato made this one stand out and this is now my personal favorite since it is really good. The sauce is tangy, the beef is delicious and soft plus the cheese equals perfection. The bread is really good and perfect with the filling inside of it. This is nice when hot and perfect with any drink that they offer. 
Spicy Tuna – This is the most honest label, in Jamaican Patties when they say spicy it is spicy! It has chilies inside and the aroma itself will make you realize that the inside is indeed spicy. This is what you should get If you love spicy foods. Its not surprising that they have spicy products since authentic Jamaican patties are made with a lot of spices. If the hotness their spicy tuna is nothing on you try their beef Pinatubo, that's the spicy pattie available on their menu. 
Freshly Baked Jamaican Patties Menu
There are 10 items on their freshly baked Jamaican Patties menu. Jamaican Pattie De Original Beef is the first item on this menu, this one doesn't have any other ingredients like tomatoes, cheese, and stuff but only beef however this one is really good. The next item is their Jamaican Patties Beef Pinatubo, this one is spicy so if you love spicy foods go for this one. They also have Jamaican Patties Beefy Tomato, this one has that hearty and Rich flavor of beef and also comes with mushrooms included in the stuffing.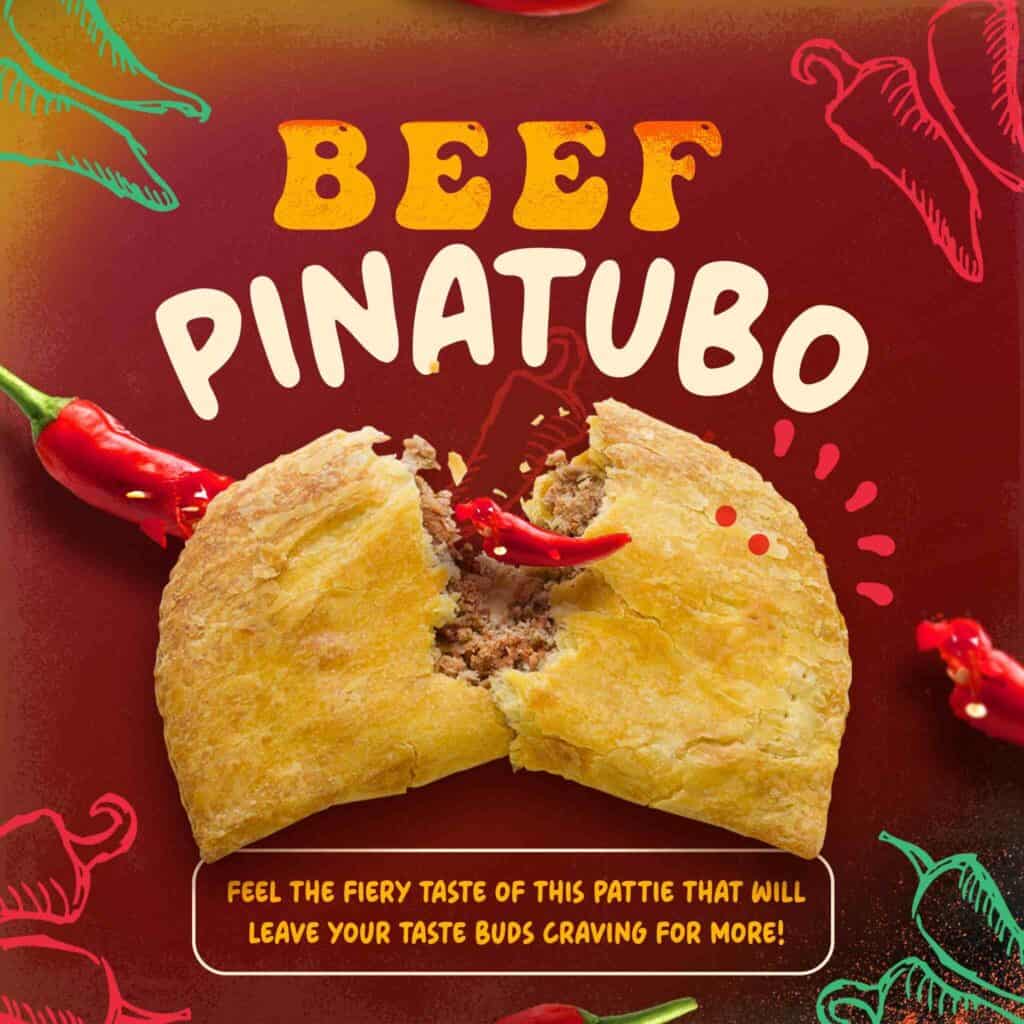 Jamaican Patties Cheezy Beef Pinatubo is for you if you love spicy and cheesy food at the same time. This has a perfect balance of beef, creaminess of the cheese, and spiciness in one baked flaky pastry. Jamaican Patties Cheezy Beefy Tomato can also be found on this menu, this has an explosion of flavors in every bite. Other items on this menu are Jamaican Pattie Cheezy Beef, Jamaican Patties Chicken Stew, Jamaican Patties Cheezy Tuna, Jamaican Patties Spicy Tuna, and lastly their Jamaican Patties Beefy Mushroom.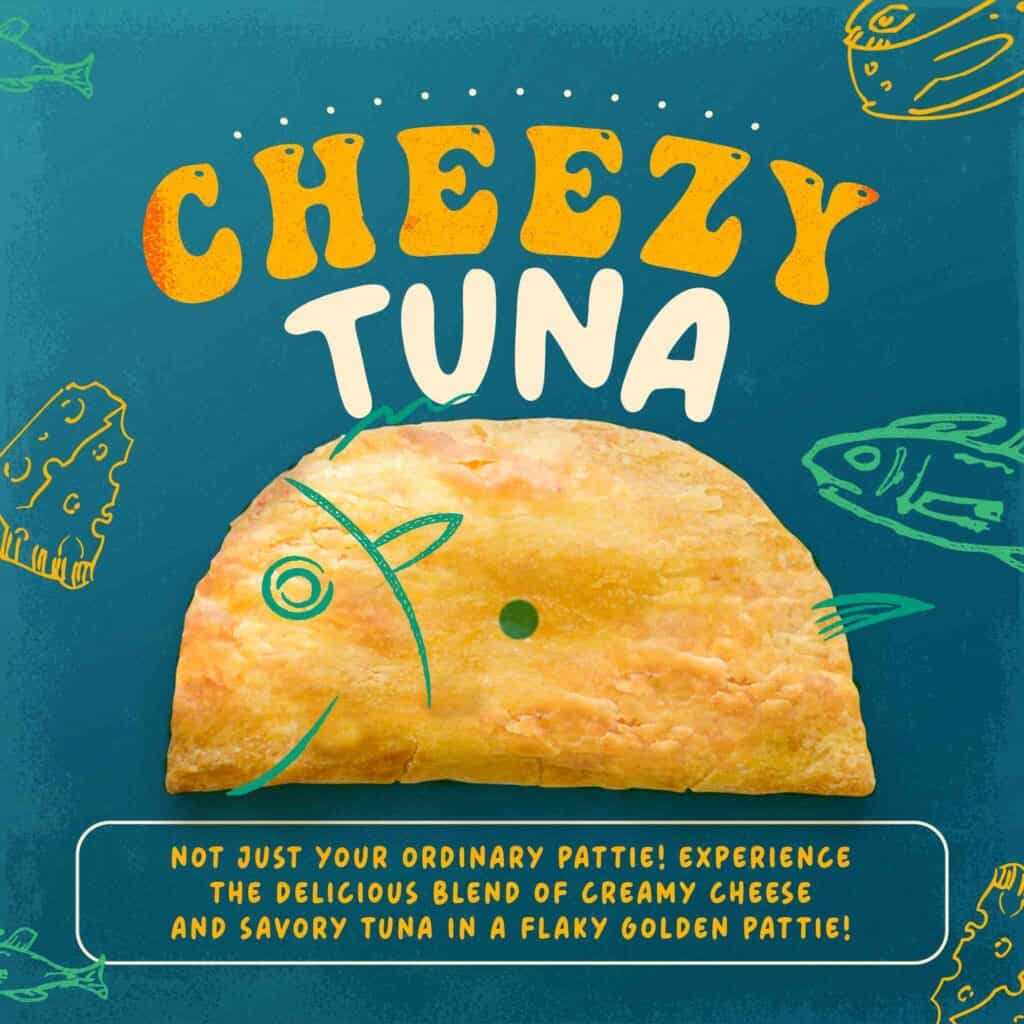 Ready to Drink Juice
They have 5 drinks available on their ready-to-drink juice menu. The first item is their Fruitas Calamansi Juice which is served as 350ml of Tangy and refreshing Filipino-style juice that can compare with lemonade. Thirst quenching and delicious. The next item on this menu is their Fruitas Guyabano Juice, this one is served in 355 ml bottles. This has the goodness of tropical fruits in a bottle. They also have Fruitas Mango Passion Fruit Juice also in 355ml bottles. This is Fruity, tart, and sweet at the same time. Other flavors are Fruitas Four Seasons Juice 355ml and Fruitas Dalandan Juice 355ml.
Fruitas Refreshments
The Fruitas refreshments menu of Jamaican Patties offers 6 delicious and refreshing drinks. The first item on this menu is their Fruitas Coconut Juice 500ml which is made with 100% pure and fresh buko juice. They also have Fruitas Coconut Juice 1L which is great for sharing. The next item is their Fruitas Coco Milko 500ml, this one is milky and very refreshing. They also have Coco Milko 1L for sharing. Other flavors are Fruitas Coco Pandan 500ml and Fruitas Coco Ube 500ml. 
Jamaican Patties Menu Delivery
Ordering your favorite Jamaican Patties has never been more convenient, thanks to the seamless integration with popular third-party food delivery services such as Grab and FoodPanda. Simply select your desired items and have them delivered straight to your doorstep, bringing the delectable flavors of Jamaican cuisine right into the comfort of your home. It's important to keep in mind that utilizing these platforms may incur additional delivery fees, ensuring a hassle-free and enjoyable dining experience.
Social Media Pages
Connect with them on social media to be part of their vibrant community, where you can share your love for Jamaican cuisine, engage in discussions, and get a glimpse behind the scenes of the kitchen. Stay in the loop about special events, limited-time flavors, and exclusive discounts.
Facebook: https://www.facebook.com/jamaicanpattieph
Instagram: https://www.instagram.com/jamaicanpattieph
Twitter: https://twitter.com/PattieJamaican
Website: https://balaimart.com/collections/jamaican-pattie
FAQs
Where can I find Jamaican Patties in the Philippines?
Jamaican Patties can be found in the Philippines mostly in the National capital region. They have branches in Pasay, Muntinlupa, Mandaluyong, Manila, and many more. 
Can I order Jamaican Patties online from De Original Jamaican Patties Shop?
As per checking de original Jamaican Patties doesn't have its own website as of the moment though there are some stores that offer delivery. So if you want to order you may use other services like food delivery couriers that are available in your location. 
Can I customize the spiciness level of the Jamaican Patties ?
Yes. All you have to do is Just ask for it when you order and their crew will be the one to adjust the ingredients based on your liking.
Is Jamaican Patties halal certified?
Yes, they only use Halal-certified meat in all of their meat-based patties making them a halal-certified shop.
Conclusion
Great store, with good food and nice drinks as well. De Original Jamaican Patties menu has a huge choice to offer for their customers. Though their products are not the typical Filipino snack I'm pretty sure everyone that will try their products will enjoy it since it's just like our empanada. Their Jamaican Patties are meaty and very flavorful and perfect for those with big appetites since their patties are quite big. Their place is usually not big but clean and their staff's okay as well. Shout out to the PITX staff! Highly recommended for those who love to try different cultures through food. Delicious and Worthy of every cent.