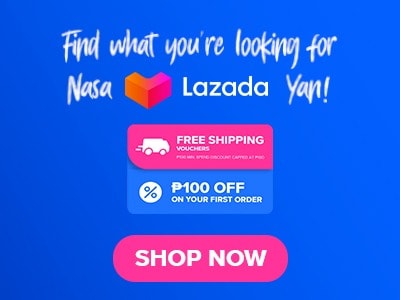 Are you looking for a Filipino restaurant that serves the best lechon but you don't know where to go or you know a place but it's too expensive? Or are you tired of eating at fast food restaurants and you're looking for something new? Do you want to eat out but your budget is tight? No worries I got you here. I found a place where you can find the most affordable deals on lechon and the quality is so good you'll forget it is not expensive fast food. Have you heard about Lechon Haus? If not please have time to read this article, let's get to know the Lechon Haus menu a little bit more and let us see the services and the foods that they offer. So much for an introduction let's start now!
Below, you'll find the updated list of Lechon Haus menu prices.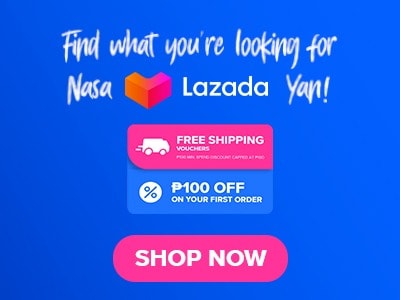 Menu Items
Price (PHP)

S1,S2,S3

Garlic buttered shrimp
179
Garlic kangkong
49
Lechon sigang
79

L1,L2,L3,L4,L5

Original lechon belly
112
Spicy lechon belly
112
Roasted chicken
99
Half half
142
Pork sisig
99

Merienda meals

Pansit canton
59
Mansi twist
40
Sagot gulaman
35
Halo halo
69
Buko pandan
59
Spaghetti
59

Take out

Lechon belly 1kg
725
Lechon belly 1/2
372
Lechon belly 1/4
186
Roasted chicken whole
370
About Lechon Haus
Lechon Haus is a Filipino family restaurant that serves good quality and affordable lechon that you can find in the market these days, they also serve some Filipino favorites like pancit and other yummy treats. This restaurant is a quick-serve restaurant that roast everything in the store to ensure the quality and freshness of their product. This company was built with a team of young entrepreneurs that believe in innovation. They are serving the finest lechon belly and roasted chicken and got 20 branches nowadays. They believe that lechon is for every Filipino, they can't just do nothing knowing that there are some in the country who don't have a chance to try the lechon that's why they made it affordable to the people but not compromising the quality.
Lechon Haus Menu Best Seller
Here is the list of Lechon Haus menu bestsellers that you should try upon visiting their restaurant. This can also serve as a guide so that you already know what to order if you are new to their menu.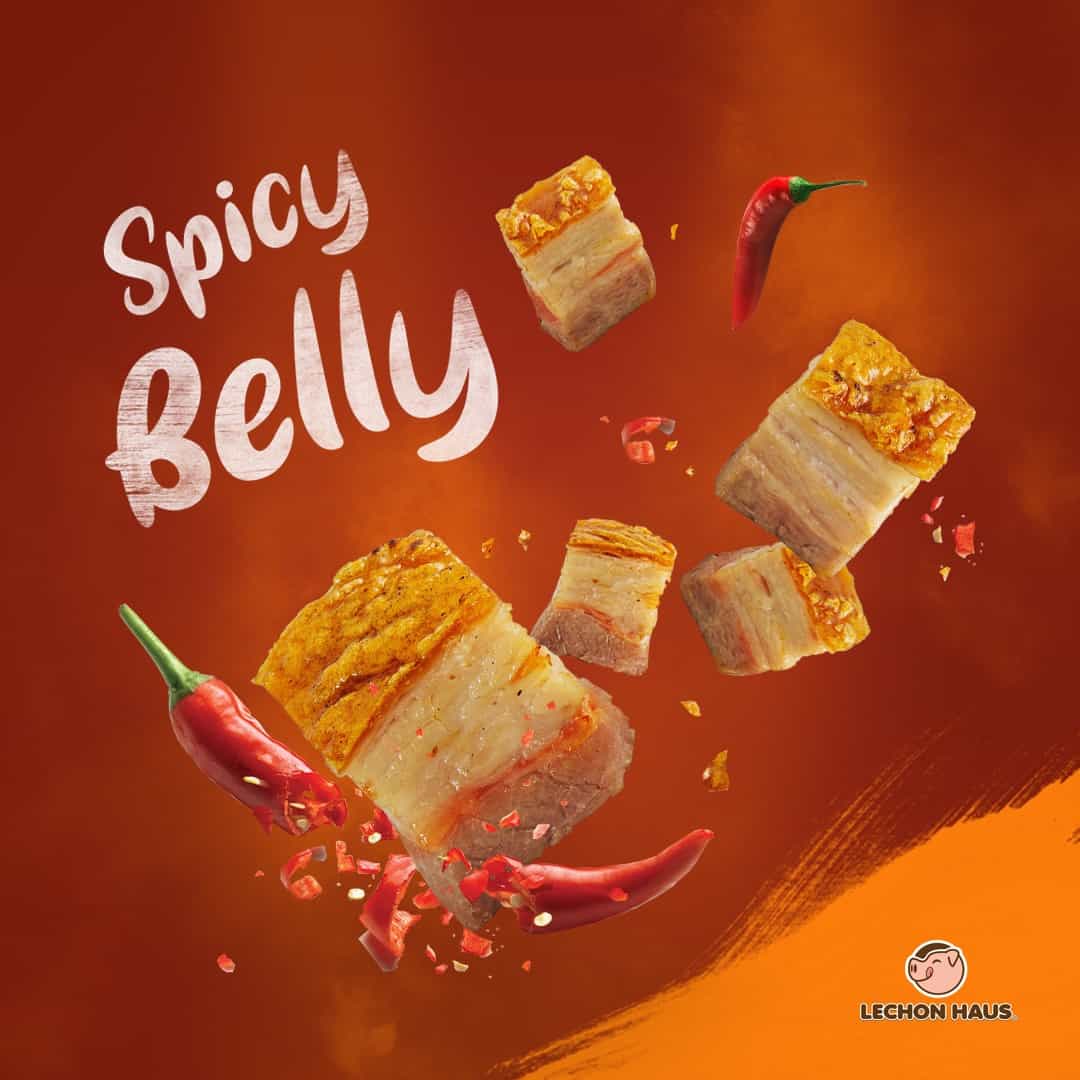 Spicy Belly – Enjoy this juicy and savory taste of their lechon with a little bit of twist since they made it spicy but not so strong spicy that you will never enjoy your meal anymore. A nice kick with the lechon belly that can boost your appetite. The skin of the lechon is crispy and the meat is tender and not dry. Perfect for anyone who craves lechon but still considers their budget. This Filipino favorite dish is so popular in the country and Lechon Haus version gave justice to the famous lechon. Highly recommended for everyone to enjoy but of course, eat moderately since we're dealing with fats here.
Lechon Sigang – Lechon Haus menu has a different version of sinigang. Instead of the usual sigang of pork, they use lechon so consider and expect it to be more flavorful than usual. Enjoy the goodness of the Lechon Sigang in every bite, the freshness of the vegetables, the delicious soup, and of course the savory meat that is tender and easy to deal with. Perfect for anyone craving sinigang or for rainy days. A must-try if you are a fan of sinigang since their version has a twist.
Pork Sisig – Who doesn't know the pork sisig which is so popular in and out of the country? Lechon Haus has their own version of this very famous dish and they really give justice to it. Made with lechon this sisig is so crispy and savory at the same time. This is actually good as a beer match but of course, you can enjoy this one with rice as well.
Lechon Haus Lechon Belly – Lechon Haus lechon belly is actually a pig's belly rolled together and seasoned then grilled to perfection. Their lechon belly is so crispy outside but doesn't have a chewy or gummy-like texture. The meat is a soft and flavorful indication that the pork is seasoned well. This Lechon Haus menu is perfect with anything whether it's partnered with rice or by itself.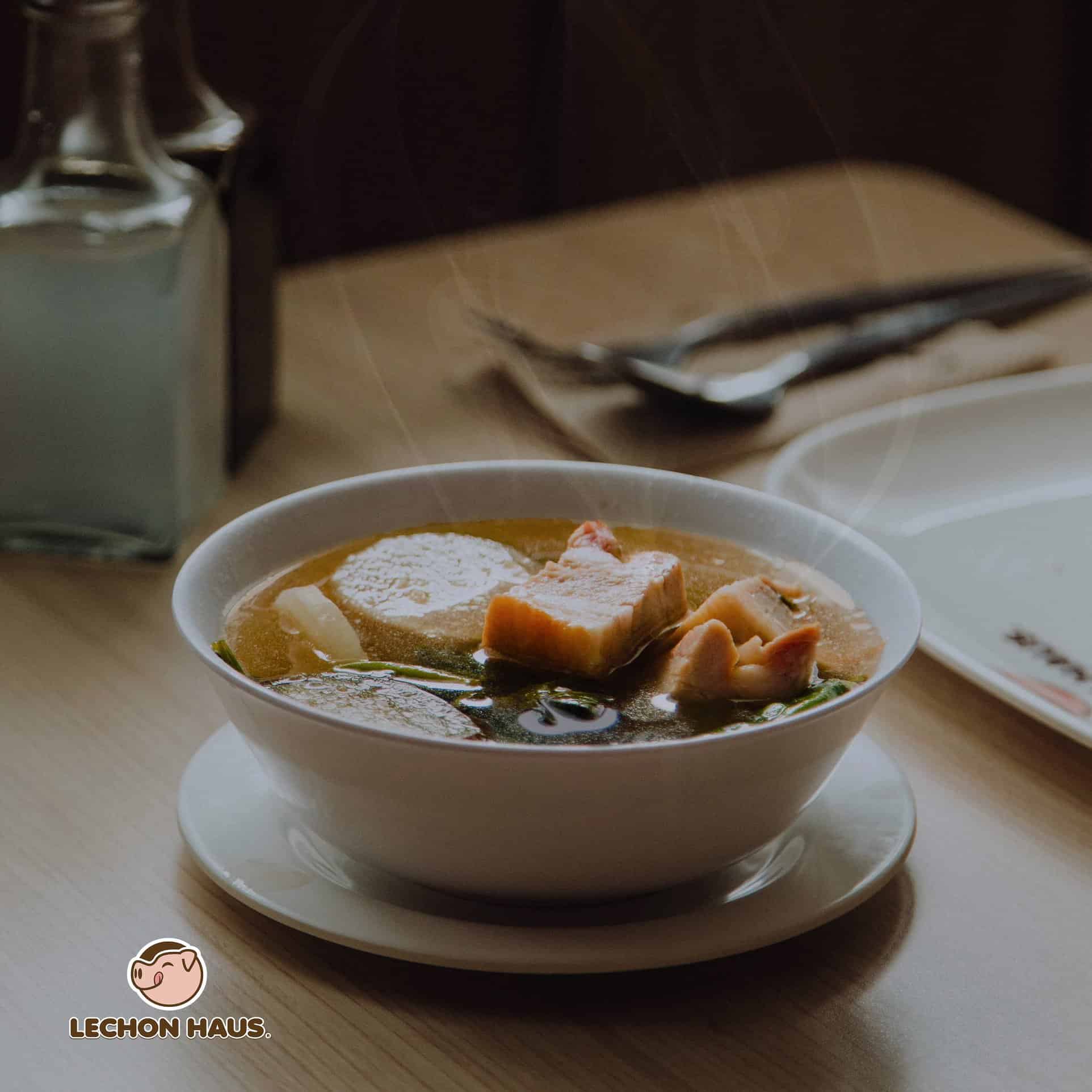 Lechon Haus Sinigang – The most creative way to cook sinigang is to use lechon instead of raw pork since it already has flavors so for sure the broth will be delicious and that's what they do with their sinigang in Lechon Haus. Loaded with lots of fresh vegetables and savory lechon meat try their version I'm sure it'll be your favorite instantly. Perfect any time of the day. Best with rice.
Lechon Haus Pancit Canton – One of the most famous noodle dishes in the country is the pancit canton and Lechon Haus has its own version of it. Made with fresh ingredients and locally farmed vegetables. What made this pancit canton special is the meat that they use in making it which is some lechon slices that give flavor to the canton. A must-try if you're trying to avoid rice for a moment.
Lechon Haus Menu Delivery
If you're craving lechon and other delicious dishes on their menu but you have a lot of things to do and don't have time to go out anymore Lechon Haus got you. No worries since you can order your favorite Lechon Haus goodness thru third-party delivery services like grab foods and food panda.
Social Media Pages
To make sure that you have the most current news about the Lechon Haus menu, price, and promo, you should definitely subscribe to them. Below, we will share with you the official pages of Lechon Haus. So, what are you waiting for? Subscribe to them now!
Facebook: https://www.facebook.com/lechonhaus/
Instagram: https://www.instagram.com/lechonhaus/
Twitter: https://twitter.com/lechonhaus/
Conclusion
It is nice to know that ordinary people can now enjoy the goodness of lechon without having to spend much money. Thanks to the belief of this restaurant (Lechon Haus) that lechon is for every Filipino. Food is actually good and delicious, some don't have anything special it is just like the usual dishes that we enjoy in the comfort of our homes but when it comes to lechon belly it is a different story. The serving is good the portions are okay, and your order will be sufficient. Crews are also okay respectful and knowledgeable, the place is not too busy but when it's lunchtime it's a busy place. The tables are also the well-maintained area is clean, and the restaurant has a customer-friendly atmosphere where you're comfortable enough to enjoy your meal. Overall a great experience dining here and will surely come back. Highly recommended for people who love lechon or Filipino foods.