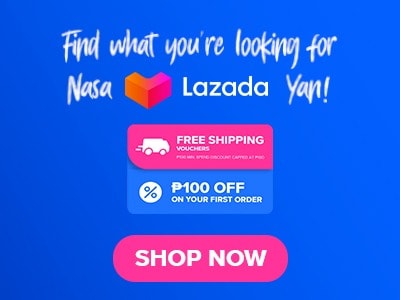 Just like your beloved restaurant, the Whistlestop is a cozy place where flavors, memories, and inspirations are made. Visit Whistlestop and indulge in delicious dishes on their menu and have a dining experience like no other from exploring the origins of its dishes to knowing the creative minds behind Whistlestop's masterpieces. Whether you food lover, a loyal customer, or simply a curious individual looking to taste something special, Whistlestop is there to satisfy your cravings for knowledge, culture, and, of course, exceptional food.
Below, you'll find the updated list of Whistlestop menu prices.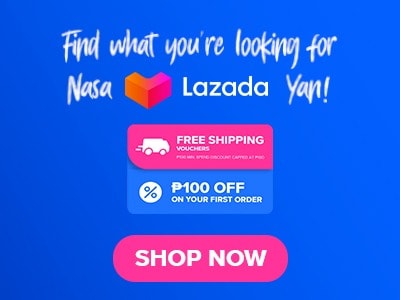 Menu Items
Price (PHP)

Soups

Monggo Soup with Chicharon
200
Monggo Soup
150
Sinigang na Baboy
450
Sinigang na Bangus Belly
295
Monggo Soup with Adobo Flakes
215

House Specialties

Beef Kebab
260
Whistlestop Hainanese Chicken Rice Boneless
250
1977 Vintage fried Chicken Whole
550
Grilled Bangus Belly
370
Morning Heavy Weight
255
Crispy Pata Large
650
Adobo Flakes
190

Noodles and Pasta

Whistlestop Crispy Pancit
220
Pad Thai Noodles
260
Pasta Ala Pobre
200
Pesto Spaghetti with Spicy Tuna
180

All Day Breakfast

Daing na Bangus
210
Golden Smoked Bangus
210
Beef Tapa
240

Veggies

Kangkong Singapura
110

Sandwiches

Whistlestopper
265
Chilidog
220
Cheeseburger
220
Hamburger
195
Bacon Cheeseburger
250

Dessert

Chocolate Truffle Cake
160

Appetizers

Boneless Chicken Wings
280
Tokwa't Baboy
120
Sizzling Buttered Corn
120
Chicken Quesadillas
250
Kilawin na Tanigue
360
About Whistlestop
Whistlestop is a popular restaurant that initially opened its doors in 1977, and holds a special place in the hearts of regulars who have enjoyed its offerings over the years. The restaurant has been a go-to destination for those seeking a relaxed and enjoyable dining experience due to its delicious food offerings paired with a casual and inviting ambiance.
After years of providing memorable meals, the original owners chose to close the doors in 2005. However, businessman Lex Ledesma and renowned restaurateur Dennis Gan of the esteemed Oyster Boy Group recognized the potential and legacy of Whistlestop. They have tried to breathe new life into Whistlestop, fueled by the commitment to reviving this beloved restaurant.
Whistlestop Menu Best Sellers
Whistlestop's best-selling menu showcases a combination of Filipino classics and inventive twists, with each of the dishes ensuring that every visit to Whistlestop is a memorable and pleasing experience.
Sinigang na Baboy – Whistlestop sinigang na baboy sums up the comforting essence of Filipino home cooking, with the sour notes beautifully complementing the rich and savory flavors of the pork making a warm and hearty option that is both nostalgic and satisfying.
Sinigang na Bangus Belly – The sinigang na bangus belly at Whistelsop presents a unique and enjoyable twist on the traditional sinigang. This version features a tender bangus belly swimming in a sour and savory broth, alongside an assortment of vegetables.
Crispy Pata Large – A dish made with a whole pork leg that is cooked to achieve a perfect balance between a crispy outer layer and succulent, flavorful meat within. This dish is a celebration of Filipino gastronomy, a harmonious blend of crispiness and tenderness that's sure to leave a lasting impression.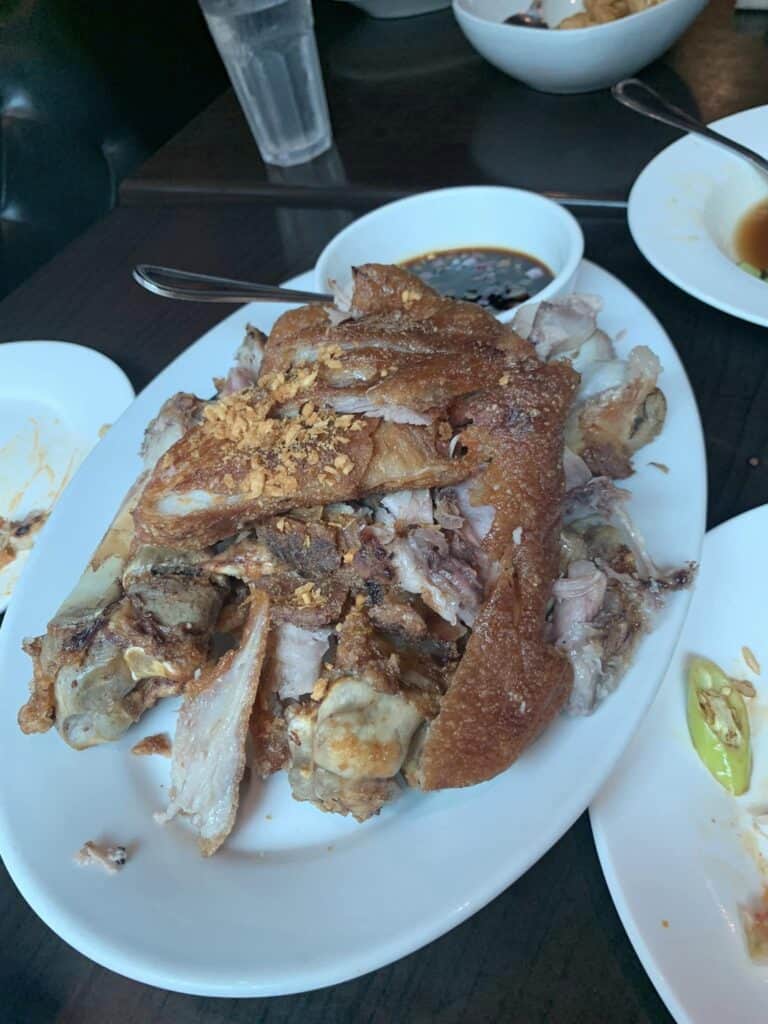 Adobo Flakes – Tender and flavorful shreds of meat are crisped to perfection, resulting in a combination of textures and a concentrated burst of Adobo's signature flavors. It is a playful and versatile dish that can be enjoyed on its own or paired with rice for a truly satisfying meal.
Whistlestop House Specialties Menu
With its House Specialties, Whistlestop's commitment to being one of the best restaurants in the Philippines shines through in these offerings. Each dish on this menu reflects Whistlestop's dedication to creating meals that are not only delicious but satisfying as well.
Beef Kebab – The dish is made with tender cuts of beef, marinated to perfection, threaded onto skewers, and grilled to achieve a perfect balance of smokiness and flavor.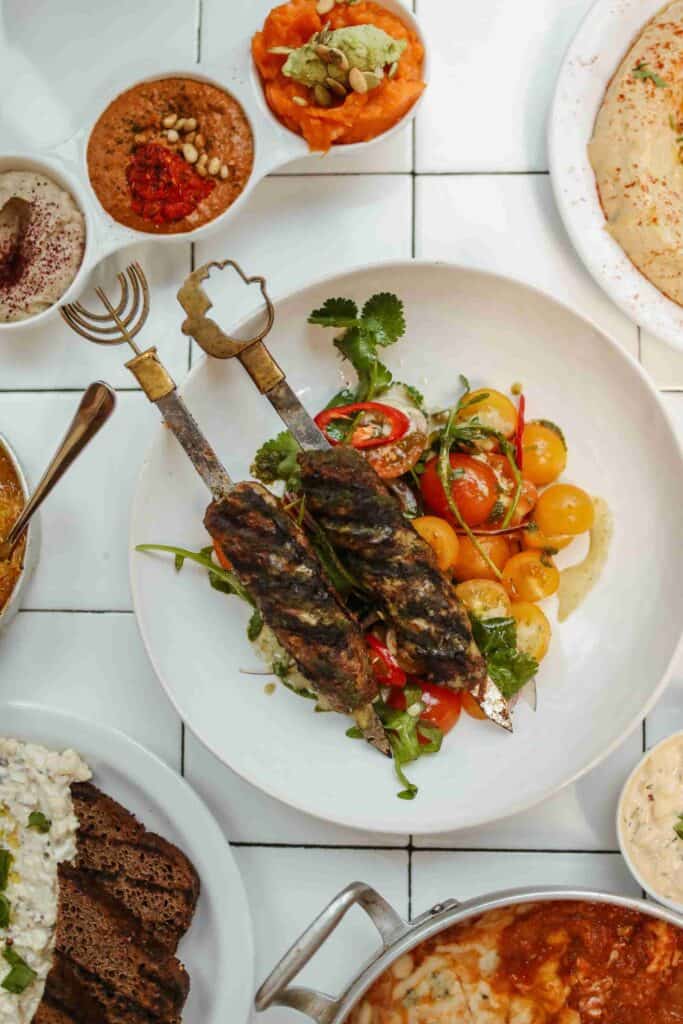 Whistlestop Hainanese Chicken Rice Boneless – This dish presents a tender boneless chicken, skillfully poached to retain its natural juices and flavors and then served with fragrant rice accompanied by an array of condiments and sauces.
1977 Vintage Fried Chicken Whole – A true classic that has stood the test of time, this dish features a whole chicken expertly fried to golden perfection that embodies the comfort and nostalgia of home-cooked dishes.
Noodles and Pasta
Whistlestop's dedication to creating flavorful dishes is reflected in the dishes that are part of this menu. Whether you're a fan of Filipino classics, Thai cuisine, or inventive fusion creations, these dishes offer a delightful journey for your taste buds.
Whistlestop Crispy Pancit – This menu of Whistlestop takes traditional pancit noodles and transforms them into a crispy and flavorful masterpiece. The noodles are fried to golden perfection, creating a satisfying crunch that contrasts with the savory medley of vegetables, meat, and aromatic seasonings.
Pad Thai Noodles – An iconic Thai dish that features stir-fried rice noodles, chicken, and a combination of sweet, tangy, and savory sauces, and then topped with crushed peanuts and fresh herbs.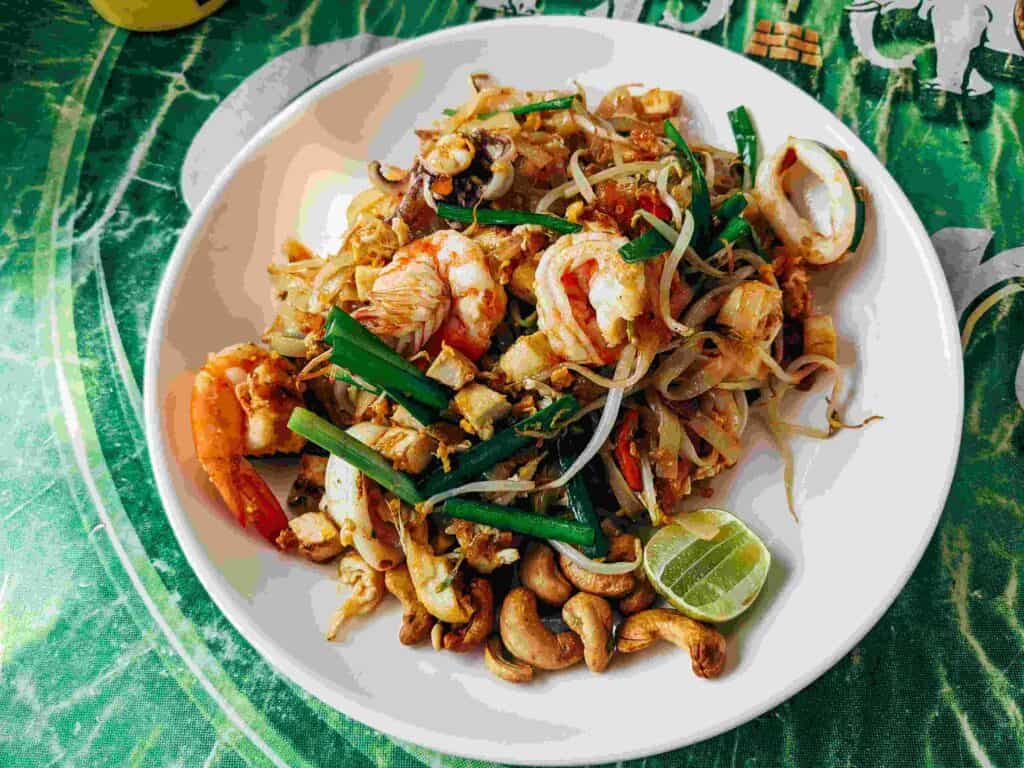 Pasta Ala Pobre – Pasta Ala Pobre is a fusion of Italian and Filipino flavors that showcases Whistlestop's creative cooking techniques. Tender slices of meat, often beef or chicken, are then added, elevating the dish with their savory appeal to an al dente pasta creating a luxurious and aromatic pasta dish.
All Day Breakfast
Experience the magic of mornings anytime with Whistlestop's All Day Breakfast Menu. This collection of dishes goes beyond the clock, offering you the chance to savor morning flavors whenever you desire. From the rich goodness of Daing na Bangus to the smoky allure of Golden Smoked Bangus and the hearty indulgence of Beef Tapa, each dish is a celebration of taste that's sure to awaken your senses and brighten your day.
Veggies
Whether you are a vegan or simply looking to add a burst of color and nutrition to your meal, the different vegetable dishes from Whistlestop's menu have a list of options that prove that vegetables could also be enjoyable.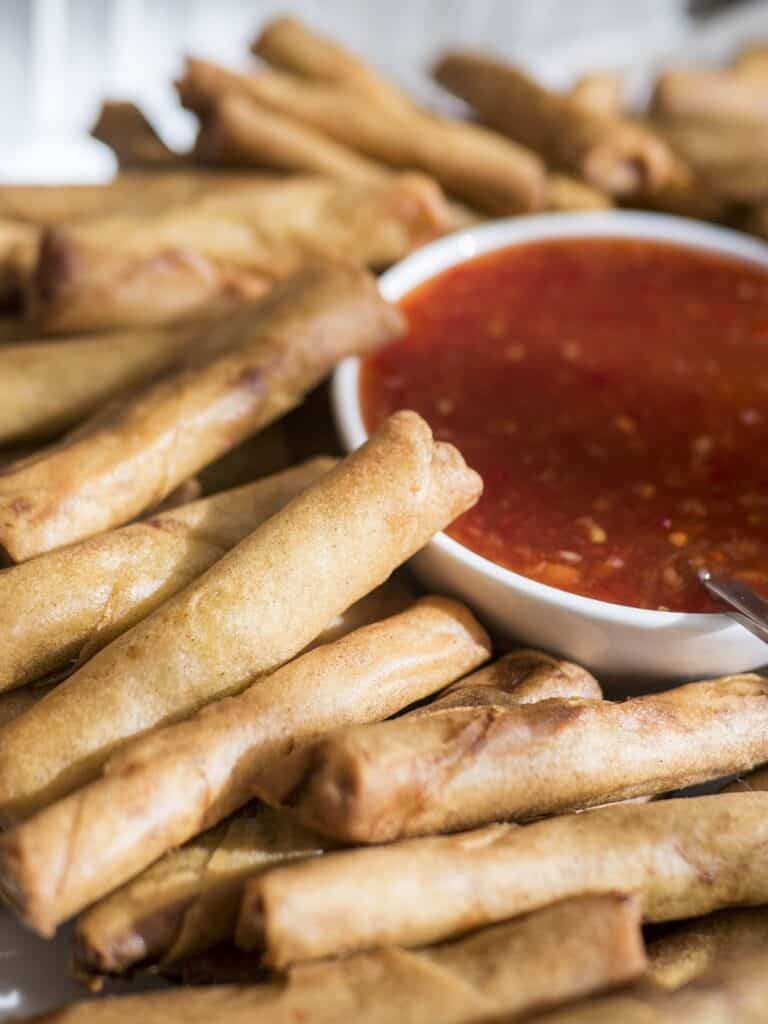 Soups
The soup menu from Whistlestop invites customers to indulge in the heartwarming embrace of a comforting bowl of goodness. Each soup is made with care and expertise, carefully simmering them to perfection and infusing them with flavors that bring forth comfort and nostalgia.
Whistlestop Menu Delivery
Whistlestop's menu delivery makes sure that you have a way to order your favorite dish from their restaurant even in the comforts of your home. This option is accessible through the help of third-party delivery applications like FoodPanda or GrabFood.
Social Media Pages
They are still working to extend their accessibility through social media pages. You can reach them by visiting their physical store to explore more of their menu and other promos.
FAQs
Where is Whistlestop located?
You can visit one of Whistlestop's branches located in multiple places in Metro Manila.
What types of dishes does Whistlestop offer?
They provide locals and tourists with local favorites, comfort classics, and dishes with international influences.
Does Whistlestop source its ingredients from local suppliers?
Yes, Whistlestop does get most of its ingredients from local suppliers.
Are there any special promotions or happy hour deals at Whistlestop?
No happy hours, but yes, Whistlestop often provides special promotions and discounts.
Conclusion
Whistlestop is one of the few restaurants in the Philippines that has weathered the test of time, offering a delicious selection of homemade dishes paired with a casual and inviting ambiance that has been loved by patrons since its opening in 1977. Whether you are trying to indulge in familiar tastes or are trying to embrace the excitement of trying new creations, Whistlestop still remains a destination for anyone who is looking for a place where taste, tradition, and innovation align.