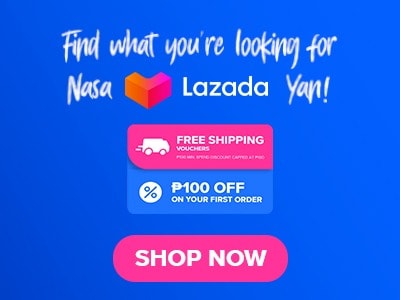 Our country's food has a lot of influence from other countries, just like Chinese cuisine. We adopted their food many years ago our ancestors used to trade goods with Chinese people, and also, as we know, there are a lot of Chinese people that have already migrated to our country. Are you intrigued by how authentic Chinese cuisine tastes? I actually found a restaurant that offers Chinese cuisine, and the great news is that the food that they serve is affordable. The Causeway menu has a lot of varieties to choose from, so if you're worried about the food, no worries, they have a lot. Stay with me in this article because we are going to get to know this restaurant and their foods. Let's go!
Menu Items
Price (PHP)

Vegetable (S,M,L)

Taiwan petchay with salted fish
260/390/520
Polonchay with garlic
260/390/520
Lo-han vegetable
260/390/520
Bamboo fungus with seasonal vegetable
300/450/600
Broccoli flower with garlic
300/450/600
Dried scallop with broccoli flower
350/525/700
Crab meat with seasonal vegetables
300/450/600
2 kind egg with polonchay
260/390/520
Kaylan with oyster sauce
250/375/500

Beancurd (S,M,L)

Fried pipa beancurd
270/405/450
Mapo beancurd
250/375/500
Braised beancurd with bamboo shoots & black mushroom
270/405/450
Steamed minced shrimp w/beancurd
300/450/600
Braised beancurd with black mushroom
250/375/600
Steamed fish fillet w/beancurd
300/450/600

Sizzling

Sizzling chicken with sweet sour sauce
300
Sizzling prawns
490
Sizzling sweet and sour fillet
330
Sizzling fresh squid with sate sauce
330
Sizzling assorted seafoods with sate sauce
350
Sizzling beef tenderloin with black pepper sauce
360
Sizzling garlic shrimp
400
Sizzling frog legs
350

Roasting (S,M,L)

Honey roasted asado
280/560/840
Assorted cold cut
370/740/1110
Whole suckling pig
Seasonal price
Suckling pig cold cut
Seasonal price
Peking duck (2ways)
Seasonal price
White chicken
105/210/420
Soyed chicken
105/210/420
Seaweeds with century egg
200/400/600

Rice in pot

Spareribs rice in pot
115
Black mushroom with chicken rice in pot
115
Chicken feet with spareribs in pot
125

Rice

Yong chow fried rice
230/345/480
HK salted fish with chicken cube fried rice
240/360/480
Fried rice with minced beef
230/345/480
Causeway 2 kinds fried rice
330
Fookien fried rice
330
Pineapple fried rice
390
Plain rice
40

Noodle

Braised noodle with assorted meat
280/420/560
Beef hofan
250/375/500
Braised noodle with crab meat
330
Chicken cube fried noodle
330
Fried noodle with tausi spareribs
330
Braised noodle with assorted seafoods
300/450/600
Seafood hofan
280/420/580
Shredded pork fried noodle
330

Congee

Lean meat century egg congee
110
Pork halo halo congee
110
Lapu lapu fillet congee
125
Bola bola congee
110
Sliced beef congee
110
Sliced chicken congee
110
Pork blood congee
105
Sheered seafood tito congee
110
Pork tito congee
110
Plain congee
55

Noodles with soup

Beef tendon with beef brisket noodle soup
130
Fresh shrimp dumpling noodle soup
130
Fish ball noodle soup
130
Fresh shrimp wanton noodle soup
130
Asado noodle soup
130
Shredded chicken noodle soup
130
Fresh shrimp wanton dry noodle
140
Beef tendon dry noodle
140
Beef tendon with beef brisket dry noodle
140

Authentic dimsum

Asado rice roll
85
Asado siopao
70
Beancurd roll
70
Beef rice roll
85
Butchi
70
Chicken asado roll
70
Chicken feet with tausi
70
Chiu chow dumpling
70
Crab roe shomai
70
Egg yolk pie
70
Fresh shrimp rice roll
90
Fried spring roll
70
Minced beef ball
70
Mini glutinous rice pork roll
70
Pan fried radish cake
70
Seafood roll
70
Sesame prawn roll
83
Shark's fin dumpling
70
Siao long pao
70
Spareribs with tausi
70
Steamed shrimp dumpling
83
Kutchay dumpling
70
Garlic with pig blood
70

Soup

Crab meat with sweet corn
280/380/520
Hot & sour soup
260/380/520
Minced spinach with seafood soup
270/405/540
West lake minced beef soup
280/380/520
Fish lip soup
280/420/550
Assorted seafood with beancurd soup
270/406/520
Dried scallop with mashed winter melon soup
300/450/600
Eight tresure with winter melon cube soup
270/405/640
Chicken asparagus soup
270/405/640
Assorted vegetable with crab meat soup
270/405/640
Century egg with lapu lapu fillet
280/420/560

Sharks fin soup

Causeway braised superior shark's fin w/seafood soup
1060/1576/2100
Braised shark's fin with shredded chicken soup
960/1425/1900
Braised shark's fin with crab meat soup
1060/1576/2100
Clear superior shark's fin soup
1650/2475/3300
Braised sharks fin with breaded chicken and seafood soup
960/1425/1900
Braised shark's fin with crab roe soup
1300/1900/2600
Fried shark's fin with crab meat and superior soup
1850/2475/3300

Hot pot

Assorted seafood and beancurd pot
300/450/600
HK salted fish with chicken cube beancurd pot
270/405/540
Goat brisket with beancurd stick in pot
350/—-/700
Minced pork with eggplant in pot
270/405/540
Causeway seafood hotpot
330/495/660
Beef brisket with radish in pot
280/420/560
Beef brisket with curry sauce
280/420/560
Sea cucumber with chicken in pot
300/450/600
Sate beef with sotanghon in pot
290/435/580
Sparerib with taro in pot
280/420/560
Chicken with black bean sauce in pot
280/420/560

Chicken, duck, pigeon

Fried chopped chicken with beancurd sauce
280/420/560
Causeway fried chicken
1/2-210/1whole 420
Fried chicken with lemon sauce
280/420/560
Diced chicken with cashewnut
280/420/560
Fried taro duck
1/2-360/1whole 760
Fried crispy pigeon
420
Chicken with kaylan
280/420/560

Beef and pork

Pata tim
270/405/540
Sweet and sour pork
270/405/540
Fried spareribs with pineapple
270/405/540
Causeway salad spareribs
270/405/540
Fried spareribs with orange
360/540/720
Beef tenderloin chinese style
270/405/540
Fried sparerib with salt and pepper
360/540/720
Beef tenderloin with garlic
290/435/580
Sliced beef with fresh mushroom
290/435/580
Sliced beef with oyster sauce
290/435/580
Sliced beef & kaylan with sate sauce
290/435/580
Sliced beef with black bean sauce
290/435/580
Sliced beef with ampalaya
290/435/580

Shrimps

Steamed suahe
400/800/1200
Steamed prawns with garlic
480/720/960
Fried minced shrimp ball
380/570/760
Prawns salad
600/900/1200
Szechuan shrimp
400/600/800
Crystal prawns ball
440/560/880
Causeway prawns ball with salad sauce
440/560/880
Fresh shrimp with scrambled egg
330/495/660

Crabs

Steamed crab with garlic
Seasonal price
Baked crab with ginger onion
Seasonal price
Steam crab
Seasonal price
Fried crab with chili (H.K style)
Seasonal price
Fried crab with salt and pepper
Seasonal price

Abalone

Sliced abalone with sea cucumber
1200/1800/2400
Sliced abalone with vegetable
1100/1650/2200

Ala carte

Fried squid salt and pepper
300/450/600
Celery with shrimp and squid
290/435/580
Fried oyster cake fookien style
250/390/520
Steamed minced shrimp with black mushroom
300/450/600
Fresh scallops with broccoli flower
550
Pacific clam with celery
300/450/600
Fresh scallops with squid and celery
650
Fried minced shrimp
290/435/580
Fresh shrimp with asparagus
380/670/760
Steamed squid with garlic
300/450/600
Fries frog legs with salt and pepper
350/525/700
Sesame prawns with lemon sauce
440/660/880
About Causeway
Causeway is a restaurant that offers authentic Cantonese dishes, just like what you will get if you try a Cantonese restaurant in Hong Kong. As of today, they have 4 branches all located in the metro: 3 in Quezon City, which is in Banawe, the Congressional and Acropolo Centres, and 1 in Manila. This restaurant has a lot of seafood and fish to offer, and when it comes to the pricing, according to their managing director, with the competition among Chinese restaurants here in the country, they don't see any reason to increase their price, which is great news for everyone as we can expect affordable seafood.
Some Chinese restaurants only focus on dim sum and noodles, but Causeway has a lot, including Chinese main courses. They also serve big portions of food, so it's really sultry coming to their restaurant. This restaurant also has an aquarium full of seafood visible to their customers, so you can be sure that the seafood that you will order is very fresh. This restaurant is not just a Chinese food stop when craving Chinese dishes; they are popular among customers because of their special promo on dim sum items every Monday at 9:00 p.m.
Causeway Menu Best Seller
Based upon our research and what we actually asked the staff about their best sellers, we came up with the list; here it is.
Hong Kong-style fried noodles – The Causeway version of Hong Kong-style fried noodles looks very simple, but when it comes to taste, this is also good. Very tasty and not too oily like other fried noodles, this goes really well with spareribs with tausi or any other dim sum.
Shrimp Dumplings – Their shrimp dumplings are also known as some of their best sellers, especially in the dim sum category. One thing that I love about their shrimp dim sum is how they can actually perfectly make it. They made their dumplings in their kitchen, so they are served fresh and not frozen.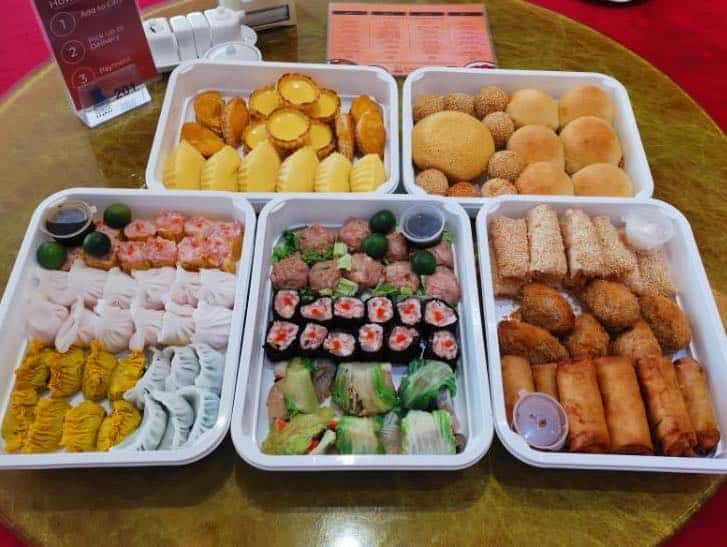 Fish Head in Tausi – This is a dim sum dish; it may look odd, but this is amazingly good. It wasn't fishy, and that's a great thing. It also has that savory flavor, so you'll definitely find yourself liking the dish.
Fish Lip Soup – I don't have any idea why they call this dish fish lip soup, since I didn't see any fish lips, but what I notice is that this soup has some shredded meat, bamboo shoots, seafood, and mushrooms. I have tried their fish-lip soup in the past, and it is just ordinary. But the taste is amazing, even though some of the meat pieces were a bit dry.
Chicken Feet – The Causeway Chicken Feet menu serves three pieces of chicken foot per order. Some of you might not like the idea of this dish, but to be fair, this is pretty good. This dish doesn't have a lot of meat, just the skin of the chicken feet, but how they prepare this dish is amazing. I also like how tasty the sauce on their chicken feet is, and this is also very soft—like falling off-the-bone chicken feet. Also, this one is not very spicy, just a bit, but I still highly recommend you guys try it.
Spareribs with Tausi – Causeway's spareribs with tausi are one of my favorite dishes on their menu. This is a dim sum favorite that I can also highly recommend, and for sure, it will not disappoint you. The meat in this dim sum dish is really juicy, tender, and very flavorful. This is also not spicy.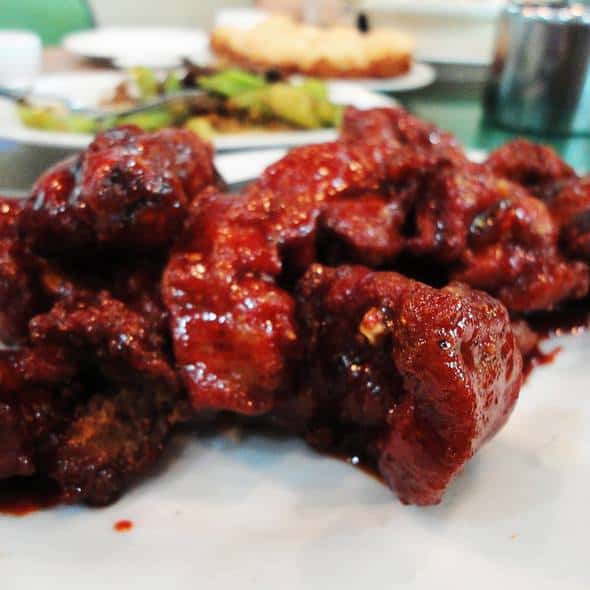 Causeway's Sizzling Beef Tenderloin with Black Pepper Sauce – This is my favorite dish on their menu. The beef tenderloin is very tender; it actually has that melt-in-your-mouth feel. The sauce is also very good, very lovely. Though the pepper flavor of this dish is really strong, we still love it. It has a slightly spicy flavor from the pepper sauce, but overall it is very good.
Causeway Seafood Hot Pot – It is also included on their list of best-selling items. This is a potted dish with fish, squid, shrimp, sea cucumber, clam meat, and other seafood. Being seafood lovers, we really liked their seafood pot. The seafood ingredients are in generous portions and very tasty; the broth is superb.
Causeway Congee Menu
Causeway has 10 congees to choose from on its menu. They have plain congee if you want to enjoy just the taste of the congee, or pork congees like pork halo halo congee; they also have beef congee on the menu, and even pork's blood congee is included. They also have fish congee, like lapulapu fillet congee. Congee at Causeway is reasonably priced, with prices ranging from 55 to 125 PHP.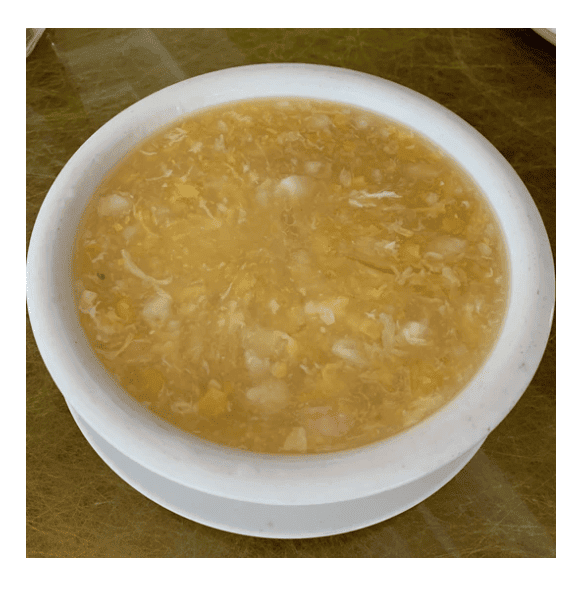 Noodles
Noodle dishes are impossible not to find in a Chinese restaurant. Causeway's noodle menu has eight noodle dishes to choose from. Starting with braised noodles with assorted meat, beef hofan, seafood hofan, and other delicious options like shredded pork fried noodles and chicken cube fried noodles. Expect an authentic flavor on their noodle dishes, and everything is good, as I can tell because I am a noodle lover and have already tried every single noodle dish on their menu, but my favorite is the braised noodle with assorted meat.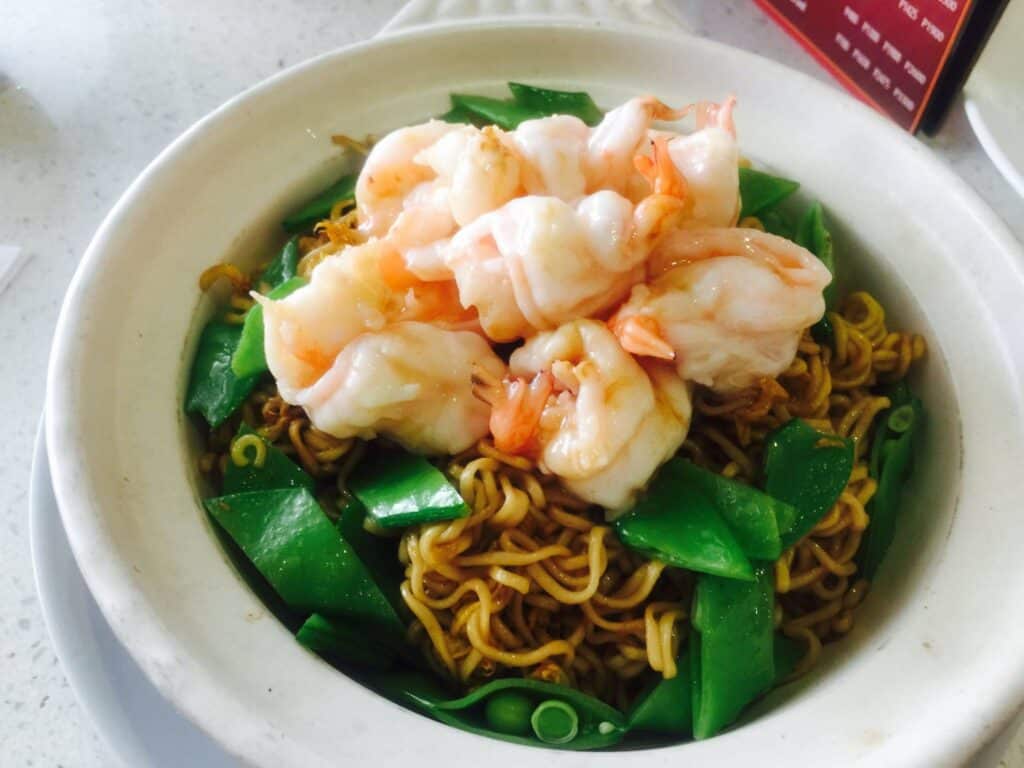 Rice
When it comes to rice, Causeway offers different varieties of rice menu: yong chow fried rice, fookien fried rice, unusual pineapple fried rice, and even plain rice. Other options are Causeway's two kinds of fried rice, fried rice with minced beef, and their HK salted fish with chicken cube fried rice.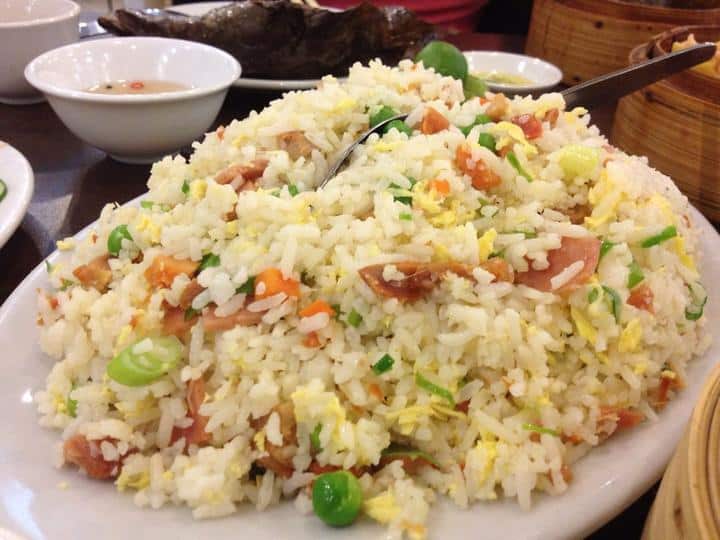 Causeway Menu Delivery
One of Causeway's branches offers delivery and that is their Metro Manila branch. You can call them at 02-82304871. You can also order on their website at https://causewayrestaurant.ph/.
Payments for online orders are made through bank transfers or via Google Checkout.
Social Media Pages
If you're a fan of delicious food and dining experiences, you won't want to miss out on the social media pages of your favorite restaurants. By following their pages, you'll be among the first to know about their latest promotions, events, and menu offerings. You can also keep up with their latest news, interact with other customers, and even share your own dining experiences.
Facebook: https://facebook.com/causewayresto/
Instagram: https://www.instagram.com/causewayresto/
Conclusion
Causeway Seafood Restaurant is a great place to go if you want authentic Cantonese dishes. Their place is spacious and comfortable, though it is full on Sundays. Foods are amazing. Causeway's menu has a lot of delicious foods that I'm sure you will love. Their service crews are also friendly and polite, and they serve fast. When it comes to price, this restaurant is one of the cheapest that you can find, but the quality of the food is never compromised. Highly recommended restaurant for foodies like me who love to try authentic Cantonese foods.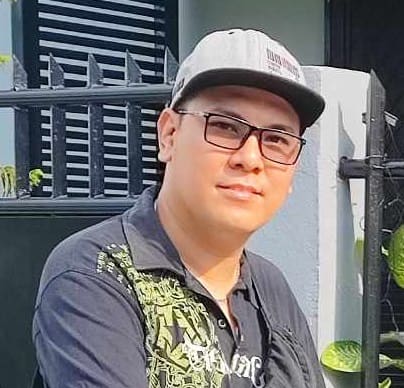 Hi! I'm Nivek Strife, the person who made MenuPH. I'm the one who added most of the popular menus you see on this website, and I really hope you enjoy them! Feel free to check them all out.
Growing up, I was surrounded by lots of tasty foods, like the classic Adobo and the sweet Leche Flan. That love for the many flavors of the Philippines is what got me excited about adding to MenuPH. When I learned how to make websites, I saw the need for a place to show off all the amazing Filipino dishes, and that's how MenuPH started.
MenuPH isn't just a website; it's like a fun journey into food. I've teamed up with famous chefs and found great places all over the Philippines to bring you a bunch of menus that show off the best of Filipino cuisine. Whether you're into the usual dishes or new twists, MenuPH is here to guide you through the rich world of Filipino flavors.
With MenuPH, my aim is to help local businesses, talk about good food choices, and make a group of friends who love food. No matter if you like fancy restaurants or street food, MenuPH has something for you. Come join me on this food adventure as we find great places, taste real flavors, and enjoy the unique food traditions that make the Philippines awesome.