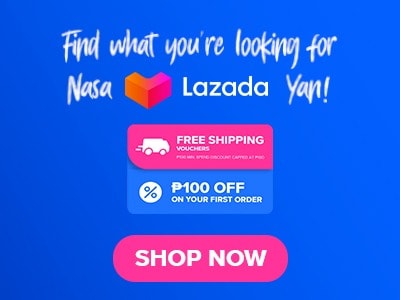 Fried chicken is a forever favorite—it's simple to savor and downright comforting. You can grab it almost anywhere, but if you're on the hunt for the ultimate chicken sandwich in town, I've got a solid recommendation. Ever heard of Fowlbread? They've got a menu packed with delicious chicken sandwiches and more. Trust me, it's worth a try. Find them in BGC, so if you're around, why not swing by? Now, let's dive into the details about Fowlbread and, of course, their prices. No more beating around the bush—let's get started!
Below, you'll find the updated list of Fowlbread menu prices.
Menu Items
Price (PHP)

Fried Chicken Sandwich (Solo/Meal)

Basic Fried Chicken Sandwich
230/329
O.G. Fried Chicken Sandwich
290/389

Menu (Solo/Meal)

Buffalo Fried Chicken Sandwich
340/439
Applewood Bacon & Cheese Fried Chicken Sandwich
380/470
Honey Walnut Shrimp Sandwich
370/469
Szechuan Cheesesteak
390/489
Wholesome Bacon Sandwich
380/479
Extra Pickles
20
Coleslaw
70
Xo Bean Fry
95
Cheez
40
Applewood Bacon
80
Garlic Fries
60
Salted Fries
50

Small Plates

Applewood Smoked Bacon
260
Chili Oil Beef
389
Crispy Pork Chop
160

Potstickers

Shrimp Potstickers
260
Pork Potstickers
230
Cheeseburger Potstickers
250

Crispers

Crispy Boneless Chicken Thigh Tossed In Your Glaze Of Choice
250

Soup

Bacon Pumpkin Soup
240

Rice Meals

Crispy Porkchop
270
Honey Walnut Shrimp
379
Cheeseburger Potstickers
280
Chili Oil Beef
389
Applewood Smoked Bacon
359
Shrimp Potstickers
349
Pork Potstickers
270

Noodle Set

Noodles + 1 Topping + Iced Tea
379

Noodle Ala Carte

Garlic Noodles
230
Super Hot Chili Oil Noodles
250
Dandan Noodles
250

Fries

Garlic Fries
110
Salted Fries
95

Extras

Garlic Rice
60
Fried Rice
150
Steamed Rice
45
Chicken Breast
120
Fried Pickles
120
Coleslaw
85

Banana Donuts

Banana-Filled Donut Holes With Cinnamon Sugar, Chocolate Sauce And Cream
140

Beverages

Citrus Iced Tea
110
Strawberry Hibiscus Slushie
180
Frozen Pineapple Yakult Cocktail
260
Bayani Brew
85
Cocio Chocolate Milk (Classic Chocolate/Dark Chocolate)
150/160
Stanford & Shaw Ginger Ale
190
Softdrinks
65
Bottled Water
35

Alcohol

San Miguel (Pale Pilsen Or Light/Apple Or Lemon)
75/80
Brew Kettle
75
Cerveza Negra
90
Heineken
95
Hoegaarden (Wheat Beer/Rosee)
220/240
Kirin
120
Sapporo
200
Asahi
120
Corona
200
Jinro Soju
240

Night Mode (Beer For Cheap After 6pm)

Local Beer
49
Craft Beer
149
About Fowlbread
Charles and Anna Paw are the owners of Fowlbread. This establishment used to be a retail store then transformed into an open kitchen. They are serving small menus such as chicken sandwiches, potstickers, and other items, and though they only have a limited menu their items are perfect in flavor. Tasty, simple, and has that umami flavor that's what they maintain on their products. It's like rewarding yourself with a good small meal after a long and busy day. Their items are usually paired with garlic or salted fried but I highly suggest you try their garlic fries.
Fowlbread is a place that you would want to visit if you're craving for chicken sandwich, believe me, it's really good. It's not just a typical chicken sandwich this one is a male chicken sandwich. This establishment belongs to the powerhouse tasteless group of restaurants. This organization is also behind the success of other restaurant concepts such as bad bird, wrong ramen, and many more.
Fowlbread Menu Best Sellers 
Listed below are samples of Fowlbread best selling items.
Garlic Egg Noodles – The garlic egg noodles version of Fowlbread is very simple and light but also packed with umami flavors. This one is great with potstickers but I used to have this with their chicken sandwich and fries. This one tastes like aglio olio since the flavor is very garlicky. The noodles are al dente plus the broth is really delicious. Their garlic noodles are a satisfying item on their menu that is perfect, especially on rainy or cold days.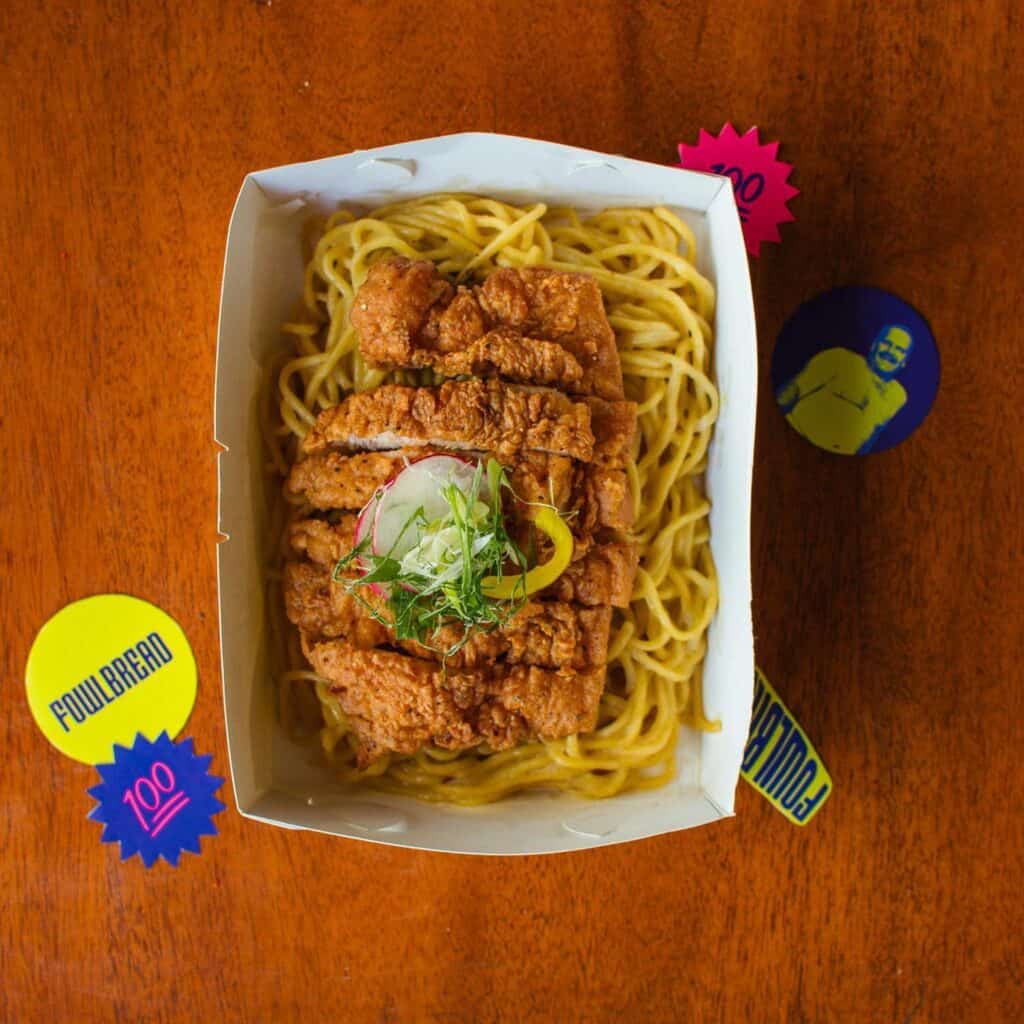 Salted/Garlic Fries – Fries of Fowlbread is one of the best items that I have on their menu, you can order it ala carte or as a side on your chicken sandwich. These fries are made with thick cuts of potatoes and seasoned really well. If you're not sensitive I highly suggest you guys try garlic fries, this one tastes really garlicky. Fries are crunchy but soft inside, this is perfect with or without dipping sauce.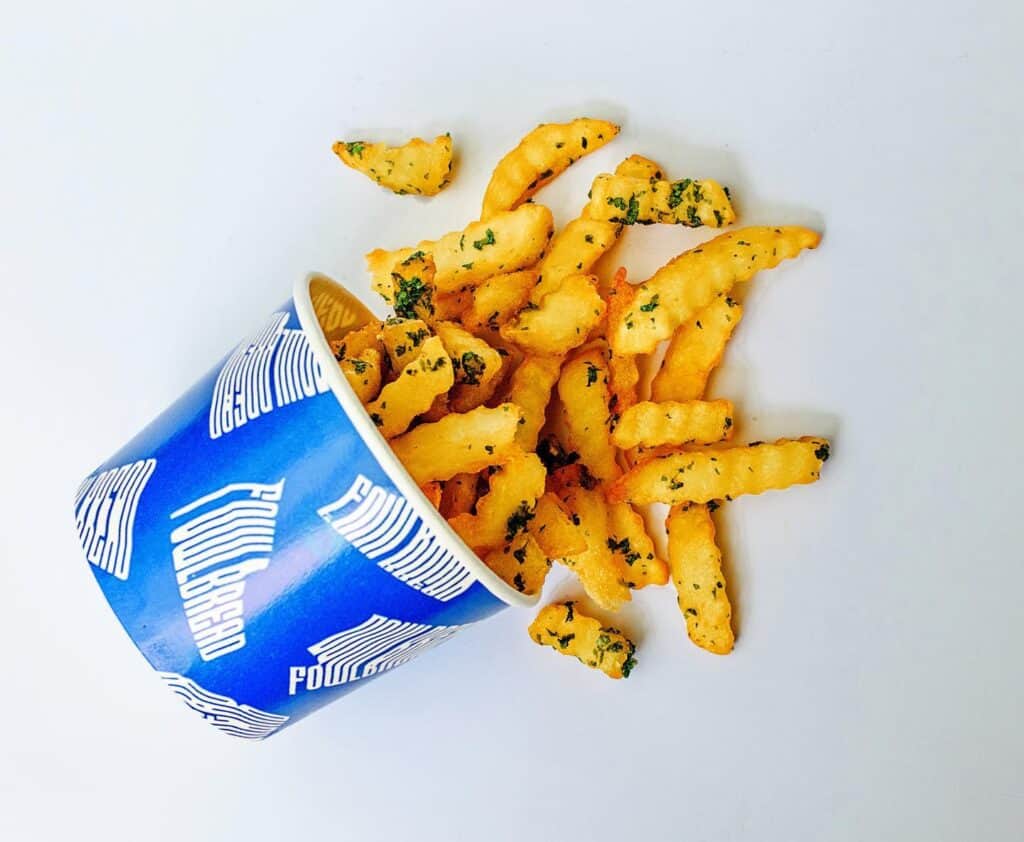 Buffalo Fried Chicken Sandwich – Fowlbread's version of the buffalo fried chicken sandwich is made with fried and crispy chicken thighs with cream cheese, pickles, and Frank's hot sauce. The chicken thigh is quite big in serving the whole sandwich. delicious and goes well with the garlic fries.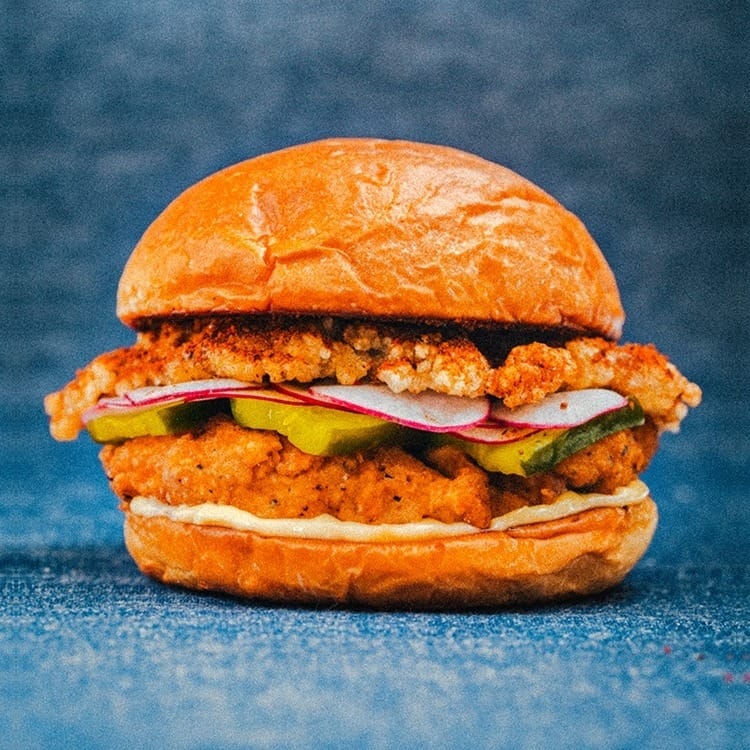 Rice Meals
Fowlbread also serves rice meals, they have 7 items to choose from on their rice meals menu. So if you're looking for something heavier this is the perfect menu for you. The first item is their crispy pork chop, which is quite popular already with Filipino customers, they also have honey walnut shrimp which taste amazingly delicious. They also have Cheeseburger Potstickers I strongly suggest you guys try this one, it's meaty and really good.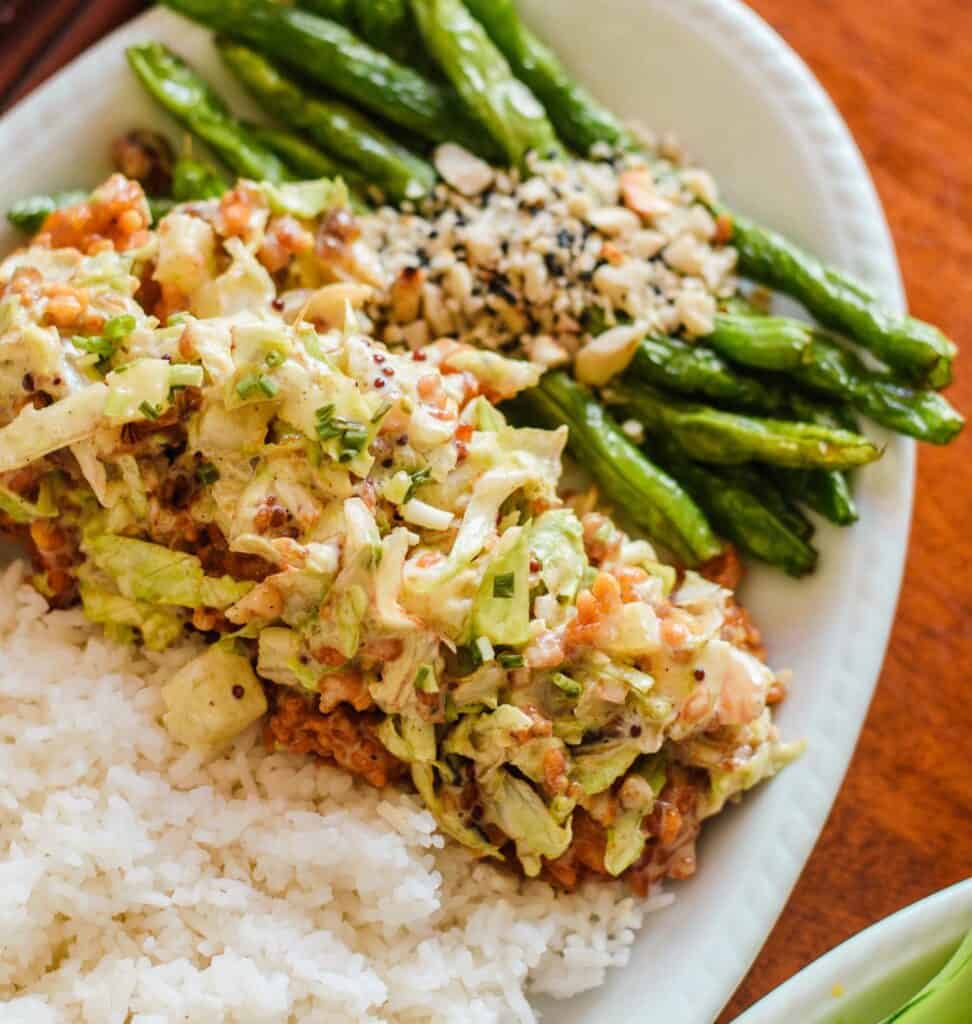 Aside from those they also have Chili Oil Beef which I can recommend for those who love a little kick of spicyness on their food. Applewood Smoked Bacon can also be found on this menu just like Shrimp Potstickers and pork Potstickers.
Small Plates
Small plates menu is served with iced tea and salter or garlic fries. They have 3 items on this menu, the first one is their Applewood Smoked Bacon which is juicy and crispy at the same time. They also have chili oil beef this one has a slight spicyness which is perfect if you just want a little bit of kick to your meal. The last item on this menu is their crispy pork chop, this one has that deep-fried pork chop that is still juicy and really flavorful.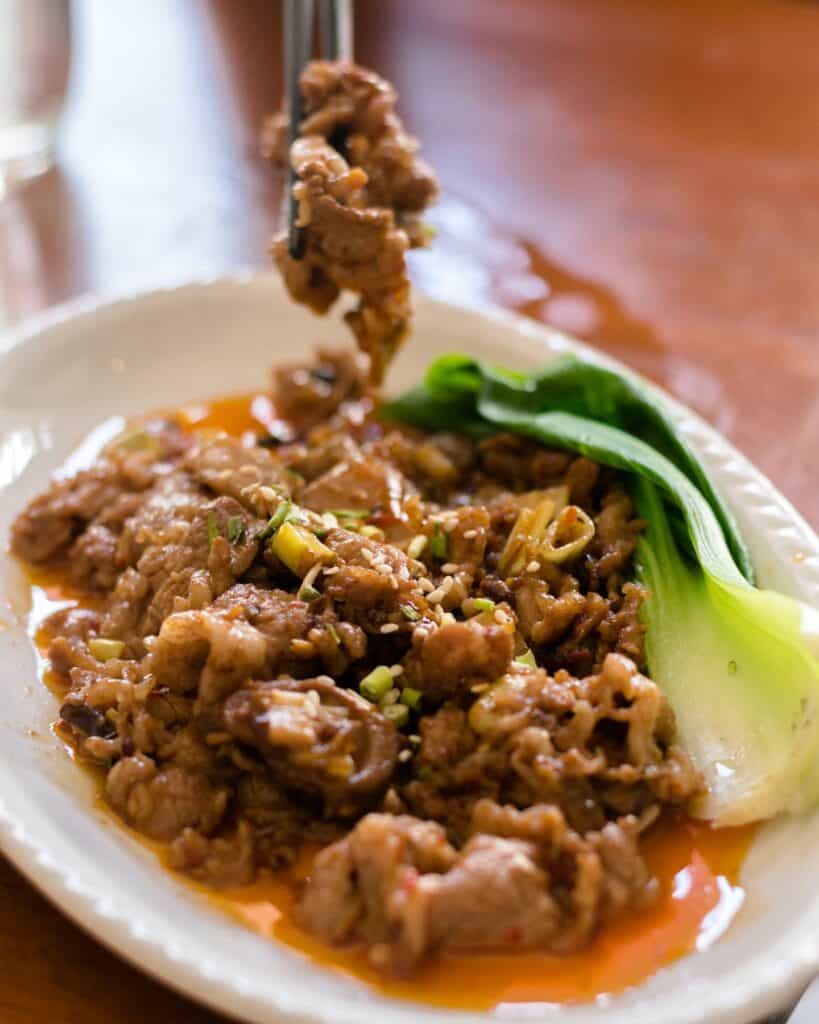 Fowlbread Menu Delivery
Fowlbread doesn't offer delivery but you can still order your favorite Fowlbread items simply by using third-party delivery services such as PickaRoo, Foodpanda, and other delivery services that are available in your location as long as your place is serviceable.
Connect with Fowlbread Online
Whether you're a fan of the classic Safe, the fiery Spicy, or the tongue-tingling Chemical, Fowlbread has something to tantalize every taste bud. Their commitment to quality ingredients and bold flavors has made them a favorite among chicken sandwich enthusiasts nationwide.
Facebook: https://www.facebook.com/fowlbread
Instagram: https://www.instagram.com/fowlbread
Website: https://eatlowbrow.com/collections/fowlbread
FAQs
Where is Fowlbread located?
Fowlbread is located at Unit 778, B3, Bonifacio High Street, Taguig, Metro Manila BGC (Across Krispy Kreme).
What are Fowlbread business hours?
They are open from 11:00 a.m. until 10:00 p.m. on Monday to Thursday and 11:00 a.m. until 11:00 p.m. on Friday to Sunday.
What is the contact number of Fowlbread?
You may contact Fowlbread on their cellphone number at 09615852619.
What are the payment options available at Fowlbread?
Fowlbread accepts cash payments or you can also pay through credit card for cashless transactions.
Fowlbread. Is this place pet-friendly?
Yes, visiting them is hassle-free, Fowlbread is a pet-friendly establishment where you can bring your fur babies.
Conclusion
Great place to go especially if you love chicken sandwiches. Visiting them is a must especially if you're living in the Metro. I have found the best-tasting chicken sandwich in the market and I'm not even being biased here. Fowlbread menu offers not just chicken sandwiches but also other delicious and hard-to-say-no-no food items. This place is really cozy and comfortable its like you can relax while enjoying your meal. Their place is well maintained, it is clean and spacious enough for their customers to be comfortable. The staff are nice and very accommodating plus they serve fast which is great. Overall experience is good definitely will come back for more so try it for yourself too.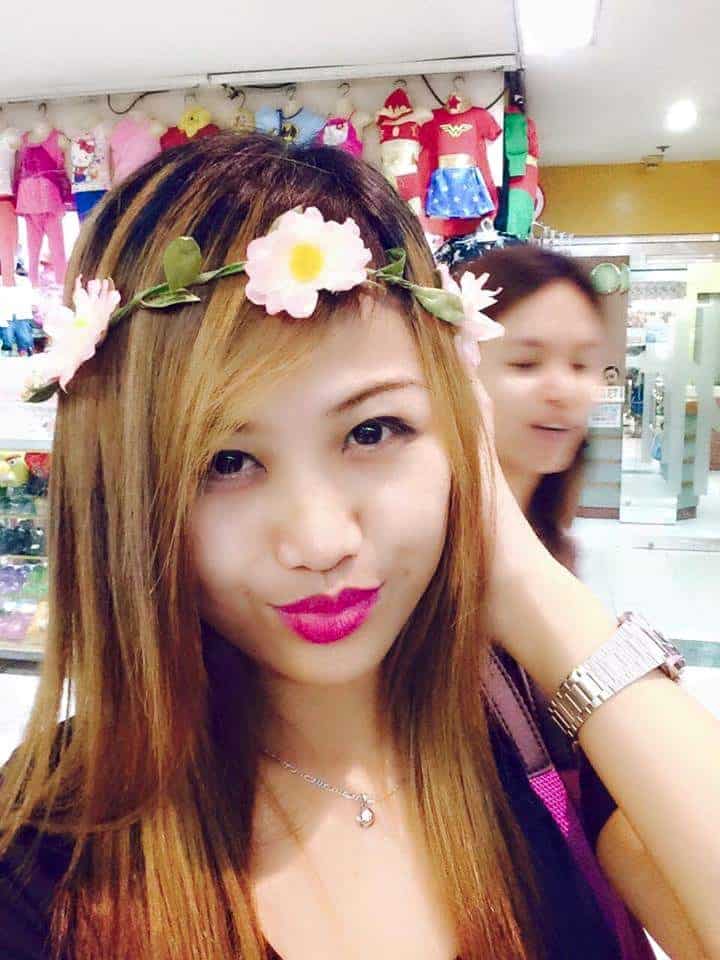 Hello! I'm Shaoyeu Cassandra, a mom who spends most of my time at home, and when I'm not busy, I enjoy writing blogs. I live in Cavite, and I really love talking about the menus of different restaurants.
So, I decided to share my thoughts on the menus of some fast-food places. I'm hoping my take on them can be like a helpful guide for you to decide what tasty treat to go for next. I hope you discover something you really enjoy! Thanks for stopping by!