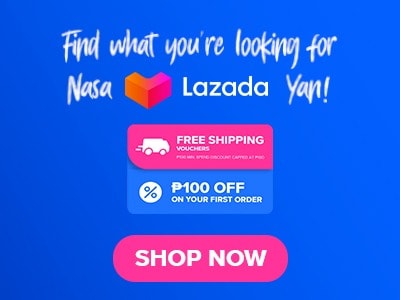 Since I love food and I really want to explore different dishes and places I have bumped into a restaurant that is interesting enough for me. Are you looking for a place to go next on your eat-out with family and friends? Look no more since I have a great recommendation for you. Have you heard about Flavors Restaurant? If not and you're interested in our topic stay for a while. Flavors Restaurant menu offers a wide variety of delicious dishes that I'm sure will satisfy all the cravings that you have plus this restaurant is quite luxurious so they are also great for romantic eat outs with your girlfriend or wife. Let's get to know Falvors restaurant more and let's sneak into their menu and price, let's go!
Below, you'll find the updated list of Flavors Restaurant menu prices.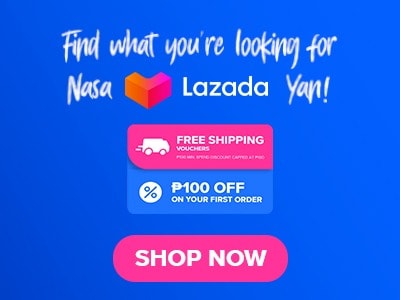 Menu Items
Price (PHP)

Appetizers

Mezze Platter
460
Crispy Vegetable Manila Lumpia
250
Grilled Vegetable Bruschetta
250
Mexican Nachos
520
Fresh Filipino Spring Rolls
250
Sushi and Sashimi Platter
950

Salads

Classic Caesar Salad
440
Arugula Salad
650
Greek Salad
420
Chef's Salad
720
Prawn and Avocado Salad
700
Mango and Prosciutto Salad
440

Soups

Classic French Onion Soup
290
Roasted Tomato Soup
220
Middle Eastern Lentil Soup
220
Creamy Mushroom Soup
270
Seafood Chowder
270
Gazpacho Soup
230

Sandwiches

Traditional Club
450
Angus Beef Burger
570
Vegetarian Panini
310
Ham & Cheese Panini
500
Grilled Vegetables on Wheat Bread
300
B.L.T. Sandwich
550
Tuna Melt Croissant
480
New York City Bagel
440

Pizzas

Classic Cheese Pizza
440
Pizza Margarita
440
Barbeque Pork Pizza
510
Prosciutto Arugula Pizza
510

Pastas

Pasta-as-you-like
400
Baked Beef Lasagna
500
Eggplant Moussaka
400

Mains

Lapu-Lapu with Lemon Herb Crust
750
Pink Salmon Fillet
780
Classic Fish and Chips
730
Country-Style Fried Chicken
400
Porchetta Pork Chop
450
Smokey Barbeque Baby Back Ribs
1100
Sirloin Steak
1100
Beef Tenderloin Medallion
1570

Asian Filipino dishes

Sinigang
650
Beef bulalo
660
Chicken or pork adobo
480
Kare Kare
700
Crispy pata
950
Thai Red or Green Curry
500
Sweet and Sour Pork
400
Chicken Yakitori
500
Nasi goreng
350
Rogan Josh
500

Vegetarian Asian dishes

Vegetable Cutlet
300
Spiced Vegetable Curry
370
Stir-Fried Vegetable
300

Asian Noodles

Cantonese Style Noodles
350
Palabok
400
Mee Goreng
400
Japchae
500

Side dishes

Steamed rice
50
French fries
200
Potato wedges
200
Chef side salad
150
Ratatouilee
160
Vegetable curry masala
200
Kimchi
150

Desserts

Ube cheesecake
290
Crepe Samurai
240
Bread pudding
250
Apple Tatin a la Mode
280
Fresh fruit platter
360
Ice cream
140

Beverage list

Coke
135
Coke light
135
Coke Zero
135
Sprite
135
Sprite zero
135
Sarsi
135
Schweppes Ginger Ale
215
Schweppes Tonic
165
Schweppes Soda Water
165
Viva mineral water
135
Evian
210
Perrier
330
San Pelligrino
220
Seasonal Fresh Fruit Juice
220
Chilled juices
200
Cafe Americano (Black)
120
Decaffeinated coffee
130
Cafe latte
140
Cappuccino
140
Mocha
140
Espresso
140
Hot chocolate
140
Tea
140
Iced cafe latte
140
Iced coffee
140
Iced tea
140
Iced chocolate
140
Milk
140
San Miguel pale pilsen
195
San mig light
195
San Miguel premium
250
San Miguel super dry
250
San Miguel cerveza negra
250
Corona
550
Stella Artois
550
Chardonay (glass/bottle)
340/1600
Sauvignon Blanc (glass/bottle)
340/1600
Cabernet Sauvignon (glass/bottle)
340/1600
Pinot Noir (glass/bottle)
340/1600
Sparkling wine (glass/bottle)
630/2000
About Flavors Restaurant
A buffet restaurant and an all-day dining restaurant is the theme of Flavors Restaurant. They are under the management of Holiday Inn & Suites Makati and they are serving Asian, Filipino, and Western cuisines. They are also the main venue for breakfast at the Holiday Inn hotel and can accommodate a lot of customers whether it's for couples, solo diners, or groups. They also have private dining to offer however booking is recommended for that type of private function and dining experience.
This place is formal and elegant offering a fantastic dining experience for you, truly a five-star hotel. The food offering is impressive since they have a huge selection of everything good. Local and International favorites and even vegetarian options are available in this restaurant. They are located at Glorietta 1 Makati City just look for Holiday Inn & Suites Makati.
Flavors Restaurant Menu Best Sellers
Here are some of their best-selling dishes that everyone should at least try.
Fresh Filipino Spring Rolls -Their fresh Filipino Spring rolls are one of the Flavors Restaurant best sellers menu because of how unique the flavors that you can find on this dish are. This one is made with Carrots, Green Beans, sweet potato, Ground Shrimp, and Chicken with Fresh Heart of Palm and Turnips then wrapped in a Crepe with a delicious Peanut Sauce as a dipping sauce on the side. It has a fresh taste and flavors and the spring rolls taste good too especially with the sauce. It really balances the flavors of the vegetables and meat inside the spring rolls too. This one is also a must-try. 
Angus Beef Burger – If you're a burger person then you will surely love their version of Angus beef burger. This burger is made with 100% US Angus Beef with Onions that are caramelized then topped with crispy Bacon, Fried Egg, and cheddar cheese on a lightly toasted Bun with French Fries and Coleslaw as sides. The taste was truly fantastic since the patty is made with Angus beef which we all know is a source of superb beefy taste, also soft and really flavorful plus other ingredients that compliments the taste of the Angus beef patty. For those who are into burgers just like me, I highly suggest you try this one.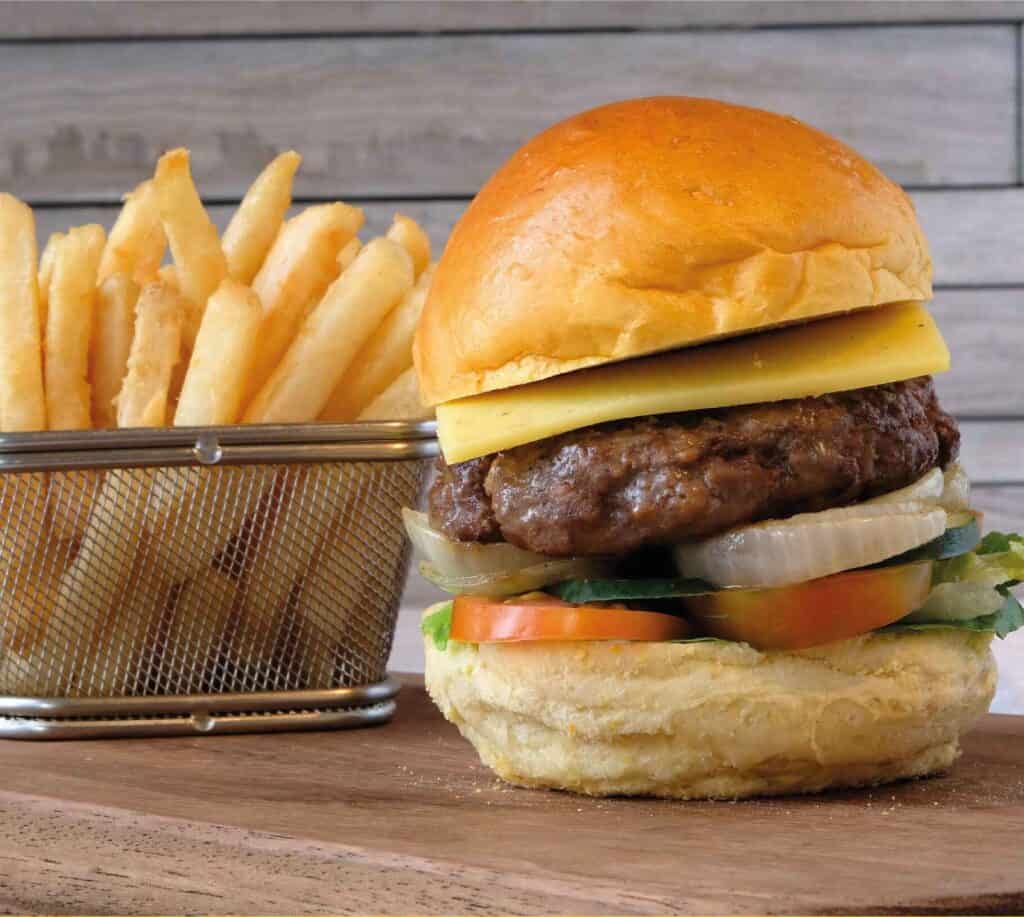 Pink Salmon Fillet – If you're looking for an alternative to red meat then this is the perfect dish for you. Flavors Restaurant's pink salmon fillet is a Pan fried Salmon fillet with creamy Mushroom Risotto and grilled vegetable skewers. They also garnished it with Sundried Tomato before they drizzle some Aurore Sauce. The taste is not bad it's just I'm not into fish whatever kind it is but based on my personal experience about it this one is really good, it has a decent taste with freshness and lightness at the same time, and salmon is not salty as well.
Beef Tenderloin Medallion – The beef tenderloin medallion menu of Flavors Restaurant is a fillet of US Beef Tenderloin that they pan fried and seasoned with some herbs with garlic and Black Peppercorn then wrapped in Bacon, with asparagus Baked Potato, Spears, and Red Wine Gravy as sides. This one taste delicious with or without the gravy.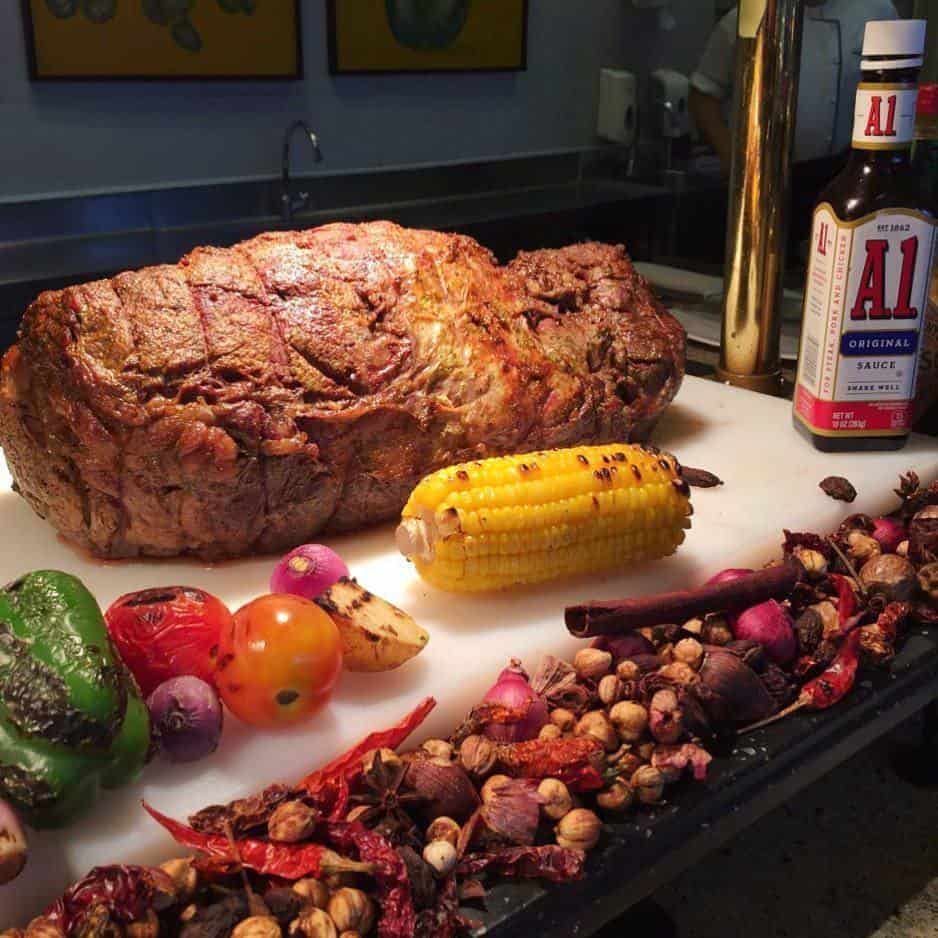 Japchae – This is getting popular over the years and this one is really good. The japchae version of Flavors Restaurant is made with Korean Potato Noodles cooked in a Sweet Soy Sauce mixed with stir-fried marinated Beef Strips, Mushrooms, and some Vegetables then finally topped with Spring Onions and Sesame Seeds for a more appetizing appearance and extra flavors. If you love noodles dishes you'll surely love their japchae as well.
Soups
On their soup menu, they have 6 different types of soups to choose from. They have classic French onion soup which we really recommend because it's good the way it is. Roasted tomato soup is also delicious but a bit sour. Middle Eastern Lentil Soup if you're vegan, and creamy mushroom soup. Other options are seafood chowder and gazpacho soup which is a Cold Tomato and Cucumber Soup with Sherry Vinegar.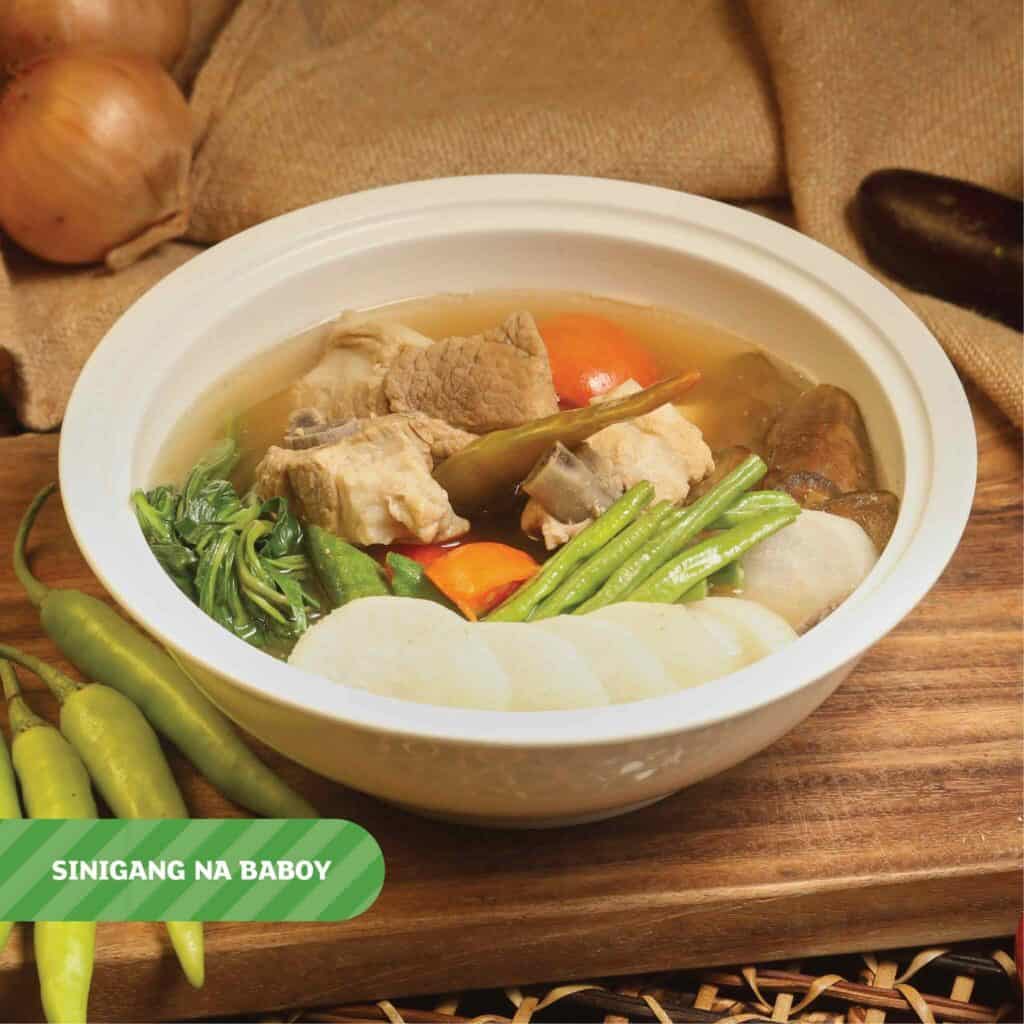 Pizzas
Flavors Restaurant has 4 different kinds of pizzas on their pizza menu. They have the Classic Cheese Pizza which is a Thin crust pizza with three kinds of cheese and extra virgin olive oil. Pizza Margherita is a thin-crust pizza with Sauteed Tomato and Oregano Sauce topped with Fresh Mozzarella Cheese with Fresh Basil. They also have Barbecued pork pizza and Prosciutto & Arugula Pizza.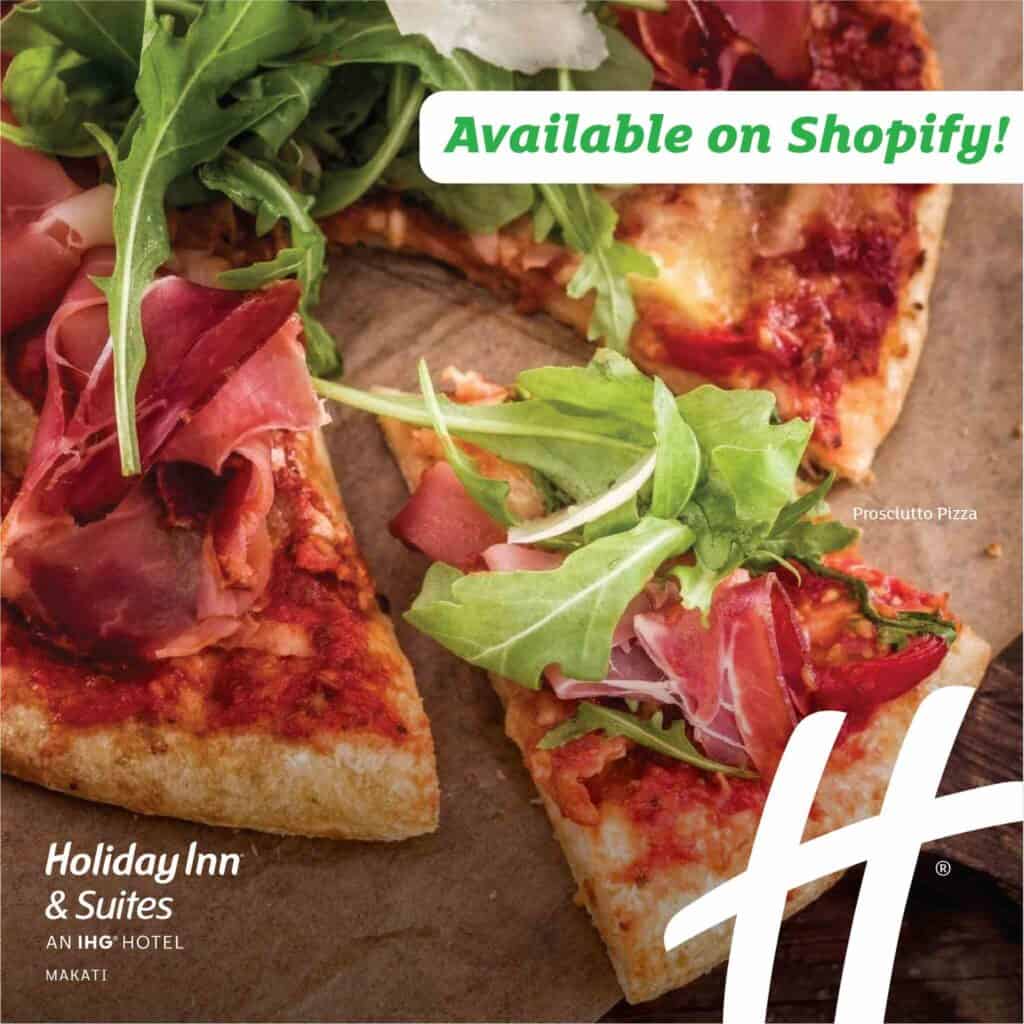 Flavors Restaurant Menu Delivery
Satisfying your cravings with the scrumptious offerings of Flavors Restaurant has never been more convenient – just a simple phone call away. To place your orders effortlessly, reach out to them at +632 7506 8131 or connect via Viber at 09175968897 for messages or calls. Enjoy the ease of indulging in your favorites without any hassle.
Social Media Pages
Are you a fan of the delectable offerings at Flavors Restaurant? Why not take a moment to demonstrate your support by exploring their engaging social media platforms and giving them a follow? By doing so, you'll be in the loop for their latest posts and updates. And keep an eye out – they occasionally roll out exciting promotions that might just pique your interest. It's a win-win situation, offering you delightful benefits.
Facebook: https://www.facebook.com/FlavorsRestaurantMakati/
Instagram: https://www.instagram.com/flavors.restaurant/
Website: https://www.ihg.com/holidayinn/hotels/us/en/makati/mnlgs/hoteldetail/dining
FAQs
Does Flavors Restaurant offer a buffet?
Yes. Flavors Restaurant is a dining hub that offers buffet feasts through its excellent buffet spread.
Is there a dress code at Flavors Restaurant?
As far as I'm concerned no. There are no dress restrictions however wearing shorts is not allowed but tailored shorts are okay.
Is Flavors Restaurant halal certified?
Upon checking since they serve pork meats products and other alcoholic beverages Flavors restaurant is not a halal-certified restaurant.
Is it affordable in Flavors Restaurant?
I can't tell that their product is affordable but reasonable price. Unlike other restaurants like Flavors restaurant, their prices are relatively cheaper.
Conclusion
The Flavors Restaurant menu has everything that you want and if you're craving going to their restaurant and trying their buffet would be a very good idea. The place is comfortable and spacious plus their service staffs are all nice. The foods that they offer are all good and delicious plus the quality is superb. One of the nicest places that I've been to these past few years after the lockdown. Highly recommended for those whose looking for a great restaurant with quality dishes and great products.