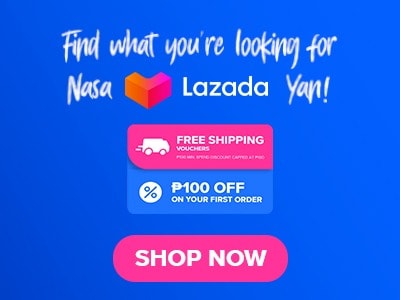 If you're craving a pizza and searching for a pizza place that offers a diverse and tasty selection, then Pizzulu's menu is perfect for you. Pizzulu offers mouthwatering pizzas and other delicious treats that are sure to satisfy your cravings and make your dining experience convenient and enjoyable. Their menu boasts an array of classic and specialty pizza flavors, such as the popular Pizzulu menu options, that are sure to please any palate. In addition to their pizza selection, Pizzulu also offers a variety of pasta dishes and crunchy sides to complete your meal.
Below, you'll find the updated list of Pizzulu menu prices.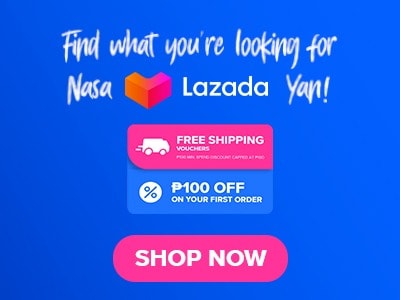 Menu Items
Price (PHP)

Beverages

Coke In Can
90
Sanpellegrino Aranciata
155
Sanpellegrino Limonata
155
Sanpellegrino `L'Aranciata Amara
170

Pasta

Black Truffle Casarecce With Prosciutto
614
Squid Ink Spaghetti With Seafood Pasta
599
Fettucine Carbonara Pasta
499
Ragu Bugatini Pasta
435
Aglio Olio Pasta
299
Black Truffle Casarecce Pasta
499
Seafood Linguine Pasta
499

Pizza

Black Truffle Mushroom Pizza
625
4 Cheese Pizza
585
Cheesy Pepperoni Pizza
625
Spinach and Artichoke Pizza
775
White Cheese Pizza
585
Mozzarella Bacon Pizza
595
Carbonara Pizza
625
Margherita Pizza
470
Prosciutto & Arugula Pizza
775
Bacon & Spinach Cream Pizza
775
Shrimp & Roasted Garlic Pizza
775
All Meat Pizza
775
Mozzarella Garlic Pizza
470
Truffle Pizza Bianca
749
About Pizzulu
Pizzulu is an online pizza delivery service in the Philippines. Its menu features a wide variety of pizza items in different flavors and sizes, as well as other food items like pasta dishes, chicken wings, and other kinds of desserts. Pizzulu aims to provide convenient and delicious pizza options for delivery straight to customers' homes. Their menu features classic pizza flavors like Margherita, Pepperoni, Hawaiian, and more, along with specialty pizzas such as Buffalo Chicken, BBQ Chicken, and Vegetarian options. In addition to pizzas, Pizzulu also offers pasta dishes as well as sides and a variety of sweet treats to complete the customer's dining experience.
Pizzulu Menu Best Seller
This menu is made up of a wide variety of pasta and pizza items at Pizzulu that are both affordable and satisfying.
All Meat Pizza – This meaty pizza is topped with a generous amount of various meats such as ham, bacon, sausage, and pepperoni, this pizza offers a savory and satisfying experience. The combination of flavors from the different meats creates a delicious harmony, while the gooey melted cheese adds a creamy texture.
Mozzarella Garlic Pizza – This pizza has a bold flavor and creamy texture due to the garlic that is roasted to perfection, giving it a mellow and slightly sweet taste, and the mozzarella adds a rich and gooey texture that results in this mouthwatering pizza dish.
Truffle Pizza Bianca – This Pizzulu menu features a white base made with a creamy combination of cheeses and is generously topped with aromatic truffle oil. The earthy and luxurious truffle flavor permeates every bite, creating a delightful experience for truffle lovers. 
Black Truffle Casarecce With Prosciutto – A pasta dish that combines the richness of black truffle with the delicate flavors of prosciutto. The two ingredients combined create a harmonious blend of flavors that will satisfy any pasta lover's cravings.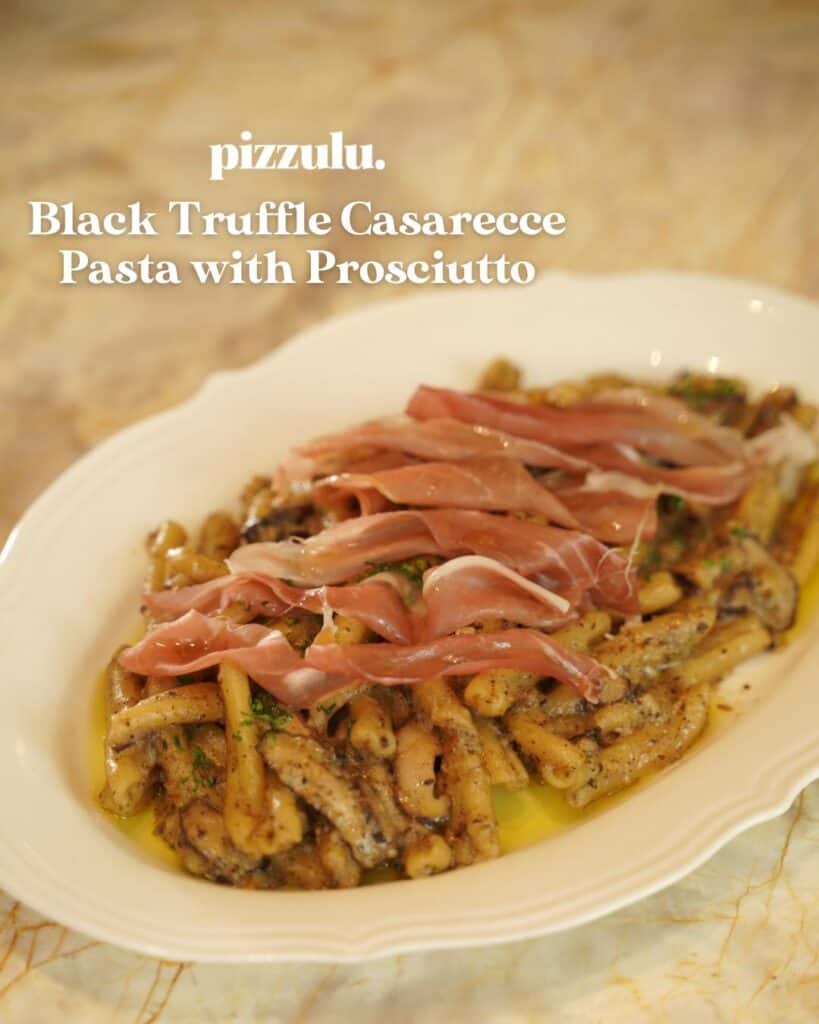 Fettucine Carbonara Pasta – This pasta dish is a classic Italian dish that is rich, creamy, and comforting that features a fettuccine pasta cooked to perfection and tossed in a creamy sauce made with eggs, Parmesan cheese, and crispy bacon. The combination of the silky sauce, savory bacon, and al dente pasta creates a harmonious balance of flavors and textures.
Pizzulu Menu Pizza
This menu is made up of Pizzulu's signature offerings, a wide variety of pizza dishes that cater to different tastes and preferences.
Carbonara Pizza – It features a creamy white sauce base topped with crispy bacon, Parmesan cheese, and sometimes even a cracked egg. The combination of flavors mimics the rich and savory notes of traditional carbonara, with the addition of a crispy crust that adds an extra layer of texture.
4 Cheese Pizza – This pizza is loaded with a delightful combination of four different kinds of cheese, each cheese contributes its unique flavor and texture, resulting in a pizza that is ooey-gooey, creamy, and utterly delicious.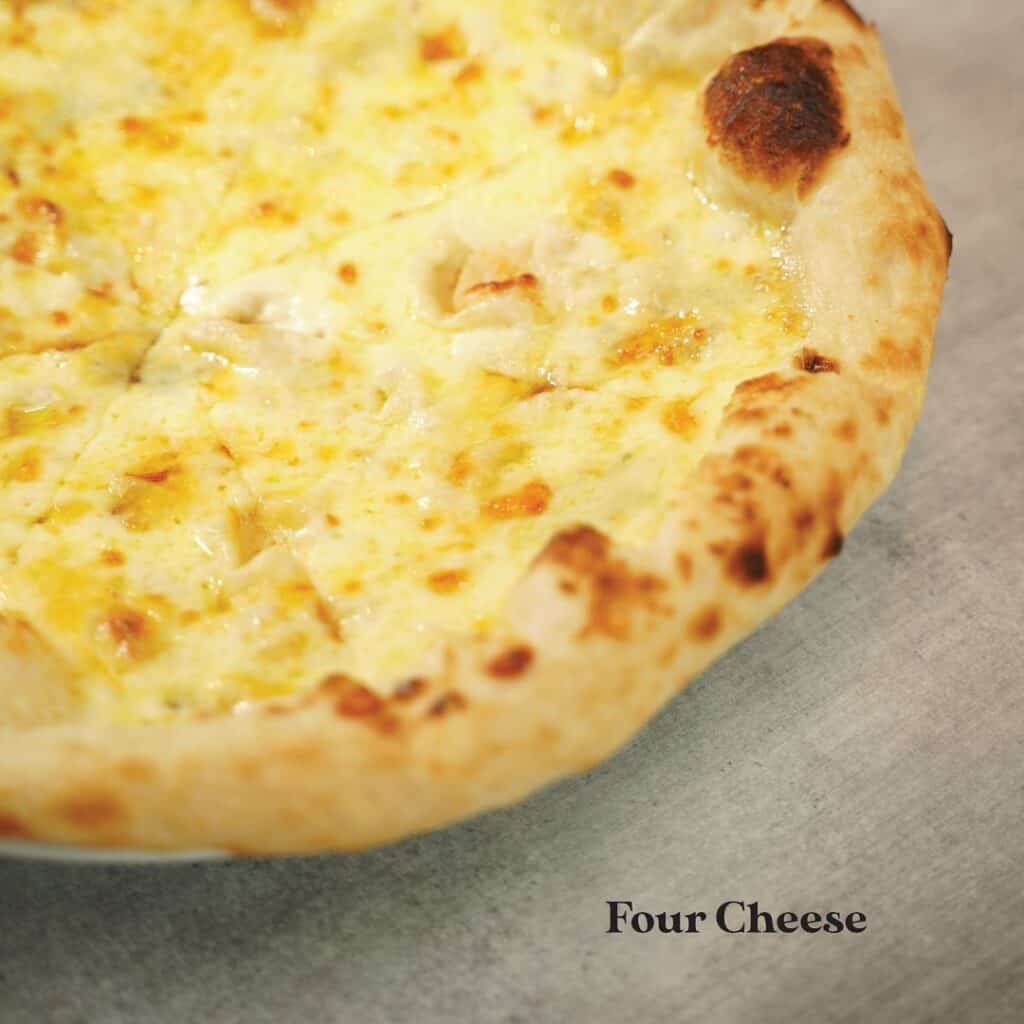 Cheesy Pepperoni Pizza – The combination of the melty cheese and the slightly spicy and savory pepperoni in this pizza creates a winning combination that satisfies cravings for a traditional and indulgent pizza experience.
Pizzulu Menu Pasta
This menu is made up of the second-best dishes at Pizzulu, their pasta offerings. Each pasta that is part of this menu has a unique twist that would entice anyone who sees them.
Squid Ink Spaghetti with Seafood Pasta – This is a unique and visually striking dish as this spaghetti dish uses squid ink to add a dark and intriguing color to the dish, while the seafood brings a medley of flavors from the ocean.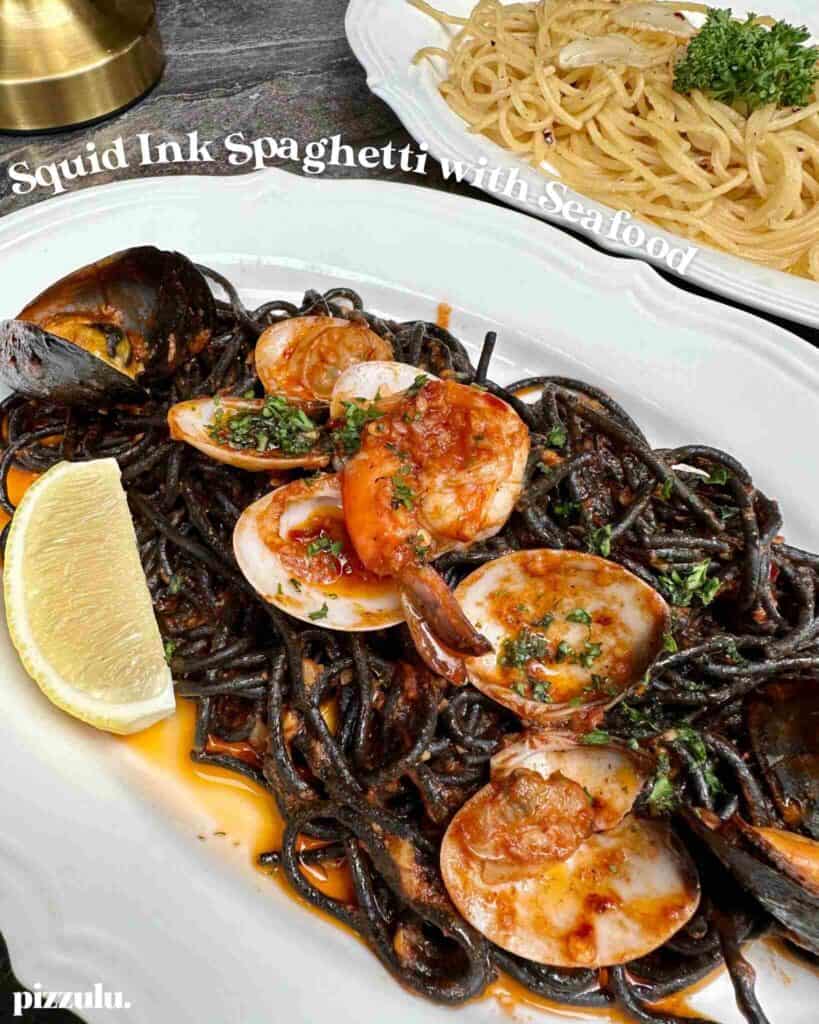 Ragu Bugatini Pasta – The bugatini pasta used in this dish, which is a thick and tube-shaped pasta, is tossed in a rich and meaty ragu sauce while the ragu is made with slow-cooked beef or pork, tomatoes, herbs, and spices, resulting in a robust and flavorful sauce.
Black Truffle Casarecce Pasta – It is a luxurious and indulgent option that uses a casarecce pasta, a short, twisted pasta shape past that is paired with a creamy sauce infused with black truffle to make it an ideal option for truffle lovers that visit Puzzulu.
Beverages
This menu provides customers with a variety of beverages to complement their pizza and pasta dishes. The drinks that are included in this menu range from commercial soda drinks to the very own creations of Pizzulu to suit any customers 'preferences.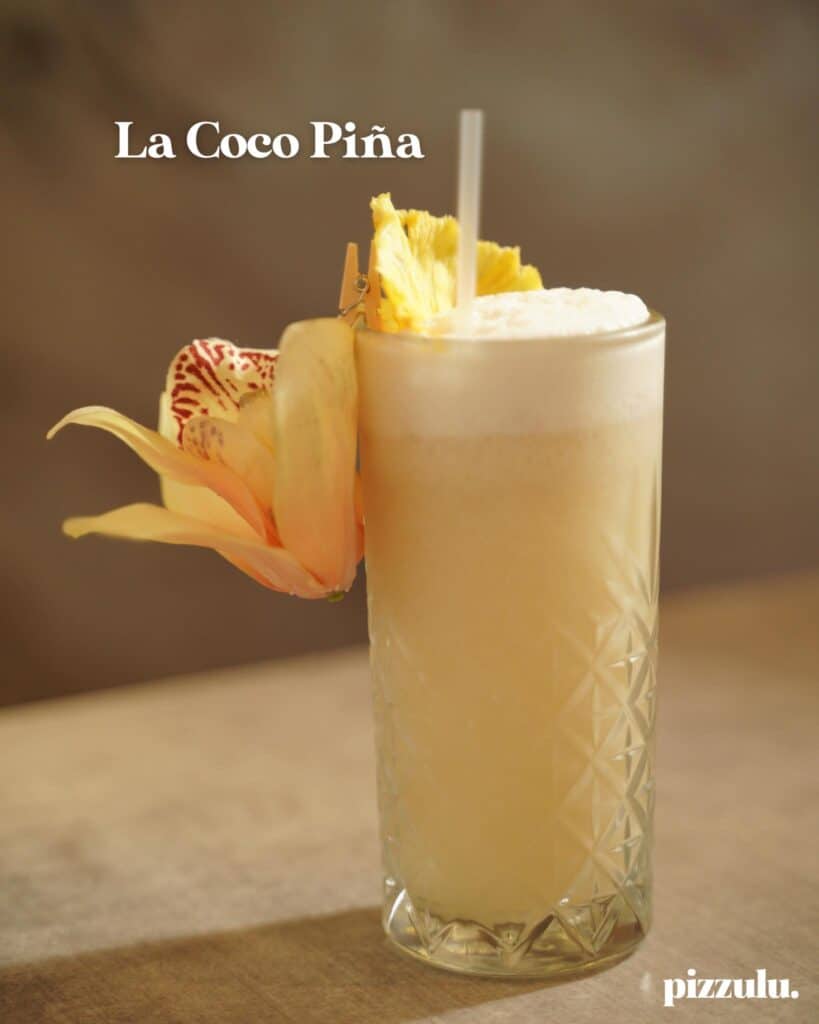 Pizzulu Menu Delivery
Pizzulus menu delivery provides customers with a convenient way to fill their pizza cravings without directly going to a pizza shop. This also makes Pizzulu's pizza and other dishes more accessible to a wider public allowing them to order their offerings through third-party delivery services like FoodPanda.
Social Media Pages
Tell your friends about your pizza adventures by tagging them and becoming a part of the Pizzulu tribe! To join them, all you need to do is follow Pizzulu on their social media pages. By doing so, you can be part of an exciting pizza journey like no other! Stay connected with them and never miss out on their delicious deals, cheesy surprises, and mouthwatering toppings that will make you want more. It's a fun way to enjoy pizza and stay up-to-date with all the tasty offers!
Facebook: https://www.facebook.com/pizzulu/
Instagram: https://www.instagram.com/pizzulu.pizza
TikTok: https://www.tiktok.com/@pizzulu.pizza
Website: https://pizzulu.com/
FAQs
What is the specialty of Pizzulu?
The specialty of Pizzulu is their wood-fired pizza that uses traditional Italian techniques and high-quality ingredients.
Does Pizzulu offer gift packaging?
Yes, Pizzulu offers gift packaging options, such as special boxes or bags, for their pizzas or other menu items.
Does Pizzulu offer delivery services?
Yes, they typically offer delivery services for their menu items that vary depending on the customer's location.
Does Pizzulu offer pick-up services?
Yes, this pizza shop offers pick-up services for customers who prefer to collect their orders directly from the restaurant.
Conclusion
Pizzulu is the best place for pizza lovers to go to in the Philippines as this pizza palace offers a wide variety of delicious pizzas, pasta dishes, sides, and desserts giving their customers a complete dining experience. So, if you're in the mood for a satisfying and flavorful pizza experience, Pizzulu is the place that you should go to and indulge in its delectable creations, share a meal with loved ones, or simply treat yourself to a well-deserved pizza.