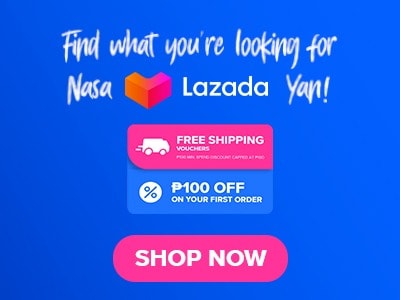 On a busy street of the Metro, you won't want to miss out on what's truly authentic! Hi! today we are going to talk about a restaurant that is perfect for everyone who always has a hard time preparing their own meals as they drudge themselves at work, introducing Ulam Mama! an establishment that is ideal for satisfying your appetites for Filipino cuisine such as adobo, sinigang, and kare-kare. This eatery takes great delight in both the quality of their work and the dishes they provide their customers. So, tell me, what exactly are you anticipating? Let's dive into the Filipino food menu collection that Ulam Mama has to offer.
Below, you'll find the updated list of this restaurant's menu prices.
Menu Items
Price (PHP)

Busog Bowls

Korean Beef Stew (Busog Bowl)
140
Chicken Popcorn (Busog Bowl)
150
Paksiw Na Baboy (Busog Bowl)
130
Pork Sisig (Busog Bowl)
130
Pork Giniling (Busog Bowl)
130
Pork Menudo (Busog Bowl)
130
Bopis (Busog Bowl)
130
Beef Gyudon (Busog Bowl)
140
Beef Balls With Gravy (Busog Bowl)
130
Beef Kare-Kare (Busog Bowl)
140
Beef Pares (Busog Bowl)
140
Beef Caldereta (Busog Bowl)
140
Tofu Chopsuey (Busog Bowl)
120

Frozen

Paksiw Na Baboy (Frozen)
115
Pork Sisig (Frozen)
115
Pork Bopis (Frozen)
115
Beef Caldereta (Frozen)
120
Beef Gyudon (Frozen)
120
Beef Pares (Frozen)
120
Kare-Kare (Frozen)
120
Korean Beef Stew (Frozen)
120
Beef Meatballs In Gravy (Frozen)
115
Pork Menudo (Frozen)
115

Add-Ons

Extra Rice
20
About Ulam Mama
Ulam Mama is an expert in the preparation of Filipino cuisine, including dishes such as the well-known kare-kare, the crispy lechon, the most well-liked Filipino dish adobo, and the revitalizing sinigang. These dishes represent Filipino cooking and represent the country abroad. Pork sisig, beef caldereta, and pork menudo are just a few of the other delicious Filipino dishes that Ulam Mama is proud to offer.
Ulam Mama Menu Best Seller
Experience the magnifying goodness of this best-selling collection that is known for the various pork entrees showcasing classic Filipino flavors.
Chicken Popcorn – A dish that consists of rice that is accompanied by a filling and crispy chicken meat that is moist and coated with special seasonings. The food is served in a dish.
Korean Beef Stew – Embark on the perfectly cooked rice that is presented in a bowl alongside delicious beef belly pieces that are covered with sesame seeds and soy garlic sauce. This meal is known as Korean Beef Stew.
Paksiw Na Baboy – Enjoy your favorite dish, Paksiw Na Baboy, which consists of pork that has been braised in soy sauce, vinegar, garlic, and pepper and is served in a bowl with rice. A meal that is ideal for those who enjoy a sour flavor.
Pork Sisig – Pork Sisig consists of succulent pork flesh and pork fat that has been fried with onions and chilies and is served in a bowl with rice. The ideal dish for someone who is looking for a flavor they are familiar with.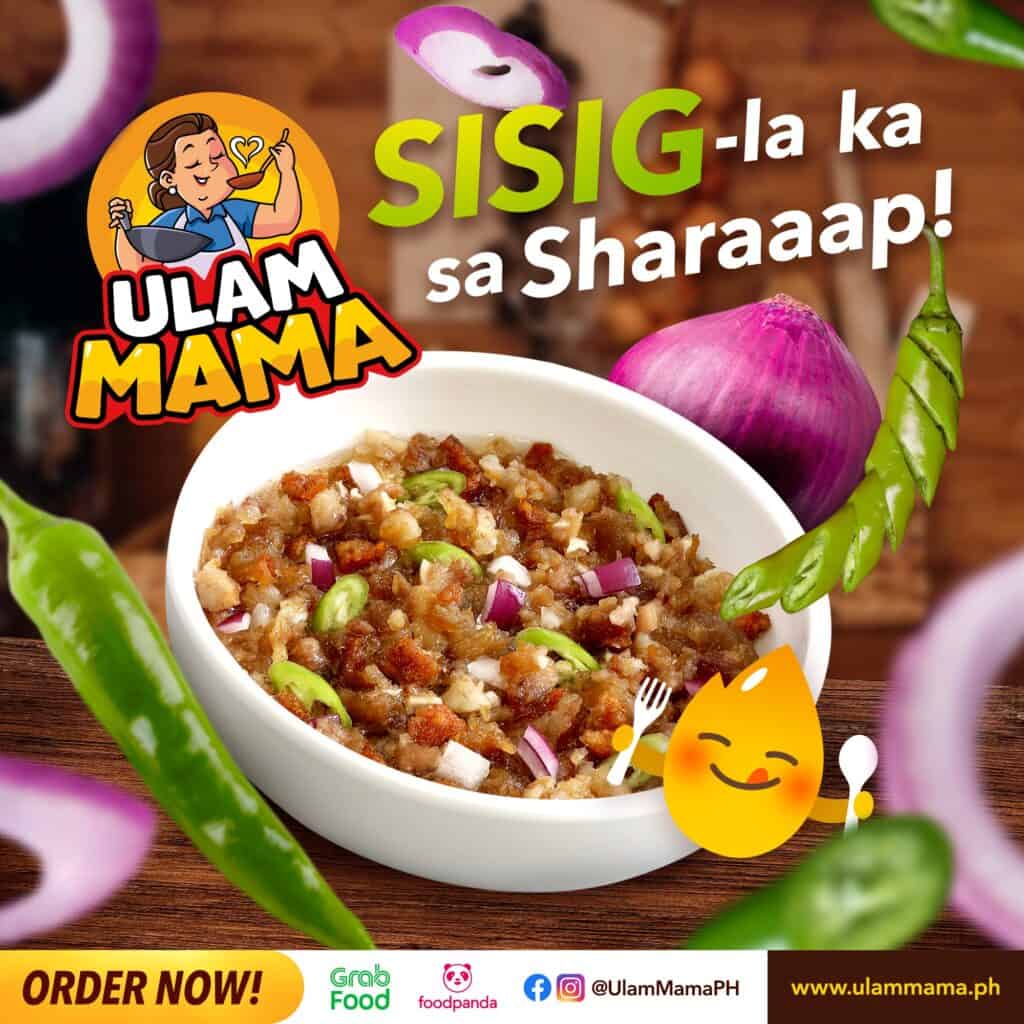 Pork Giniling – Looking for something that is both meaty and saucy at the same time? Try some pork giniling. Rice in a bowl topped with pork ground with potatoes and carrots cooked in tomato sauce and served with pork.
Busog Bowls
Never underestimate the magic of the Busog Bowls menu of Ulam Mama that will surely save your day and have a satisfying meal as you head yourself work. It offers you various dishes that highlight the savory with delicious textures of stew and savory sauces.
Pork Menudo – Menudo is one of the most well-known and popular dishes in the Philippines. The pork, carrots, potatoes, and bell peppers that have been cooked in tomato sauce are placed on top of the rice that has been poured into the bowl and then covered with the rice. This dish was prepared by Ulam Mama in the most delectable and flavorful manner.
Bopis – Always on the lookout for a pinch more flavor. A traditional dish from the Philippines consisting of pork internal organs cooked with onions, chiles, and garlic and served in a bowl with rice.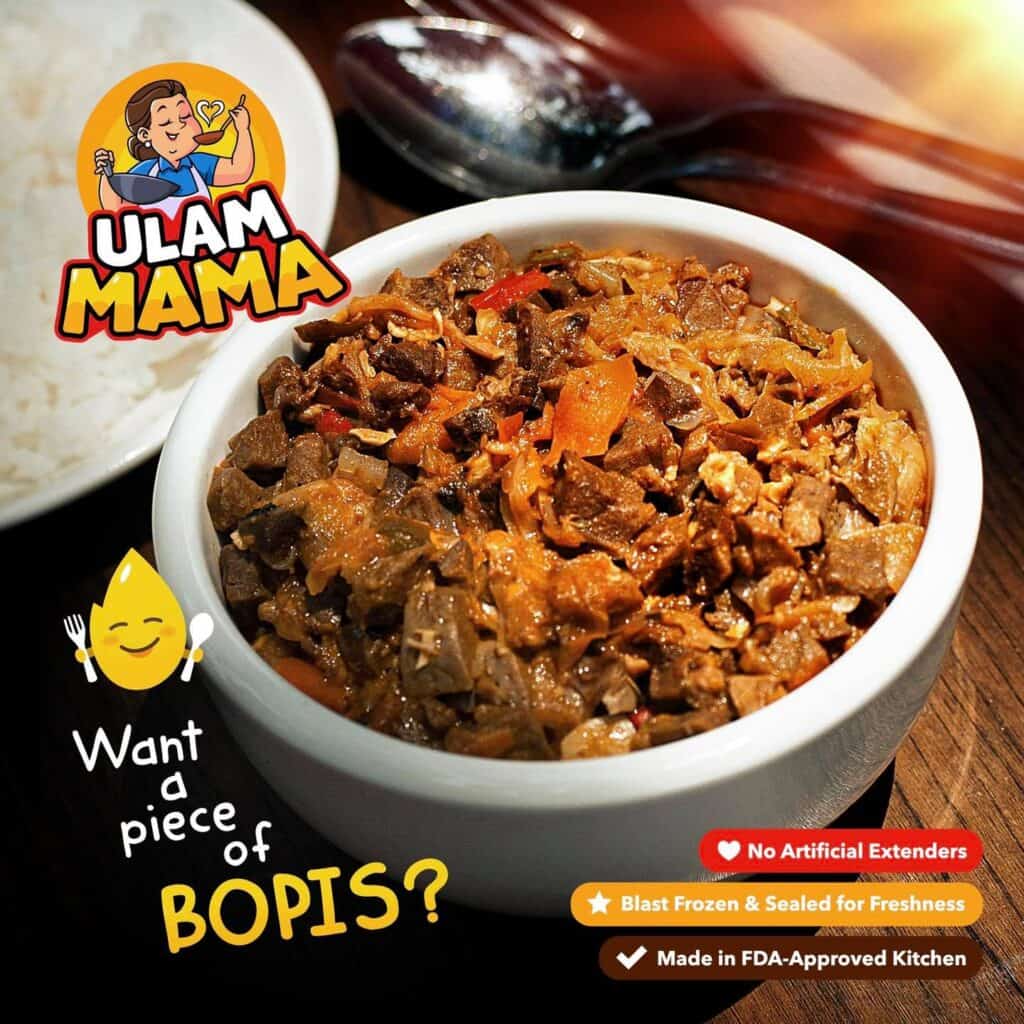 Beef Gyudon – Indulge in the Japanese cuisine classic known as beef gyudon. Traditional cuisine from Asia. Strips of beef smothered in a savory sauce and served in a dish with rice.
Beef Balls with Gravy – Beef Balls with Gravy are prepared using the highest quality ingredients possible. Bowls of rice are topped with meatballs made of ground beef that are covered in gravy that is buttery and creamy. Will never fail to meet expectations.
Beef Kare-Kare – A dish cooked in the style of the Filipino dish kare-kare is a culinary tradition that is adored by Filipinos. The juicy meat, which is prepared in peanut sauce together with fresh veggies and eaten with bagoong and rice, will undoubtedly have a heavenly flavor.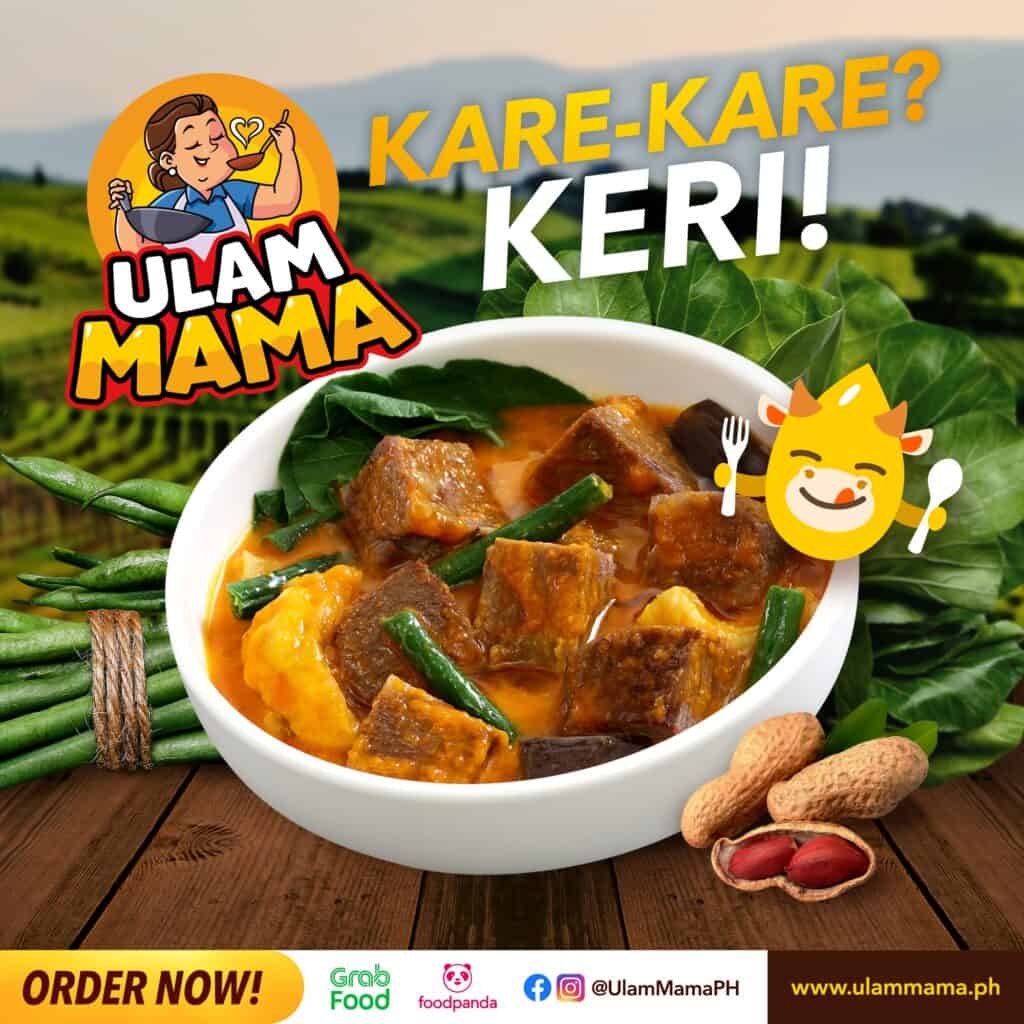 Beef Caldereta – Beef Caldereta is an outstanding dish that represents the pride of the Philippines and will raise the bar for your taste senses. A bowl of rice topped with a luscious beef stew that was prepared with cow liver, bell peppers, potatoes, and tomatoes was served in a bowl.
Beef Pares – A dish that has become famous on the street and is quite popular among individuals who are searching for a quick meal. Rice is placed in a bowl and topped with pork that has been braised in soy sauce, brown sugar, and star anise.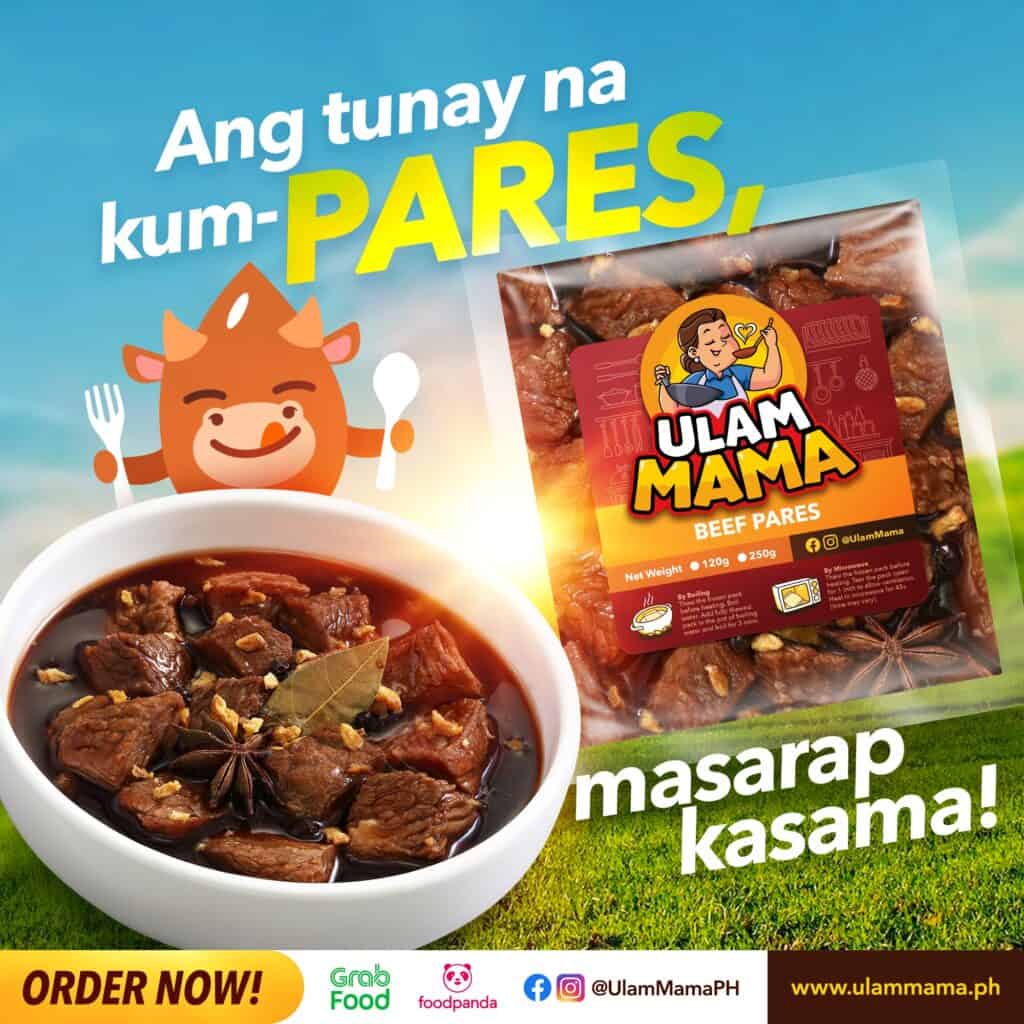 Tofu Chop Suey – Tofu Chop Suey is an exciting dish that is beneficial for your body in general. A well-known destination for those in search of satisfying and healthy food. Tofu that has been fried and then combined with fresh veggies and served in a dish with rice.
Ulam Mama Menu Delivery
Do you feel like eating but you just don't want to leave the house? It's a good thing that Ulam Mama has a third-party delivery service like Foodpanda, which is the most popular delivery service in the whole country. To all of the Filipinos who are hungry or have a need for anything but are either not in the mood or do not have the privilege to go out, this provides a convenient option. Enjoy your food and be sure you tap in!
Social Media Pages
They're your gateway to a world of heartwarming Filipino flavors, shared stories, and unforgettable moments. They invite you to be part of their extended family by connecting with them on social media!
Facebook: https://www.facebook.com/ulammama
Instagram: https://www.instagram.com/ulammama
Twitter / X: https://twitter.com/UlamMamaPH
Website: https://ulammama.ph/pages/contact-us
FAQs
What type of cuisine does Ulam Mama offer?
Ulam Mama is known for serving the most traditional kind of Filipino cuisine, which both native Filipinos and those who are not from the Philippines are sure to appreciate. In order to produce their world-famous Filipino cuisine, Ulam Mama uses only the freshest and finest spices and other ingredients.
What is Ulam Mama known for?
It is famous for the well-loved Filipino meals that they serve, and these dishes have the ability to win anyone's heart. Some of these are Pork Menudo, Caldereta, and their iconic Sisig.
What are the operating hours of Ulam Mama?
Ulam Mama operates from 10 AM until 7:30 PM every day.
Where is Ulam Mama located in the Philippines?
If you want to take a savory visit to the store, it is located at Ulam Mama HQ 426 Bulalakaw St Mandaluyong City.
Conclusion
In conclusion, Ulam Mama is an experience that will truly set an example not just in terms of the quality of the services but also, most noticeably, in the manner in which any person's taste buds are satisfied. Their genuine desire to provide such high-quality service and food is certainly inviting first-time visitors as well as regulars to the establishment. I admire the fact that customers are able to go to their place and eat there with their friends and family. Ulam Mama offers a diverse selection of menu that can be enjoyed by anybody. Even though this is my first time visiting, I get the impression that I know a lot of the people who work here already because their business is so warm inviting, and vibrant. Their delivery services are also a good plus feature, and I believe it really fills a need for people who want to taste Filipino food but don't have the privilege of going out or the time to make it themselves. In general, I believe that Ulam Mama has a great deal of potential to become one of the finest restaurants that is currently being created.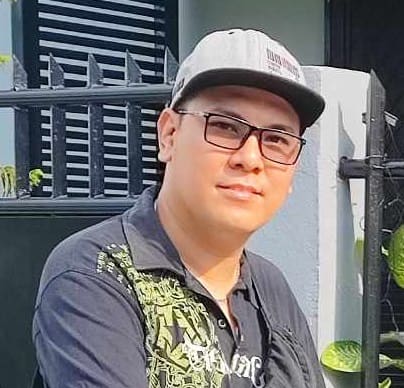 Hi! I'm Nivek Strife, the person who made MenuPH. I'm the one who added most of the popular menus you see on this website, and I really hope you enjoy them! Feel free to check them all out.
Growing up, I was surrounded by lots of tasty foods, like the classic Adobo and the sweet Leche Flan. That love for the many flavors of the Philippines is what got me excited about adding to MenuPH. When I learned how to make websites, I saw the need for a place to show off all the amazing Filipino dishes, and that's how MenuPH started.
MenuPH isn't just a website; it's like a fun journey into food. I've teamed up with famous chefs and found great places all over the Philippines to bring you a bunch of menus that show off the best of Filipino cuisine. Whether you're into the usual dishes or new twists, MenuPH is here to guide you through the rich world of Filipino flavors.
With MenuPH, my aim is to help local businesses, talk about good food choices, and make a group of friends who love food. No matter if you like fancy restaurants or street food, MenuPH has something for you. Come join me on this food adventure as we find great places, taste real flavors, and enjoy the unique food traditions that make the Philippines awesome.