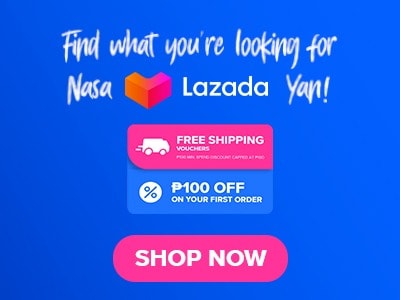 In the Philippines, every day is a hustle and bustle journey from commuting while suffering to the scorching heat of the sun. And when it comes to beating the heat, I have a recommended shop to get all of your delightful cravings for fine refreshments that will definitely quench your thirst in the most fascinating way. Introducing Mangrae and their menu collection that highlights an overload of goodness and flavors.
Below, you'll find the updated list of their menu prices.
Menu Items
Price (PHP)

Overloads

Mango Graham Overload
112
Mango Cheese Overload
112
Mango Oreo Overload
112
Milky Melon Overload
112
Buco Nata Overload
112
Ovanana Overload
112
Tropical Fruit Overload
120

Fruitshakes

Melon Fruitshake
72
Buco Fruitshake
72
Banana Fruitshake
72

Milktea

Okinawa
100
Taro Milktea
100
Wintermelon
100
Cheesecake
100
Red Velvet
100
Matcha
100
Nutella
100
Dark Choco Milktea
100
Chocolate
100

Milktea Special

Oreo Wintermelon
124
Nutella Overload
124
Oreo Okinawa
124
Oreo Cheesecake
124

Pearl Shakes

Rocky Road
52
Taro Pearlshake
52
Buko Pandan
52
Cookies And Cream
52
Choco Kisses
52
Choco Hot Fudge
52
Black Forest
52
Strawberry
52
Coffee Crumble
52

Snacks

Fries
70
Fries
70
About Mangrae
Mangrae is a well-known establishment that transforms your variety of fruits into a tantalizing beverage experience. They are famous for their menu that highlights a symphony of flavors that brings a joyful juicy scene with the sweet and satisfying crunch of cookies and crackers that will transport your sip in a fascinating world filled with tropical delight. Their commitment to innovation is what took them to greater heights.
Mangrae Menu Best Seller
Experience the refreshing flavor you never had before here in their best-selling dishes that highlight varieties of overloads featuring tropical delights that you will surely love.
Mango Graham Overload – Starting with this iconic Mangi Graham Overload. It is a combination of the richness of fresh mango with the dazzling texture of graham crackers.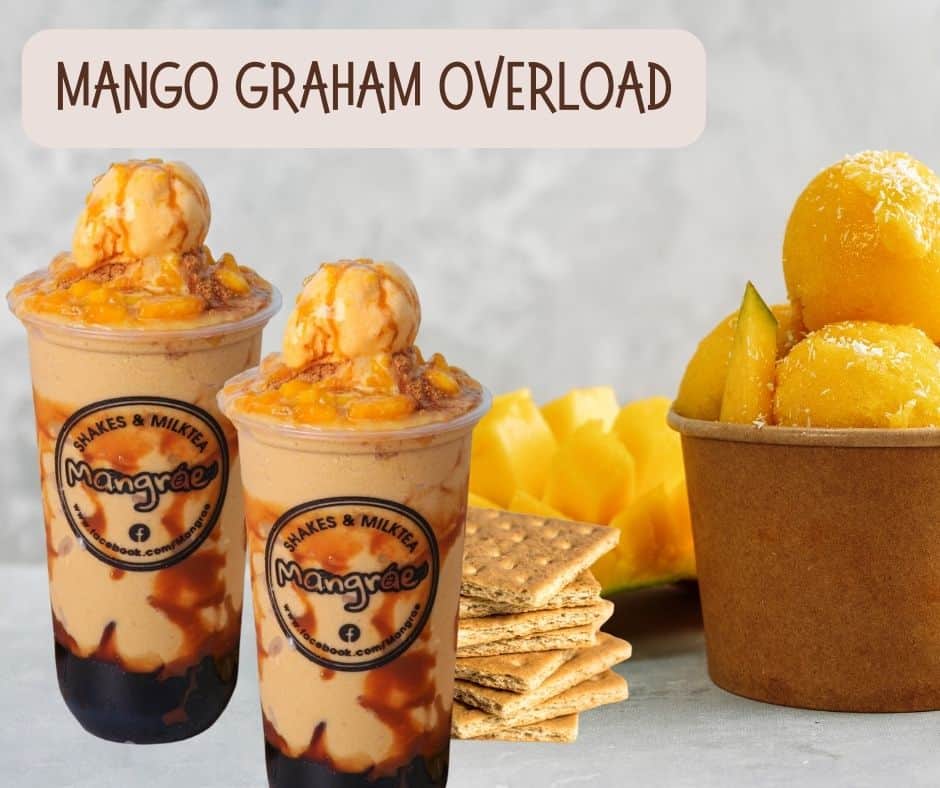 Mango Cheese Overload – Next on the list is this Manngo cheese overload which highlights the natural sweetness of mango in a savory and richness of the cheese. It has a good balance of flavors giving you a unique and satisfying sip.
Mango Oreo Overload – Never miss this Mango Oreo Overload featuring an irresistible malty texture of crushed Oreo cookies on flavorful juices of sweet mango. It has a sweet and crunchy texture which is a perfect drink for everyone who is into Oreos.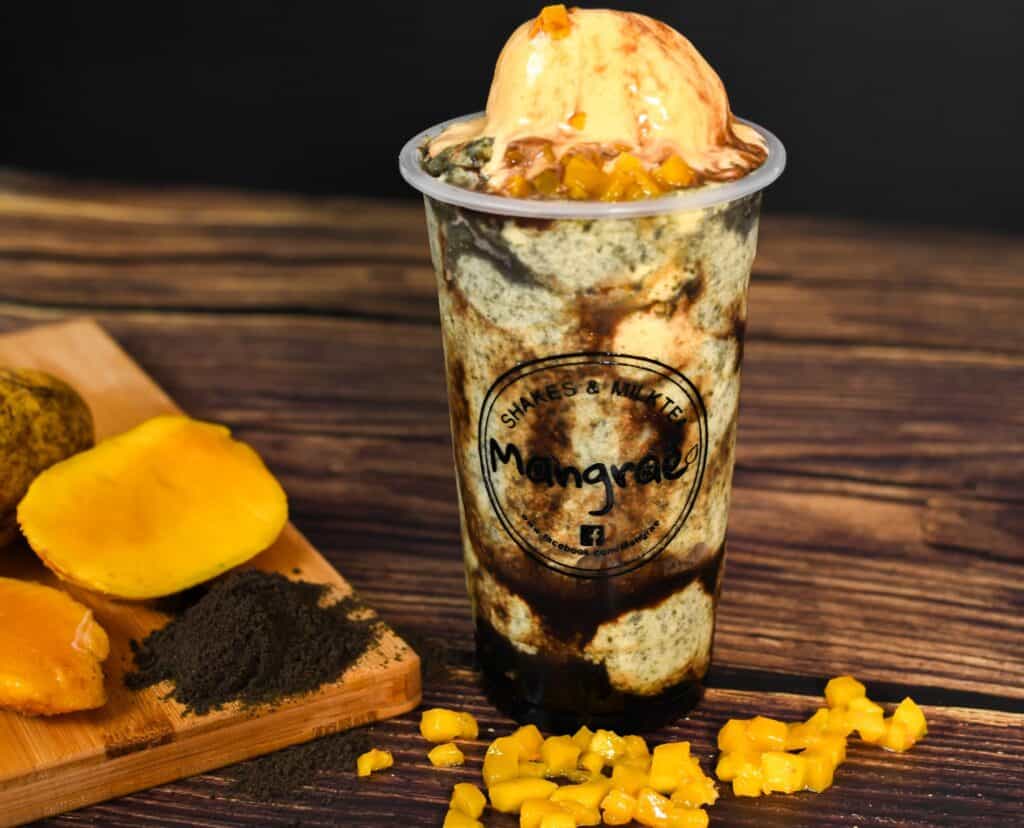 Milky Melon Overload – It comes as no surprise that Milky Melon Overload is best selling drink because of the sweet and fragrant si of meon that highlights a smooth and luscious texture concoction.
Buco Nata Overload – For everyone who loves the tropics, you need to indulge in this Buco Nata overload. It is a drink that takes a delightful fusion of the iconic coconut and the chewy textures of nata de coco.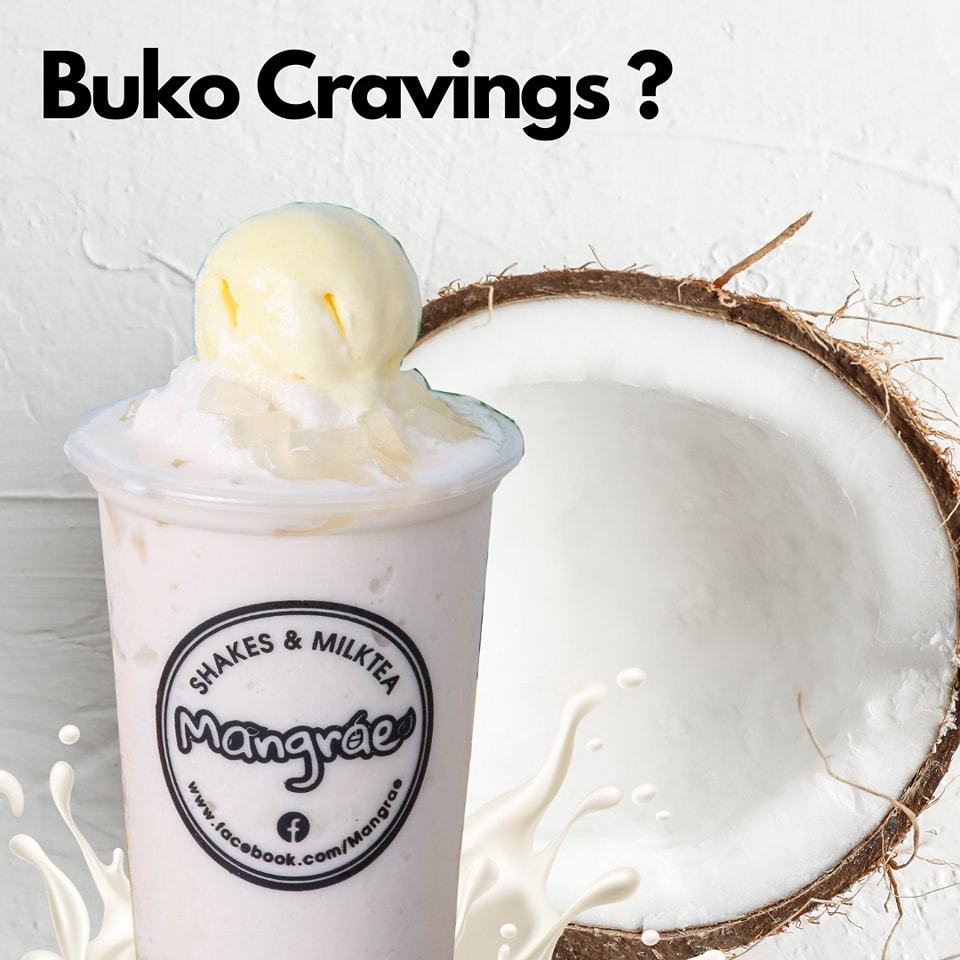 Milktea
Timeless Classic is here to give you a rich and creamy sip of their Milk Tea collections. It is a menu collection filled with various flavors offering a versatile choice and comforting milk tea taste.
Okinawa – Starting with their Okinawa. It has a slightly caramelized milk tea that offers a delightful hint of roasted brown sugar giving you an earthy flavor that is also sweet and aromatic.
Cheesecake – This luscious milk tea menu allows you to enjoy a fulfilling sip of rich and creamy tea base that is perfect for everyone who loves sweets and cheesecakes.
Red Velvet – Next on our list is the famous Red Velvet. It features a red velvet cake flavor that has subtle notes of cream cheese. It is both staying and refreshing, especially with its creamy profile.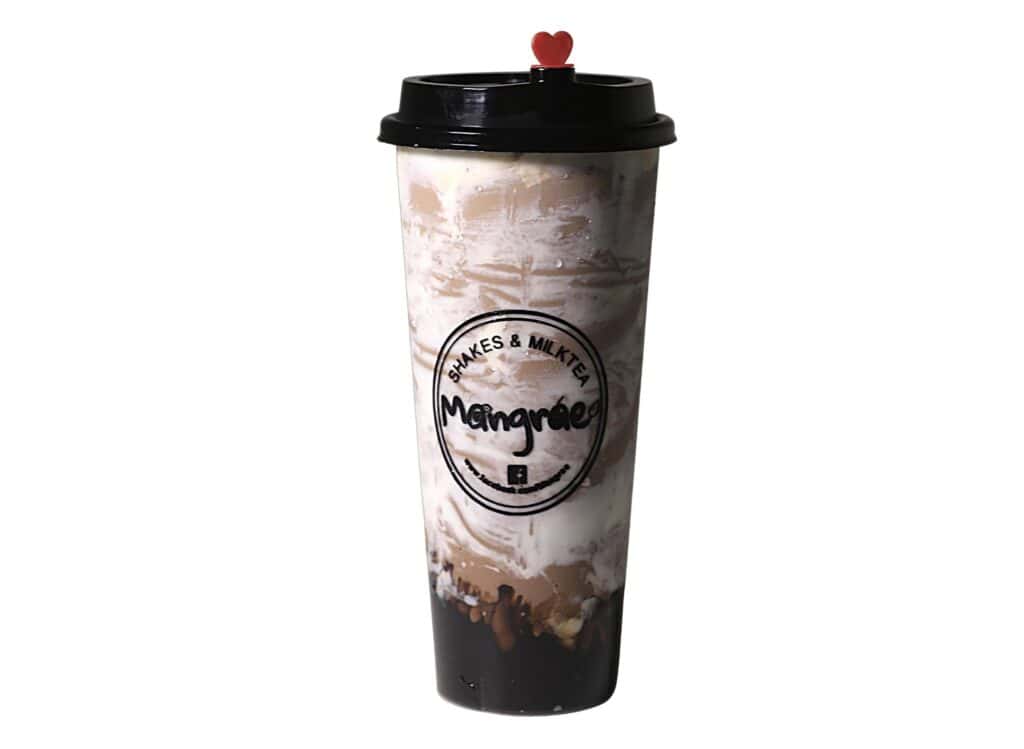 Taro Milktea – This Taro milktea allows you to enjoy the nutty and sweet flavors it gives in the finest notes. It features a delightful milk tea sip highlighting its unique and excellent flavor.
Fruitshakes
Another fruity adventure is here to give you a delightful tropical blend of fruits served as a drink to give you a satisfying experience of quenching your taste.
Banana Fruitshake – A creamy concoction highlighting the sweet and creamy ripe bananas. It has velvety textures that take your fruitcakes to new heights.
Buco Fruitshake – This menu of Mangrae is both refreshing and delightful. It features the natural goodness of coconut with smooth and coconut flavors that will surely refresh your mind.
Melon Fruitshake – Fruity and fresh is what all this Melon Fruitshake was all about. It allows you to enjoy sweet fragrant fumes of melon in this cool and very refreshing drink.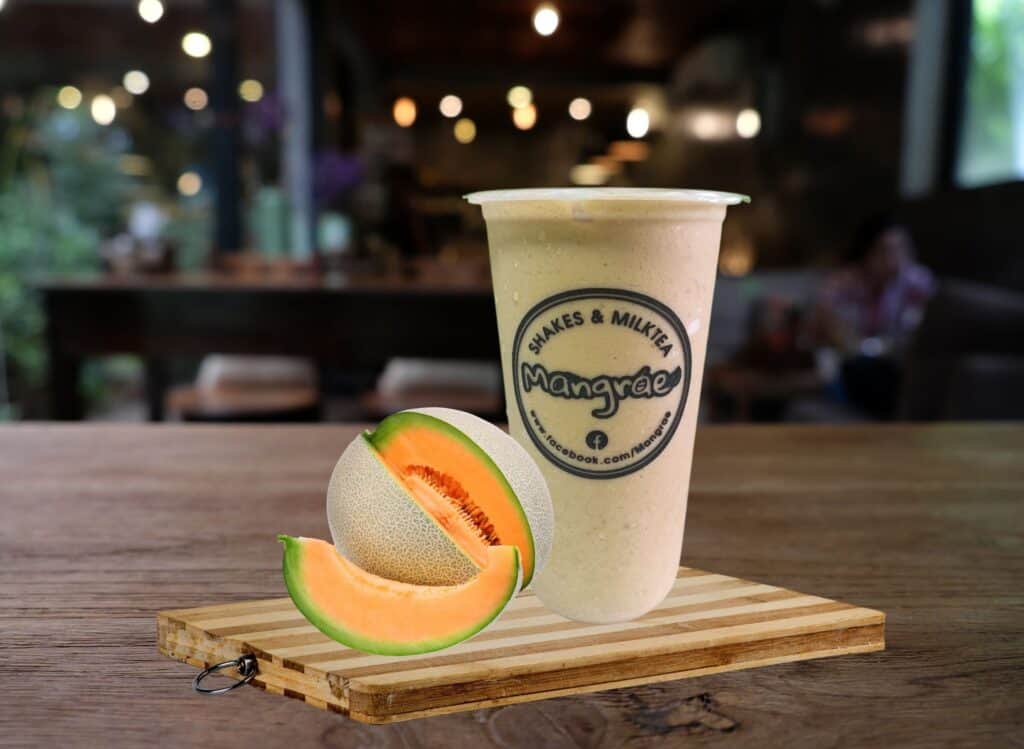 Order Menu from Mangrae Online
Craving for these luscious delights? Well, no worries because even at home, you can have a hand with this delightful dessert featuring the goodness of mangoes and a variety of fruits that will bring extra delight to your day. You can now order through third-party delivery services such as FoodPanda which is known for its smooth and easy transaction as well as GrabFood if you are located in some distant locations.
Social Media Pages
Whether you're looking for a classic milk tea drink or something more unique, Mangrae has something to offer everyone. So be sure to check their SocMed pages out today!
Facebook: https://www.facebook.com/MangraeMain
Instagram: https://www.instagram.com/mangraebnt
TikTok: https://www.tiktok.com/@mangrae.salinasbacoor
Website: https://mangrae.com/branches
Frequently Asked Questions (FAQs)
What type of cuisine does Mangrae offer?
Mangrae offers a delightful collection of luscious beverages that will bring the finest refreshment in every sip.
What is Mangrae known for?
Mangrae is famous for its Mango Graham overload which is known to be one of their trademarks! They also have a wide range of Milk Teas and Overload collections which are listed as one of their popular drinks.
What are the operating hours of Mangrae?
Mangrae operates from 11 AM until 9 PM from Mondays to Sundays.
Where is Mangrae located in the Philippines?
Planning to have them at the store? You can visit them at Block 5 Lot 17 San Miguel St. San Miguel 2 Molino 4 Bacoor Cavite. You can also check this list that entails all of the branch's locations here in the Philippines.
Who owns Mangrae?
Mangrae was first established with the creative brains of Melvin and Jennifer Grita who pursued this business venture and made it one of the known milk tea and smoothie beverage establishments in the Philippines.
Conclusion
In conclusion, Mangrae is not just an establishment that offers a drink to satisfy your third, it is a shop that allows you to transport yourself to a delightful world that is filled with flavors and amazing experiences. Mangrae has a very diverse menu which is a great asset considering that they're venturing on tropical beverages. I love their famous Mango Graham Overload as well as their Mango cheese overload which indeed offers an overload of goodness from the perfect blend to the well-balanced flavor. They also have great options if you are looking for milk tea or a fruit shake in case you are not in the mood for their overloads. I was delighted to know about their restaurant that is why I am sure you will be delighted that such an establishment exists and it's ready to give you an awesome experience in every sip of their flavorful collections.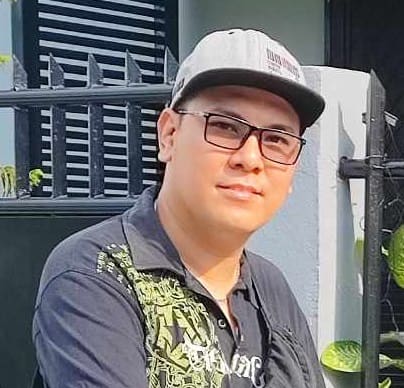 Hi! I'm Nivek Strife, the person who made MenuPH. I'm the one who added most of the popular menus you see on this website, and I really hope you enjoy them! Feel free to check them all out.
Growing up, I was surrounded by lots of tasty foods, like the classic Adobo and the sweet Leche Flan. That love for the many flavors of the Philippines is what got me excited about adding to MenuPH. When I learned how to make websites, I saw the need for a place to show off all the amazing Filipino dishes, and that's how MenuPH started.
MenuPH isn't just a website; it's like a fun journey into food. I've teamed up with famous chefs and found great places all over the Philippines to bring you a bunch of menus that show off the best of Filipino cuisine. Whether you're into the usual dishes or new twists, MenuPH is here to guide you through the rich world of Filipino flavors.
With MenuPH, my aim is to help local businesses, talk about good food choices, and make a group of friends who love food. No matter if you like fancy restaurants or street food, MenuPH has something for you. Come join me on this food adventure as we find great places, taste real flavors, and enjoy the unique food traditions that make the Philippines awesome.