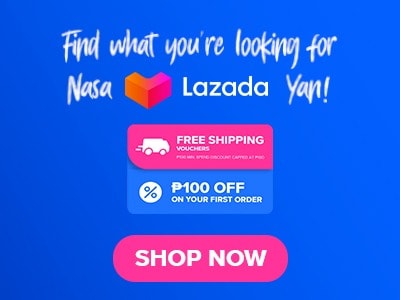 Nowadays there are a lot of places that offer a great selection of dishes but If you're someone that is looking for a healthier alternative restaurant I have a recommendation for you. This place serves healthy food items since a lot of items on its menu are plant-based or vegetarian. Have you heard about Corner Tree Cafe? Corner Tree Cafe's menu has a wide variety of delicious food options that are healthier but delicious.
So, if you're health conscious or just trying to eat healthy this cafe is the perfect place for you and I can highly recommend it. In this write up I am going to introduce you to Corner Tree Cafe and the products that they offer plus we are going to know more about the prices of the food that they are offering and everything that you should know about them so let's start and get to know Corner Tree Cafe!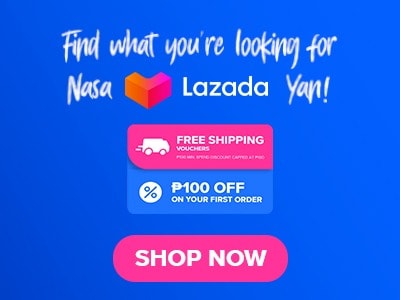 Below, you'll find the updated list of Corner Tree Cafe menu prices.
Menu Items
Price (PHP)

Starters

Corner Tree Starter Plate
305
Vegetable Dumplings (Siomai)
205
Crispy Vegetable Lumpias
170
Greek Spinach Filo Triangles (Spanakopitas)
205
Spinach Feta Croquettes
220
Cauliflower Fritti with Marinara Sauce
270
Sweet Potato Fries with Garlic Mayo
240
Old-fashioned French Fries
210

Soups (cup/bowl)

Tomato and Bread Soup
130/210
Spinach & Pechay Chowder
130/210
Roasted Carrot Soup
130/210
Lebanese Lentil Soup
130/210

Salads

Fresh Fruit Salad
195
Corner Tree Cafe's Raw Organic Salad
205
Mediterranean Salad
285
Japanese Mixed Seaweed Salad
260
Caramelized Apple & Feta Salad
260
Quinoa Salad with Grilled Asparagus
315

Pinoy (local) dishes

"Adsilog" (Adobong Tofu)
225
Kare-Kareng Gulay
265
Veg Laing
230
Veg Sinigang
250

Sides and extras

Fried Onions
30
Fried Bananas, 2 Whole Wheat Breadsticks, Extra harissa
35
Cornbread (1 slice), Homemade Mayo (Vegan or non vegan)
40
Toasted Cubes of Whole Wheat Baguette, organic egg
45
Organic Red Rice, Slice of Aussie Cheddar cheese couscous
55
1 Cup of Quinoa, Slice of Gruyere Cheese, Adlai
80

Main dishes

Arroz a la Cubana
270
Spinach & Mushroom Lasagna
550
Spaghettini with Broccoli and Pine Nuts
340
Thai Veg Curry
365
Veg Nut Roast
360
Veg Bibimbap
410
Falafel Sandwich
325
Teriyaki Bowl
340
Bowl of Chili
345
Koftas
370
North African Vegetable Stew
390
Baked Tofu Burger Steak (Salisbury Steak)
295
Veg Laksa
340

Sandwiches

Baked Tofu Walnut Burger
375
Grilled Asparagus Panini
440
Dilled Egg Salad Sandwich
325
Vegan Panini
345
Chickpea Salad Sandwich
280
Grilled Cheese Sandwich
260

Kiddie menu

Spaghetti and "Meatballs"
185
"Meatloaf" with Gravy and Mash
250
Buttered Pasta and Cheddar Cheese
160
Grilled Cheese Sandwich
215
Peanut Butter and Banana Rolled Sandwiches
140
Egg and Soldiers
110
Baby "Cappuccino"
70

Desserts

Salted Caramel Chocolate Torte
210
Banoffee Pie
190
Fresh Fruit with Lemon Poppyseed Yoghurt
190
Chocolate Cake
195
Carrot Cake
195
Raw Pecan Turtle Pie
280
Crack Cacao Nib Cookies (per piece)
45

Drinks

Fresh Lemonade
125
Organic Lemongrass Iced Tea
110
Fresh Fruit Shake
180
Banana or Lemon Lassi
190
The Green Smoothie
295
Peanut Butter Banana Smoothie
160
Mango-Pineapple-Banana Fruity Smoothie
230
Guyabano (Soursop) Juice
140
Perrier Mineral Water
130
Ginger Beer
170
Kombucha Tea
230
Coffee
105
Pot of Tea
95

Alcoholic beverages

San Miguel Pale Pilsen
95
San Miguel Light
100
Engkanto Lager (local craft beer)
150
Maeloc Organic Cider (33Cl
165

Cocktails

Fresh fruit shake with a shot of rum
210
Icy Lemon Ginger Vodka Cocktail
210
Ginger Cosmopolitan
210

Spirits

Sake
220
Glenlivet Single Malt Scotch Whiskey
220
Bombay Sapphire Gin & Tonic
220
About Corner Tree Cafe
Since 2009 Corner Tree Cafe has been the pioneering plant-based dining place in Manila. Chiqui Mabanta is the founder of this place that serves local vegan foods while still considering the authenticity of the foods that they serve. Since their beginning, they have offered a welcoming atmosphere in their restaurant while perfectly embodying the essence of comfort food that will start from the moment that you gaze on a tall narra tree on the street where they are located. I am honestly not ready to try any vegan or vegetarian meal since I am a known carnivore but since I am with someone who only eats vegan foods I gave it a try and surprisingly their foods amazed me.
After more than a decade this place remains alive and as inviting as before. Corner Tree Cafe's success is not an overnight affair, their success is the fruit of their commitment to their business, the founder and crew's teamwork and mission to deliver healthy alternative meals is one of the reasons why despite the recent pandemic they are still surviving. Aside from that since a lot of people nowadays are becoming health conscious they become popular with vegan or vegetarian customers.
Corner Tree Cafe Menu Best Sellers
Here are some of Corner Tree Cafe's best-selling and popular items on their menu.
Arroz ala Cubana – Arroz ala Cubana is one of the most popular items on their menu, this one is made of tomatoes, minced tofu, raisins, and green olives. Their arroz ala cubana is also served with fried eggs, fried bananas, and red rice instead of white rice for a healthier alternative. The arroz ala cubana of Corner Tree Cafe tastes awesome once you taste it you'll forget that this is vegan. The medley of flavors plus the fried egg and banana really complement each other taste. Definitely a must-try.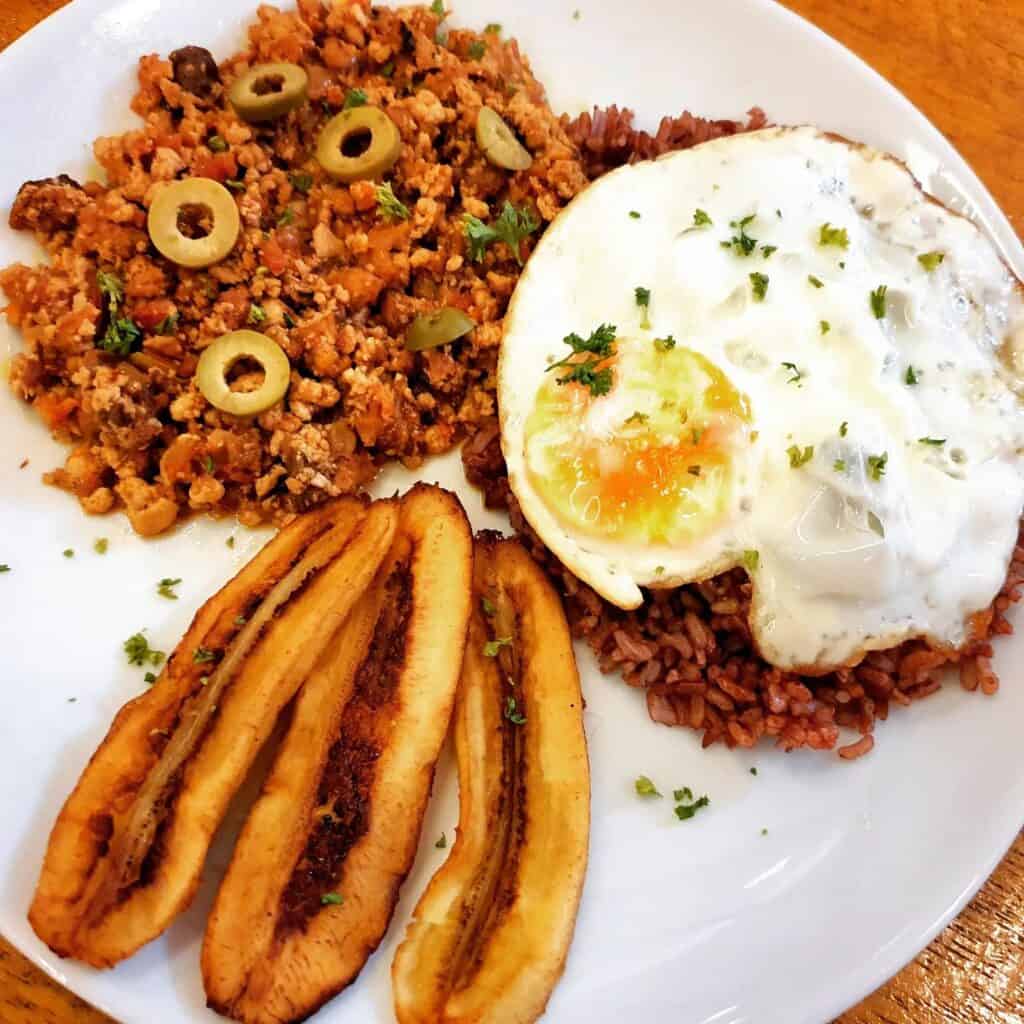 Vegetable Laing – The Vegetable Laing version of Corner Tree Cafe is also a must-try item on their menu, this tastes really good and compared with the regular laing that has meat this one also tastes amazingly good. I also noticed the creaminess of their laing which I like plus this has a hint of spiciness too. Though the regular laing is more flavorful than this one their vegetarian version is also something that you will surely love once you taste it.
Vegetable Dumplings (Siomai) – If you're a fan of dumplings no worries since Corner Tree Cafe also serves their own style of dumplings. Their vegetable dumplings are made with a mixture of spinach, singkamas, carrots, and shitake mushrooms. These are the ingredients of the stuffing of their dumplings. They also serve it with rice vinegar as a dipping sauce.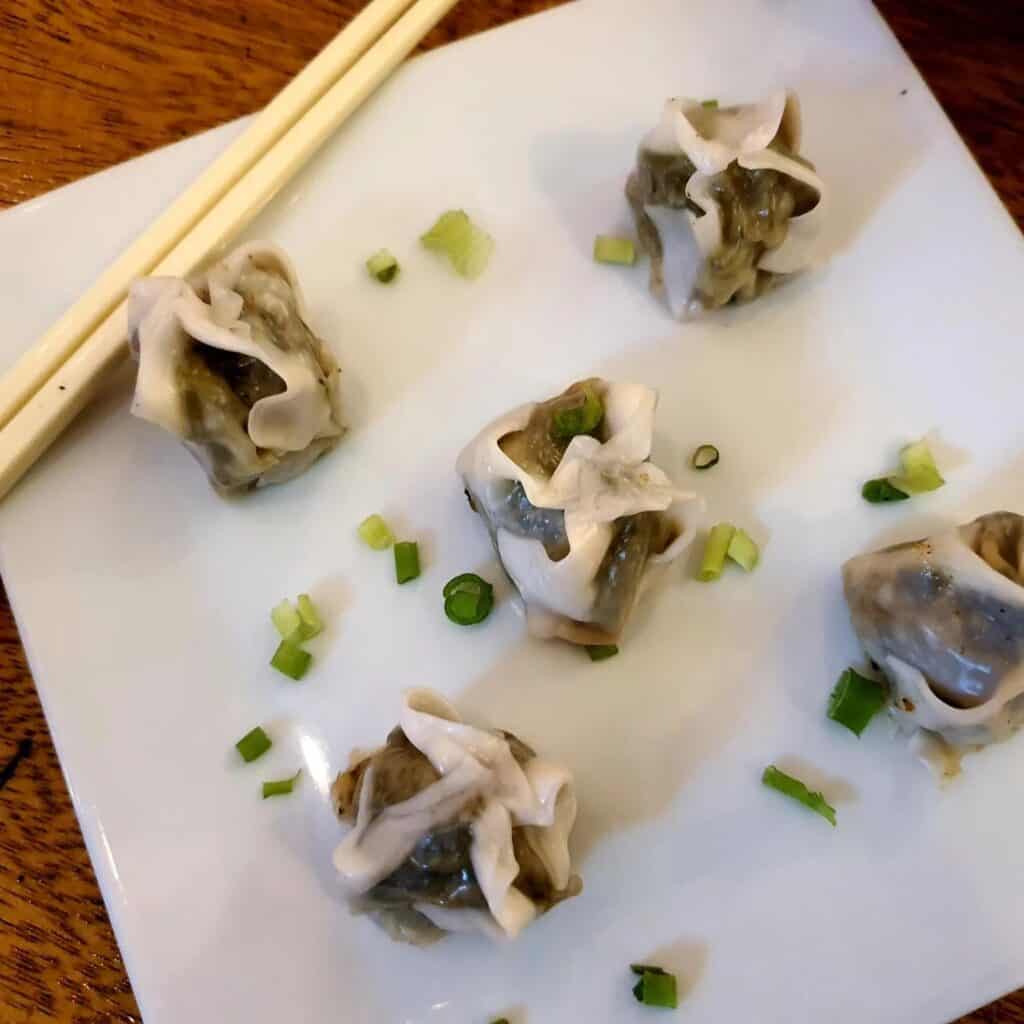 Kare-Kareng Gulay – Kare-kareng gulay version of Corner Tree Cafe is one of the best versions of Filipino traditional comfort food. This dish is made with garden fresh vegetables in a rich and flavorful peanut sauce.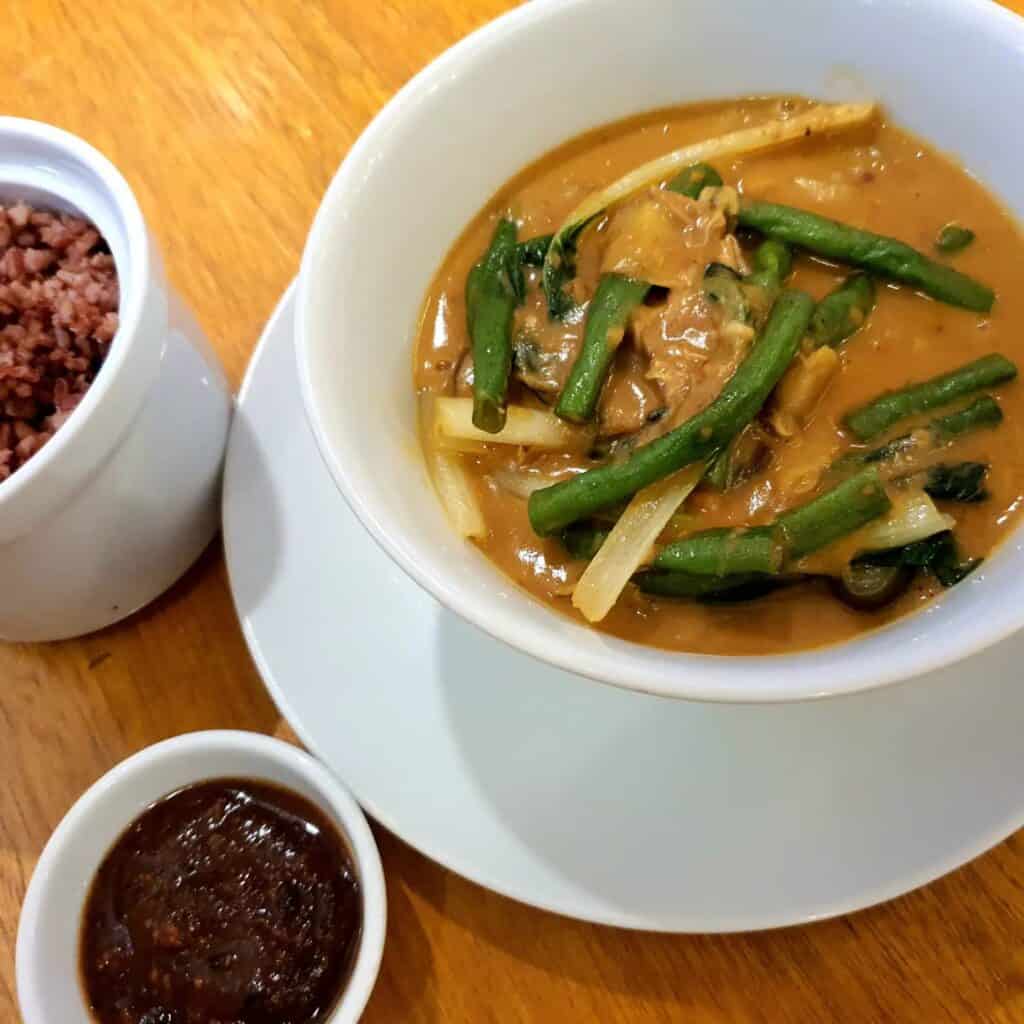 This is one of the best-selling items on their menu and a must-try item as well. They serve their kare-kareng gulay with red rice which is a healthier alternative to white rice, this also comes with vegetarian bagoong that is made from black beans or tausi. Kare-kareng gulay tastes identical to the traditional kare kare the only difference is that it doesn't have any meat added to it.
Soups
Soups menu of Corner Tree Cafe has 4 delicious offerings. The first item on this menu is their tomato and bread soup which is a healthy soup made from organic tomatoes with brown bread. They also have Spinach & Pechay Chowder which is a puree soup made with greens and potatoes. Roasted Carrot Soup and Lebanese Lentil Soup are also included on this menu.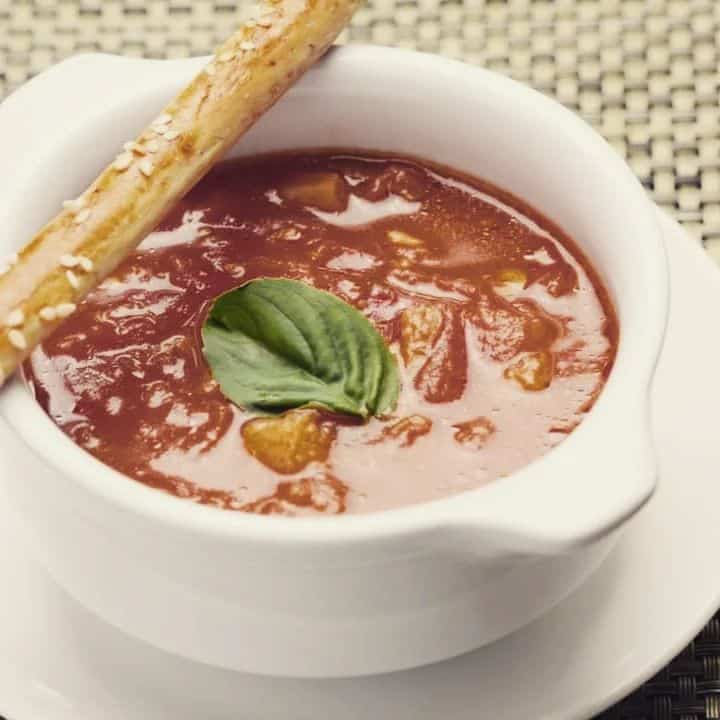 Corner Tree Cafe Menu Delivery
Making your ordering experience for that delectable vegan delight at Corner Tree Cafe even smoother and more convenient is as easy as picking up the phone and dialing their direct line at (02) 8897-0295. This simple step ensures that you can quickly and effortlessly complete your order, guaranteeing a stress-free transaction.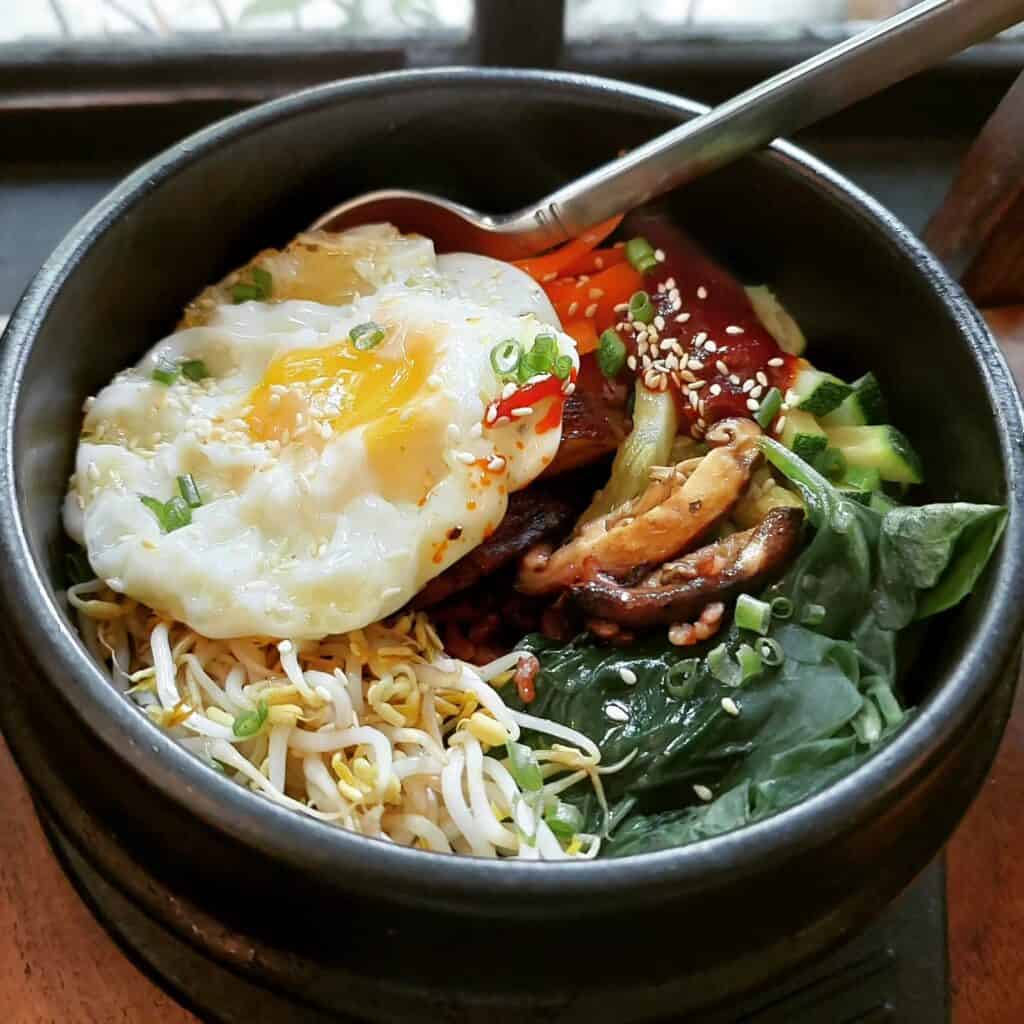 Corner Tree Cafe Social Media Pages
Discover a world of flavors at Corner Tree Cafe, where every dish is a celebration of plant-based cuisine, and your passport to exclusive discounts is just a follow away on their social media pages!
Facebook: https://www.facebook.com/cornertreecafe.ph
Instagram: https://www.instagram.com/cornertreecafe
Twitter: https://twitter.com/ctreecafe
Website: https://cornertreecafe.com/contact-us
FAQs
What are the Opening hours of Corner Tree Cafe?
Corner Tree Cafe is open daily from 11:00 in the morning until 10:00 pm.
Are they halal-certified?
Though Corner Tree Cafe doesn't serve haram meats they are serving alcoholic beverages which makes them a nonhalal certified shop.
What are the payment methods that are accepted at Corner Tree Cafe?
Corner Tree Cafe accepts cash and major credit cards for a cashless transaction.
Conclusion
A great place to go especially if you're a vegan, health conscious, or just curious and just wanted to experience and taste how vegetarian foods taste like. The Corner Tree Cafe menu has a lot of different options for our vegans and vegetarian friends to enjoy. They even serve alcoholic beverages. Their cozy restaurant is one of the nicest places I've been to, friendly staff and fast service is what they offer at this place. Comfy and clean place I may add. Despite only serving vegan items the foods that they offer are delicious and affordable too. Great place to go and highly recommendable for everyone who wants to try healthier food choices. Had a great time dining at their place.