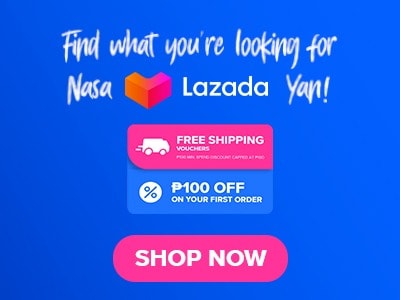 Are you looking for a place that you can go for a special occasion with family or a date night with your loved one? Look no more. I have a recommendation for you. Have you heard about Cafe Ilang-Ilang? I'm sure some of you already heard about them but for those who don't have any idea about this place, this is the right article for you. Cafe Ilang-Ilang's menu has a variety of cuisines to choose from aside from that their place looks elegant which is perfect for a date night or a milestone in your career or life. Here we are going to talk about Cafe Ilang-Ilang and the foods that they offer we are also going to have a look at their prices, best sellers, and some information about them. Ready? Let's go!
Below, you'll find the updated list of Cafe Ilang-Ilang menu prices.
Menu Items
Price (PHP)

Cold Kitchen

Mixed Vegetable Salad In Season
350
Tuna Nicoise Salad
400
Mania Hotel Caesar Salad
450

Soups

Wonton Noodle Soup
280
Cream Of Mushroom Soup
330

Sandwiches

Tuna Or Chicken Sandwich
400
Kani-Fresh Mango Wrap
400
Chicken Shawarma Wrap
450
Grilled U.S Beef Burger In Sesame Bun
600
Manila Hotel Club Sandwich
600

Pasta

Lasagna
450
Whole Wheat Penne Primavera
450
Spaghetti Carbonara
450
Spaghetti With Meat Balls
500
Spaghetti All' Amatriciana
500

Pizza

Pizza Hawaii
500
Pizza Bello Giardino
500
Pizza Manila Hotel
550

Local Delights

Pancit Bihon Or Canton
450
Pancit Malabon
450
Sinigang Na Baboy
550
Sinigang Na Salmon
600
Sinigang Na Sugpo
650
Beef Steak Tagalog
600
Chicken And Pork Adobo
600
Kare-Kare
650
Crispy Pata
980

Healthy Options

Organic Grilled Chicken Breast
550
Grilled Norwegian Salmon
750
Pan-Fried Ostrich Medallion
1300

Kiddie Meals

Princess
280
Superhero
280
Mermaid
280
Robot
280
Bozo
220
Tooth Fairy
220

Sweet Temptation

Ice Cream
200
Halo Halo Manila Hotel
300
Seasonal Fresh Fruits With Lemon Sherbet
320
Crepes Samurai
400
Japanese Cheese Cake With Pineapple Compote
220
Gelato Ice Cream Cake
350

Native Rice Delicacies

Puto Bumbong
180
Bibingka
210

Package Menu

Pagtitipon (Good For 4 Persons)
4000
Salo-Salo (Good For 4 Persons)
4600
Handaan Espesyal (Good For 5 Persons)
5500
Fiesta (Good For 6 Persons)
6500

Buffet Rates

Breakfast Buffet
1550
Brunch
2675
Lunch
2425
Dinner (Sunday-Thursday/Friday-Saturday)
2725/3320
About Cafe Ilang-Ilang
Located at The Manila Hotel, Cafe Ilang Ilang is a luxurious hotel that serves a variety of great selections of cuisine like Italian, Chinese, Japanese, Asian, Western, Filipino, and more. They also have cooking stations to ensure that the food that they will serve is of its highest quality and well presented. They have an open kitchen concept but aside from that they also have a dessert station which is really impressive. They also have an Italian kitchen with a wood oven, that Italian kitchen makes authentic dishes from Italy and is really awesome.
Cafe Ilang-Ilang offers different buffets like breakfast buffet, lunch buffet, and dinner buffet. Cafe Ilang-Ilang's buffet price might not be the same on every visit because they change the theme every night. This place also has an elegant interior which is kind of modern by the way and the atmosphere is very inviting.
I noticed that though Cafe Ilang-Ilang has some days that they are full of customers but still their dining area is still spacious. Another great thing about this place is that you can actually make a request to their chefs and as long as they have the ingredients they will make it. They also have easy parking and make this place convenient to go to.
Cafe Ilang-Ilang Menu Best Sellers
Here are some sample best sellers at Cafe Ilang-Ilang.
Lumpiang Ubod – Lumpiang ubod is a classic Filipino favorite though not every time anyone can make it because ubod is from a coconut tree. This lumpiang ubod version of Cafe Ilang-Ilang tastes so good. It has the crunchiness of the ubod which they prepare not overcooked and other ingredients that make this dish tasty. The sauce tastes good too and I believe that the lumpiang ubod's deliciousness will depend on the sauce. One of their most requested dish and also a must-try.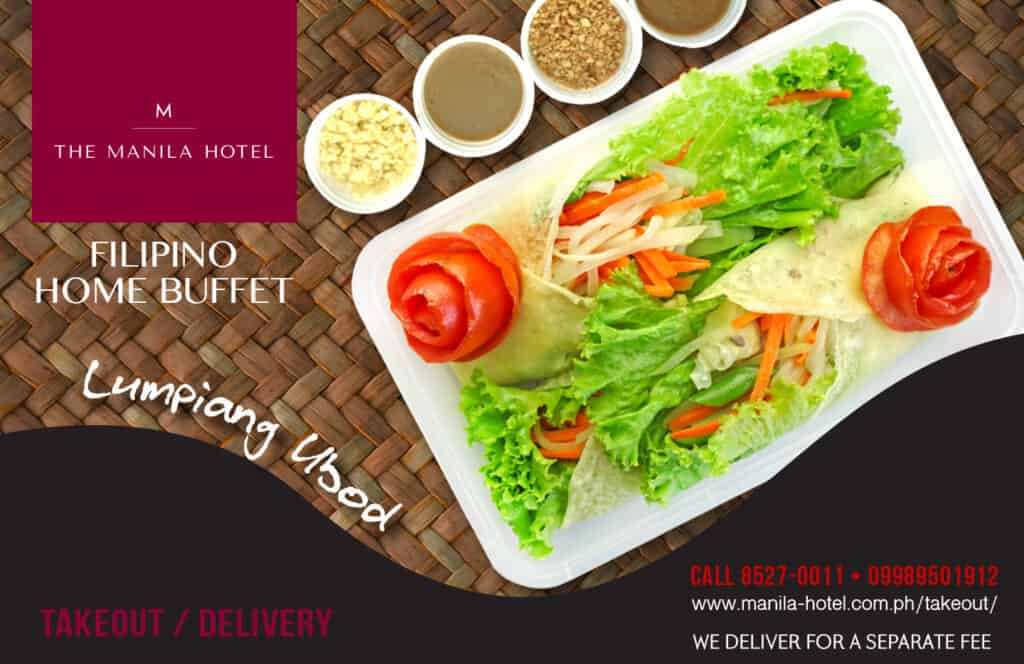 Sinigang na Salmon – Sinigang na Salmon version of Cafe Ilang-Ilang is a Salmon that they simmered in a tamarind broth and then mixed with different vegetables like talong, okra, kamatis, and many more. Their sinigang na salmon is also served with white steamed rice which is perfect with the broth. Salmon is not overly cooked as well as the vegetables on it. This one is also a classic Filipino dish that everyone should try especially if you're a foreigner who wants to explore Philippine cuisine.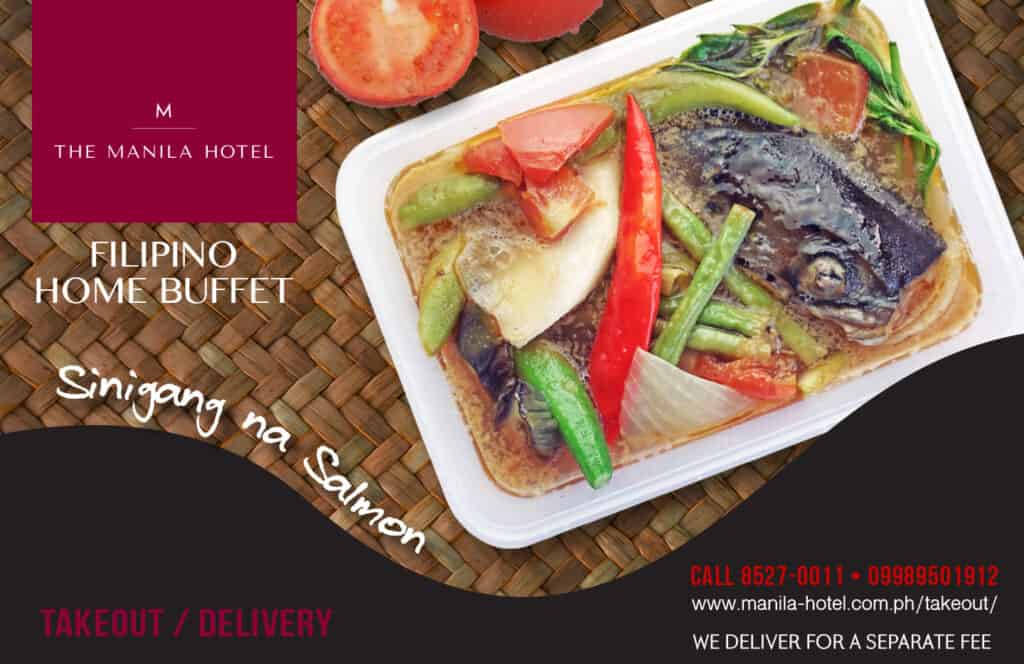 Bistek Tagalog – Bistek Tagalog is another classic Filipino dish that is made with thinly sliced beef that is braised in soy sauce, a lot of onions, garlic, and citrus-like calamansi. The bistek tagalog is definitely delicious and hearty, and also perfect with rice. This menu version of Cafe Ilang-Ilang tastes like home, the meat is tender and not overcooking plus the onions really made this dish really delicious. The sauce that comes along with the beef is not too salty, this is also served with plain white rice. 
Kare-Kare – Kare kare is actually a Philippine stew made with peanut sauce. This is made from a base stew of various meat cuts, this also has some vegetables to complete the great experience. Their version of kare kare is something that you should look forward to if you're planning on visiting them anytime soon because this is really good. The meat is tender and the vegetables are really fresh and not overly cooked plus the peanut sauce is savory, this one is served with bagoong or shrimp paste and rice.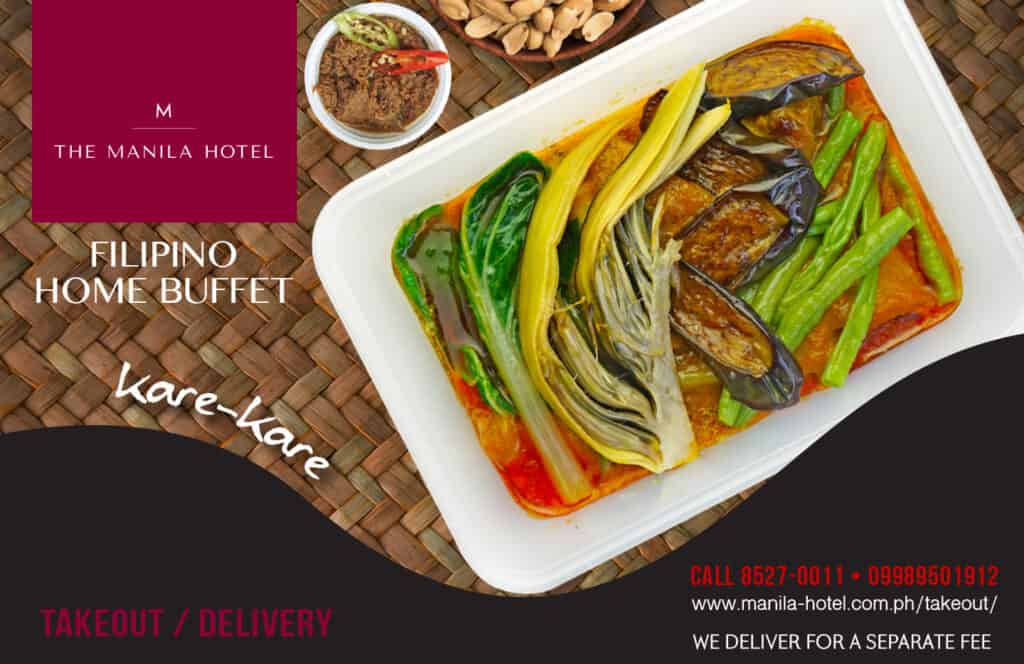 Cold Kitchen
There are 3 menu items to choose from the Cafe Ilang-Ilang's Cold Kitchen. The first item is their Mixed Vegetable Salad in Season, this one has orange filets and walnuts plus the dressing of your choice. They also have Tuna Nicoise Salad, this one is a Pepper seared tuna loin, with cherry tomatoes, capers, french beans, anchovies, bruschetta, poached quail egg, and red wine vinaigrette. Last but definitely not least is their Mania Hotel Caesar Salad, this one is a basic Caesar salad with grilled chicken.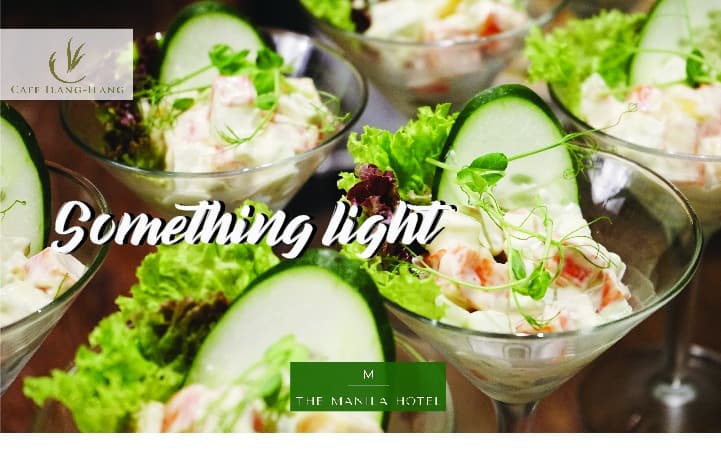 Sandwiches
Cafe Ilang-Ilang has a sandwich menu for those who don't like to have a heavy meal. On this menu, they have Tuna or Chicken sandwiches. Their tuna or chicken sandwich is actually in toasted whole wheat bread. They also have Kani Fresh Mango Wrap, which is made with mango chutney, Curly lettuce, tabiko, mustard mayo, and sesame seeds. Chicken Shawarma Wrap is another item that can be found on this menu, their chicken shawarma wrap is served with french fries, tahini, garlic sauce, and pickles.
Grilled U.S. beef Burger in a Sesame Bun with cheese is another item that you should try at Cafe Ilang Ilang, this one has bacon and fried egg and is served with coleslaw. Lastly is their Manila Hotel Club Sandwich, which is their own version of the triple decker sandwich. This overloaded sandwich has egg, chicken, crispy bacon, and tomatoes in a rye bread loaf.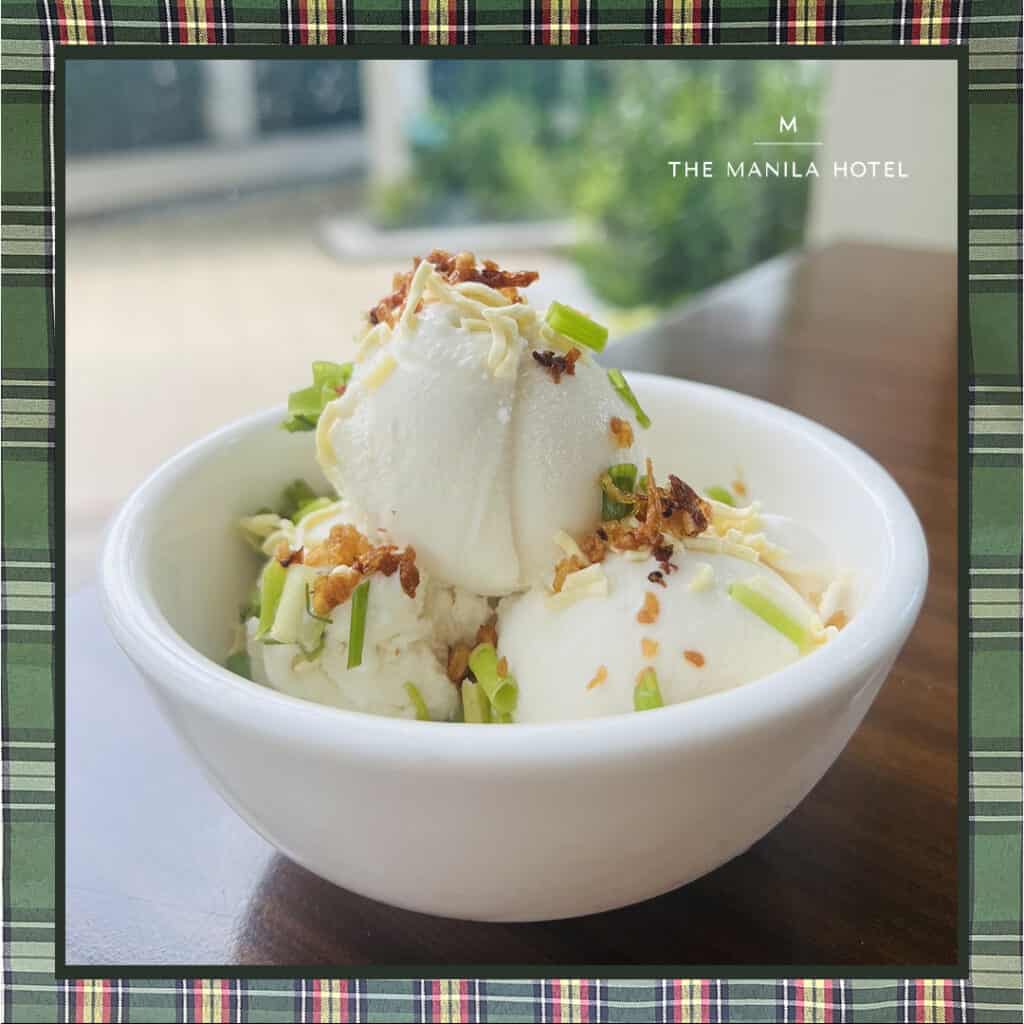 Cafe Ilang-Ilang Menu Delivery
Want to order your favorite dishes at Cafe Ilang-Ilang? No worries because they are extending their menu for delivery orders. All you have to do is to call them at 8527-0011 or call them at 0998-9501912 for your orders.
Social Media Pages
Engage in interactive contests for a chance to win complimentary dining experiences and lavish buffets. Don't just dine; follow them on The Manila Hotel's social media channels and embark on a culinary journey like no other.
Facebook: https://www.facebook.com/TheManilaHotel
Instagram: https://www.instagram.com/themanilahotel
Website: https://www.manila-hotel.com.ph/dining/cafe-ilang-ilang
Frequently Asked Questions
Where is Cafe Ilang-Ilang located?
Cafe Ilang-Ilang is located at The Manila Hotel, Rizal Park Ermita Manila.
What are the business hours of Cafe Ilang-Ilang?
They are open from Mondays to Sundays from 6:00 a.m. until 10:30 a.m. for breakfast, 11:30 a.m. to 2:30 p.m. for lunch, and 5:00 p.m. until 10:30 p.m. for dinner. 
What is the phone number that we can call if we want to contact Cafe Ilang-Ilang?
Cafe Ilang-Ilang's Phone number is +63 (0)2 527 0011.
Do we need a reservation at Cafe Ilang-Ilang?
Yes, Cafe Ilang-Ilang only accepts customers with prior reservations.
What are the payment options at Cafe Ilang-Ilang?
Cafe Ilang-Ilang accepts payment in cash or credit cards.
Conclusion
This place really looks nice and elegant and the food is fantastic. Cafe Ilang-Ilang's menu offers a variety of dishes especially Filipino dishes that are really delicious and mouthwatering. The place itself is comfortable and of course clean, it's like you're dining at a luxurious place, to be honest. One of the best places that I've been to though it's not surprising since they are located at The Manila Hotel. Their crews overall are nice and polite can't complain about their service. Though we can't tell that this one is a budget-friendly place it's all worth it. Will definitely come back soon. Highly recommended.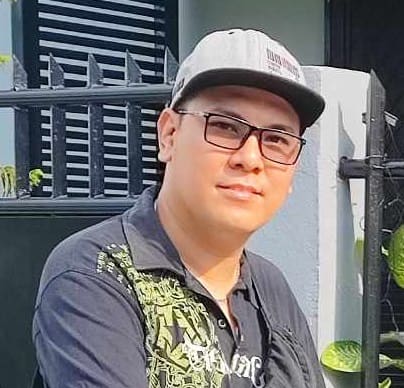 Hi! I'm Nivek Strife, the person who made MenuPH. I'm the one who added most of the popular menus you see on this website, and I really hope you enjoy them! Feel free to check them all out.
Growing up, I was surrounded by lots of tasty foods, like the classic Adobo and the sweet Leche Flan. That love for the many flavors of the Philippines is what got me excited about adding to MenuPH. When I learned how to make websites, I saw the need for a place to show off all the amazing Filipino dishes, and that's how MenuPH started.
MenuPH isn't just a website; it's like a fun journey into food. I've teamed up with famous chefs and found great places all over the Philippines to bring you a bunch of menus that show off the best of Filipino cuisine. Whether you're into the usual dishes or new twists, MenuPH is here to guide you through the rich world of Filipino flavors.
With MenuPH, my aim is to help local businesses, talk about good food choices, and make a group of friends who love food. No matter if you like fancy restaurants or street food, MenuPH has something for you. Come join me on this food adventure as we find great places, taste real flavors, and enjoy the unique food traditions that make the Philippines awesome.