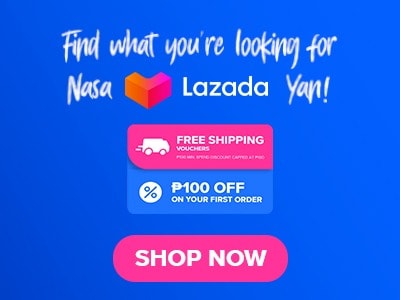 Craving for some traditional Filipino dishes that would make you feel nostalgic for your childhood? Visit Lola Cafe! This cafe's menu focuses on serving customers comfort food that would make you take feel like you've traveled back in time. And, although these food offerings are made to allow customers to savor food items that give off a familiar flavor, they are also given a modern twist. Now, Lola Cafe's menu offers a delicious and enjoyable combination of traditional Filipino dishes and international flavors that creates a unique and exciting dining experience for all its guests.
Below, you'll find the updated list of Lola Cafe menu prices.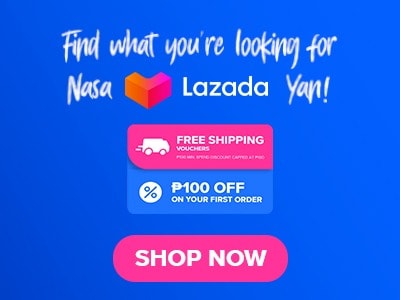 Menu Items
Price (PHP)

Soups

Salmon Belly Sinigang sa Bayabas
370
Beef Ribs Sinigang sa Pula
490
Chicken Molo Soup
300
Bulalo Soup
445

Small Plates

Bone Marrow Sisig
325
Spanish Chorizo Gambas
320
Beef Tenderloin Salpicao
395
Honey Bagoong Wings
210
Longganisa Cheese Fries
180
Chipirones
275
Oyster Mushroom Chicharon
205
Chicken Skin
170
Chili baby Squid
230

Salads

Grilled Caesar Salad
220
Alugbati and Kesong Puti
200
Crispy Tinapa Salad
240

Pastas

Chorizong Hubad
275
Spicy Tinapa
220
Tartufo
310
Shrimp Aligue
320
Pasta Negra
450
Longganisa Pasta
240
Pansit Litson
320

Mains

Bristek Tagalog
365
Truffle Lengua
450
Kare Kare
375
Kimchi Kaldereta
375
Boneless Chicken Inasal
250
Chicken Inasal Sisig
350
Lola Fried Chicken
360
Roasted Belly Tocino
375
Lola's Bicol Express
420
Pork Ribs Adobo
485
Tiger Prawns in Aligue
600
Sizzling Bangus ala Pobre
350
Beef and Tripe Callos
520
Laing
180
Pinakbet
280
Ginataang Sigarilyas
180
Coconut Chopseuy
350

Rice Bowls

Chicken Tinola Rice
285
Kare Kare Bagoong Rice
310
Beef Salpicao Rice
295
Lola's Bicol Express rice
295
Roasted Belly Tocino Rice
295
Chicken Inasal Sisig Rice
240
Bagus Sisig Rice
195
Pork Sisig Rice
195

Desserts

Kesong Puti Cheesecake
300
Ube Keso de Bola Cheesecake
375
Lola's Auro Tsokolate cake
350
Mango Sago
120
Buko Pandan
140

Coffee

Long Black
80
Cappuccino
110
Latte
120
Flat White
120
Espresso
80

Iced teas

Raspberry
90
Green Tea
90
House Lemon Tea
90
About Lola Cafe
Lola Cafe is a restaurant in the Philippines known for its home-style and comfort food with a modern twist. It is a place that offers a warm and inviting ambiance that will make you reminisce about eating at your grandmother's home, hence is where the name Lola Cafe came from. Its menu features a variety of Filipino and international dishes that cater to different tastes and preferences that ranges from classic Filipino favorites like adobo and kare-kare to modern dishes like honey bagoong wings and longganisa cheese fries.
Lola Cafe Menu Best Seller
This menu is filled with food offerings that are considered to be Lola Cafe signature dishes due to their popularity and taste.
Chicken Inasal Sisig – This dish uses tender and flavorful pieces of chicken inasal that are chopped, seasoned, and mixed with aromatic herbs and spices to create a sizzling sisig that is bursting with flavors. It is a creative and mouthwatering twist on the classic sisig which is perfect for those who love both the bold flavors of inasal and the savory sisig.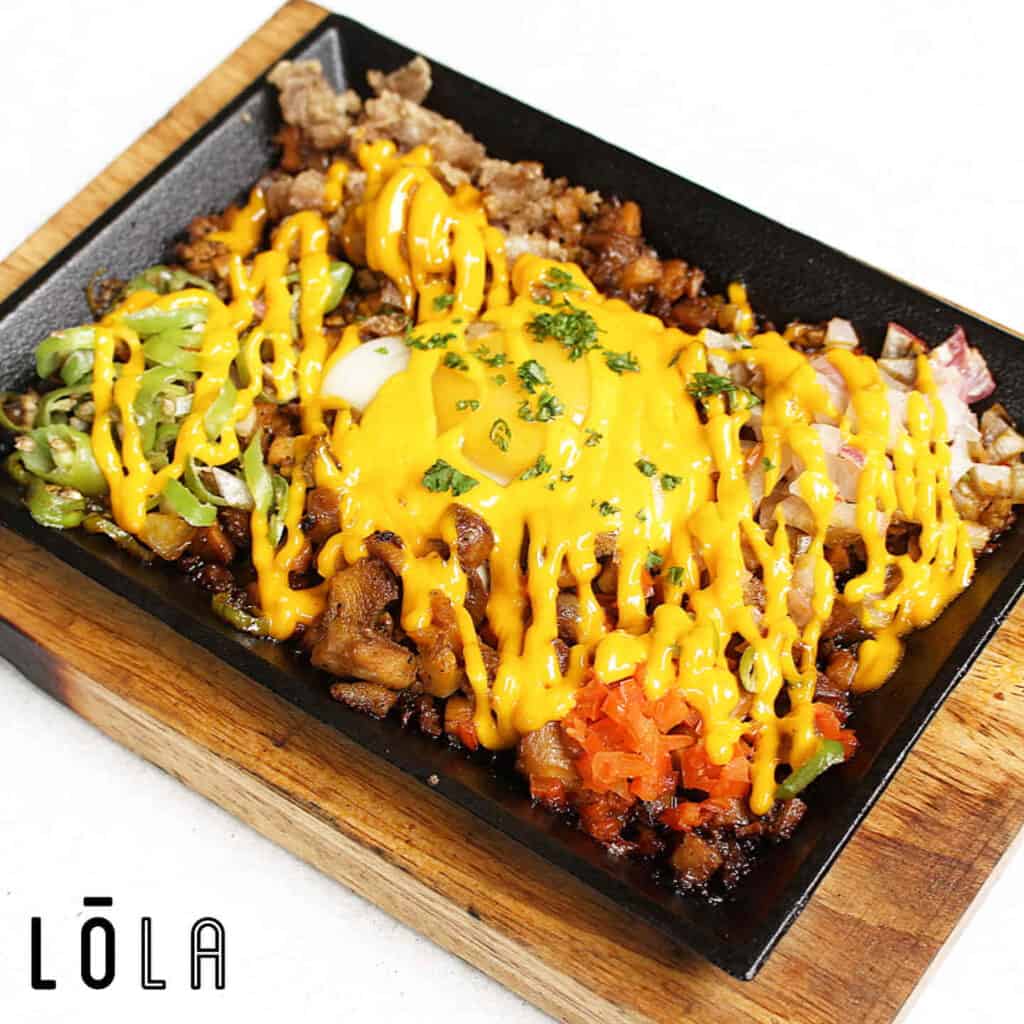 Lola Fried Chicken – Another chicken dish that is a must-try for chicken lovers due to its crispy and golden-brown exterior envelops tender and juicy chicken meat inside, resulting in a crisp texture that is both satisfying and addictive.
Lola's Bicol Express – This flavorful dish features tender pork cooked in rich coconut milk and spiced with fiery chili peppers. The combination of creamy and spicy notes makes this dish a delicious choice for those that are looking for a unique dish with heat in it.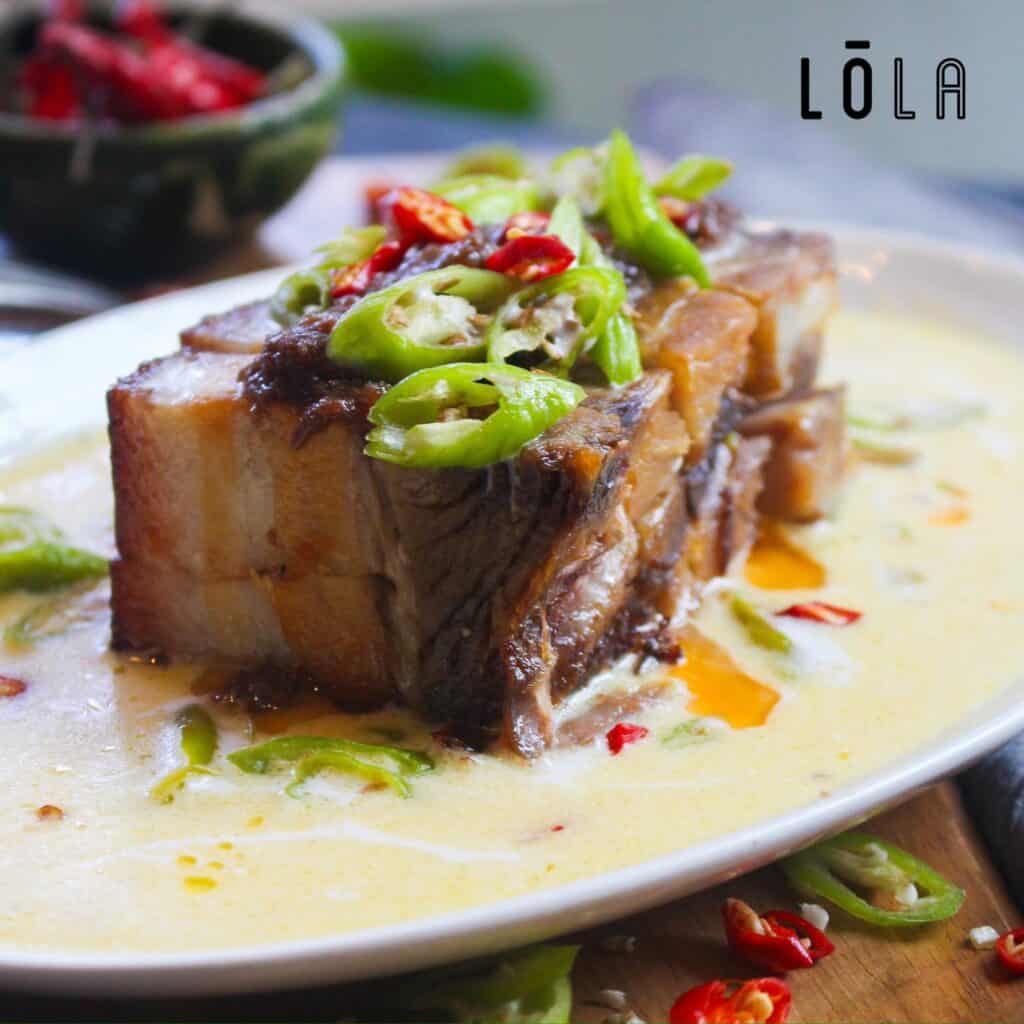 Pork Ribs Adobo – This Lola Cafe menu is made flavorful due to the process of cooking the meat slowly to make it absorbs the flavors of different condiments resulting in a dish that is both hearty and comforting.
Beef and Tripe Callos – A hearty stew features tender chunks of beef and tripe cooked to perfection in a tomato-based sauce infused with a medley of herbs and spices and then served with potatoes and beans to make it more rich and satisfying.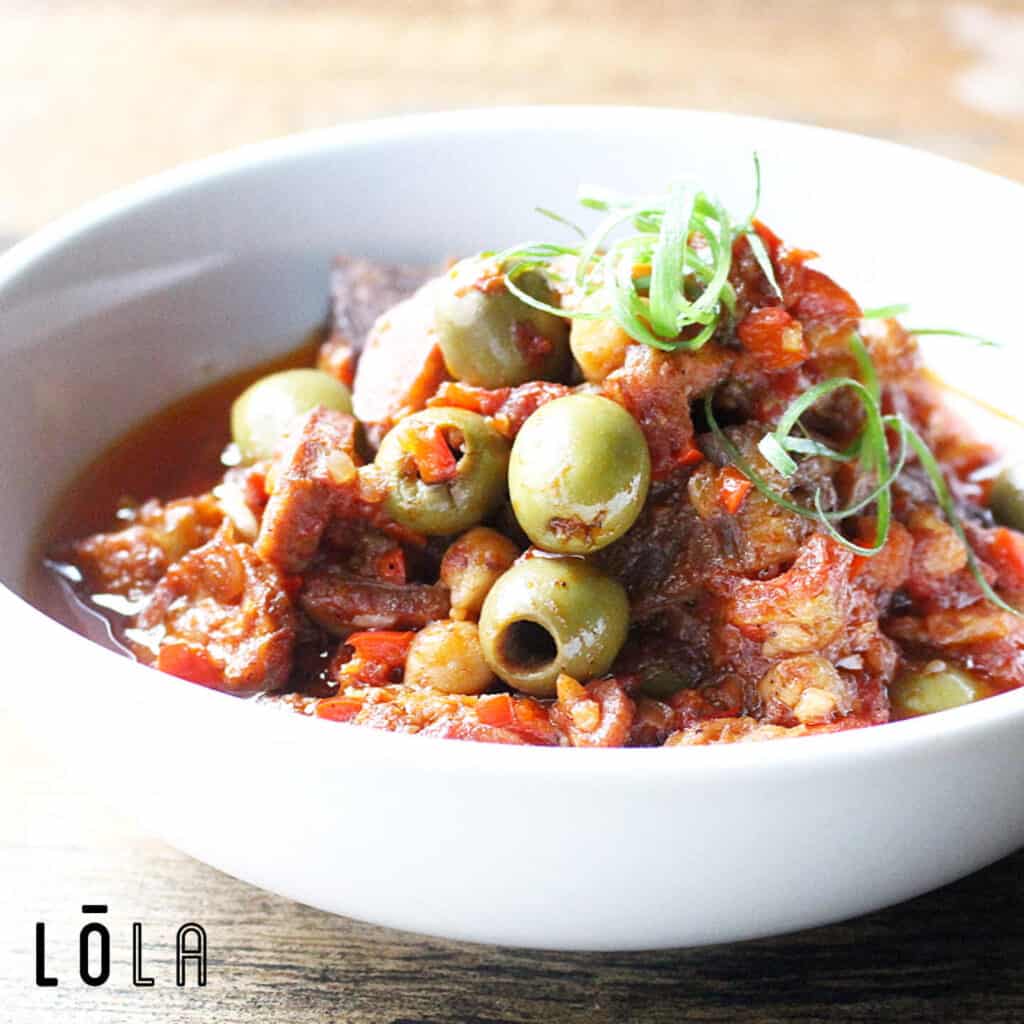 Small Plates
Get ready to kick off your dining experience at Lola Cafe with an exciting selection of appetizers! This menu is packed with delicious bites that are just perfect for getting your taste buds ready for a delightful meal.
Chicken Skin – The chicken skin is most popular in the Philippines due to it being an enjoyable crispy treat which makes for a perfect snack or an appetizer. The skin is seasoned and deep-fried to perfection, resulting in a crunchy and flavorful taste that is both addicting and satisfying.
Spanish Chorizo Gambas – This dish offers a delightful medley of juicy prawns cooked in a rich and flavorful tomato sauce with Spanish chorizo. The combination of seafood and the smoky-sweet chorizo creates a harmonious blend of tastes that will surely satisfy both seafood and meat lovers alike.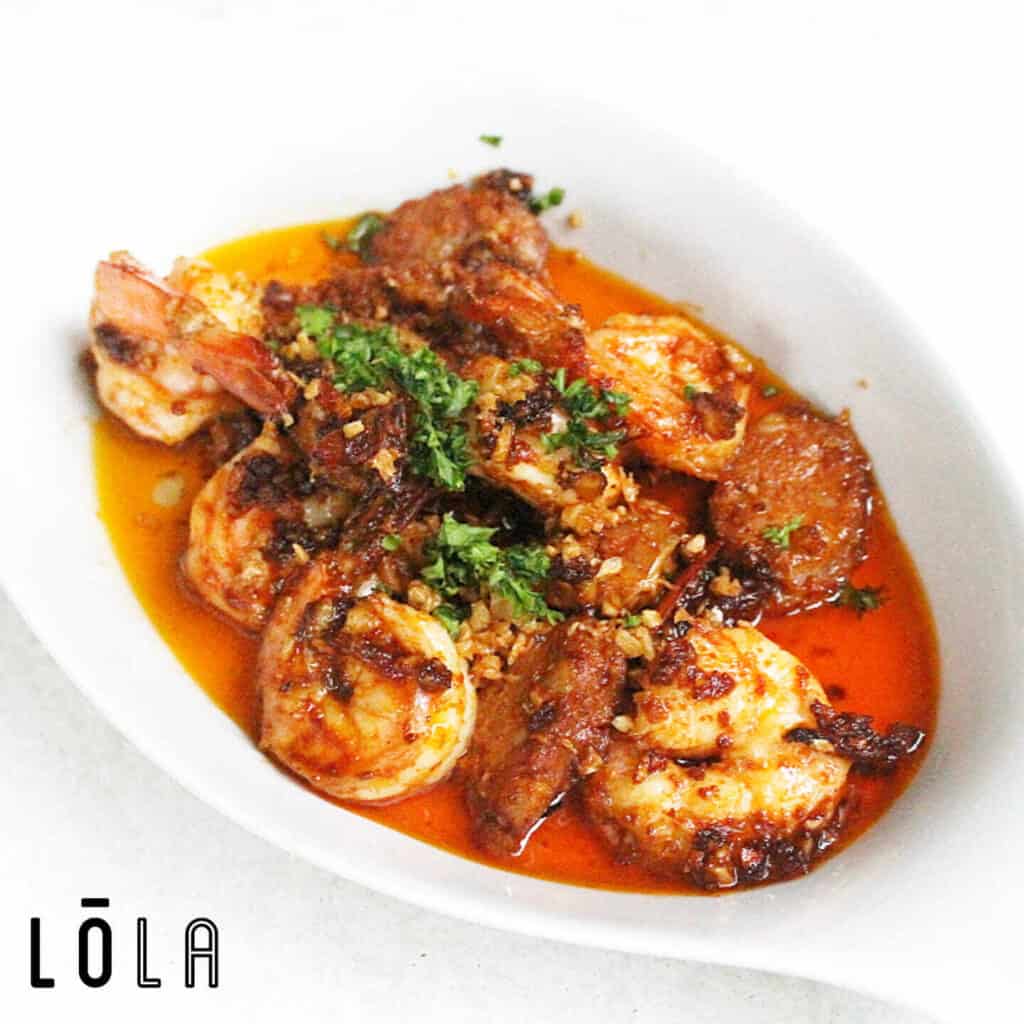 Beef Tenderloin Salpicao – The salpicao at Lola Cafe is a mouthwatering and savory dish that showcases cubes of tender beef sauteed in garlic and olive oil. The dish is further elevated with the addition of aromatic Worcestershire sauce and a hint of soy, creating a delightful umami-rich taste.
Mains
A menu brimming with irresistible main dishes that are bound to leave you craving for seconds.
Bristek Tagalog – It is a classic Filipino beef menu of Lola Cafe that is made with tender strips of beef marinated in a flavorful sauce and sauteed with onions, garlic, and soy sauce. The beef is cooked until it's tender and infused with the rich flavors of the marinade, resulting in a satisfying and comforting dish that pairs perfectly with steamed rice.
Truffle Lengua – It features tender ox tongue stewed in a luscious and savory truffle-infused sauce. The addition of truffle in this dish brings a pleasing earthy and different dimension to the dish, making it a both enjoyable and unique.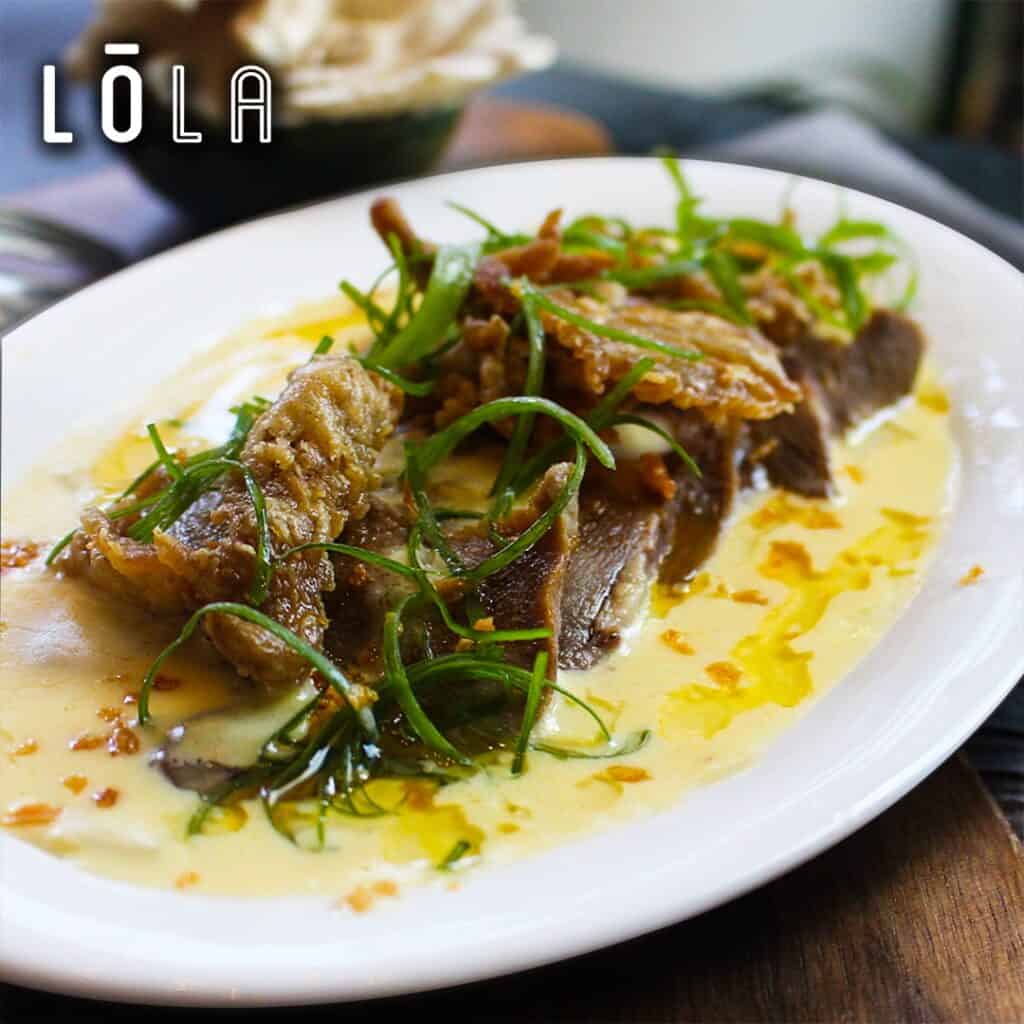 Kare Kare – The kare kare is a beloved Filipino stew known for its thick peanut sauce and tender oxtail, beef, and tripe. The dish is complemented with an assortment of vegetables such as eggplant, string beans, and banana blossoms, providing customers with a delightful medley of flavors and textures.
Soup
Warm up and fill your belly with the delicious soups menu of Lola Cafe! When it's chilly outside, these soups are like a cozy hug for your tummy. They've got all sorts of different soups, including ones that Filipinos really enjoy. Imagine a soup with tasty salmon belly and a tangy flavor from the bayabas fruit. You can also try Beef Ribs Sinigang sa Pula, which is a classic Filipino favorite, Molo Soup that's comforting and tasty, and Bulalo Soup, made with beef that's super flavorful.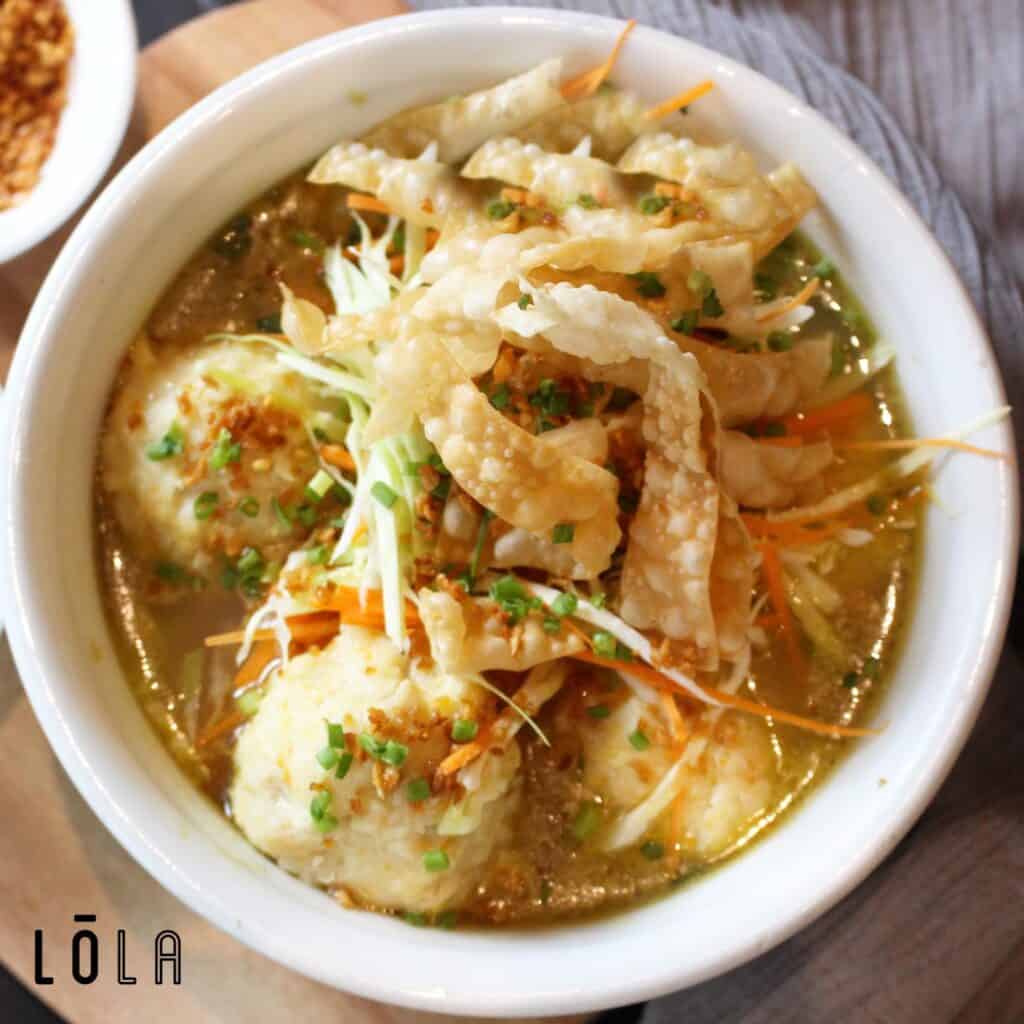 Rice Bowls
At Lola Cafe, you can choose from various rice bowls filled with a delightful mix of ingredients. These bowls bring different flavors together, pleasing lots of people with their unique tastes. The options are plenty, such as Chicken Tinola Rice featuring chicken and veggies in a tasty soup, Kare Kare Bagoong Rice with a yummy peanut sauce, Beef Salpicao Rice offering tender beef, Lola's Bicol Express Rice a bit spicy with coconut milk, Roasted Belly Tocino Rice boasting flavorful pork, Chicken Inasal Sisig Rice presenting tasty grilled chicken, Bagus Sisig Rice highlighting flavorful pork cheeks, and Pork Sisig Rice with sizzling pork. When you're hungry, Lola Cafe's rice bowls offer a variety of delicious choices to enjoy!
Lola Cafe Menu Delivery
Don't want to go out? No problem! Lola Cafe has a clever way to bring their delicious food to you. You can use your phone or computer to visit their page on GrabFood or FoodPanda. Simply type "Lola Cafe" and choose the closest branch near you. No need to stand in long lines or leave your home to enjoy a tasty meal from Lola Cafe. It's super easy and your food comes right to your doorstep!
Lola Cafe Social Media Pages
Do you enjoy the yummy food from Lola Cafe and want to know more about what they share on social media? I suggest you give them a follow to keep up with all the exciting things they're up to. Sometimes, they even post special deals and savings! If you're a follower, you might just catch one of these cool offers and enjoy Lola Cafe's delicious dishes at a lower price. To start following, visit their official social media pages listed below:
Facebook: https://www.facebook.com/lolacafe.ph/
Instagram: https://www.instagram.com/lolacafe
TikTok: https://www.tiktok.com/@lolacafe.ph
Website: https://www.lolagroupe.com/pages/contact-lola-cafe
FAQs
What type of cuisine does Lola Cafe specialize in?
Lola Cafe specializes in Filipino cuisine with a few unique twists in them.
Where is Lola Cafe located and are there multiple branches?
You can visit any branch of Lola Cafe in the following locations Sct Lozano, QC, 5L, The Podium, 2F, S'Maison, New Manila, QC.
Does Lola Cafe offer a menu for breakfast, lunch, and dinner?
Yes, customers can visit Lola Cafe for a lovely breakfast, satisfying lunch, or a romantic dinner.
Does Lola Cafe have a kids' menu or offer dishes suitable for children?
Lola Cafe also offers dishes that kids would love like fried chicken, steak, longganisa, and more!
Are there any signature dishes that Lola Cafe is known for?
As they are known for their menu of traditional Filipino cuisine, all of the Filipino dishes that they serve are considered to be their signature items.
Conclusion
Lola Cafe's menu is filled with dishes that have a combination of traditional Filipino dishes and international influences, offering their customers a unique and exciting dining experience. Lola Cafe creates comforting dishes with a modern twist that appeals to a wide range of customers of different ages. Every dish on Lola Cafe's menu is sure to satisfy and leave customers with a memorable dining experience whether they are in the mood for classic Filipino favorites or food items with international influences.