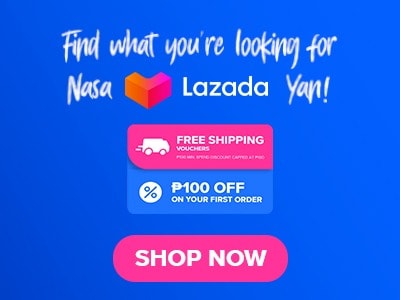 The Supersam menu consists of international cuisines with a touch of distinctive Filipino flavor to give diners a unique and comforting dining experience. It is categorized into appetizers, soups, salads, pasta, pizza, burger, sandwiches, pork, chicken, seafood, beef, and breakfast. Platters are also offered for those who are dining in groups as they are perfect for sharing. The super drinks that it serves are composed of soda, fruit shakes, iced tea, beer, healthy detox smoothie, and water. 
Menu Items
Price (PHP)

Appetizers

Calamari
459
Gabas Al Ajillo
499
Caprese Dip
699
Truffle Parmesan & Mushroom Dip
399
Mozza Squares
279
Nacho Feast
479
Nacho Fries
389
Onion Fries
389
Super Crispy Chicken Skin
199
Salmon Croquette
259
Super Shrimp Fritters
499
Chicken Quesadilla
359
Beef Quesadilla
379
Shrimp Quesadilla
399

Super Wings

Super BBQ Wings
299
Super Buffalo Wings
299
Super K-Wings
299

Soups

Triple Mushroom Soup
359
Fresh Pumpkin Soup
309
Garden Fresh Tomato Soup
269
Fresh Potato Soup
249
French Onion Soup
309
Chicken Pot Pie
399

Salads

BBQ Chicken Chopped Salad
359
Prosciutto Caesar Salad
429
Super Fresh Garden House Salad
359
Caprese Salad
729

Salad Wraps

BBQ Chicken Wrap
279
Beef Tortilla Wrap
319
Fish Wrap
269

Super Pasta

3 Mushroom Pasta
449
Aglio E Olio
359
Chicken Alfredo
249
Crab Roe Pasta With Crab Flakes
489
Meaty Spaghetti
229
Pasta Negra
459
Pesto Penne With Grilled Chicken
389
Super Cheesy Baked Lasagna
409
Seafood Marinara
459
Salmon Curry
449
Salmon Crème With Miso
489

Super Pizza

Alfalfa Pizza
649
Alfredo Pizza
669
Americana Pizza
669
Chori Pizza
699
Truffle Pizza
699
Quattro Formaggi Pizza
729
Scampi Pizza
759
Margherita Pizza
699
Margherita Pizza with Burrata
999

Super Burger

Cheesy Sam
489
Chori Burger
249
Fish Samwich
279
Juicy Cheesy
569
Super Bacon
629
Super Bacon Jalapeño
629
Super BBQ Burger
619
Super Shrimp Burger
339
Very Veggie Burger
449

Super Sandwiches

Buffalo Chicken Samwich
269
Chicken Sandwich
259
Chori Dog
229
Philly Cheese Burger
449
Scampi Roll
389
Grilled Cheese
259

Open Face Sandwiches

Grilled Chicken & Egg Mayo Sandwich
319
Grilled Chicken & Kale Sandwich
259
Prosciutto & Arugula Sandwich
389
Scrambled Eggs & Bacon Sandwich
239

Super Mains (Beef)

Angus Ribeye Steak
2399
Angus Salpicao
729
Angus Bistek
449
Angus Tenderloin Pares
409
Loco Moco
559

Super Mains (Chicken)

Chicken Sisig
359
Sam's Crispy Chicken Bucket of 6
699
Southern Chicken & Waffles
429
Super Chicken Steak
359
1 pc Chicken with Rice
189
2 pcs Chicken with Rice
279

Pork

Bagnet Binagoongan
499
Bagnet Kare-Kare
529
Bagnet Sinigang
449
Bagnet Dinakdakan
399
Bagnet Sisig
399
Tokwa't Bagnet
309
Crispy Pata
899
Dobo Pork Belly
429
Grilled Pork Chop (1pc)
569
Grilled Pork Chop (2pcs)
779
Spicy Spareribs
349
Oven Baked Baby Back Ribs
899
Pork Ribs Caldereta
429
Chori Surprise
289

Seafood

Fish 'N' Fries
269
Jumbo Butterfly Prawn Thermidor
749
Salmon Steak with Spicy Miso Glaze
669
Sweet Chili Prawn
709

Sides

Plain Rice
50
Cauli Rice
159
Quinoa Rice
199
Garlic Rice
70
Tuyo Fillet
99
Ciabata Bread (5 pcs)
30
Mashed Potato
109
Large Fries
99
Coleslaw
89

Super Breakfast (Filipino Favorites)

Super Angus Tapa
349
Tasty Tocino
289
Longganisam
369
Bangus Ala Pobre
299
Crispy Tuyo
339
Waffle Chori
389
Arroz Caldo
189
Oats Caldo
169
Oats Champorado
189

Super Breakfast (Super Omelettes)

Cheese & Mushroom Omelette
259
Super Cheesy Omelette
249
Veggie Omelette
199

Super Breakfast (International)

Super American Breakfast
629
Eggs Benedict
369
French Toast
289
Plain Waffle
269
Supersam Classic Pancakes (3 pcs of fluffy pancakes w/ chocolate syrup toppings)
309
Supersam Classic Pancakes (3 pcs of fluffy pancakes w/ chocolate syrup and fresh fruits in season)
279
Pancake Cereal with Fruits in Season
270

Super Breakfast

1 pc Chicken with Pasta Alfredo
259
1 pc Chicken with Spaghetti
229
Mac & Cheese
259
Pancake Cereal
299

Supersam Platters

Super Wings
1299
Starter Platter
899
Super Platter
2999
Junior Platter
1699
Seafood Platter
1399
Sausage Platter
1299

Super Sweets (Super Milk Shakes)

Chocolate Milk Ake
199
Oreo Vanilla Milkshake
189
Strawberry Milkshake
189
Ube Milkshake
199

Super Sweets (Super Pinoy Favorites)

Super Halo-Halo
279
Super Turon with Ice Cream
169

Dessert Cakes

Ube Oreo Cake (Slice)
229
Ube Oreo Cake (Whole Cake)
1699
Super Chocolat Cake (Slice)
349
Super Chocolat Cake (Whole Cake)
2399
Basque Burnt Cheesecake (Slice)
309
Basque Burnt Cheesecake (Whole Cake)
2199
Coffee Sans Rival (Slice)
249
Coffee Sans Rival (Whole Cake)
1799
Cappuccino Crème Brulee Cake (Slice)
229
Cappuccino Crème Brulee Cake (Whole Cake)
1699
Super Carrot Cake (Slice)
279
Super Carrot Cake (Whole Cake)
1799
Mango Samurai (Slice)
319
Mango Samurai (Whole Cake)
1299
Sugar-Free Chocolate Mousse (Slice)
329
Sugar-Free Chocolate Mousse (Whole Cake)
2199
Super Drinks

Super Soda

Blueberry
189
Kiwi
189
Strawberry
189
Mixed Berries
189

Fruit Shakes

Banana Strawberry
159
Mango
179
Watermelon
179

Healthy Detox Smoothie

Beach Cooler
149
Cider Spring
189
Fresh Start
199
Jetsetter
159
No Weigh
199
Perfect Glow
189
Power Match
149
Sassy by Summer
189
Waist Watcher
199

Iced Tea

Regular Iced Tea
99
Fresh Brewed Iced Tea
199

Soda

Canada Dry
139
Coke Light
99
Coke Regular
99
Coke Zero
99
Schweppes Tonic
99
Schweppes Soda
99
Sprite
99
Royal
99

Beer

Kozel (Bottle)
299
Hoegaarden
239
Paulaner Original (500ml)
299
Pilsner Draft (330ml)
229
Pilsner Draft (500ml)
329
Pilsner Growler
2499
Stella Artois
239

Water

Bottled Water
99
Sparkling Water (250ml)
179
Sparkling Water (500ml)
229
About Supersam
The brand name Supersam showcases the Filipino value "Super Samahan." The desire of the owners to help workers who are affected by the pandemic inspired them to build this restaurant. It started offering a food delivery service and successfully grew into a full-service restaurant with the dedication of management and its staff. It has a fun and relaxing ambiance that makes the bonding and dining experience satisfying. 
Supersam Menu Best Seller
Here are some of the best sellers of Supersam that will boost your appetite with their creative presentation and delicious taste.
Mozza Squares – Mozzarella cheese is shaped squarely and coated with batter. It is then deep-fried until it becomes crunchy and golden brown. A special homemade marinara dip also comes with it. The crispiness and cheesiness of this delicious appetizer make it good.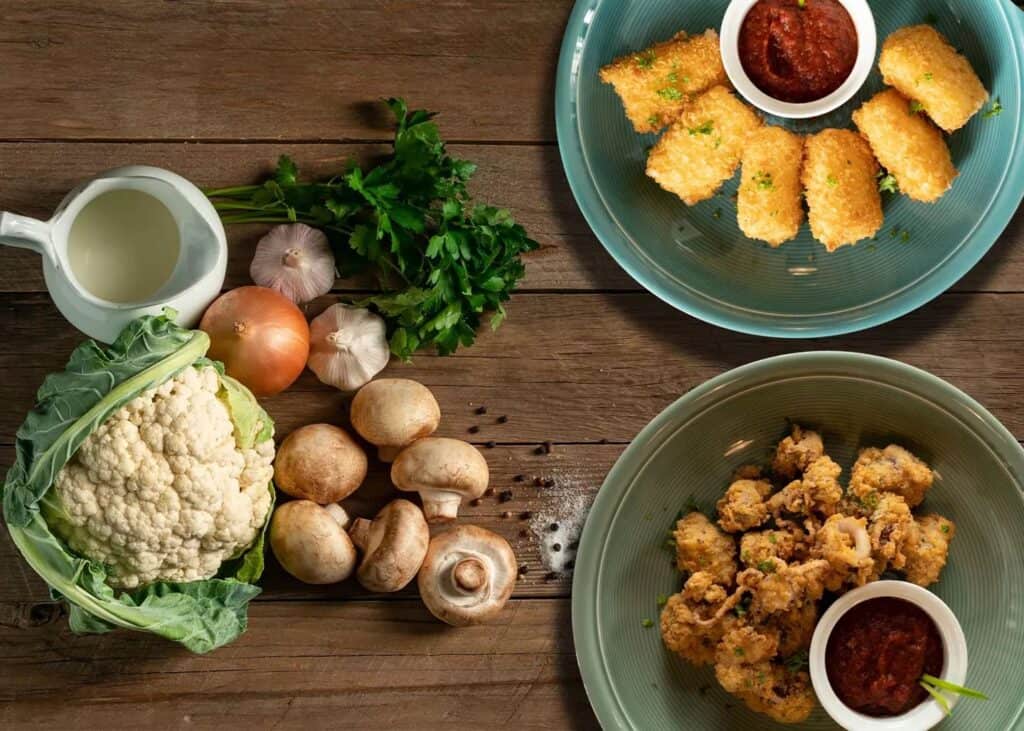 Fresh Pumpkin Soup – Pureed pumpkin is used in creating this thick, creamy, and vibrant soup. Fresh croutons are toasted and garnished on this dish. It is served with a slice of bread.
BBQ Chicken Chopped Salad – This salad consists of crisp shredded Romaine lettuce, pickled red onions, cherry tomatoes, bell peppers, and crispy tortillas. Slices of flame-grilled chicken barbecue are topped on it and an Asian barbecue is used as a dressing.
Seafood Marinara – Spaghetti pasta is cooked with a special savory marinara sauce and fresh seafood. This menu of Supersam is also served with two pieces of bread. This is an ideal snack for those who love pasta and seafood. 
Chori Burger – It is Supersam's recommended burger as it has a delicious taste. The restaurant's signature flavorful combination of pork patty, ground chorizo, and melted American cheddar cheese. To make it more unique and delicious, an exquisite patty, sunny-side-up egg, and refreshing coleslaw are added.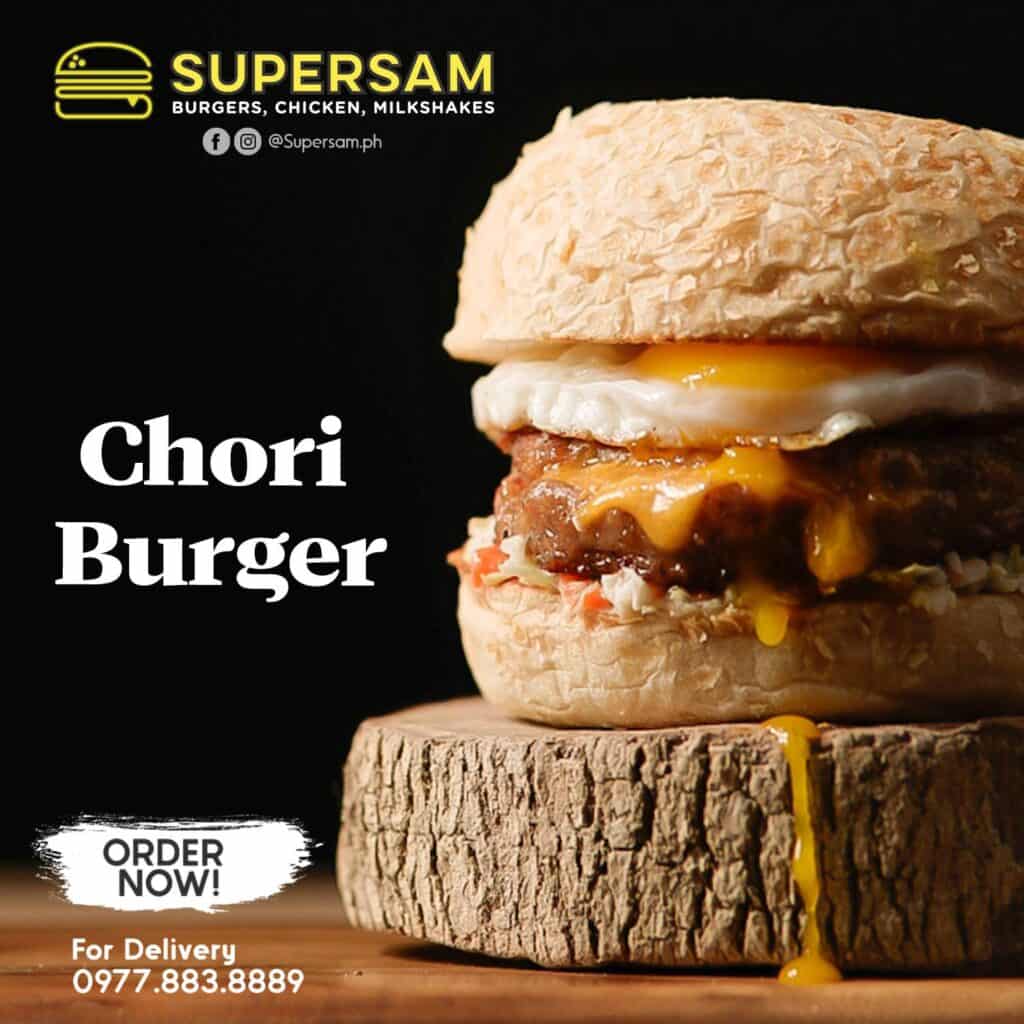 Supersam Super Pasta Menu
The Super Pasta of this restaurant is served with a slice of bread and gives the diners an option to choose between spaghetti or fettuccine.
3 Mushroom Pasta – The spaghetti pasta is cooked in a truffle cream sauce and cooked with mushrooms. Portobello, button, and shiitake are the three hand-picked mushrooms of this pasta.
Salmon Curry – An exciting taste of Asian curry, satisfying Italian pasta, and the seared silvers of salmon make this dish scrumptious. Its wonderful creaminess will satisfy your cravings and make you enjoy your meal.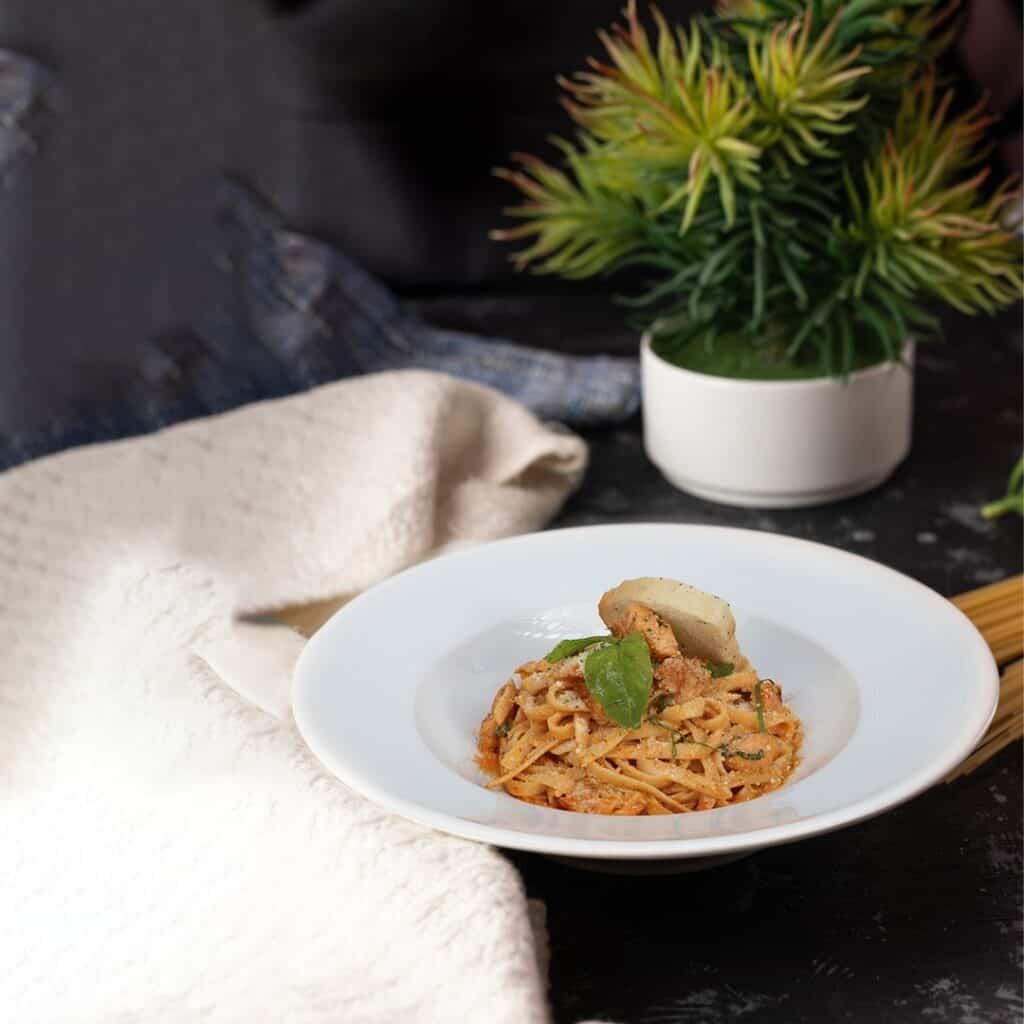 Super Cheesy Baked Lasagna – This baked lasagna of Supersam always impresses cheese lovers as it has a generous serving of mozzarella, gruyere, cheddar, parmesan, and ricotta cheese. Lasagna is layered with minced Angus beef and bechamel sauce.
Crab Roe Pasta with Crab Flakes – It is Supersam's extravagant version of Aligue pasta. Flavorful crab roe pasta sauce is blended in spaghetti pasta and garnished with garlic bits and crab meat.
Pesto Penne with Grilled Chicken – Penne pasta is mixed with pesto sauce. It is then topped with grilled chicken and grated parmesan cheese. The aroma of pesto sauce, the creaminess of grated parmesan cheese, and its generous serving make it satisfying.
Super Pizza
These super pizzas on the Supersam menu are remarkable for their Imported Italian flour, thin crust, soft base, and delicious taste. 
Truffle Pizza – The earthy flavor of this luxurious pizza complements well with cheese and its special toppings. It has an appealing taste and presentation that excites people to try it.
Quattro Formaggi Pizza – Four kinds of cheese make this pizza scrumptious. The gooey melted cheese makes every bite pleasurable. Its rich and creamy goodness always satisfies cheese lovers.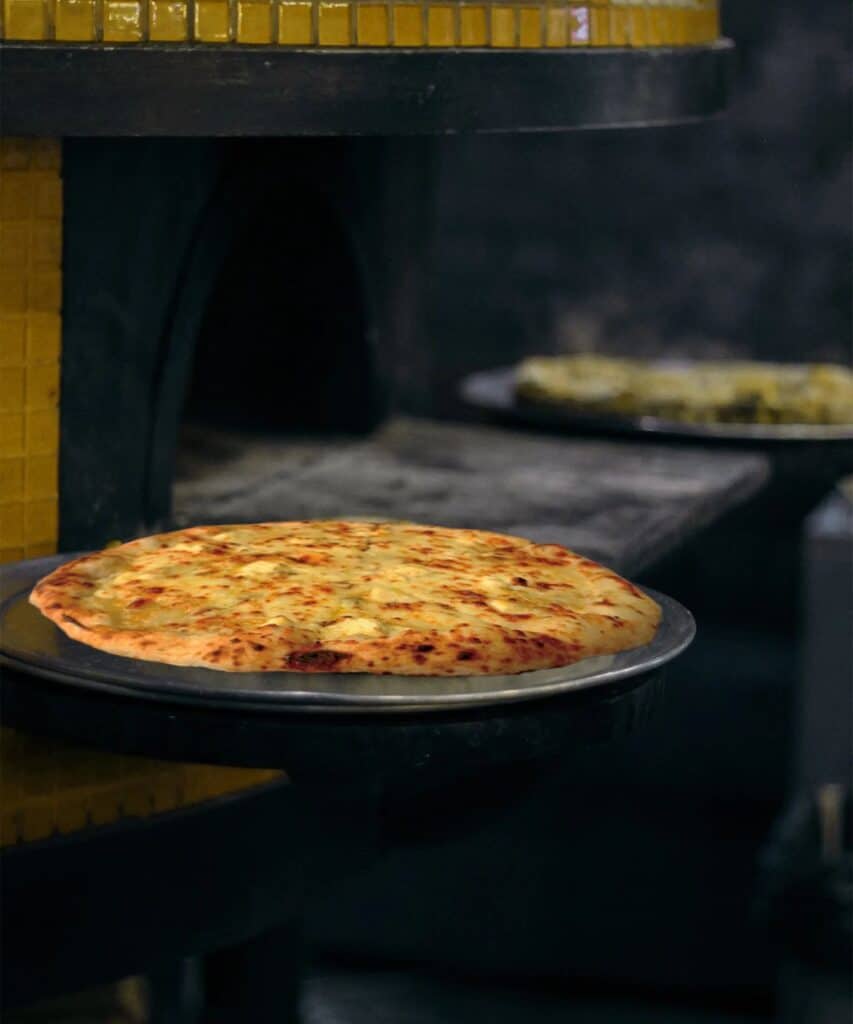 Margherita Pizza – Savor the goodness of this satisfying pizza topped with tomato sauce, cheese, fresh basil, and other special ingredients. It can also be upgraded by adding a burrata for an additional price to make it creamier and more gratifying.
Super Burger
These super burgers of Supersam are stuffed with a unique patty and other delicious ingredients that will fill your sense of taste with goodness.
Super Bacon Jalapeño – A spicy burger filled with crispy bacon, grilled Jalapeño peppers, sliced Jalapeño, American cheddar cheese, sliced pickles, lettuce, caramelized onion, and tomatoes.
Super Shrimp Burger – Fresh shrimp is minced, formed into a patty, coated with a special breading mix, and seasoned with secret sauce. The other fillings of this burger are fresh lettuce and slices of tomatoes. Its saltiness and mild sweetness will satisfy seafood lovers.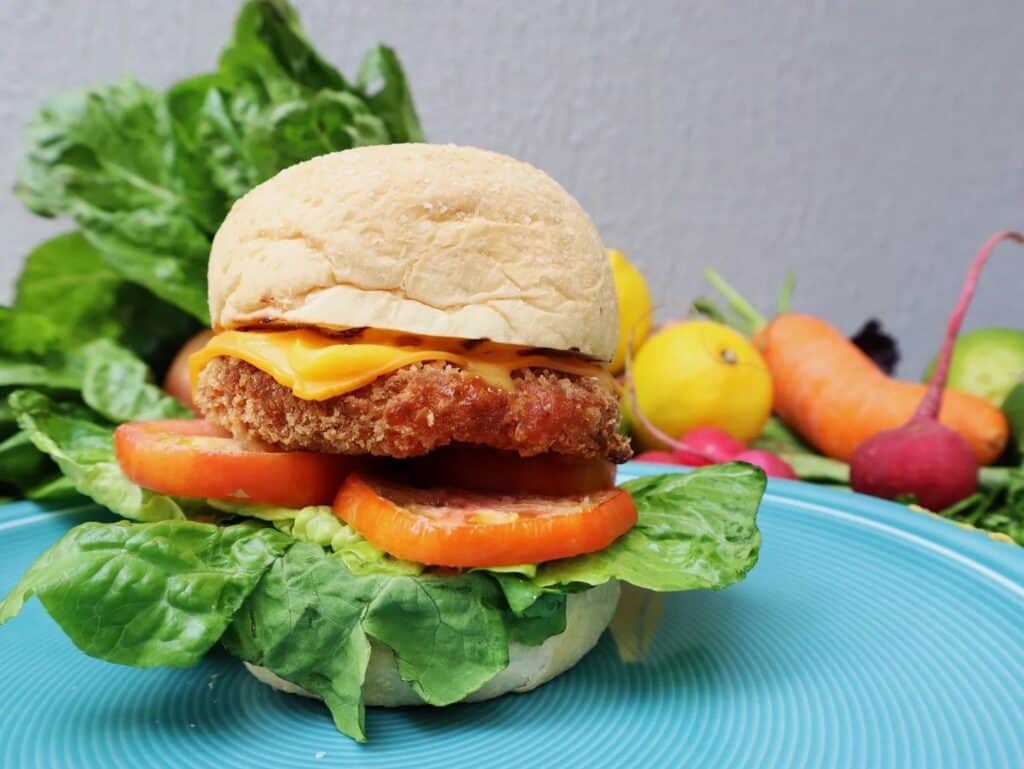 Very Veggie Burger – This is created for those who want to eat a healthy burger. Its cheesy portobello mushroom patty is the ingredient that makes it special. Lettuce, caramelized onion, tomatoes, and sliced pickles are also the other nutritious ingredients that are added to it. It is seasoned with a special sauce created by Supersam to make it more fulfilling.
Super Sandwich
Each sandwich is unique as it consists of ingredients that are chosen carefully to make sure that their flavor and texture complement well. The super sandwiches of Supersam have a distinctive taste as they are filled with delicious fillings that create an appealing flavor.
The best-selling sandwiches menu of Supersam are Chicken Samwich, Philly Cheese Burger, and Scampi Roll. There is also a Chori Dog, that will be surely loved by kids as it is stuffed with original chori hotdog garnished with cheese sauce, homemade dressing, and pickled radish. For those who love cheese and strawberry, it also serves a Grilled Cheese Sandwich where toasted bread is filled with cheddar, mozzarella, and gruyere served with strawberry jam. These sandwiches are great "pasalubong" that your loved ones will surely love. 
Super Breakfast
The super breakfast of Supersam is categorized into Filipino Favorites, Super Omelettes, International, and Super Kid's Meal. Filipino favorites consist of comforting meals that are commonly prepared in Filipino homes for breakfast. It is composed of Super Angus Beef Tapa, Tasty Tocino, Longganisa, Bangus Ala Pobre, Crispy Tuyo, Waffle Chori, Arroz Caldo, Oats Caldo, and Oats Champorado.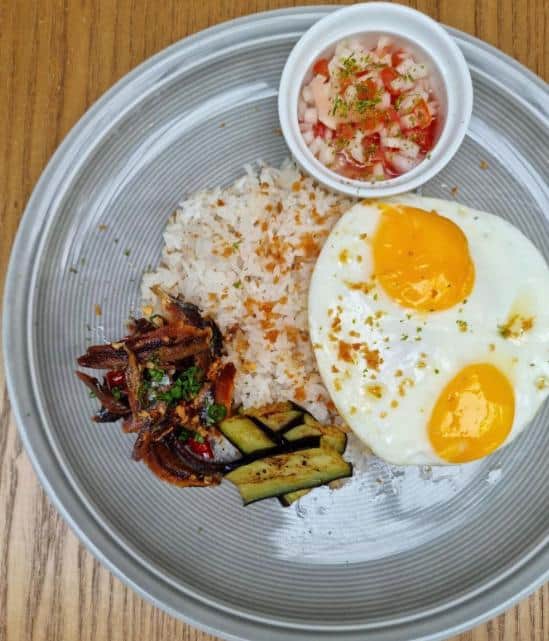 For those who want a simple yet flavorful and fulfilling meal, a super omelet is a great option. It offers cheese & mushroom, super cheesy, and veggie omelets. The International breakfast that it offers will make you feel like you are dining abroad as these dishes are inspired by different cultures. It also serves a meal specially designed for kids to make them enjoy the food and increase their appetite.
Supersam Menu Delivery
Enjoy the menu of this restaurant anytime anywhere by ordering online. It is available on delivery platforms such as GrabFood and FoodPanda. You can contact the restaurant at 0977-883-8889 and email them at [email protected] for inquiries. 
Social Media Pages
To find out about Supersam's updated menu list, check out their social media pages. By following or subscribing to at least one of their social media pages, you can stay informed of their latest discounts and promotions. This is a great way to keep up-to-date with what's happening at Supersam.
Facebook: https://facebook.com/Supersam.ph
Instagram: https://instagram.com/supersam.ph
Conclusion
The Supersam menu serves a wide array of cuisines to cater to people from different walks of life. It is also a perfect place for those who want a fun-filled weekend as it hosts live entertainment. This restaurant is also family-friendly as it offers cuisines that are perfect for all ages. The management is committed to providing a satisfying customer experience to make people come back for more.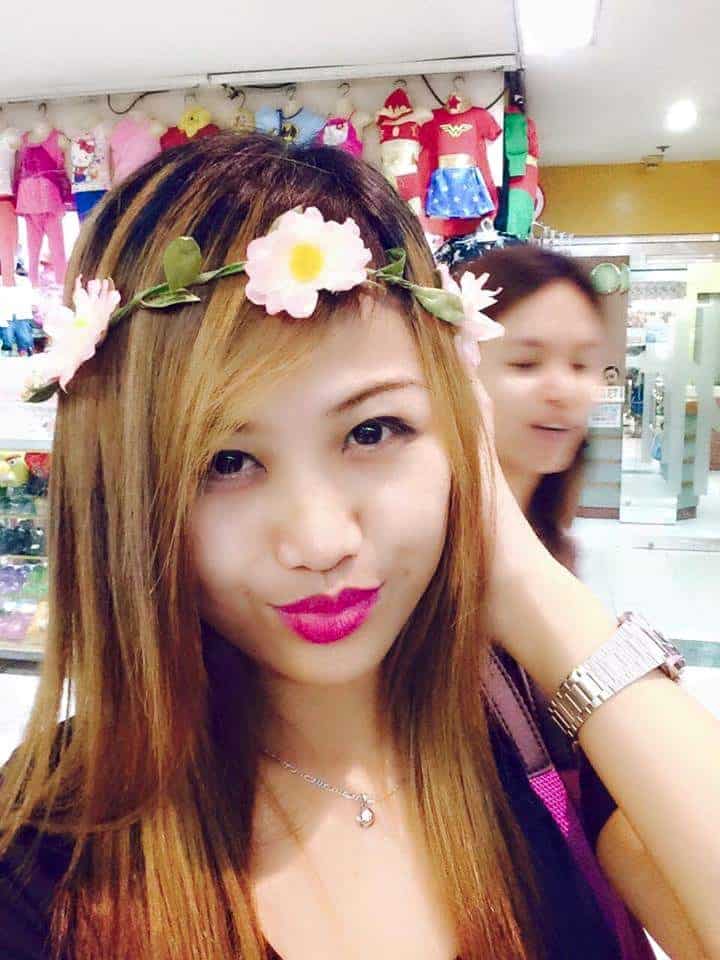 Hello! I'm Shaoyeu Cassandra, a mom who spends most of my time at home, and when I'm not busy, I enjoy writing blogs. I live in Cavite, and I really love talking about the menus of different restaurants.
So, I decided to share my thoughts on the menus of some fast-food places. I'm hoping my take on them can be like a helpful guide for you to decide what tasty treat to go for next. I hope you discover something you really enjoy! Thanks for stopping by!