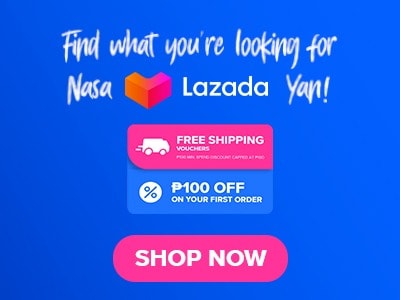 Buttery & Co offer a range of delicious baked goods and pastries on their menu. They also have an extensive menu of cakes, including chocolate fudge, carrot cake, and their signature Ube Cake. In addition to their baked goods, Buttery and Co offer savory options through their breakfast sandwiches. Their menu also includes a selection of coffee, tea, and other beverages to complement their baked goods.
Menu Items
Price (PHP)

Coffee

Americano
160
Butter's Blend
180
Flat White/Late
180
Cappucino
180
Mocha
190
Caramel Macchiato
200
Spanish Latte
200
Matcha Latte
200
Matcha Espresso
210
Cold Brew Coffee
180
Hot Cocoa
190

Best Sellers

Cheese Rolls
65
Mamon
65
Cheese Tart
65
Ensaymada
95
Salted Egg Custard Ensaymada
125
Buttery's Puff
105

Cakes

Caramel Cake
1200
Valrhona Dark Chocolate Cake
1400
Ube Caramel Cake
1900

Mood Swings of the Baker

Chicken Puff Pie
135
Bomboloni
65
Pastel de Nata
65
Butter Cookies
350
Carrot Bread Mini Loaf
85
Cinnamon Rolls
75
Coffee Bun
85
Puff Pastry Bread Pudding
130
Silvanas
360
Cinnamon Sticks
250
Almond Sticks
300

Cheese Tarts

Matcha Cheese Tarts
85
Avocado Cheese Tarts
85
Pistachio Cheese Tarts
85
Black Sesame Cheese Tarts
85

Cheese Rolls

Matcha Cheese Rolls
85
Ube Cheese Rolls
85

Mamon

Matcha Mamon
85
Cinnamon Mamon
75
About Buttery & Co
Buttery & Co is a bakery and cafe located in Quezon City, Philippines. They are known for their freshly baked goods and specialty coffee drinks. The cafe has a cozy and comfortable atmosphere, making it a great place to relax and enjoy a delicious pastry or sandwich. Buttery and Co also offer catering services for events and parties. They are committed to using high-quality ingredients and offering excellent customer service. Buttery and Co is a great destination for both locals and tourists alike who are wanting to try different kinds of delicious and satisfying treats.
Buttery & Co Menu Best Seller
This menu is made up of a variety of items like pastries, cakes, and other delicious treats which are also the most popular items at Buttery & Co.
Cheese Tart – Buttery & Co's version of the cheese tarts is a must-try for anyone visiting the bakery. The pastry is flaky and buttery, while the cheese filling is rich and creamy, making them one of the shop's best-selling dishes.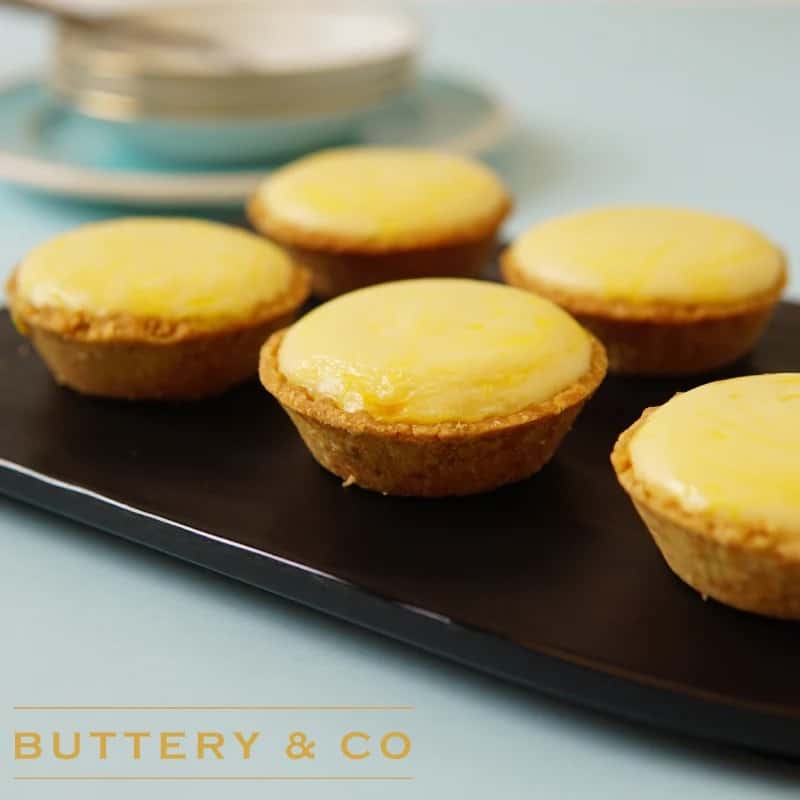 Salted Egg Custard Ensaymada – This twist on the classic ensaymada is a hit among customers. The salted egg custard filling adds a savory note to the sweet pastry, making for a unique and delicious flavor combination.
Ensaymada – Buttery & Co's version of these Filipino sweet buns does not disappoint. The ensaymada itself is soft and fluffy, with just the perfect level of sweetness. The addition of the salted egg custard blends with the sweetness of this treat, enhancing its overall flavors even more.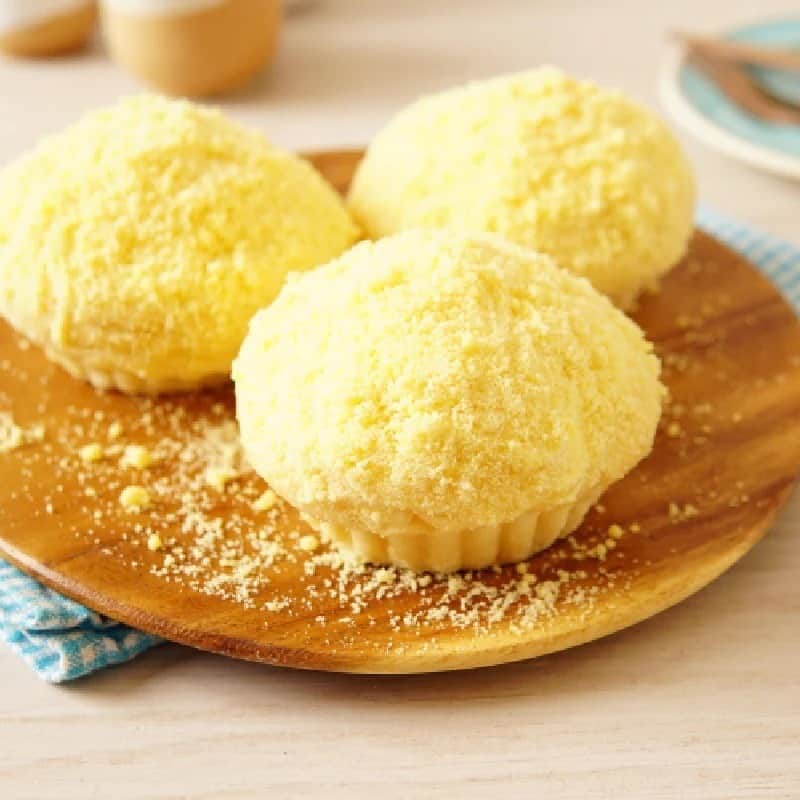 Buttery's Puff – Buttery & Co's puffs are filled with a creamy and flavorful chicken filling making it a perfect treat for a quick snack or a light lunch.
Buttery & Co Cakes Menu
This menu consists of different types of cakes that are specially prepared and baked by Buttery and Co's bakers.
Caramel Cake – This cake is made of layers that are both moist and tender, while the caramel frosting makes it much more indulgent and rich. This cake is the perfect crowd-pleaser at Butter and Co.
Valrhona Dark Chocolate Cake – The chocolate cake layers used in this cake are made with high-quality Valrhona chocolate, resulting in a deep, rich flavor that makes this dish recommendable to chocolate lovers who love a decadent cake.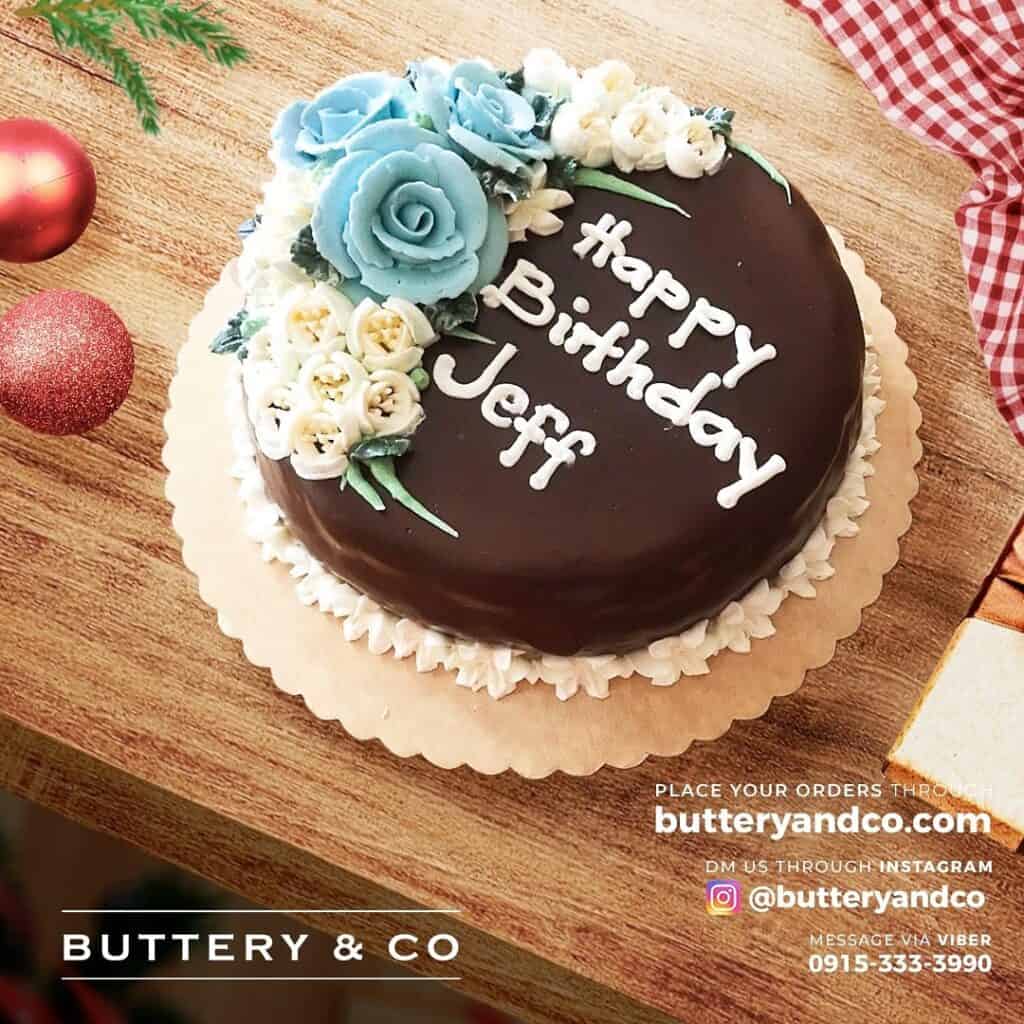 Ube Caramel Cake – This cake uses ube, or purple yam, as its main ingredient, which is also a popular ingredient in most Filipino desserts. Buttery and Co's ube caramel cake is a delightful twist on the classic caramel cake, with a subtle nuttiness and a beautiful purple hue.
Mood Swings of the Baker
This menu is made up of different kinds of treats that were inspired by different cuisines from all over the globe.
Chicken Puff Pie – Similar to one of Butter and Co best menu, the Buttery's Puff, this savory pie is filled with a creamy chicken filling. The pastry is light and flaky, making this pie a satisfying item for a snack.
Bomboloni – Bomboloni is an Italian doughnut that is light and airy with a sweet filling. Buttery and Co's version of this doesn't stray from the classics and is both delicious and satisfying.
Pastel de Nata – This is a traditional Portuguese treat that is popular among locals. Buttery and Co's version of the pastel de nata is no exception, with a crispy crust and a creamy custard filling, this dish has become the favorite of many Filipinos.
Cheese Tarts
This menu is made up of different varieties of tarts that are both crunchy and delicious which is perfect for a quick snack.
Tarts with Matcha Cheese – Many matcha lovers will appreciate these tarts, which combine the earthy flavor of matcha with the creaminess of the cheese. The tart crust is buttery and delicate.
Tarts with Avocado and Cheese – This dish is made with a combination of creamy avocado and rich cheese which made this tart a unique and flavorful one. The crust of these tarts is buttery and flaky which provides a perfect base for its fillings.
Pistachio Cheese Tarts – The pistachio flavor in this tart is prominent and delicious, and it pairs well with the creamy cheese filling. The crust is perfectly baked and complements the filling nicely. These tiny treats are is a perfect option for those who want to try unique flavors.
Cheese Rolls
This menu of Buttery & Co is made up of delicious and elegant cheese rolls that are a must-try for cheese lovers. These rolls are made with a soft and fluffy dough that's filled with a generous amount of creamy cheese. The cheese filling is perfectly balanced and pairs well with the bread's slightly sweet and salty taste. Each bite offers a satisfying texture and flavor that will have you craving more.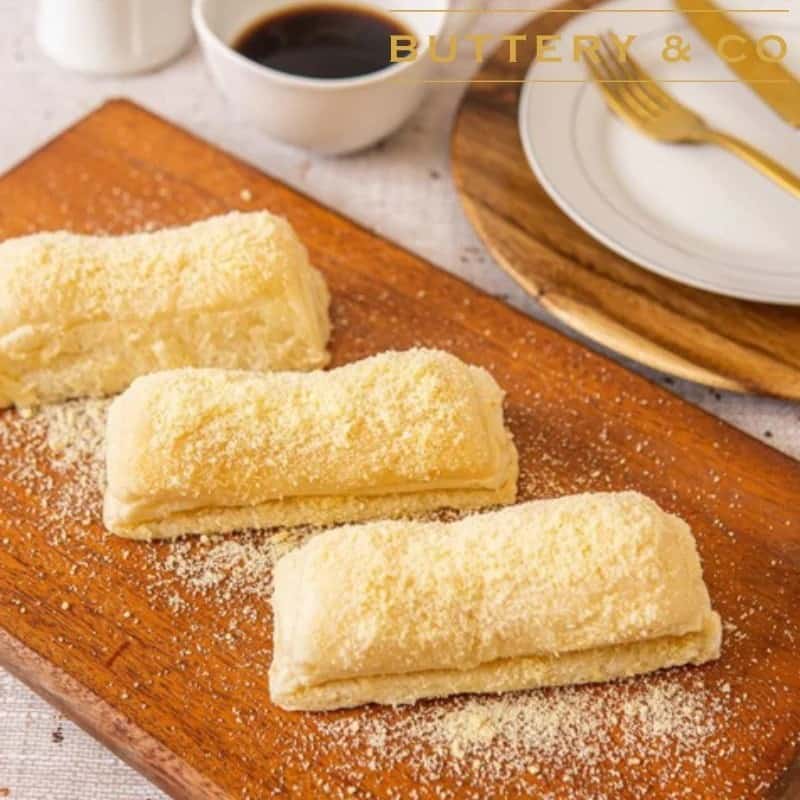 Mamon
Buttery & Co's mamon menu is made up of different Filipino pastries that are soft, fluffy, and light. These cakes are made with simple ingredients, including flour, sugar, eggs, and butter, but Buttery and Co took them to the next level by adding a touch of lemon zest to the batter. Buttery & Co's mamon menu is perfect for an afternoon snack or as a dessert.
Coffees
This menu consists of coffee drinks that are perfect for guests who are looking to get a dose of caffeine. Ranging from classic Americano and Cappuccino to more unique drinks like the Spanish Latte and Matcha Espresso, Buttery & Co's coffee menu has something for everyone, with options to suit different preferences and tastes.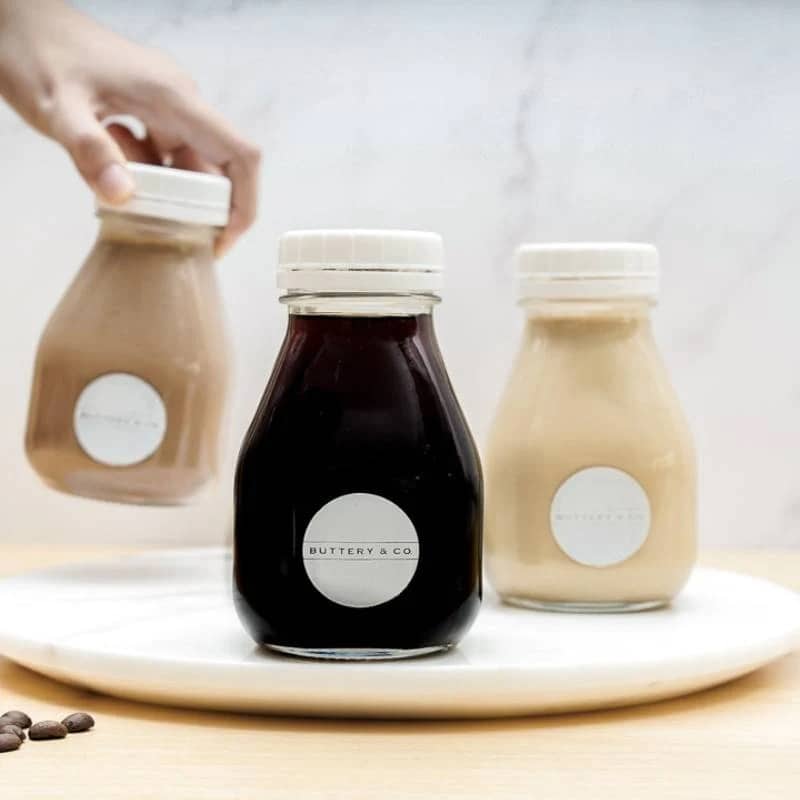 Buttery & Co Menu Delivery
Buttery and Co's menu delivery was made to provide convenience to their customers. This makes it a lot easier for customers to order their favorite treats from Buttery and Co, making their menu even more accessible than before. Buttery and Co's menu delivery can be ordered via third-party delivery services such as GrabFood and FoodPanda applications.
Social Media Pages
Looking for a cozy place to satisfy your sweet tooth cravings? Look no further than Buttery & Co! This charming bakery offers a variety of delicious baked goods, from classic cookies to decadent cakes and pastries. By following Buttery & Co on social media, you can stay up to date on their latest offerings, special deals, and promotions.
Facebook: https://facebook.com/Butteryandco/
Instagram: https://instagram.com/butteryandco/
Conclusion
Buttery & Co's menu is highly recommended for those who want to try a range of delicious and freshly-baked pastries, cakes, and bread. Their menu showcases a variety of sweet and savory items, including their bestsellers such as Ube Cheese Pandesal, Bnut Bars, and Baby Cakes. Additionally, their website provides customers with a convenient way to view their menu and place orders for delivery or pickup. Overall, this cafe is a must-visit for anyone looking for a delectable bakery experience in the neighboring area of Quezon City.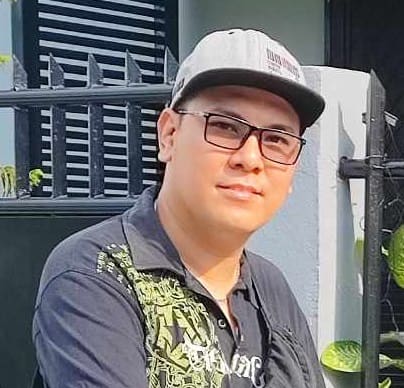 Hi! I'm Nivek Strife, the person who made MenuPH. I'm the one who added most of the popular menus you see on this website, and I really hope you enjoy them! Feel free to check them all out.
Growing up, I was surrounded by lots of tasty foods, like the classic Adobo and the sweet Leche Flan. That love for the many flavors of the Philippines is what got me excited about adding to MenuPH. When I learned how to make websites, I saw the need for a place to show off all the amazing Filipino dishes, and that's how MenuPH started.
MenuPH isn't just a website; it's like a fun journey into food. I've teamed up with famous chefs and found great places all over the Philippines to bring you a bunch of menus that show off the best of Filipino cuisine. Whether you're into the usual dishes or new twists, MenuPH is here to guide you through the rich world of Filipino flavors.
With MenuPH, my aim is to help local businesses, talk about good food choices, and make a group of friends who love food. No matter if you like fancy restaurants or street food, MenuPH has something for you. Come join me on this food adventure as we find great places, taste real flavors, and enjoy the unique food traditions that make the Philippines awesome.