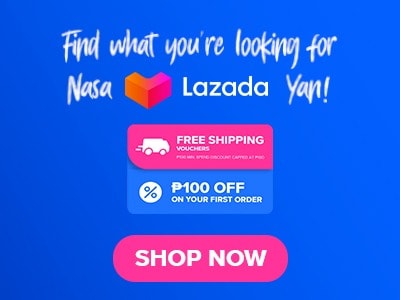 See the world from a great perspective as you indulge yourself with this delightful collection brought to you by Bungalow Cafe. It showcases aa except to a paradise experience amidst the hustle and bustle of the city. Join me and take a flavorful step into this serene oasis from the Bungalow Cafe menu collection.
Below, you'll find the updated list of their menu prices.
Menu Items
Price (PHP)

EGGS & TOASTS

Eggs Benedict
450
Hummus Toast
300
Grilled Cheese Sandwich
350

STARTERS

Berries & Ricotta
480
Prawn Roll
450
Potatoes & Gravy
380

SANDWICHES

Fish-O-Fillet
480
Fried Chicken Sandwich
420

OMELETTES

Mushroom & Cheese Omelette
400
Sausage & Cheese Omelette
420

SOUPS

Pumpkin Soup
250

ALL-DAY BREAKFAST

Chia Pudding
300
Adobo Rice
450
Classic French Toast
400
Adlai & Chicken Bowl
450

PANCAKES & FRENCH TOAST

Maple-Blueberry & Ricotta Pancakes
480
Strawberry French Toast
450

PASTA & ENTREE

Carbonara
480
Crispy Grain Bowl
480
Squid Ink Seafood Pasta
550

SMOOTHIE BOWLS

Pink Coral Smoothie Bowl
300
Chocolate-Berry Smoothie Bowl
300

SALADS

Mushroom Salad
420
Sundried Tomato Pesto
450

SIDE DISHES

Spicy Honey-Garlic Wings (500g)
520
Butterhillk Fried Chicken
680

STEAK & POTATOES

Steak & Potatoes
2100
About Bungalow Cafe
Bungalow Cafe features a menu that highlights the innovative fusion of local and international cuisine. It offers something that will suit everyone's cravings from their sweet sensation up to their savory collection. They also offer a hearty breakfast that highlights gourmet sandwiches and other ala carte meals. There is so much to love here at this cafe and let's head on to their meu best seller for you to savor the best of Bungalow Cafe.
Bungalow Cafe Menu Best Seller
Pineapple Slushie – This pineapple slushie offers you a refreshing tropical delight. From the freshly blended pineapple to its delightful sip on this icy cup, its sweetness and refreshment are a perfect way to cool down.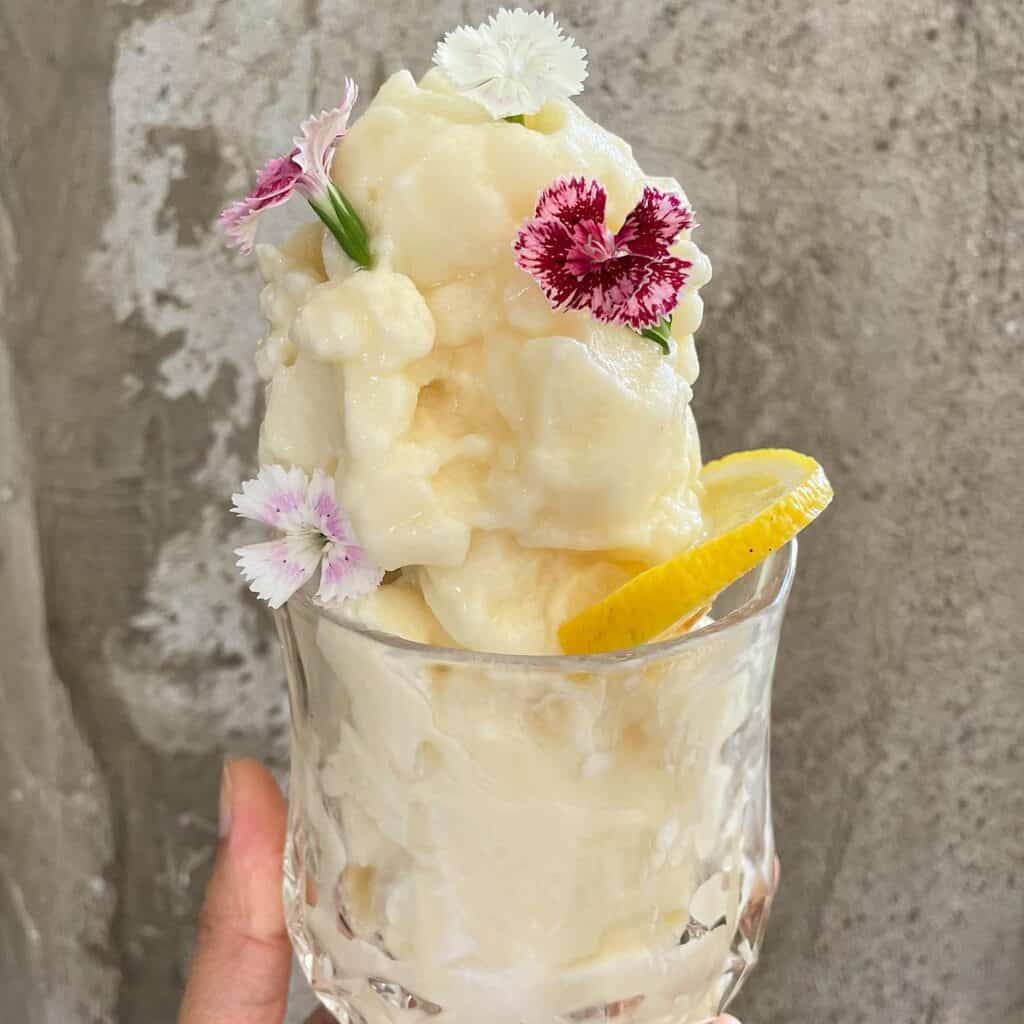 Espresso Ice Cream – For the coffee lovers! Let's take your favorite coffee on a delightful twist in this Espresso Ice Cream that features a creamy and bold flavor of espresso.
Old-fashioned Sugar-coated Doughnut – Bring back the classic is what you can expect in this nostalgic old-fashioned sugar-coated doughnut. It has the right level of fluffiness and a hint of vanilla giving you the quintessential comfort you need for your day.
Chocolate Cinnamon Roll – Let us take a deep dive into this rolling goodness of Chocolate Cinnamon Roll. It is generously drizzled and swirled with delightful and velvety chocolate glaze giving your gooey and sweet indulgence.
Maple Blueberry & Ricotta Pancakes – Pancakes for breakfast are top-tier! Enjoy this pancake masterpiece that highlights a fluffy ricotta that is deliciously combined with a fresh plum of blueberries that are perfectly drizzled with 100% pure maple syrup.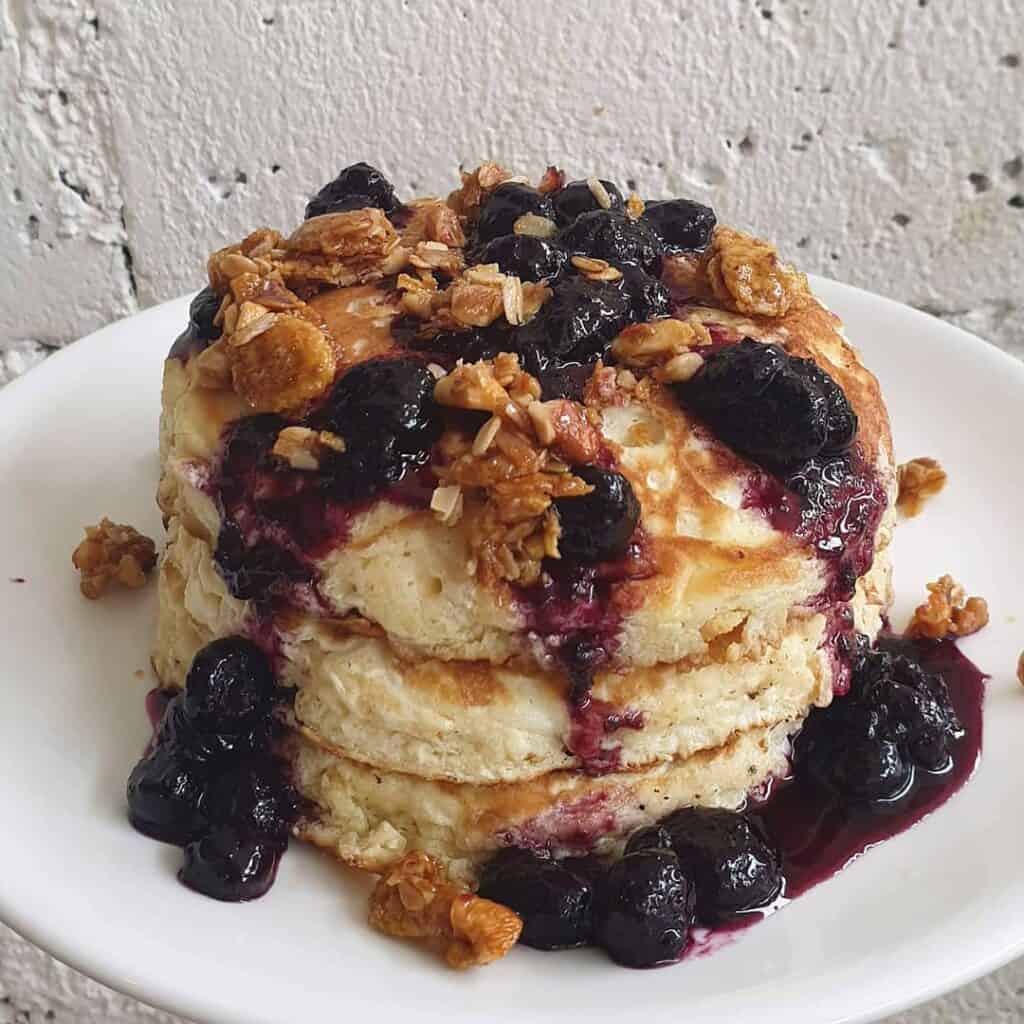 Ala carte
Satisfy that delightful craving with these ala carte meals that are perfect for your everyday go-to meals. It highlights various foods giving you wonderful textures and flavors.
Eggs Benedict – This classic brunch menu of Bungalow Cafe is a favorite breakfast option that highlights perfectly cooked eggs atop Canadian bacon. It features a sauce and a symphony of flavors.
Fried Chicken Sandwich – Are you craving something crispy as well as savory at the same time? Look no further because I have here a tender and crispy chicken breast that is served in a sandwich along with their secret sauce. It is delightful and comforting food for your day.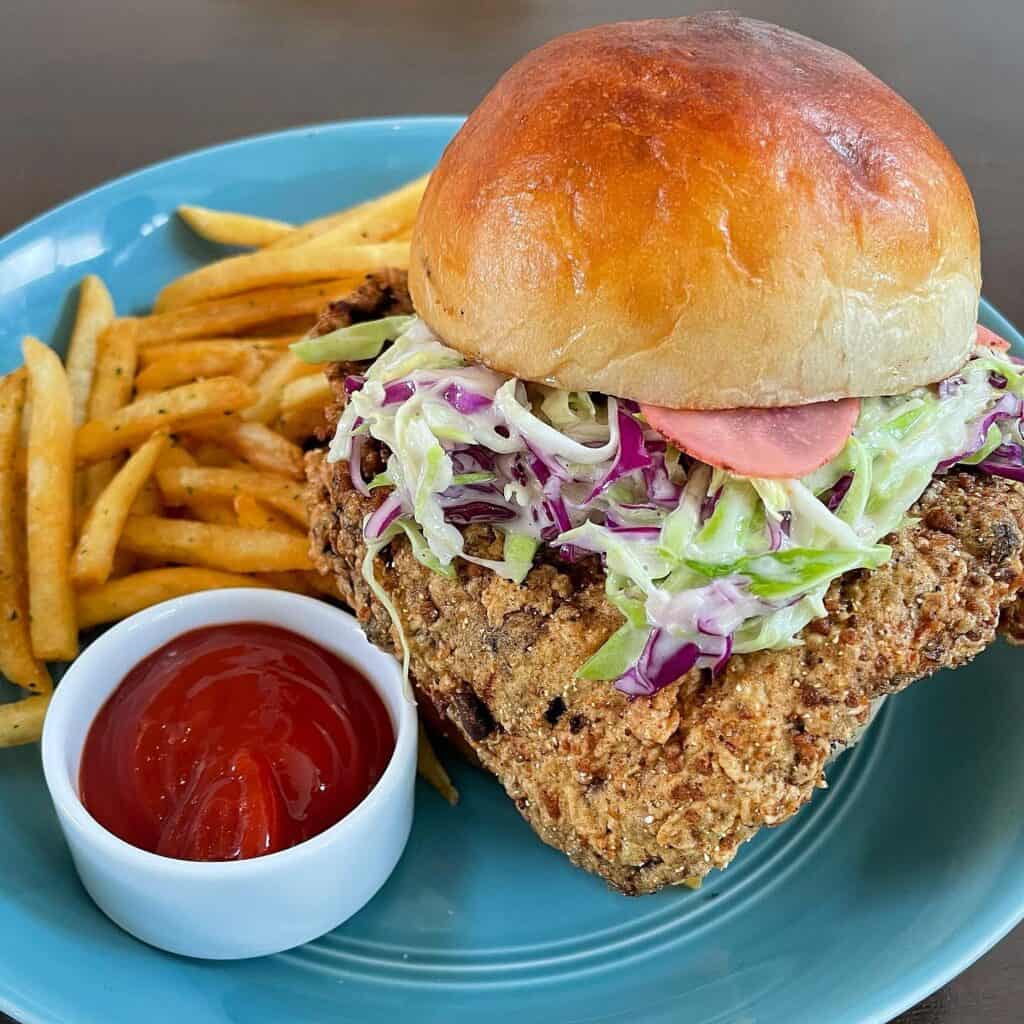 Mushroom & Cheese Omelet – A savory sensation is here for you that features a fluffy egg over a generous filling of fresh and sautéed mushrooms. It also has melted cheese giving you a wholesome experience.
Adobo Rice – Experience one of the best flavors of Bungalow Cafe with this famous Filipino dish that is flavored in a rice meal. It has the right aroma of savory and aromatic flavor that will surely transcend you in the world of culinary bliss.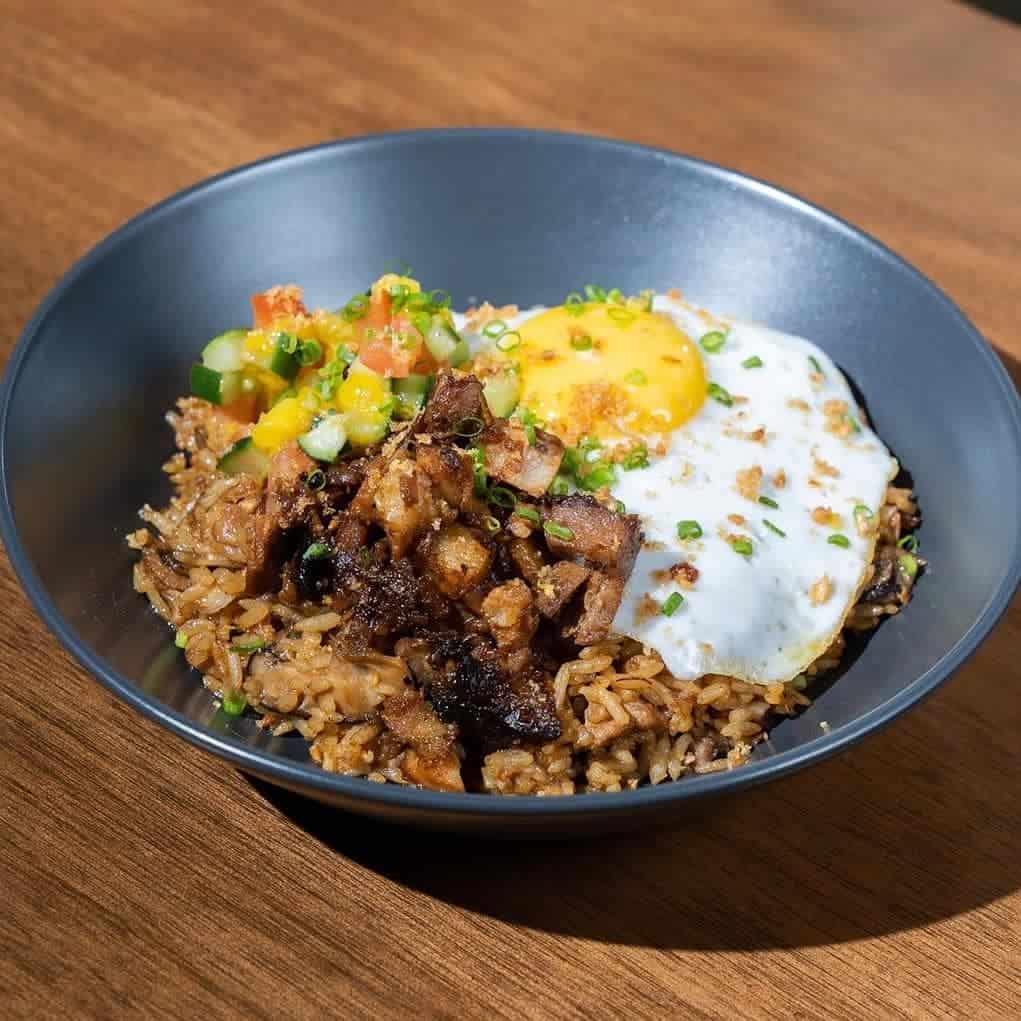 All-day Breakfast
Start your day with enthusiasm and a satisfied tummy too! Here is a great list I curated for you that is one of their recommended all-day-breakfast collections.
Carbonara – Their version of carbonara is actually creamy as well as dreamy with its velvety sauce with cheese and bacon. It has a perfect balance of richness in every bite that will surely hit the spot.
Steak & Potatoes – Indulge in this hearty meal that features steak and potatoes. It offers you a succulent steak that is cooked and served alongside its perfectly roasted potatoes.
Squid Ink Seafood Pasta – Delve into the depth of amazing flavor this squid ink has to offer. It features seafood pasta along with another medley of fresh seafood giving you a very unique and tantalizing experience.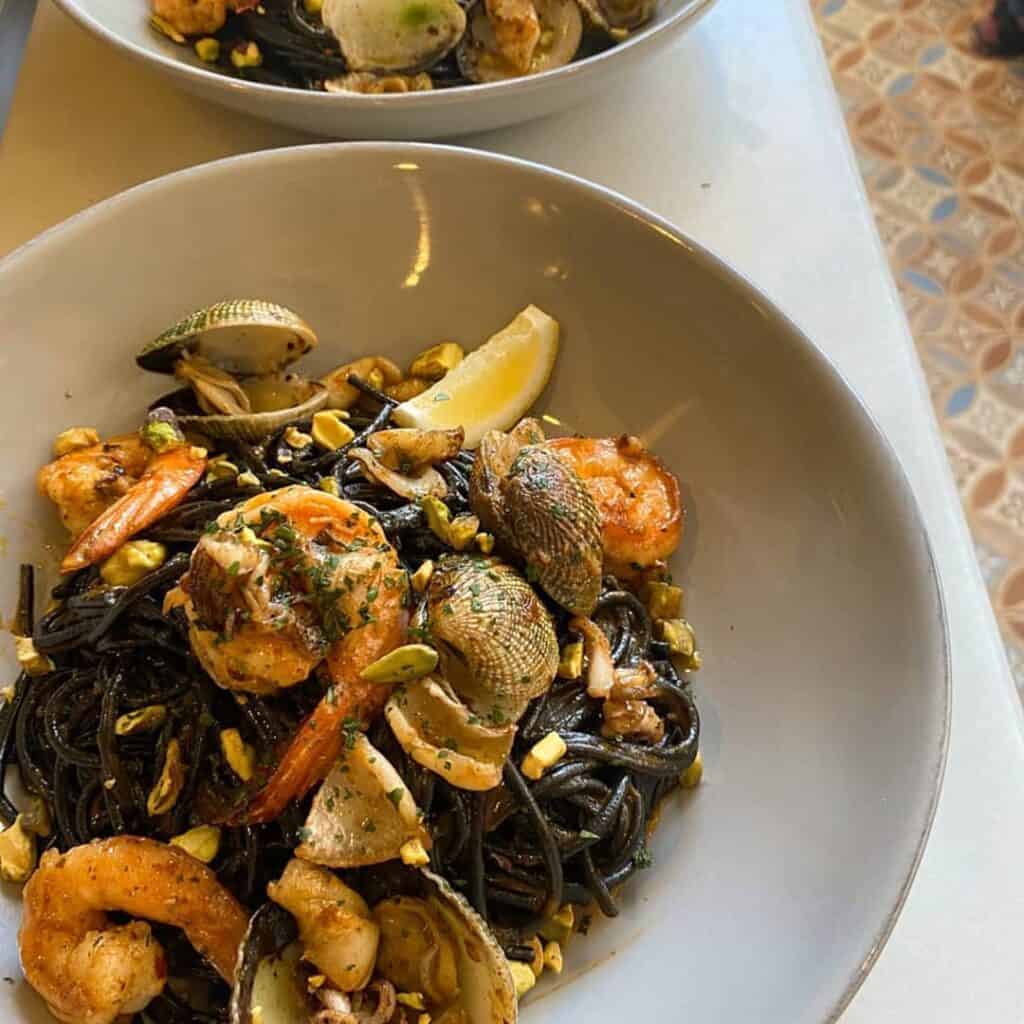 Buttermilk Fried Chicken – Their version of this flavorful buttermilk chicken is carefully marinated to perfection with its flavorful breading that features the delectable fusion of butter and milk.
Bungalow Cafe Delivery
Bungalow Cafe focuses on the dining experience they offer, from the food up to their interior design bringing a very inviting atmosphere. That is why they are not offering any delivery service or partnered with any third-party delivery channels. I am sure you would love to take a visit to this restaurant to leverage your experience to its highest level.
Social Media Pages
Never miss a beat. Stay in the loop about Bungalow Cafe's special events, live entertainment, and themed nights. It'll keep you informed so you can plan your memorable dining experiences.
Facebook: https://www.facebook.com/bungalowmanila
Instagram: https://www.instagram.com/bungalowcafe
TikTok: https://www.tiktok.com/@bungalowcafe
Website: https://bungalow.cafe/pages/contact-us
Frequently Asked Questions
What type of cuisine does Bungalow Cafe offer?
This cafe offers a flavorful collection of various cuisines highlighting its savory meals, Ala carte meals, and premium coffee.
What is Bungalow Cafe known for?
Bungalow Cafe is famous for its specialty coffee that highlights premium blends to its finest quality. you also need to try their All-Day Breakfast collection which is perfectly paired with their coffee menu.
What are the operating hours of Bungalow Cafe?
They offer flavorful food and coffee as early as 1 AM until 10 PM. 
Where is Bungalow Cafe located in the Philippines?
Bungalow Cafe is located at Molito Complex, 1780 Madrigal Ave, Ayala Alabang, Muntinlupa, Metro Manila . You can find them at Waze if you are planning to visit their store.
Conclusion
In conclusion, Bungalow Cafe is not just a cafe that offers great food and coffee, it is a culinary oasis that showcases a delightful step to escape from your exhausting daily grind. With its diverse menu that caters to all of your various cravings and moods, this cafe is definitely something that I can recommend with all my heart. From their pineapple slushies up to the classic eggs benedict, it is evident that this cafe takes great pride in its food and in the entire dining experience that you will surely enjoy. One thing that I can recommend is for them to fix their official page interface and properly arrange the food categories because it is a bit disorganized but that is just on technical aspect because the food can really make up to all of that. Again I am very thankful and satisfied with my experience, and will surely come back soon!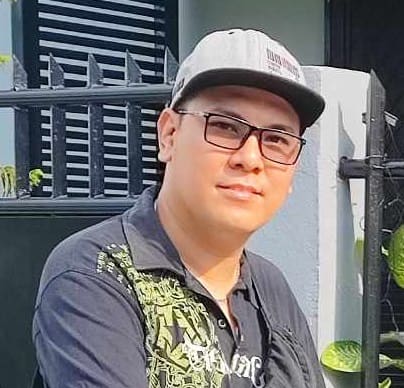 Hi! I'm Nivek Strife, the person who made MenuPH. I'm the one who added most of the popular menus you see on this website, and I really hope you enjoy them! Feel free to check them all out.
Growing up, I was surrounded by lots of tasty foods, like the classic Adobo and the sweet Leche Flan. That love for the many flavors of the Philippines is what got me excited about adding to MenuPH. When I learned how to make websites, I saw the need for a place to show off all the amazing Filipino dishes, and that's how MenuPH started.
MenuPH isn't just a website; it's like a fun journey into food. I've teamed up with famous chefs and found great places all over the Philippines to bring you a bunch of menus that show off the best of Filipino cuisine. Whether you're into the usual dishes or new twists, MenuPH is here to guide you through the rich world of Filipino flavors.
With MenuPH, my aim is to help local businesses, talk about good food choices, and make a group of friends who love food. No matter if you like fancy restaurants or street food, MenuPH has something for you. Come join me on this food adventure as we find great places, taste real flavors, and enjoy the unique food traditions that make the Philippines awesome.