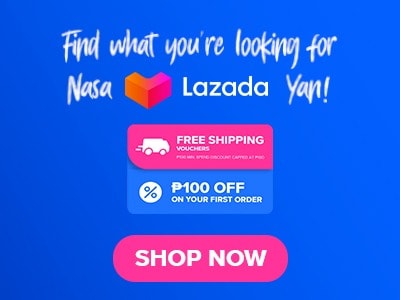 If you are looking for a place to relax, a place that offers a warm and comfortable atmosphere and delicious food offerings, then Y Cafe is the place that you should go to. Y Cafe's menu is filled enjoyable and exciting fusion of local Filipino flavors and international culinary influences. Their diverse array of choices ranges from hearty breakfast options to satisfying main courses, tempting pasta dishes to mouthwatering sandwiches and salads. Overall, the menu at Y Cafe is designed to provide a memorable dining experience whether you're looking for comfortable food items or new dishes to try.
Below, you'll find the updated list of Y Cafe menu prices.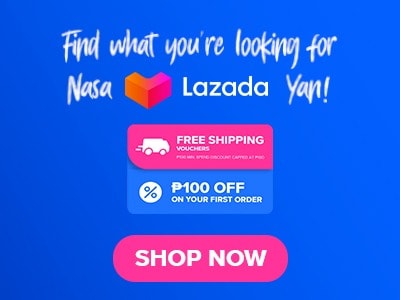 Menu Items
Price (PHP)

Pik-a Pik-a

Pork Sisig
245
Spam Fries
395
Chicken Wings
295
Gambas Alpilpil
365
Beef Nachos
195
Onion Rings
325
Calamares
255

Princess Pasta

Classic Carbonara
295
Penne Arrabiata
295
Chicken Alfredo
295
Linguini Pesto Pollo
295
Seafood Marinara
295
Spaghetti Aglio Olio
265

Power Meals

Bangus Silog
195
Beef Tapa
195
Western Breakfast
255
Three Way Longanisa
195

Sailor Salad

Fruits and Greens
265
Calamari Mango Salad
235
Classic Caesar Salad
225

Gohan Meals

Salisbury Steak
245
Chicken Teriyaki
245
Battered Fish Fillet
245
Herbed Pork Chop
245
Judokatsu
245
Fried Chicken
245
Beef Sumo
245

Voltes Meals

Glazed Salmon
545
Beef Salpicao
455

Mojacko

Y Cheese Burger
295
Buffalo Chicken Sandwich
295

Pizza Bebop

Tutta La Carne
425
Margherita
365
Saliccia E Broccoli
385
Pepperoni
395
About Y Cafe
Y Cafe is a cafe and restaurant located in the Philippines, offering a variety of food and beverage options. This cafe showcases a modern and stylish interior that focuses on providing customers with a cozy and welcoming atmosphere for them to truly enjoy their dinner at Y Cafe. Y Cafe's menu appears to feature a diverse range of dishes, including breakfast options, appetizers, main courses, pasta, sandwiches, salads, desserts, and beverages. They provide customizable menus and personalized services to meet the specific requirements of each event.
Y Cafe Menu Best Seller
This menu is composed of Y Cafe's most popular and best-selling dishes from both their online and physical stores.
Salisbury Steak – It's a classic dish that is made with ground beef that is seasoned, shaped into a patty, and then cooked to perfection to provide a comforting and flavorful experience. It is served with a rich and savory gravy, accompanied by sides such as mashed potatoes, vegetables, or rice to make for a complete meal.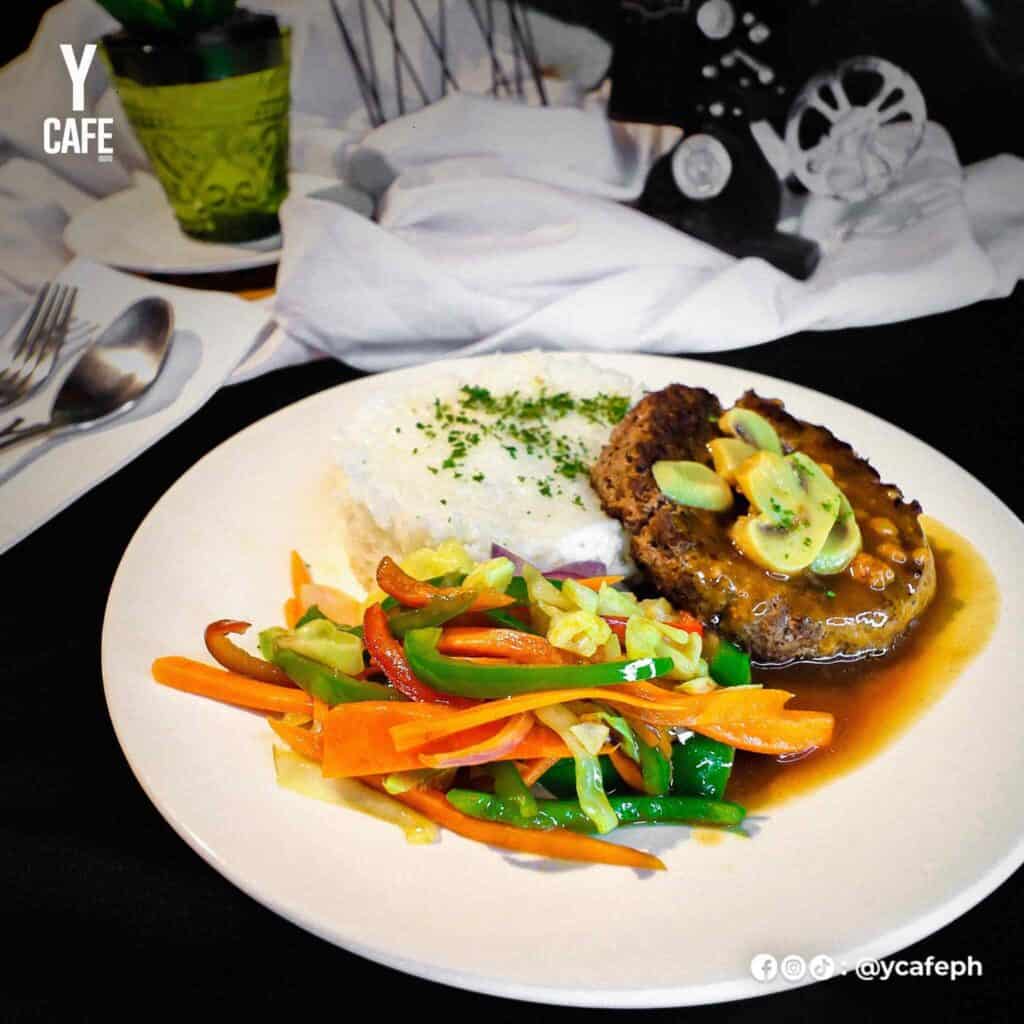 Chicken Teriyaki – Y Cafe's Chicken Teriyaki is likely to offer a harmonious balance of flavors, with the sweetness of the teriyaki sauce complementing the tender chicken featuring tender chicken pieces marinated in a sweet and savory teriyaki sauce.
Herbed Pork Chop – This Y Cafe menu features a thick and juicy pork chop seasoned with aromatic herbs and spices offering a mouthwatering blend of flavors, with the herbs enhancing the natural taste of the pork and providing a delicious dining experience.
Fried Chicken – This dish features fresh and tender chicken pieces coated in a seasoned batter and deep-fried to achieve a golden and crispy exterior while remaining juicy and tender on the inside, and then served with rice to make for a satisfying meal.
Y Cheese Burger –  A classic favorite menu that features a juicy beef patty topped with melted cheese and accompanied by fresh lettuce, tomatoes, onions, and a choice of condiments. Y Cafe's Y Cheese Burger provides a satisfying combination of flavors and textures, with the richness of the cheese complementing the savory beef patty.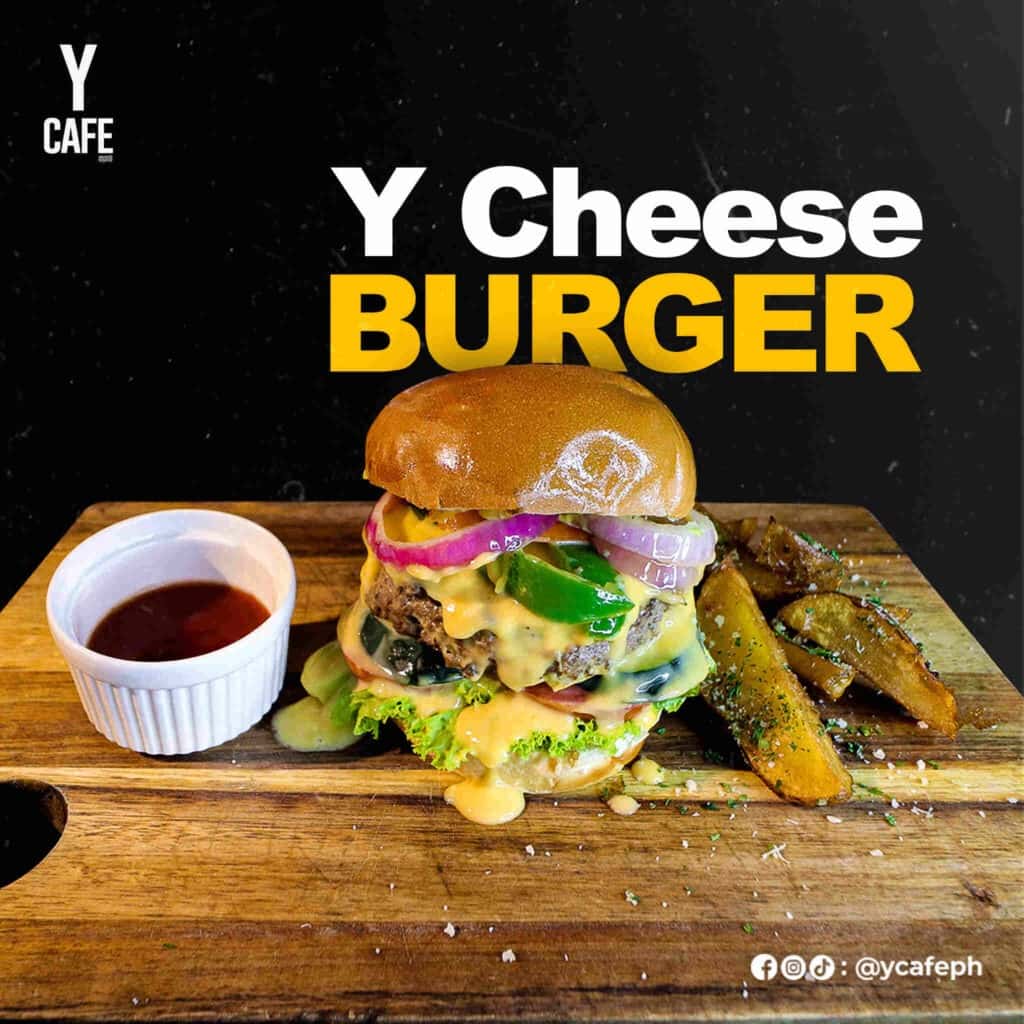 Y Cafe Menu Pik-a Pik-a
This menu is filled with a wide variety of classic dishes that can be consumed on its own or paired with other dishes that Y Cafe offers.
Pork Sisig – This is made from chopped and seasoned pork parts, such as the head, belly, or cheeks, and then cooked on a sizzling plate for a delicious sizzle. Y Cafe's Pork Sisig offers a flavorful combination of tender and crispy pork, seasoned with aromatic spices and tangy flavors.
Spam Fries – The spam fries from Y Cafe are seasoned with a special blend of spices and are served to be a fun snack option or an appetizer for those who are waiting for their meals. It has a tasty combination of crispy texture and the distinct savory flavor of Spam, making them a delightful choice for those seeking a unique and indulgent treat.
Chicken Wings – Y Cafe's Chicken wings are cooked perfectly which results in a crispy and flavorful exterior while still maintaining the tender and juicy meat on the inside. Y Cafe's Chicken Wings offers r a variety of flavors, ranging from classic buffalo to tangy barbecue, spicy variations, or unique house-made sauces.
Y Cafe Menu Princess Pasta
This menu is made up of a wide selection of pasta dishes from Y Cafe, each of which is creamy, satisfying, and filling.
Classic Carbonara – This pasta dish features a creamy sauce that is made from eggs, Parmesan cheese, pancetta or bacon, and a noodle that are cooked al dente that is completed by a rich sauce to create a velvety and flavorful dish.
Penne Arrabiata – It is a spicy pasta dish that originates from Italian cuisine with a sauce that is typically made with tomatoes, garlic, chili peppers, and olive oil, creating a flavorful and fiery combination.
Chicken Alfredo – This is a classic Italian pasta dish that combines tender pieces of chicken with a creamy Alfredo sauce that is made with butter, cream, Parmesan cheese, and garlic, resulting in a rich and velvety texture.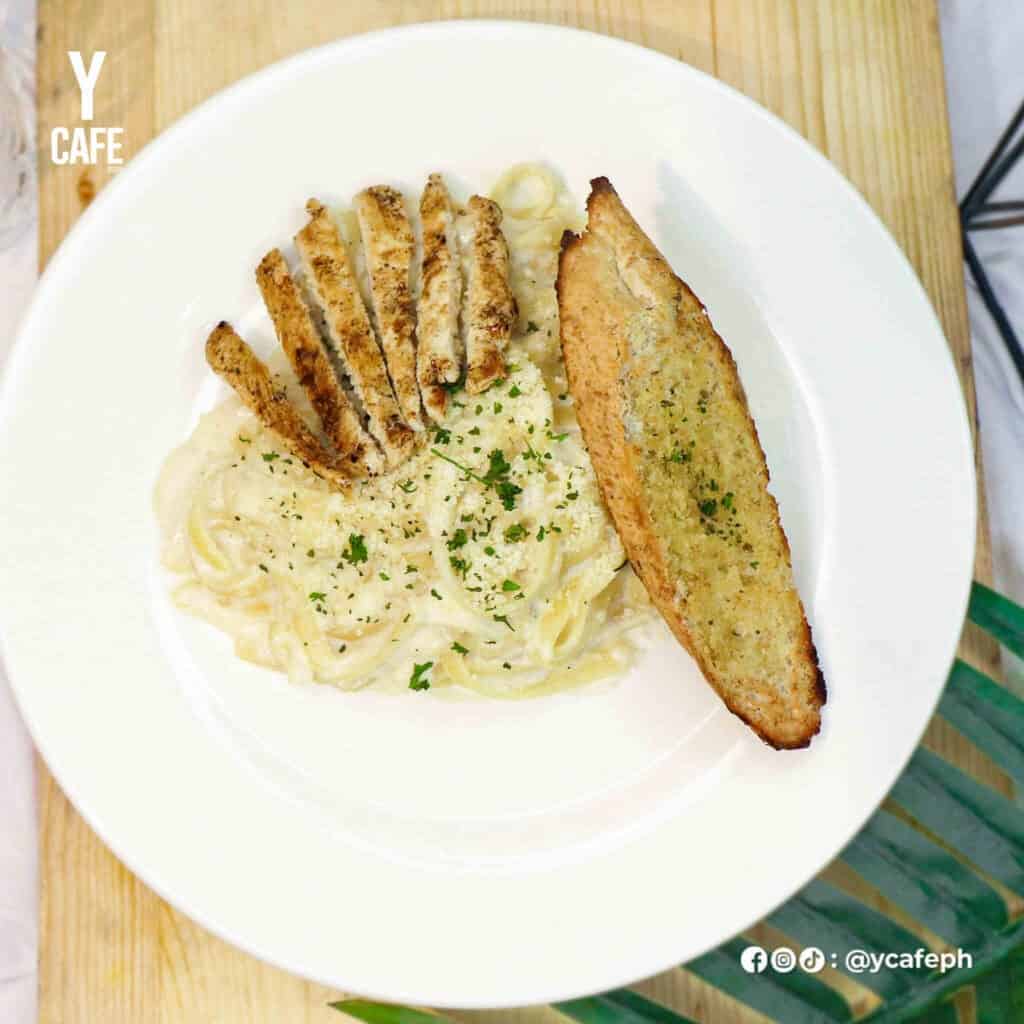 Voltes Meals
On this menu of Y Cafe, you can find two tasty dishes: glazed salmon and beef salpicao. These dishes are different, and they are made with different ingredients. Some people may prefer fish, so they can choose the glazed salmon, while others who like beef can go for the beef salpicao. Both dishes are meant to make you happy and full because they are delicious and satisfying. So, you have options to pick from based on what you like!
Mojacko
You can choose from two different sandwiches: the Y Cheese Burger and the Buffalo Chicken Sandwich. These sandwiches are perfect for when you want a light and tasty meal. So, if you're not too hungry or just want something smaller, these sandwiches are a great option for you to try!
Sailor Salad
They also have a special menu with lots of salads. These salads are great for people who want to eat something lighter and healthier. Salads usually have fresh vegetables and sometimes fruits too, which can be good for your body. So, if you're trying to make a healthier choice, these salads might be just what you need!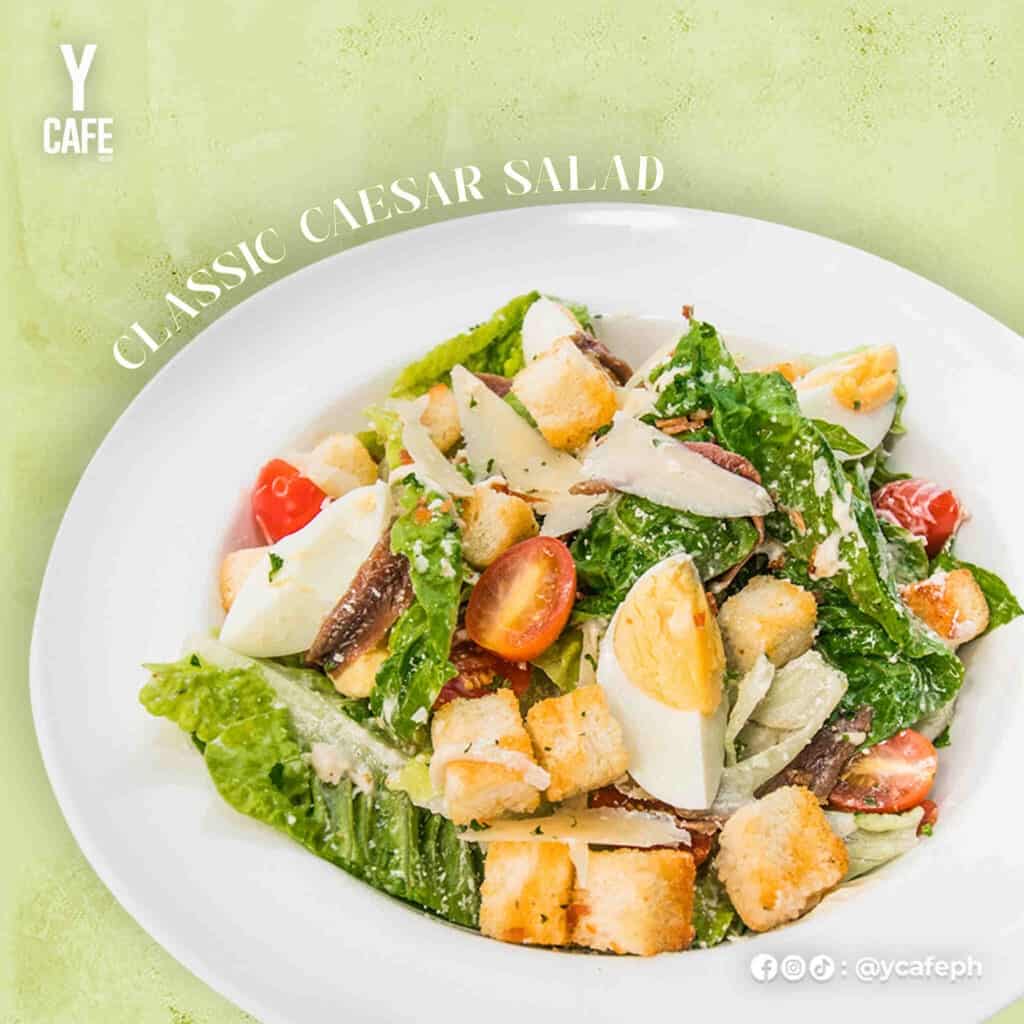 Executive Meals
This menu has lots of fancy foods that are perfect for special occasions. If you want to have a romantic dinner with someone you love, these dishes would be great. They're also good for important business meetings when you want to impress others. So, whether it's a date night or a professional gathering, this menu has the right food to make it special.
Y Cafe Menu Delivery
Y Cafe offers a menu delivery to make its offerings more accessible to a wider audience. This can be accessed through their website, social media pages, or third-party delivery services like FoodPanda.
Social Media Pages
Be a part of Y Cafe's coffee tribe, and let the world know you're sipping on the best brews in town! Share your #YCafeMoments with them, and let the coffee magic flow through your feed.
Facebook: https://www.facebook.com/ycafeph/
Instagram: https://www.instagram.com/ycafeph
TikTok: https://www.tiktok.com/@ycafeph
Website: https://www.ycafe.ph/#events
FAQs
Where is Y Cafe located?
You can visit Y Cafe in Cebu or in Manila.
What are the operating hours of Y Cafe?
Y Cafe operates from 7:00 AM-10:00 PM.
Can I make reservations at Y Cafe?
Yes, customers can make reservations at Y Cafe by going to their website or social media pages.
Does Y Cafe offer delivery or takeout services?
Y Cafe does offer delivery and takeout services to cater to their customer's needs.
Does Y Cafe have any special promotions or events?
They often provide customers with promotions and other events to keep their customers engage.
Conclusion
Y Cafe is a vibrant and inviting destination for locals in the Philippines looking for a comfortable place to relax with delicious food items. This cafe has a diverse menu that features a blend of local Filipino favorites and international flavors to give customers a memorable dining experience. Y Cafe also focuses on quality ingredients, skillful preparation, and a cozy ambiance to ensure that all of the dishes that they serve are worth what their customers spend. So make sure you visit Y Cafe whenever you have the chance!