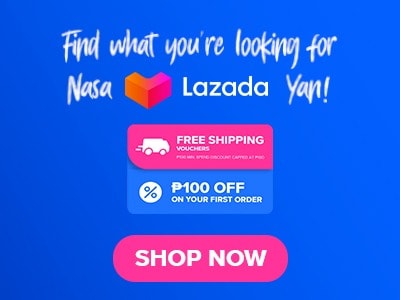 The Bulgogi Brothers menu features a wide array of authentic and yummy Korean cuisines. It offers All-You-Can-Eat which includes beef belly, soybean pork, curry pork, garlic pork, steamed egg, glass noodle soup, rice, solo pan-fried tofu, and refillable items such as side dishes, lettuce wrap, and iced tea. This restaurant also serves a la carte meals, signature and special bundles, barbecues, desserts, and classic bibimbap.
Below, you'll find the updated list of Bulgogi Brothers menu prices.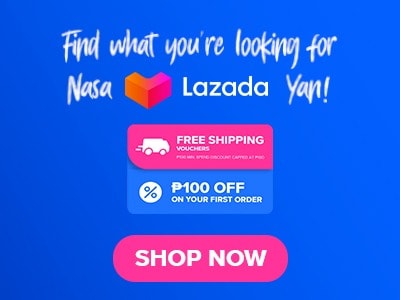 Menu Items
Price (PHP)

All-You-Can-Eat

All-You-Can-Eat (per head)
1395

Bundles

Signature Bundle A (good for 2-3 people)
1275
Signature Bundle B (good for 2-3 people)
1505
Signature Bundle C (good for 2-3 people)
2275
BBQ Grill Bundle (good for 2-3 people)
1075
Big Bundle (good for 3-4 people)
3445

Ala Carte (Salads & Starters)

Korean Green Salad
475
Bulgogi Salad
475
Cheezy Tteok-bokki
450
Kimchi Dumplings (Solo)
425
Kimchi Dumplings (To Share)
595
Korean Japchae
450
Seafood Pancake
435
Sesame Garlic Soy Tofu (Solo)
195
Sesame Garlic Soy Tofu (To Share)
295
Spicy Seafood Dumpling (Solo)
545
Spicy Seafood Dumpling (To Share)
795
Spicy Sesame Tofu (Solo)
195
Spicy Sesame Tofu (To Share)
295
Spicy Tteok-bokki
275
Tofu Steak (Solo)
275
Tofu Steak (To Share)
425

Ala Carte (Soups and Stews)

Army Stew
1005
Beef Belly Soup with Soft Tofu
695
Chicken Ginseng
795
Galbi Tang (Solo)
695
Galbi Tang (To Share)
1050
Kimchi Stew (Solo)
595
Kimchi Stew (To Share)
775
Seafood Soybean
695
Seoul Style Bulgogi
795

Ala Carte (Specialties)

Chikin' Chops Solo
465
Galbi Jim
795
Gangnam Grilled Mackerel
795
Korean Fried Chicken (Solo)
655
Korean Fried Chicken (To Share)
1125
Korean Stir-Fried Rice
185
Korean Style Pork BBQ
705

Ala Carte (Rice Bowls)

Beef Bulgogi Bowl
425
Pork Samgyupsal Bowl
385
Spicy Chicken Bowl
350

Barbecue

8oz NY Steak
1205
Big Grill
1695
Bulgogi Brothers Special
1795
Gwangyang Style Bulgogi
695
Korean BBQ Pair
795
Marinated Beef Belly (Solo)
325
Marinated Beef Belly (To Share)
425
Marinated Boneless Short Ribs
1075
Marinated Pork Belly (Solo)
325
Marinated Pork Belly (To Share)
425
Marinated Squid
525
Nami KBBQ Platter
2250
NY Steak
805
Premium BBQ Trio
1725
Samgyupsal (4 flavors)
1100
Samgyupsal (6 flavors)
1495
Unyang Style Bulgogi
795

Classic Bibimbap

Bulgogi Bibimbap (Solo)
395
Bulgogi Bibimbap (To Share)
625
Chicken Bibimbap (Solo)
375
Chicken Bibimbap (To Share)
545
Pork Bibimbap (Solo)
385
Pork Bibimbap (To Share)
565
Vegetable Bibimbap
325

Dessert

Salted Caramel Chocolate Cake
335

Add Ons

Korean Salad
95
Rice
75
Steamed Egg
105
Unlimited Lettuce Wrap
75
BEVERAGES

Specialty Drinks

Berry Milky
195
Iced Tea (Refillable)
150
Lemonade
165
Mint For You
165
Plum-A-Day
195
Ripe Mango Shake
170
Summer Sunset Fizz
195
Tropical Three
195
Watermelon Shake
170
Watermelon-ade
195

Sodas in Can

Coke
95
Coke Zero
95
Sprite
95

Bottled Water

Bottled Water
75

Alcoholic Drinks

Heineken
155
SMB Light in can
110
SMB Pale in can
110
Soju
305
Tiger Crystal
155
About Bulgogi Brothers
Bulgogi Brothers is one of the concepts of The Bistro Group. The first international branch of this Korean restaurant was opened in Manila on September 2011. It gives its diners an amazing experience as each table has a built-in grill, and its cuisines are made with authentic ingredients. This restaurant also showcases Korean culture through its modern Korean music and interior design.
Bulgogi Brothers Menu Best Seller
Bulgogi Brothers is one of the best Korean restaurants that serve authentic, popular, and tasty cuisines. These are some of the best sellers of Bulgogi Brothers that are always a hit and make customers come back for more.
Bulgogi Bibimbap – It is a classic and delicious dish with rice topped with beef bulgogi, mixed vegetables, and egg yolk. The beef bulgogi is the highlight of this dish and is well-loved for its tenderness, aroma, and satisfying taste.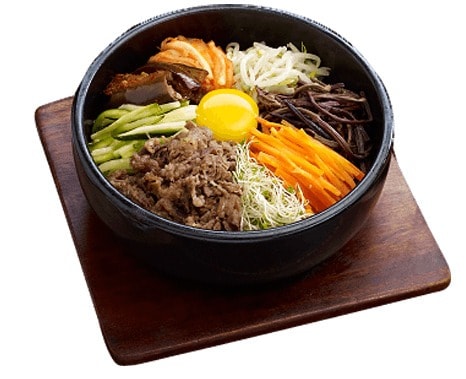 Galbi Tang – Galbi Tang, or beef short rib soup, is a heartwarming dish consisting of beef short ribs, radish, jidan, and onion leek. The deep umami flavor and the warmth it gives make it one of the best soups you can enjoy when you are not feeling well or during cold weather.
Pork Bibimbap – This classic bibimbap includes thin slices of marinated pork. The tenderness, juiciness, and comforting goodness of pork make it one of the crowd's favorite dishes. It combines perfectly with other ingredients, resulting in a mouthwatering cuisine.
Marinated Pork Belly – At Bulgogi Brothers, they have a special menu with a tasty dish called marinated pork belly. This is a popular meal that many customers love in Korean restaurants. The pork is soaked in a special mixture of seasonings and spices, which makes it really flavorful. They cook it until it becomes tender and delicious. So, if you enjoy Korean food and want something flavorful, this marinated pork belly is a great choice!
Unyang Style Bulgogi – An eye-catching and appetizing cuisine made with beef chuck eye. It has a visually appealing presentation as it is molded in a heart shape and comes with delicious side dishes. This delicious dish is served with special bulgogi sauce, making it more gratifying.
Bulgogi Brothers Menu Signature Bundles 
The signature bundles served by Bulgogi Brothers consist of four flavorsome Korean cuisines. These signature bundles come with unlimited rice and six kinds of refillable side dishes that are good for sharing by two to three people.
Signature Bundle A – This bundle consists of Korean cuisines that consistently satisfy the cravings of its patrons. It comprises Chicken Bibimbap Solo, Bulgogi Bibimbap Solo, Pork Belly Ultimate, and Unyang Style Bulgogi.
Signature Bundle B – It includes regular, non-marinated pork belly and beef belly, so you can taste the natural savory flavor and texture of meat. The heartwarming Galbi Tang soup and suitable for sharing Pork Bibimbap are the two Korean cuisines that complete this bundle.
Signature Bundle C – The spicy tteokbokki, marinated boneless short ribs, marinated pork belly, and galbi tang are the cuisines served in this bundle. This great bundle will give you an ultimate Korean dining experience as it consists of popular cuisines well-loved by people from different walks of life.
Rice Bowls
The rice bowls of Bulgogi Brothers are served with bean sprouts, fried egg, onion leeks, a hearty soup, and white rice, which can be upgraded to the Kimchi rice variant for a more gratifying meal.
Pork Samgyupsal Bowl – Pork samgyupsal is one of the well-known Korean cuisines loved by Filipinos. The umami flavor profile of grilled pork stimulates the appetite, making diners enjoy their meal.
Beef Bulgogi Bowl – This rice bowl from the Bulgogi Brothers menu includes beef bulgogi with a fragrant scent, tender texture, and yummy taste. The sesame seeds garnish on it enhances its taste and makes it visually appealing. 
Spicy Chicken Bowl – Spice up your meal with this spicy chicken bowl from this restaurant. The breaded chicken is doused in a special Korean sauce that gives it a vibrant color and glossy appearance. It has a tender texture, and its bold flavor will make you crave more.
A La Carte
The A La Carte offered by Bulgogi Brothers consists of salads, starters, soups, stews, specialties, and rice bowls. These cuisines have authentic taste and visually appealing presentation that will entice you to try them.
Cheezy Tteok-Bokki – This is a delicious dish made up of Korean rice cake, Korean luncheon meat, and sausages cooked in a spicy cheese sauce. The toasted sesame seeds sprinkled on its top and the fresh onion leeks make it enticing.
Kimchi Stew – A popular Korean stew is notable for its spicy and savory flavor that will satisfy your Korean food cravings. It consists of fermented cabbage pork, rice cake, and tofu simmered in a flavorful broth.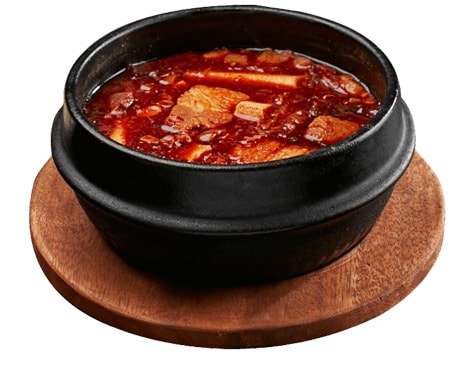 Tofu Steak – It is a must-try starter that will boost your appetite as it has a distinctive and yummy taste. This tofu steak comes with bean sprouts, minced beef, and mixed vegetables. The teriyaki sauce is drizzled on it to make it more flavorful.
Barbecue
At Bulgogi Brothers, you have a lot of yummy barbecue dishes menu to choose from. They offer different types of bulgogi like gwangyang and unyang style, NY Steak, Big Grill, Korean BBQ Pair, Premium BBQ Trio, and Nami KBBQ Platter.
They also serve samgyupsal in six different flavors: salt & pepper, curry, garlic, ginseng, soybean, and Bulgogi. These dishes will make you feel really hungry, so they give you unlimited rice to go with them.
In addition to that, they have marinated dishes like Boneless Short Ribs, Pork Belly, Beef Belly, and Squid. So, there's a wide variety of tasty food at Bulgogi Brothers that will surely satisfy your appetite!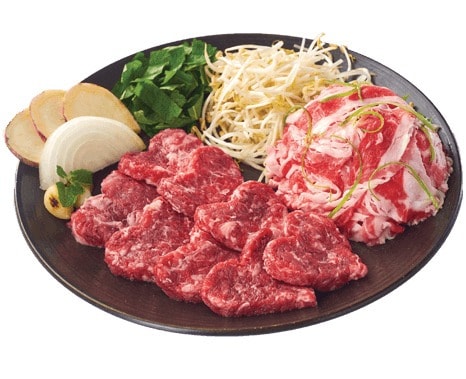 Classic Bibimbap
The classic bibimbap offered by Bulgogi Brothers is available in four varieties. It has Bulgogi, Pork, Chicken, and Vegetables. These cuisines come with egg yolk and mixed vegetables that go well perfectly. The six kinds of side dishes served with them are refillable, giving diners a complete and memorable Korean dining experience.
Bulgogi Brothers Menu Delivery
You can now get delicious Korean food from Bulgogi Brothers delivered right to your home! To order, you can use GrabFood or visit their website at bistrodelivers.com.ph. This way, you can enjoy your favorite Korean dishes without having to leave your house. It's super convenient!
Social Media Pages
Join the Bulgogi Brothers community and embark on a culinary journey to the heart of Korea. Follow their social media pages to stay connected with the latest updates, exclusive promotions, and mouthwatering glimpses into their delectable offerings.
Facebook: https://www.facebook.com/Bulgogi.Brothers.Philippines
Instagram: https://www.instagram.com/bulgogibrosph/
Twitter: https://twitter.com/BulgogiBrosPh
Website: https://bulgogibrothers.com.ph/
FAQs
What is Bulgogi Brothers?
Bulgogi Brothers is a Korean restaurant known for its authentic and flavorful cuisine.
What is the signature dish of Bulgogi Brothers Philippines?
The Bulgogi Brothers Special, which consists of Unyang and Gwangyang style Bulgogi is the signature dish of Bulgogi Brothers Philippines.
Does Bulgogi Brothers Philippines offer take-out or delivery services?
Yes, Bulgogi Brothers Philippines offer take-out and delivery services.
Are the menus at all Bulgogi Brothers Philippines locations the same?
Yes, the menus at all locations of Bulgogi Brothers Philippines are the same.
Conclusion
The Bulgogi Brothers menu comprises well-crafted traditional and popular cuisines from Korea that make diners feel happy and satisfied. The bulgogi and barbecue are the dishes you should try at this restaurant as they are some of their specialty and best sellers. Its customers commend its excellent food, reasonable prices, and staff's fast and efficient service.