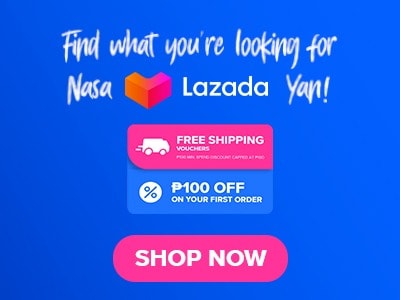 Searching for a cozy spot to fulfill your Japanese food cravings? If you're in Tomas Morato, Quezon City, you might have caught wind of this place. But for those still in the dark, fear not – this article is your guide. Tuna King beckons with a menu of fresh and delicious Japanese delights that are sure to tickle your taste buds. Today, we're unraveling the mysteries of Tuna King, from their prices to their top picks. Excited for our chat? If the answer is yes, let's dive in!
Menu Items
Price (PHP)

Season

Jaru Soba
350
Spicy Seafood Rice Noodle Soup
380

Salad

Kani Salad
270
Spicy Salmon Salad
550
Spicy Tuna Salad
500

The Others

Stir Fried Beef W/ Vegetables
650
O Dengttang
280
Crab Egg Soup
200
Edamame
150

Fried

Ebi Tempura
380
Spicy Fried Chicken
550
Chicken Karaage
500
Fried Chicken Uringi
600
Calamares
280

Grilled

Salmon Steak
700
Grilled Mackerel
500
Grilled Salmon Head
650

Ramen & Noodle

Tonkotsu Ramen
420
Tan Tan Miem
380
Chasu Miso Ramen
390
Seafood Nagasaki Ramen
450
Fishcake U-Dong
280
Ebi Tempura U-Dong
350

Donburi

Oyako Don
350
Ebi Tempura Don
370
Gyu Don
400
Katsu Don
450

Sashimi Don

Kaisen Don
900
Sashimi Bibimbab
550

California Maki

Ebi Tempura Maki
70
Salmon Maki
380
California Roll
300
Spicy Tuna Roll
370
Tuna Sashimi
420
Temaki
270
Tuna Mayo Onigiri
120

Sushi

Day Of Sushi
420
Tamago Sushi
250
Salmon Sushi
280
Salmon Yaburi Sushi
320
Ebi Sushi
280
Ama Ebi Sushi
600
Unagi Sushi
500
U-Bu Sushi
250
Premium Sushi
1200
Beef Tender Yaburi Sushi
500
Hirame Sushi
600
Chutori Sushi
950
Abalone Sushi
500
Uni Sushi
150

Sashimi

Mini Sashimi
800
Salmon Sashimi
700
Tuna Tataki
600
Octopus Tataki
500
Tuna Sashimi
600
Premium Mini Sashimi
1800

Premium Sashimi

Premium Otoro, Chutoro
5500
Premium Sashimi Moriawase
6000
Otoro Chutoro
2700
Chutoro
2500
Meccatoro
2400
Uni Sashimi
500
About Tuna King
Anna Park, a Ppop artist in the Philippines, and her partner James Lee the one behind Tuna King. Tuna King started in the pandemic days he started the idea of bringing his passion to our country and started a Japanese restaurant. This became possible with the help of Anna as she established the now-known Tuna King Japanese restaurant that is located in Quezon City.
They started in a great location where people come to eat or do business however during hard lockdown they also started their delivery service since customers cannot come to their place anymore as everyone is not allowed to go outside of their homes due to the coronavirus that is widely spreading that time.
Nowadays, on our almost normal days, this place offers an al fresco dining experience especially when the weather is great. This place only offers fresh food items maintaining the quality of their products. They also normally prepare their dishes in a short time to serve them as fresh as possible.
Tuna King Best Sellers
Here are samples of Tuna King's best-selling items that are quite popular among their customers.
Ebi Tempura – Ebi tempura version of Tuna King is made with fresh shrimp that is removed from the shell and coated with a mixture of seasoned batter before deep frying until crispy. This one is also served with a sauce that has a combination of sweetness and saltiness. Ebi tempura is an easy dish to enjoy and this is also quite popular not only with Tuna King's menu but to the rest of the world. This is perfect with anything or just by itself. Ebi tempura is already flavorful even without the sauce that comes along with it.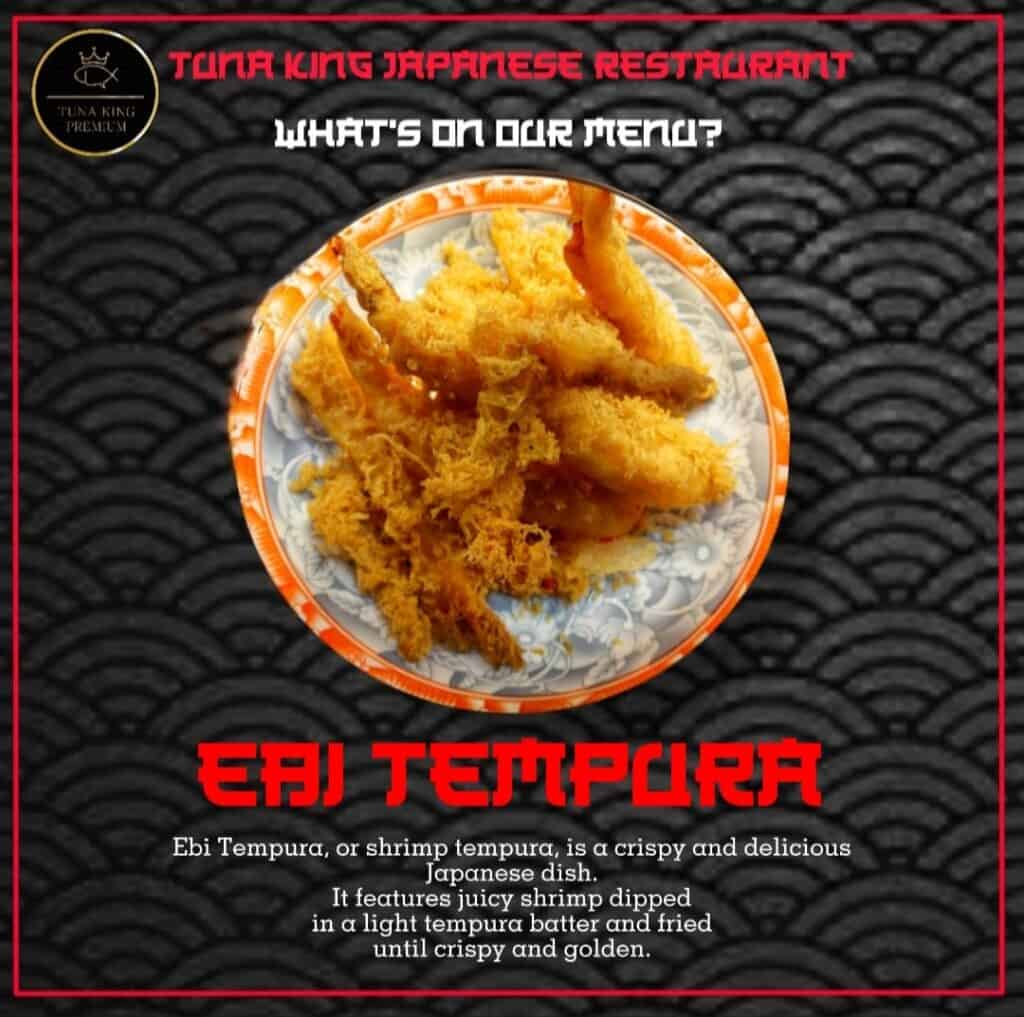 Chicken Karaage – Chicken karaage is a juicy and tender marinated chicken that is coated in crispy breading, this one is a known Japanese comfort food and home-cooked meal. The chicken karaage version of Tuna King is made with chicken that is marinated in sake, mirin, vinegar, and soy sauce which is why it has a slight sweetness. This one is also tender inside and very juicy but crispy outside because of the panko breading. If you love chicken dishes and fried foods at the same time then chicken karaage of Tuna King is the perfect item for you.
Chasu Miso Ramen – The Chasu Miso Ramen version of Tuna King is a special kind of ramen that tastes amazing. This one is called chasu miso ramen because the broth of this ramen is made from chicken stock and miso. This ramen also has vegetables and ground pork in the broth plus the chasu slices which I am quite sure that you will truly enjoy. This chasu miso ramen is rich and thick plus the noodles that they use are al dente a bit chewy and a very light yellow in color. The chasu that they used in this ramen is also flavorful on its own, one of their most delicious ramen options is chasu miso ramen, try it yourself to experience a bowl of goodness.
Gyudon – The Gyudon version of Tuna King is definitely delightful and really enjoyable. This Japanese dish is actually a bowl of rice that is topped with some beef and lots of onions with a bit of sweet sauce that is flavored with fish and seaweeds, soy sauce, and mirin. The meat of their gyudon is soft in texture and since it is thinly sliced this one really absorbs all the flavors of the sauce which is Perfect with the white rice along with it. Gyudon is a popular Japanese comfort food that you might enjoy at Tuna King. It's beefy and honestly one of the best items that I tried on their menu. This one is also included on their best sellers.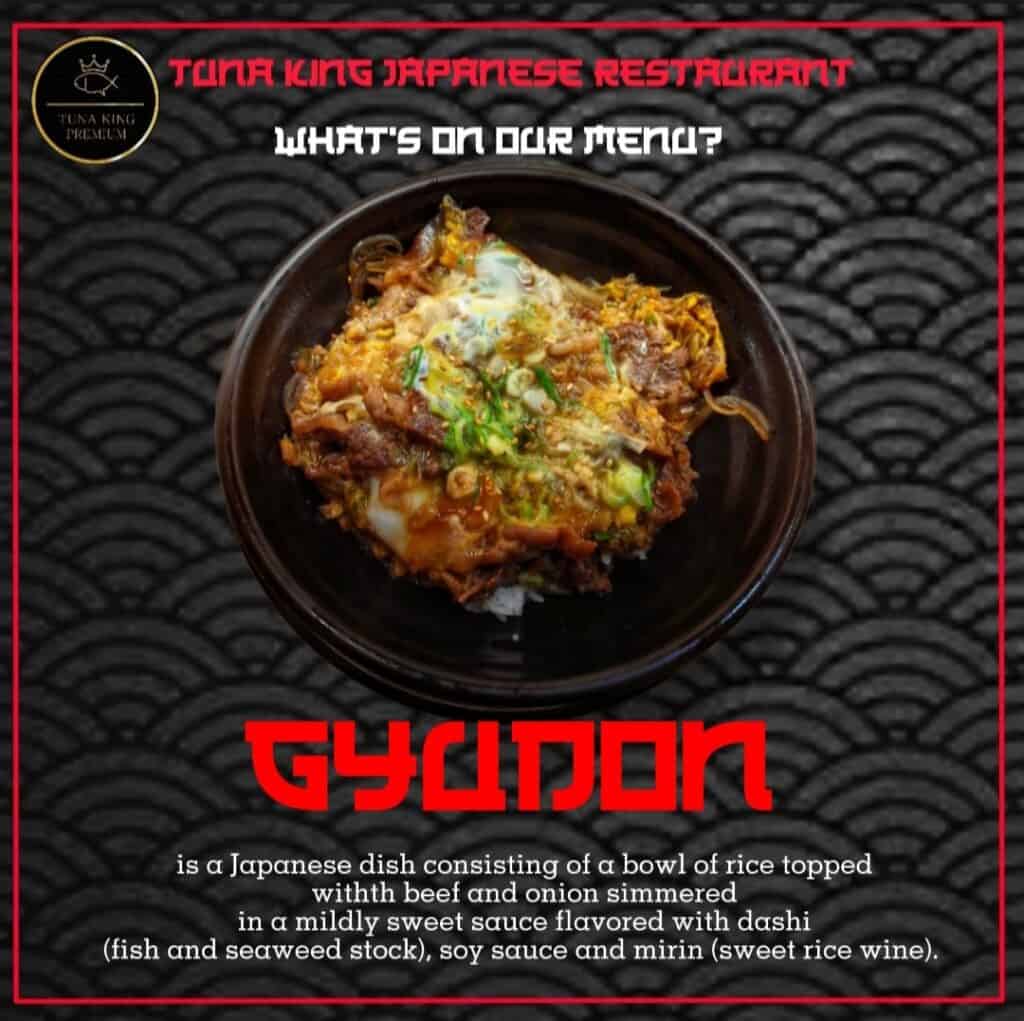 Ramen and Noodle
The ramen and noodle menu of Tuna King has 6 ramen options to choose from. On this menu, they have tonkatsu ramen. They also have tan tan mien. This one tastes good but if you're still looking for something that might catch your interest they also have chasu miso ramen, the broth of this ramen tastes really delicious, and this one has that umami flavor that you can't resist. They also have seafood Nagasaki ramen for seafood lovers out there. Other options are fish cake udong and ebi tempura udong.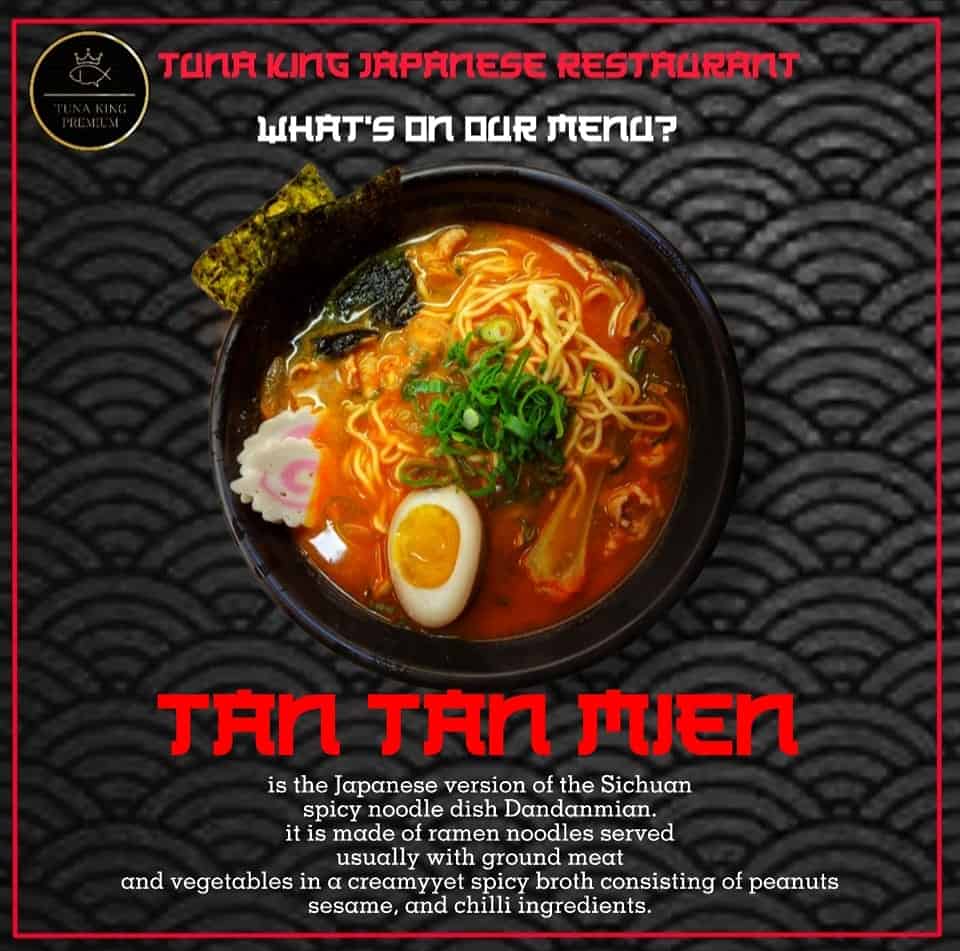 Sashimi
The Sashimi menu of Tuna King offers a lot of delicious sashimi to choose from. The first one is their mini sashimi which you can choose from salmon, tuna, or meccatoro. They also have salmon sashimi. Aside from that they also have items such as tuna tataki and octopus tataki. If you're looking for tuna sashimi they also have it on this menu. Last but not least is their premium mini sashimi which includes options like otoro, meccatoro, chutoro, and polsal.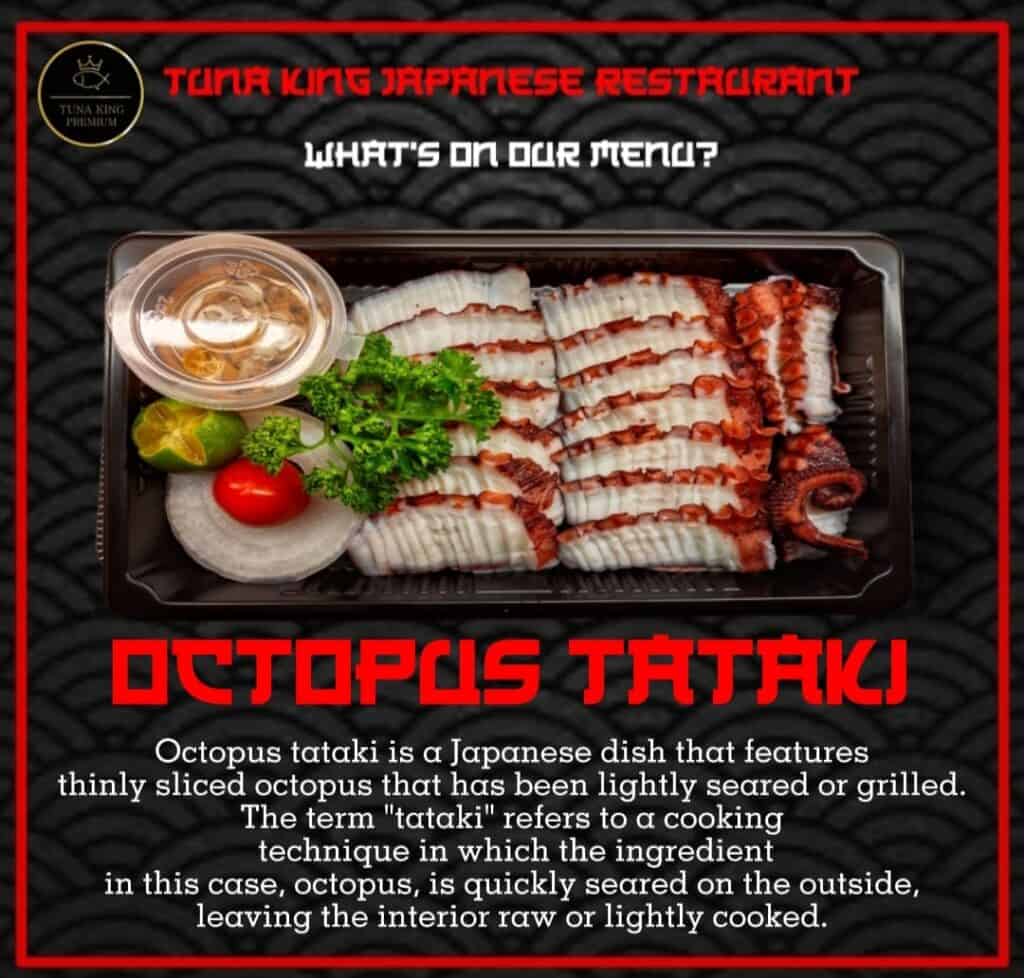 Tuna King Delivery
Tuna King offers delivery service so if you're craving Japanese food all you have to do is to call them directly at 09666286396. Another way to order is to use third-party delivery services that are available in the market these days such as Foodpanda and Grab Food.
Connect with Tuna King Online
Embark on a culinary journey to Japan and stay updated on the latest offerings from Tuna King, the Philippines' premier destination for authentic Japanese tuna cuisine.
Facebook: https://www.facebook.com/TunaKingPH
Instagram: https://www.instagram.com/tunakingph
TikTok: https://www.tiktok.com/@tunakingph
FAQs
Where can I find Tuna King's Japanese restaurant?
Tuna King Japanese restaurant is located at 0220 MJB Building, Tomas Morato Avenue, Quezon City.
What are Tuna King's business hours?
This Japanese restaurant is open from Monday to Sunday from 9:00 am until 2:00 am. 
What are the payment options available at Tuna King?
Tuna King accepts cash payments or credit card and debit card payments for hassle-free and cashless transactions.
How to contact Tuna King?
You can reach Tuna King simply by calling them directly at 09666286396 or you can also reach them on their Facebook page.
Is there a parking space available at Tuna King?
The nearest parking space is at Robinson Superstore basement parking which is actually 72 meters away from the restaurant.
Conclusion
Tuna King is a very cozy dining place located in Tomas Morato. This place is a typical Japanese-inspired place with a small space just like those typical authentic Japanese restaurants that you can see if you visit Japan. The Tuna King menu offers a wide variety of Japanese foods that taste really amazing, the prices are also fair at this place and the serving is quite generous which is sulit. Staffs are nice and very accommodating plus they serve fast at this place. The restaurant might be small but comfortable, it is clean and very welcoming. A place that I highly recommend to every Japanese food lover out there.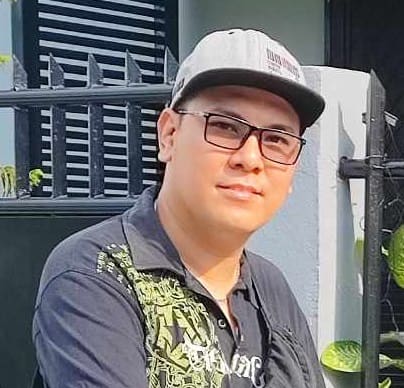 Hi! I'm Nivek Strife, the person who made MenuPH. I'm the one who added most of the popular menus you see on this website, and I really hope you enjoy them! Feel free to check them all out.
Growing up, I was surrounded by lots of tasty foods, like the classic Adobo and the sweet Leche Flan. That love for the many flavors of the Philippines is what got me excited about adding to MenuPH. When I learned how to make websites, I saw the need for a place to show off all the amazing Filipino dishes, and that's how MenuPH started.
MenuPH isn't just a website; it's like a fun journey into food. I've teamed up with famous chefs and found great places all over the Philippines to bring you a bunch of menus that show off the best of Filipino cuisine. Whether you're into the usual dishes or new twists, MenuPH is here to guide you through the rich world of Filipino flavors.
With MenuPH, my aim is to help local businesses, talk about good food choices, and make a group of friends who love food. No matter if you like fancy restaurants or street food, MenuPH has something for you. Come join me on this food adventure as we find great places, taste real flavors, and enjoy the unique food traditions that make the Philippines awesome.