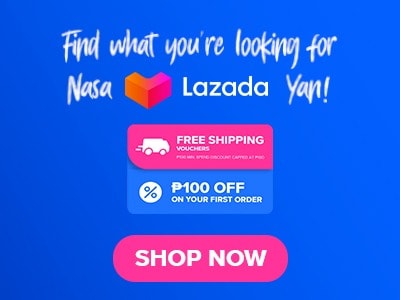 If you and your friends are on a tight budget but still don't want to settle for less, then Best Friends is the first place that you should visit. This restaurant provides its customers with a budget-friendly and diverse menu that is filled with dishes that could cater to a wide range of tastes and preferences. Their menu features a delicious selection of Filipino favorites, comforting dishes, and popular Asian cuisine. And with its emphasis on affordable and delicious meals, Best Friends has become a go-to spot for those looking to enjoy a variety of mouthwatering dishes in the Philippines.
Below, you'll find the updated list of Best Friends menu prices.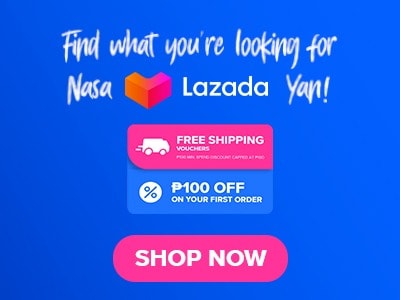 Menu Items
Price (PHP)

Specialty of the House

Pares With Tendon
215
Paresio With Tendon
221
Pares
164
Paresio
169
Sliced Beef
137

Wanton

Wanton (6 Pieces)
77
Wanton (9 Pieces)
94
Wanton (12 Pieces)
109

Soup

Bulalo Batangas
260
Sinigang Na Batangas
266
Sinigang Na Baboy
266
Sinigang Salmon Belly
244
Camto Soup
148
Bulalo Pata
217
Sinigang na Ulo ng Bangus
244
Sinigang na Ulo-Ulo
220

Noodles

Beef Mami
106
Beef Wanton
125
Chicken Mami
100
Halo Mami
125
Siomai Mami
94
Special Mami
125
Super Mami
125
Wanton Mami
94

Side Orders

Kangkong Plain
94
Sweet and Sour Pork
160
Sweet and Sour Fish
160
Beef with Young Corn
189
Crispy Pata
644
Lumpia Shanghai
10
Tapa Plain
167
Yummy Chicken (Whole)
460
Yummy Chicken (Half)
277
Buttered Chicken
248
Chopsuey (Plain)
148
Pakbet (Plain)
148
Lechon
186
Chicken Teriyaki Plain
189
Pork Teriyaki Plain
213
Porkchop Plain
213
Fish Fillet Tofu
160
Ampalaya Con Carne
184
Chicken Fillet
192
Lumpiang Sisig
152
Daing Plain
115
Talong Plain
97
Adobo Plain
224
Beef Brocolli
207
Beef Caldereta
177
Tokwa't Baboy
167

Chicken

Yummy Chicken (Half)
277
Yummy Chicken (Whole)
460
Buttered Chicken
248

Rice

Fried Rice
22
Plain Rice
22
Shanghai Rice
60

Silog

Liemposilog
166
Monster Chickensilog
166
Tapsilog
137
Tocilog
135
Chixsilog
183
Porksilog
160
Daingsilog
135
Adobosilog
158

Dimsum

Siopao
52
Siomai (4 Pcs)
77
Siomai (6 Pcs)
94
Siomai (8 Pcs)
109
Rice Toppings
Fried Siomai
175
Fried Wanton
175
Chicken Teriyaki
181
Pork Teriyaki
175
Monster Porkchop
181
Lumpiang Shanghai
175
Lechon Kawali
204
Chicken
169
Fish Fillet
175
Yummy Chicken
244
Siomai
169
Sweet & Sour Fish
175
Daing na Bangus
175
Sweet and Sour Pork
175
Monster Chicken
186
Pansit
Lomi (Regular)
107
Lomi (Special)
119
Pansit (Small)
107
Pansit (Medium)
135
Pansit (Large)
154

Rice Meals

Chicken with Fried Rice
155
Monster Chicken with Fried Rice
154
Monster Porkchop with Fried Rice
149
4 Pieces - Siomai with Fried Rice
122
Yummy Chicken with Shanghai Rice
223
Yummy Chicken with Fried Rice
187

Paluto sa Bilao

Kare-Kare
469
Wanton Fried
240
Wanton Steam
224
Ampalaya Con Carne
362
Fish Fillet Tofu
321
Buttered Chicken
512
Sweet & Sour Fish
291
Sweet & Sour Pork
291
Lechon Kawali
347
Lumpiang Shanghai
181
Siomai Steam
224
Siomai Fried
240
Chopsuey
291
Pinakbet
291
Shanghai Rice
121
Beef Brocolli
408
Beef Kaldereta
349

Pansit sa Bilao (Free Siopao)

Bilao#1 (3-6 Persons)
495
Bilao#2 (4-8 Persons)
662
Bilao#3 (6-12 Persons)
955
Bilao#4 (8-16 Persons)
1248
Bilao#5 (10-20 Persons)
1541

Bilao

Bilao #1 (3-6 Persons)
529
Bilao #2 (4-8 Persons)
702
Bilao #3 (6-12 Persons)
1035
Bilao #4 (8-16 Persons)
1369
Bilao #5 (10-20 Persons)
1725

Sizzling

Sisig (Regular)
154
Sisig (with Rice)
139

Drinks

Mineral Water (Small)
25
Mineral Water (Medium)
32
Mineral Water (Large)
42
Mango Juice
60
Tropicana
37
Iced Tea
41
Coke in Can
52
Royal in Can
52
Sprite in Can
52
About Best Friends
Best Friends is a family restaurant in the Philippines that offers both locals and tourists a variety of delicious and affordable meals. They provide a wide range of dishes, including Filipino favorites, comfort food, and popular Asian cuisine. So whether you are looking for rice meals, noodle dishes, burgers, pasta, or desserts, this restaurant has something that will surely satisfy your cravings. As of now, the restaurant is continuing its focus on providing tasty and satisfying meals to create memorable dining experiences for its customers.
Best Friends Menu Best Seller
This menu is filled with delicious Filipino comfort foods that will surely wow both locals and tourists.
Bulalo Batangas – This is a hearty and comforting Filipino beef soup made with tender beef shanks, bone marrow, and fresh vegetables, simmered to perfection in a flavorful broth. This dish is a satisfying choice for those looking for a warm and filling meal, especially during rainy days.
Sinigang Na Baboy – Best Friends' sinigang na baboy is a classic Filipino sour soup that features tender pork ribs, tamarind, and an assortment of vegetables. The sour and savory broth perfectly complements the juicy and tender meat and adds a delightful tang to the dish making it more wholesome and satisfying.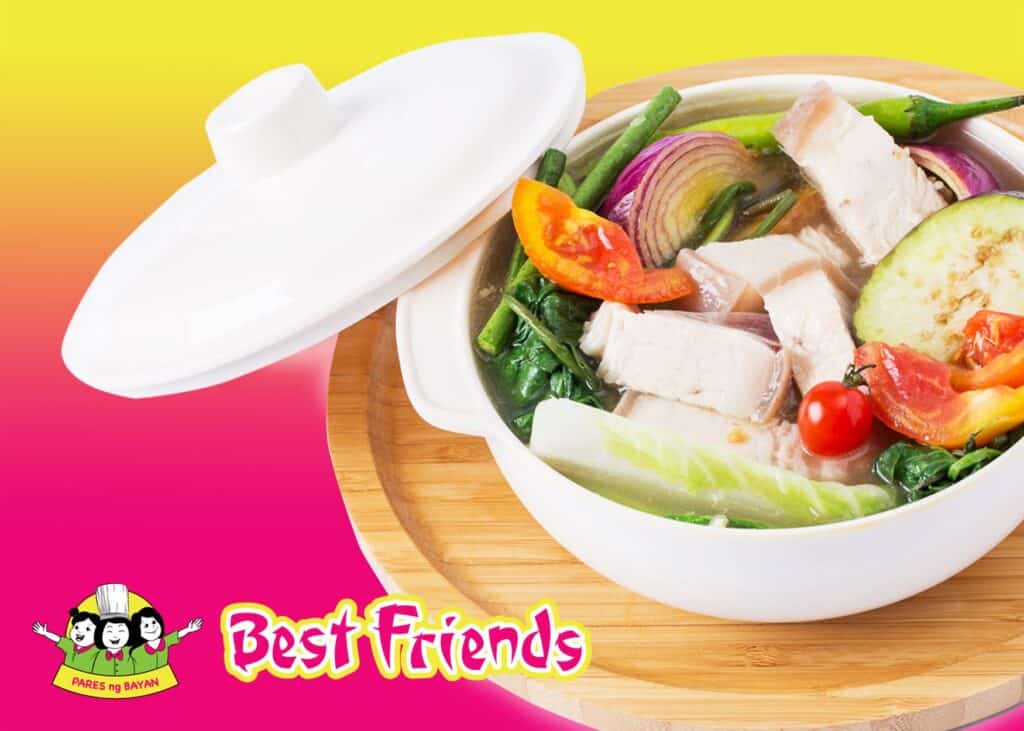 Beef Mami – This is a delicious noodle soup menu from Best Friends that is made with egg noodles, savory beef broth, and tender slices of beef, garnished with spring onions and fried garlic. Aside from its affordable price, this dish offers a delightful mix of flavors and textures, which makes it a go-to comfort food for noodle lovers.
Crispy Pata – One of the many Filipinos' favorites is the crispy pata, this dish is made from a crispy deep-fried pork knuckle that is served with a savory dipping sauce. The combination of crispy skin and tender meat is very satisfying for those who enjoy indulging in flavorful and crispy dishes.
Lumpia Shanghai – Lumpia Shanghai is a popular Filipino appetizer made with seasoned ground pork, wrapped in thin spring roll wrappers, and deep-fried until golden brown and crispy. This dish is a perfect crunchy treat to start any meal or as a tasty snack to share with friends.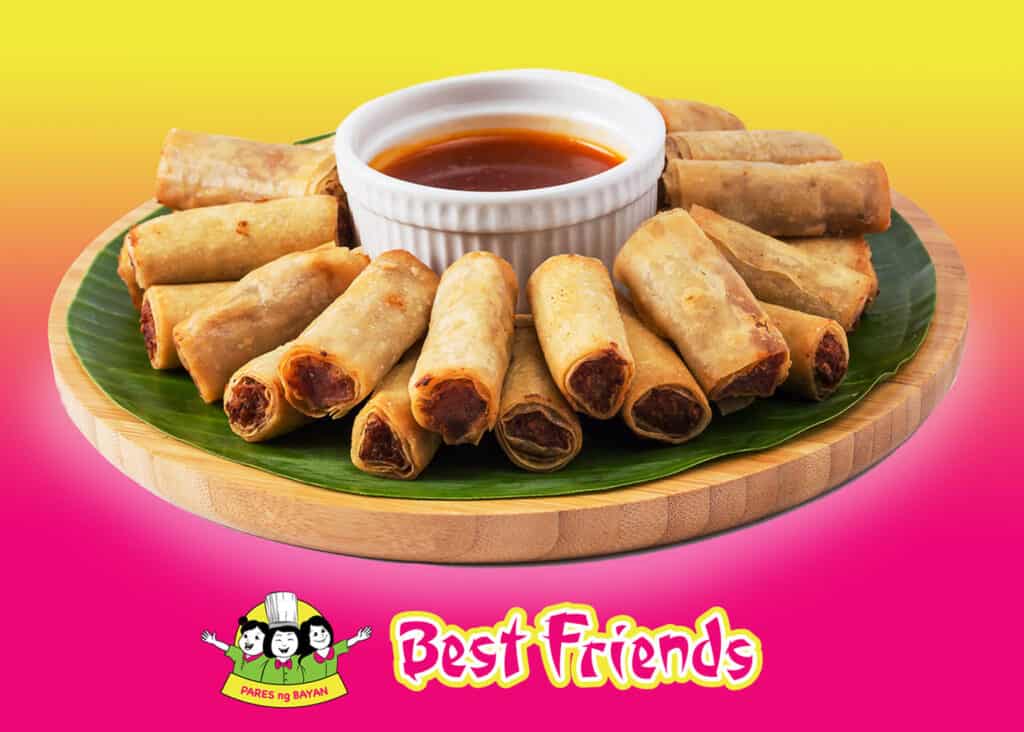 Best Friends Menu Specials
This menu is made up of a wide variety of dishes that are considered to be the best of the best at Best Friends.
Pares – This dish is a popular Filipino comfort food consisting of tender beef stewed in a flavorful sauce made of soy sauce, garlic, star anise, and other aromatic spices. The dish is served with garlic rice and a clear beef broth on the side, creating a satisfying and savory meal that is loved by many.
Paresio – it is a variation of the classic Pares, the paresio at Best Friends features the same tender beef stewed in a rich and aromatic sauce, however, what sets it apart is the addition of stir-fried vegetables that gives a delightful crunch and additional nutritional value to it.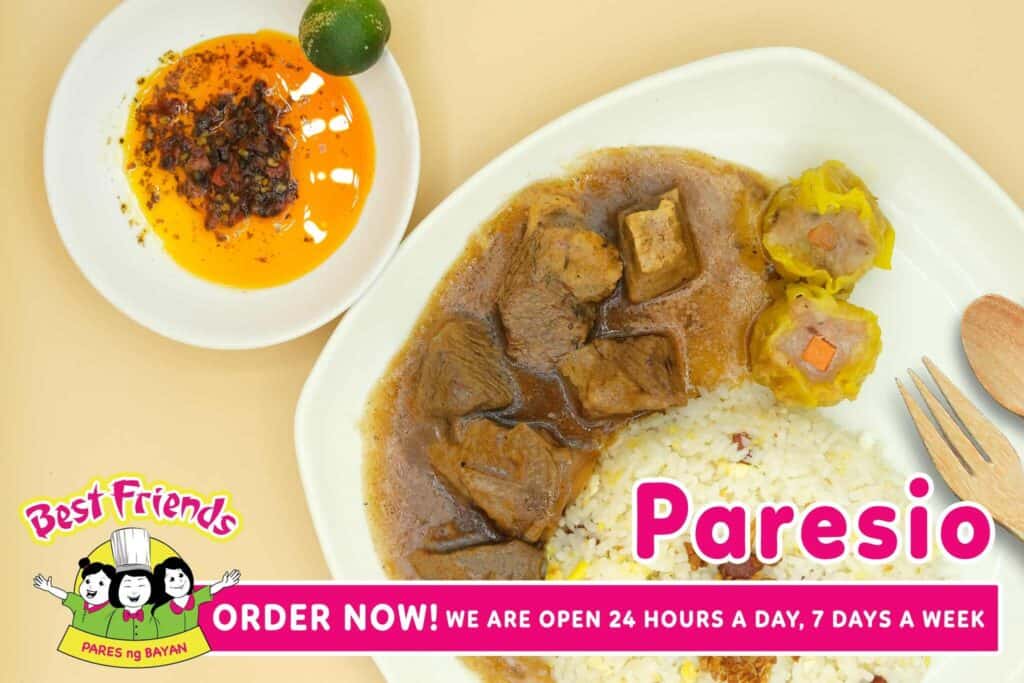 Sliced Beef – This dish features thinly sliced and tender beef cooked to perfection, offering a simple and delightful way to enjoy the natural flavors of quality beef. It is a great option for those who prefer a more straightforward yet satisfying meal at Best Friends.
Rice Toppings
This menu is filled with options that can be enjoyed on their own but are best put on top of the delicious white rice that Best Friends serve.
Fried Siomai – These bite-sized siomai pieces are filled with a savory mixture of ground meat and aromatic seasonings, then fried to a golden crisp. It is served with a dipping sauce which gives it an extra burst of flavor in every bite, making it a popular appetizer or snack option.
Fried Wanton – The fried wanton is a crispy and delicious treat that is slightly similar to the fried siomai. These wantons are filled with a savory mixture and deep-fried until golden and crunchy resulting in a delightful contrast of textures with a burst of flavor from the filling.
Chicken Teriyaki – This one is a Japanese-inspired dish featuring tender chicken that is cooked in a sweet and savory teriyaki glaze. It is served with steamed rice and a side of vegetables to make sure that his dish will satisfy anyone who is craving Asian-inspired cuisine.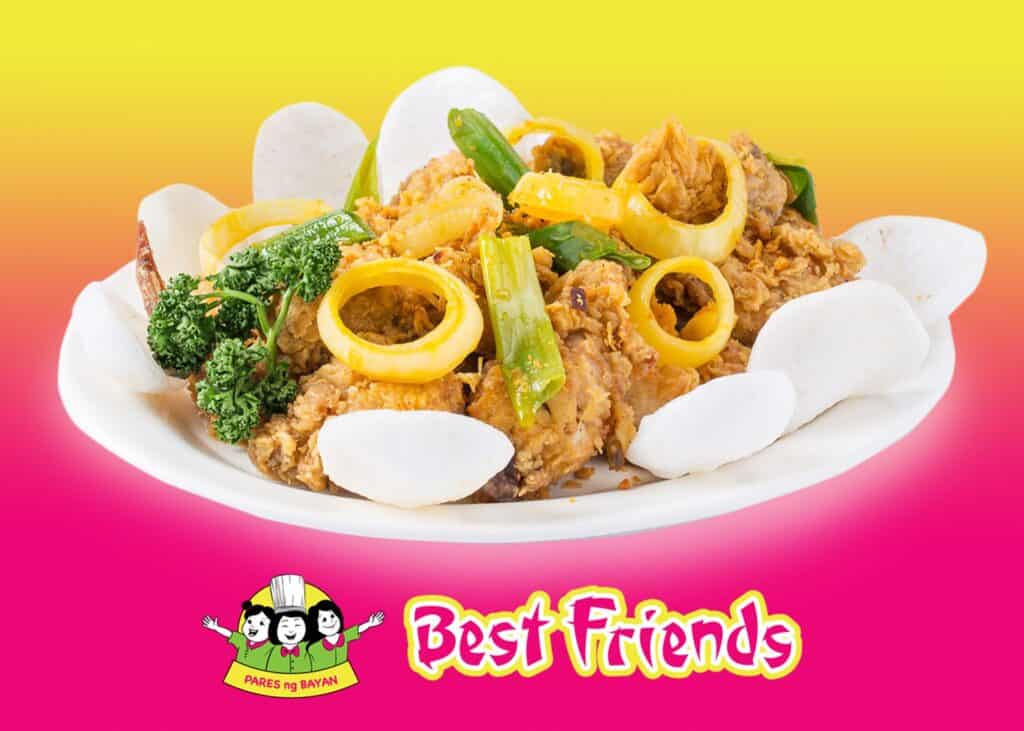 Best Friends Wanton Menu
This menu offers different variations of wanton dishes, a popular Chinese appetizer made of thinly wrapped dough filled with a mixture of ground meat, seasonings, and vegetables. Each wanton variety is served either steamed or deep-fried and is accompanied by a dipping sauce that enhances its flavors.
Noodles
You'll find a mix of Filipino-inspired noodles and other Asian-inspired options in this menu. Each crafted to bring you the taste of different cuisines. Picture yourself digging into a bowl of noodles that's like a passport to flavor exploration. Whether it's the rich flavors of Filipino noodles or the exciting twists of Asian-inspired creations, each slurp is a journey of yumminess. And guess what? These noodle dishes are perfect for sharing with your pals. So, if you're on the hunt for a satisfying and delightful meal to enjoy with your best buddies, look no further than Best Friends' noodle menu. It's like a bowl of happiness just waiting for you and your friends to dig in!
Side Orders
It consists of a variety of special side dishes that you can choose from at Best Friends. These sides are like tasty additions that make your meal even better and more enjoyable. They're like little friends that join your main dish, making every bite a delightful experience. From crispy bites to flavorful treats, each side dish is carefully prepared to add extra yum to your dining adventure.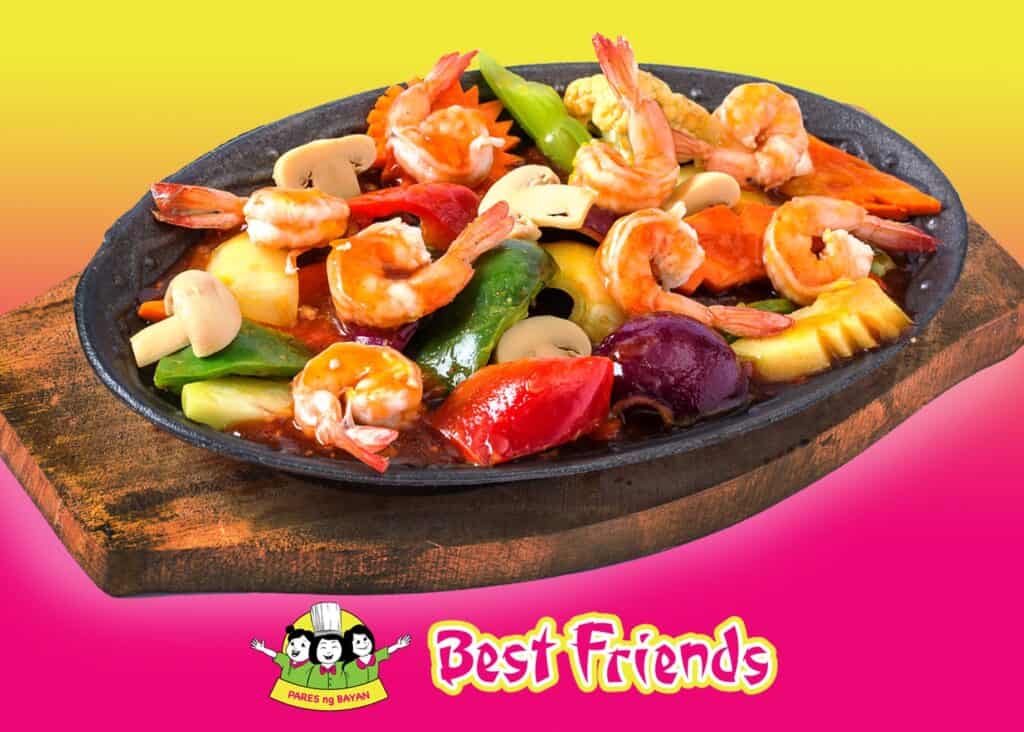 Best Friends Menu Delivery
Bringing the goodness of Best Friends right to your doorstep! Their menu delivery service is like a special food delivery magic that makes sure everyone can enjoy their tasty treats. Even if you're a bit far from their cozy shop, you can still savor their delicious food. How? Well, they've teamed up with delivery heroes like FoodPanda, who will bring your chosen dishes straight to you. It's like having a food adventure without leaving your home. So, if you're craving some Best Friends' delights and don't feel like going out, their menu delivery is here to save the day.
Social Media Pages
From the first bite to the last slurp, they promise to satisfy your cravings with their hearty and savory Pares delights. Stay connected with them for exciting foodie meet-ups, special offers, and behind-the-scenes kitchen adventures. To learn more about them, visit their official social media pages below.
Facebook: https://www.facebook.com/BestFriendsParesOfficial/
Instagram: https://www.instagram.com/bestfriendspares/
FAQs
What type of cuisine does Best Friends serve?
Best Friends serves a diverse range of cuisines, with a focus on Filipino favorites and popular Asian dishes.
Is there a loyalty program for frequent customers at Best Friends?
Best Friends does provide their customers with a loyalty program to reward those that frequent their stores.
Can I customize my order from Best Friends?
Yes, Best Friends provides allows their customers to freely customize their orders.
Are there kid-friendly options available on the Best Friends menu?
Yes, they have a menu that is fit for your little ones.
Do Best Friends offer any signature or must-try dishes?
Best Friends best-sellers are considered to be their signature items that you must try when you visit.
Conclusion
Best Friends offers a budget-friendly and diverse menu that could cater to a wide range of tastes and preferences. Their menu features a delicious selection of Filipino favorites that range from traditional rice meals to flavorful noodle dishes, satisfying burgers to refreshing desserts. Best Friends aims to provide a satisfying and memorable dining experience for their customers with their affordable and delicious meals. Overall, Best Friends is a go-to spot for those looking to enjoy a variety of mouthwatering dishes in the Philippines that fits their budgets.